The calendar says it's November, and for me that means it's the start of crazy holiday shopping season! Make this task a little easier by searching for a gift guide that matches up with your recipient's interests. I always find unique ideas on these curated lists! This gift guide for HGTV fans is perfect for anyone who always has House Hunters on in the background, or spends the weekend watching a Fixer Upper marathon!
This post contains affiliate links for your convenience. For more information, please refer to my disclosures page.
My obsession with interior design and home decor started in college, when I would watch episode after episode of Trading Spaces and While You Were Out instead of studying. Now, I'm inspired by HGTV shows like Fixer Upper and Property Brothers, with their incredible house transformations. I even turned into a total fangirl when I got to meet the Scott brothers at a book signing!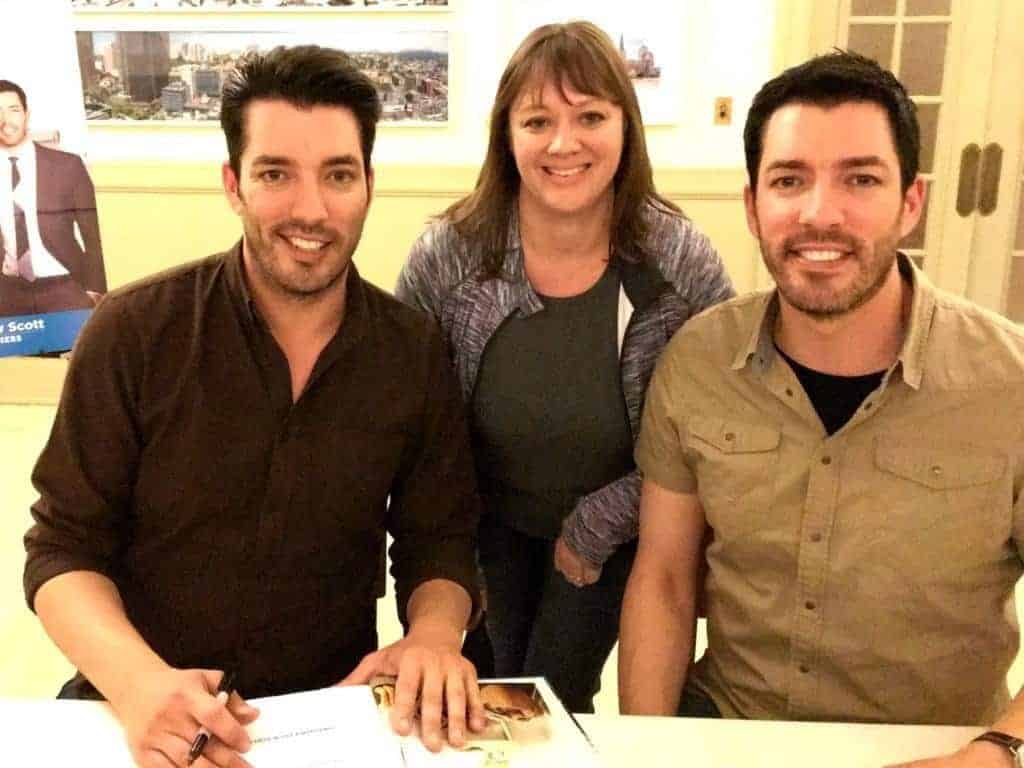 Gift Guide for HGTV Fans
Property Brothers
Of course, their book is the first item on my gift guide for HGTV fans! Think of it as an extension to everything they talk about on their shows, in greater detail. They go over everything:  what to look for when buying a home, what renovations you can tackle yourself and which to hire out, and tons more!
Fixer Upper
Is your gift recipient more of a Fixer Upper fan? I've got you covered there too! Chip and Joanna Gaines have a new book that just came out last month, and it looks as gorgeous as their home makeovers.
Pair the book with a #shiplap tshirt or #demoday mug, and you'll make the Fixer Upper fan on your list very happy!
Vern Yip
Vern Yip was my favorite designer on Trading Spaces, and I would for him to make over a room in my house! Vern went on to judge Design Star on HGTV, as well as host his own show, Deserving Design. 
Now, you can find his line of sophisticated fabrics and candle warmers for your own home!
David Bromstad
David Bromstad was the first winner of HGTV's Design Star, where he was known for his liberal use of color. His fans will love to inject those pops of color into their own homes with his beautiful canvas prints!
Candice Olson
Candice's home makeovers on Divine Design always featured luxurious fabrics and immaculate details. You can now bring that upscale look to your own home (or your lucky gift recipient's) with her gorgeous lighting or elegant wallcoverings! Or inspire them with one of her many books.
HGTV
Did you know HGTV even has a magazine? I subscribe to far too many magazines, and most sit on the coffee table unread for months (I'm looking at you, Better Homes & Gardens!) Not this one! I have a folder filled with torn out pages from HGTV magazine. Each one contains inspiration for a future project!
I hope this gift guide for HGTV fans helped you find the perfect item for the home decorator in your life! And if your list contains a future Jonathan Scott or Chip Gaines, don't forget to check out my gift guide for beginning woodworkers too!
If you would like to keep up to date with my latest posts about woodworking, home improvement, home decor and more, you can follow me on Facebook, Pinterest, or sign up for my weekly newsletter below.
Want more DIY projects?
Subscribe to get project ideas, home improvement tips, woodworking plans and more delivered straight to your inbox!