Our overgrown garden was turning into quite the eyesore! This spring, I vowed to revive and transform it into a Japanese style garden. I'll show you how I cleared out all the overgrowth, mixed fresh soil into the garden bed, and prevented new weeds from showing up!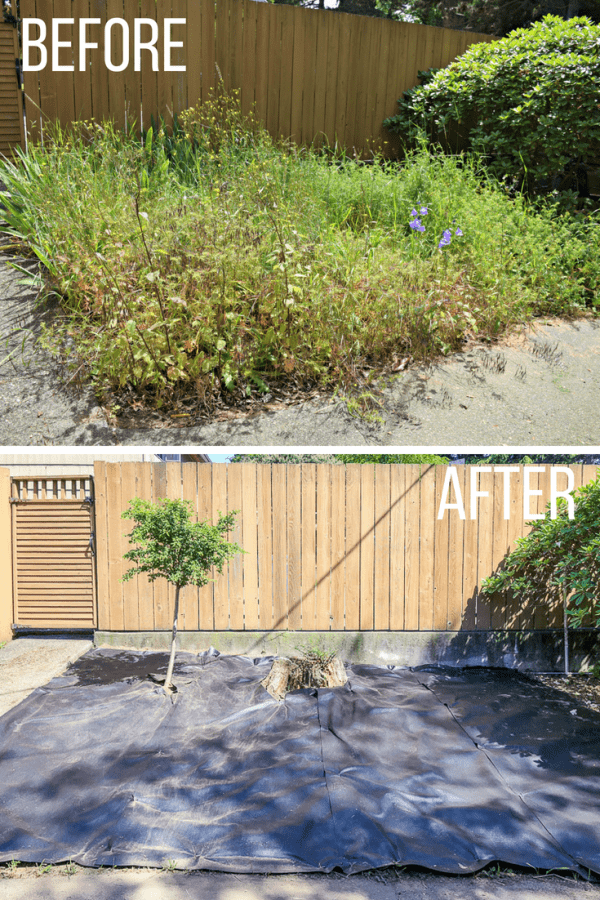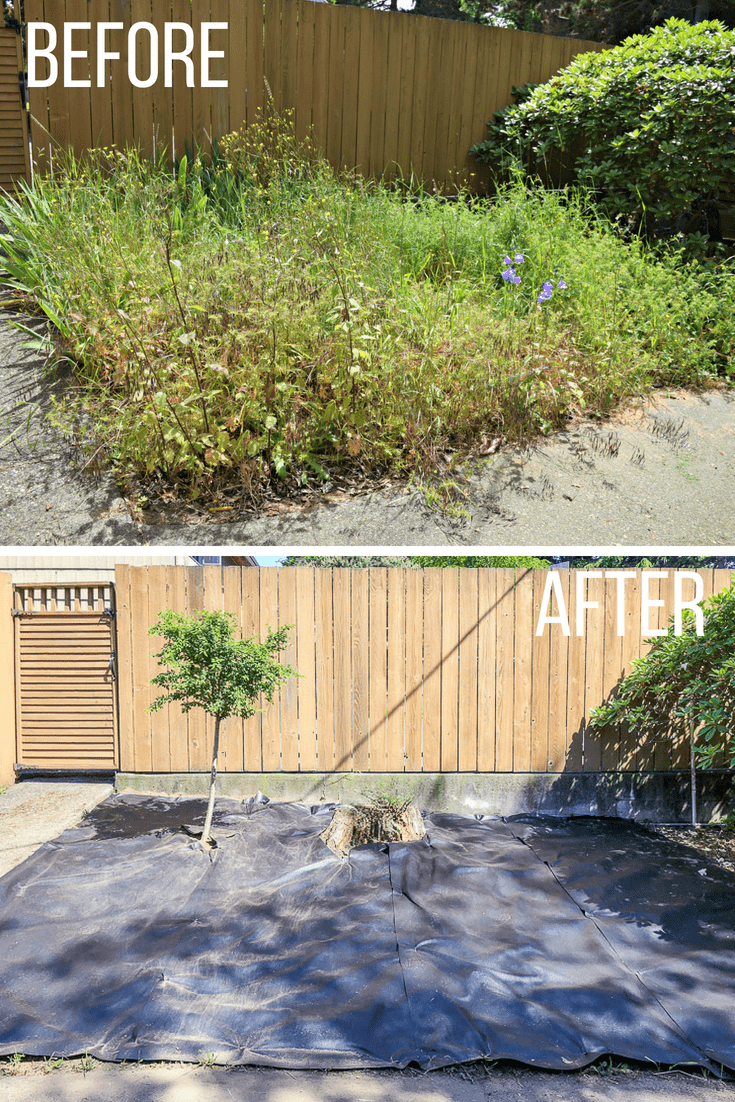 After dreaming about it for years, I'm finally doing it! I'm clearing our overgrown garden to create a tranquil Japanese-style garden. I've been putting off this chore forever, but with a few tools and a lot of digging, it's finally weed-free! Now I have a fresh slate to start with, and hopefully make it my dream garden!
This post was sponsored by Ryobi Outdoor, and contains affiliate links for your convenience. Purchases made through these links may earn me a small commission at no additional cost to you.
This overgrown garden has been the bane of my existence since we moved in. The original owner had planted a huge bed of irises in this spot, but after years of neglect, it was completely overwhelmed. If you look carefully, you can see the whopping two blooms I got last year!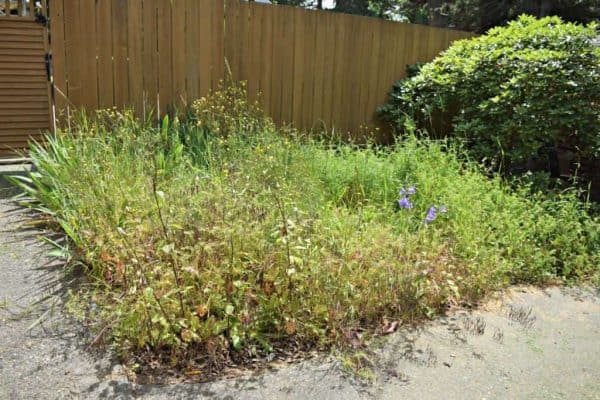 Luckily, the rest of our yard doesn't look like this! I've ignored this spot for too long, and now I'm finally tackling it. Better late than never, right? 🙂
Clearing the Overgrown Garden
Every time the weather cooperated, I would work on a one foot wide strip. Weeding in bite-sized chunks made it much more tolerable, even if it took longer.
I found it easiest to pop up the soil with a shovel along the unweeded edge to loosen the roots, then sit down to pull everything out of the ground. It actually goes by much faster than weeding an established garden, because you're simply yanking every green thing you see!
This week, I finally cleared out the last section of my overgrown garden! Can you tell when I decided to take a break and work on other projects? 😉 It doesn't take long for those weeds to sprout again!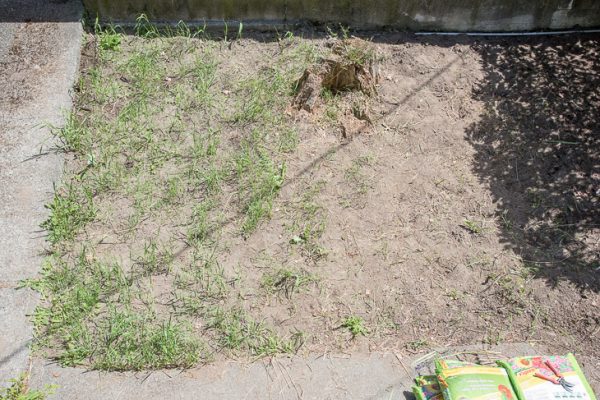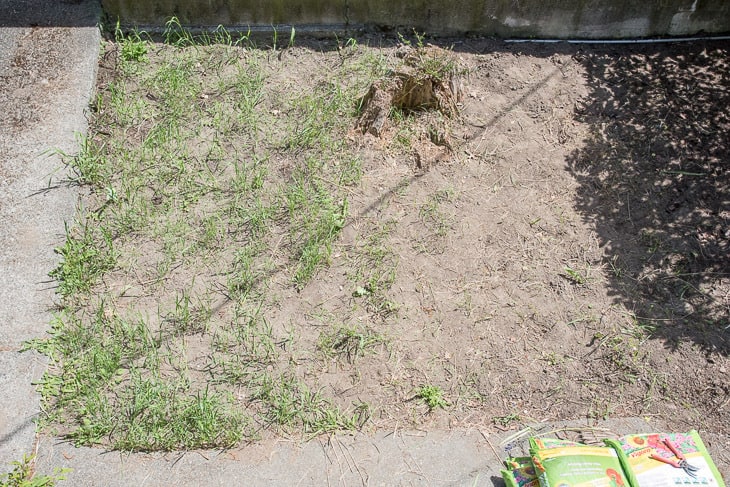 Use the Right Tools
Back in the fall, I was raving about the amazingly versatile Ryobi 40v Expand-it system. I used the pole saw to trim back branches that might cause problems over the winter, and the leaf blower to clean up fallen leaves quickly and easily. You can read all about these landscape maintenance tools here.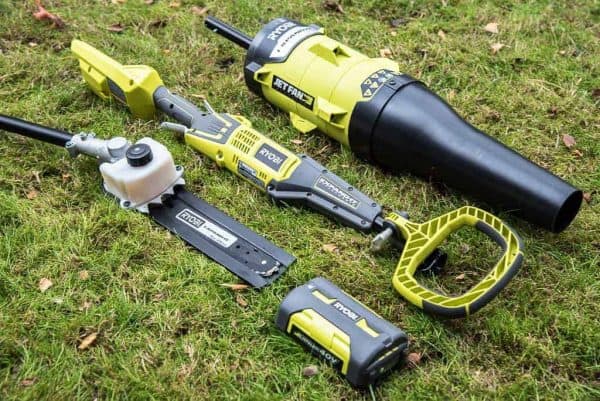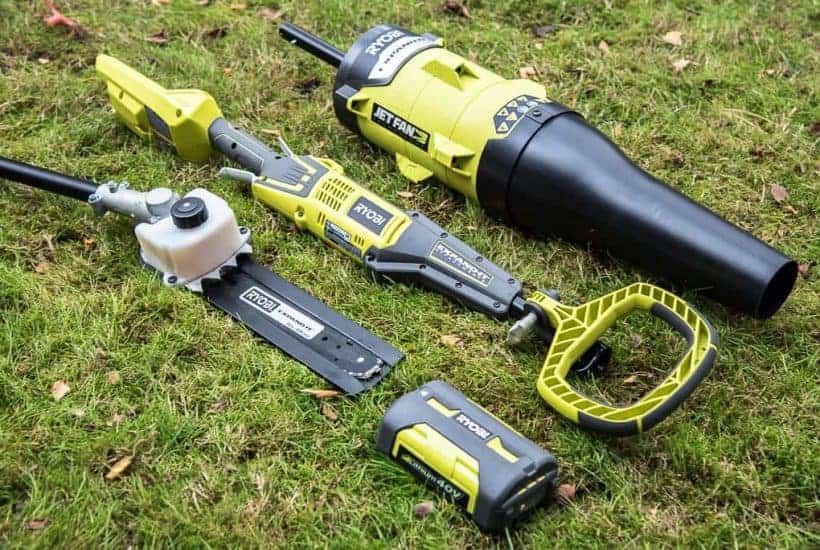 This time, I'm using the cultivator and string trimmer attachments to get my overgrown garden in shape!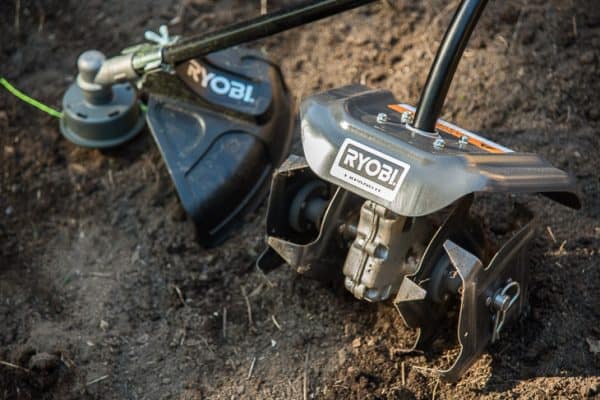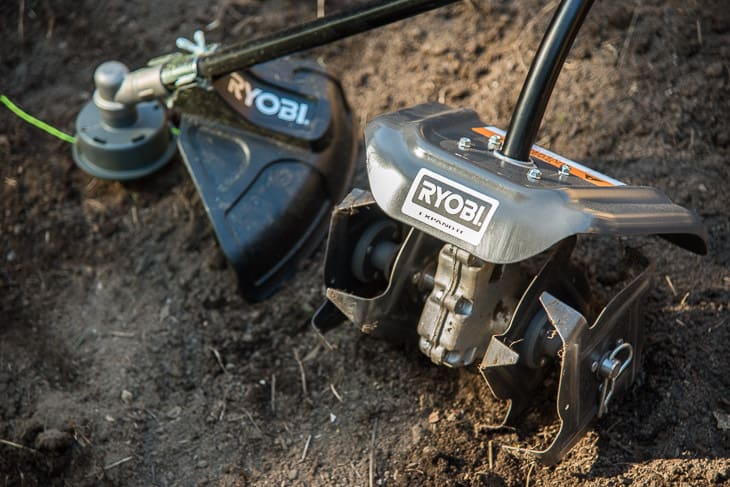 I love how I can use just one battery and handle for all these tools! It really cuts down on the clutter, especially after I built this garden tool storage rack to hang them all.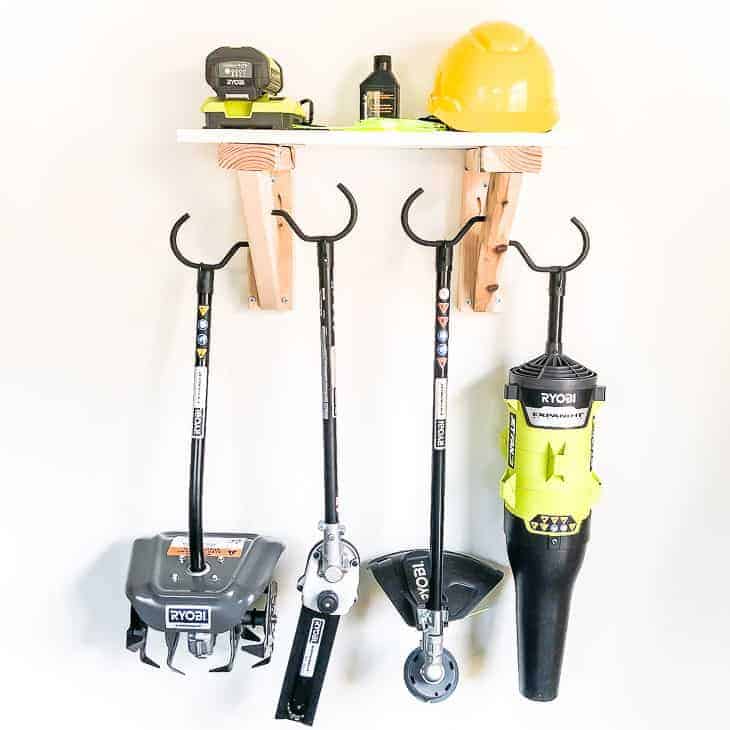 First, I used the string trimmer to hack down the new weeds. I also took the time to edge the lawn and clean up around the deck posts.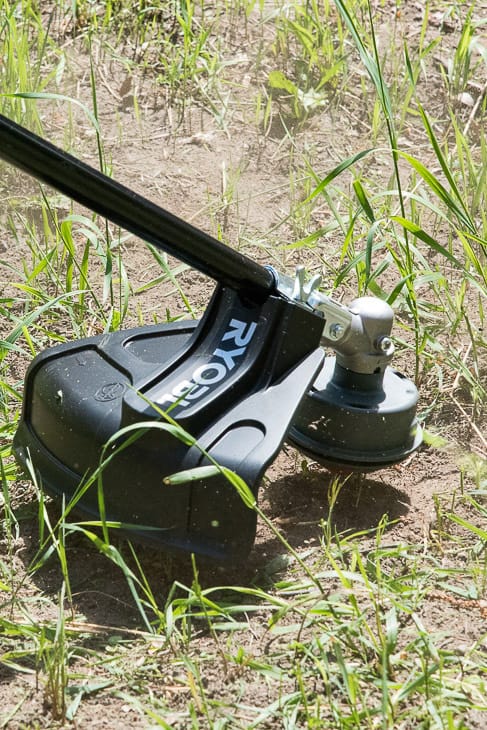 Then, with the click of a button, I switched to the cultivator head. The strong metal tines cut through the roots and hard soil like butter! Even though it's battery powered, it never bogged down when hitting a tough patch.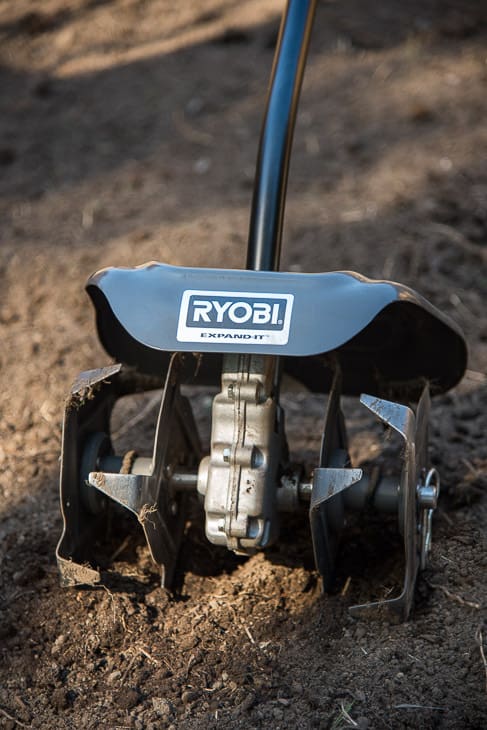 All those weeds in the overgrown garden had depleted the nutrients from the soil. I spread a few bags of garden soil and compost over the area, and used the cultivator to mix it in.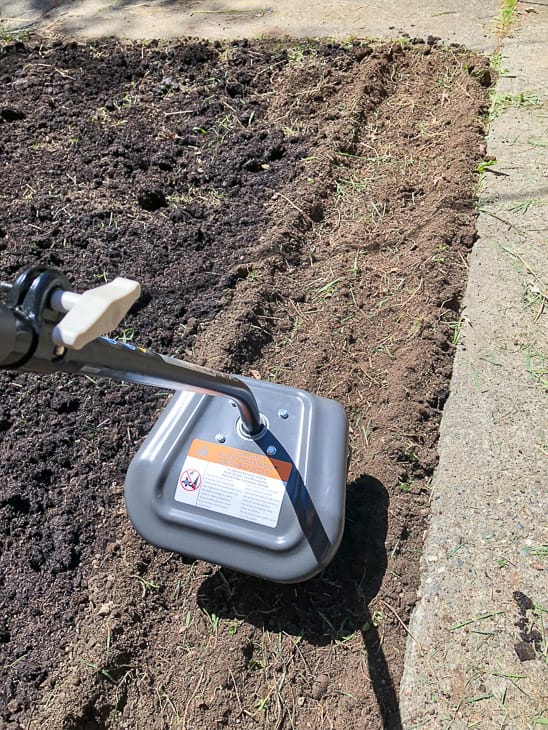 The entire garden bed was tilled in less than half an hour! Try to do that with a shovel by hand!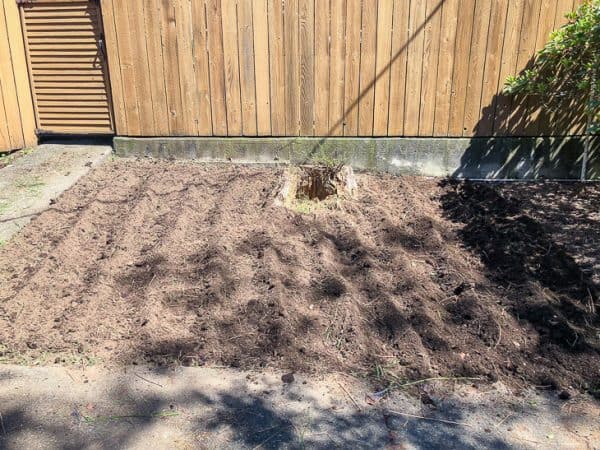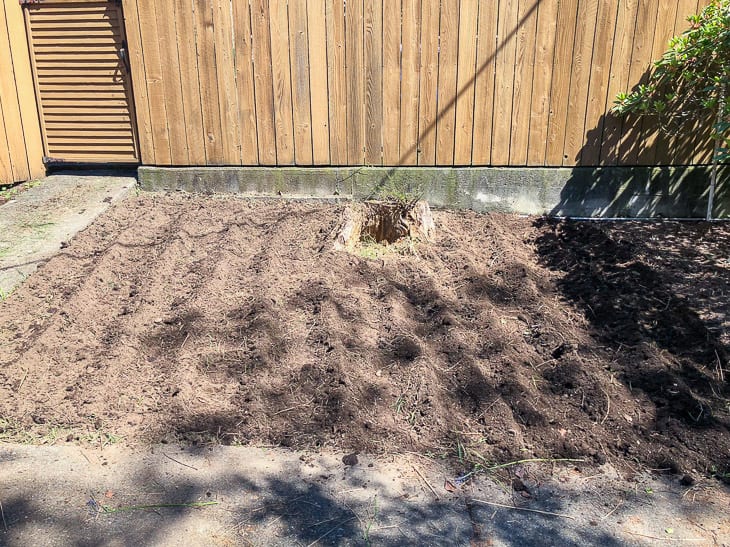 A quick raking evened out the soil and got it ready for the next step.
Prevent New Weeds
To prevent new weeds from sprouting in my newly tilled garden plot, I put down thick landscaping fabric, and used heavy duty landscaping staples to hold it in place.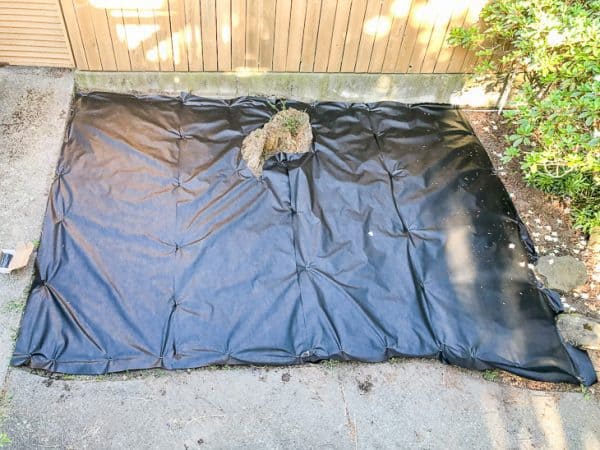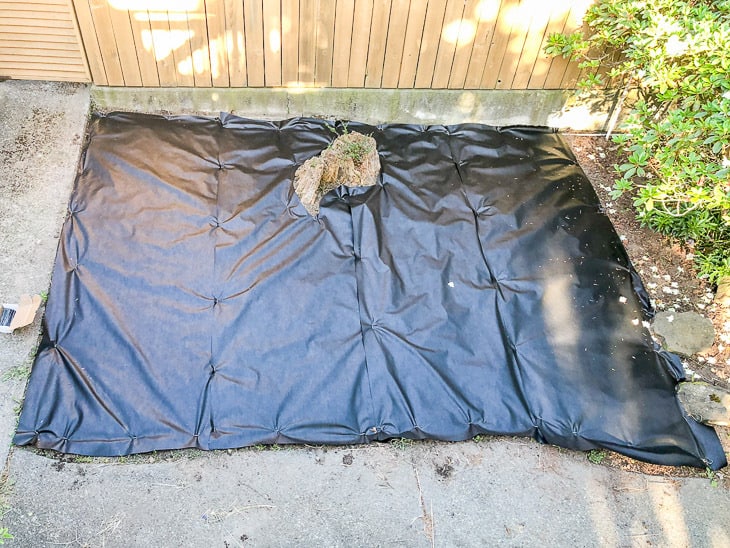 Over time, I'll add more plants, mulch, rocks and a water feature to this space to cover it up. At least for now, it'll stay weed-free!
Add New Plants
To start off my new Japanese style garden, I scoured the local garden nurseries for the perfect statement tree. I didn't want anything too big that would overtake the space or hit the power lines above.
This small Fuji cherry tree, called Little Twist, stays about six feet wide and tall. The twisted branches will bring winter interest to the garden, white blooms in spring, and maroon foliage in the fall. Perfect!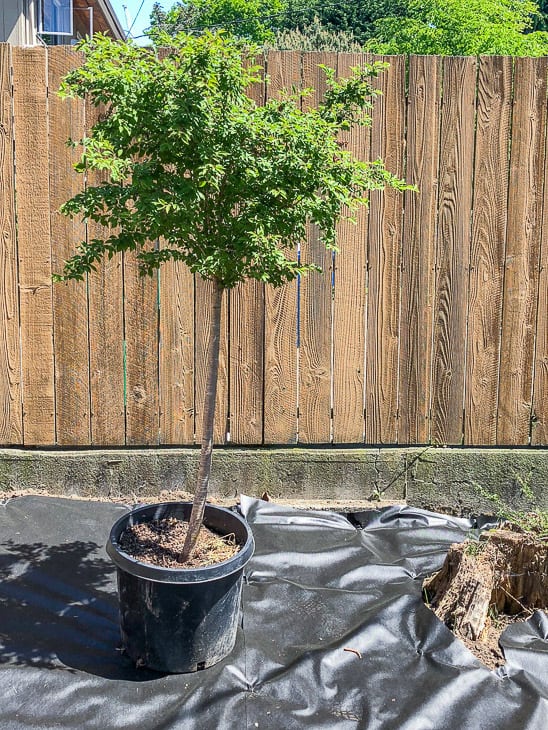 I cut a hole in the landscaping fabric three feet in from the upper left corner of the garden to give the tree room to grow. Then I dug a hole deep enough to cover the root ball, and dropped in the new tree.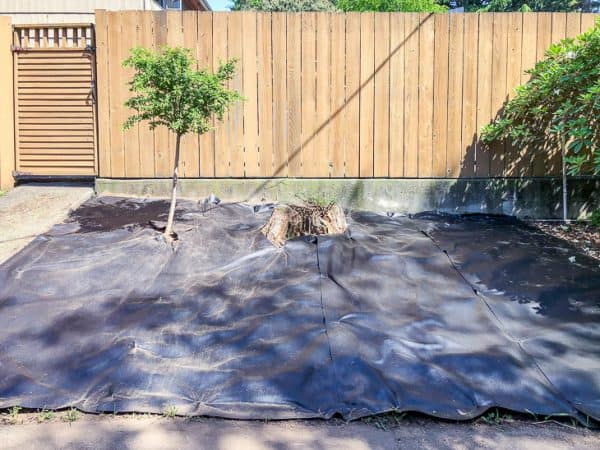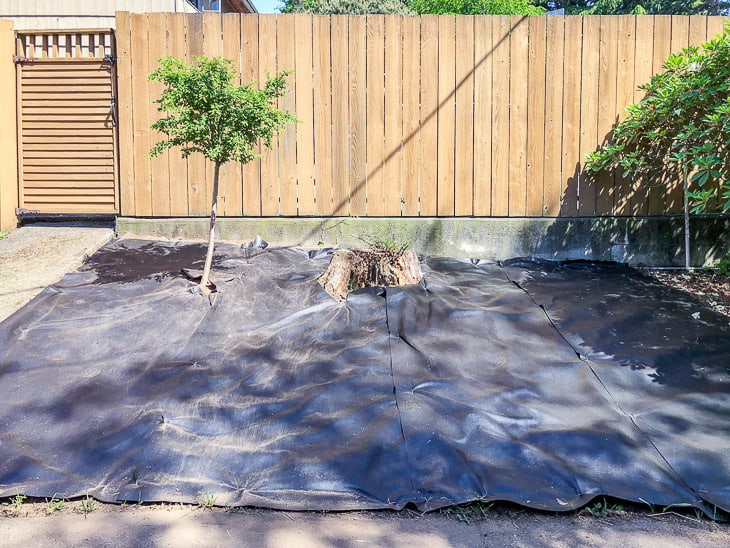 The old stump in the middle will be incorporated into a new water feature later this summer. Stay tuned for that tutorial!
I'm so glad to finally be done with this chore! A big thank you to Ryobi Outdoor for providing me with the amazing tools I needed to turn this overgrown garden into a clean slate for my backyard oasis!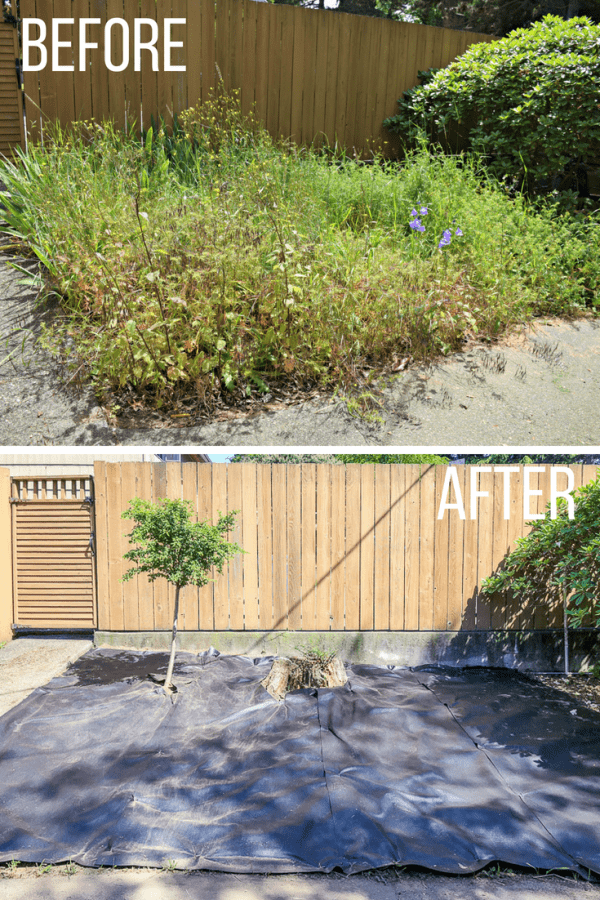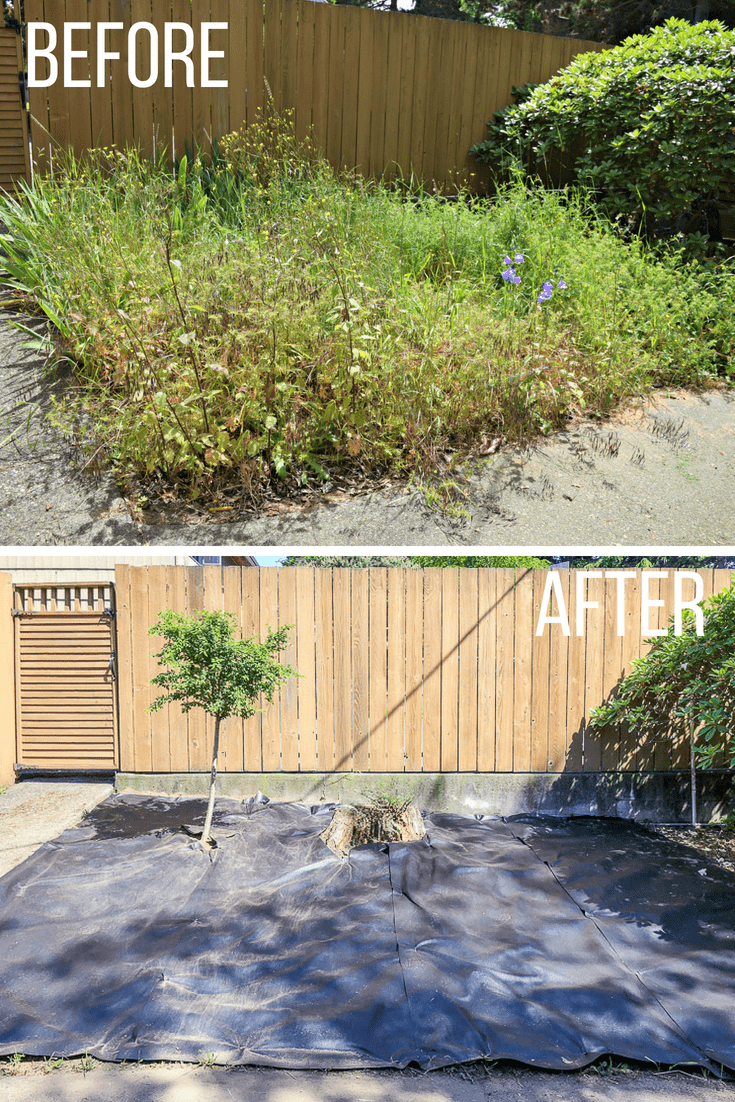 ---