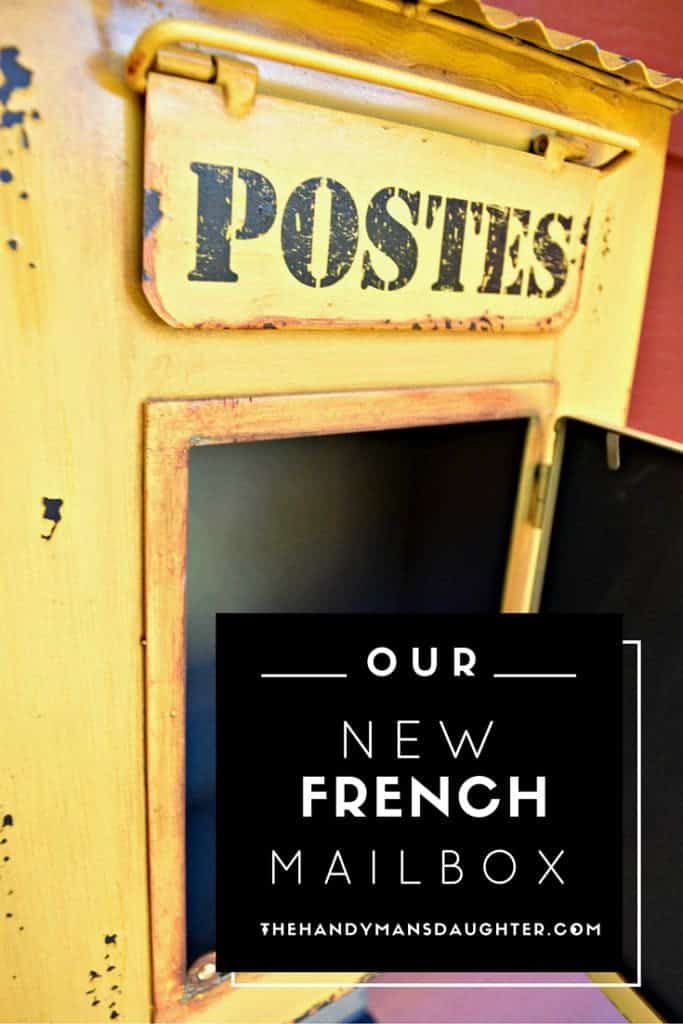 It's hard for me to believe, but my husband and I celebrated our TEN year wedding anniversary last month! Where does the time go? Our honeymoon was a Mediterranean cruise, and we haven't been back to Europe since. So we decided to leave the kiddo with his grandparents for a week and jet off to Paris to commemorate our anniversary in style! It was absolutely amazing, and as usual, we came home with a carry-on suitcase full of souvenirs.
This post contains affiliate links. Please refer to my disclosures page for more information.
We always try to buy something for the house when we're travelling, so we can be reminded of our adventures when we're home. On our honeymoon, we came back with a few street paintings and a blown glass vase that resides on our mantle. Two more huge paintings came from Hong Kong and Rio de Janiero and now adorn our living room walls. Our family trip to Japan resulted in more souvenirs than the rest of our trips combined! So we were looking for something completely different from Paris.
We stayed in the Latin Quarter, and we stumbled upon a flower and plant market nearby. Sadly, customs won't let us take plants home (and they wouldn't survive in our suitcase anyway). But each vendor had a small indoor shop where they sold garden decorations, wind chimes and other non-flora items. We wandered into a shop with walls covered with various outdoor clocks and thermometers, and one lone mailbox.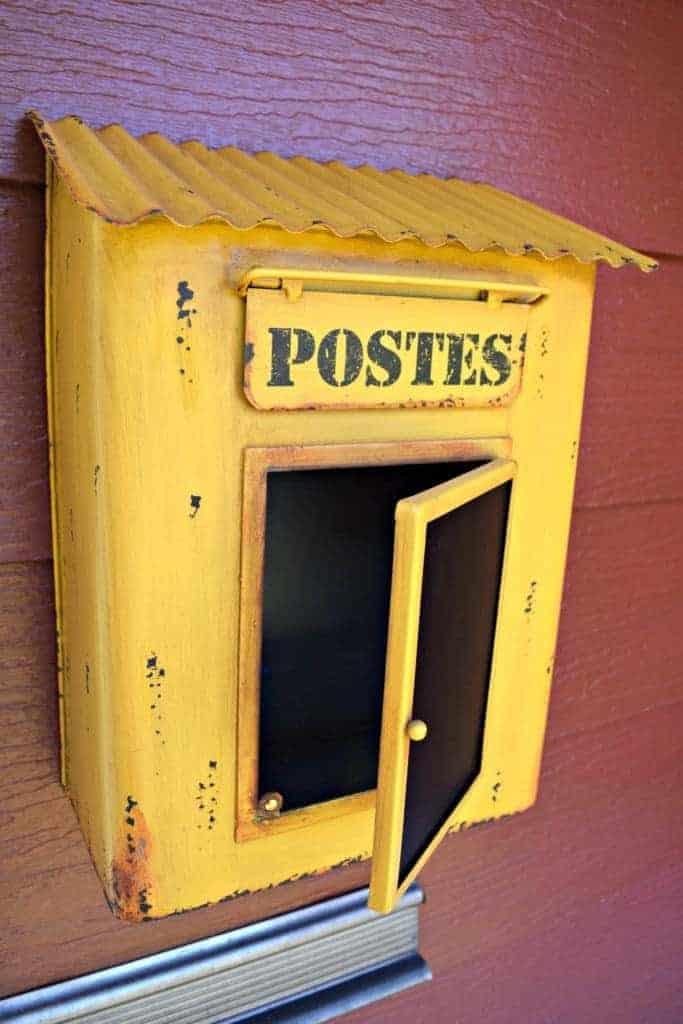 I was instantly in love! The color matches our front door mat, and the distressing around the edges brings out hues similar to our red siding. The "Postes" section covers up a small slot, and it has a door for removing mail. The door is made of chalkboard, so I can leave a note indicating that there is mail to pick up or tell the delivery person to leave packages in my outdoor storage bench below. Our old mailbox was an embarrassing eyesore, so this was the perfect house souvenir.
I was hoping that the new mailbox would be able to cover up the hole in the siding left by an unused mail slot (mail slots are just expressways for spiders and cold drafts, and who wants to see mail strewn all over the floor when they come home?) But my memory of the position of the mail slot on the wall was apparently lacking, and installing the mailbox that low would look weird. I'm hoping that it's obvious now that we no longer use the lower slot, and we won't find any more random mail stuck in the insulation!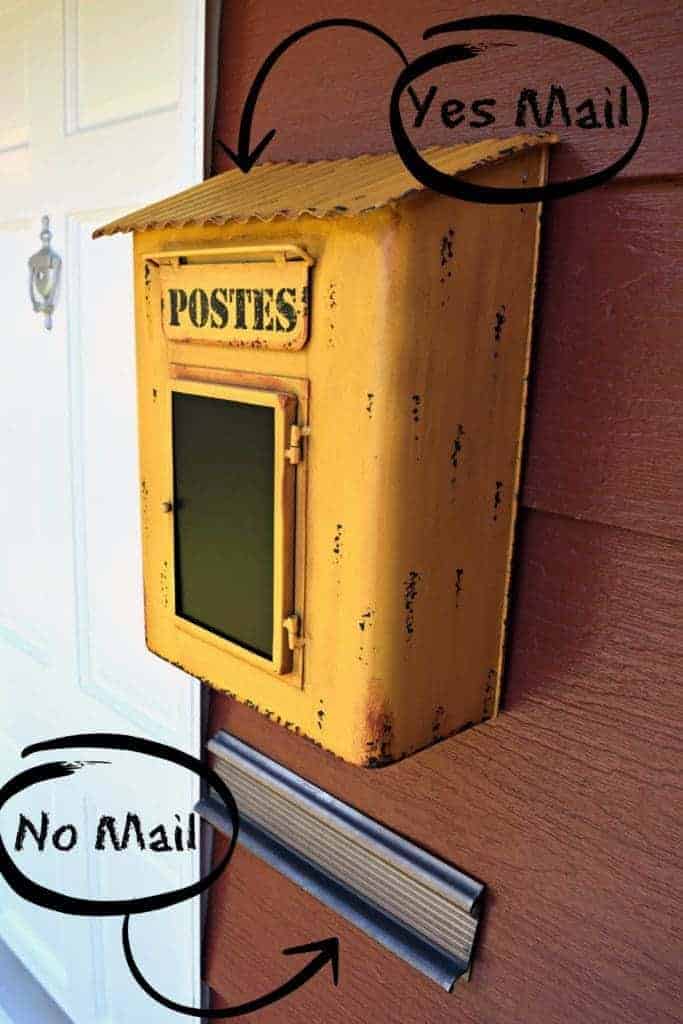 The new mailbox brings such a cheerful pop of color to our front porch, and we'll always be reminded of our fabulous trip to Paris when we come home. New mailbox, check! Fixed the storage bench lid, check! New shade loving plants in our yellow container, check! Bring on those warm summer nights hanging out on the porch!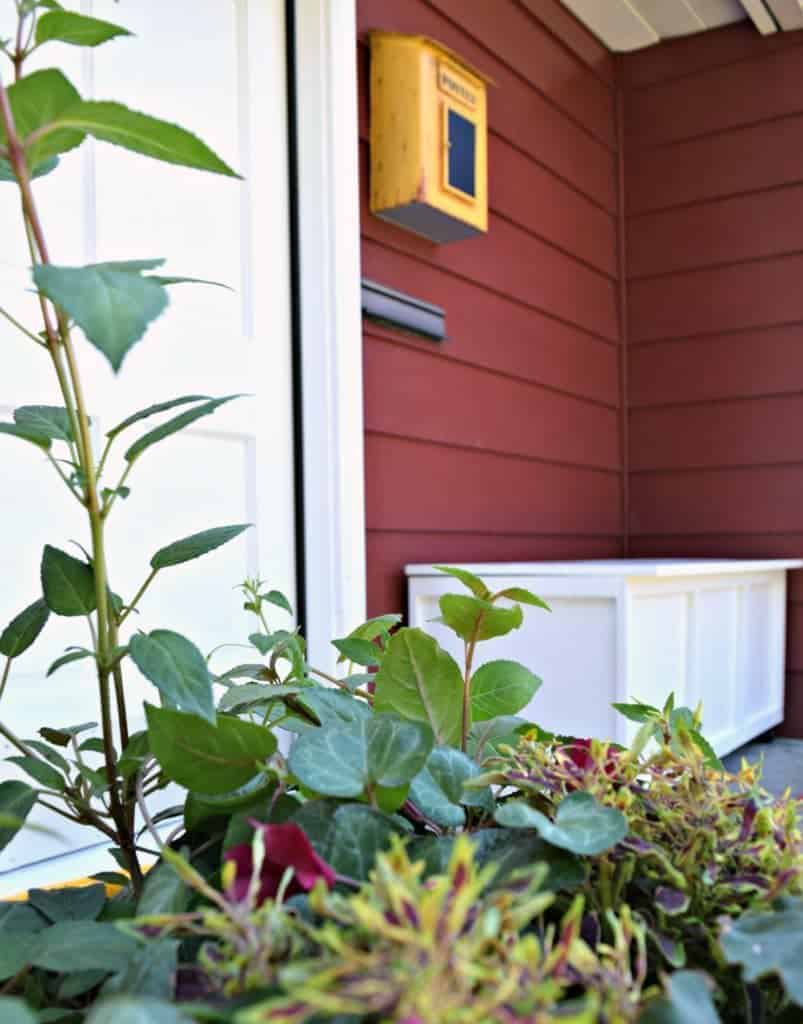 You can check out my other updates to the front porch, such as the spray painted door hardware. Its come a long way since we moved in almost two years ago!
If you would like to keep up to date with my latest posts about home improvement, decor and more, you can follow me on Facebook, Pinterest, or sign up for my weekly newsletter below.
Want more DIY projects?
Subscribe to get project ideas, home improvement tips, woodworking plans and more delivered straight to your inbox!