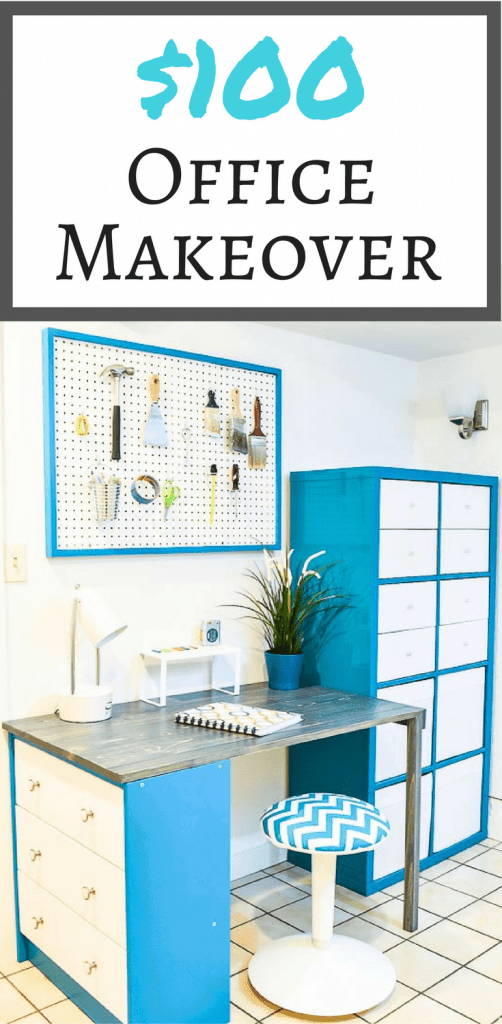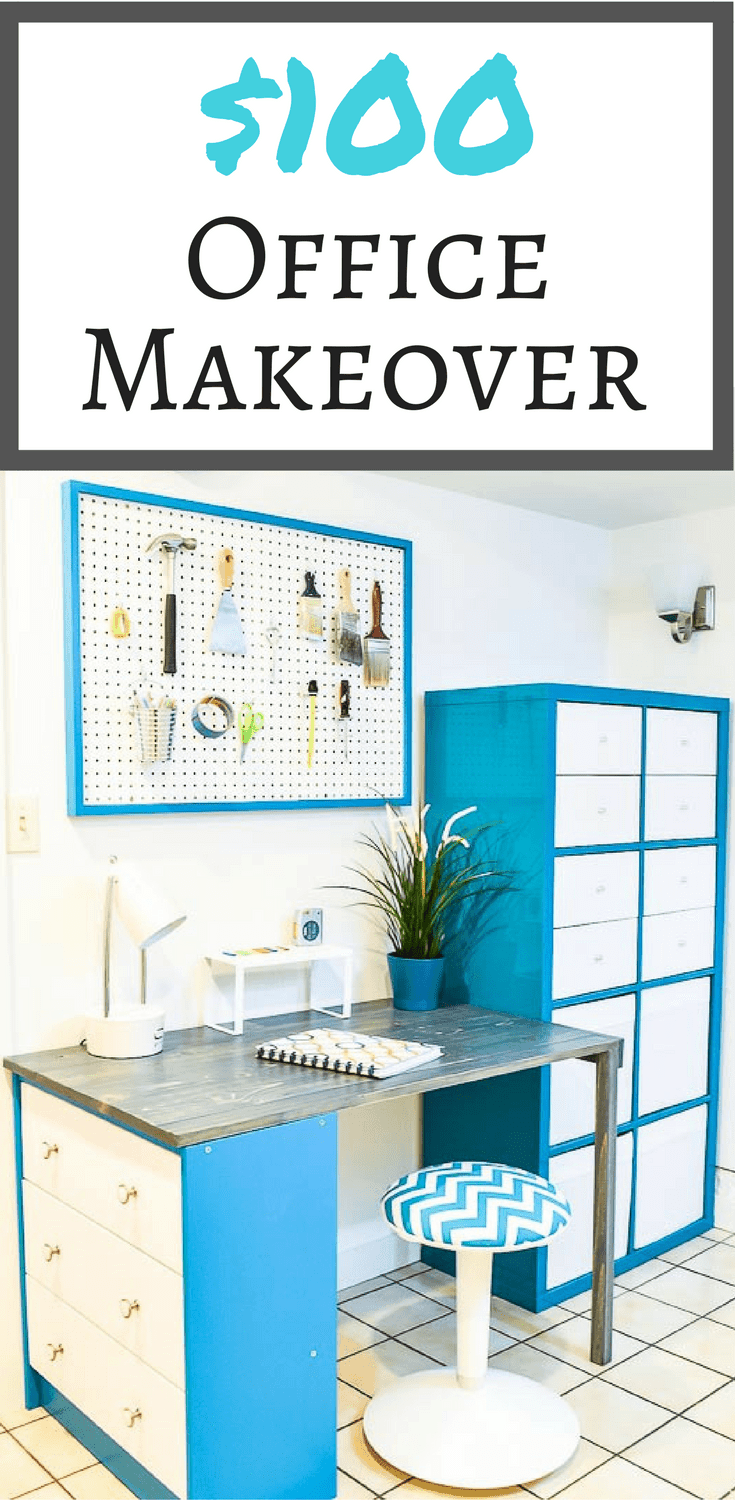 Welcome to the $100 Room Makeover Challenge! My fellow DIY bloggers and I are each choosing one room and transforming it into a space we will love. The only catch: We can only spend $100 on the entire overhaul! It took a lot of creative thinking and some furniture musical chairs, but I managed to complete my basement office makeover under this tiny budget.
This post contains affiliate links. Please see my disclosures page for more information.
Our basement office does double duty as our laundry room, but I chose to ignore the washer and dryer side for this makeover. Nothing is going to make those 20 year old beasts pretty! The "office" was basically a depository for furniture that didn't have a home after we moved in two years ago. The sagging desk held an old Mac that hasn't been used in ages, and the printer cabinet was jammed full of scrap paper and old cables. Overall, it was just drab and boring!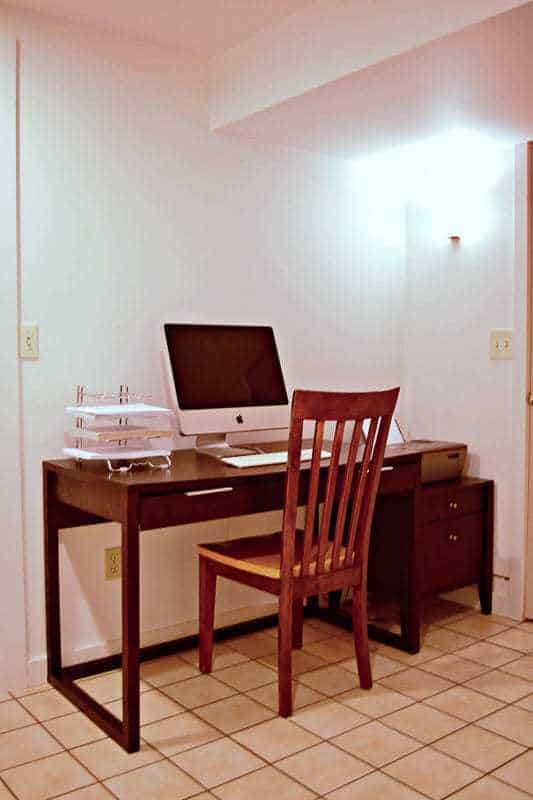 Because this room is right outside my workshop, it slowly became a dumping ground for tools and leftover materials. I thought the space would be better utilized as additional storage, with a small desk area for making notes as I worked on my latest project.
Storage pieces can be expensive, so I had to get creative with stuff around the house if I wanted to come in under budget. My sewing room is almost never used anymore, now that my interests have migrated to woodworking. It was time to change things up! I cleared out the IKEA Kallax that stored all my old sewing notions and dragged it down to the basement.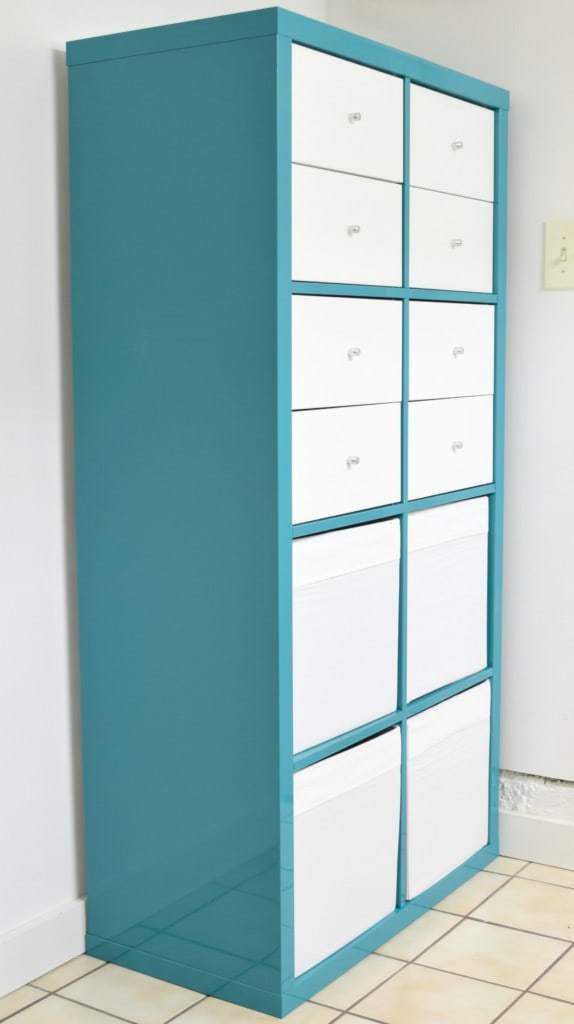 I discovered that IKEA no longer carries the turquoise version of the Kallax (sad!) You can find other bright or neutral colors at their store or on Amazon if you don't have an IKEA near you. I love the drawer inserts for smaller items, and the Drona boxes fit in the squares perfectly. You can also find a wide variety of inserts online.
Taking inspiration from the bright turquoise and white Kallax, I painted an inexpensive IKEA Rast dresser to match. These two pieces will infuse some much needed color into the space.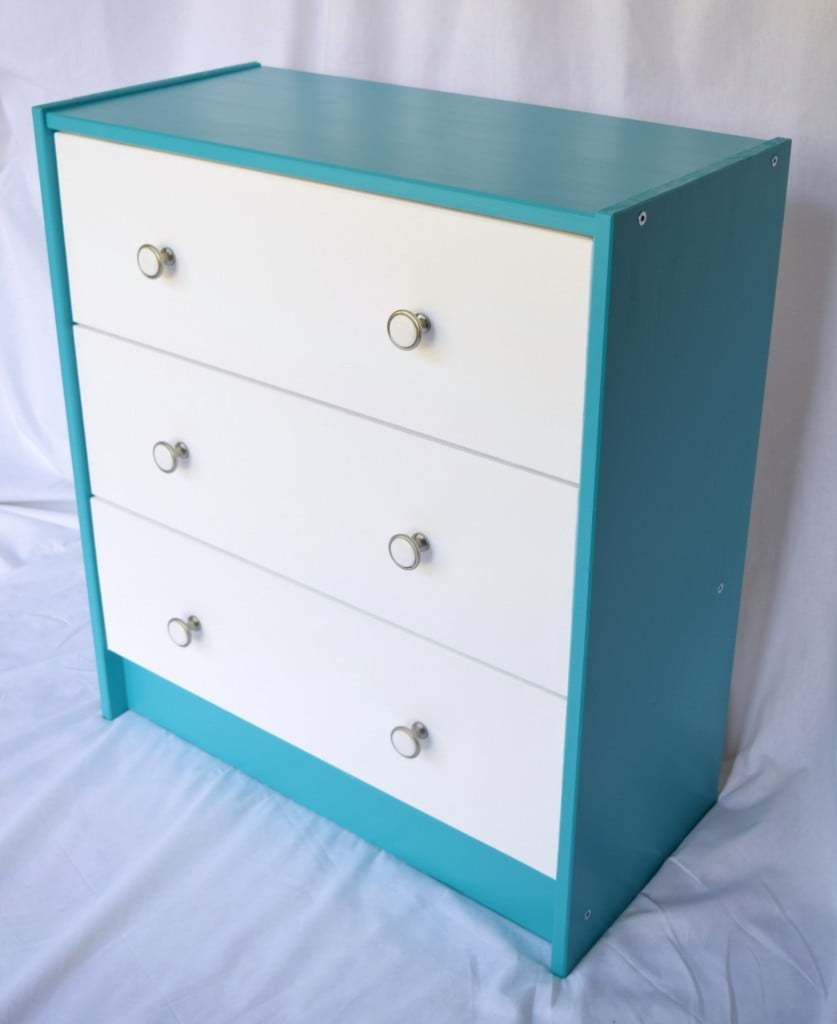 To create the desk area, I spanned the gap between the Kallax and Rast with 1 x 6 boards. These boards were planked together with my handy Kreg Jig, then stained charcoal gray with Minwax water based stain. A full tutorial of this easy IKEA desk hack can be found here!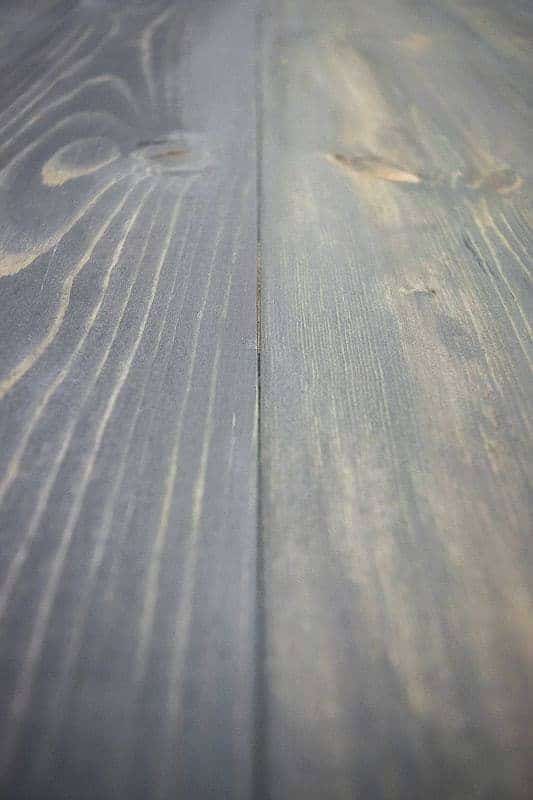 Above the desk, I installed a pegboard to hang all the tools and supplies that I didn't want to get covered in sawdust. Nothing ruins a good paint brush faster than dust!
I had a scrap piece of pegboard left over from the one I hung in the workshop. To raise it off the wall so hooks could get behind it, I put together a backing using scrap 1 x 2's. To cover up the rough edges, I framed the entire pegboard with preprimed 1 x 2 scraps left over from my outdoor storage bench project, and painted the frame the same color as the Rast and Kallax.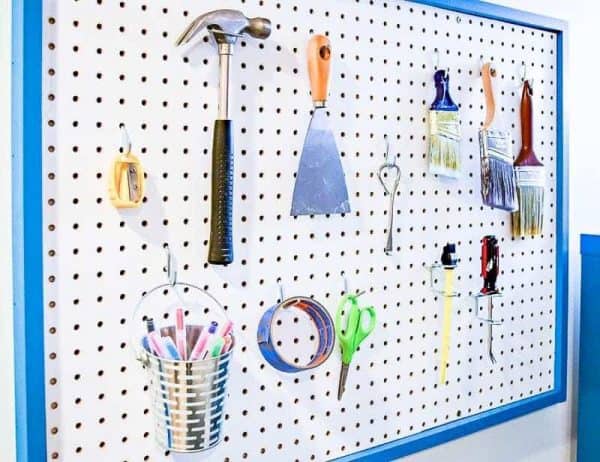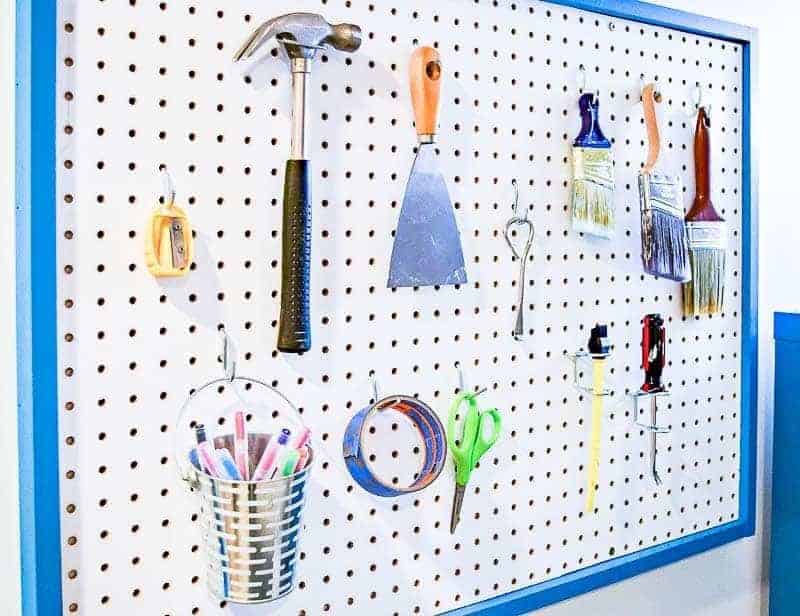 The stool from my sewing table also made its way down to the basement. I gave it a new look with fabric left over from making the curtain for the former sewing room. (See, it's good to hoard scraps!)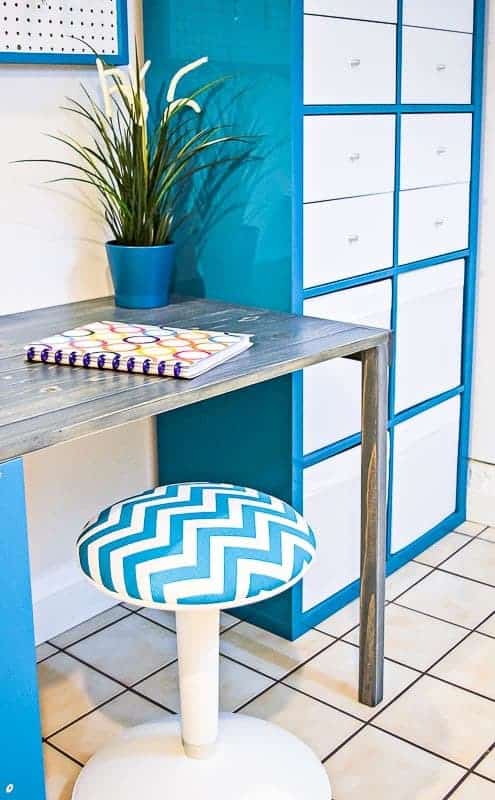 I ditched the old, dingy light fixture for an inexpensive but modern alternative. The white shade gives the space much brighter light than the brownish one I was replacing. The brushed nickel finish also coordinates with the hardware on the Rast dresser.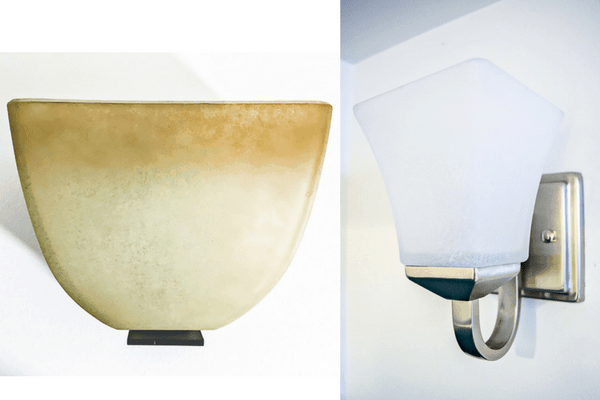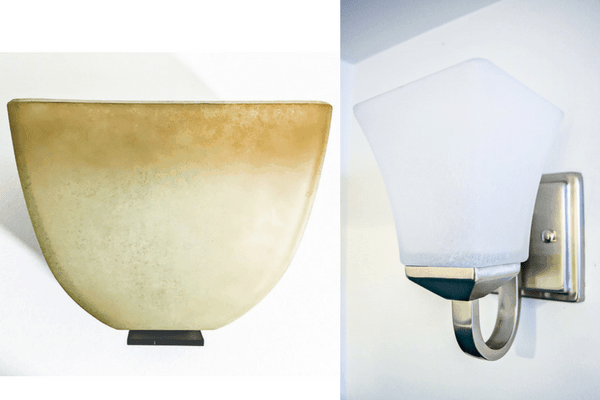 A few last touches, like the fake plant, table lamp and wall clock, were taken from other parts of the house. The woodworking books are now close at hand rather than on a shelf upstairs. And my project notebook finally has a home instead of cluttering up the coffee table in the living room!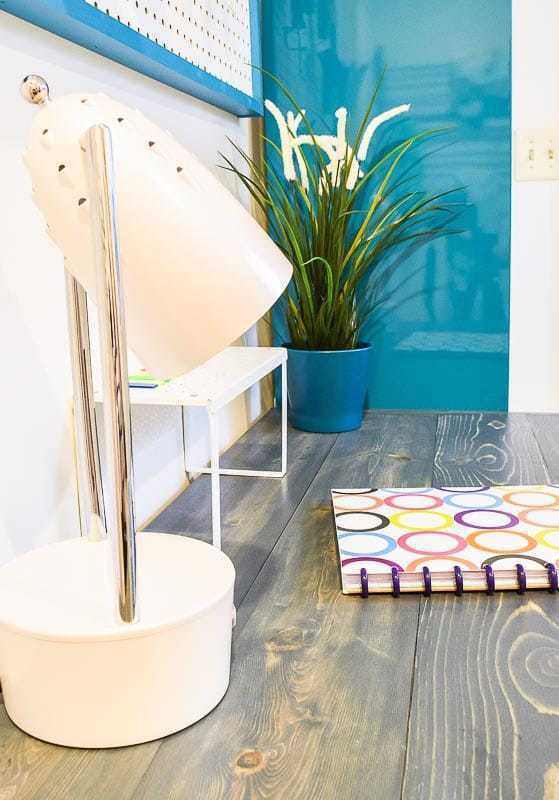 Office Makeover Price Breakdown
Want a rundown of the total cost of this office makeover? Here's the list:
The grand total for the entire makeover was $97.11. I can't believe I completed the challenge for under $100! I actually enjoyed scrounging around the house for pieces I could use rather than spend money on new stuff. My scrap wood pile is a little smaller too!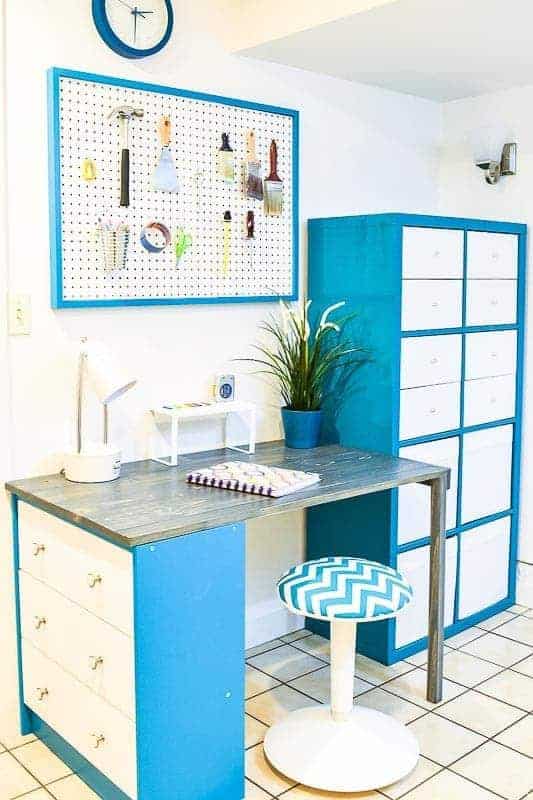 My basement office looks like a completely different space now, and will be so much more useful. I can't wait to start filling up those drawers and bins with all the little things that have been cluttering up the workshop.
Want to see how my fellow bloggers did on their $100 Room Makeover Challenge? Click on the links below to check them out!
The Purple Hydrangea
Girl, Just DIY!
Sawdust Sisters
Savvy Apron
Raggedy Bits
Newton Custom Interiors
Farmhouse Made
Anika's DIY Life
1915 House
My Thrifty House
If you would like to keep up to date with my latest posts about woodworking, home improvement, home decor and more, you can follow me on Facebook, Pinterest, or sign up for my weekly newsletter below.
Want more DIY projects?
Subscribe to get project ideas, home improvement tips, woodworking plans and more delivered straight to your inbox!