These Thanksgiving turkey decorations will be a hit at your family gathering! Whether you prefer elegant or rustic, there's sure to be one that's perfect for your decor!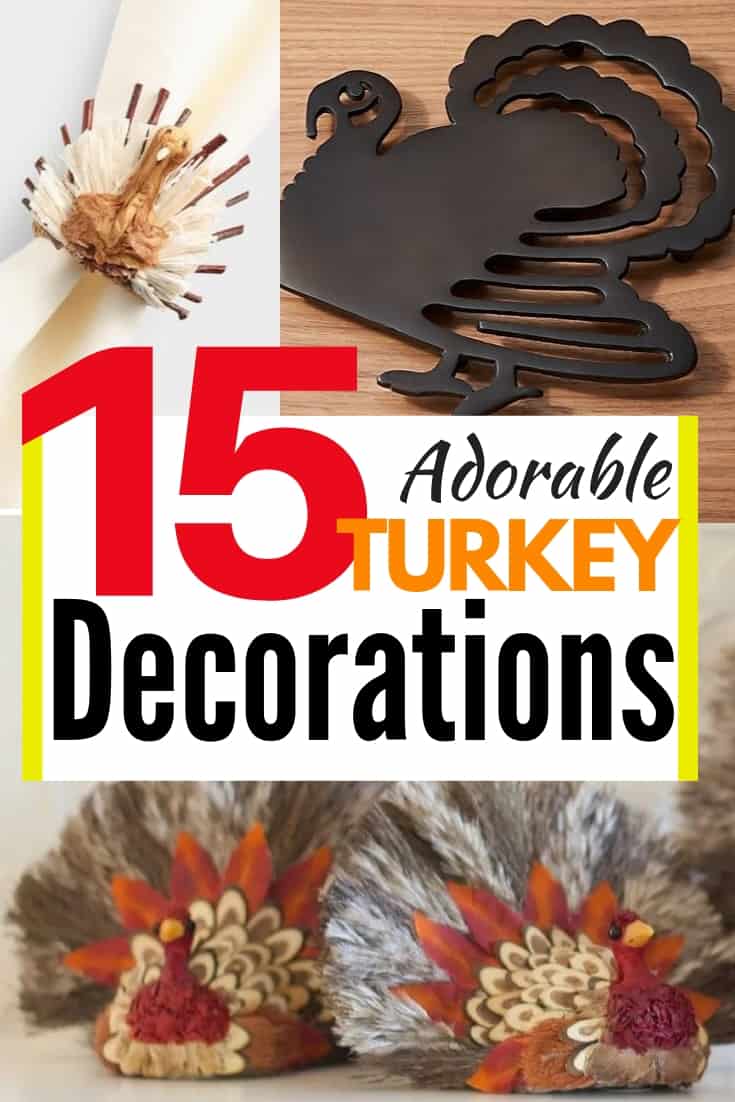 Everyone knows that the turkey is the star of Thanksgiving dinner. Save a spot on the table for the main course with one of these amazing turkey decorations! I've scoured the internet to find the best Thanksgiving centerpieces out there, from rustic to elegant to classic. You're sure to find one you'll love to bring out year after year!
This post contains affiliate links for your convenience. Purchases made through these links may earn me a small commission at no additional cost to you.
Thanksgiving is one of those forgotten holidays when it comes to decorating. It's stuck between Halloween and Christmas, and no one wants to take down yet another set of decorations.
But a simple turkey decoration on your Thanksgiving table serves two purposes: it spruces up a boring table and saves a spot for the roast turkey before it gets cluttered up by all those delicious side dishes. Stake a claim in the center of the table with one of these cute centerpieces!
I broke down this list by retailer, so scroll down to find your favorite shopping destination. Shop fast, because seasonal decor like this sells out quick!
Turkey Decorations from Amazon
Nothing beats Amazon when it comes to speedy delivery, especially when you plan your decorations at the last minute. These options will be at your house before you can say "Gobble, gobble!"
---
If you're not using that pumpkin for a pie on Thanksgiving, why not turn it into a turkey?
This kit
gives you everything you need to poke the feathers, wings and head into a pumpkin body!
---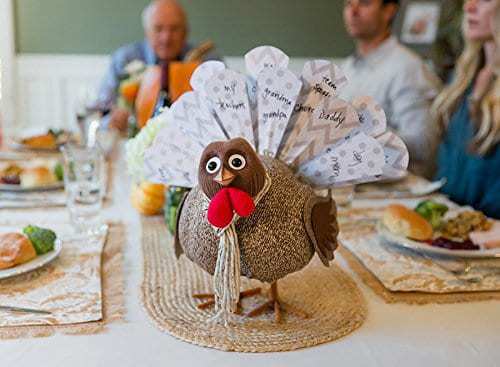 Remind your children of all the things to be grateful for on Thanksgiving with this little guy. Have them write their favorites on the paper tail feathers and discuss them over dinner!
---
These turkey tea light holders will illuminate your entire Thanksgiving table! They're perfect for smaller tables that don't have space for a huge centerpiece.
---
Turkey Decorations from Wayfair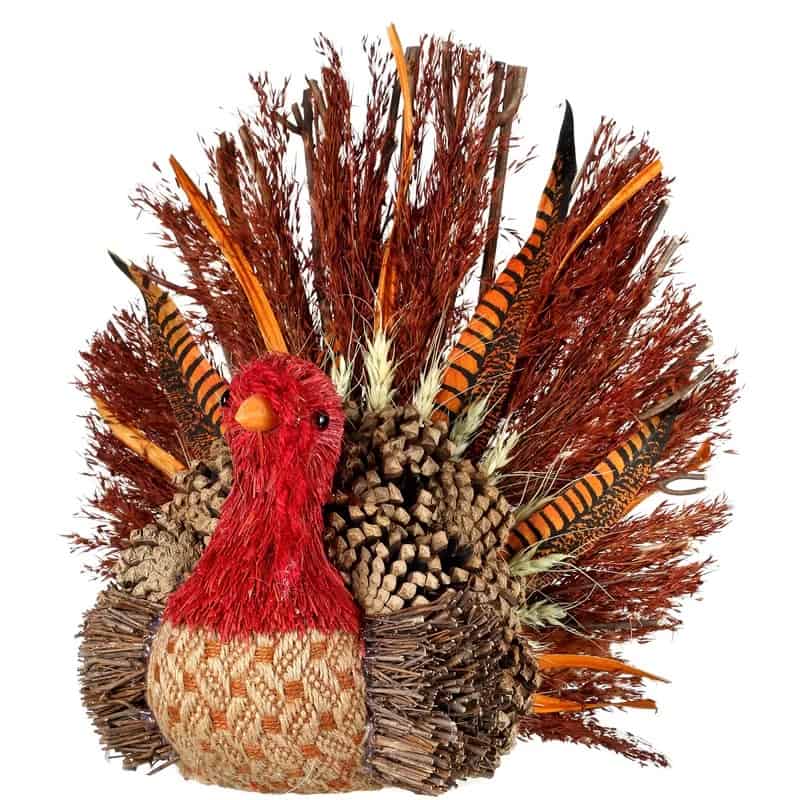 This cute little guy
combines fabric, twigs, feathers and pinecones for a natural turkey decoration.
---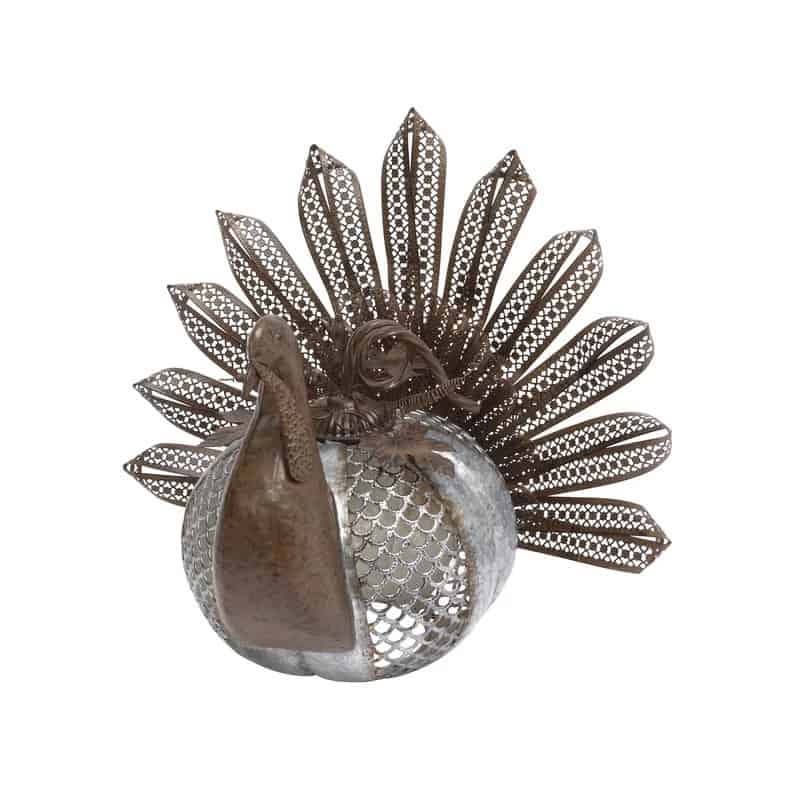 I'm loving the industrial look of this metal turkey decoration! It has a steampunk vibe with the metal grates and spiral wire, and is anything but traditional!
---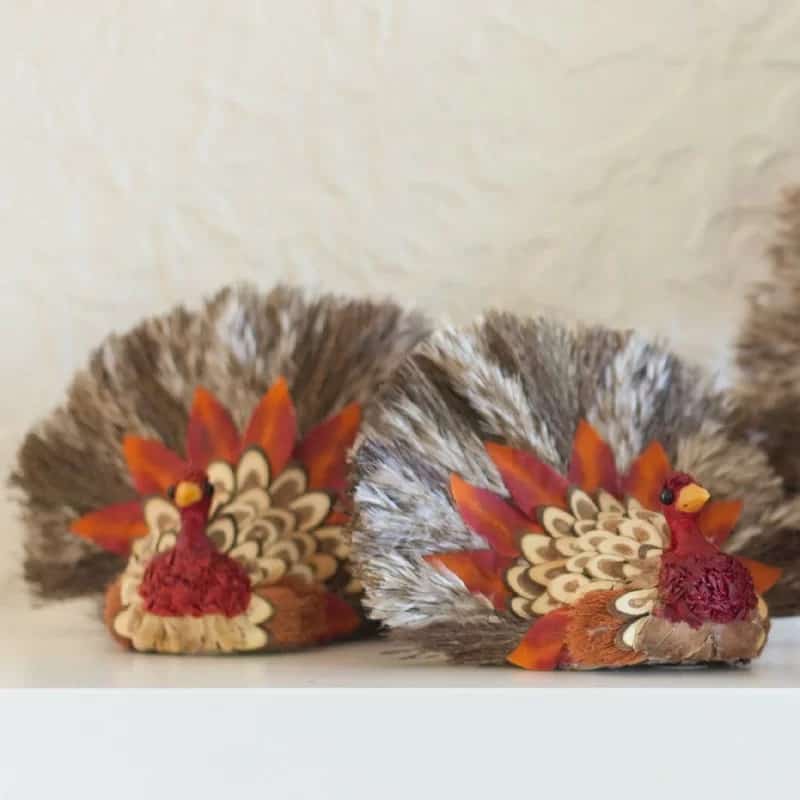 What's better than a turkey centerpiece on your Thanksgiving table? How about two? These twin turkeys are a cute way to decorate your dining table this holiday!
---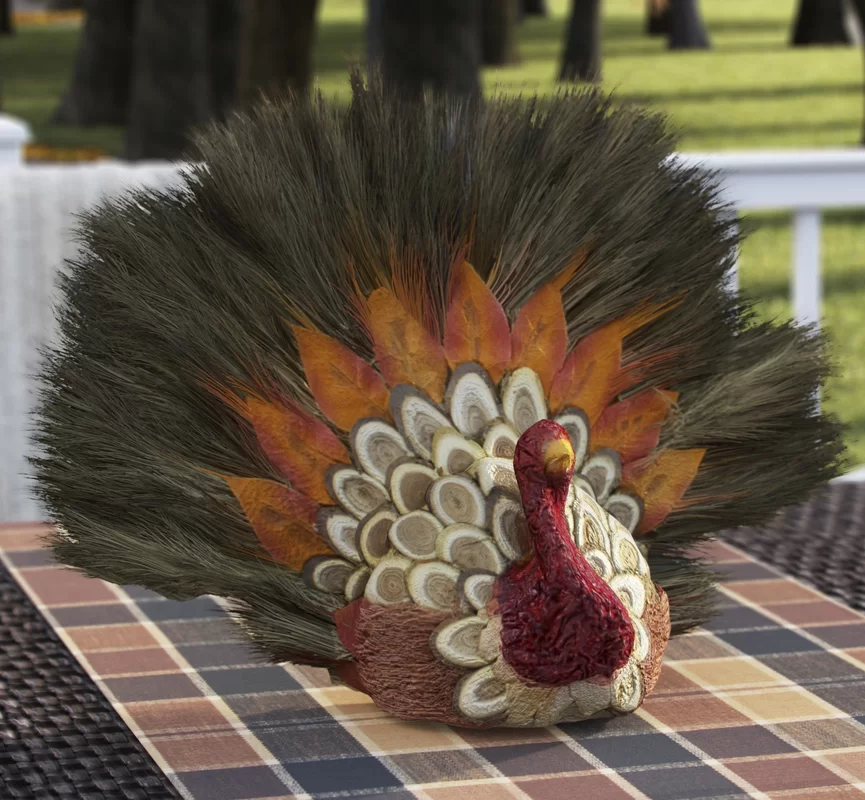 This turkey decoration sits like a proud peacock in the center of your Thanksgiving table!
---
Turkey Decorations from Target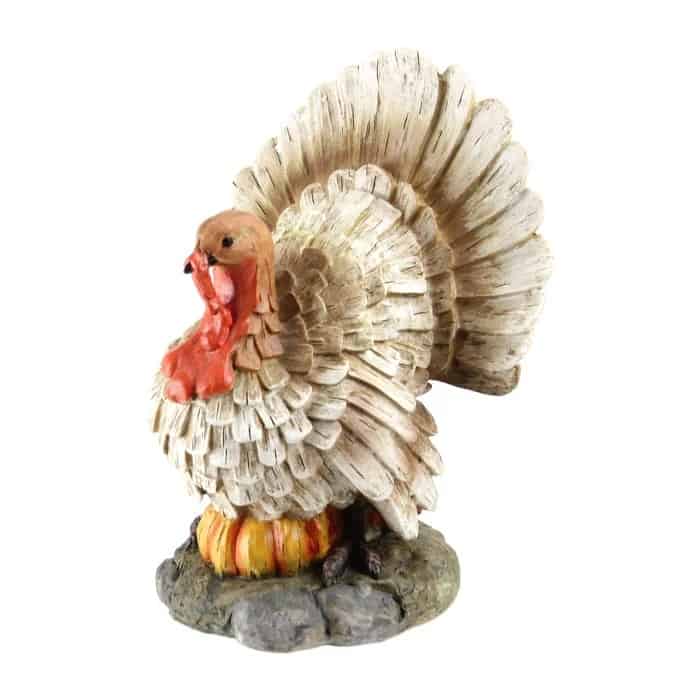 This resin turkey will sit proudly in the center of your Thanksgiving table!
---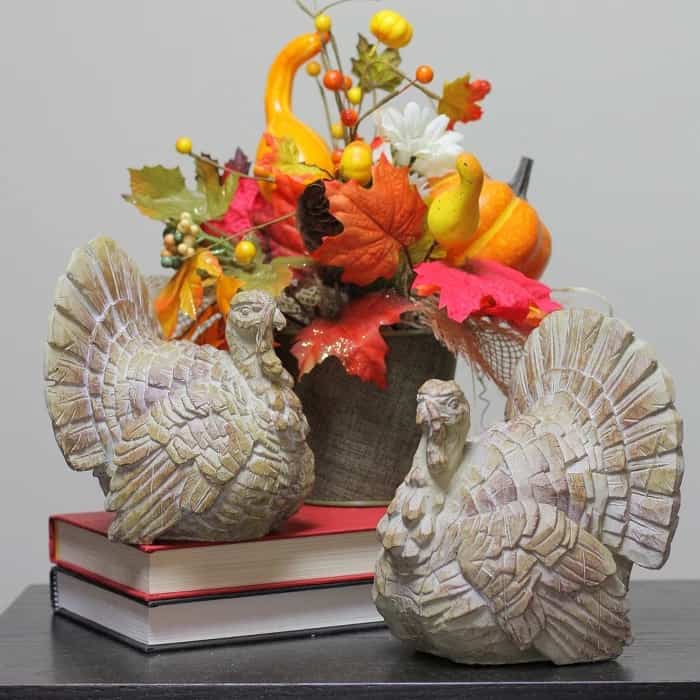 This pair of turkeys comes in neutral colors that will fit with any decor.
---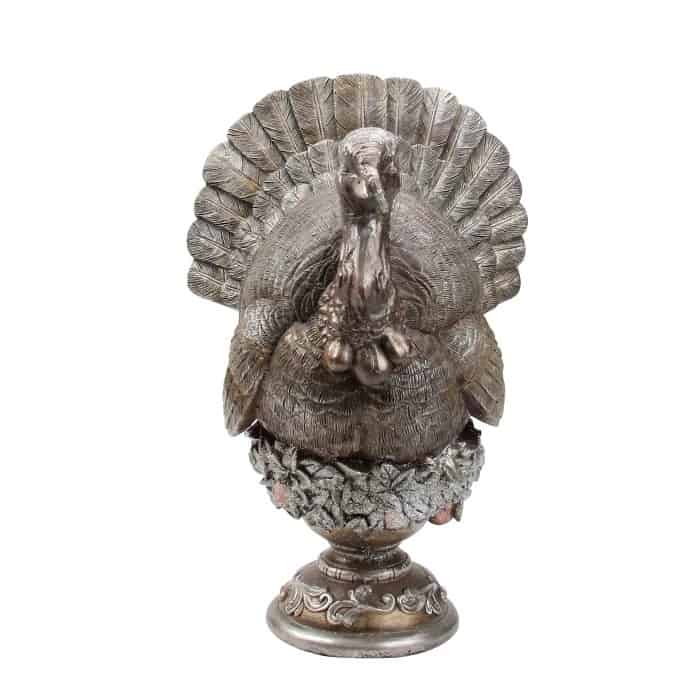 Elevate the humble turkey with this bronze finish turkey on an elegant pedestal!
---
Turkey Decorations from World Market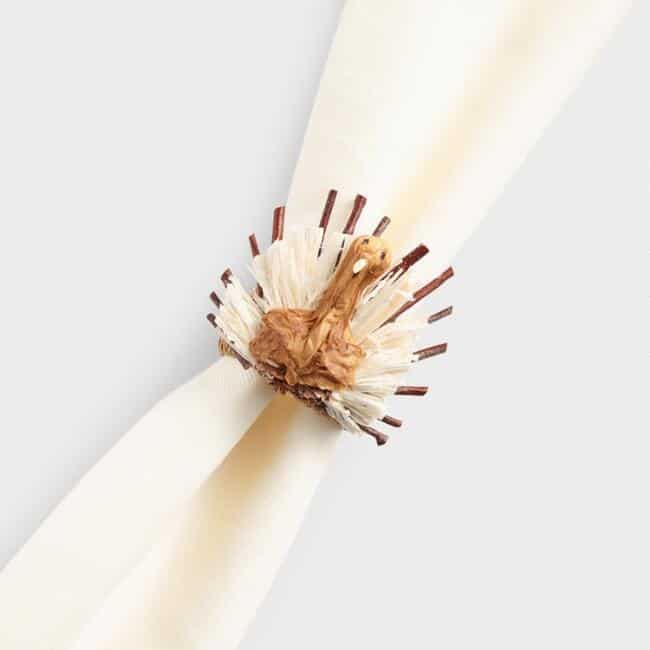 Your guests will fall in love with these tiny turkey napkin rings!
---
Turkey Decorations from Crate and Barrel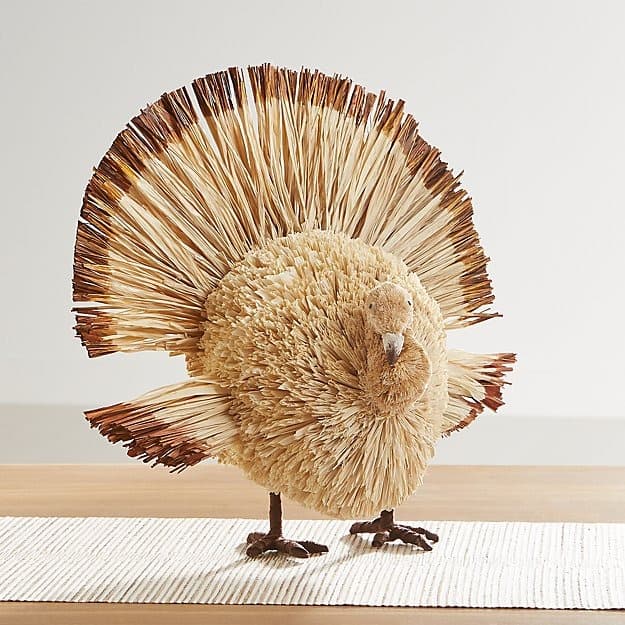 This natural turkey decoration is made from raffia and banana leaves, and it's surprisingly affordable!
---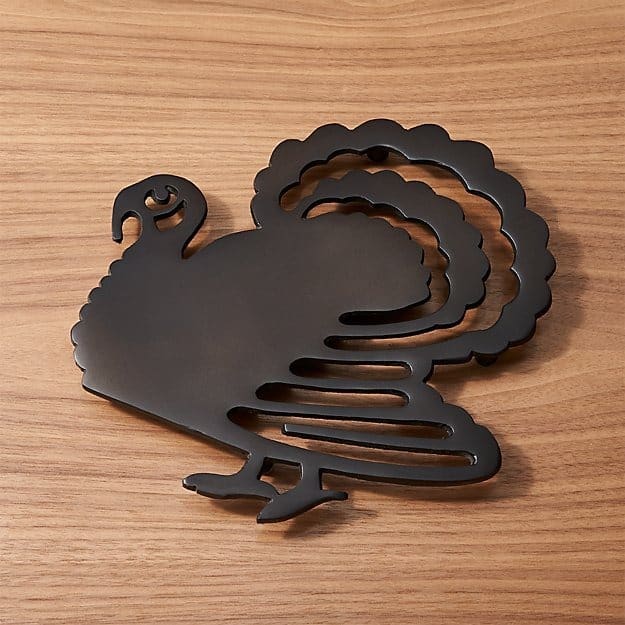 Mark a spot of honor for the roasted turkey (and protect your table) with this turkey trivet!
---
Turkey Decorations from Etsy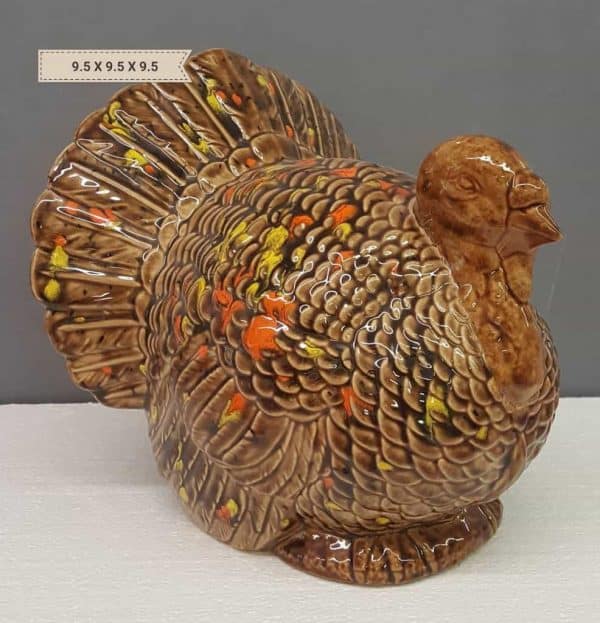 Support an independent seller this holiday with this hand glazed ceramic turkey! Each one is made to order, so your Thanksgiving table is sure to be unique.
---
When Thanksgiving is over, get ready for Christmas with these ideas!
---
If you would like to keep up to date with my latest posts about DIY projects, home decor and more, you can follow me on Facebook, Pinterest, or Instagram. You can also sign up for my email list below and get the latest post delivered to your inbox each week!
Want more DIY projects?
Subscribe to get project ideas, home improvement tips, woodworking plans and more delivered straight to your inbox!