Is your patio set looking grimy and uninviting? Learn how to clean outdoor furniture quickly and easily to make it look like new again!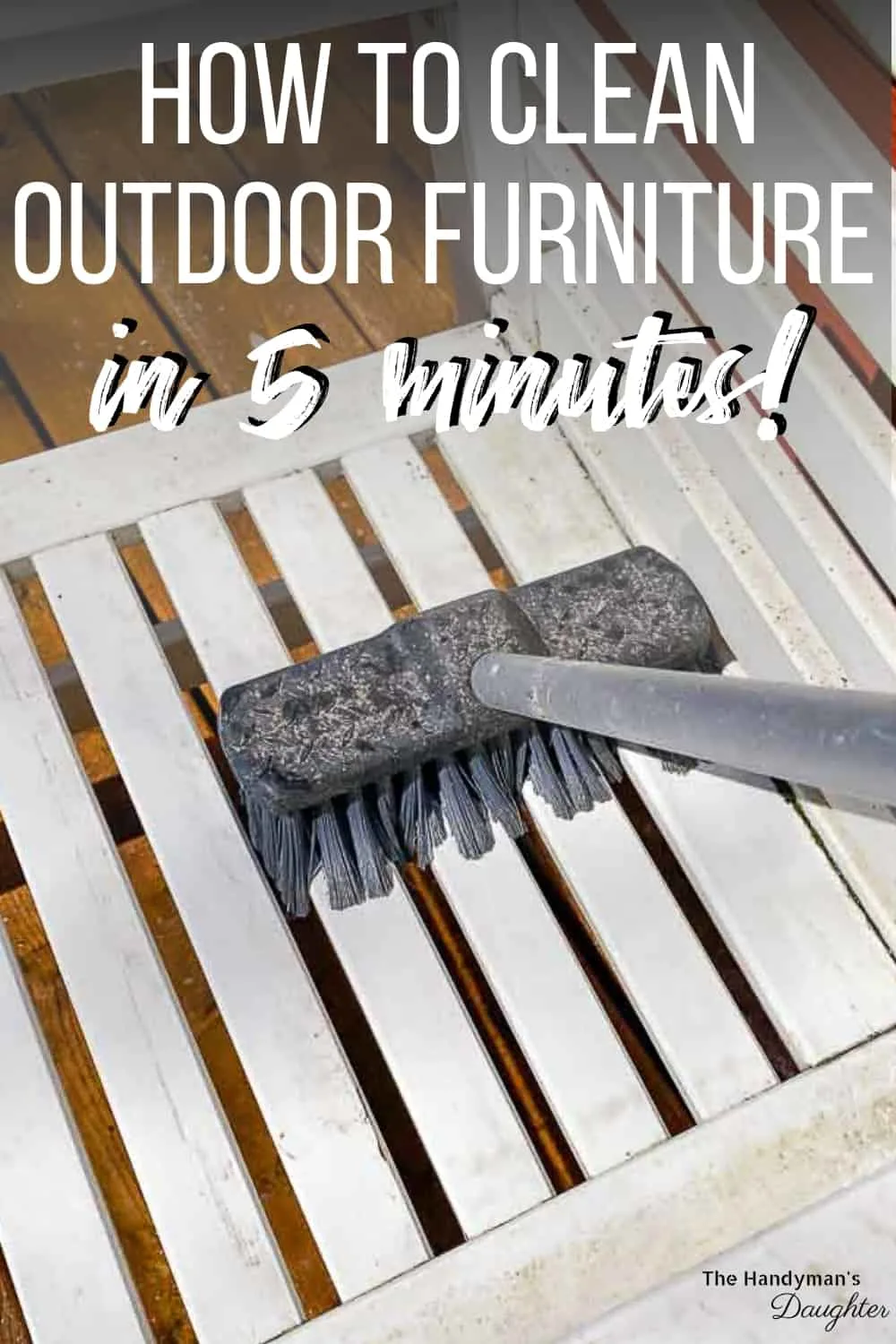 Our outdoor furniture takes a beating all year long. In the summer, the sun causes UV damage that makes it fade and crack. In the winter, it's exposed to rain and snow that can grow mildew and collect grime.
We don't have space to store our patio furniture indoors during the winter, and I haven't bought covers for all of them (why are they so expensive???) So every spring, I give every piece a thorough cleaning so we'll be ready to enjoy it in warmer weather!
This post contains affiliate links for your convenience. Purchases made through these links may earn me a small commission at no additional cost to you. Please visit my disclosures page for more information.
I've built most of our outdoor furniture myself (you can find the plans in my free woodworking plans library). They're all made of cedar, which is naturally rot resistant and holds up well outdoors. But every spring, they turn a lovely shade of yellow when pollen coats the dark brown stain!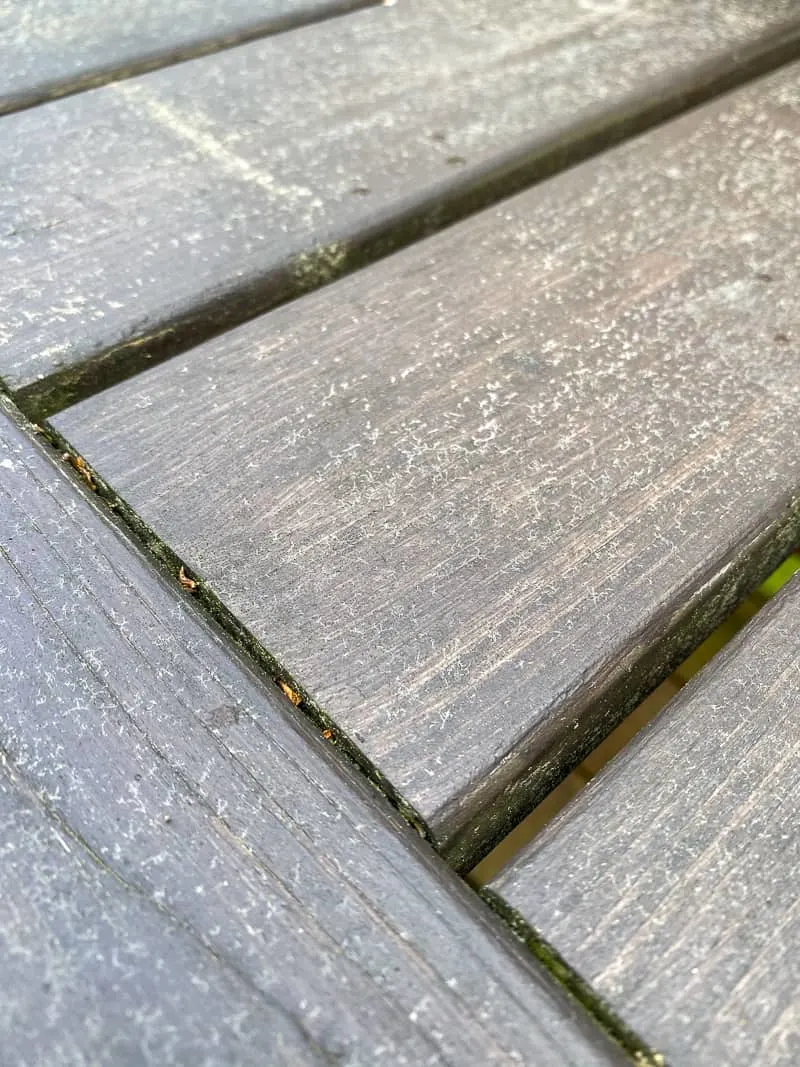 We also have an outdoor dining set from IKEA (which will hopefully be replaced with custom built pieces later this year). The white paint always looks horrible at the end of the rainy season, and the slats are a pain to clean! Be honest...would you sit on that chair? Ewww!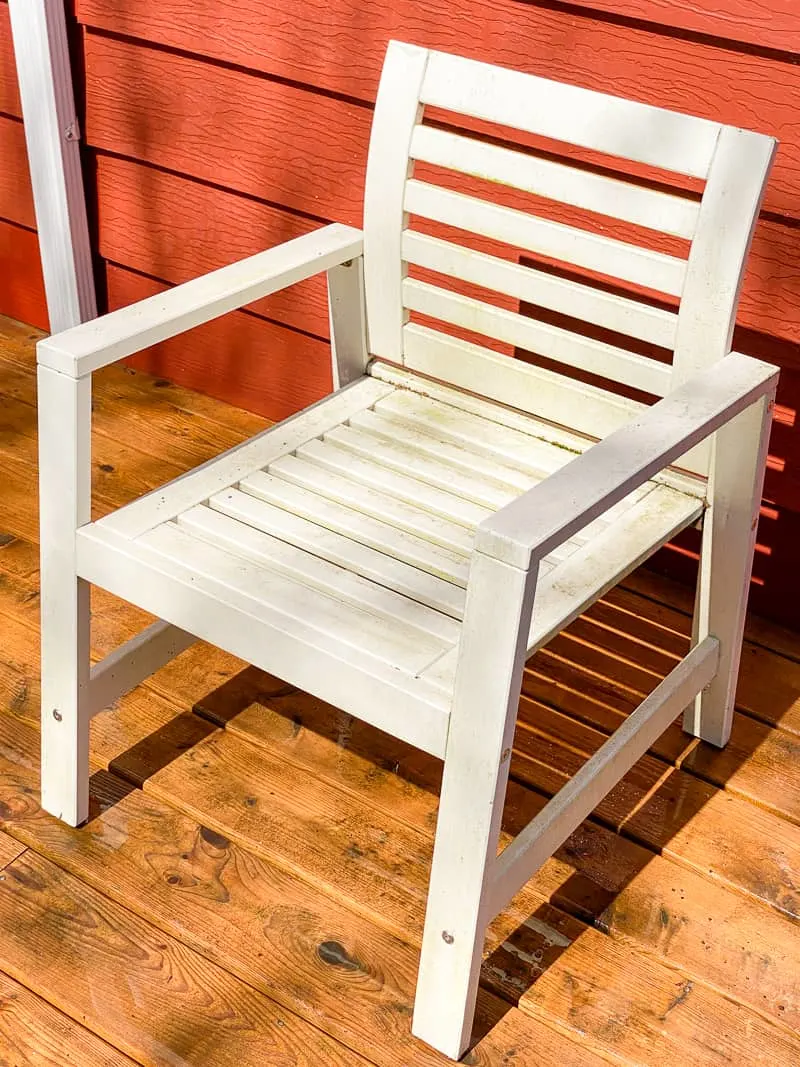 We had a stretch of nice spring weather recently, so I got busy cleaning everything in sight! I thought it might be helpful to share my tips and tricks for how to clean outdoor furniture quickly and easily, so you can get ready for summer too!
How to Clean patio Furniture
Our white patio furniture always develops a green hue by the end of the rainy season. But power washing can damage painted surfaces and cause it to flake and peel. Luckily, I've discovered a quick and easy way to get everything sparkling clean so we can dine al fresco as soon as it warms up!
Sweep or blow off loose debris
Our back deck is surrounded by trees, and a lot of leaves and seed pods end up on the furniture. A quick sweep with a broom or leaf blower dislodges any loose debris that might block the cleaning solution from working its magic.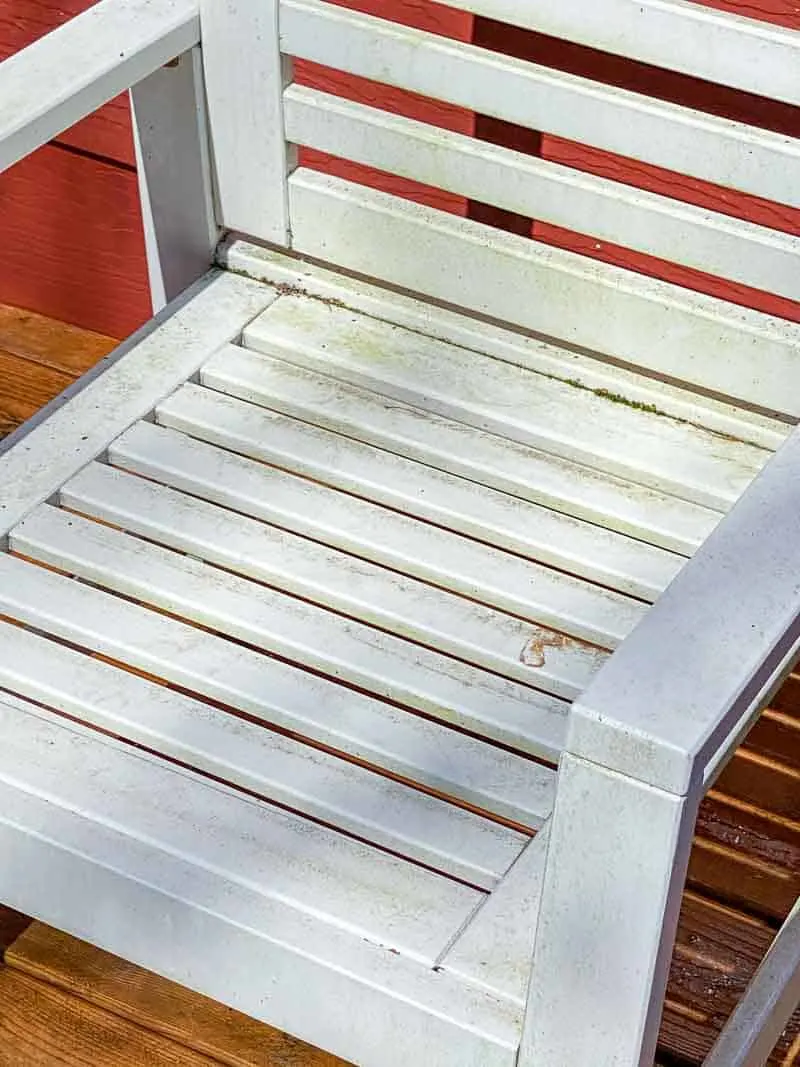 Don't bother rinsing off any of the gunk! The cleaner works better on dry surfaces, and it saves you a step. You may want to spray any plants in the area with water first to protect them from the chemicals.
Attach Cleaner to Hose
I've tried a LOT of different cleaners over the years, but my preferred method for cleaning outdoor furniture is 30-seconds Ready-to-Spray Outdoor Cleaner. It's the same stuff I used to clean the outside of the gutters, so I can tackle both projects at the same time!
This bottle attaches directly to the garden hose, and creates the exact ratio of water to cleaner required. Just screw it on, then turn on the water! Use lower water pressure, otherwise you'll run out pretty quickly.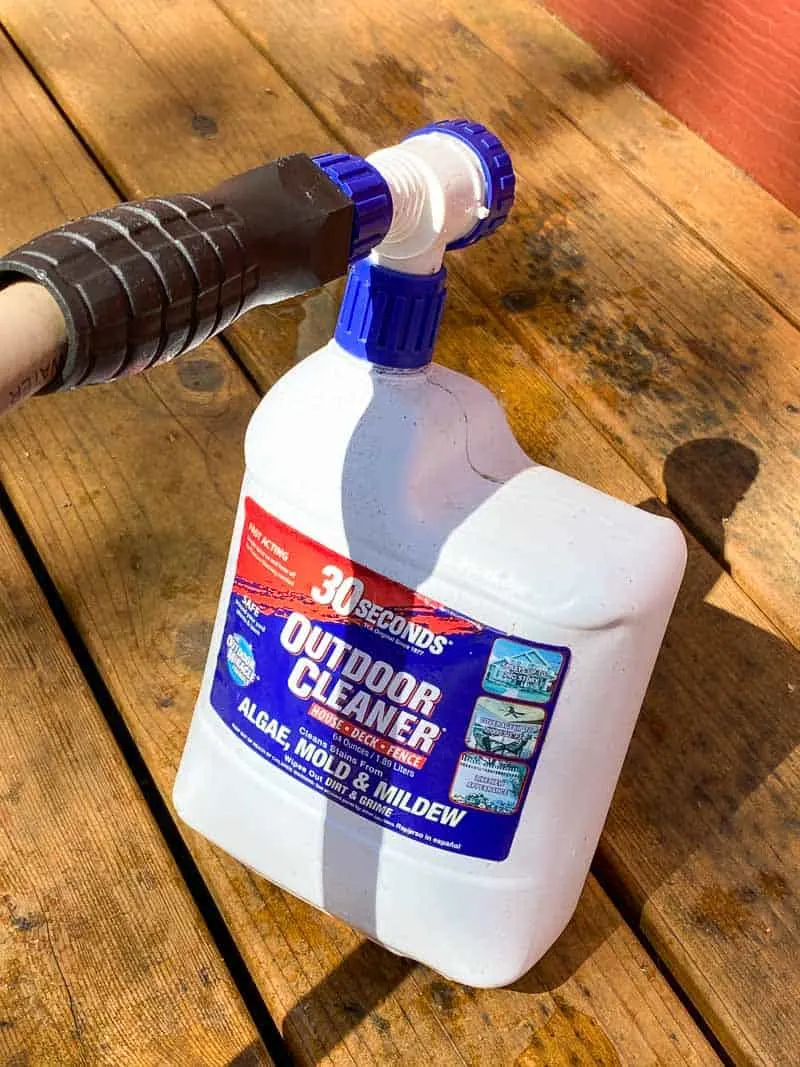 Spray the Outdoor Furniture with Cleaner
Turn the nozzle on the bottle to CLEAN and let it spray! Make sure to get all the surfaces, including the back and inside of the legs. Spray just long enough to get everything wet, then turn it off.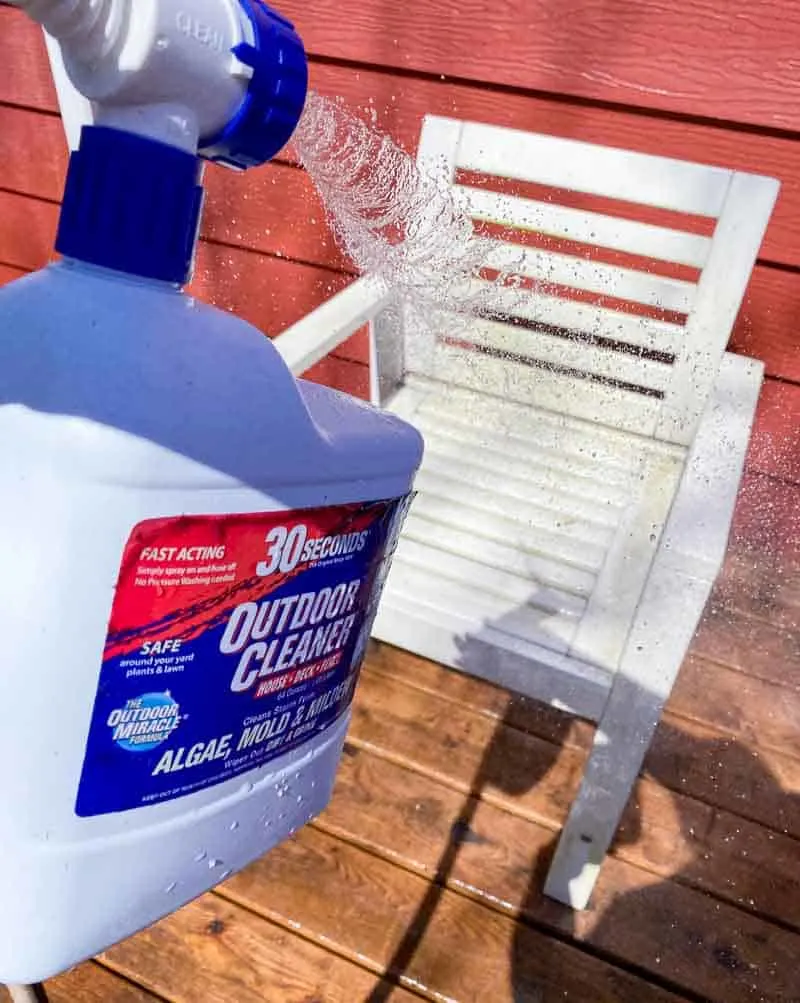 Scrub lightly if necessary
You can just let the cleaner sit on the surface for a few minutes, then rinse it off. But I prefer to give it a hand by using a soft bristled scrub brush with a pole attachment. You don't need to scrub hard! Just a light pass will remove most of the grime easily, and works between the slats where the spray might have missed.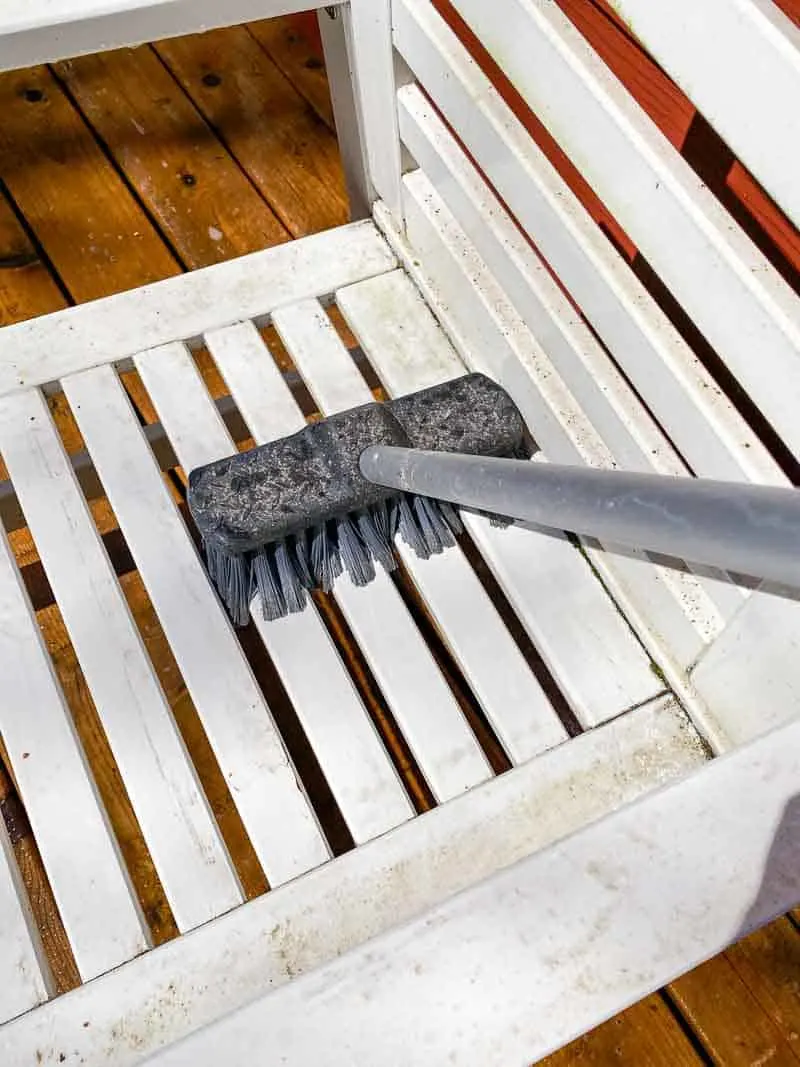 Rinse with Clean Water
One nice feature of the cleaner bottle on the hose is that you can switch it to rinse without having to remove it. This way, I don't have to run down to the spigot, turn off the water, run back up to the deck, remove the bottle, attach the sprayer, then run back to the spigot to turn the water on. Whew, it makes me tired just thinking about it! 🙂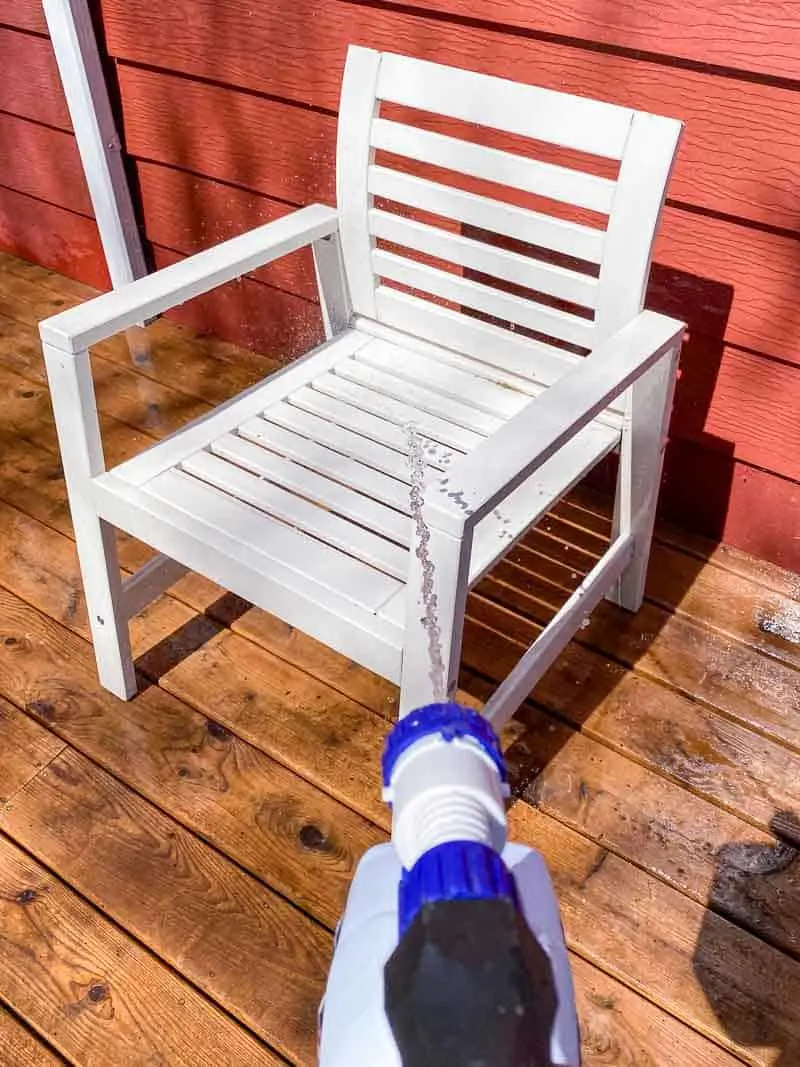 Allow to dry before use
After an hour in the sun, our patio set is good as new! It took less than five minutes of work to get our outdoor dining set sparkling clean!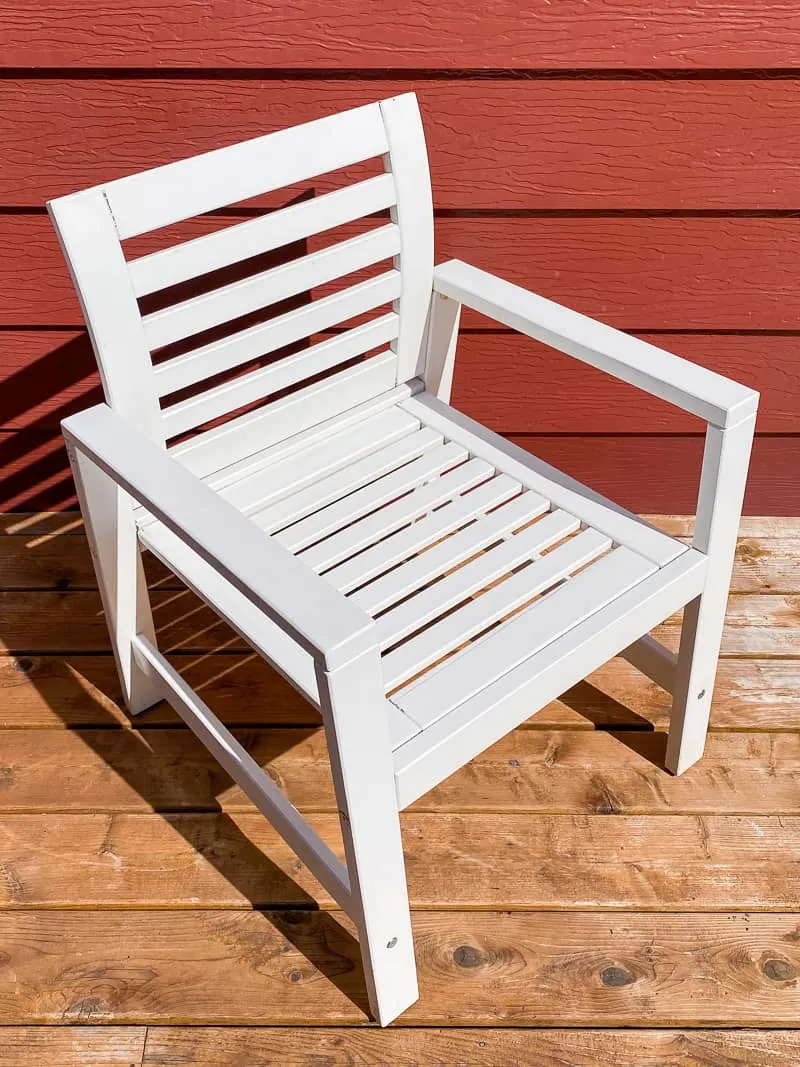 ---
As with any cleaning solution, perform a test on a hidden section of your outdoor furniture first! You don't want to remove your wood stain along with the mildew stains!
Now that you know how to clean outdoor furniture quickly, what are you waiting for? Get out the hose and get to work! 😉