Ryobi packed tons of features into this amazing self propelled electric lawn mower! Replace that gas guzzler with 40V power that folds up for easy storage!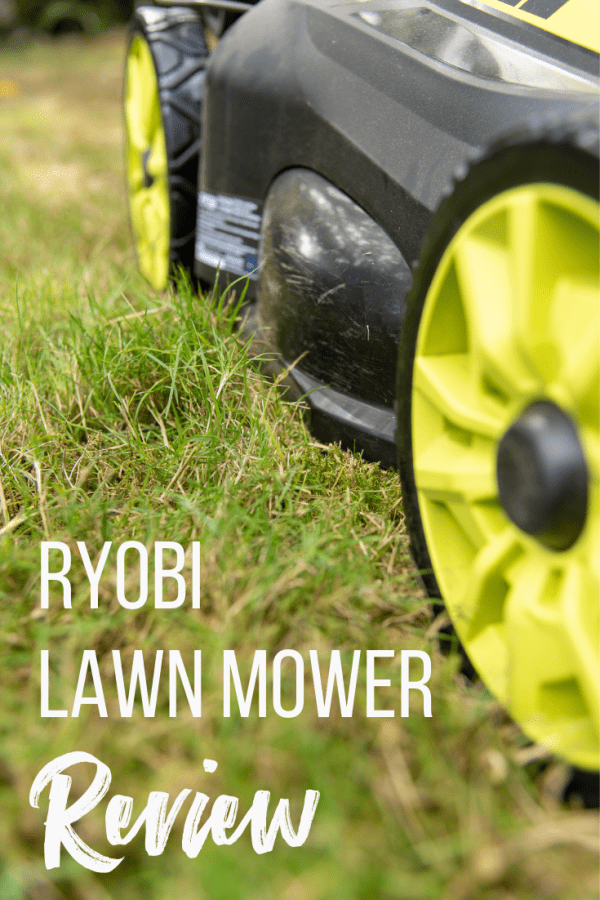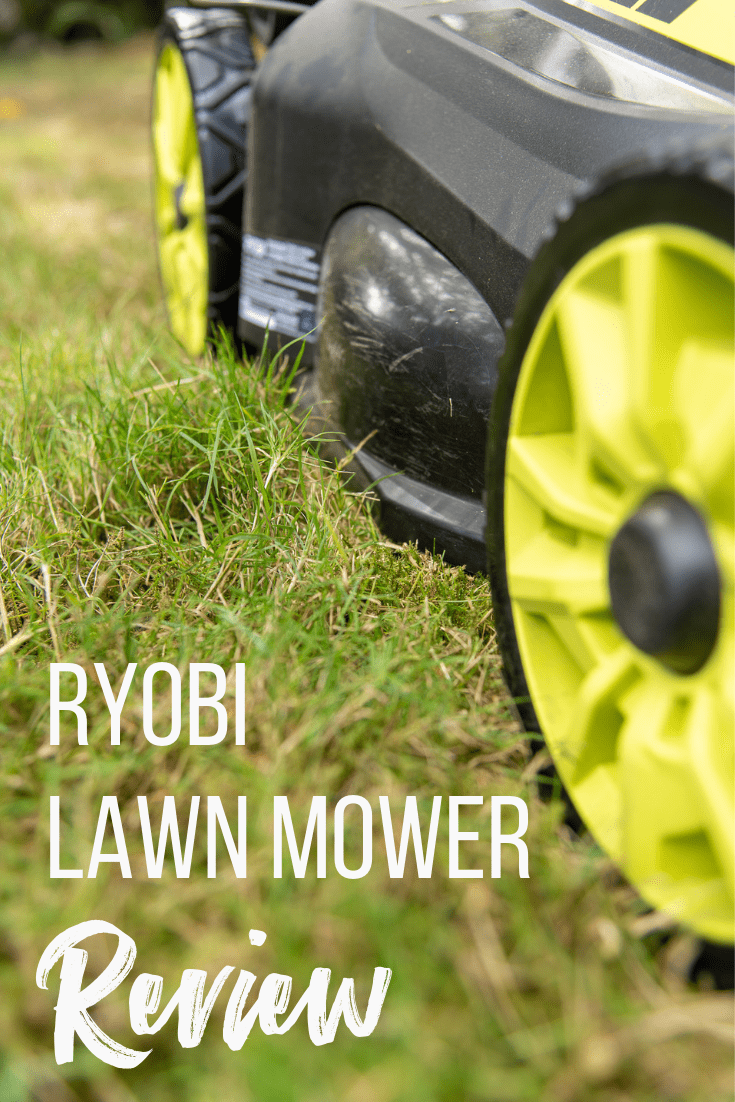 Tired of pushing that heavy, stinky, gas powered lawn mower around the yard? The Ryobi self propelled electric lawn mower makes cutting the grass almost relaxing! It has all the power of a gas mower and pulls itself along effortlessly so you don't break a sweat. Best of all, it folds up flat and stands vertically for super compact storage!
This post is sponsored by Ryobi Outdoor, and contains affiliate links for your convenience. Purchases made through these links may earn me a small commission at no additional cost to you.
When we bought our house a few years ago, we didn't have any outdoor tools. My first purchase was a cheap, tiny, battery powered lawn mower to cut our dandelion-filled yard (the house had been sitting empty for months).
It struggled with thick grass, and the battery conked out before I finished our small yard. Neighbors said it looked like I was pushing a toy lawn mower around because it was so tiny! But it was quiet, and it got the job done (eventually).
Since then, I've accumulated an entire arsenal of outdoor power tools. The Ryobi 40V Expand-it system makes it easy to add on to your collection with interchangeable heads that all use the same battery. All my attachments hang on this handy rack in our shed (you can find the tutorial for it here).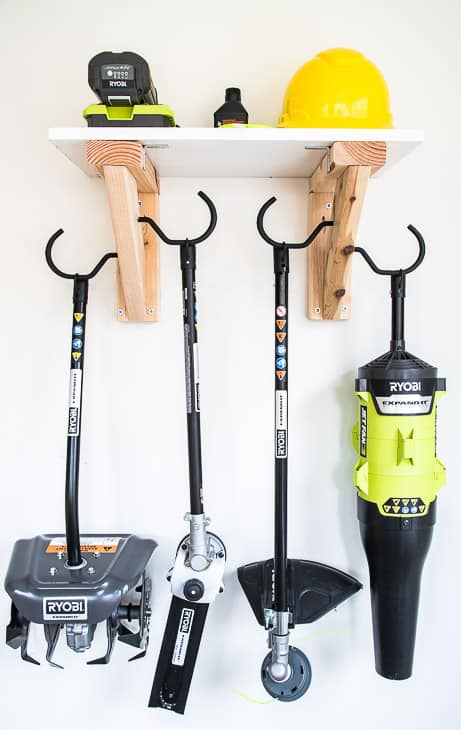 And yet, I still suffered with our tiny, horrible lawn mower. Until now!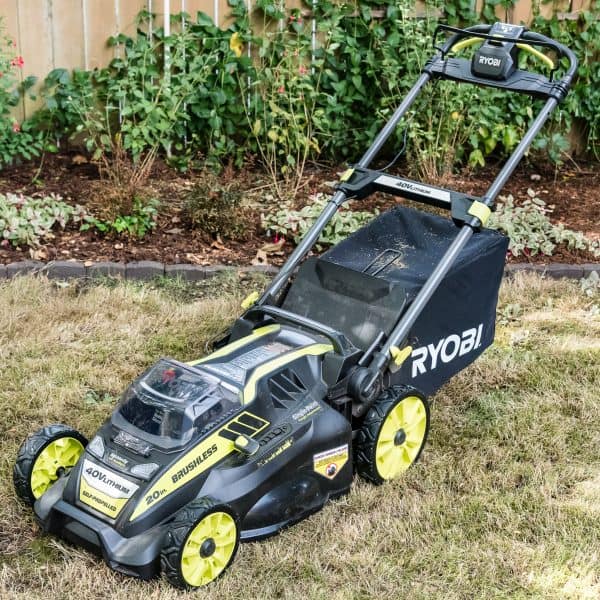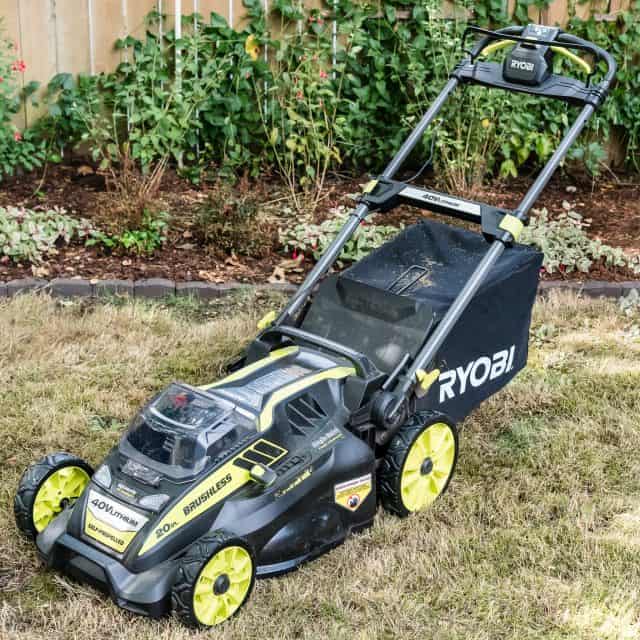 Ryobi Outdoor sent me their latest battery powered lawn mower to try out, but all opinions are my own.
Set Up
Ryobi's self propelled electric lawn mower impressed me from the minute I opened the box. There's no assembly required, because the mower folds up flat! Just turn the knobs, extend the handle, and you're good to go!
The 40V battery is included, and slips into the slot easily. There's also a spot to store an additional battery for bigger lawns, but one is enough for our small yard with charge to spare.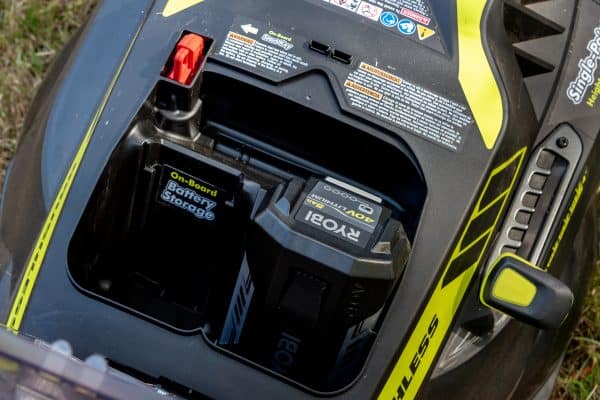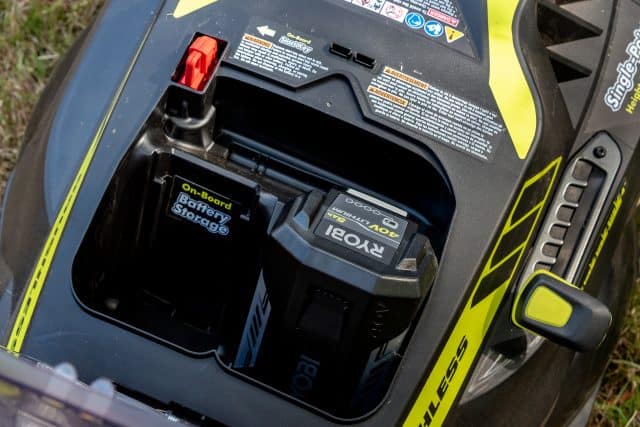 My husband and I are both tall, and the old mower's handle was too low to push comfortably. The telescoping handle of the Ryobi lawn mower is high enough for both of us to use without getting a sore back!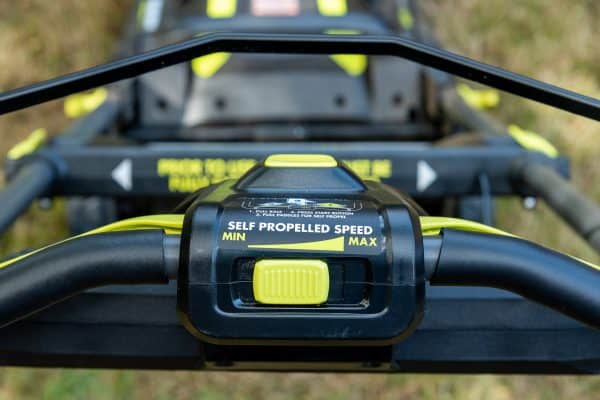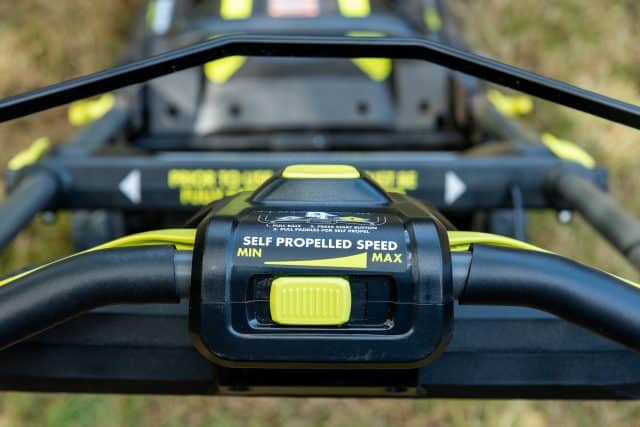 You can adjust the height of the blade with a simple shift of a knob. So much better than moving the spring-loaded wheels by hand on our old one!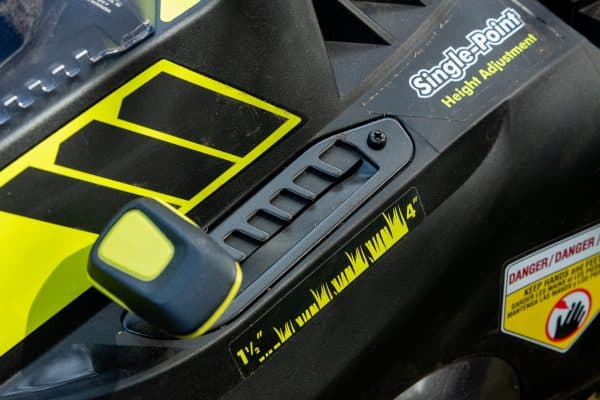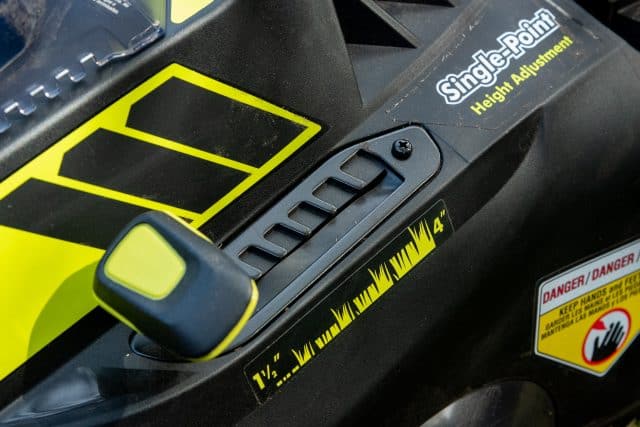 Start it up
After setting it up, insert the battery and the safety key. The mower won't turn on without the key, which is important when you have curious kids around!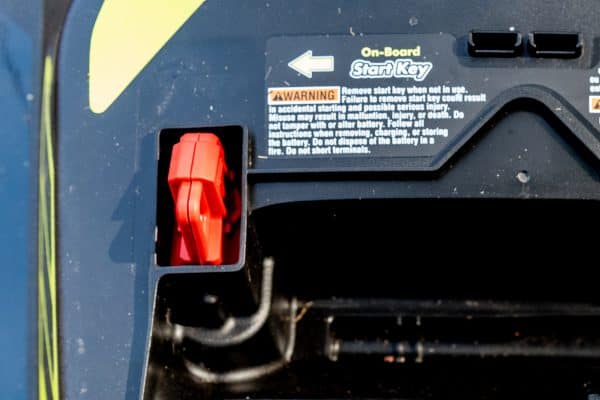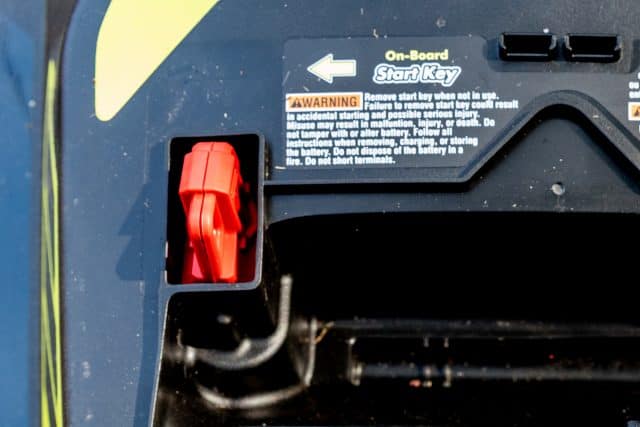 Pull down the bar, then push the button to start up the motor. The green handles control my favorite feature: the self propelled wheels!
The self propelling feature is pretty powerful, so you'll want to start off at the lowest setting. Check out how it takes off when I set it on high!
Unless you plan to jog behind your lawn mower (not recommended!), you'll only need to use the high setting if you have a really steep hill. You can adjust the speed as you mow, so you can crank up the power when you encounter an incline and not break a sweat!
Ready, Set, Mow!
As you can see from the videos, our lawn isn't exactly a lush, green carpet of grass right now. Despite the rumors you may have heard about Seattle being rainy, we actually have a drought period every summer! Our grass goes dormant and brown until the rain faucet turns back on in the fall. It's finally starting to perk up again, and this was the first time I've cut the grass in over a month!
The Ryobi lawn mower handled the combination of dry and new grass like a champ. The motor has load-sensing technology, which allows it to detect and deliver the power needed to maintain an optimal cutting speed. Dry, brown grass - less power. New, thicker grass - more power.
I'll update this post once our grass becomes thick and lush again in a month or so. Stay tuned!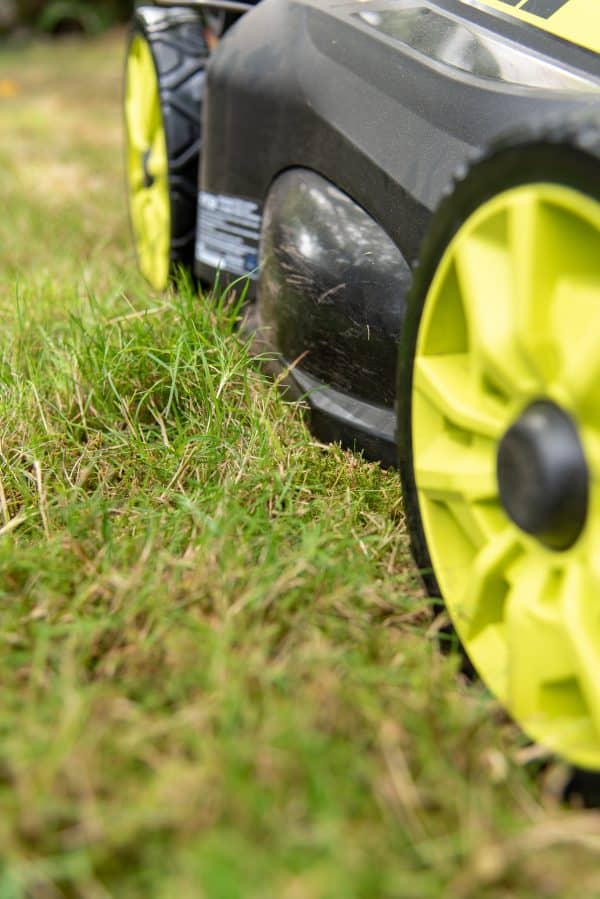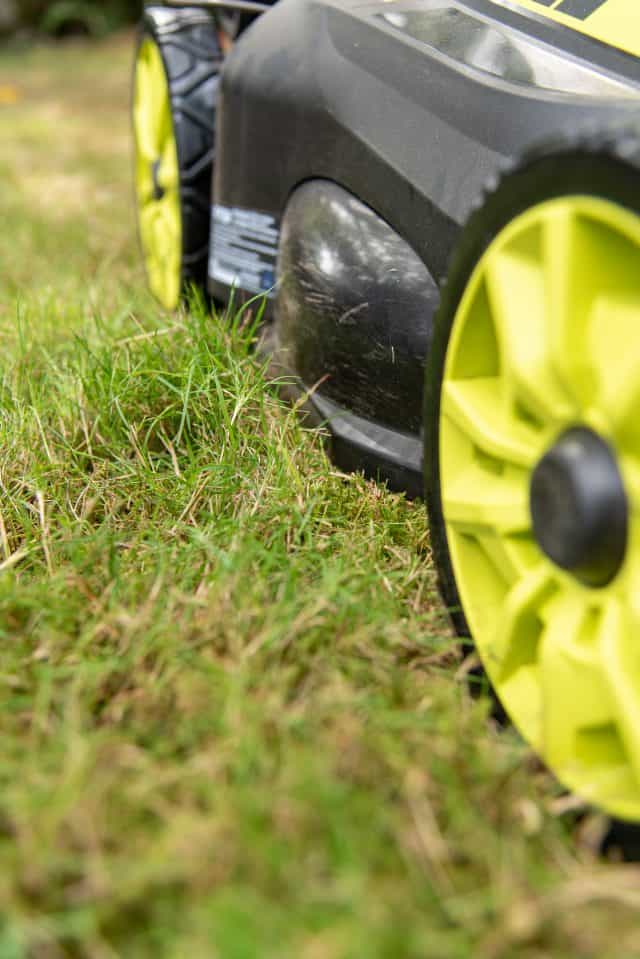 One tip if you've never used a self-propelled lawn mower before: when you want to turn the mower around, let go of the green handles. This will disable the self-propelling feature and allow you to turn it around manually. It took me a bit to get used to this, and I almost chopped down my garden before I figured it out!
Clean Up and Storage
You can choose to bag up your lawn clippings or let the blade mulch them up and spit them back out. I was impressed by how well the bag collects everything. I had to empty it a few times while mowing the backyard since it's been so long since it was last done.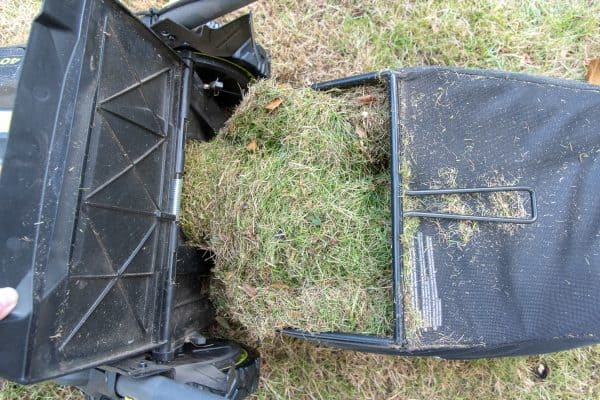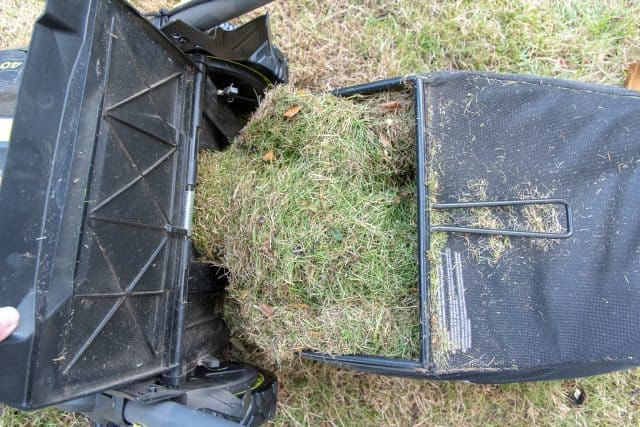 When you're done, collapse the handle and fold it down on top of the mower. It stores vertically, so you can keep it in the corner of your garage or shed without taking up a ton of space!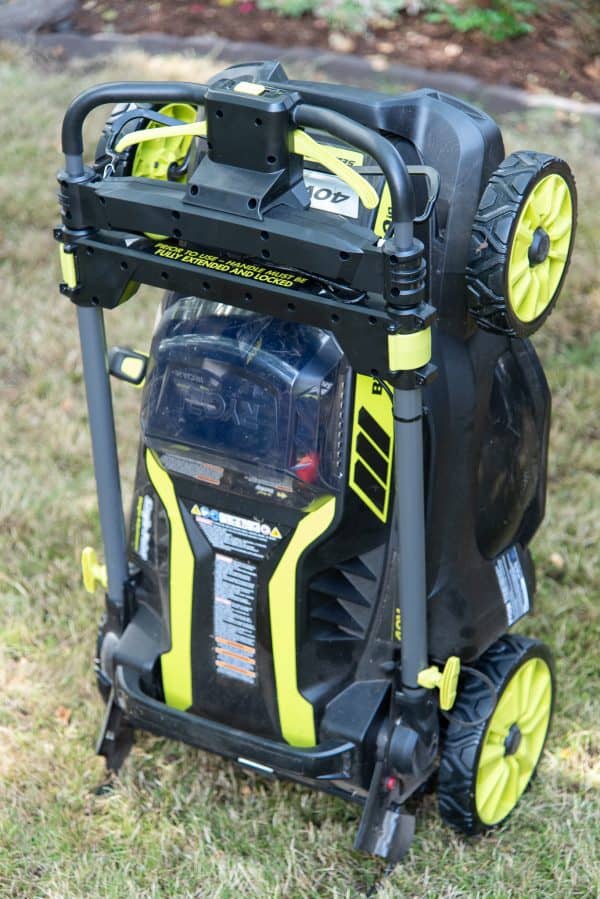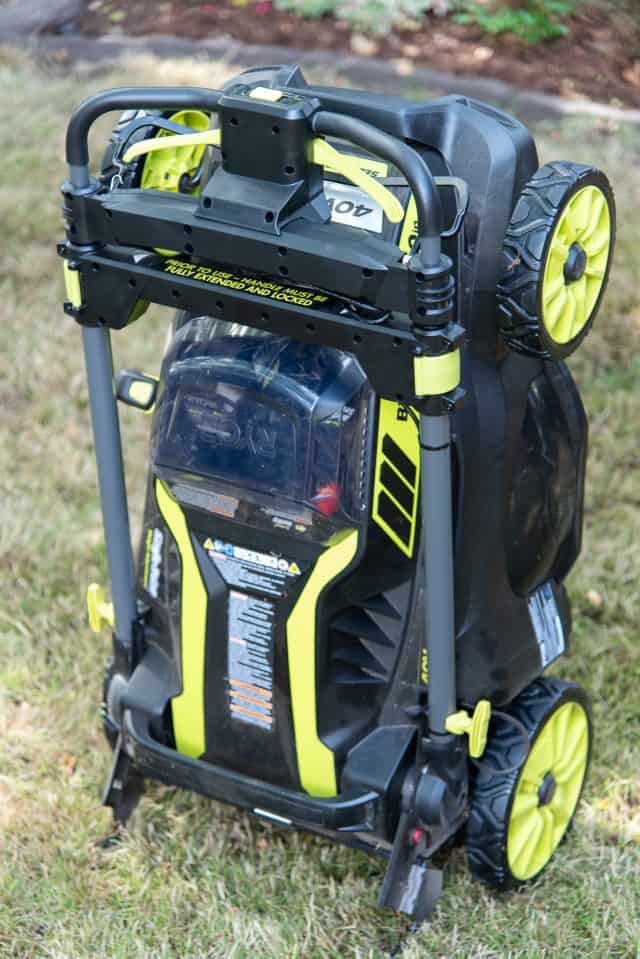 I'm really impressed by all the features of the Ryobi self propelled electric lawn mower. It's certainly an upgrade from my old mower, which found itself on the curb with a "FREE" sign on it as soon as I took the Ryobi out for a spin!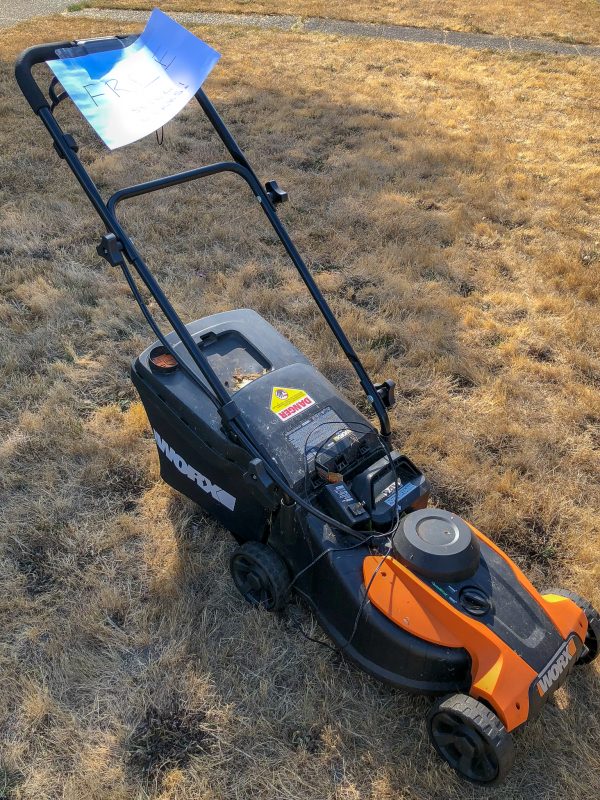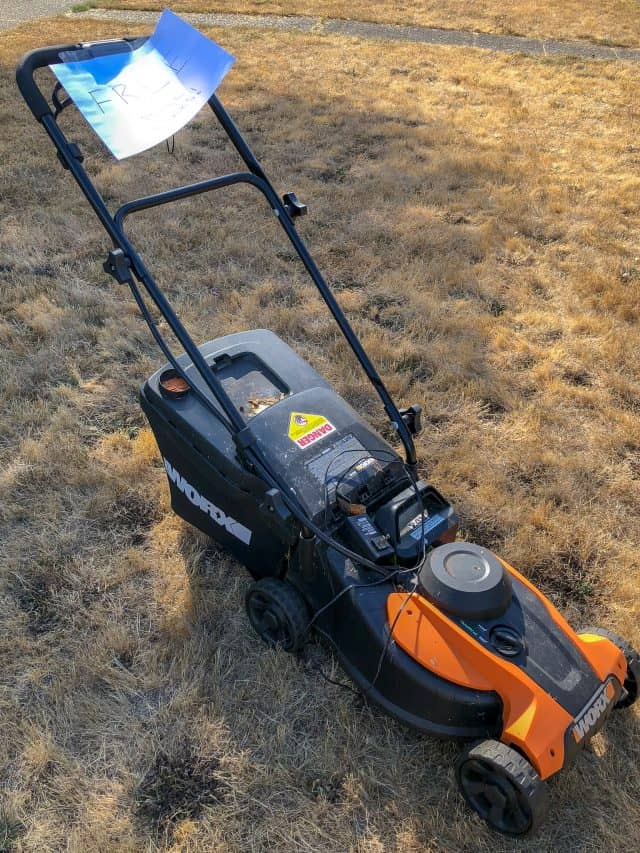 ---
Want more DIY projects?
Subscribe to get project ideas, home improvement tips, woodworking plans and more delivered straight to your inbox!