Want to get that leaf blower and string trimmer off the garage floor and out of your way? This easy-to-make garden tool storage rack has room to hang all your power landscaping tools, with a shelf above to hold battery chargers and extra string reels!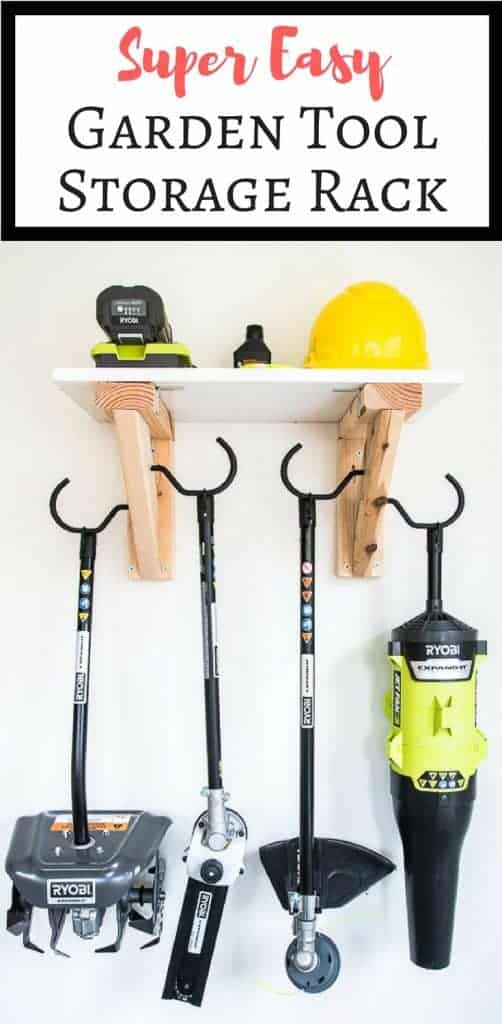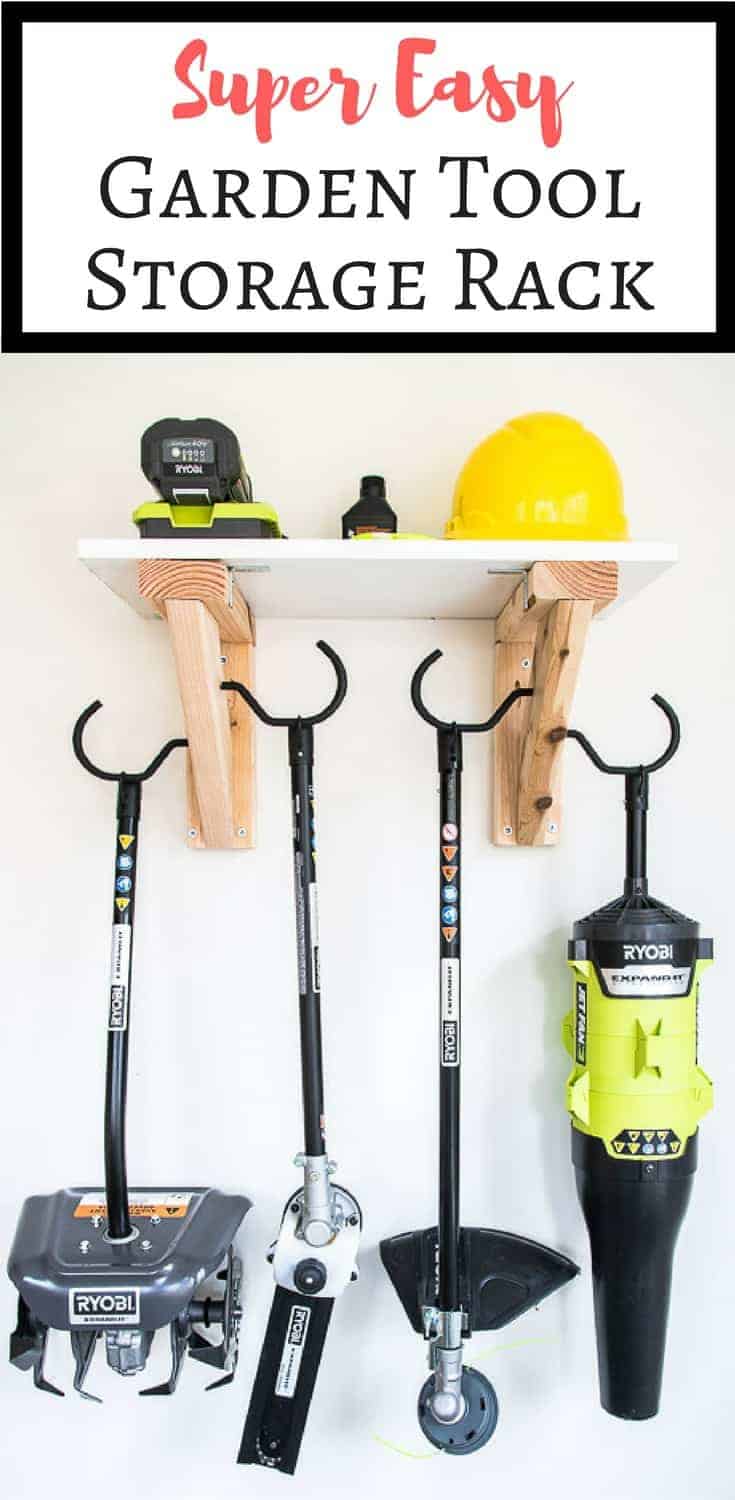 Our backyard shed is home to all our landscaping tools, holiday decorations and sports equipment. The storage shelves I built over the summer transformed the space by getting those plastic bins off the floor. But with the addition of a bunch of new outdoor tools this fall, it was starting to get cluttered again! I finally had enough, and built this simple garden tool storage rack to hold them all.
This post was sponsored by Ryobi Outdoor, and contains affiliate links for your convenience. Purchases made through these links may earn me a small commission, which helps keep this site up and running!
The beauty of the Ryobi Expand-it system is that every tool is an attachment, rather than a stand-alone piece of equipment. The clutter could have been much worse if they all had their own handles and power supplies!
Each attachment connects to the Ryobi Expand-it power head and uses the same battery, so it's important to corral everything in one place. Luckily, they all come with one of these handy little attachment hangers.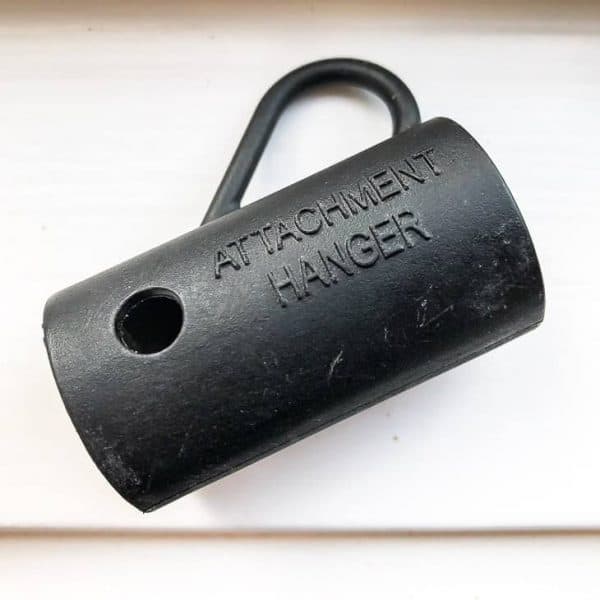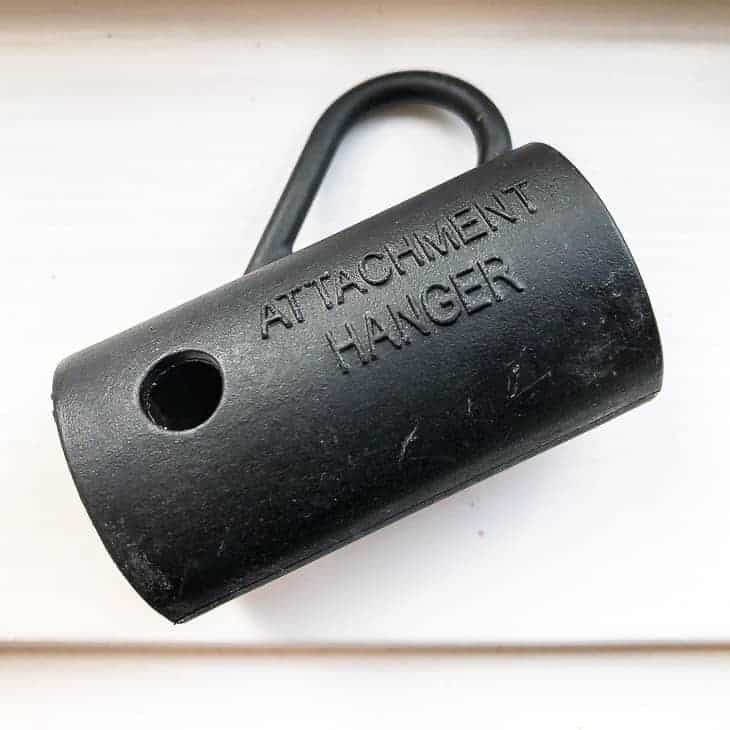 That got me thinking! I came up with a way to incorporate hooks into a shelf to create a compact garden tool storage rack for all of my Ryobi outdoor tools!
Materials Needed for Garden Tool Storage Rack
One 2 x 4

Use up those 2 x 4 end cuts that are cluttering up your scrap pile! I managed to dig up enough pieces to make this entire shelf for free.

3/4″ plywood or MDF

I used a 24″ long piece of 11 3/4″ wide melamine shelf left over from another project.
Don't forget your safety gear when woodworking! Here are my recommendations for safety glasses and ear protection. No excuses!
---
Cut List
2 – 2 x 4 @ 11 3/4″
2 – 2 x 4 @ 10 1/4″
2 – 2 x 4 @ 14 1/2″ (miter ends at 45 degree angle)
11 3/4″ x 24″ piece of 3/4″ plywood, MDF or melamine
---
Instructions for Building a Garden Tool Storage Rack
Attach the 10 1/4″ pieces to the 11 3/4″ pieces to form an L shape. I used 2 1/2″ pocket hole screws here. If you don't have a Kreg Jig (although I highly recommend getting one!), just join them together with 3″ wood screws through the bottom piece.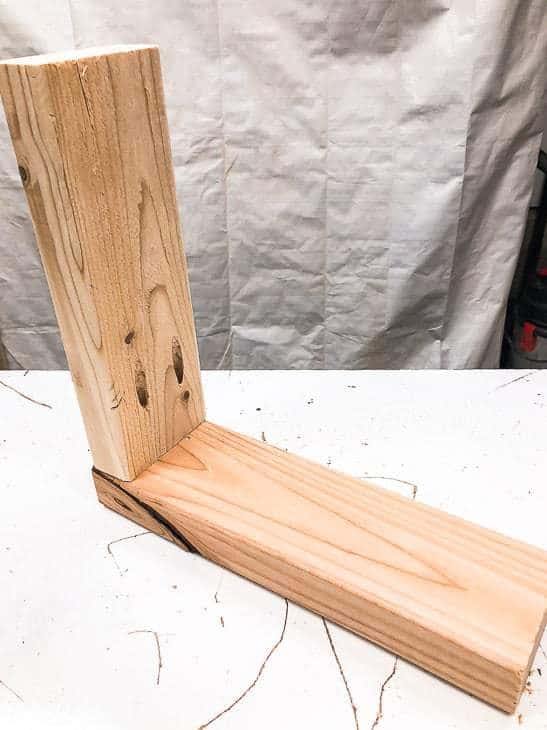 Cut two pieces of 2 x 4 a bit bigger than 14 1/2″, then cut the ends at a 45 degree angle. Each of the L shaped brackets will be slightly different, so trim the angle until you get a custom fit.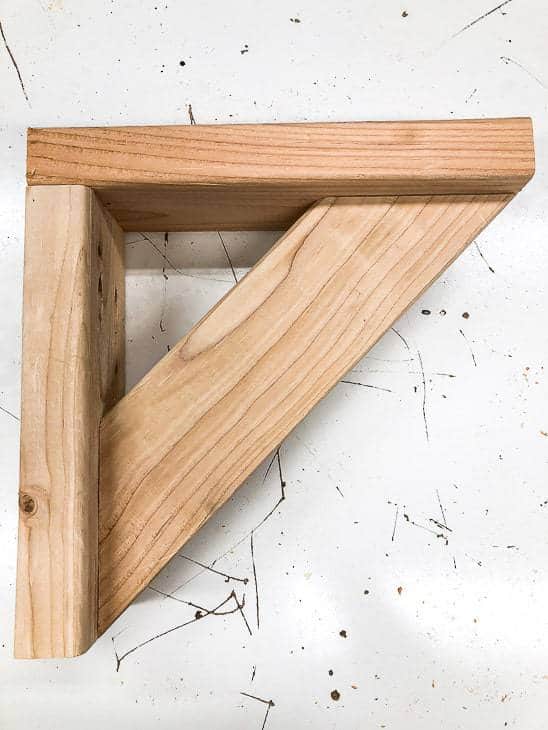 Mark the spot for screws where the angled piece meets the bracket. Don't place them too close to the point, or you'll have the ends of the 3″ screws popping out the other side! Drill pilot holes with the countersink bit.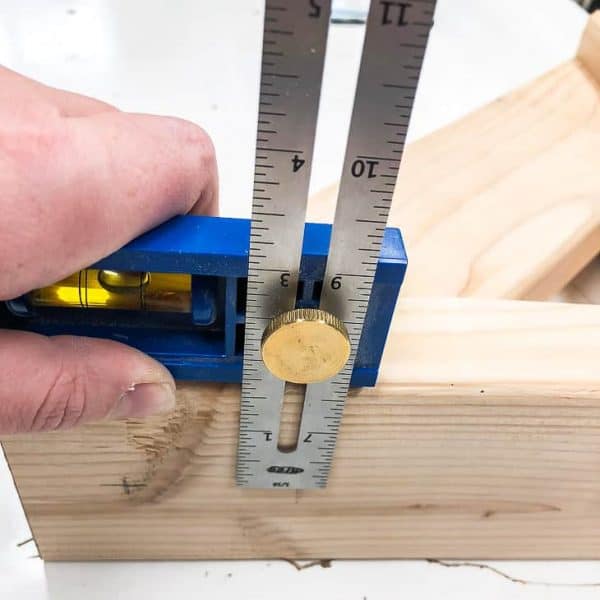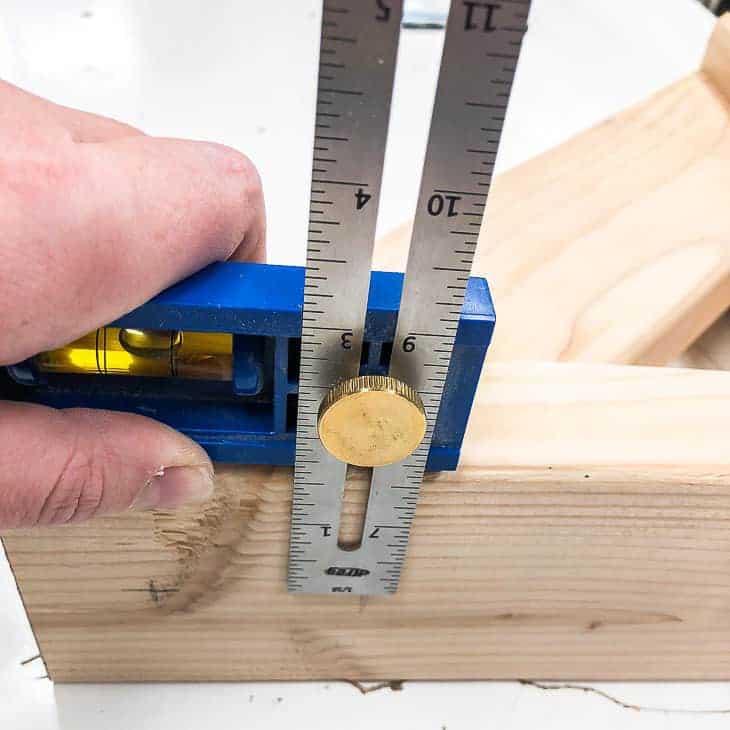 I created a spacer with two scrap pieces of 1/2″ plywood stacked together. This isn't entirely necessary, but helps to elevate the diagonal piece in the correct spot as you attach it to the bracket.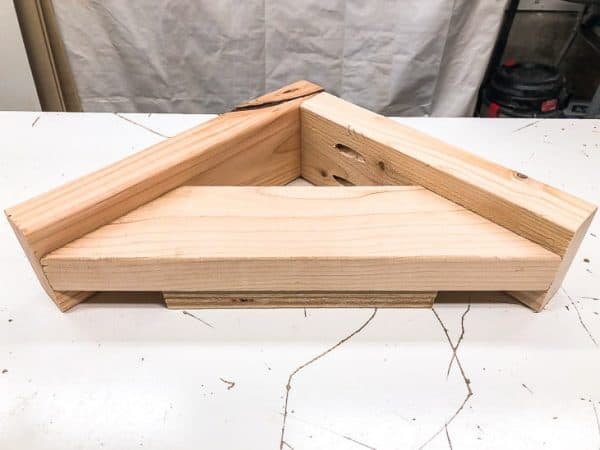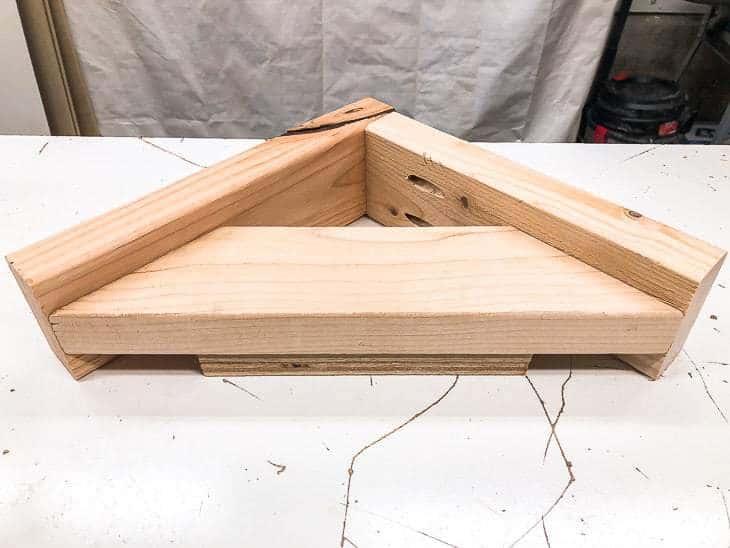 Drill 3″ screws through the pilot holes and into the angled ends. Make sure the screw heads are recessed into the wood, or the brackets won't attach to the wall properly.
Using the 1/4″ drill bit, drill pilot holes in the middle and end of the shorter board. This is where the 3″ screws will attach to the studs in the wall.
Using the same drill bit, drill two holes into the diagonal board. This is where you'll attach the bicycle hooks later on.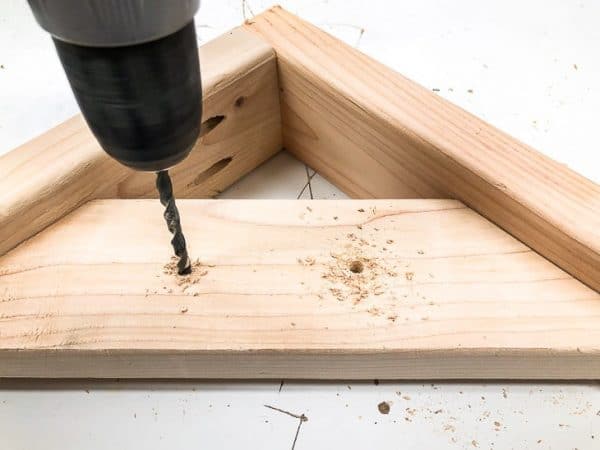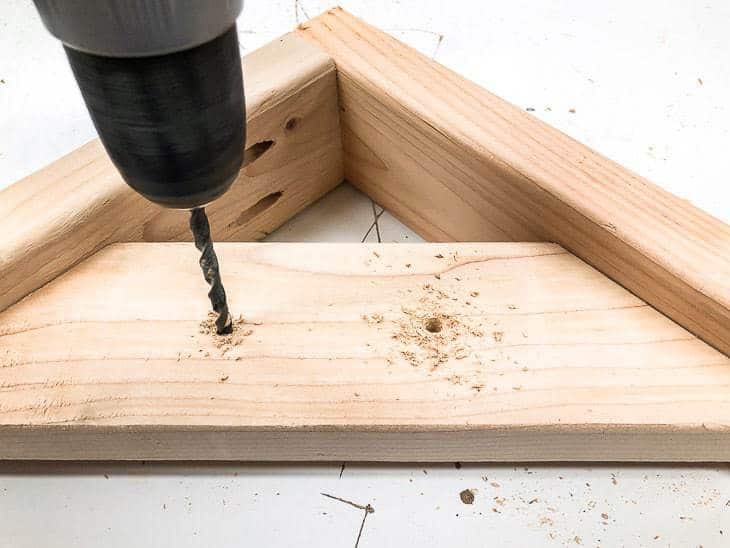 Attach the wood brackets to the underside of the shelf piece with right angle brackets. They should be spaced 16″ apart on center, with the longer piece against the bottom of the shelf.
Use your stud finder to mark the edges of the studs in the wall. Line the edges of your wooden bracket up with those marks, and attach it to the wall with 3″ screws.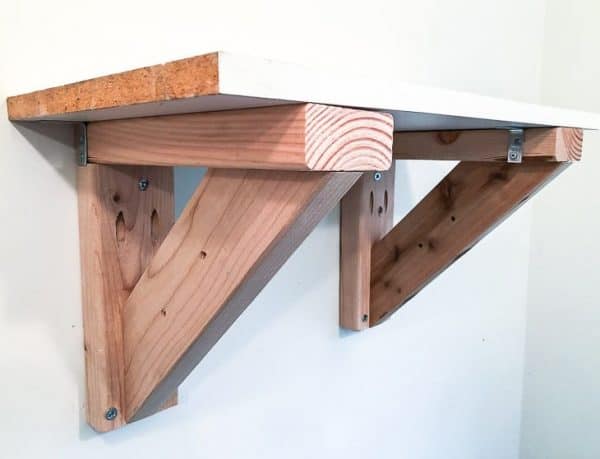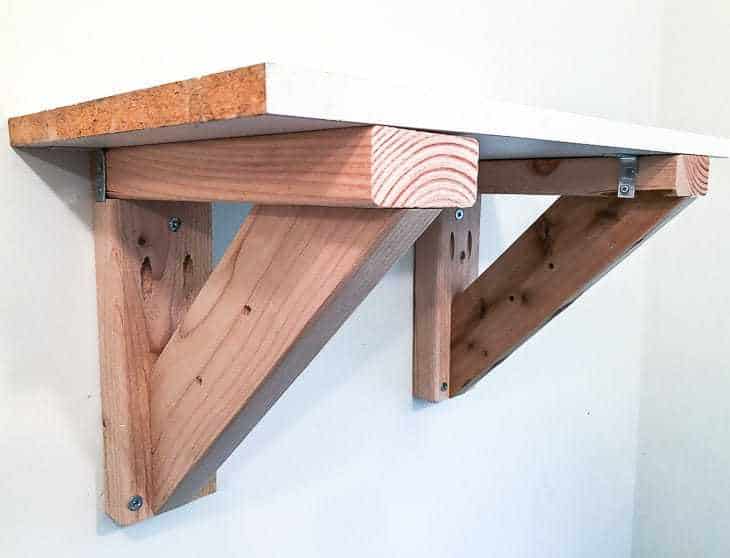 Screw the bicycle hooks into each side of the diagonal boards by hand.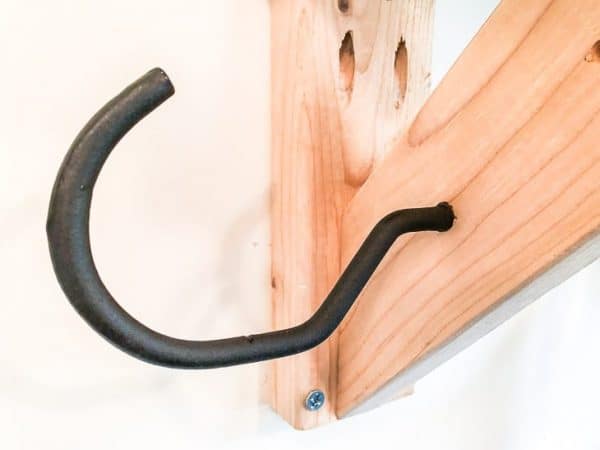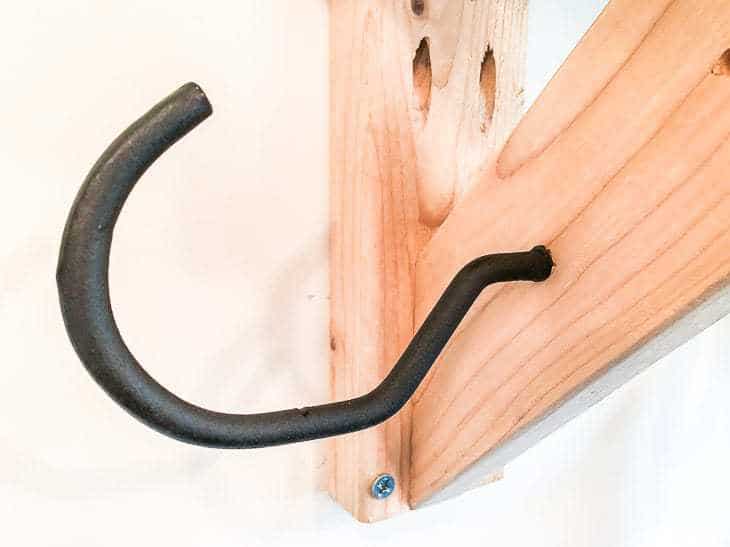 Load up the garden tool storage rack
I found it easier to slide the loop onto the hook without the tool attached, then clip the tool in place.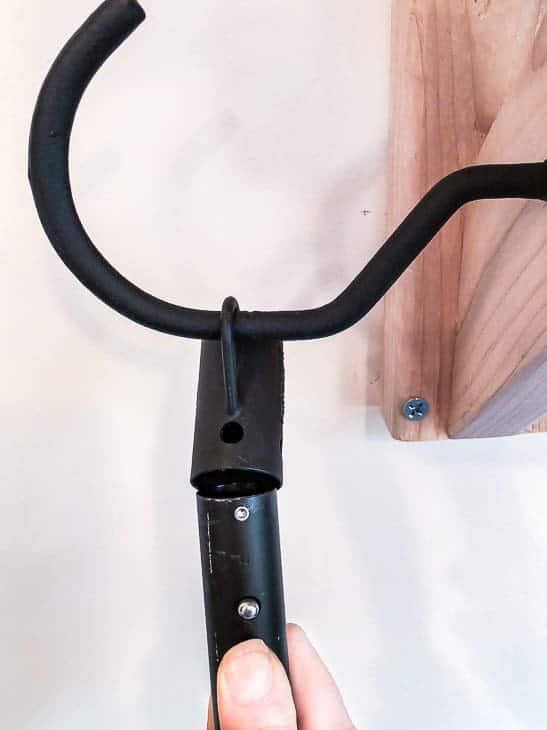 The extra large bicycle hooks give you plenty of room, so the tools won't smash into each other or the wall.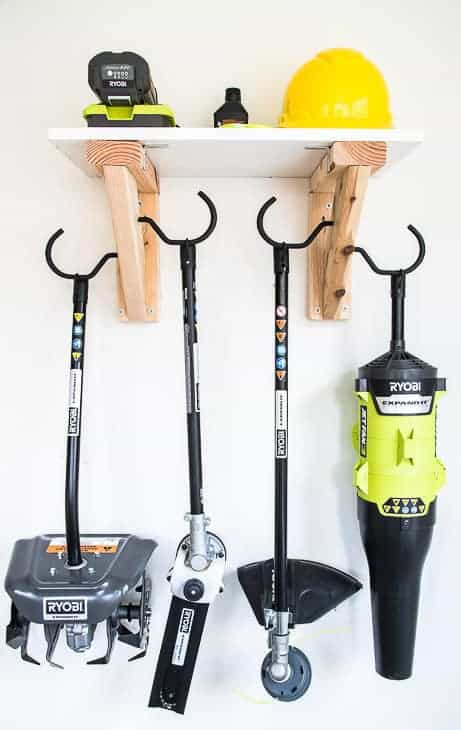 The battery charger, extra string reels and safety gear are all kept together on the shelf.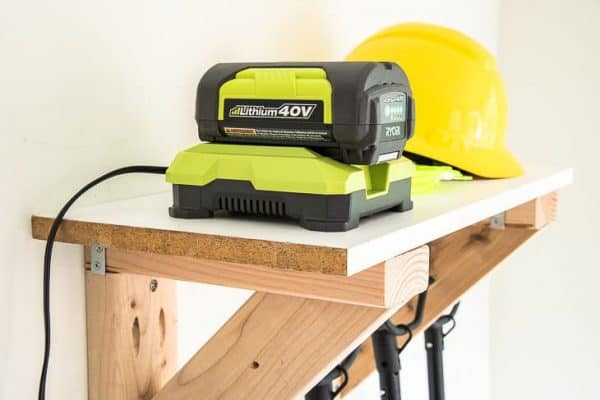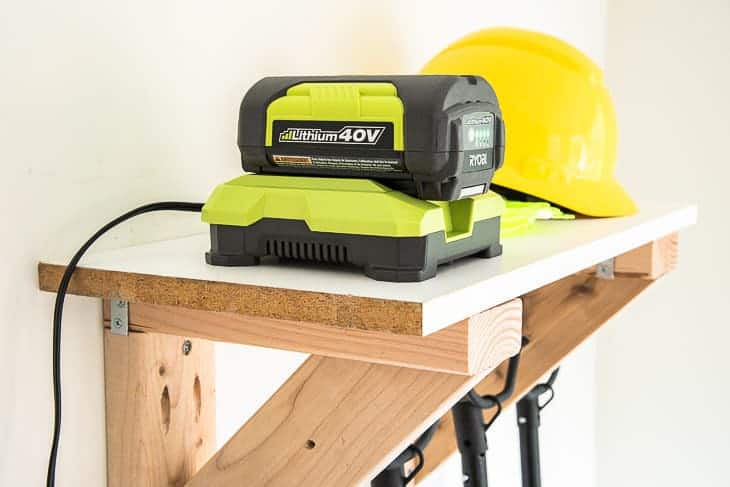 Now there's plenty of space on the floor beneath!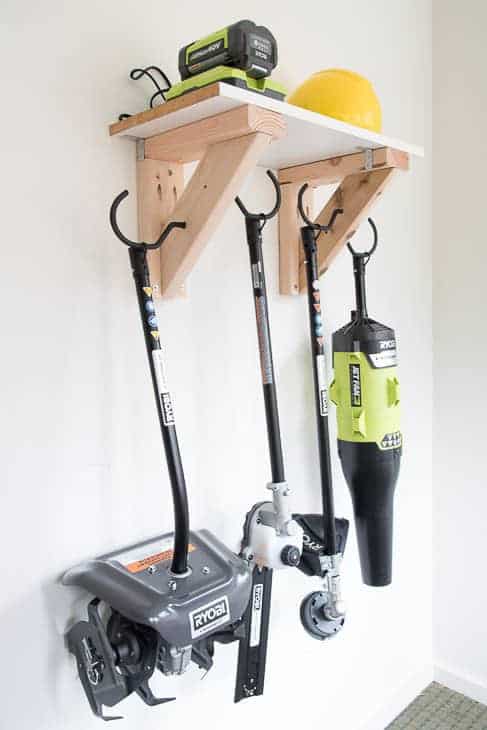 All my Ryobi outdoor tools are ready to go this spring! I can't wait for the weather to change so I can get back out into the garden!
Need to store those hand gardening tools too? Check out this list for more garden tool storage ideas!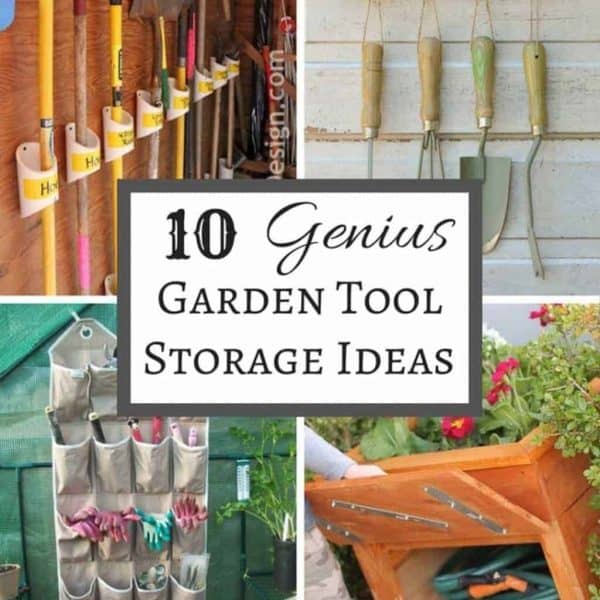 If you would like to keep up to date with my latest posts about DIY projects, woodworking and more, you can follow me on Facebook, Pinterest, or Instagram. You can also sign up for my email list below and get the latest post delivered to your inbox, plus exclusive access to my woodworking plans library!
Want more DIY projects?
Subscribe to get project ideas, home improvement tips, woodworking plans and more delivered straight to your inbox!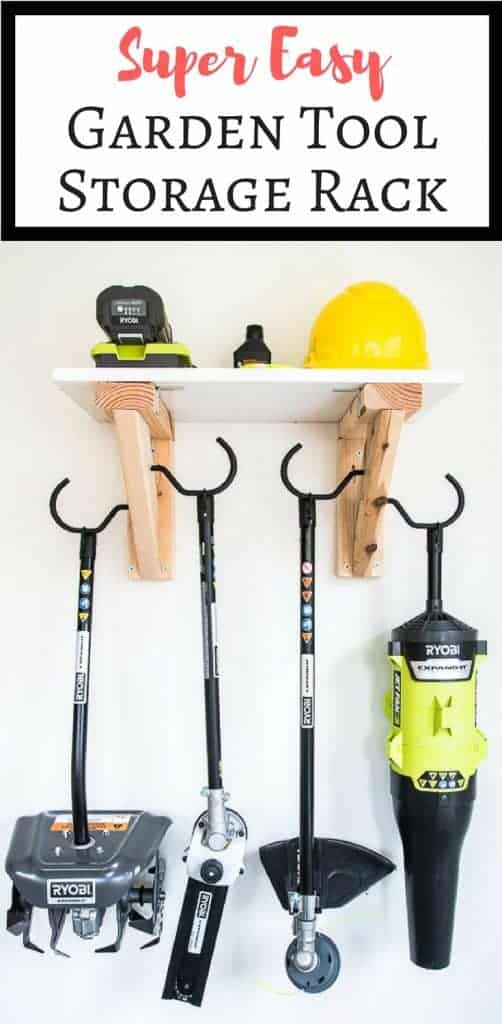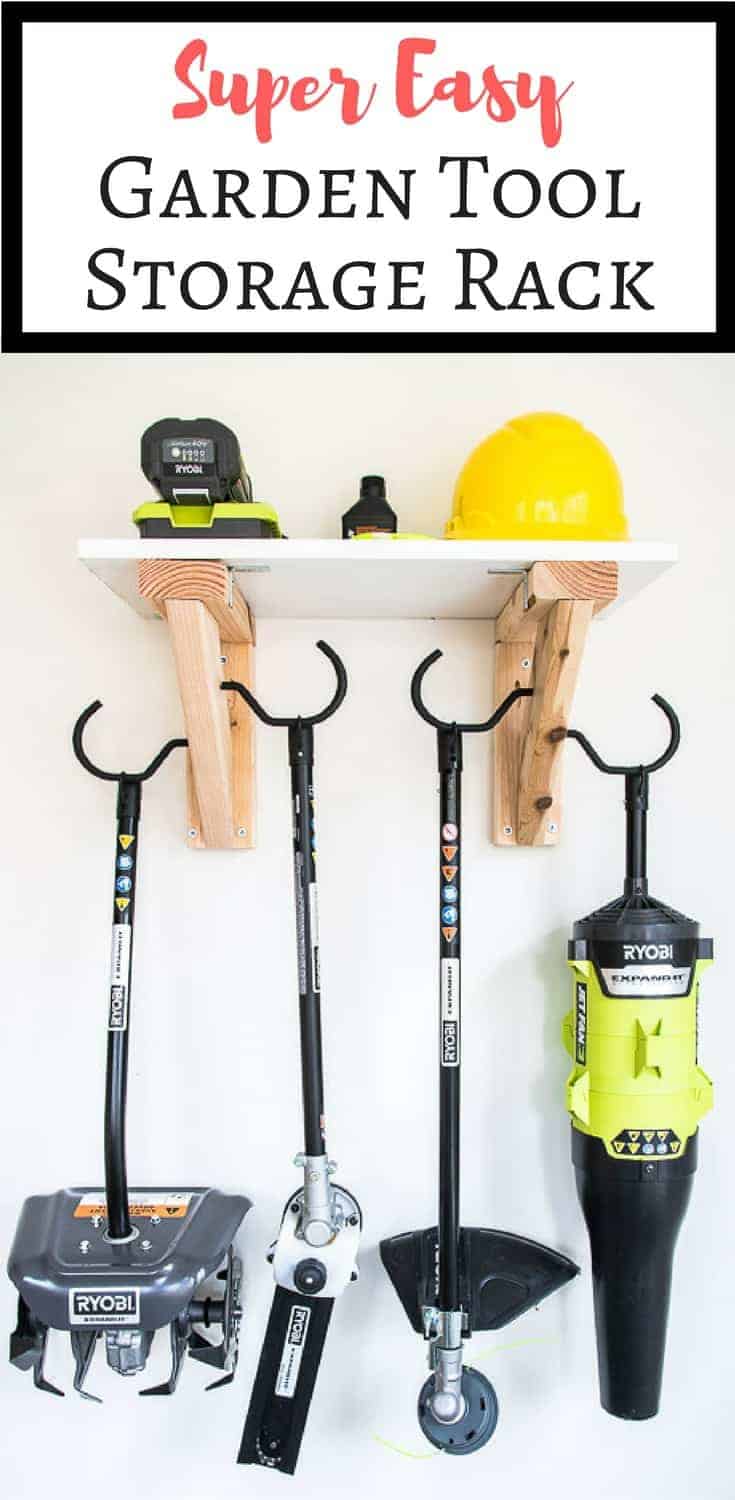 SHARE IT!