After four weeks of weeding, digging, planting and building, my backyard makeover is done! Check out the before and after of this amazing transformation!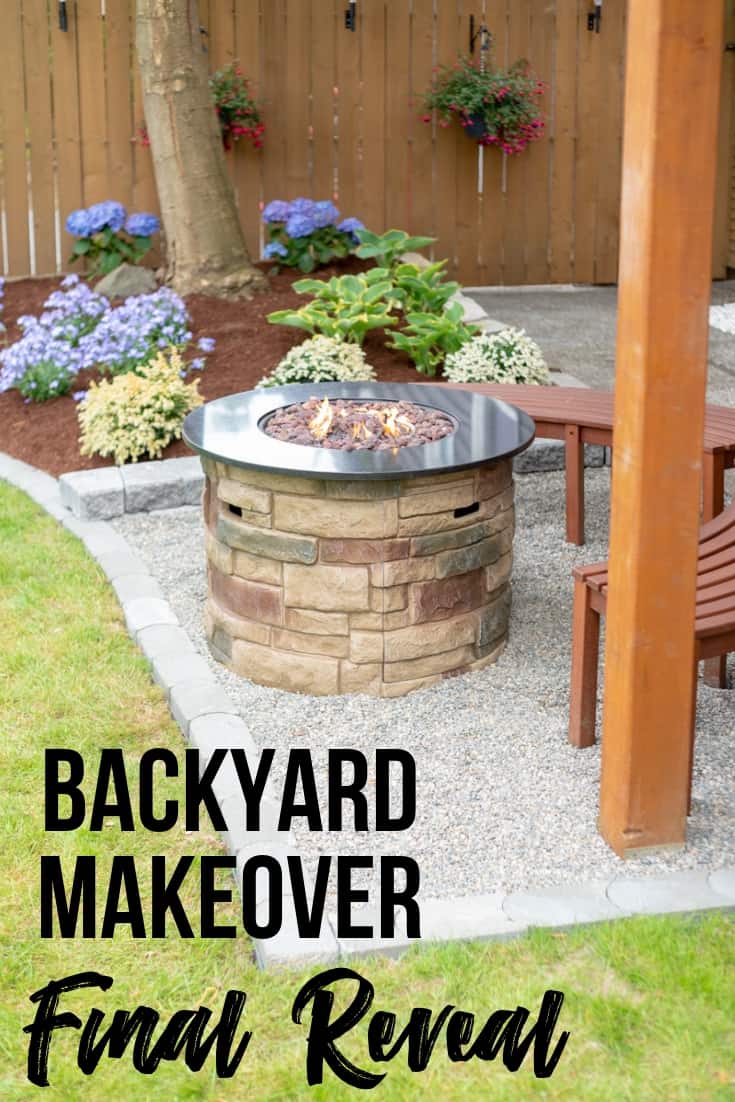 Welcome back for the final week of my backyard makeover! It's been a ton of work, but the final result is totally worth it! Instead of a drab corner covered with leaves and dirt, we have the perfect backyard hangout spot complete with a pea gravel patio, fire pit and benches!
This post is sponsored by Ryobi Tools and contains affiliate links for your convenience. Purchases made with these links may earn me a small commission at no additional cost to you.
In case you missed the first post where I outlined my backyard makeover plan, here's the ugly before photo. It was a dumping ground for toys, buckets and tools!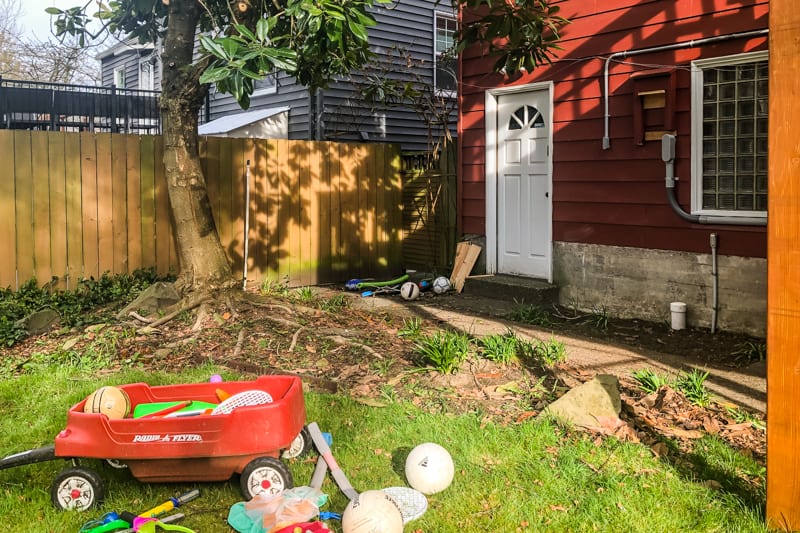 It looks a little different now!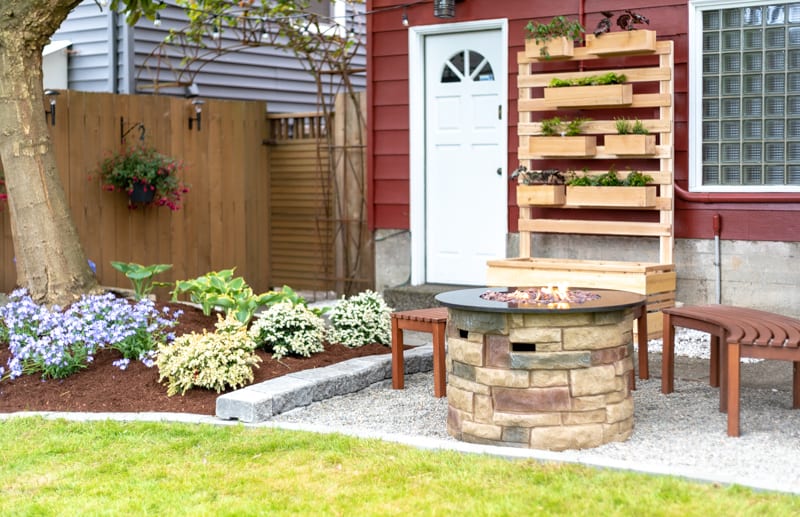 Here's a breakdown of everything I accomplished in this small outdoor space.
Build a Retaining Wall
The soil in the garden eroded onto the concrete, leaving the tree roots exposed and dry. The pathway was always dirty after it rained from all the runoff.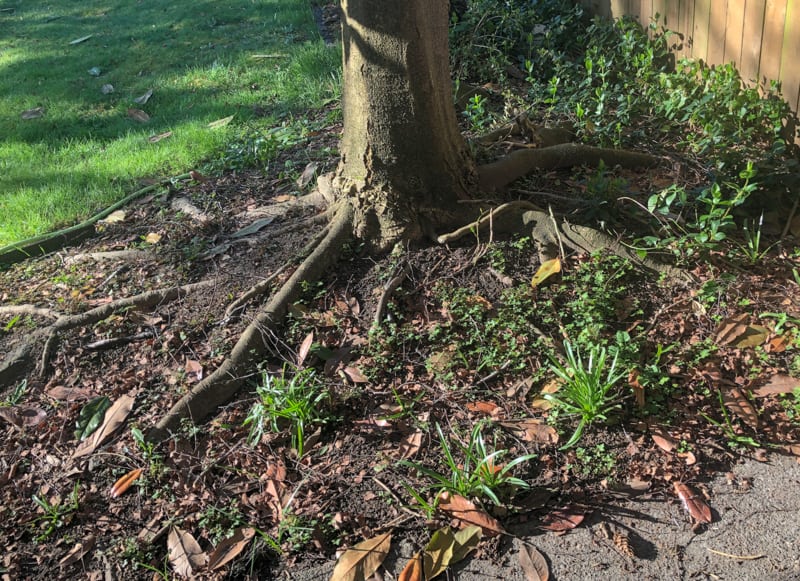 I built a short retaining wall out of dry stack stone to elevate the soil level and hold it back. It also helped define the border between the garden and the walkway. It took fifteen bags of garden soil to backfill this new garden area, where I added beautiful hydrangeas and hostas.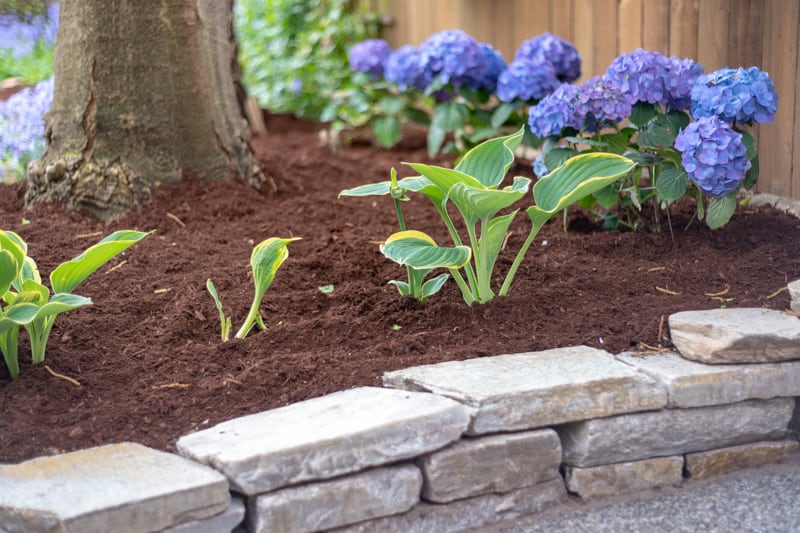 Build a Pea Gravel Patio
Drainage is always something to think about in rainy Seattle! I didn't want to pave over the entire patio area and cause problems that wouldn't be apparent until next winter.
Instead, I installed a cheap and easy pea gravel patio lined with a paver border to keep those pebbles from scattering into the yard. You can get a brief overview of how I used landscaping rocks in this project here, and a more detailed tutorial on how to make a pea gravel patio here!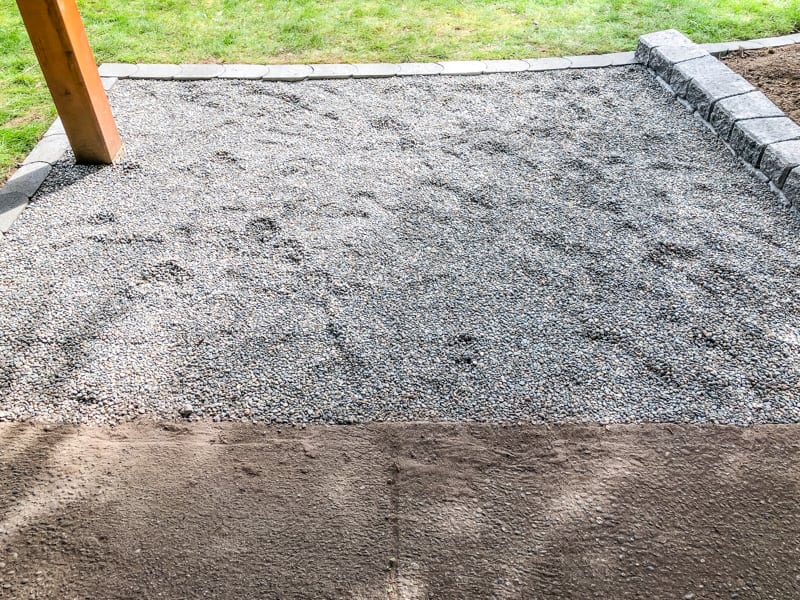 I built a second retaining wall between the garden bed and the patio area to separate the spaces. The first level of blocks is even with the paver border, and the capstones on top help keep the mulch and soil in the garden and the pea gravel in the patio!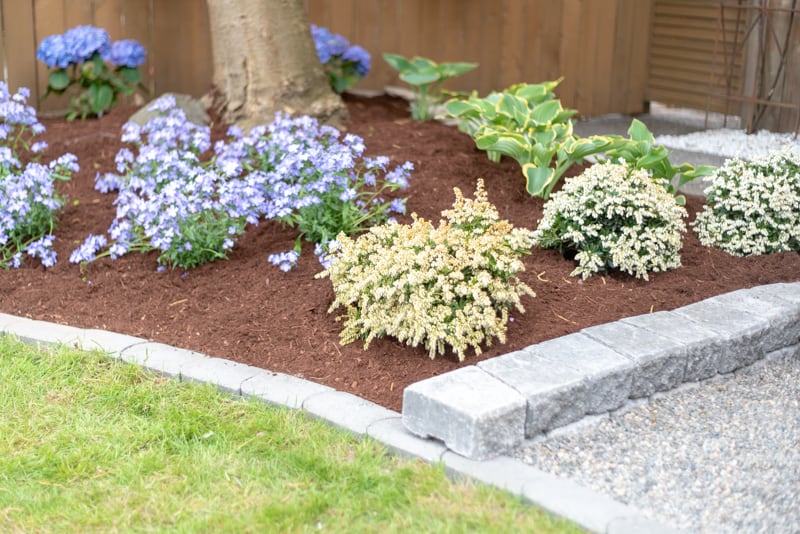 Those three dwarf Pieris shrubs stay small and compact to create a nice division between the two spaces without overwhelming the garden.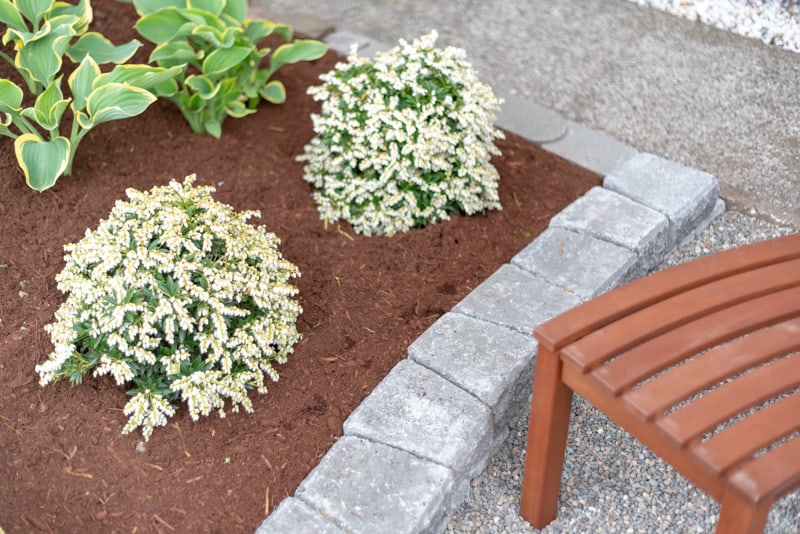 Add a Propane Fire Pit and Curved Benches
Since this area is directly under a tree and next to our cedar deck, a wood burning fire pit is a big no-no. I actually prefer a propane fire pit anyway, since it's easy to start and control the flame and it doesn't produce smoke or embers. This is the fire pit I bought, and it's perfect for roasting marshmallows and staying warm on a cool summer night!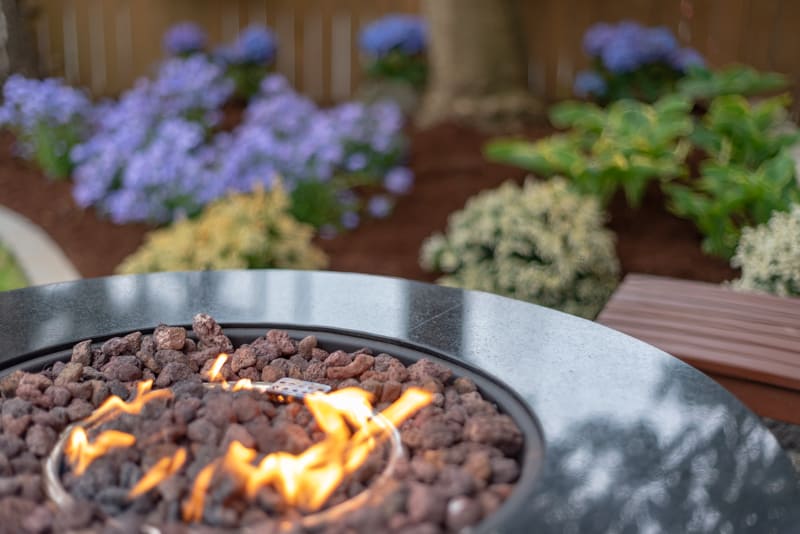 I briefly thought about building my own benches, but it was too difficult to make curved ones myself. Luckily, these were exactly what I was looking for!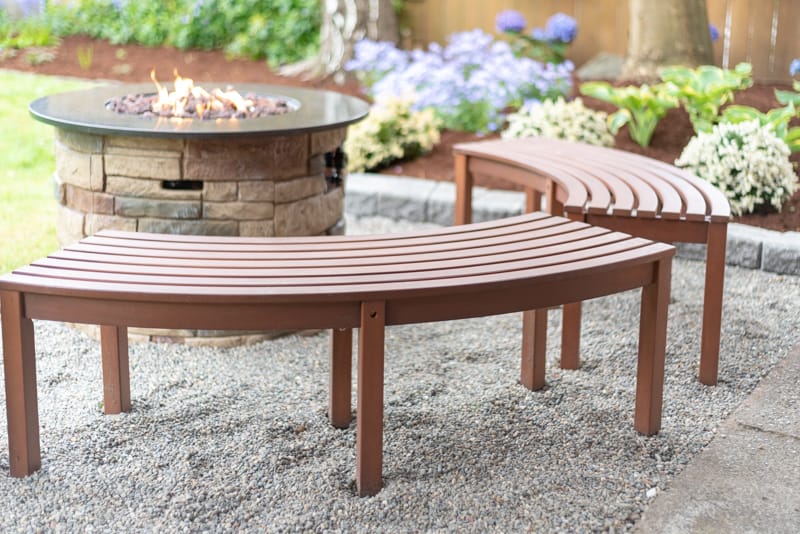 Two benches fit comfortably in the pea gravel patio, and a third one is off to the side, ready to plunk down in the grass when we have guests over.
Hide the Ugly Conduit
We had a lot of electrical work done when we first moved into this house, resulting in ugly conduit pipes running on the outside of the house. I repaired the aluminum siding where the electrical meter once was, cleaned it, then painted the gray conduit to match the house. It helped a lot, but it was still pretty ugly.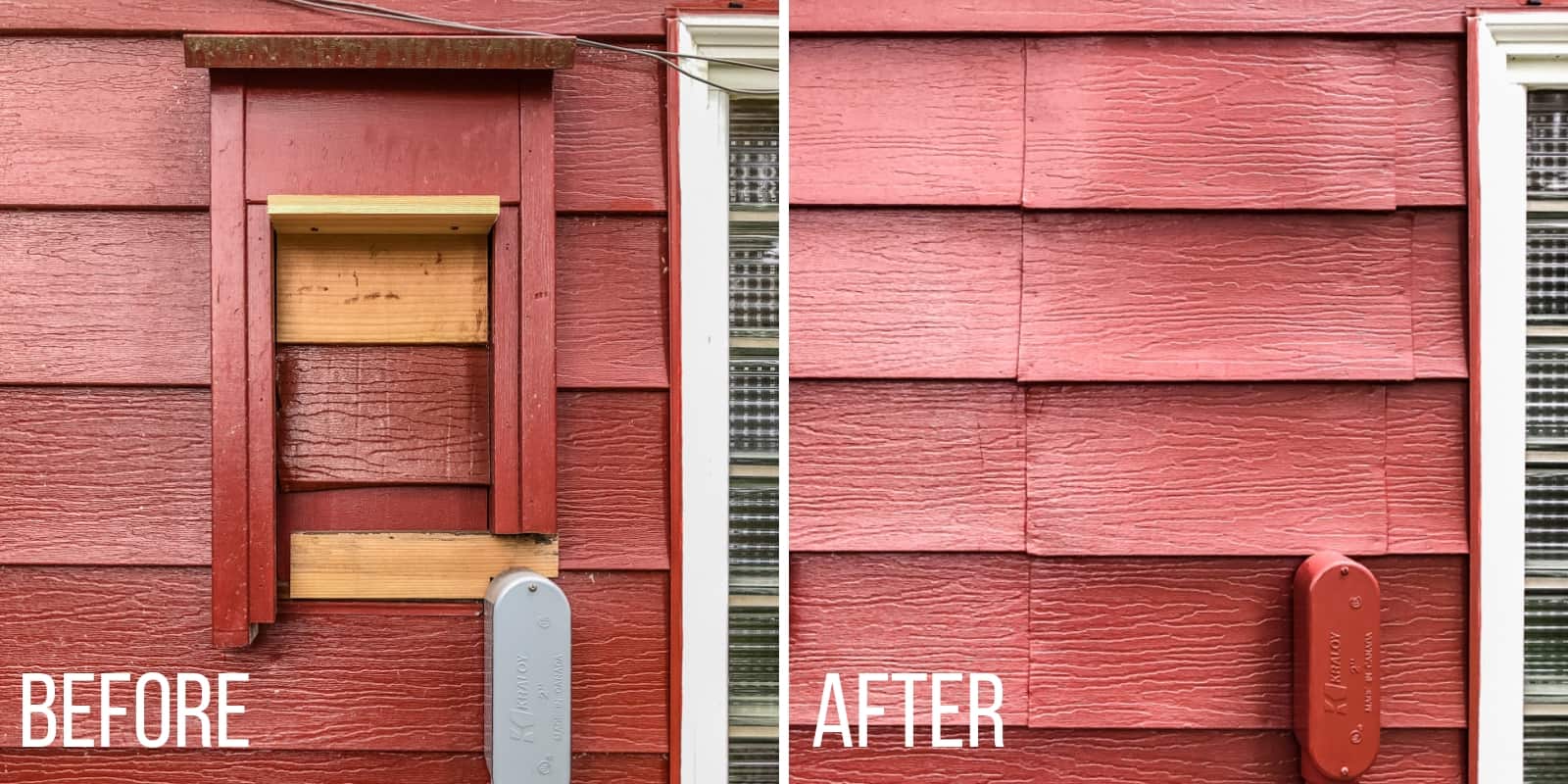 I decided to build a vertical planter wall inspired by a crazy expensive version I found online. It uses French cleats to hold planter boxes on the slats, and it's easy to move them around on the wall as plants grow taller or if you want to switch them out. You can get the woodworking plans for this project here!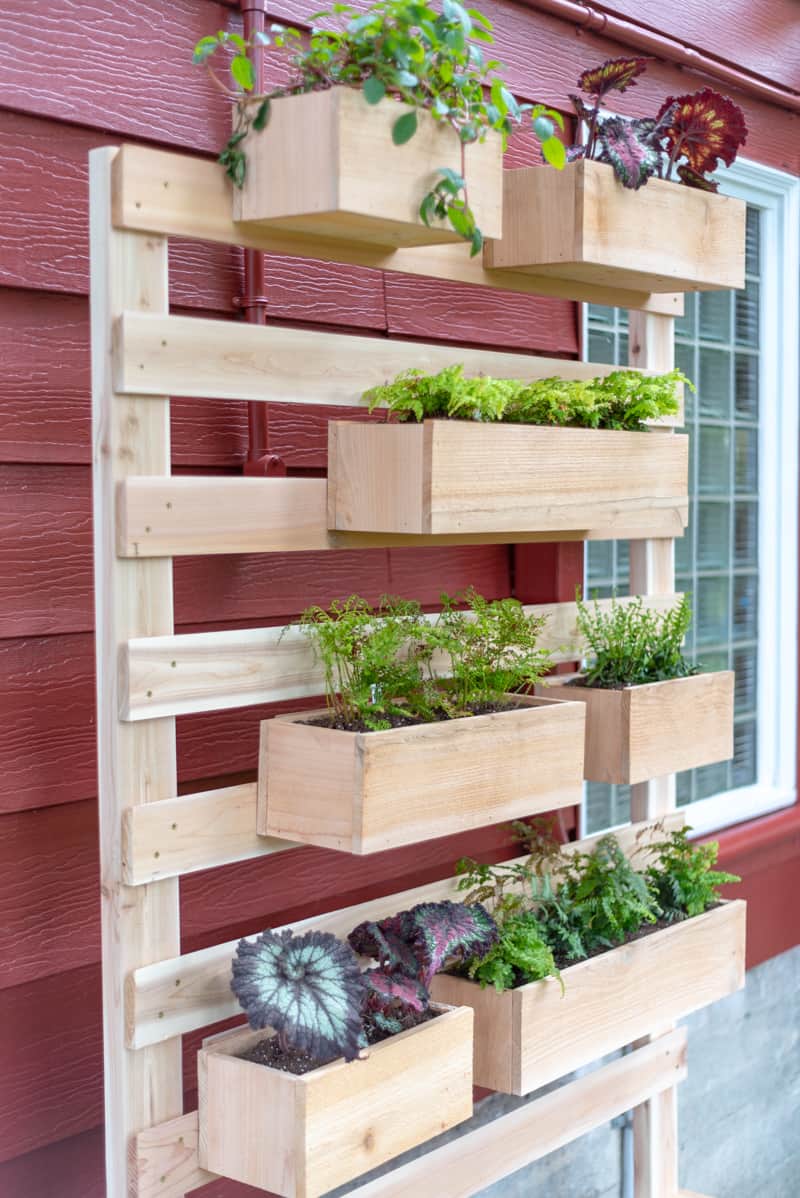 I filled the boxes with various shade-loving plants like ferns and coleus. The potting bench with sink has been moved next to the planter wall and was finally put to good use! It will double as a serving station for s'mores and drinks this summer too.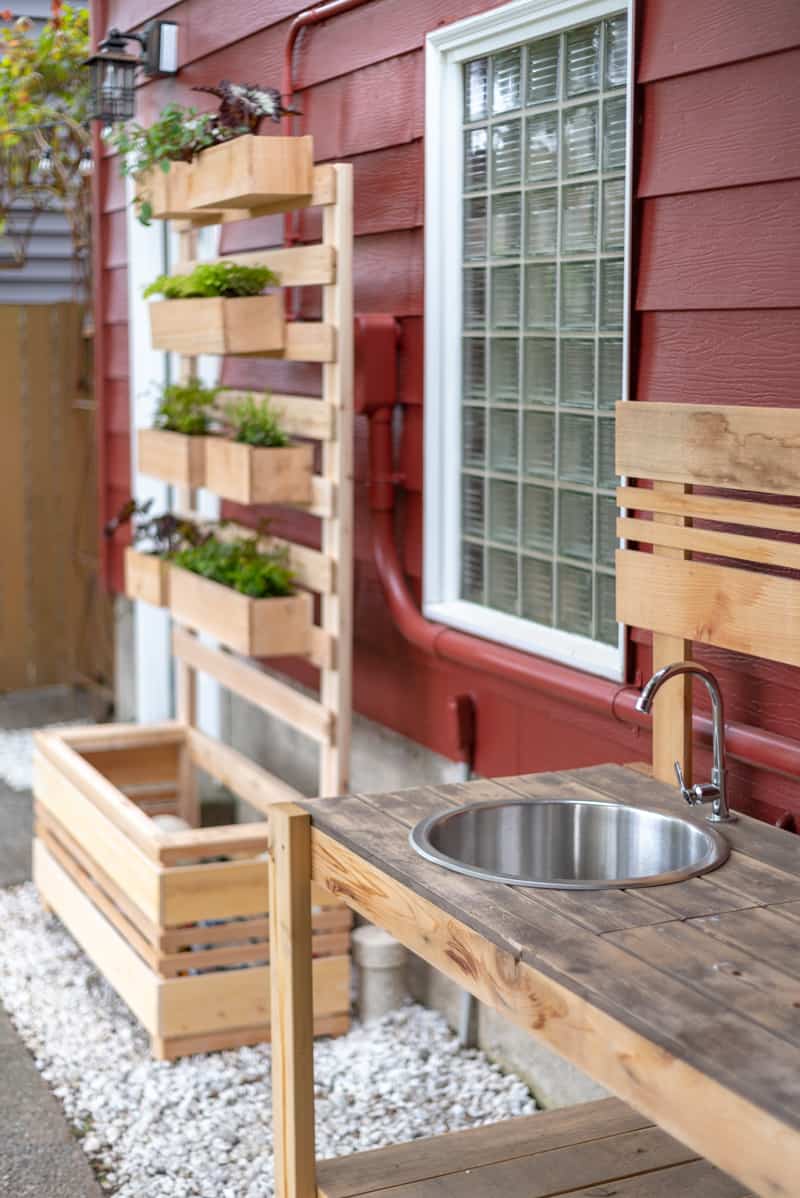 The bottom of the planter wall could be used as another large planter box, but it also makes a great spot to store all my son's soccer balls and foam swords.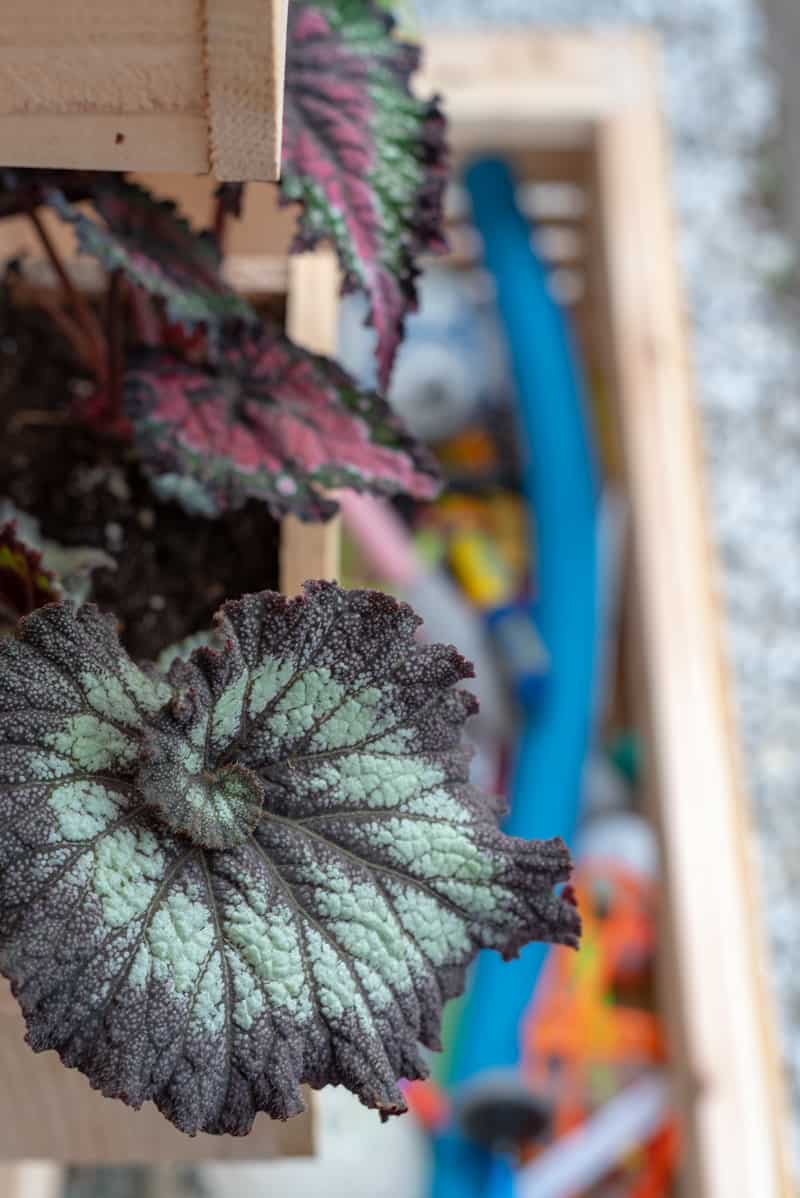 Add Interest to the Boring, Flat Fence
Our fence is boring, but gives us some much-needed privacy in the backyard (gotta love city living!) In the past, I've built a modern garden trellis and a clematis trellis to bring some visual interest to the flat wall of boards. You can see the clematis trellis in the background in this photo.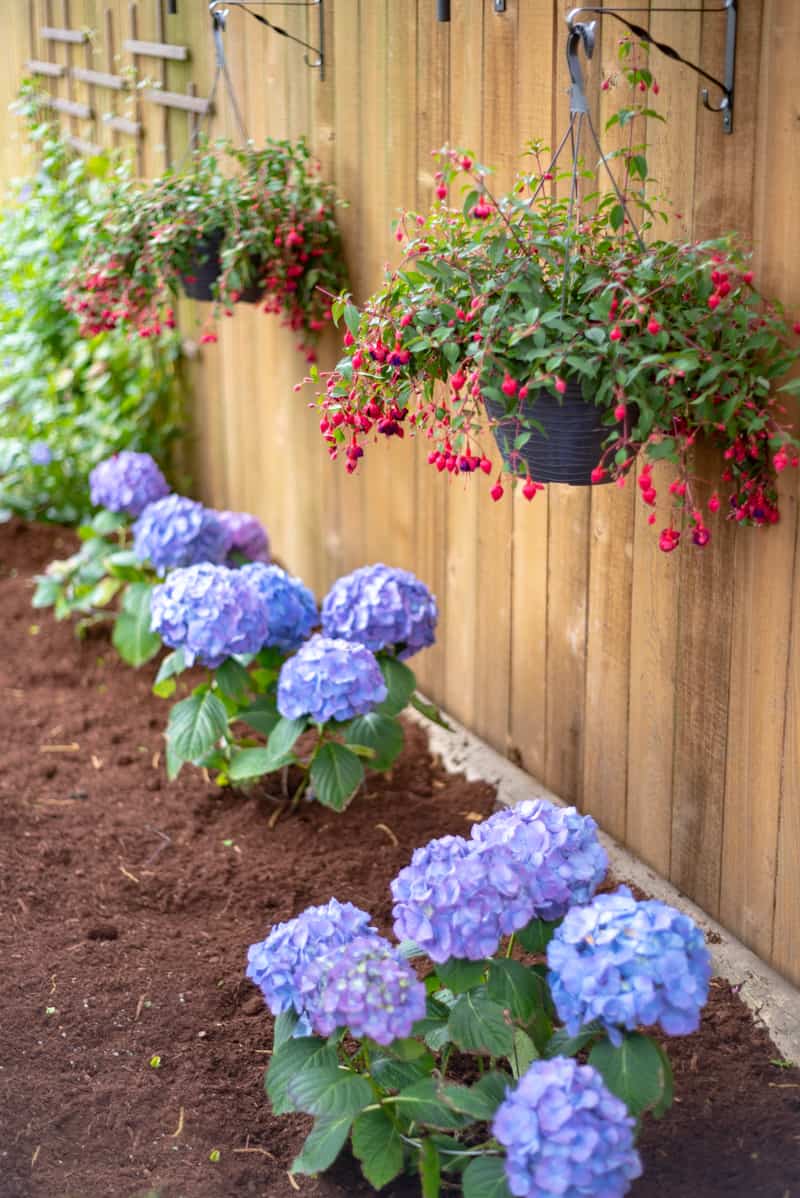 I wanted to go for something a little different in this section. I screwed these hanging plant brackets to the fence to hold big, beautiful fuschia baskets. Between them, I installed solar lights directly onto the fence panels.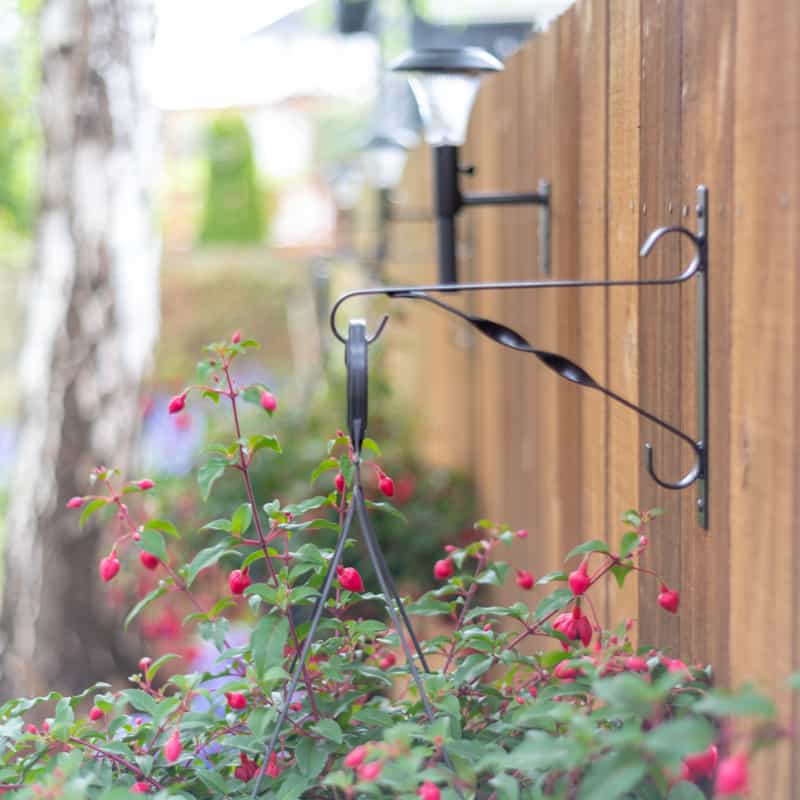 Install New Lighting
I switched out the old security light over the door with a new one with built-in GFCI outlets built into the side. It's perfect for plugging in string lights without having to run an extension cord all over the yard!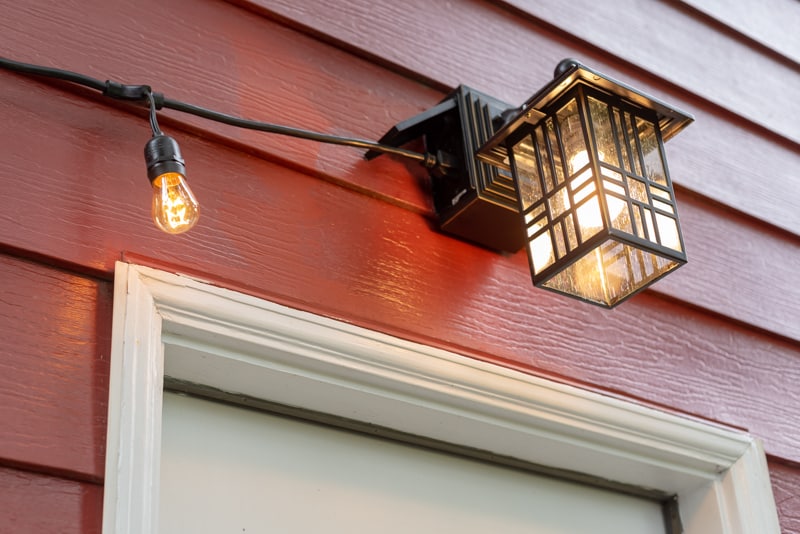 At dusk, the string lights and fire pit provide just the right amount of lighting in this corner of the yard! Perfect for making s'mores and making memories!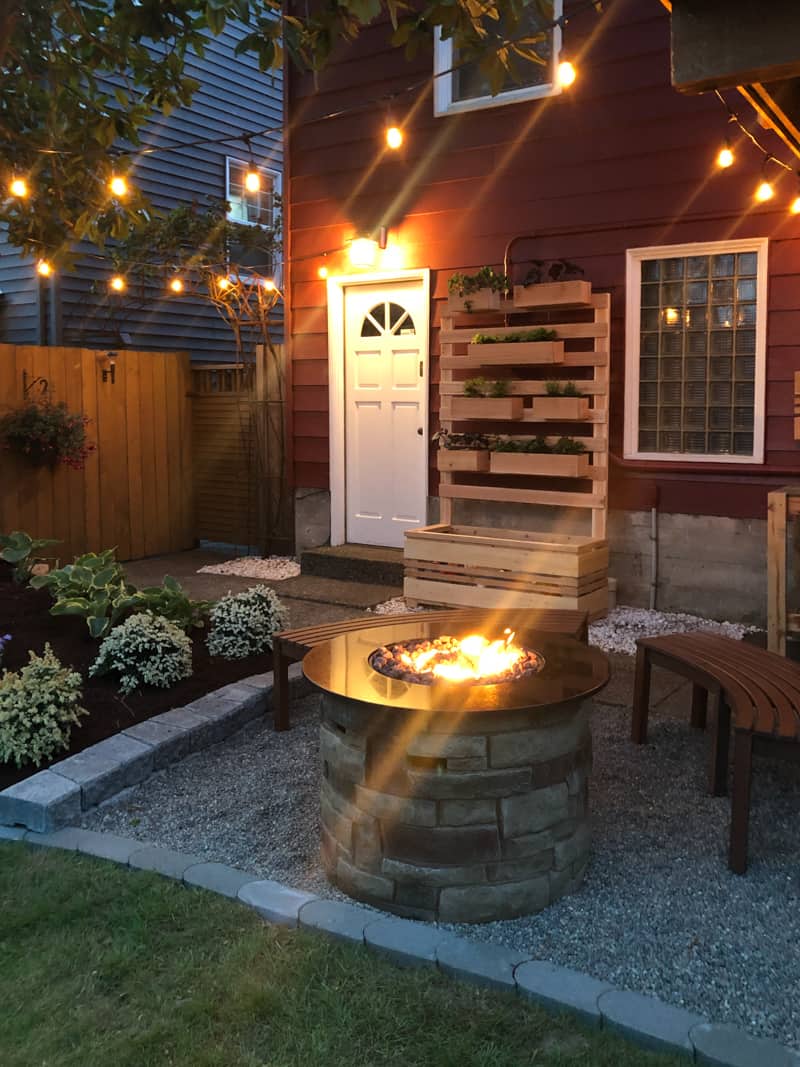 Backyard Makeover Complete!
I couldn't be happier with how our new backyard hangout spot turned out! This neglected corner of the backyard is now the centerpiece of the entire outdoor space. A huge thank you goes out to Ryobi Tools for sponsoring this entire project!
Now, if you'll excuse me, I'm going to take a well-deserved rest in the hammock by the fire . . .