A pea gravel patio is cheap and easy to install and maintain! But it has a few drawbacks. Learn all the pea gravel patio pros and cons here!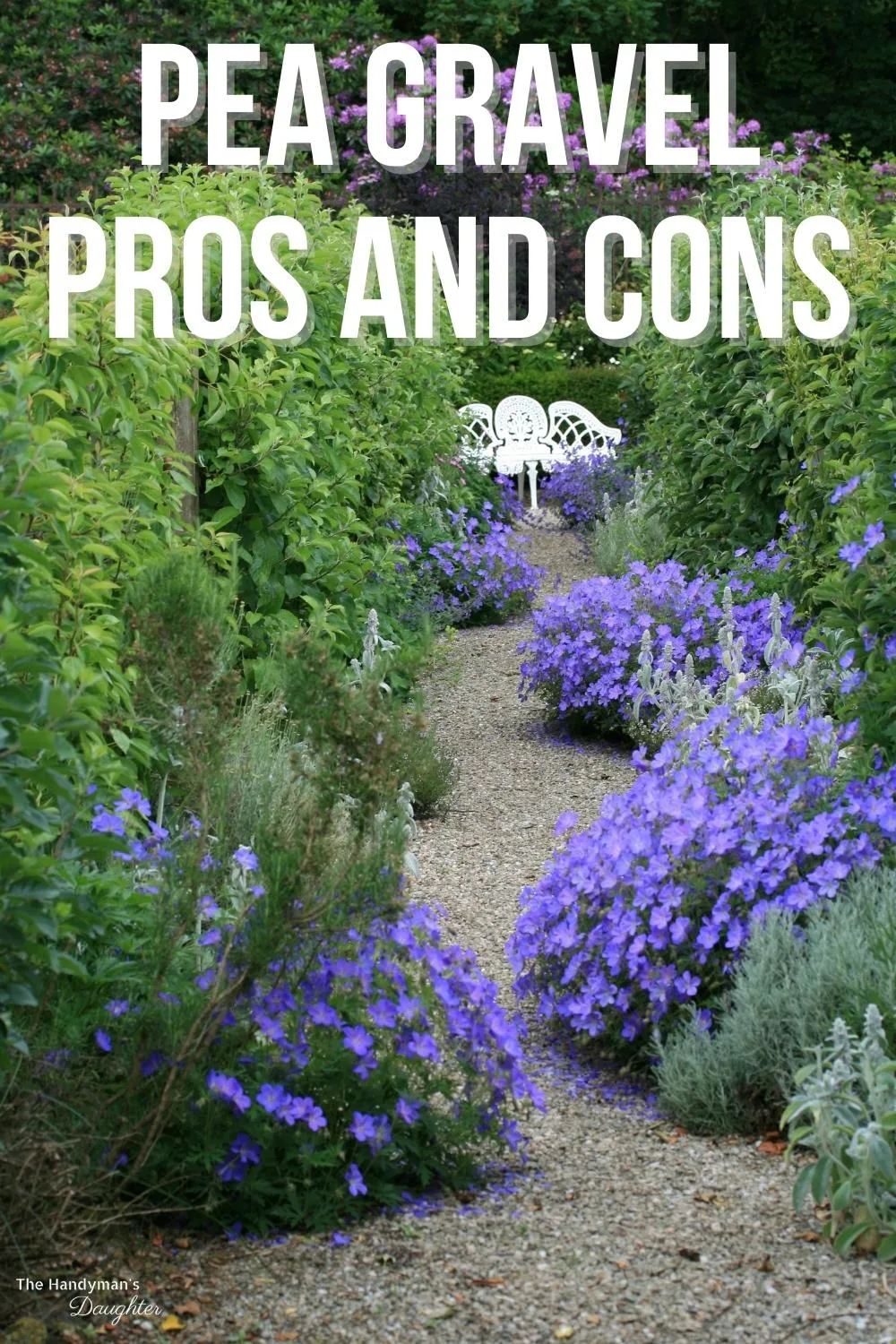 Why install a pea gravel patio instead of bricks or pavers? Pea gravel is popular among home owners for good reason. There are tons of benefits and perks to using these small stones for patios and walkways.
A pea gravel patio is inexpensive, easy to install, and simple to maintain! With that said, there are a few drawbacks, including the propensity for the rocks to scatter, the possibility of weeds (if you don't install it properly), and concerns with furniture sinking.
After learning the pea gravel patio pros and cons, you can decide whether to install one in your own home. It's an easy project to do yourself, so you can make a pea gravel patio in a weekend!
This post contains affiliate links for your convenience. Purchases made through these links may earn me a small commission at no additional cost to you. Please visit my disclosures page for more information.
Pea Gravel Patio Pros and Benefits
Pea gravel doesn't just work for patios. Any yard can benefit from the versatility of pea gravel. Here are seventeen pea gravel project ideas you can use in various outdoor spaces.
You can use it to lighten up a dark corner, suppress weeds around garden beds, and make paths around your home. Also, pea gravel works great for lawn accents around trees and shrubs.
Affordable
Have you looked at the price per square foot of a wooden deck or concrete pavers compared to pea gravel? The cost of pea gravel compared to other patio materials makes it an attractive option if you're on a budget.
You can get pea gravel by the ton for around $40, or about $20-60 per cubic yard. We get it delivered at the same time as our mulch to save on delivery costs. You can even buy it in prepackaged bags at the home improvement store, although that's generally a less cost effective option.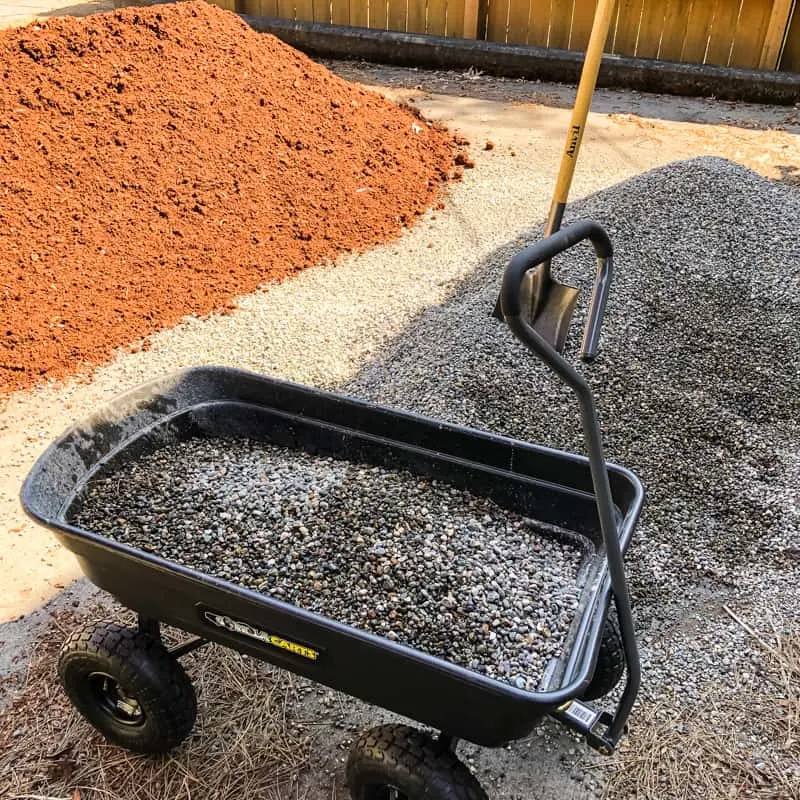 Low Maintenance
Any outdoor construction project will need some level of maintenance after they're installed. If you build a nice wooden deck, you'll still need to deal with cleaning and staining it periodically.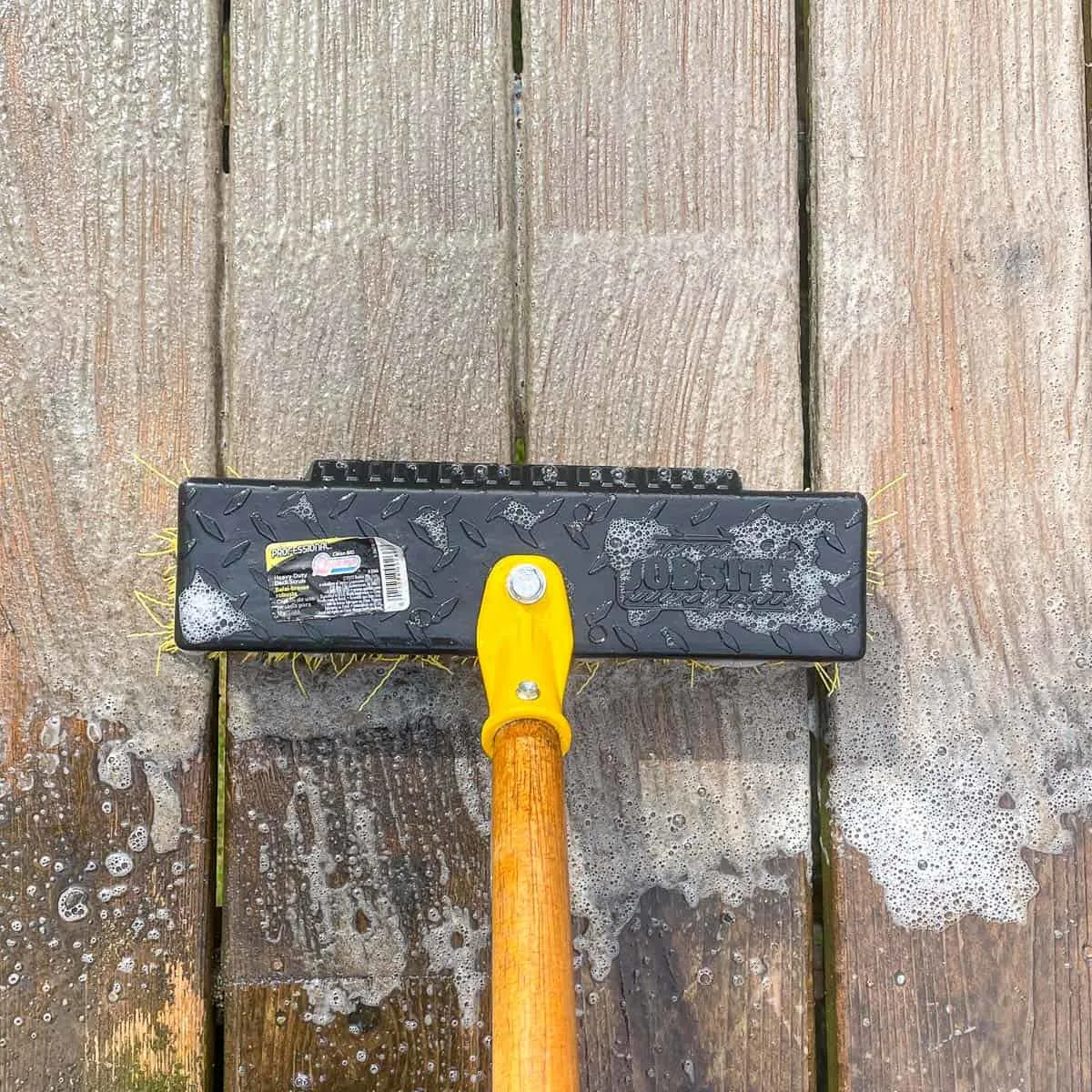 Even poured concrete or concrete pavers require upkeep. Bricks can shift and slabs can crack, requiring a costly and time-consuming repair.
With pea gravel, there's no need to worry about repainting or resealing. Also, if there's a problem with your patio, it's easier to correct.
Easy to Install
Pea gravel patios can be installed in just a couple of days, depending on their size. If you have several people to help, you can make a pea gravel patio with nothing but hand tools and a decent wheelbarrow.
Preparing the site is key. Dig down at least 3 inches, creating a flat bottom to the hole. You may want to install pavers around the outside edge to prevent the small stones from scattering into the surrounding lawn.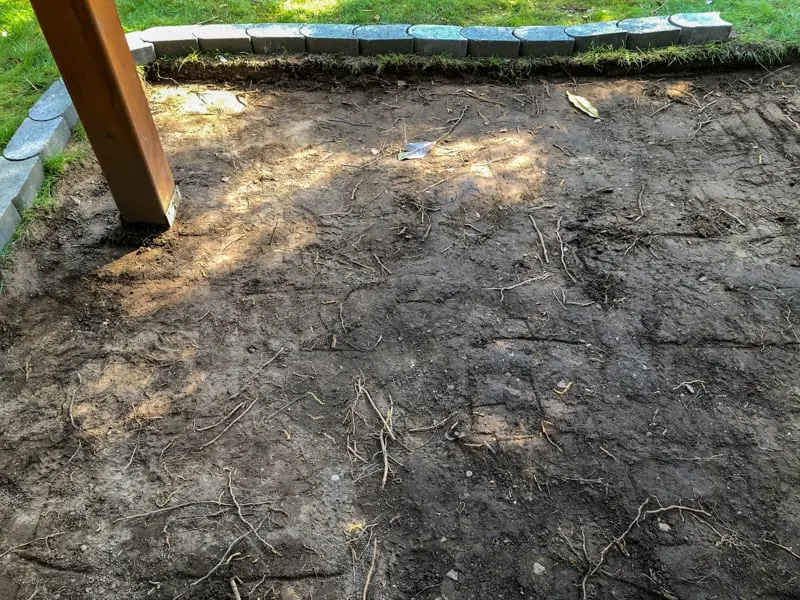 You don't need to worry about getting the ground perfectly level before placing the stones. The gravel will level itself out on the surface, making it easy to hide any imperfections. Less digging means less work!
Cover the ground with landscape fabric to prevent weed growth, then pour in a base layer of gravel. Tamp it down to create a firm foundation, then pour more stones on top to bring it even with the surrounding surface.
Simple to Customize
You can make your pea gravel patio in any shape imaginable. It's as simple as changing the outside boundary. This makes it convenient when placing a patio in an awkward location or creating a meandering pathway.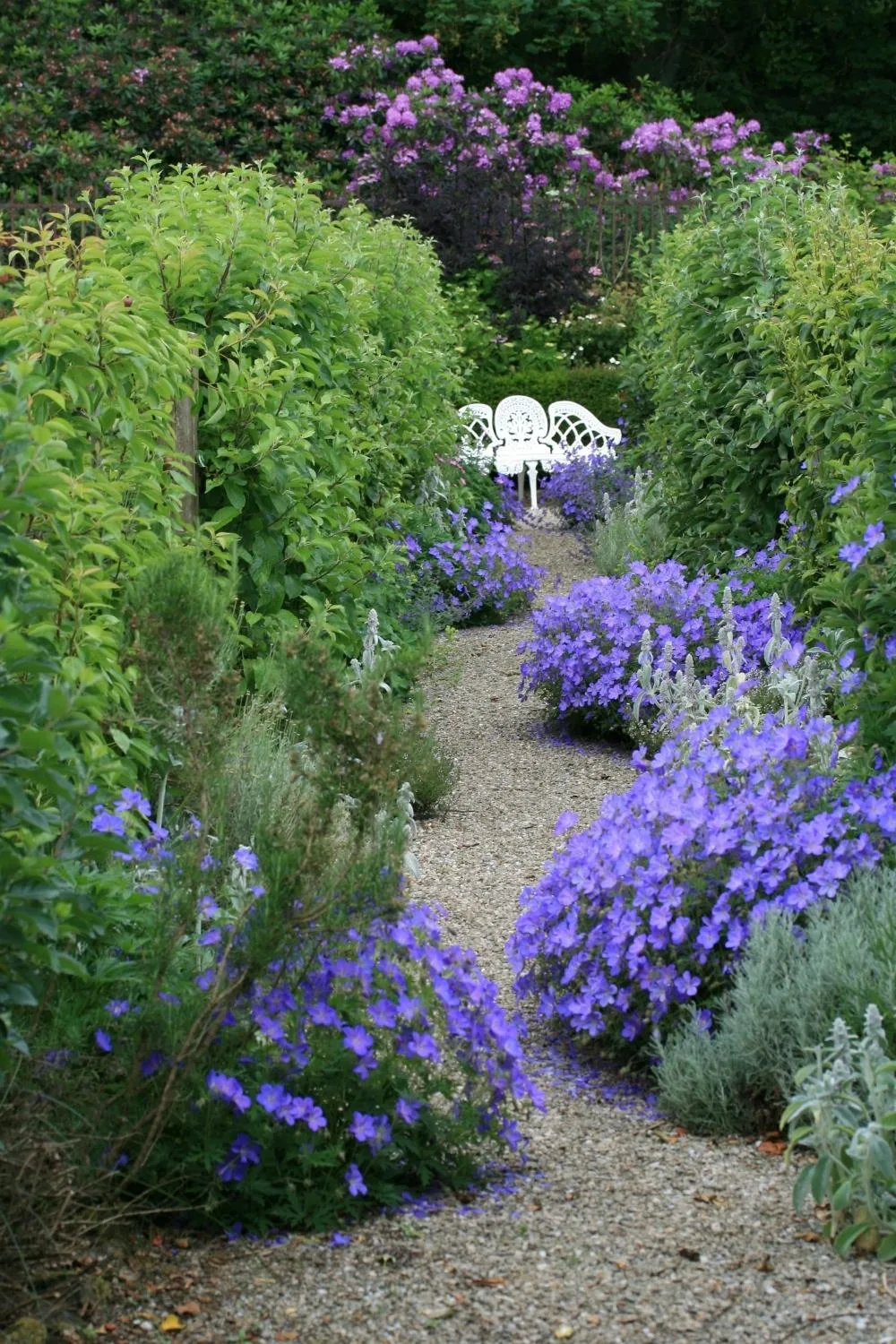 Also, you can easily outline items in your backyard with pea gravel without worrying about stunting the growth – for example, around trees or large roots. As you may know, roots can easily crack sidewalks and pavement. Pea gravel for the win!
Looks Natural
One of the great things about pea gravel is its ability to seamlessly integrate into any backyard. With natural weathering, the stones will look like they've always been there!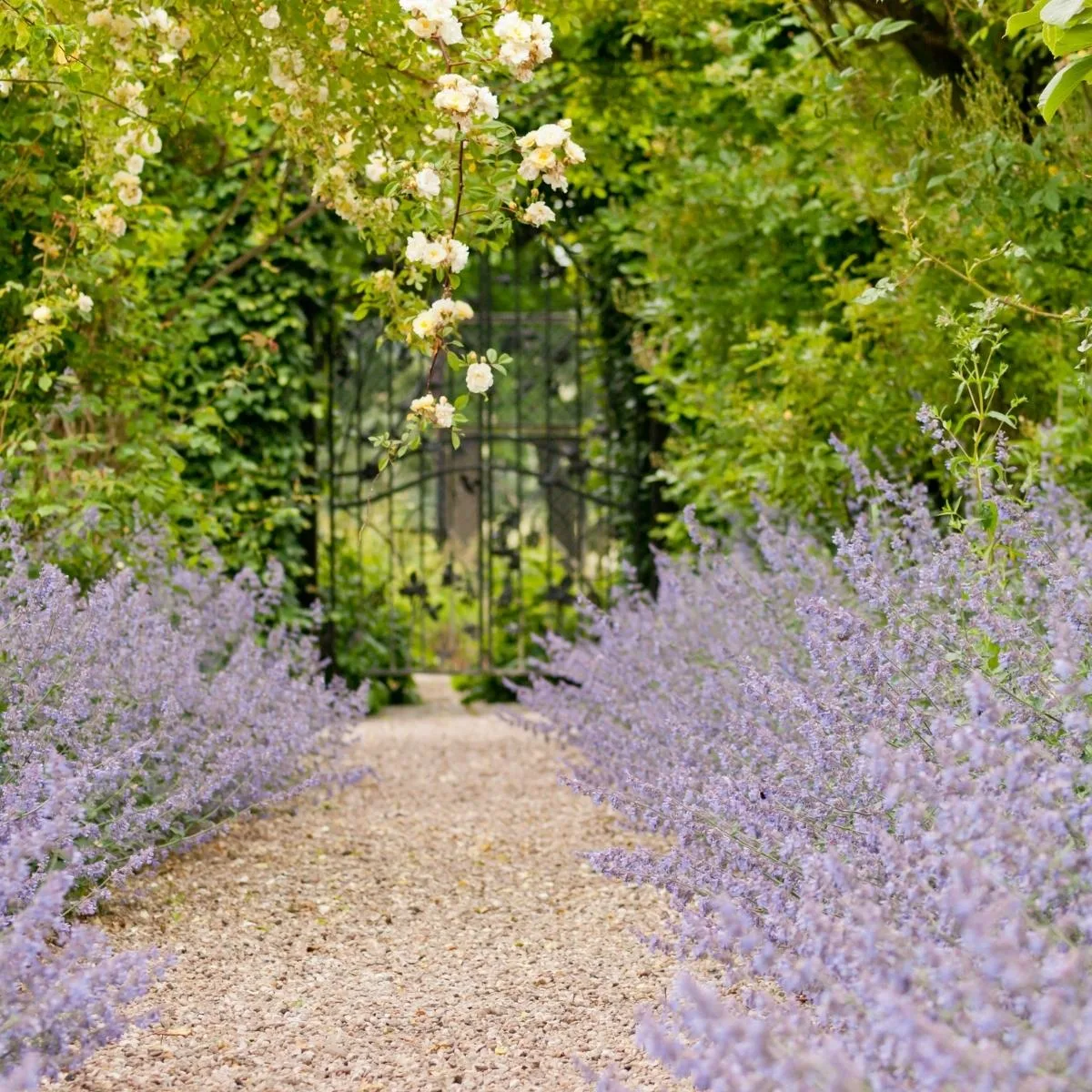 Pea gravel also works great as a pathway between garden boxes, so you don't have to mow between them. It gives you a nice place to stand and kneel while working in raised beds, without the residual heat of concrete or pavers.
Water Drainage
When building a concrete patio, you need to worry about water pooling and proper drainage. Often, this requires carefully setting the concrete at a slight incline. With pea gravel, you don't need to worry about any of this because the water drains right through it!
If you have an area of your yard that's always a muddy mess after heavy rains, you may want to consider replacing it with pea gravel. By separating the soil from the gravel with landscape fabric, you can prevent the two from mixing while allowing for better drainage.
Easy to Remove
Pea gravel is relatively simple to uninstall, so long as you used the proper underlayment to keep the stones separate from the soil.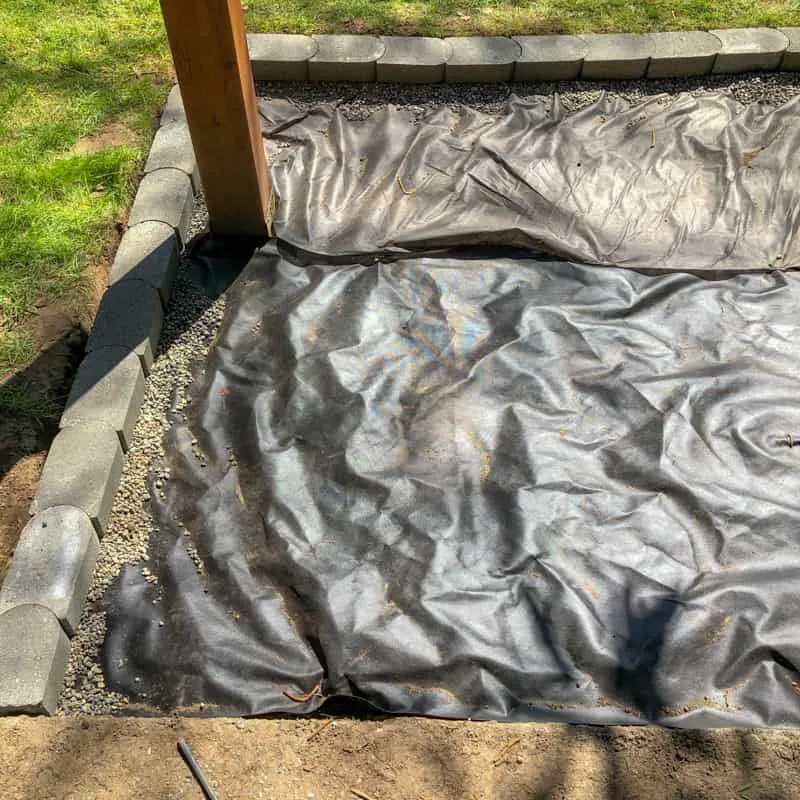 If you ever decide you need to remove the pea gravel patio, all you need to do is dig it up and use a wheelbarrow to haul it away. You can even reuse it somewhere else! It would be much more difficult to get rid of a concrete patio, which requires jackhammers and heavy equipment.
Pea Gravel Patio Cons and Downsides
Pea gravel isn't without its downsides. Thankfully, people who like the look and feel of pea gravel patios will notice that most of these drawbacks have a simple remedy.
Honestly, the biggest pea gravel patio con is how it looks. Some people might just prefer other hardscaping materials. With that said, let's talk about some of the most common practical complaints against pea gravel patios.
Weeds
If you don't use quality landscaping fabric, you will have weeds springing up all over! Not only does landscaping fabric block the sunlight from germinating seeds in the soil underneath, but it prevents dirt from mixing with the gravel and allowing new weeds to grow.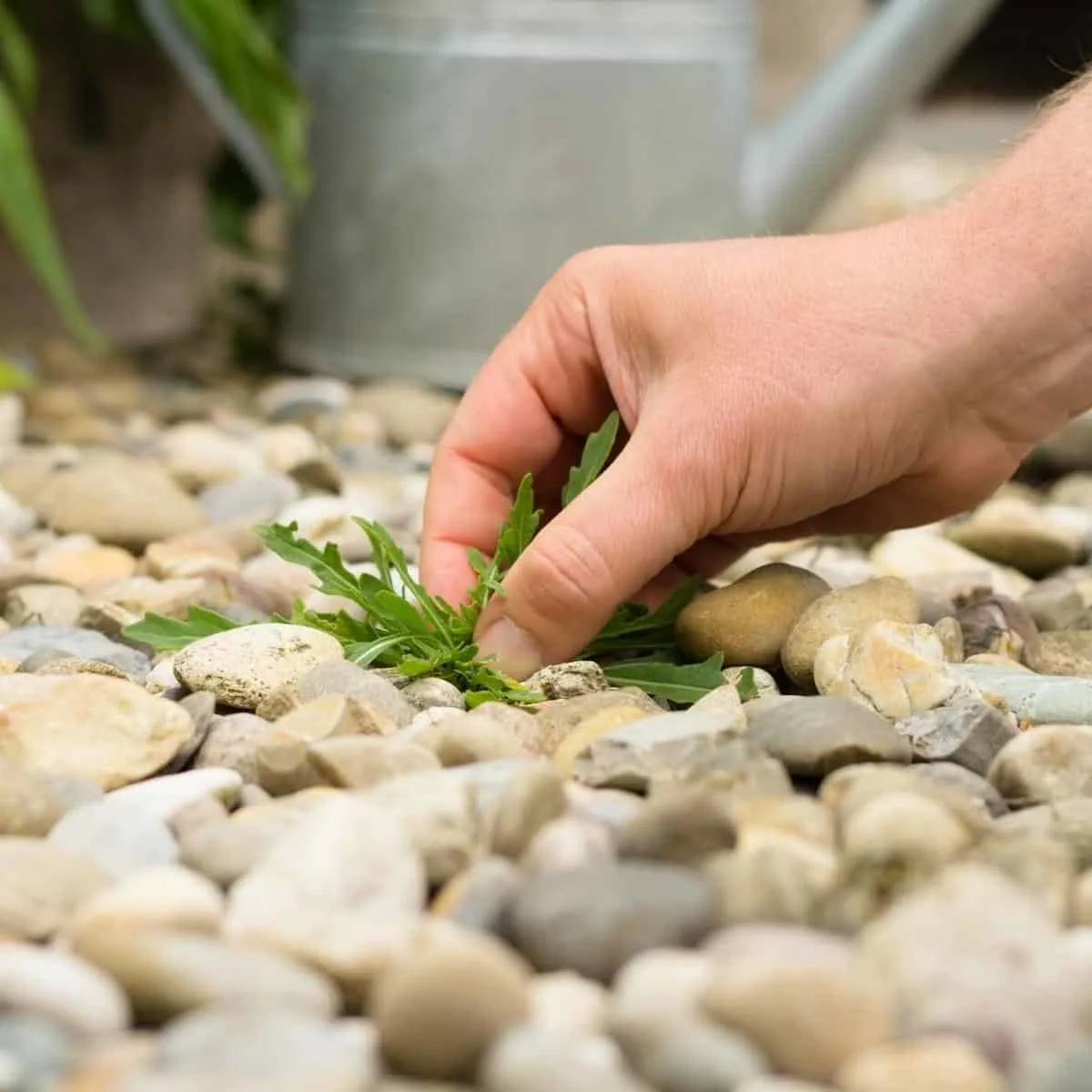 With that said, even if you do use weed inhibiting fabric, you may have some pop up from time to time. However, these unwanted weeds are often the result of dirt that has been tracked into the gravel, and are easy to pull.
Maintenance
While pea gravel is typically lower maintenance than other patio surfaces, it's not maintenance free. Keep a leaf blower on hand to keep debris off the surface, and occasionally rake the stones level.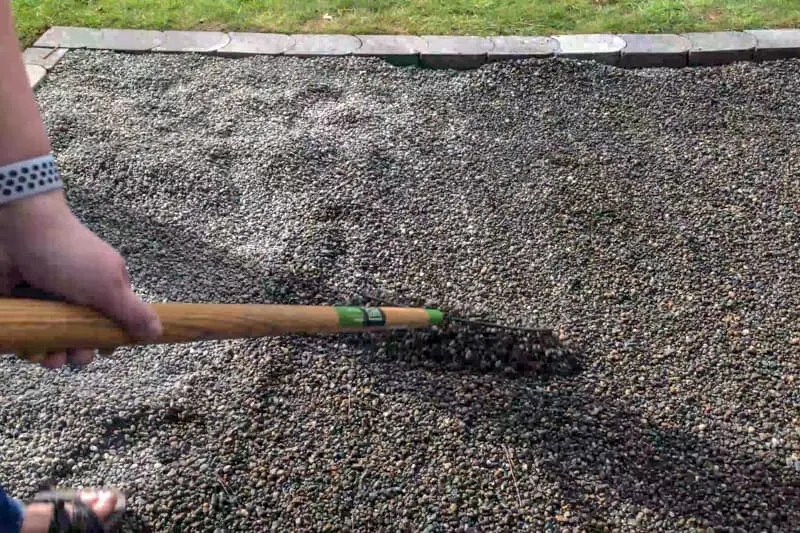 In the wintertime, snow removal can be a hassle. If it's a gravel pathway, you can use a shovel to remove the top layer of snow, taking care not to disrupt the rocks underneath. If needed, you can use some salt to melt the ice.
Sinking Patio Chairs
Pea gravel is comfortable to walk on, even with bare feet. However, placing patio furniture on pea gravel is not always easy. You might have to bury the legs a little bit to get patio chairs rest securely, which can wear the bottom over time.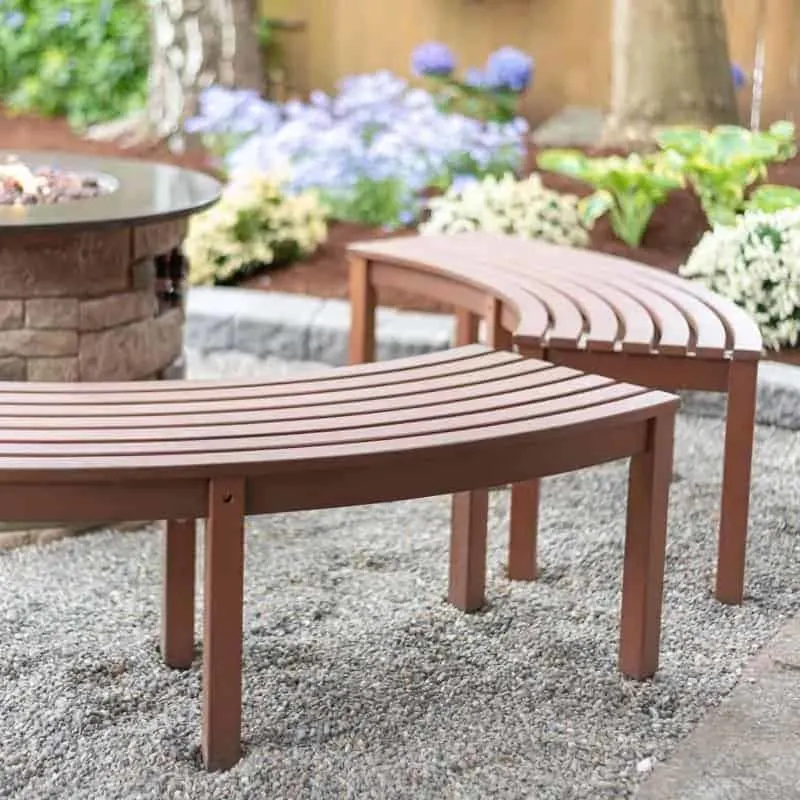 Pea gravel can only be tamped and compacted so much - usually, it's still pretty loose, making it difficult for wheelchairs or wheeled tools to travel over.
Messy
Some people have had issues with pea gravel getting all over the place or becoming a muddy mess in the rain. The key here is to take your time to tamp the pea gravel down and install a barrier around the outside border.
Discourage children or pets from digging too much in the patio area (better yet, make them their own pea gravel "sandbox" where they can play to their hearts are content!)
---
I hope this article helped clear up any concerns you might have about pea gravel patios! We love ours, and it really helped solve a lot of problems in this dark, muddy corner of the backyard!