Don't put off this chore for another summer! I'll show you how to stain a deck FAST, with the right tools and techniques for the job.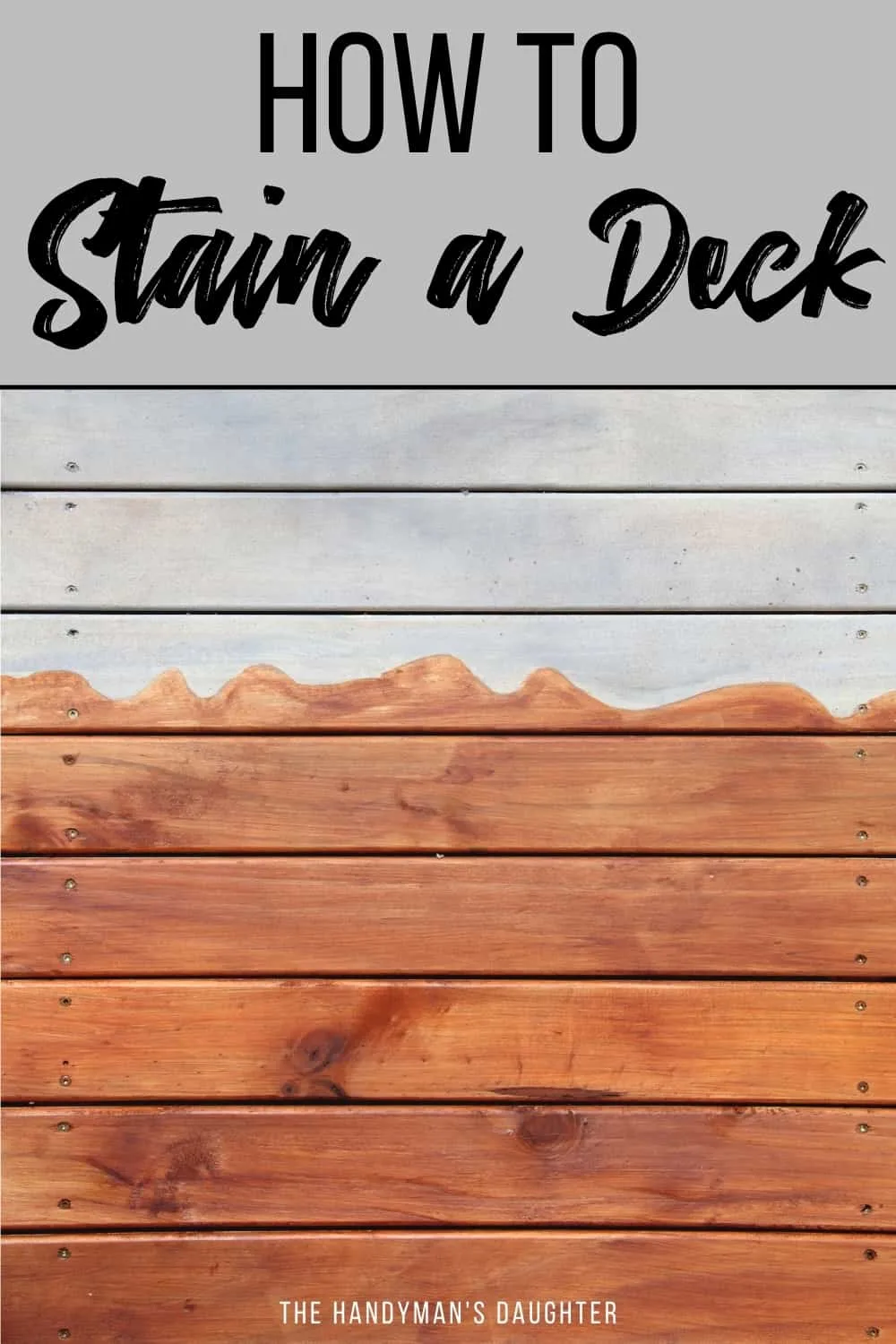 Is your deck stain worn and peeling? You should tackle the chore of applying a new coat of stain to your deck every few years to protect the wood and keep it looking its best. Here are my deck staining tips and tricks, so you can get this task done quickly and go back to hosting summer BBQs in no time!
This post contains affiliate links for your convenience. Purchases made through these links may earn me a small commission at no additional cost to you. Please visit my disclosures page for more information.
Check out my video on how to clean and stain a deck first, then read further for more detailed instructions!
Repair Any Problems First
Before you pick up a can of stain, give your deck a good look. Are there popped nails or uneven boards? Here are some easy deck repair tasks any homeowner can tackle themselves. Fix the problems now, to make it easier to stain later.
Staining a New Deck
Believe it or not, new decks should not be stained right after they're built. The mill glaze and high moisture content of the wood will prevent the stain from soaking in. If your deck is made of pressure treated lumber, it needs time for the chemicals to dry out before it will accept stain properly.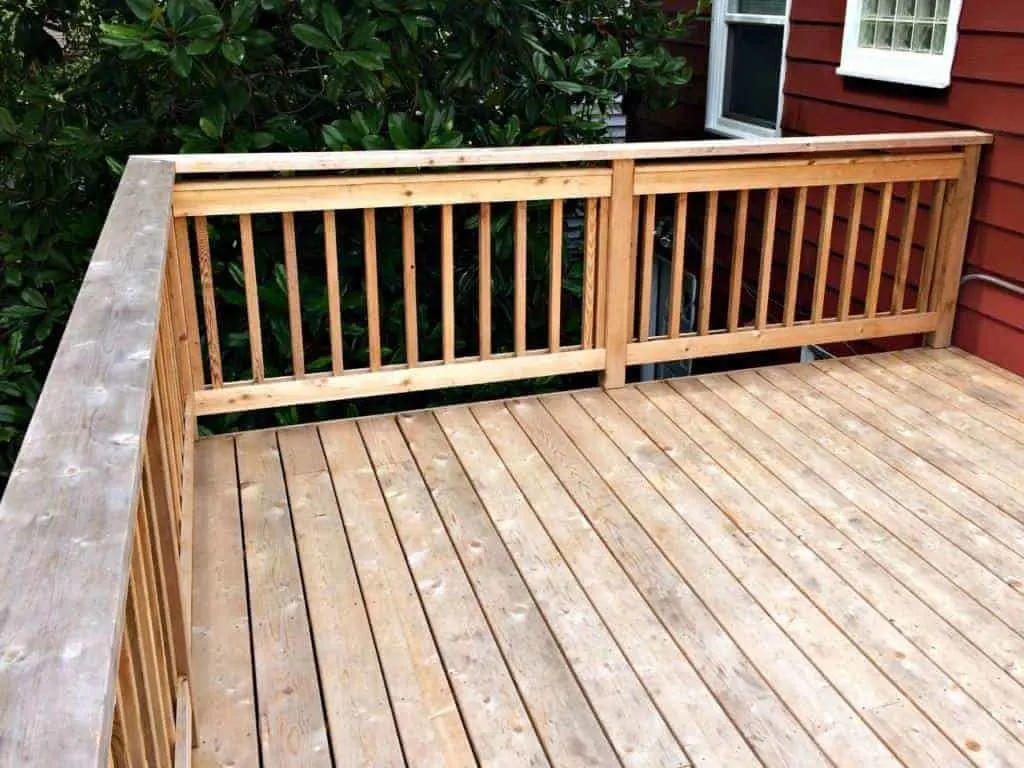 It's common to allow a new deck to "season" or "weather" for 6-12 months, leaving the wood raw and exposed to the elements. Before staining a new deck after weathering, the UV damaged fibers, dirt and mildew need to be removed first.
How to Clean a Deck Before Staining
After repairing any issues and allowing the wood to weather (if it's new), the deck needs a good cleaning. Stripping off the old stain is a good idea if it's peeling, worn down or you want to change the color.
It sounds daunting, but all you need is a power washer and the right chemicals. This tutorial on how to use deck cleaner and brightener will show you how to remove the old stain to get it ready for a new coat!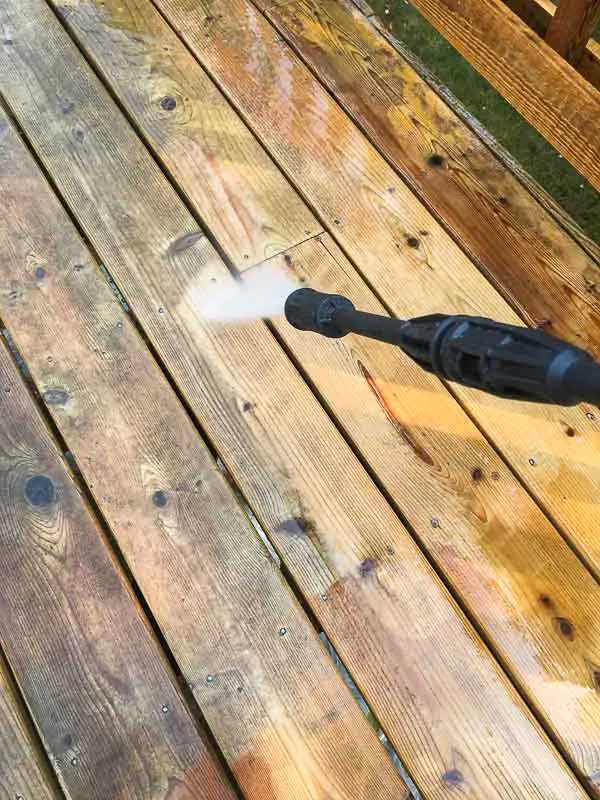 If you're keeping the same color and it's in good condition, a homemade deck cleaner may be all you need to get the wood ready for a new coat of stain. This cheap and easy solution can be applied with a scrub brush and rinsed off with a hose for a quick clean at the beginning of the season.
Allow the deck to dry for at least two days after cleaning. With the wood sufficiently prepped, it's time to make it shine again!
Materials Needed to Stain a Deck
Gather up all the necessary tools and materials before you start. There's nothing worse than running out to the store for another can of stain midway through the process! Here's what you'll need:
How to Stain Deck Railings and Spindles
The first time I stained our deck, I made the mistake of doing the deck railings and spindles with a paint brush by hand. It took for-ev-er!
Now I've learned how to stain deck railings fast! Meet my secret weapon...a stain sprayer!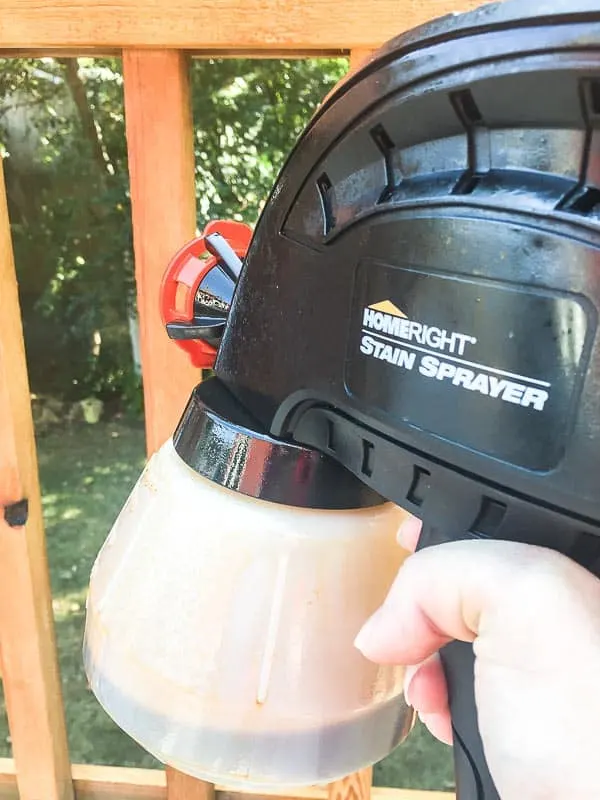 Protect the Surrounding Area
Lay down drop cloths on the deck floor and over any plants or furniture you don't want covered in stain. Pour the stain into the reservoir, and don your face mask. Even though you're outside, a light gust of wind can send a cloud of stain right back into your face!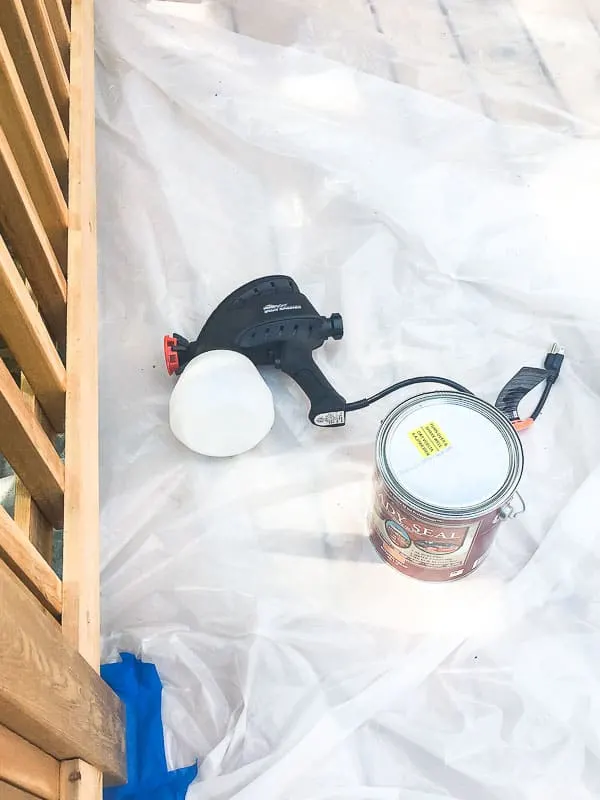 Spray from the Top Down
Working from the top down, spray a light coat evenly over every surface. Keep a paint brush on hand to catch any drips. Within minutes, I had an entire section complete! Below you can see how well it coated the section on the right.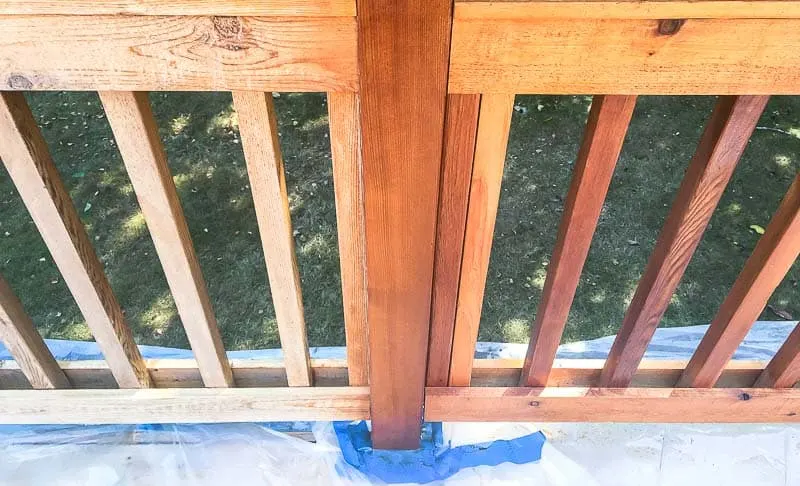 A word of warning: the light mist of stain that falls on the plastic tarp makes it incredibly slippery! But if you leave the surface of the deck uncovered, the drips and splatters will show up even with a full coat of stain. I recommend a canvas drop cloth for areas like stairs so you don't slip and fall.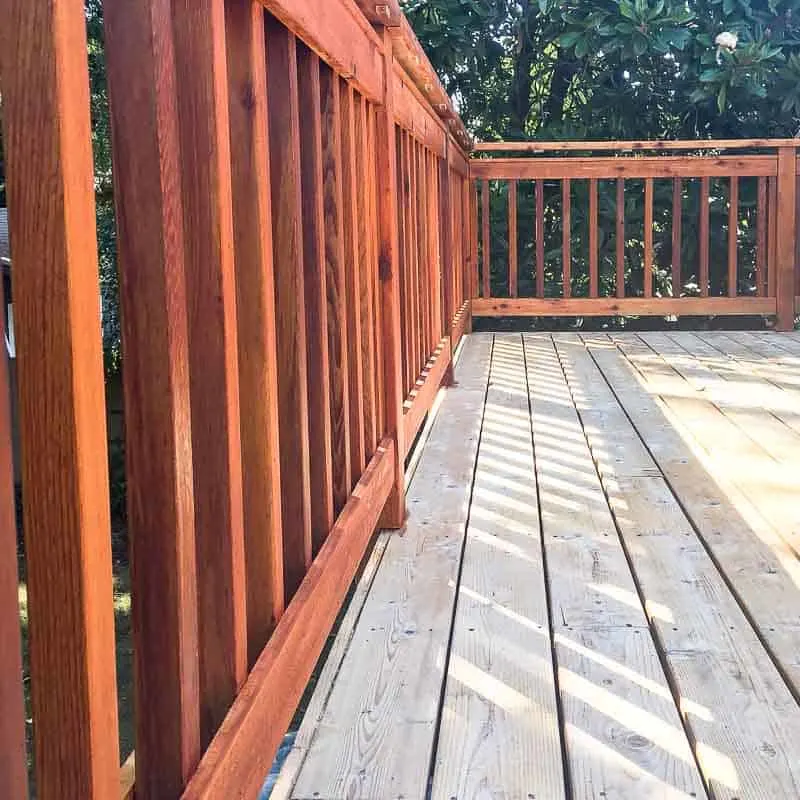 How to Stain a Deck Floor Fast
With the railings complete, it's time to move on to the floor boards. Remove the tarps from the floor, but keep them on any plants or items under the deck. Move any furniture to one side so that the entire length of the floor boards is exposed.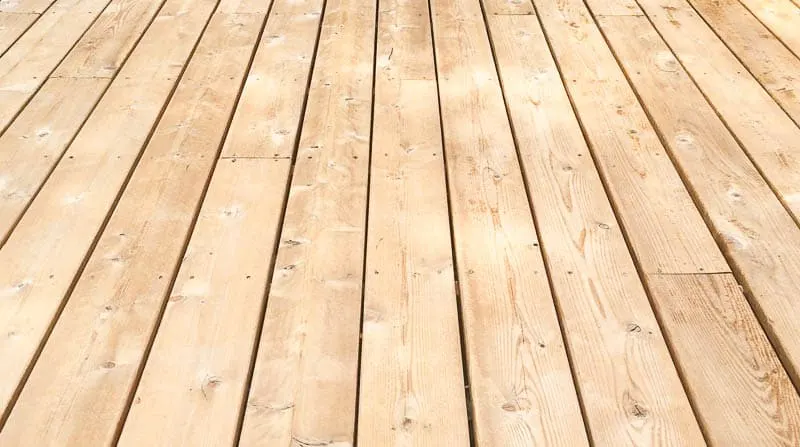 Use a Deck Stain Applicator
Pour the stain into a paint roller tray, and dip the deck stain applicator into it. Don't get it too saturated or it will drip. With the groove tool retracted, stain the entire length of one board from end to end. Stopping and starting on the same board will leave lap marks, so make sure to apply finish to the entire length before it dries.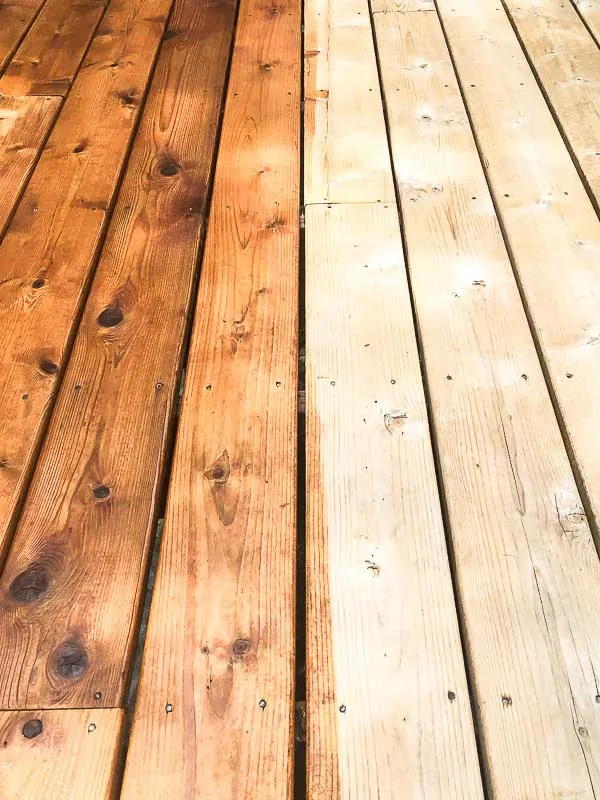 How to Stain Between Deck Boards
Here's the cool part about this particular stain applicator. Just flip the handle around, and the groove tool pops out of the bottom! Now you can stain between the deck boards without resorting to a paint brush! This quick video shows you how to stain a deck super fast with this tool.
Allow the Deck Stain to Dry Overnight
I stained half of the deck in less than an hour, then let it dry overnight. The next day, I moved all the furniture to the stained side and completed the job. If you have a completely empty deck, you could complete this task in an afternoon!
Frequently Asked Questions
How Much Deck Stain Do I Need?
The amount of deck stain you'll need depends on a few different factors:
The size of your deck
The method you'll use to apply the stain
How many coats you want to apply
How dry the wood is
As a general rule of thumb, you'll need a gallon of deck stain per 100 square feet. Don't forget the railings! If you plan to spray, keep in mind that you'll lose some of the stain in the air and the surrounding area, so you'll use more.
This handy deck stain calculator will help get you in the right ballpark. Keep in mind that you can always return the gallons you don't open, so you may want to pick up an extra just in case!
How Long Does it Take to Stain a Deck?
This really depends on how big your deck is, whether there are railings and stairs involved, and how much cleaning is required before applying the stain.
It took me a full weekend to remove the old stain and clean the surface of the wood with a power washer. I had to work in sections, because there was a lot of outdoor furniture to move around! Our deck is 10 feet off the ground, so I couldn't easily move it all down to the yard below. It'll go a lot of faster if you can clear away any obstacles first.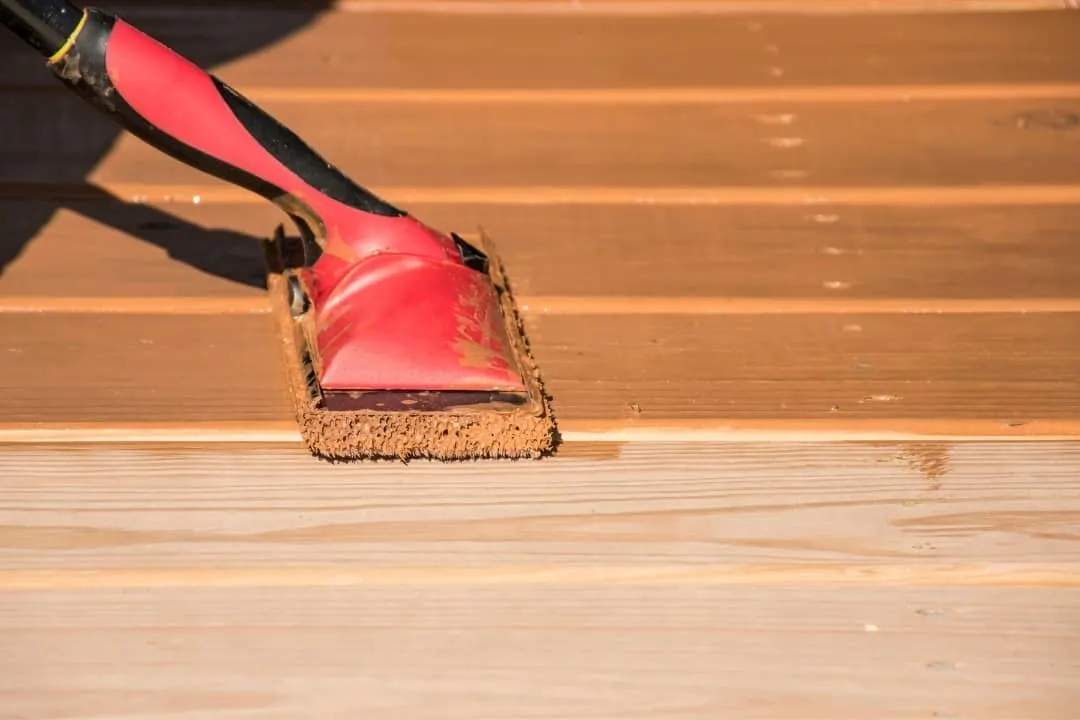 But once everything is clean, the staining process goes pretty quickly! Use a sprayer on the railings to make the job much faster. You can also use a sprayer on the deck surface if you prefer to go that route. I'd plan on two days to apply two coats, allowing the stain to dry overnight between coats.
Can you Stain over Old Deck Stain?
If your new stain color is the same or darker than the old color, then you can stain over the old deck stain. But a lighter color won't show up on a darker deck, so you'll have to strip off the old color first. The deck cleaner I used also removes the old stain, so you can start with a fresh slate without any scrubbing!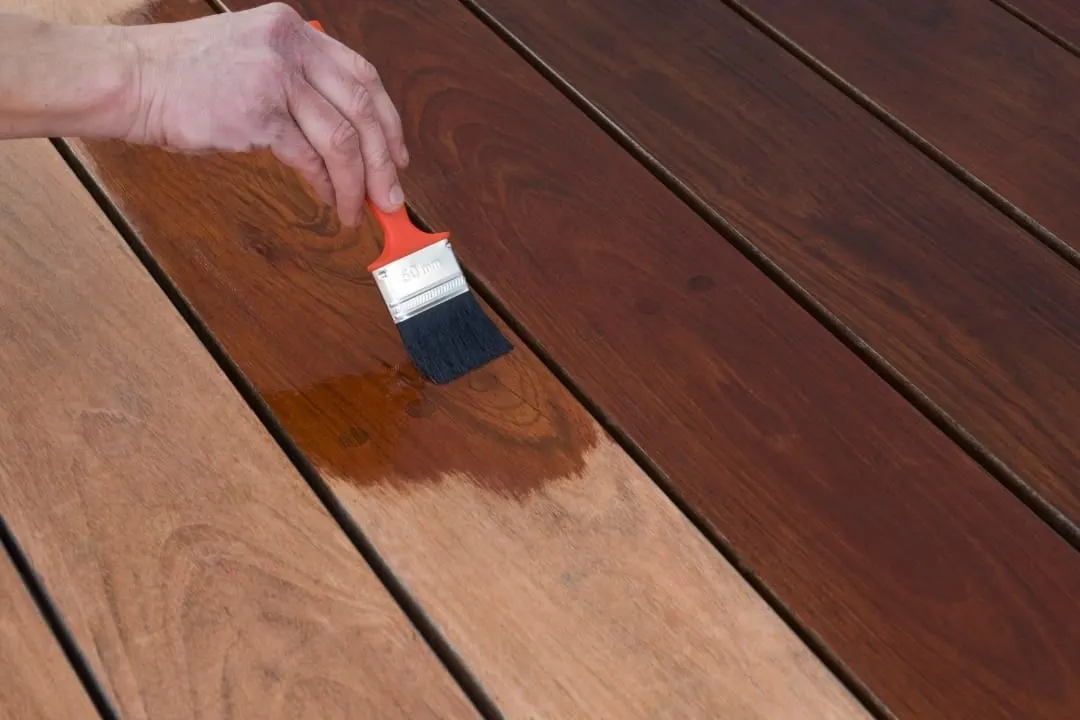 No matter what color you're planning to use, you have to clean the surface of the wood thoroughly first. The wood stain won't soak into the fibers if it's covered with dirt and mildew, and the resulting finish will be blotchy. Use homemade deck cleaner or buy a bottle of premade solution and start scrubbing before staining!
Can you Roll Stain on a Deck?
Yes, you can use a roller to apply stain on a deck. But the type of roller you use matters! Make sure yours is made of high density foam that won't break apart if it gets snagged on a splinter. Thicker, fluffier rollers will leave a trail of fibers on your deck that will be a pain to remove!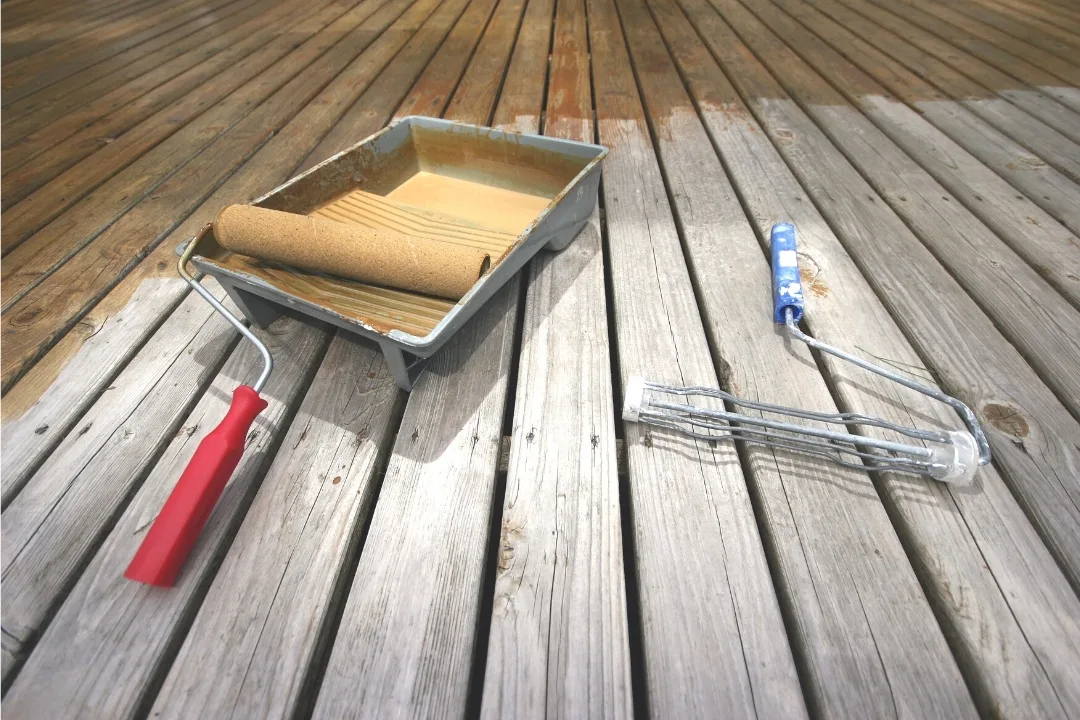 I prefer to use the deck stain pad over a roller because it's much easier to get into corners and edges. The square shape allows it to get into these tricky areas without having to switch to a paint brush.
When is the Best Time to Stain a Deck?
Check the weather report for the next week before tackling your deck staining project. You need a window of two or three warm (but not hot) days without a chance of rain. You'll have to wait at least two days after the last rainfall, or after you've cleaned your deck, before applying the first coat of stain. I usually wait until early summer to stain our deck, when Seattle's rainy season is over.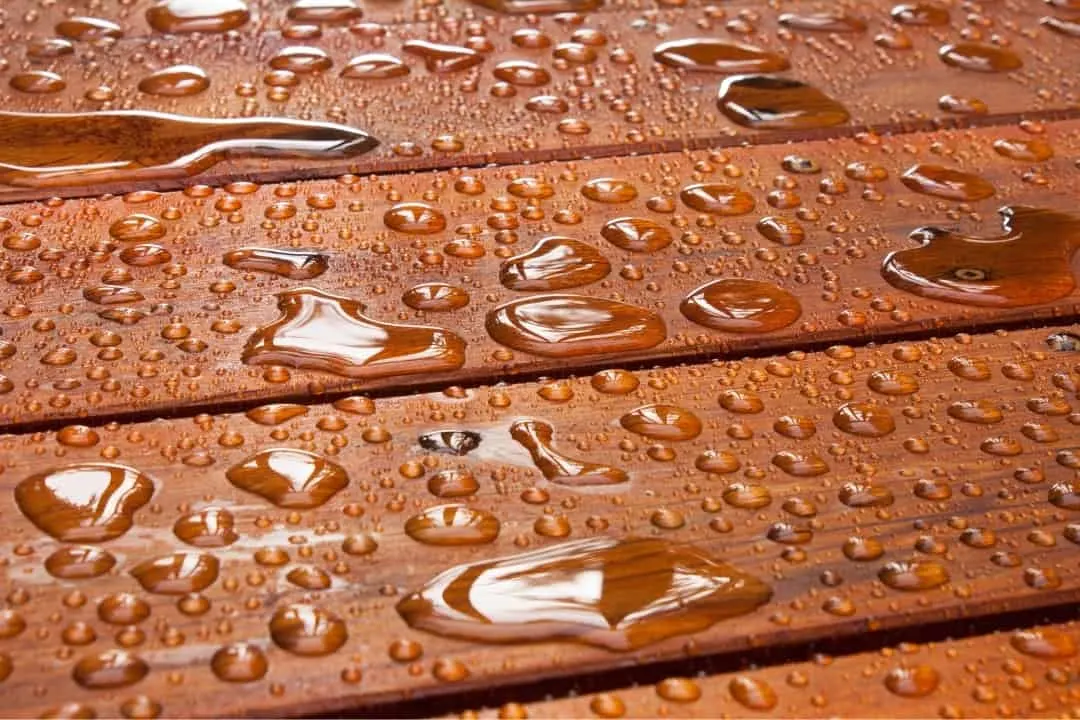 You also want to avoid staining your deck in direct sunlight. The heat from the sun can cause the stain to dry too quickly, leaving lap lines and uneven coverage. This can be difficult to achieve in the heat of summer, so the best time of day to stain a deck would be the morning or early evening when the wood isn't hot to the touch.
---
Now you know my secrets for how to stain a deck super quick! You could easily knock this project out in a weekend and be back to grilling and entertaining al fresco in no time!