This homemade deck cleaner is safe for plants and pets! Get your deck sparkling clean this summer with this easy to make deck wash!
After a long winter, your deck probably isn't looking so great. Mildew and dirt build up can turn the wood dark and slippery. Up here in the Pacific Northwest, even our decks are evergreen!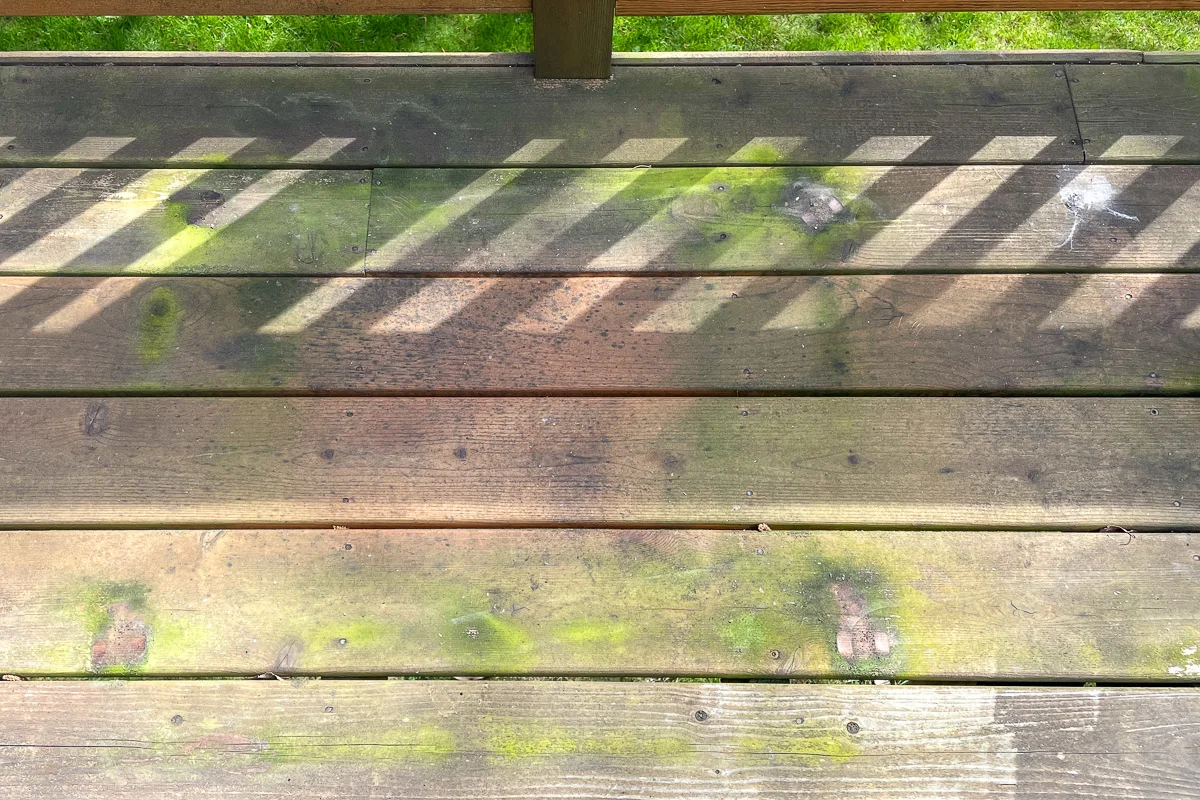 In the past, I've used store bought deck cleaner and brightener with a pressure washer to strip off the old stain and get the wood ready for a new coat. But the plants and grass around my deck suffered from the harsh chemicals, even when I sprayed down the area with water beforehand. Plus, the pressure washer had a tendency to damage the soft cedar wood fibers while it cleaned.
This year, I'm trying a DIY deck cleaner instead. It uses plant- and pet-safe household cleaners that can be applied with a scrub brush, then rinsed away with the hose. You probably already have the ingredients for this deck wash under your kitchen sink!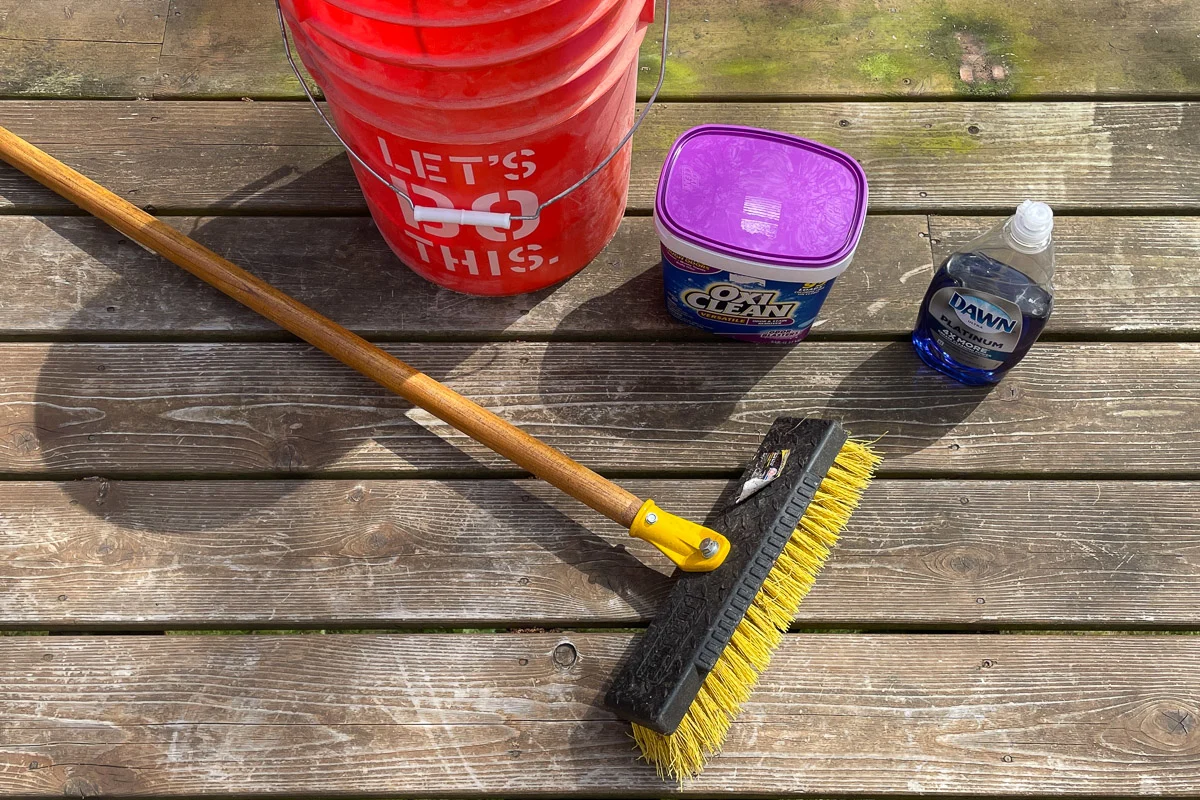 While you're at it, don't forget to clean your gutters and siding, and scrub down your outdoor furniture too! It's so gratifying to see our outdoor entertainment area sparkling clean and ready for backyard barbeques this summer!
Once your deck is properly cleaned, follow this tutorial on how to stain a deck fast to make it look like new again! I'm planning to put a new coat of the same stain color over the existing one (or what's left of it) so I don't have to strip off the stain entirely.
This post contains affiliate links for your convenience. Purchases made through these links may earn me a small commission at no additional cost to you. Please visit my disclosures page for more information.
Homemade Deck Cleaner Ingredients
How to Use Homemade Deck Wash
Mix the Ingredients in Warm Water
Fill a five gallon bucket with warm water. Then mix in two cups of OxiClean and stir until all the powder is dissolved.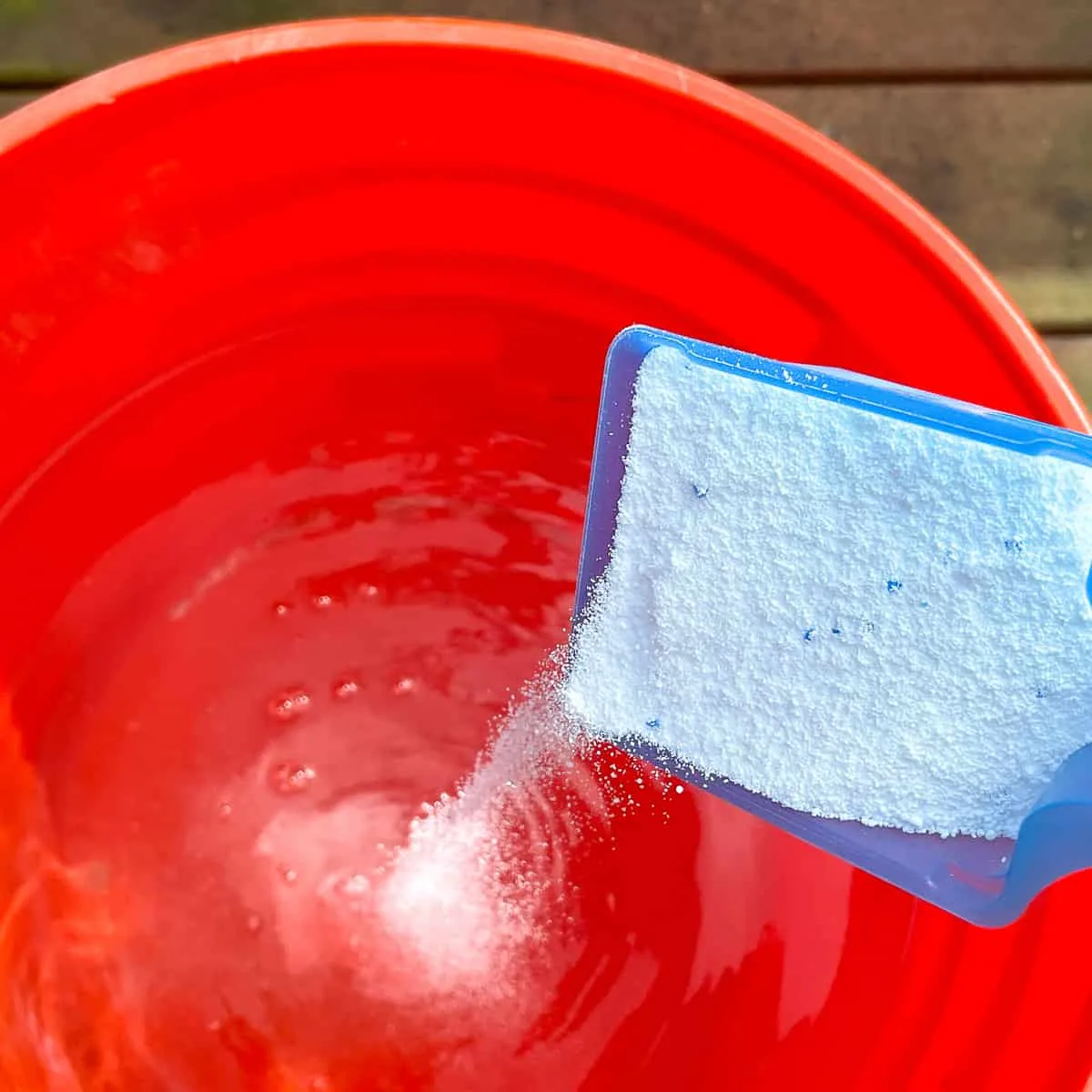 Then add a few long squirts of Dawn dish soap (no need to measure it). Stir again to make a soapy, bubbly mixture.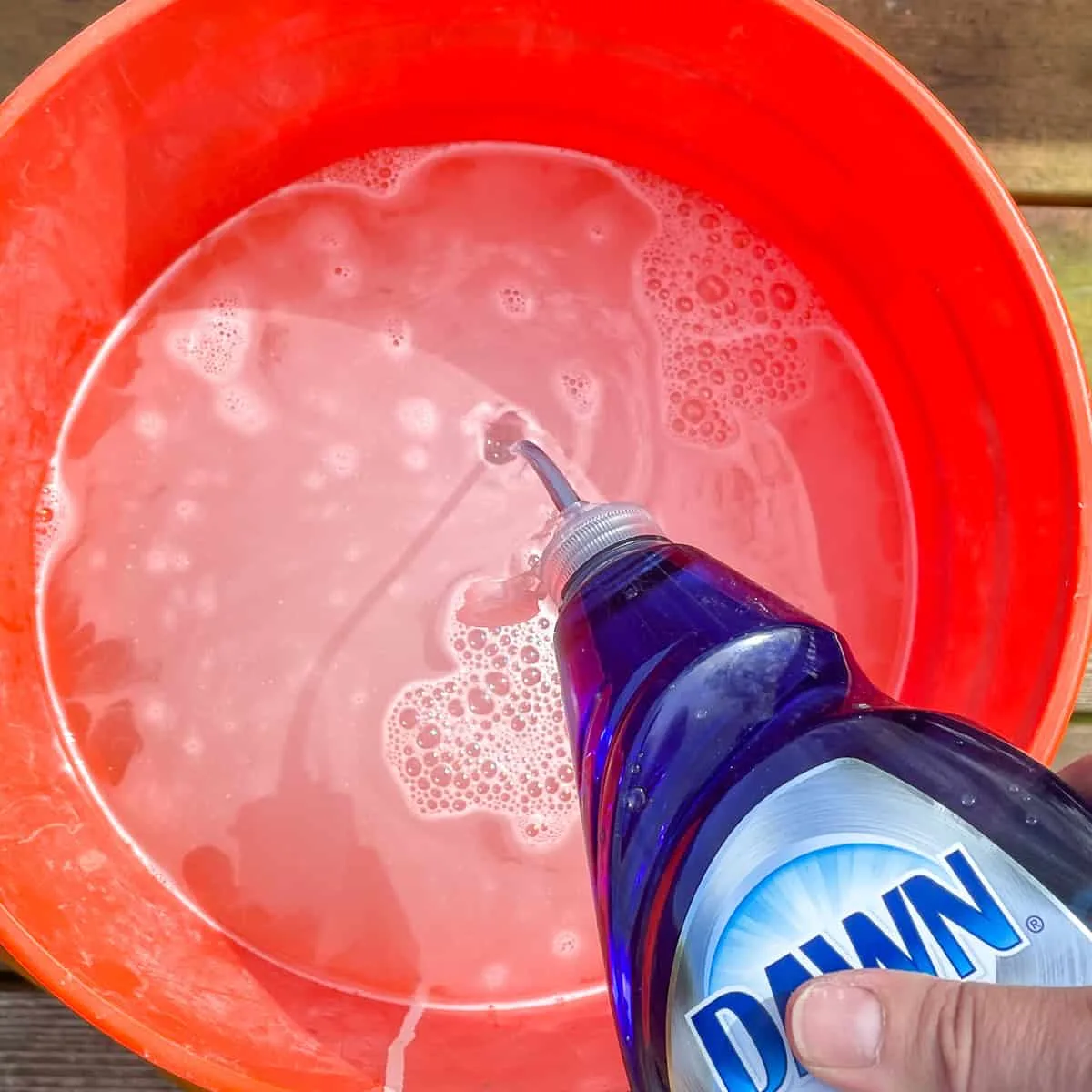 Rinse the Deck
Use a leaf blower or a broom to remove any loose debris from the deck. Then rinse the surface with a hose. Don't forget the top of the deck railing too!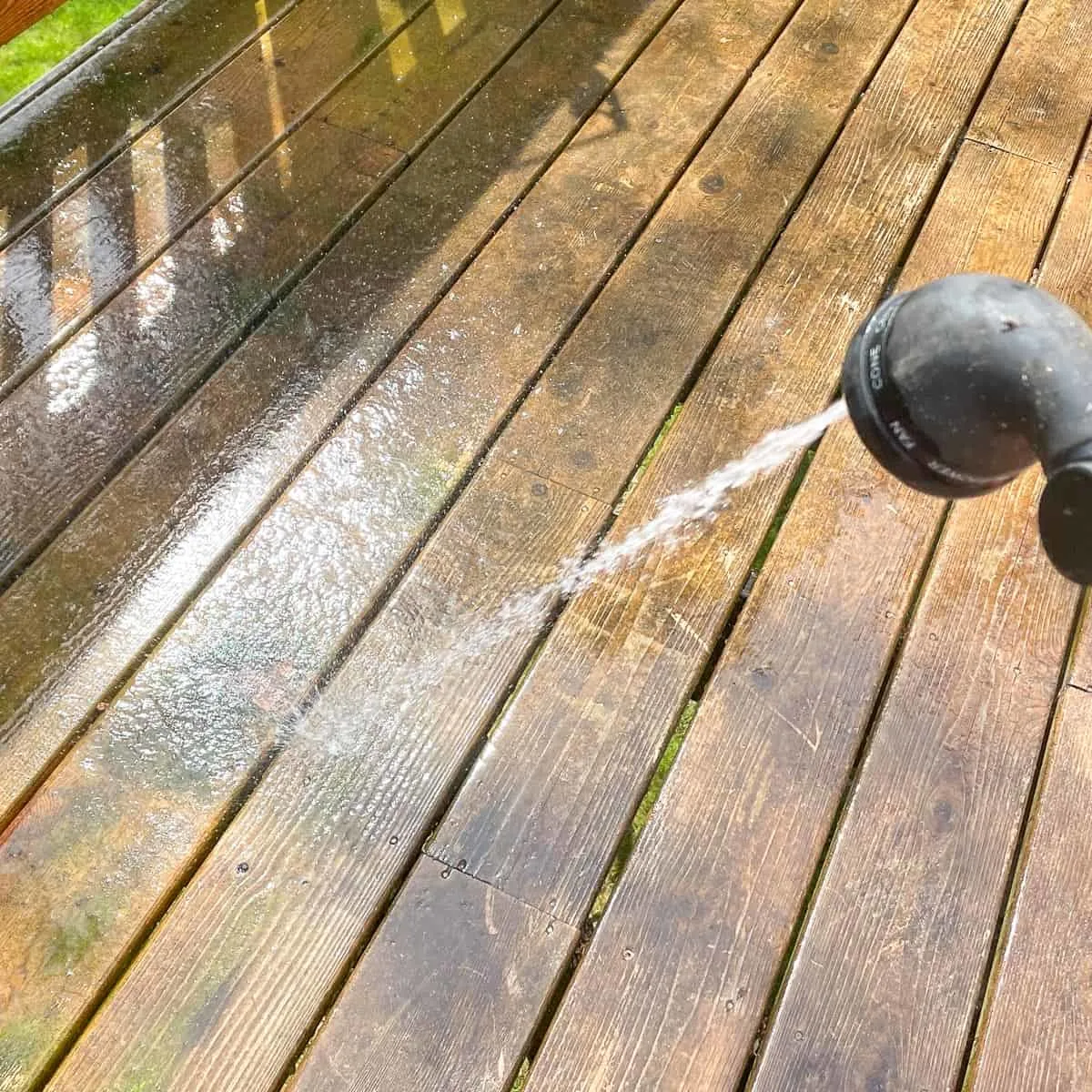 Apply the Homemade Deck Cleaner to the Surface
Dip the long-handled scrub brush into the homemade deck cleaner.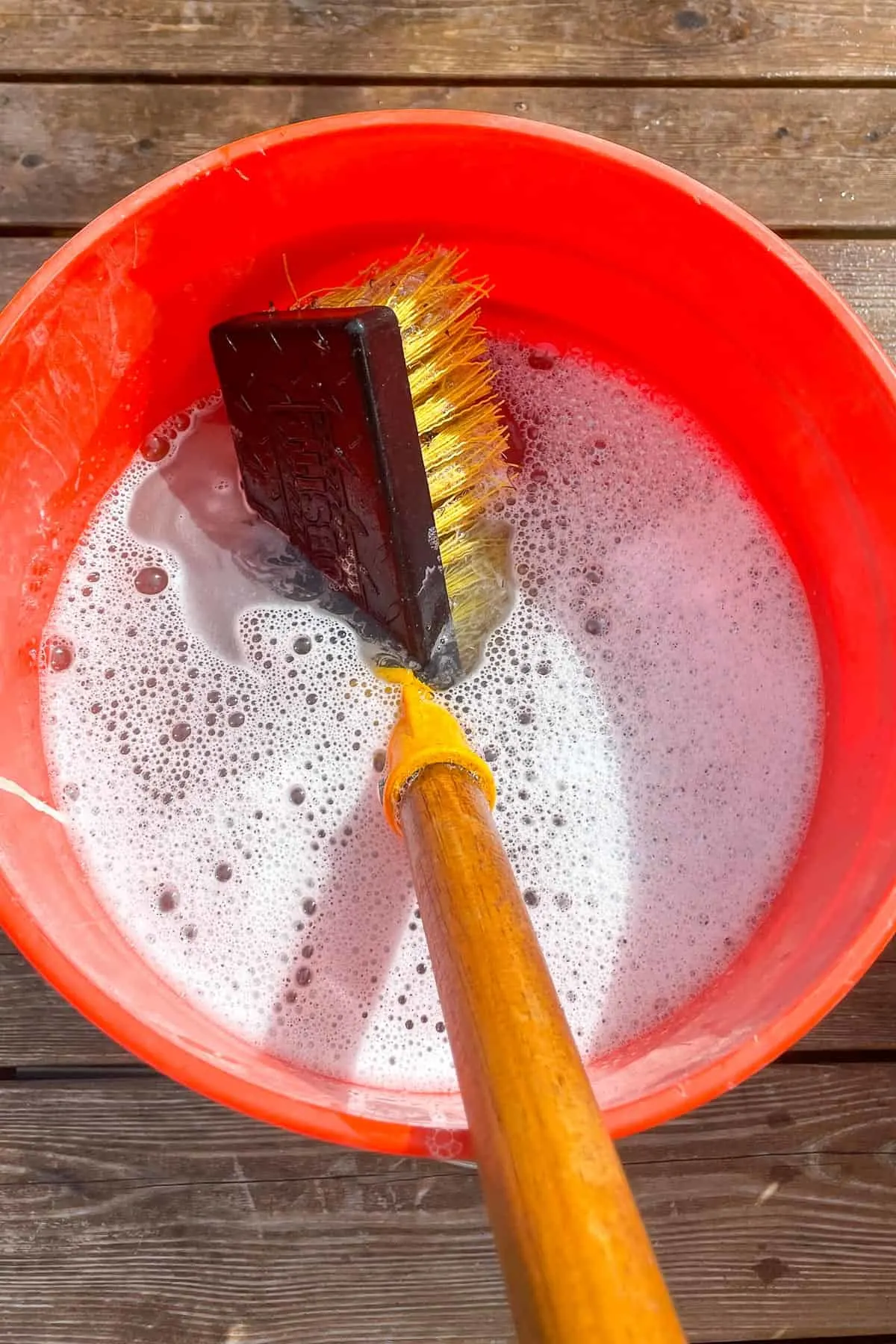 Then apply the soapy mixture to the wet deck boards with the brush. I recommend working in small sections. Leave the tiny bubbles to do their work for 5-10 minutes. If it starts to dry out, mist the surface lightly to keep it damp.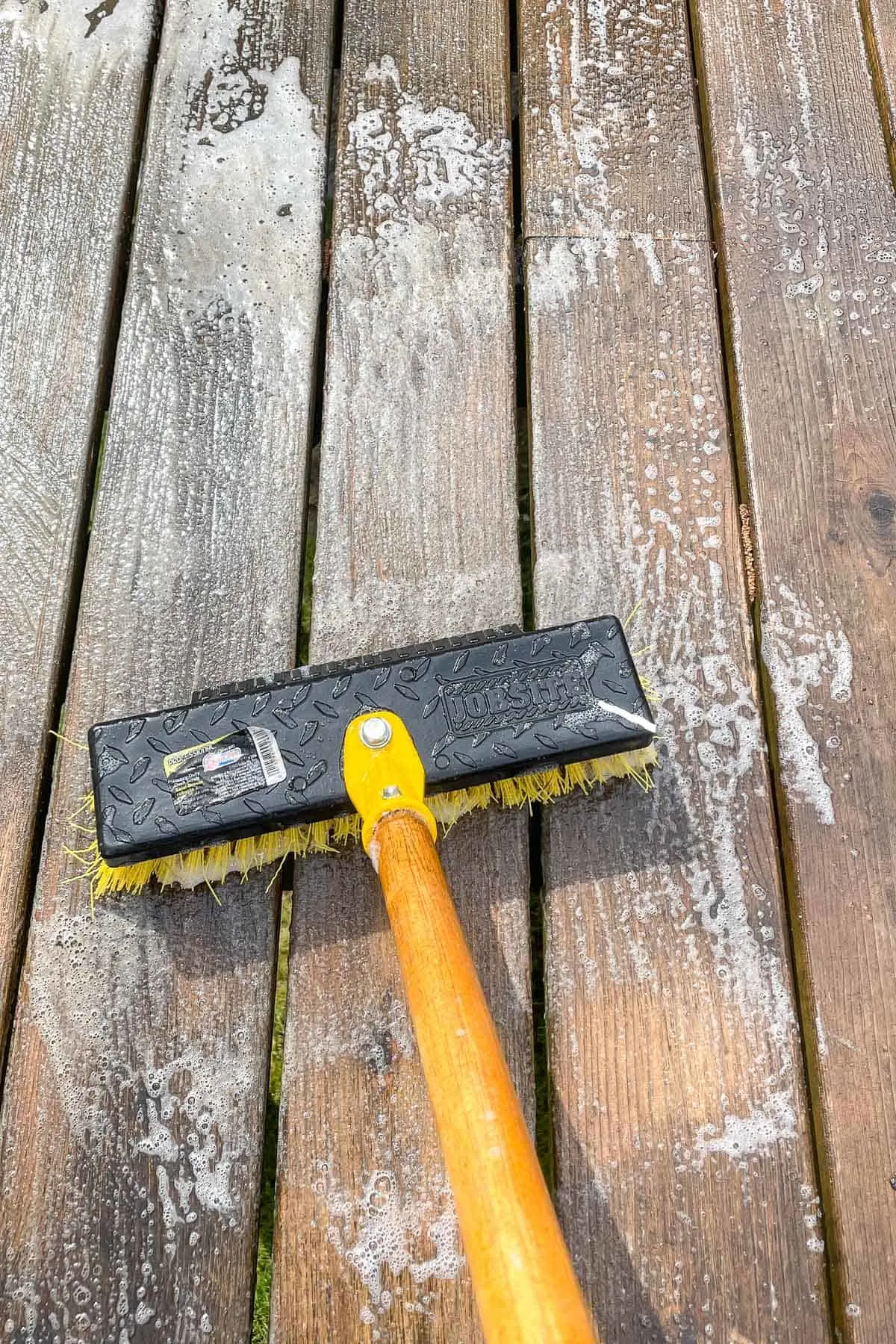 Lightly Scrub Away the Dirt
After leaving the deck wash on the surface for at least five minutes, give the area a light scrub with the brush. If the grime doesn't come loose easily, give the solution a little longer to work. You can already see the brighter wood color underneath!
You can see puddles of grossness where the brush stopped at the end of this section. I really didn't have to work hard to get all that nasty stuff to come off!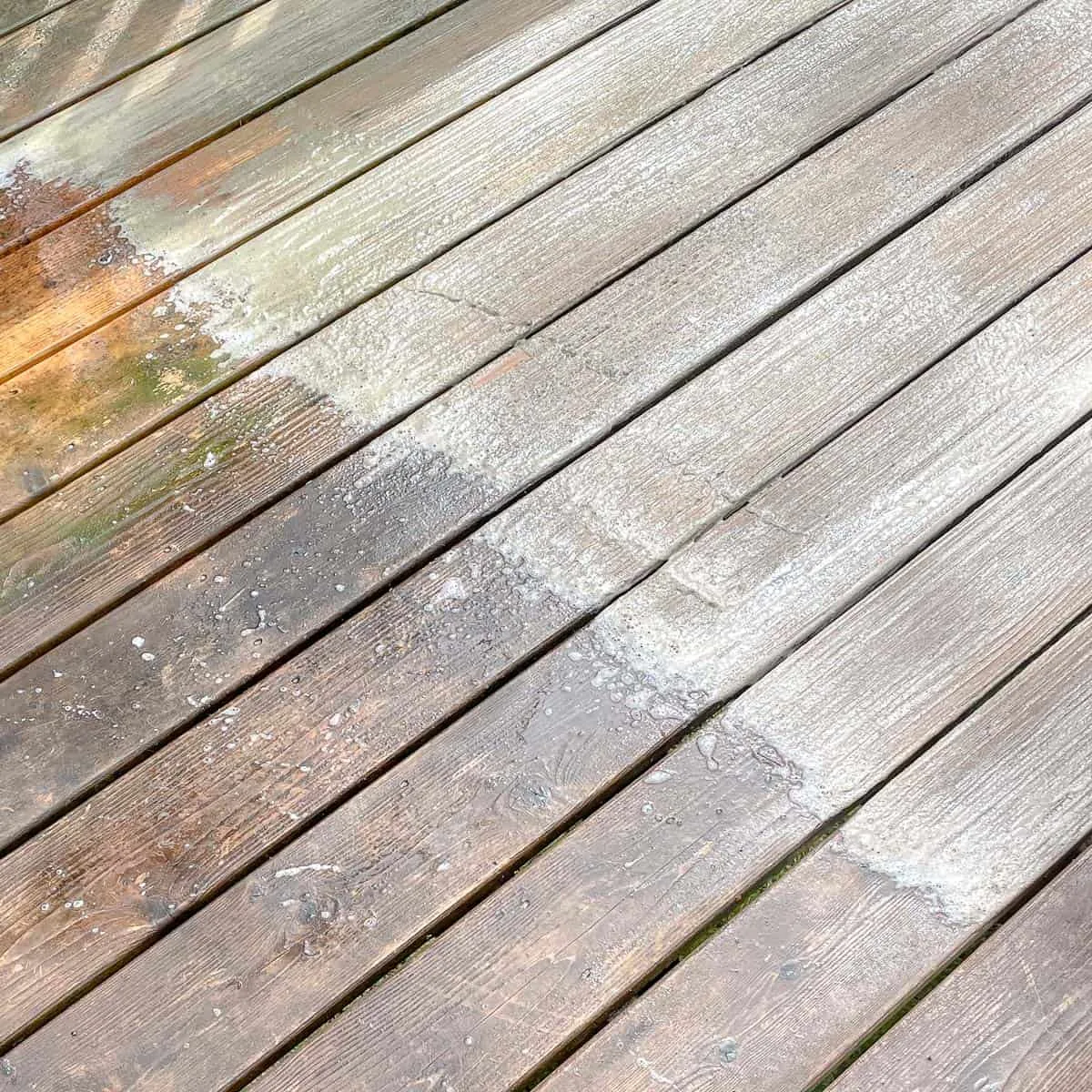 Rinse Away the Grime
Here's the really satisfying part! Turn your garden hose to its most powerful setting (mine is at "JET") and rinse away all that dirt and mildew.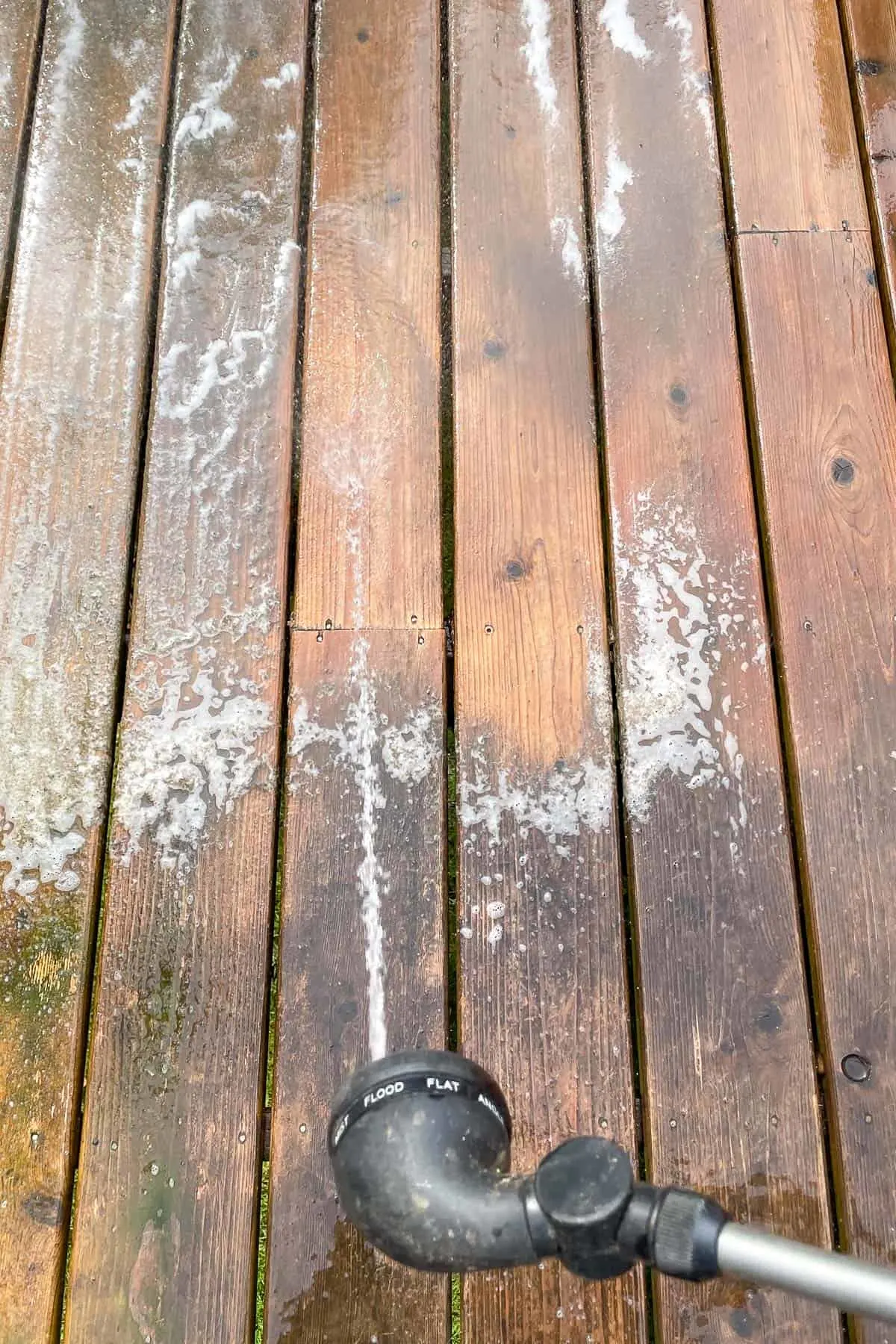 You can really see the difference between the dirty and cleaned sections of the deck here. This is after just a few minutes of light scrubbing!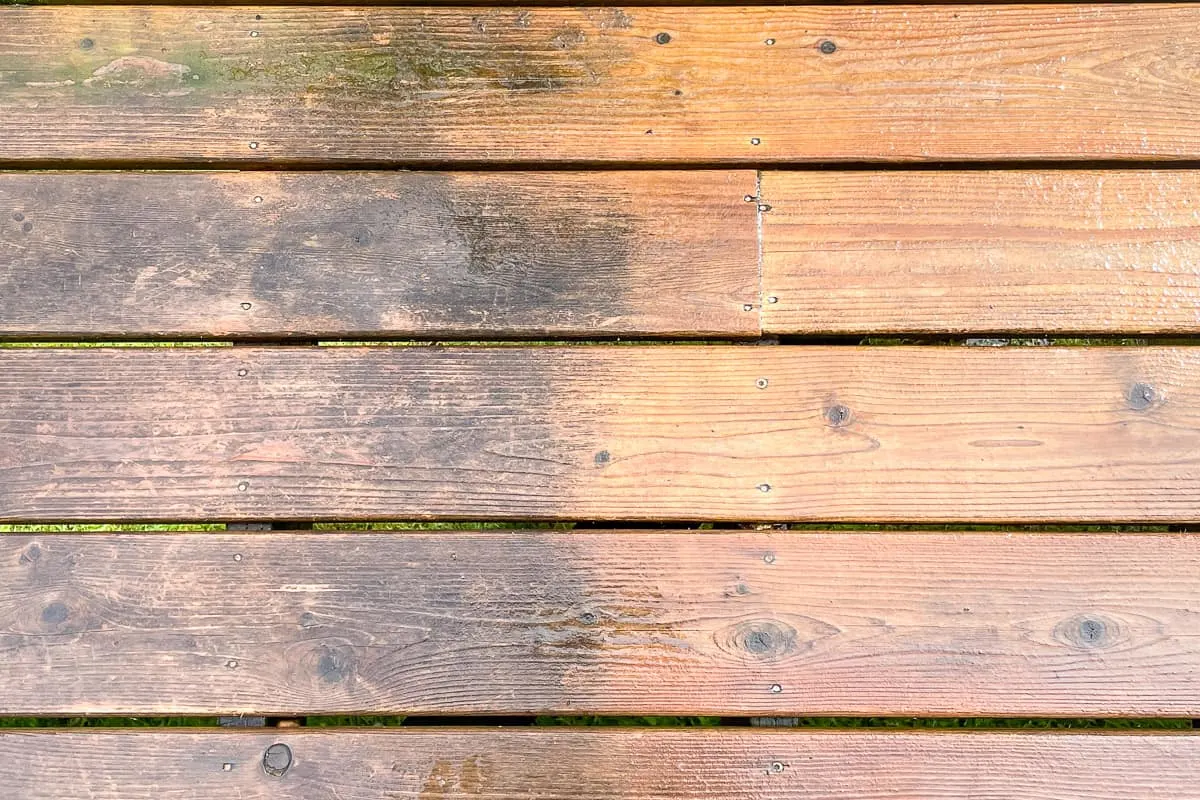 Make sure to rinse the wood until the bubbles are completely gone from the surface. Just keep spraying until it doesn't foam up anymore. Otherwise, your deck will be slippery from soap residue!
If your deck is extra dirty, you may want to repeat the process a second time. Even though ours looked horrible, it only needed one round of cleaning to make it look like new!
Apply a Paste to Stubborn Stains
If you have a stubborn stain that refuses to go away even after cleaning, try this trick. Mix up a paste of OxyClean with a little warm water. Work the paste into the stain with a scrub brush, and let it sit for 15-30 minutes. Then rinse the paste and the stain away!
Repeat for the Railings and Stairs
Don't forget about the horizontal surfaces on the deck railings and stairs! Use the smaller handheld scrub brush and repeat the process. Our railings were particularly dirty from the bird feeder that hangs nearby, but they cleaned up quite nicely!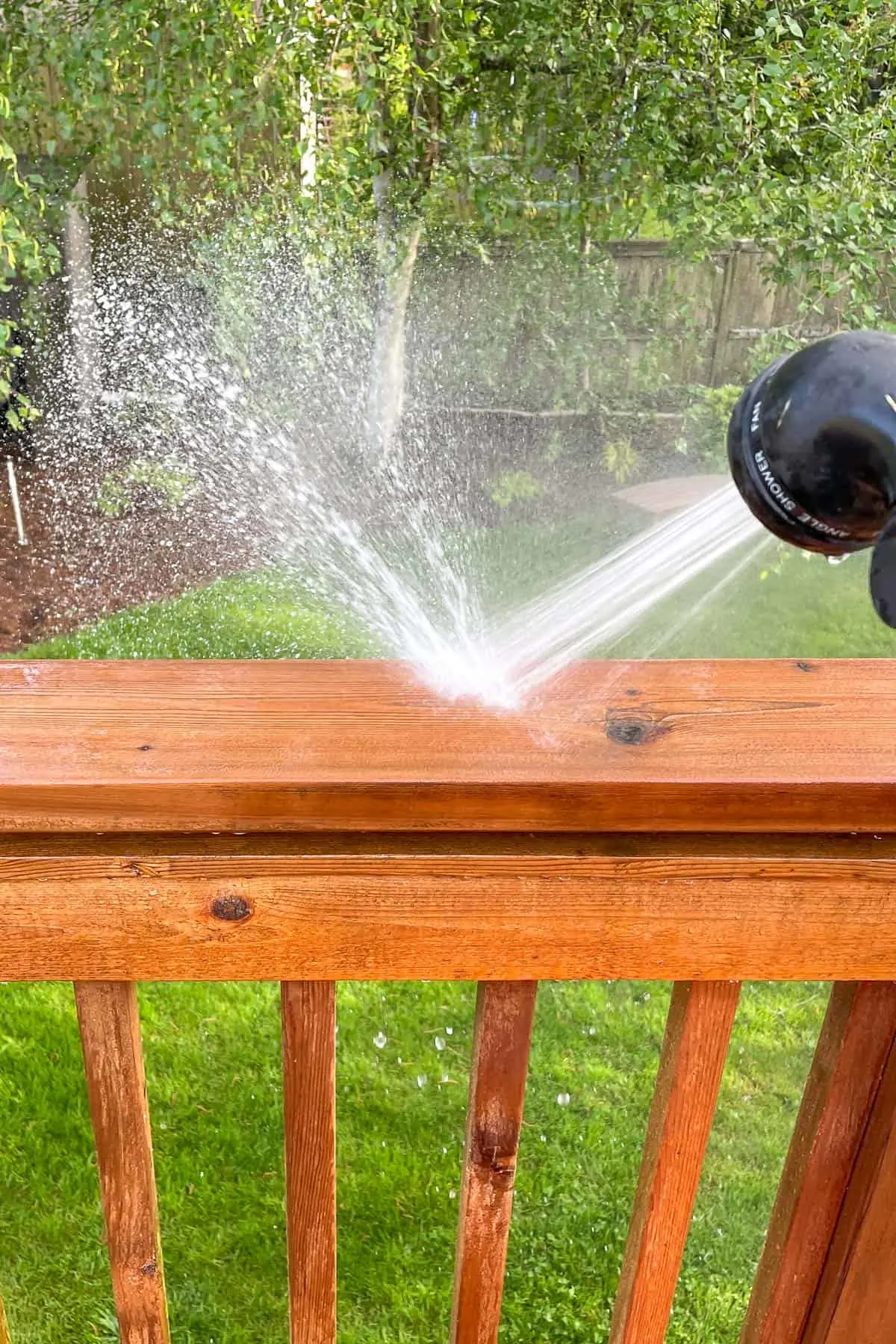 You might want to do this step first, so you don't get gunk on your freshly cleaned deck. But it rinses off easily if you forget (like I did!)
Wait at least two days before applying stain
After drenching the wood with water, you'll need to wait at least two days for the wood to fully dry out before applying a new coat of stain. You may also want to apply brightener to the wood to neutralize the pH. I share my tips and tricks for staining a deck fast in this article!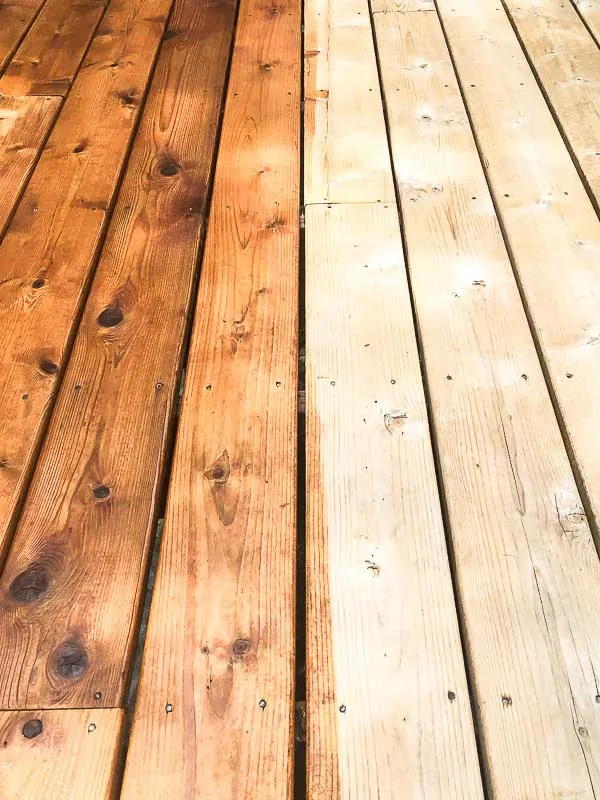 There are some water-based deck stains that can be applied to damp wood, and I'm thinking of trying it out this year to see how it compares to the oil-based stain I've used in the past. You never know how the weather will change, and if it rains during the drying time, you have to start the clock all over again!
---
I was skeptical about using a homemade deck cleaner versus a chemical-based deck cleaning solution, but it did an amazing job with way less work! It removed all the dirt and mildew from the wood without hours of power washing and spraying harsh chemicals! Usually I put off this task until the deck desperately needs staining, but this process is easy enough to do every spring.
You could use this DIY deck cleaner on both wood decks and composite decking like Trex. I recommend testing a small corner first if you're worried about how it will react.
Once your deck is cleaned and stained, why not build some outdoor furniture for it? I made my entire seating area myself, and there are easy-to-follow woodworking plans available for each piece. I also have a ton of beginning woodworking tutorials to get you started!