Get all my tips and tutorials for beginning woodworking! Learn which tools you need, how to use them and how to keep yourself safe at the same time.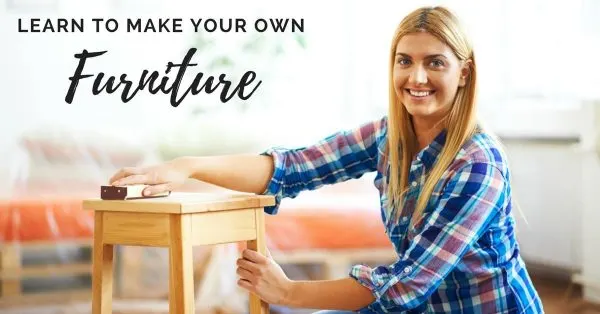 Are you thinking of beginning woodworking as a hobby? It's so rewarding to create furniture with your own two hands! Every piece can be custom made for your home, with the perfect size, color and style. And building your own furniture is much less expensive than buying it in the store!
But it can be intimidating to pick up a saw or drill without knowing the basics. Trust me, I was there just a few years ago! But once you gain confidence in your woodworking tools and skills, the sky is the limit! The articles you see below will help you get to that point faster.
You don't need to buy the entire tool section of Home Depot when you're first starting out. Check out my list of the best woodworking tools for beginners to find the ones I use and love most! You'd be surprised how many projects you can make with just a few tools!
Start with easy woodworking projects like this desktop organizer or outdoor end table. These projects use simple joinery and easy-to-find materials, so you can get more comfortable with the process. Plus, they're really fun to make!
Once you're ready for more complicated projects, check out the rest of the plans in my woodworking plans library. For more woodworking plans, I recommend visiting Ana White's website. She's the one who inspired me to get started building my own furniture!
Any questions? Please feel free to email me at hello@thehandymansdaughter and I'll try to help!
Tutorials for Beginning Woodworking
Are you interested in beginning woodworking, but don't know where to start? These tutorials will teach you the basics, so you can get started building right away!