Outdoor furniture is expensive, but building your own is simple! Here are 5 DIY outdoor sofas you can customize to fit your deck or patio.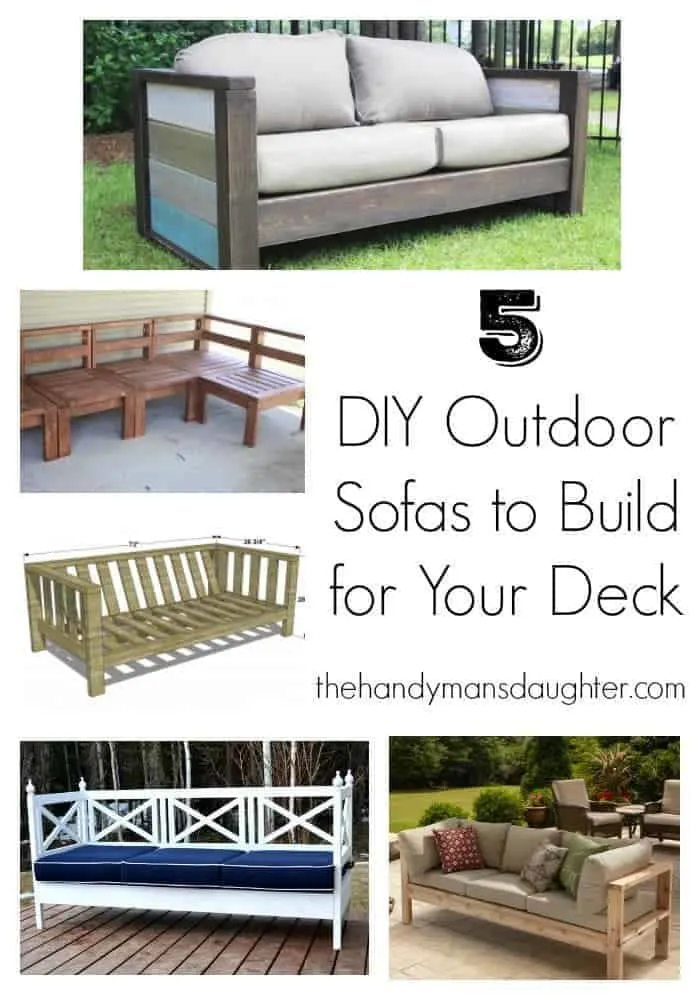 Spring is finally here, and that means summer is just around the corner! Our deck is one of our favorite spots to hang out, and I've been scouring the internet checking out DIY outdoor sofas to make it a relaxing retreat.
You'd be surprised how easy it is to build an outdoor couch, and you'll save a bundle too! These are my five favorite DIY sofa and couch plans to get you started.
This post contains affiliate links for your convenience. Purchases made through these links may earn me a small commission at no additional cost to you. Please visit my disclosures page for more information.
We had our deck rebuilt a few months after we moved in, and stained it after letting it weather for six months. We bought a cheap IKEA table and chairs, and received a fabulous grill from my in-laws as a house warming gift.
But we didn't have a spot to kick up our feet and relax with a good book. I don't want another summer to go by without a comfy outdoor couch, so I'm started my building plan search early.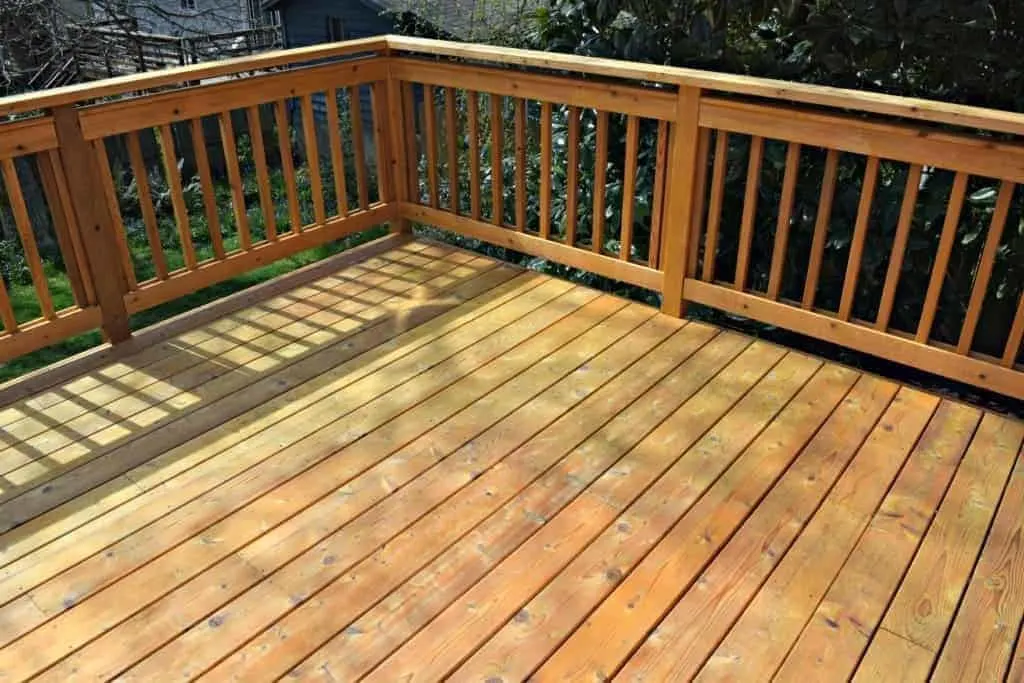 We have enough space in this corner for two outdoor sofas, or a small sectional. Cushions are usually the most expensive part of outdoor furniture, so keep your eyes open for deals over the winter (I scored mine on clearance!) Then build your DIY outdoor couch to fit!
I compiled a list of DIY outdoor sofa plans that are easy enough for a beginner to tackle. There are so many fabulous ideas here, I'm having a hard time deciding which one is my favorite!
---
2 x 4 Outdoor Couch by Ana White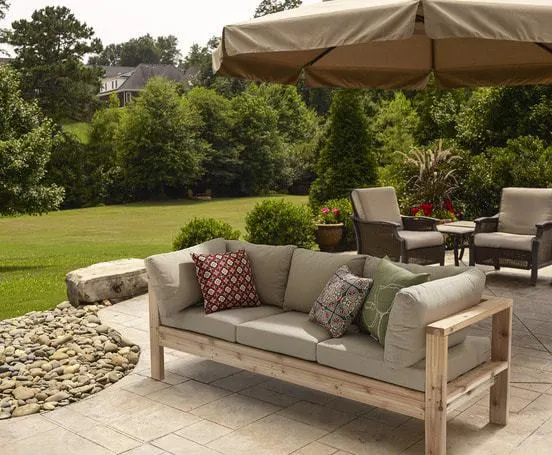 Ana White's plans create a fairly simple DIY outdoor sofa that can be built quickly. This 2x4 outdoor couch is made of cedar, which is weather resistant and extra sturdy when kiddos are jumping on it!
There is also a DIY outdoor sectional version of the same sofa, or get my DIY outdoor loveseat plans in the woodworking plans library if you need a smaller size.
---
Reed Sofa by The Design Confidential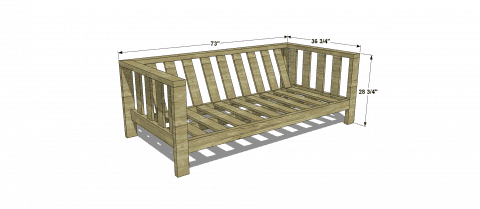 I love the angled back on the Reef Sofa from The Design Confidential. A slanted back support would be much more comfortable for lounging purposes. The slats on the arms would also help keep pillows from falling out during impromptu outdoor naps!
---
Planked Outdoor Loveseat by Rogue Engineer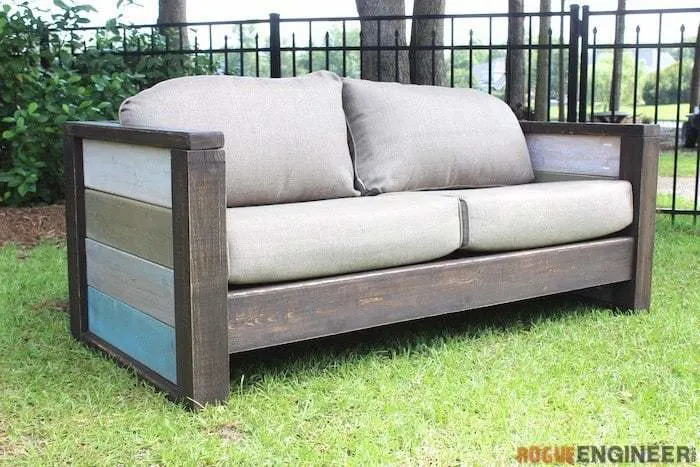 How gorgeous is this planked wood loveseat from Rogue Engineer? It would be pretty easy to stretch this out to a full sized outdoor couch, and would add a nice pop of color on the deck.
---
Modular DIY Sectional Outdoor Sofa by More Like Home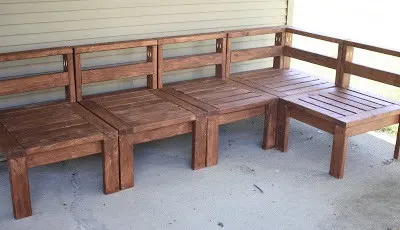 If I go the sectional route, a modular DIY outdoor sofa like this beauty from More Like Home would be perfect. It would be easy to add more sections if we decide to make it bigger, and we can even use the armless sections as extra chairs at the table for guests!
---
Weatherly Outdoor Sofa by Ana White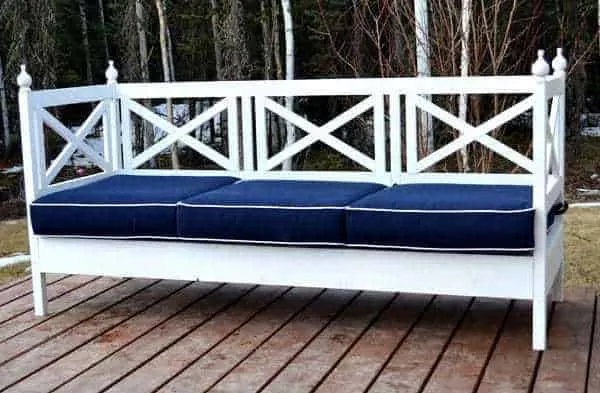 And finally, we're back to another Ana White build. I'm drooling over her Weatherly outdoor sofa, which also includes sectional sofa plans! I would probably leave off the finials so no one impales themselves after a few too many drinks. 🙂 But the X design is truly eye-catching.
---
All of these DIY outdoor couch ideas would look great on your deck or patio! Which one is your favorite?