Yes, you can paint window blinds! I'm sharing all my tips for spray painting blinds instead of replacing them to save time and money!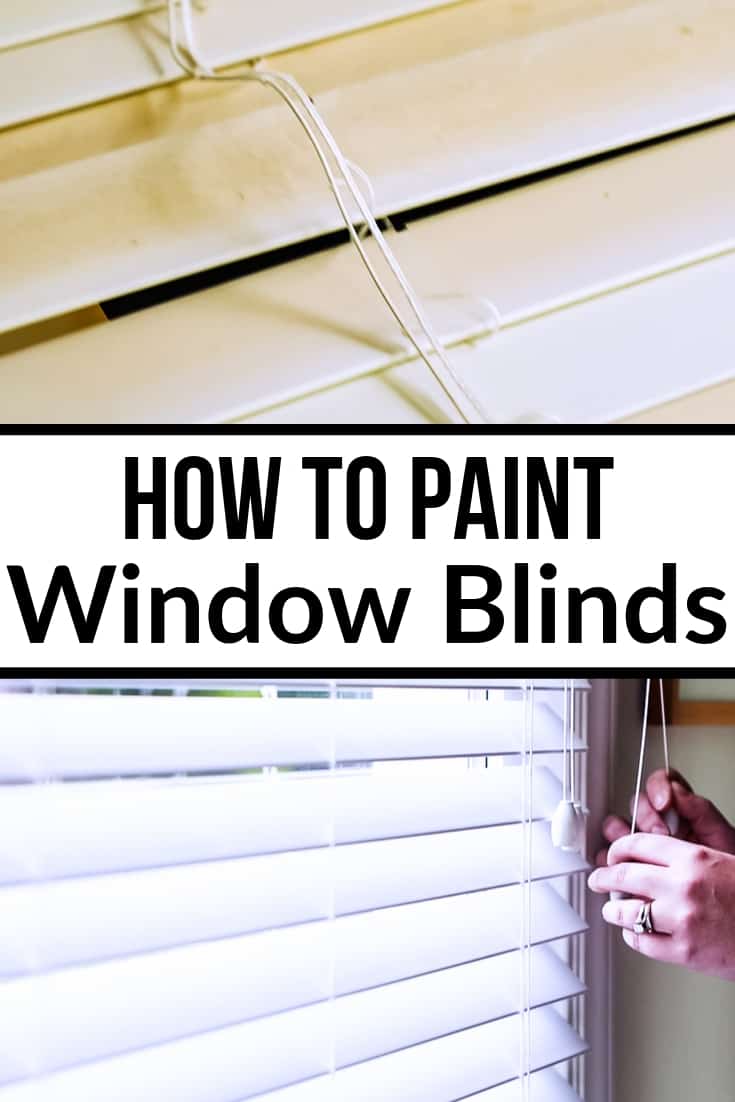 Vinyl blinds can become yellowed and dirty looking from sun damage. But painting blinds is the most cost effective way to bring them back to life! With just a few cans of spray paint, you can change the look of your window coverings without spending a fortune on new blinds!
This post contains affiliate links for your convenience. Purchases made through these links may earn me a small commission at no additional cost to you. Please visit my disclosures page for more information.
These vinyl window blinds have seen better days. Years of sun exposure had turned the white slats a gross yellow color, and they were pretty dirty too!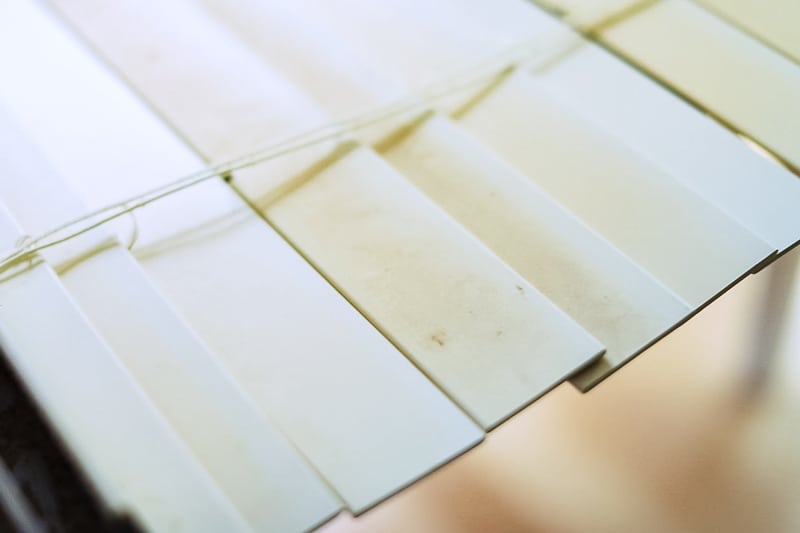 Before I spent a ton of money replacing them, I decided to do a little experiment first. I've painted kitchen cabinets, a tile backsplash, and even a tile floor before. Why not try painting blinds instead of throwing them away?
Materials Needed for Painting Blinds
Vinyl or wood blinds

Make sure your blinds can be removed from the strings easily!

Cleaning supplies for washing blinds

I used dish soap, warm water and a regular sponge.

Sandpaper (optional)
Drop cloth or plastic tarp
Spray paint

Check the can to see if it will adhere to plastic!
How to Paint Window Blinds
The video below shows you how easy it is to spray paint your blinds!
Remove the Slats
These blinds are pretty easy to remove from the strings. They're held in place at the notches, but slide out easily.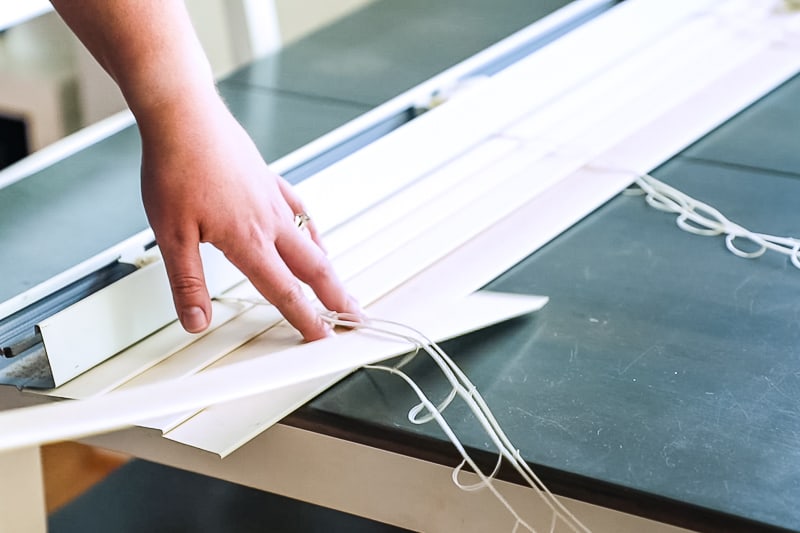 Wash the Slats
Once all the slats were removed from the strings, I took them out to the backyard for a quick scrub. Just fill a bucket with warm, soapy water and clean off years of grime!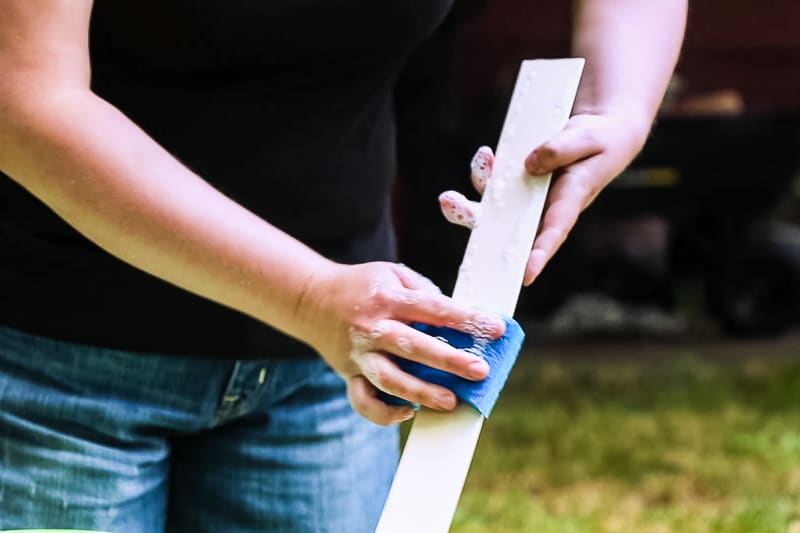 Give them a quick rinse with the hose, then leave them in the sun to dry. You could also do this in a bathtub (and you wouldn't have to deal with all the grass stuck to the slats like I did!)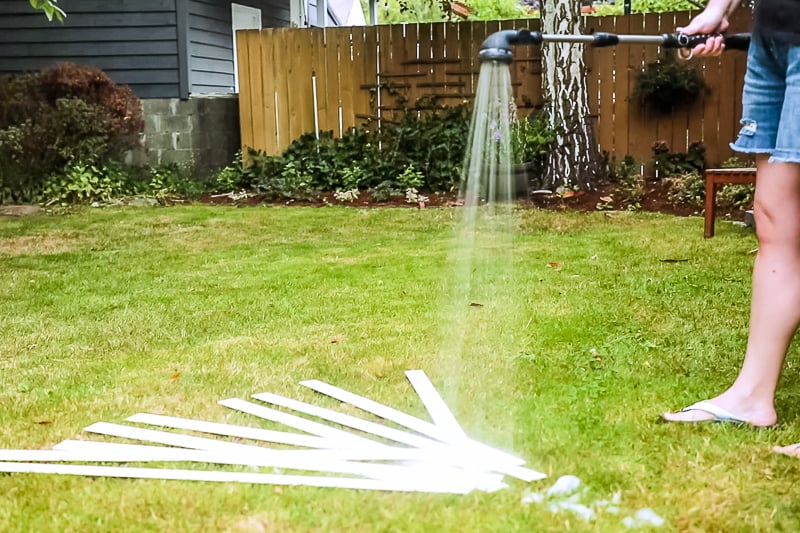 Lightly Sand the slats (optional)
If your slats are really slick and smooth, you might want to rough yours up with sandpaper so the paint adheres properly. Mine had a bit of a texture to them, so I skipped this step.
Spray Paint the Blinds
Put down a drop cloth or tarp, then lay out the slats. Make sure you have enough space between them so you can paint the sides at the same time.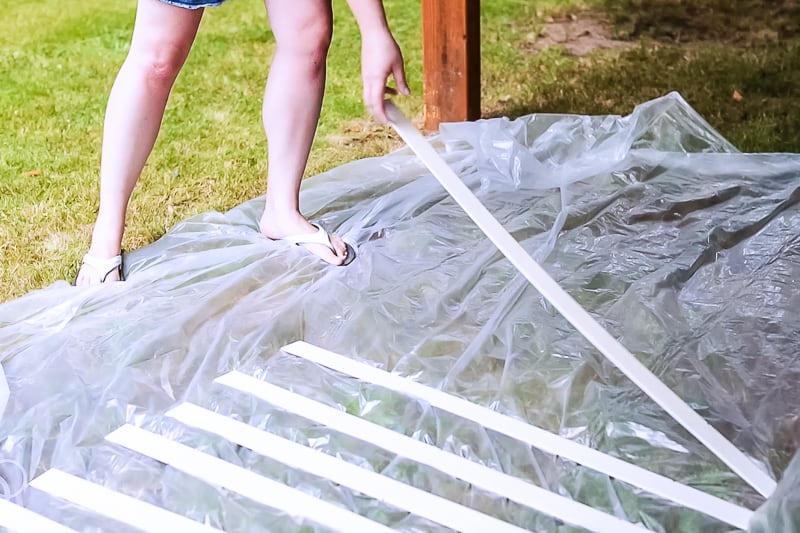 I like to use this handle on the spray paint can. It gives better control over the spray, and prevents my hands from getting painted in the process!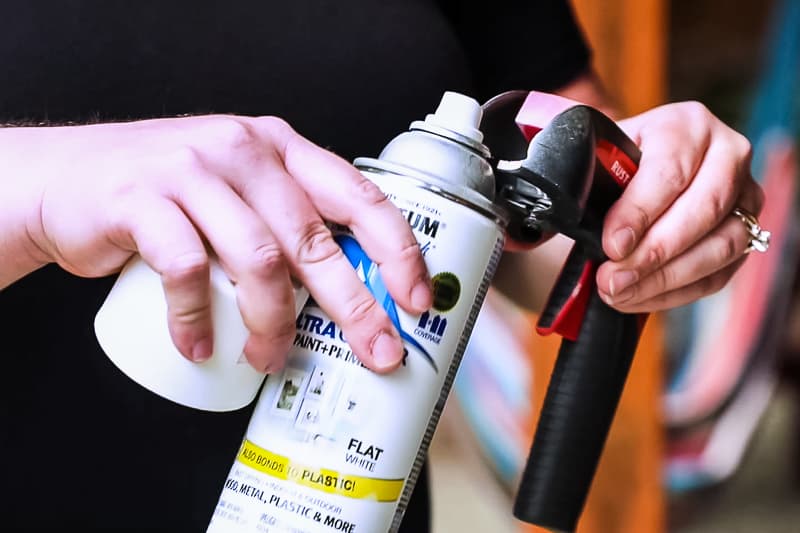 Use long, steady passes to apply a thin, even coat down the entire length of the slat. Get more tips on how to get a flawless spray paint finish here!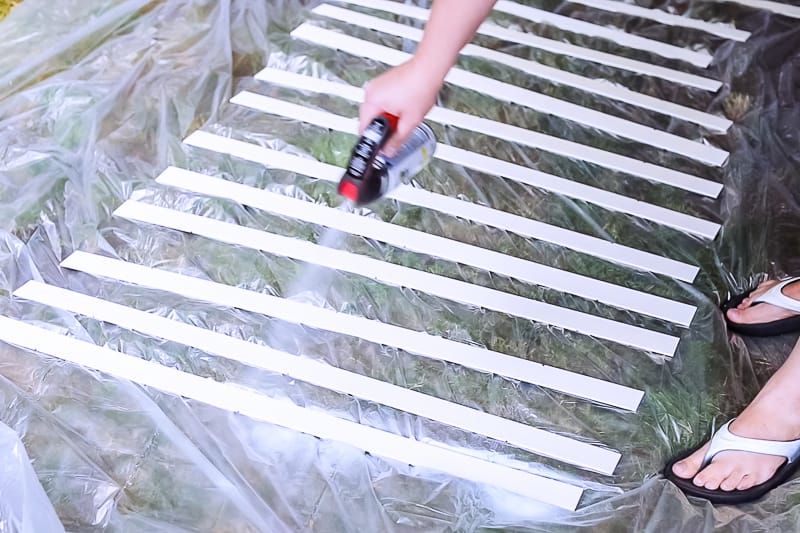 Once the first side is dry, flip them over and repeat the process. Make sure that you put them back in the same void they left on the drop cloth.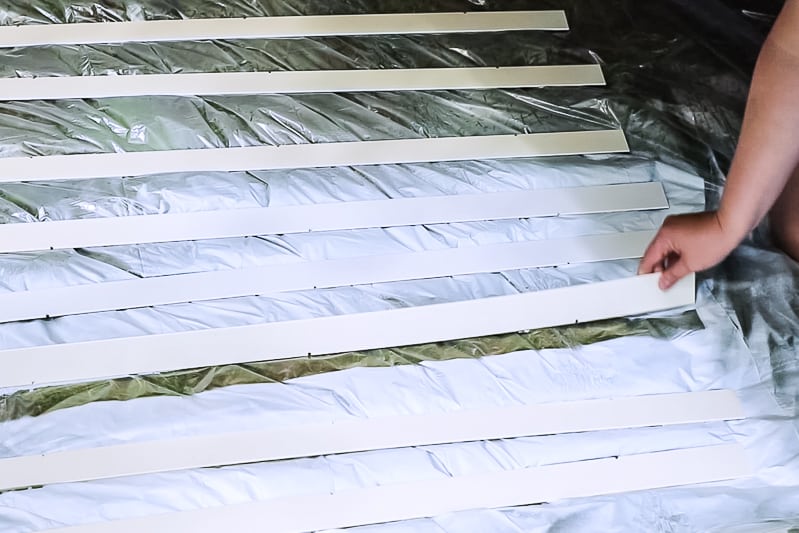 I wasn't careful about this at first, and some overspray stuck to the finished side. I thought I had ruined them, but rubbing them with a damp paper towel took the flakes right off. Whew!
Slide Slats Back into the Strings
Make sure the paint is fully cured before putting them back into the strings. The spray paint can should say how long that will take, but it's usually a couple hours.
It's a little time consuming to get all the slats back in the notches and facing the same way. Laying the blinds down on the table make it easier because there's less tension on the strings.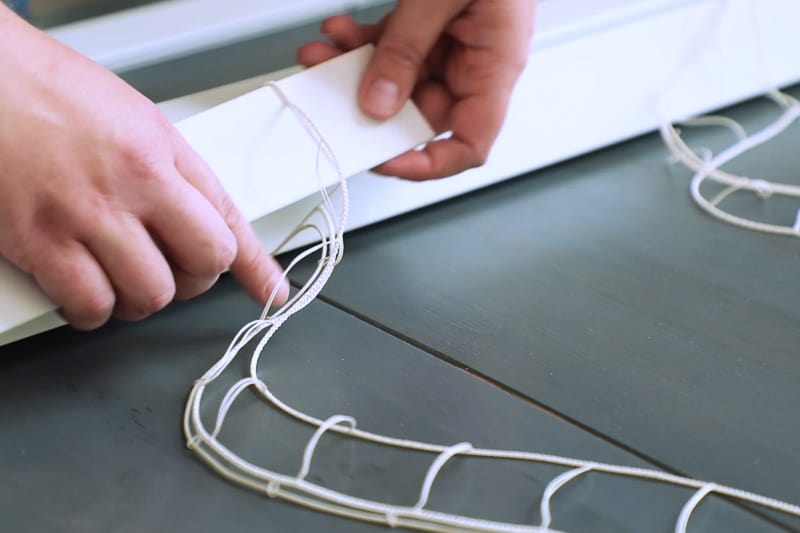 Attach blinds to window brackets
These blinds easily click back into their brackets, then the cornice piece pops right on top!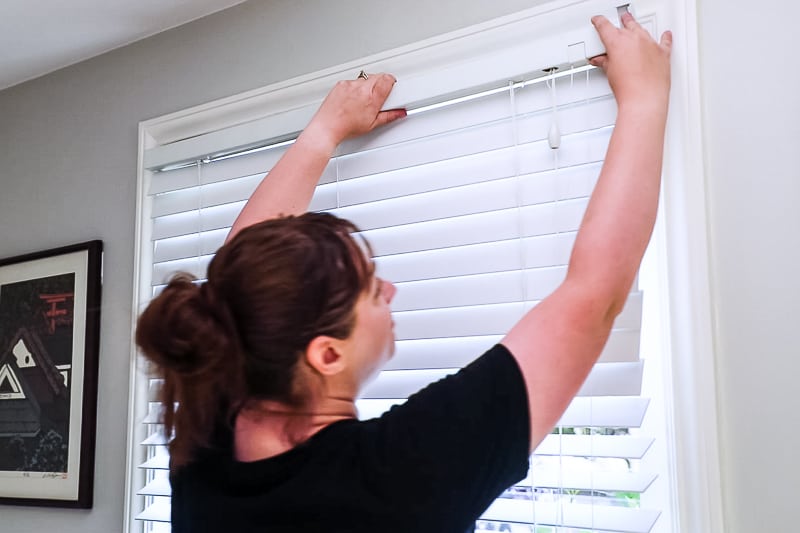 Test to make sure the cords work correctly, and all the slats are seated in the strings at the right angle.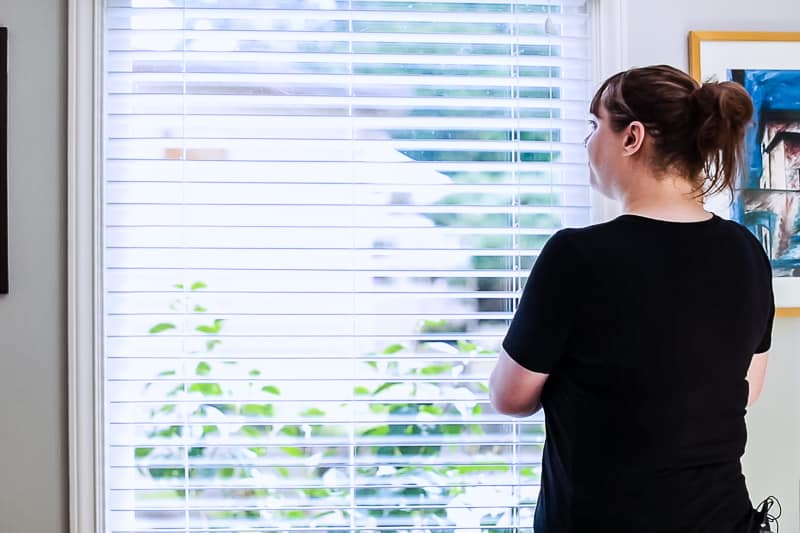 Enjoy Your Newly Painted Blinds!
Painting blinds is such a cheap and easy way to update your existing window coverings! Mine look brand new, and it only cost me a couple cans of spray paint!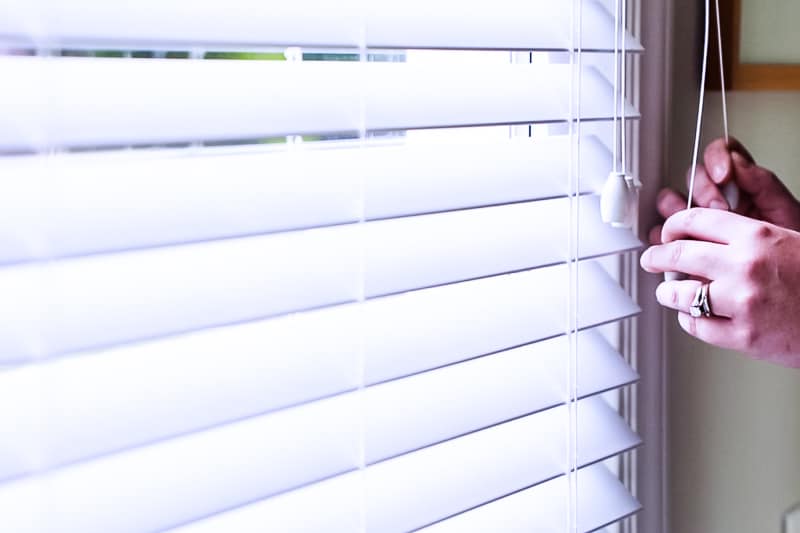 We have a few more sets of blinds like these throughout the house, and they'll all be getting a fresh coat of paint. I'm so glad we didn't just throw them away!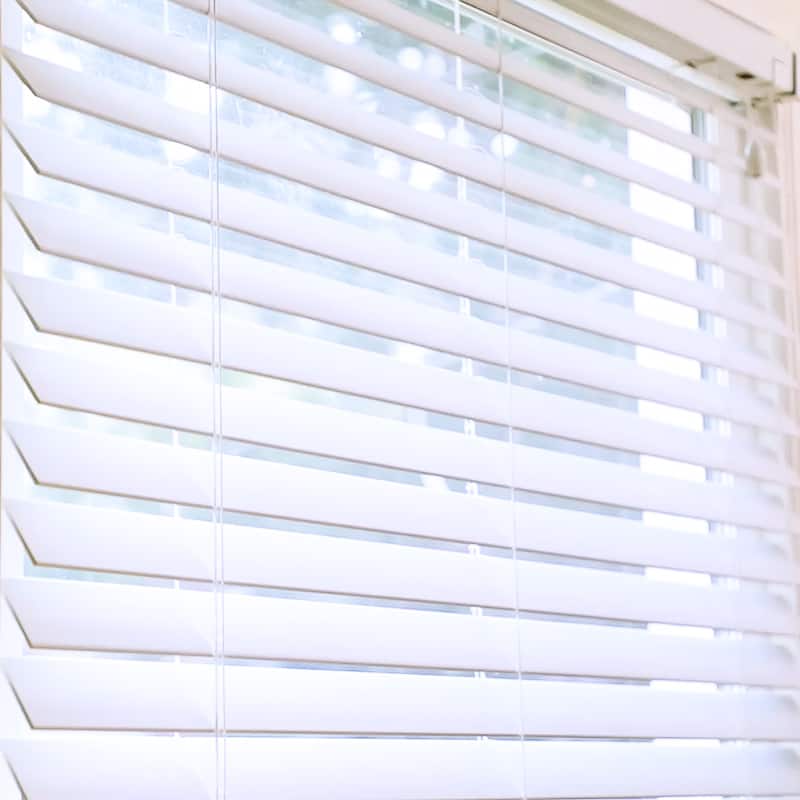 ---
---
Want more DIY projects?
Subscribe to get project ideas, home improvement tips, woodworking plans and more delivered straight to your inbox!