Yes, you can paint a tile backsplash! With a little prep work and the right paint, you can transform your kitchen in just one weekend!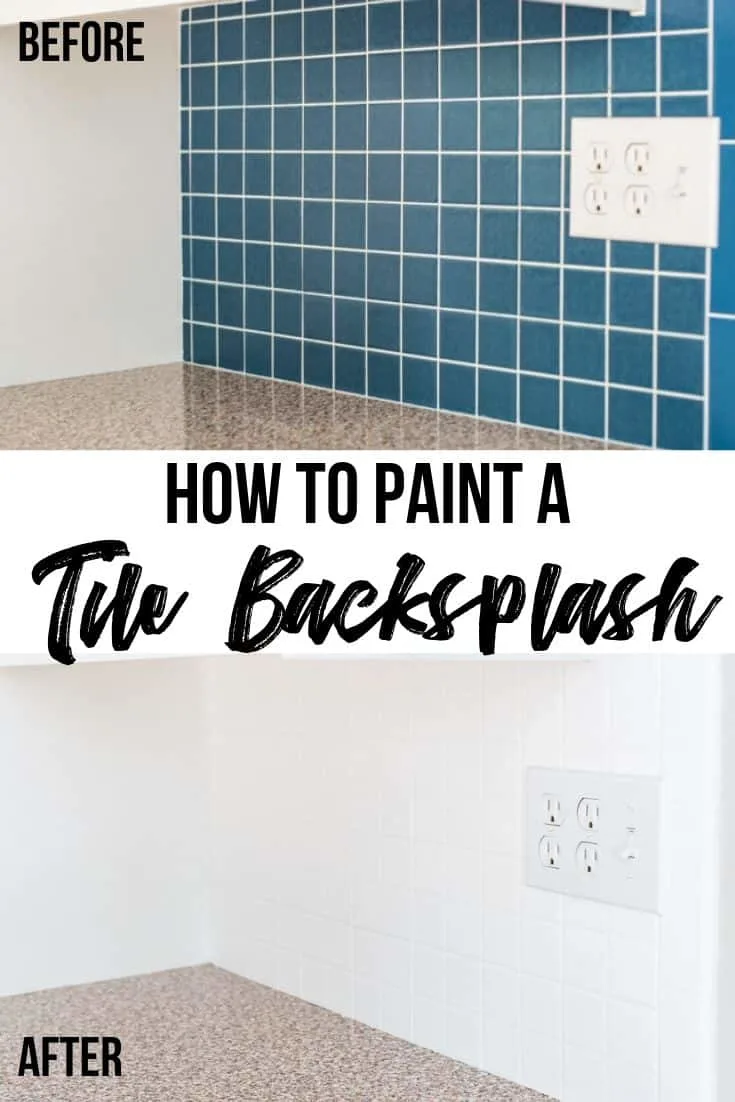 I've done a lot of projects to make our dated 80's kitchen look more modern. I've painted the cabinets, covered the countertops with contact paper, and changed out the kitchen faucet. But there's one element that still made me cringe . . . the cobalt blue tile backsplash!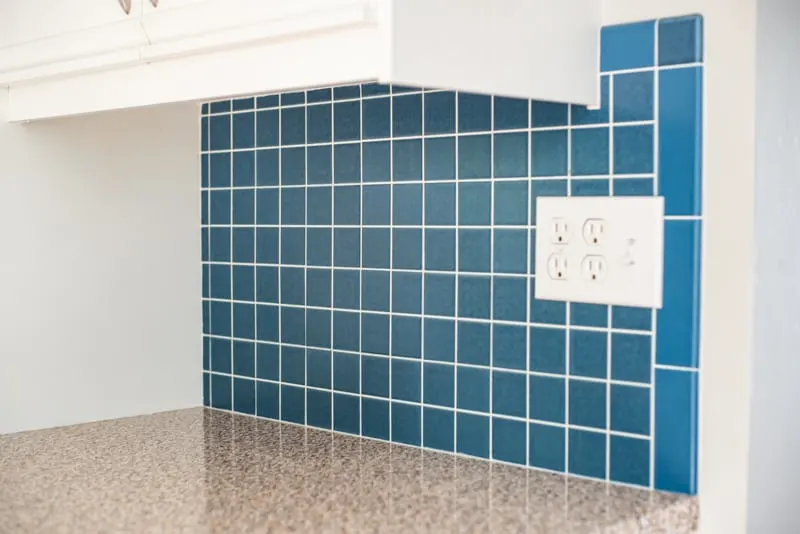 Don't get me wrong. It's a nice color and all. But it doesn't go with anything else in the kitchen and stuck out like a sore thumb!
I had a ton of paint left over from painting the tile floor in my half bath makeover, and it has held up great! Why not paint the tile backsplash too? This turned out to be a simple project that I wish I had done much sooner!
I followed the same technique I used on my painted tile floors, so check out this video for a quick overview before diving into the tutorial below.
Here's what you'll need to get started!
This post contains affiliate links for your convenience. Purchases made through these links may earn me a small commission at no additional cost to you. Please visit my disclosures page for more information.
Materials needed to paint backsplash tile
TSP or other degreasing cleaner
Sponge and bucket
Painter's tape and paper to cover countertops
Paint brush
How to paint tile backsplash
Clean the tile
After years of cooking splatters, our backsplash was pretty icky around the stove. To cut through the grease, I used TSP mixed in a bucket of water. I've used this stuff for everything, from cleaning aluminum siding to wiping down textured walls before painting.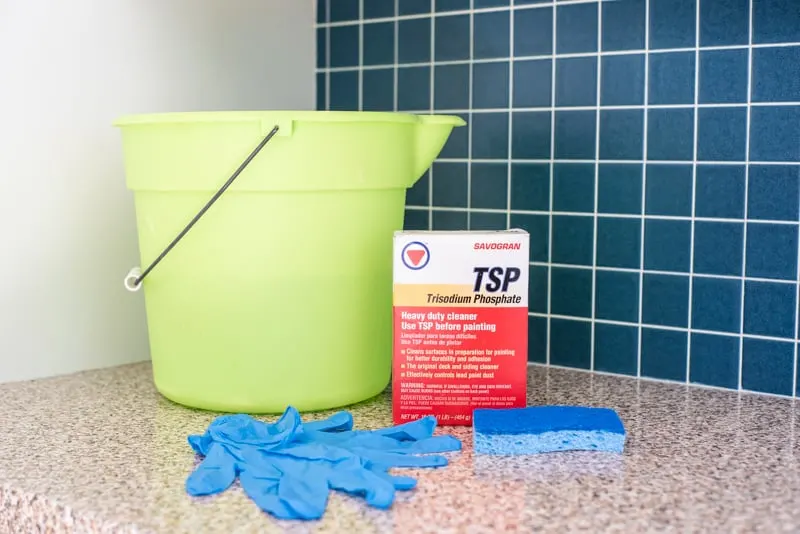 Make sure to use gloves when cleaning with TSP, because the degreasing agent will suck the oils right out of your skin! Just give your backsplash tiles a quick wipe down, then rinse off the residue with a clean sponge.
Sand the tile
Help the paint adhere to the slick tile by giving it a quick sanding. You're not trying to remove the finish. You're just roughing up the surface a bit so the primer has something to grab on to.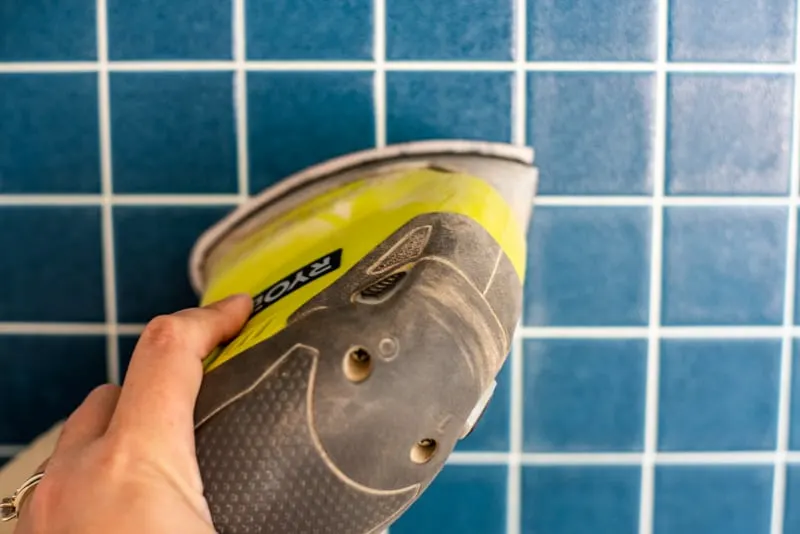 I used 80 grit sandpaper in my corner cat sander, but you could just use a sanding block and some elbow grease! You should notice a thin film of dust on the tile.
After sanding, wipe down the backsplash tile with a tack cloth. This sticky cloth will grab all those tiny flecks of dust that can ruin your paint job!
Tape off the wall and countertop
The bonding primer and paint I used for painting the tile backsplash will be difficult, if not impossible, to remove from the wall and countertop once it cures. Make sure to tape off anything you don't want painted.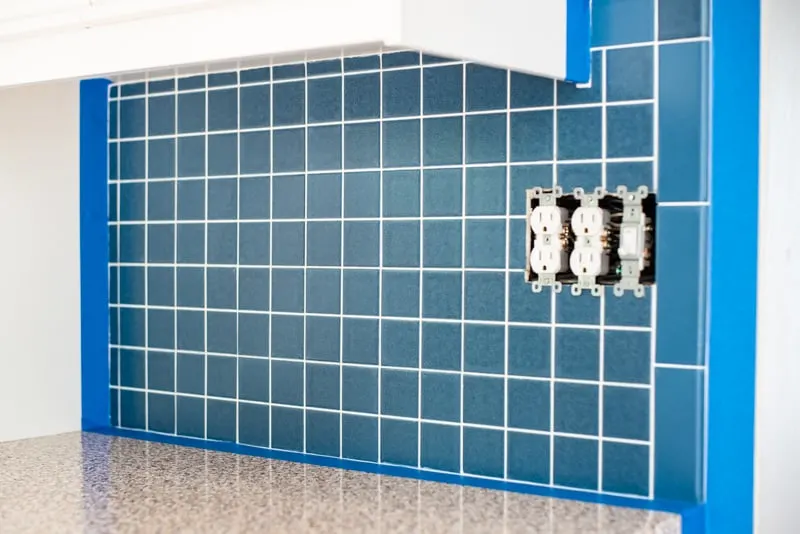 For extra protection from drips on the countertop, I rolled out butcher paper (the same kind I use to protect my workbench from paint drips) and taped it down as well. Rollers can sometimes spray a fine mist of paint droplets, so cover anything that might get hit.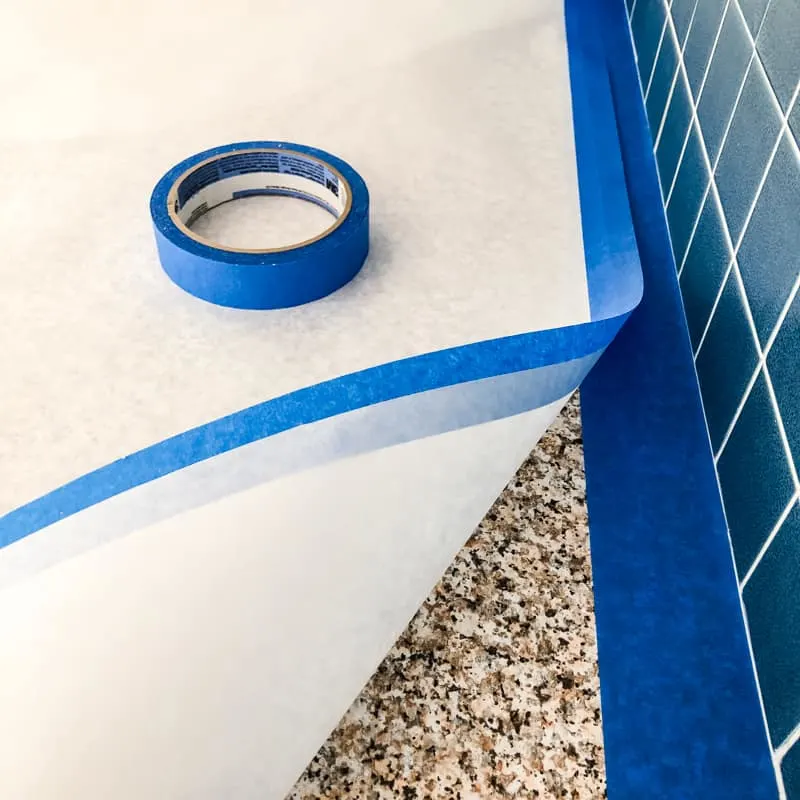 Use a bonding primer first
Before jumping in head first with the floor paint, put down a coat of bonding primer first. This stuff is formulated to stick to anything, including tile! I haven't had any trouble with the tile floor paint peeling up, thanks to this stuff!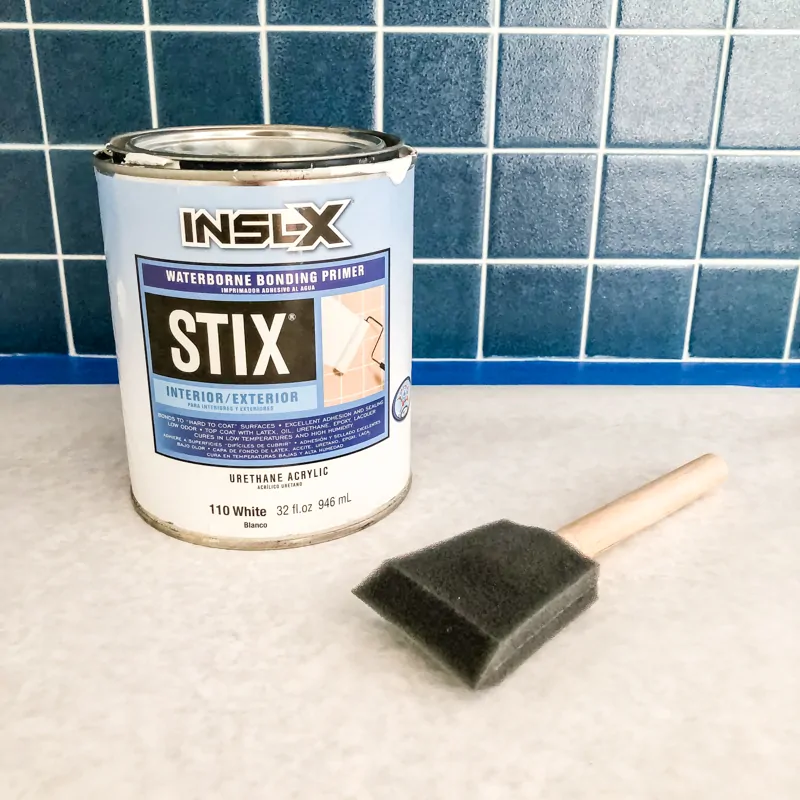 I like to use disposable foam brushes for the bonding primer and floor paint. It's difficult to rinse out bristle brushes with these heavy duty paints, and the brush strokes will be rolled over anyway. Just use a new foam brush with every coat!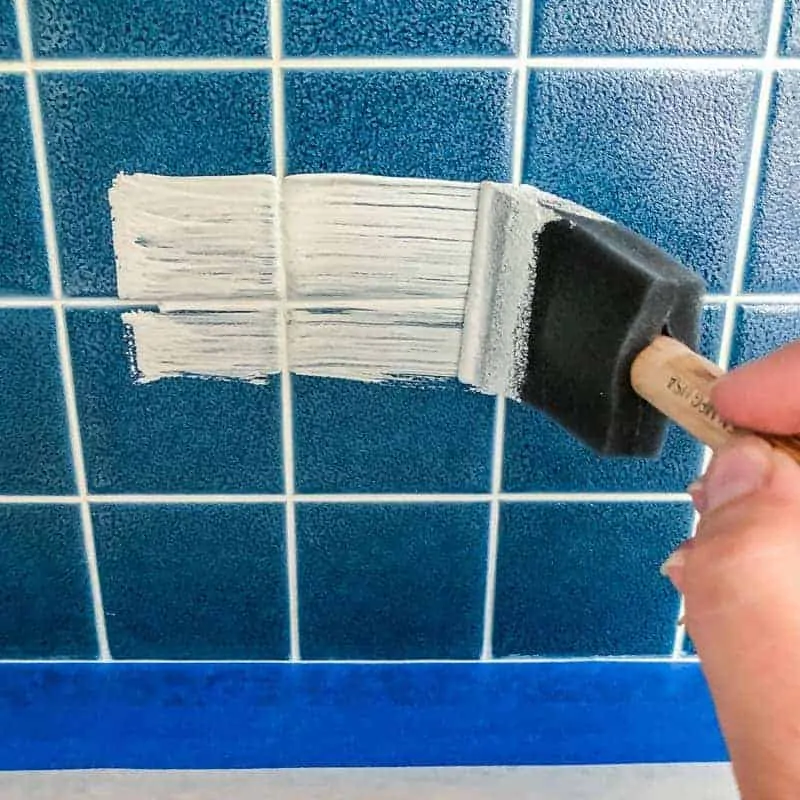 This primer dries really, really fast! I suggest working in small sections by brushing it into the grout lines first, then going over the area with the roller. There were a few times that I tried to do too much at once and pulled up some of the drying primer with the roller.
If this happens to you, or if you can feel brush stroke lines on the tile backsplash, you can lightly sand it down with 220 grit sandpaper. This will smooth out the surface without removing most of the primer.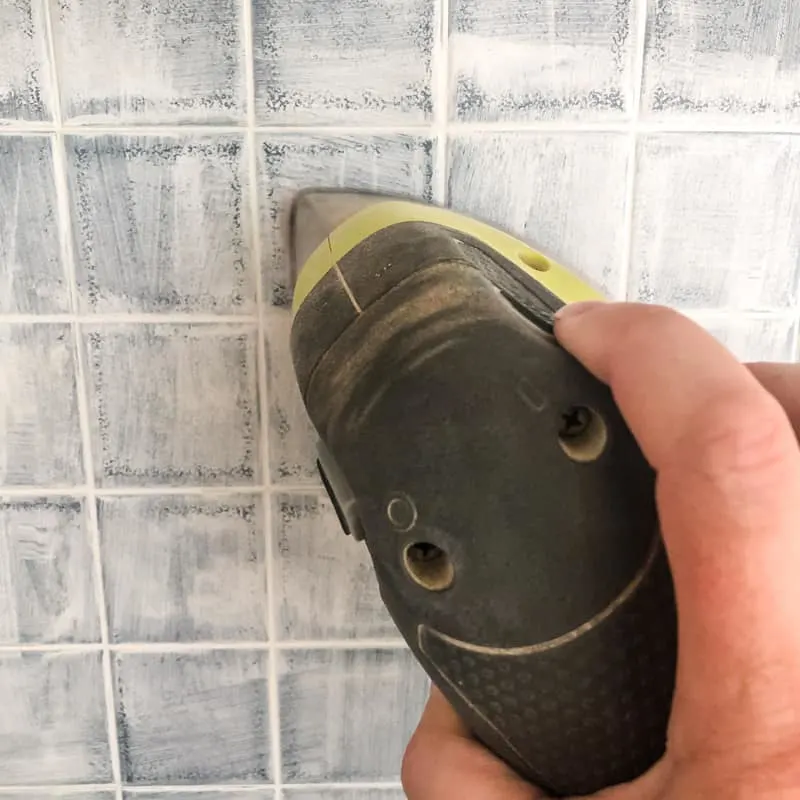 Remember to remove any dust with a tack cloth before starting the next step. Don't panic if it looks horrible at this point. It gets better, I promise!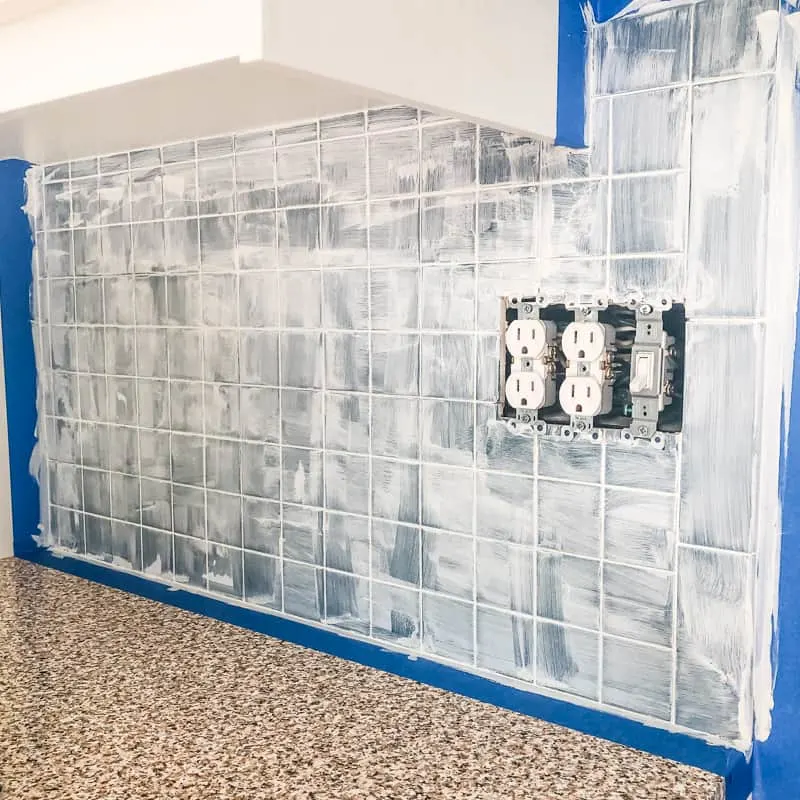 Paint the backsplash tile
Floor paint is formulated to withstand moisture and foot traffic, and it's perfect for painting backsplash tile too! You want something that can handle steam from the stove and water splashing in the sink, right? 🙂
Apply the floor paint the same way you did the primer. Work it into the grout lines and hard to reach areas with a brush first . . .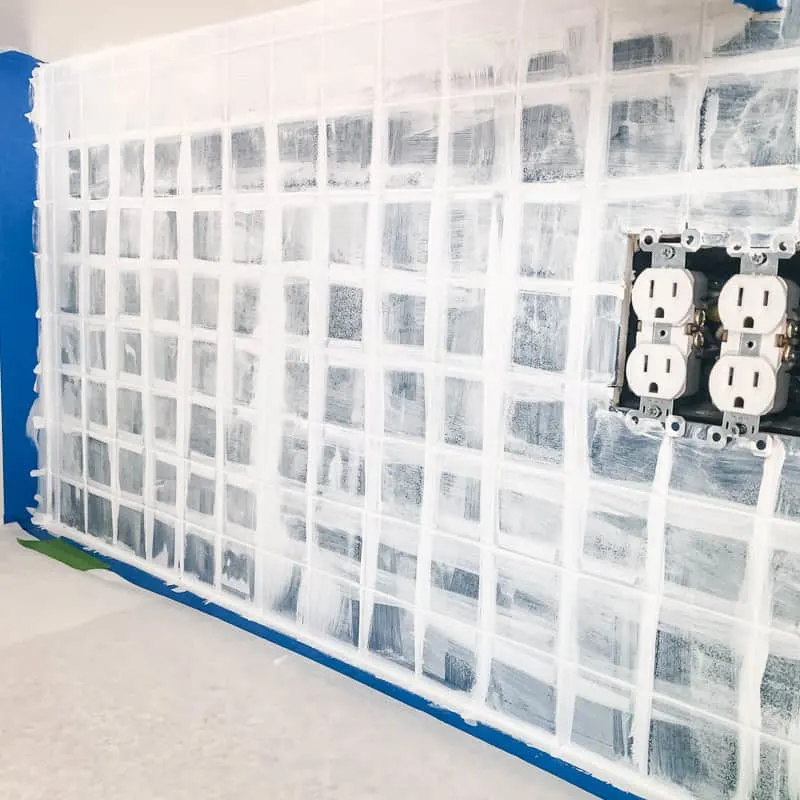 Then use the roller to fill in the rest.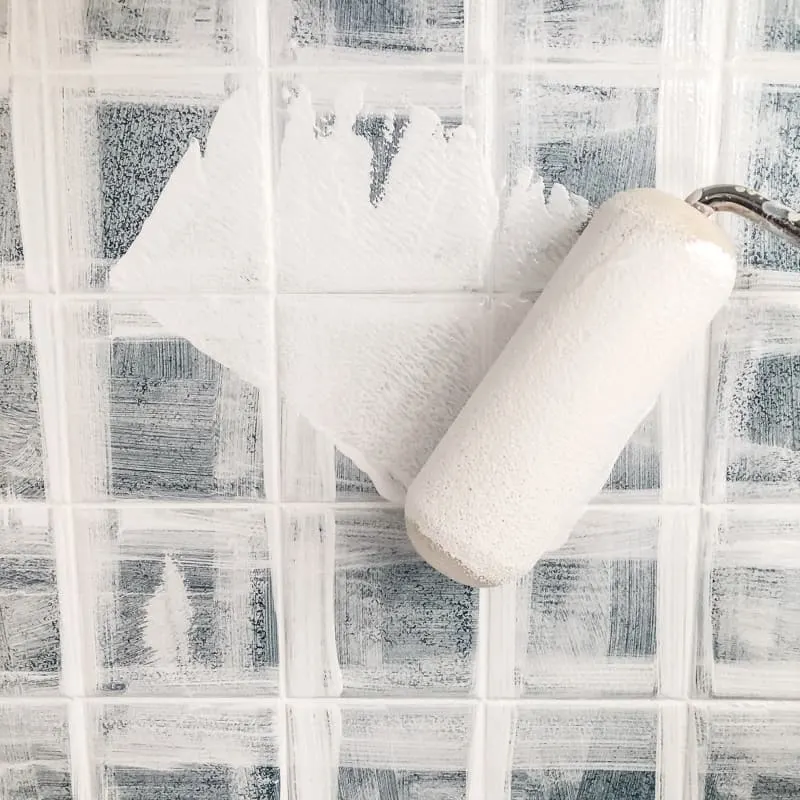 It took four coats to get full coverage over that dark blue tile! You should be able to do it in two coats if your tile close in color to the paint, or if you're going from light to dark. But the results are totally worth it!
Caulk between the wall and tile
After removing the painter's tape, I noticed a bit of a gap between the painted tile and the wall. The tape did a great job preventing the paint from getting on the wall, but five coats of paint build up makes the transition less than perfect.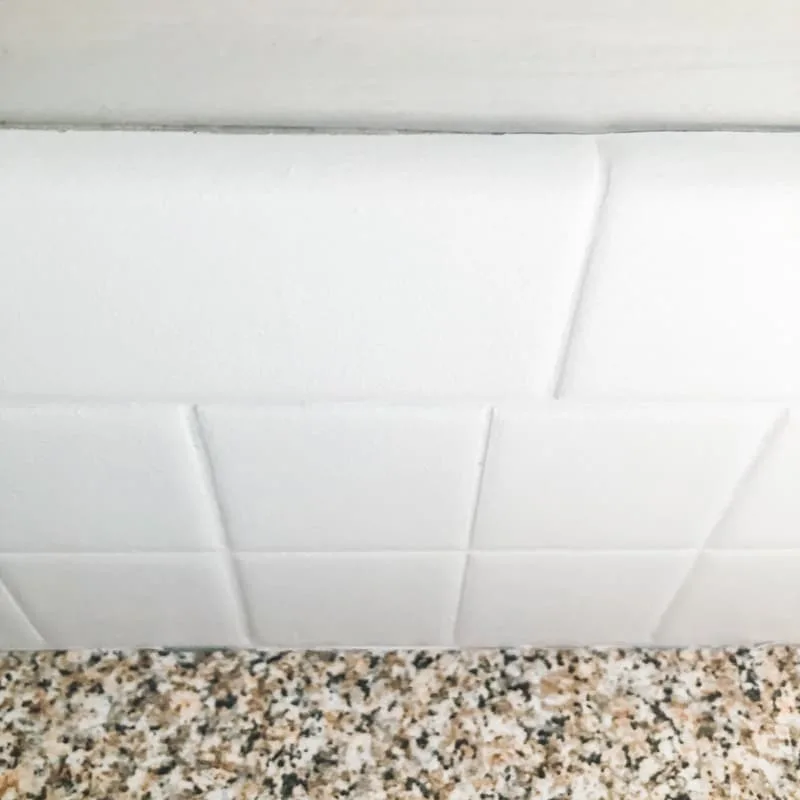 To seal up that gap, just run a bead of paintable, waterproof caulk along the corner between the tile and the wall. If you don't know how to use a caulk gun, I have a tutorial for you! There's usually caulk there after new tile is installed anyway, and it smooths out the transition nicely. You can touch up the wall paint if necessary once the caulk dries.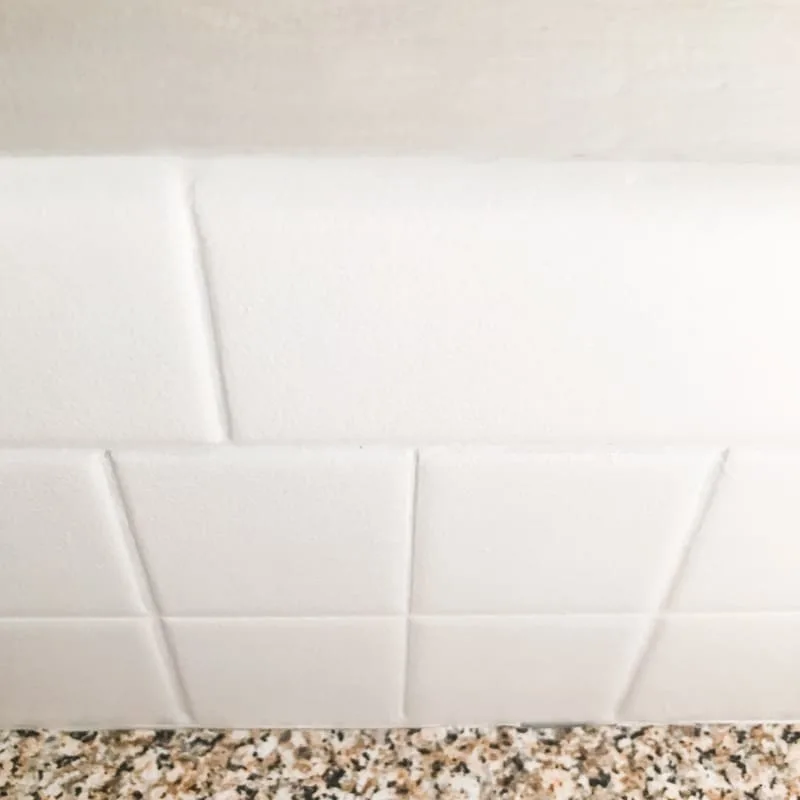 Painted tile backsplash before and after
I'm soooo happy with how the painted tile backsplash turned out! It feels like the walls of the kitchen were pushed back a foot, just from lightening the color of the tile!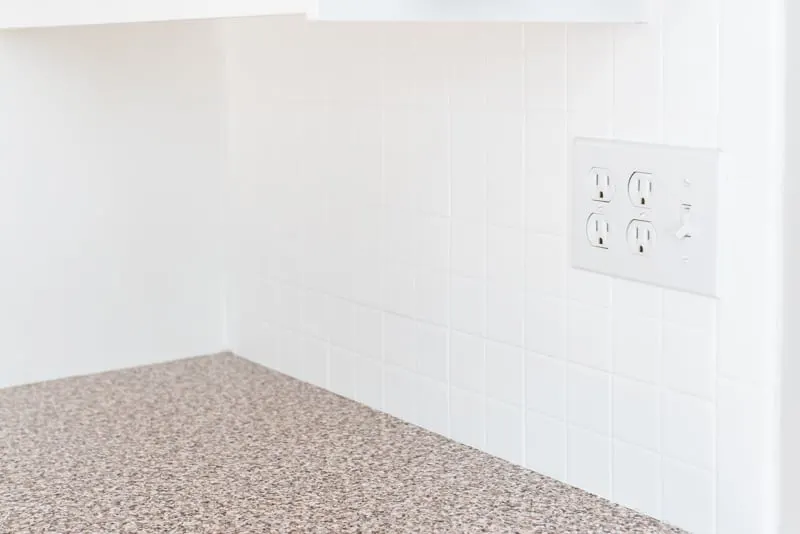 Now that I've done all this work to update our kitchen, we may never remodel! I never quite appreciated the difference until I dug out this old photo and put them side by side. The only things I haven't changed are the toaster and coffee maker!