Two years ago, I applied granite contact paper to our ugly cobalt blue laminate counter tops. Check out how my contact paper kitchen counter is looking now!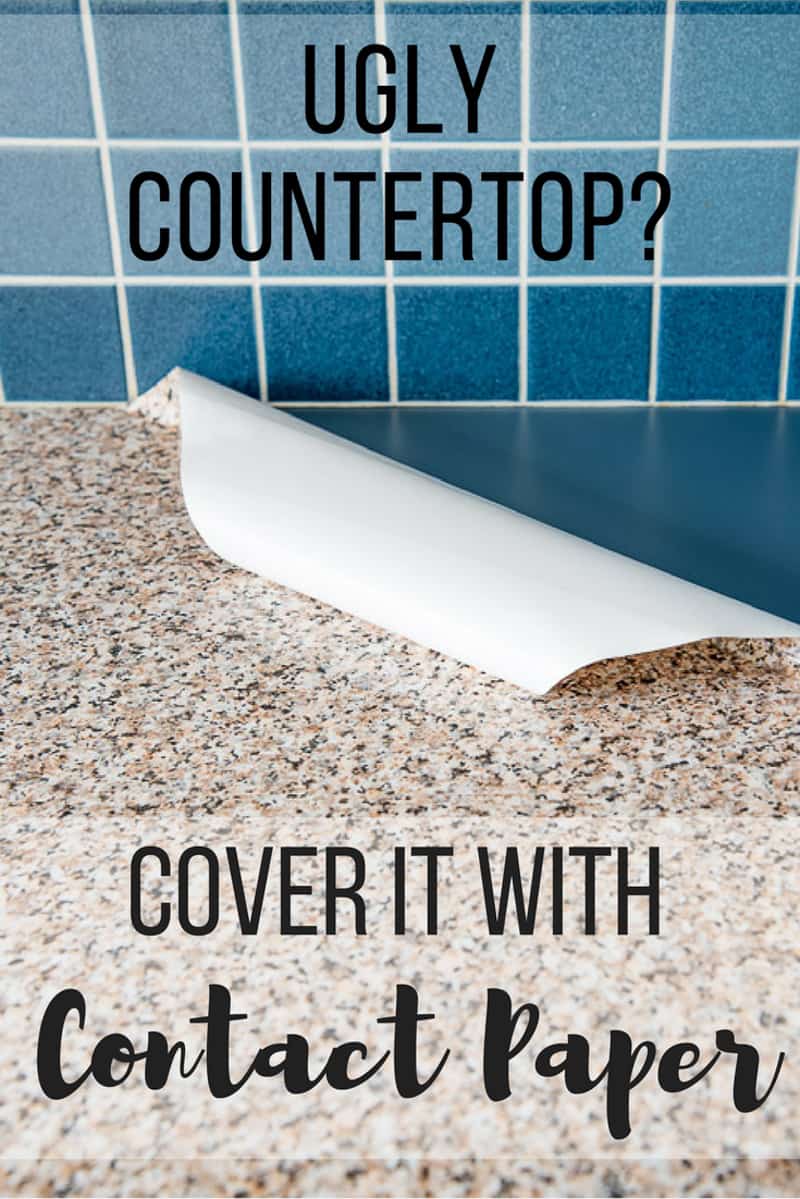 People thought I was crazy. There's no way a contact paper kitchen counter will hold up, they said. Well, here we are two years later, and it's still going strong! Not only that, but it continues to fool guests who can't believe that our faux granite counter tops are just waterproof contact paper.
Watch the video below to see how easy it is to apply this peel and stick countertop cover!
Subscribe to my YouTube channel for more DIY project videos like this one!
This post contains affiliate links for your convenience. Purchase made through these links may earn me a small commission at no additional cost to you.
I get a LOT of questions about my contact paper kitchen counter. How does it look now? Is the contact paper waterproof? Does it leave any sticky residue when you remove it? Does it really look like granite?
I thought I'd give a little tour of my faux granite countertops, now that we've had them for a little over two years. I'll even remove a section, so you can see how the counter top underneath is holding up.
I applied the contact paper after I finished painting the melamine and oak kitchen cabinets. Between the white paint and the peel and stick countertop, it was like a whole new kitchen for less than $200! Check out the final reveal of the entire 80's kitchen update here.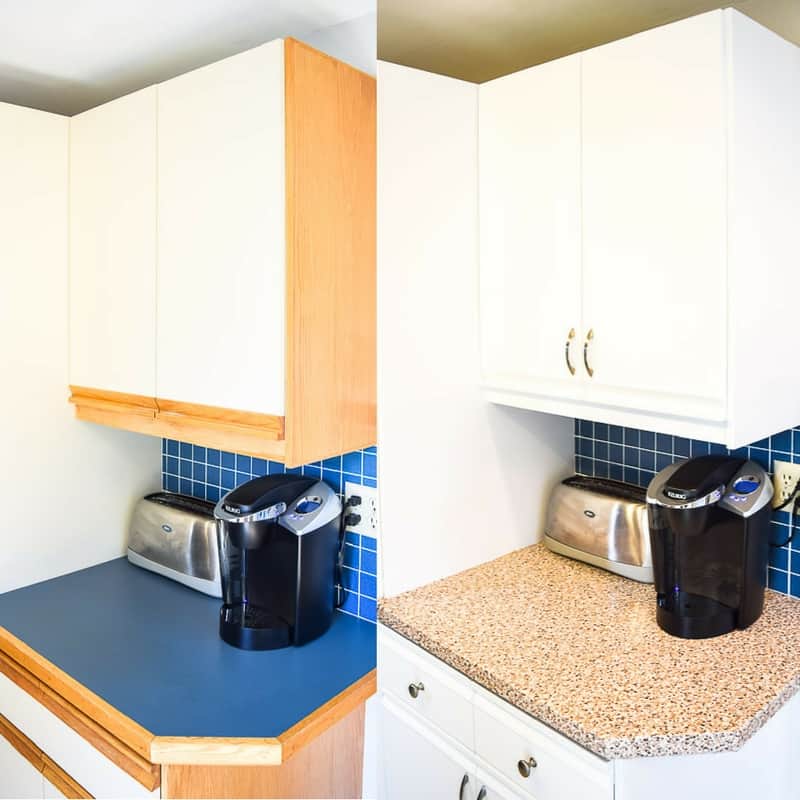 Here's the granite contact paper I used in my kitchen. Five rolls was enough to cover all the counter tops, with enough left over to replace a few spots if needed. I highly recommend the DC-Fix brand for this task (no, this is not a sponsored post!)
They have lots of other color options, including gray granite, marble and even wood contact paper!
A comment I frequently get is that you can't cut on it like real granite. Of course you can't! But we couldn't chop on the laminate countertop underneath either, so it was a non-issue for us. Plus, why are you dulling your good kitchen knives on granite anyway? That's what a cutting board is for!
If you're looking for a more permanent solution to your dated countertops, try adding a new layer of laminate! You can learn how to cut and install laminate sheets in this post.
Contact Paper Kitchen Counter – 2 Years Ago and Today
Oldest Section of Contact Paper
The oldest section of contact paper is on this used kitchen cabinet I bought at an architectural salvage store. The attached countertop was in bad shape and didn't match the rest of the kitchen anyway, so I figured the granite contact paper couldn't make it any worse! Once I saw the results, I knew I had to try it on the rest of the kitchen.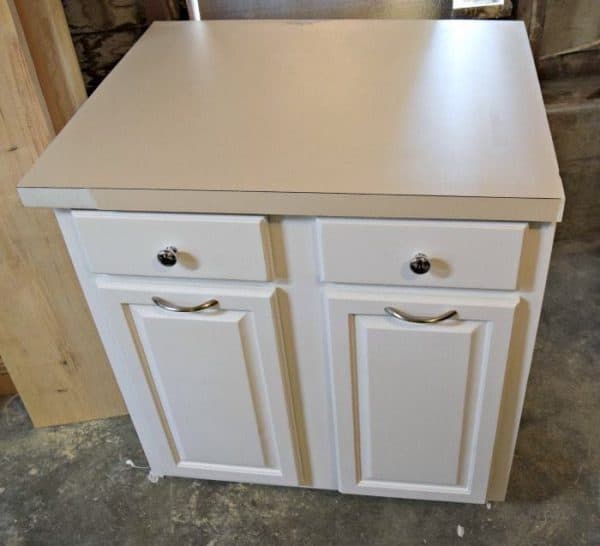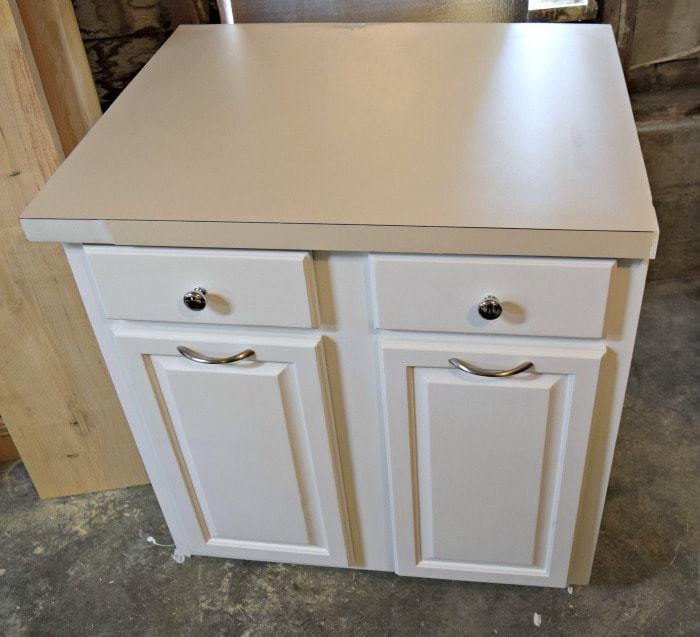 We moved the fridge into the spot where the back door once was, creating space for a new cabinet. I turned the salvaged piece into a pull out trash can cabinet, and it gets a LOT of use every day.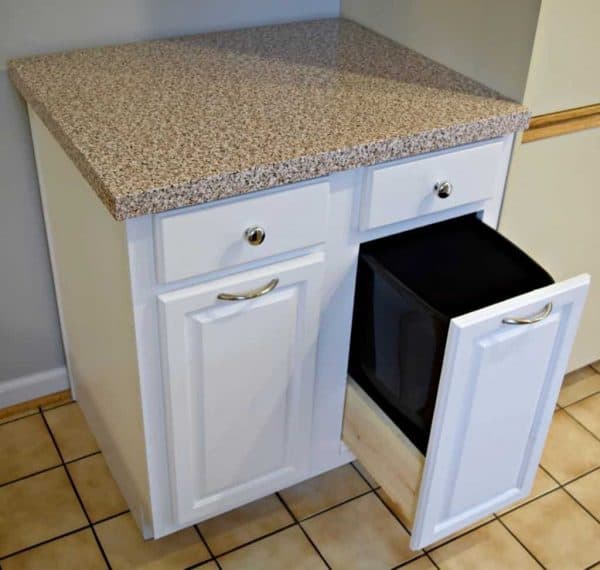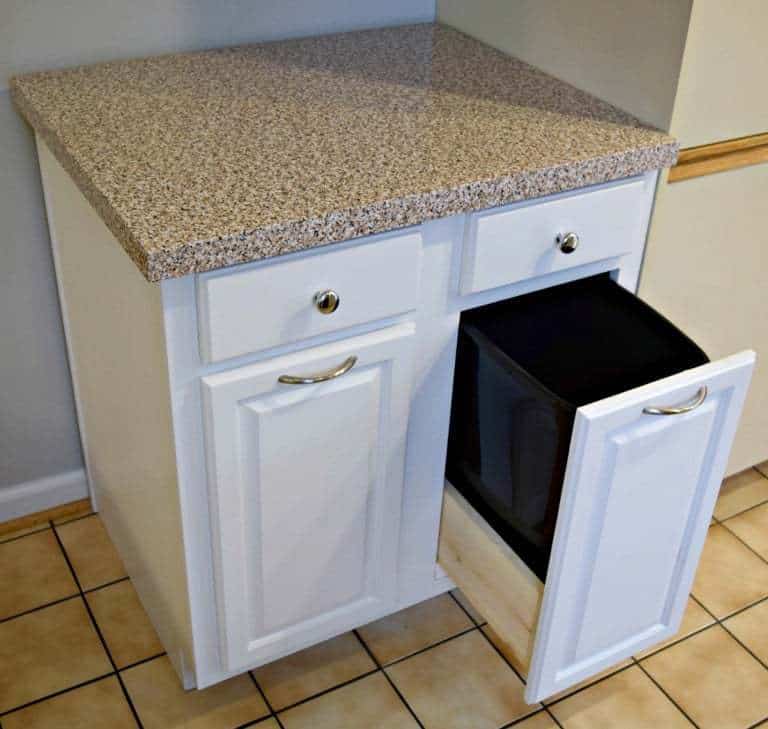 The top is mostly used for making school lunches, since that's where the bread box is. Crumbs get wiped off daily, but it's not in the main cooking or cleaning area. So how's this section of the contact paper kitchen counter holding up? The top itself is still looking like the day I applied it!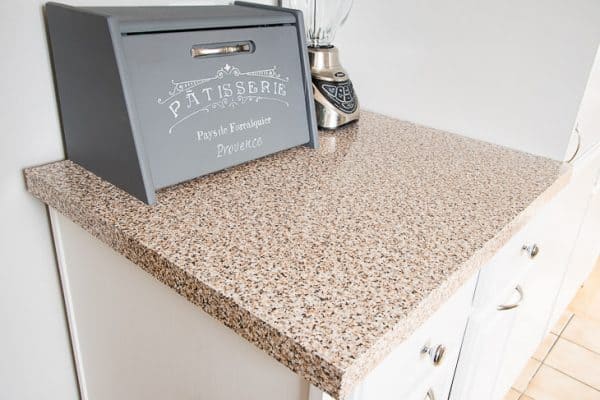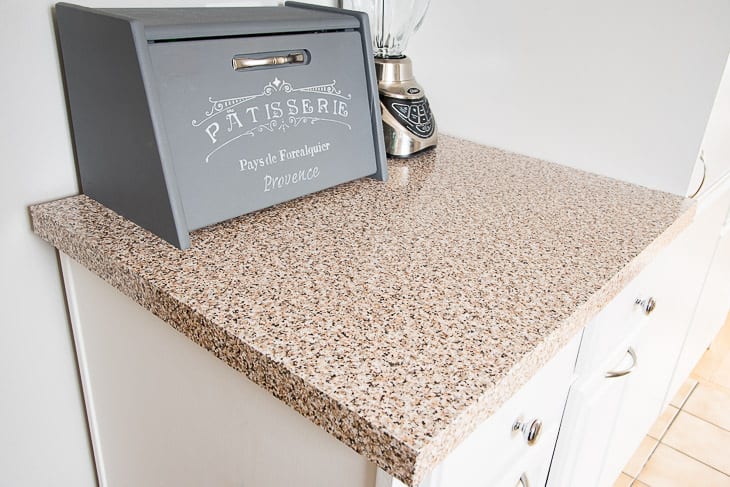 The outside corner, which gets rubbed up against frequently, has a tiny bit of wear. A quick touch up with a scrap of contact paper will fix that! The granite pattern blends in easily, so you can't see where repairs have been made.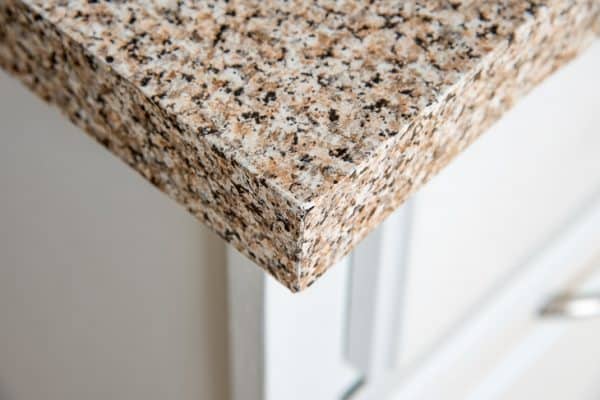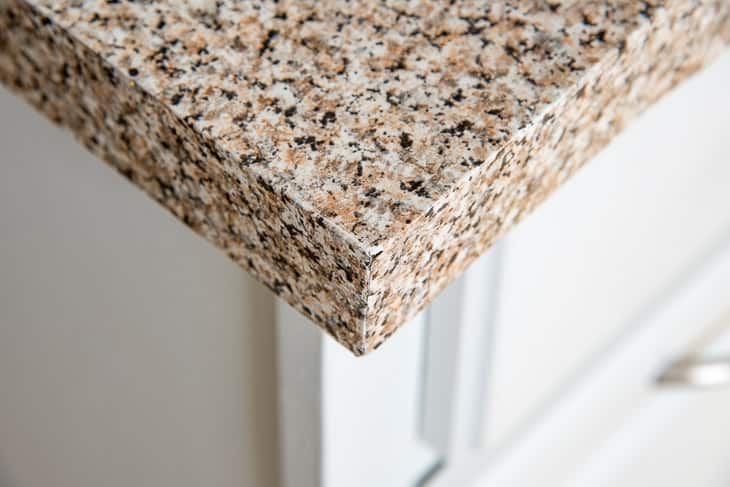 Contact Paper Kitchen Counter – Next to the Stove
Now we're getting to the question everyone always asks me . . . how does the contact paper hold up next to the stove? Pretty well, I'd say!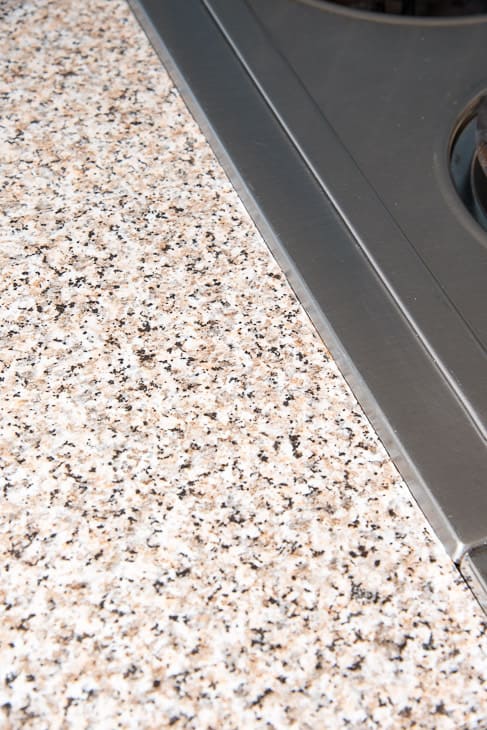 The only sign of wear I can find is in the area between the sink and the stove, where most of the cooking action happens. The seam between the two sheets of contact paper has lightened a bit from daily cleaning with Clorox wipes (you could probably avoid this with a less aggressive cleaner, but I'm a total germaphobe!)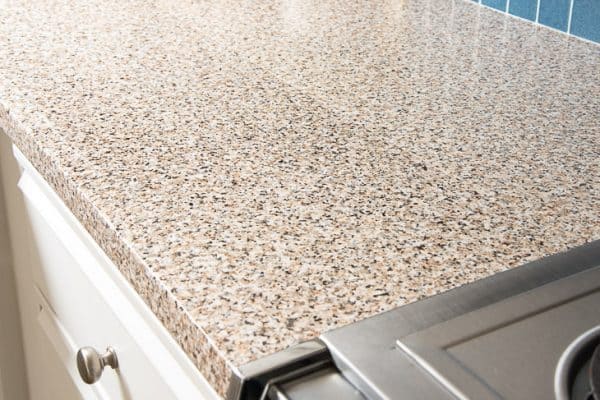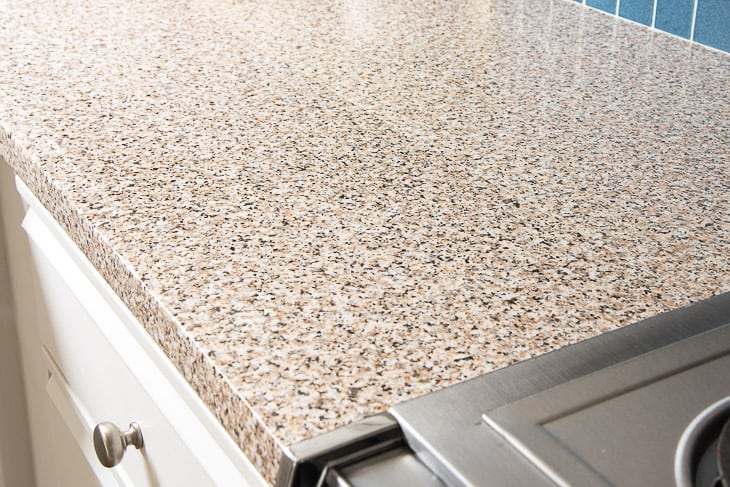 Want to avoid the seam down the middle? There are now counter width contact paper rolls that are made to do just that! These weren't available two years ago when I did my contact paper kitchen counters, but I might end up replacing mine with the new 26″ wide version for a flawless look.
Not only do they have marble contact paper, but a variety of granite contact paper colors as well!
Contact Paper Kitchen Counter – Next to the Sink
So the contact paper can handle the heat. What about water? Doesn't the adhesive turn into a gooey mess after a while? Or develop a haze of mold from constant water exposure? NOPE!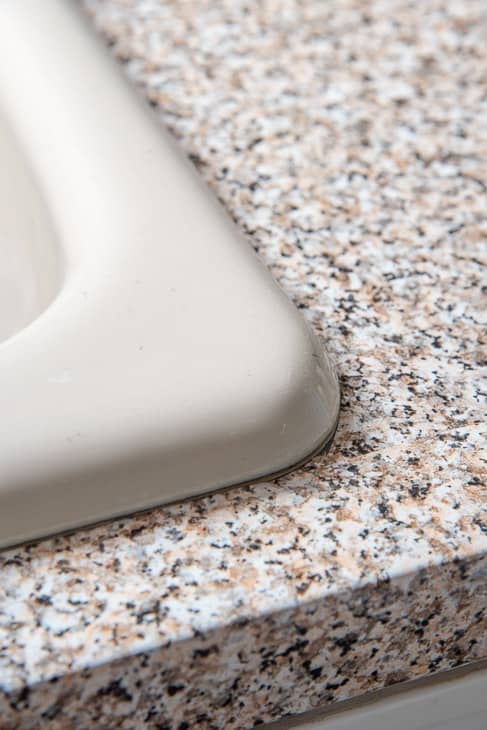 If you zoom in real close, you can see a tiny bit of the old, blue countertop peeking out from under the corner of the sink. But I think that's from when I originally cut the contact paper to fit the sink, not from any damage due to normal wear and tear. A little clear caulk would protect the seams even more!
Seriously, this area gets soaked when we're washing big pots and pans! The contact paper pools just like any other countertop surface. It's thick and waterproof, so drips stay on the surface until you wipe them up.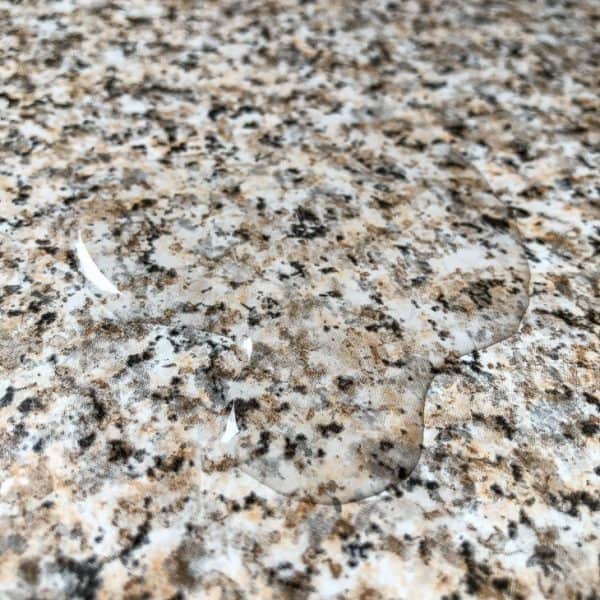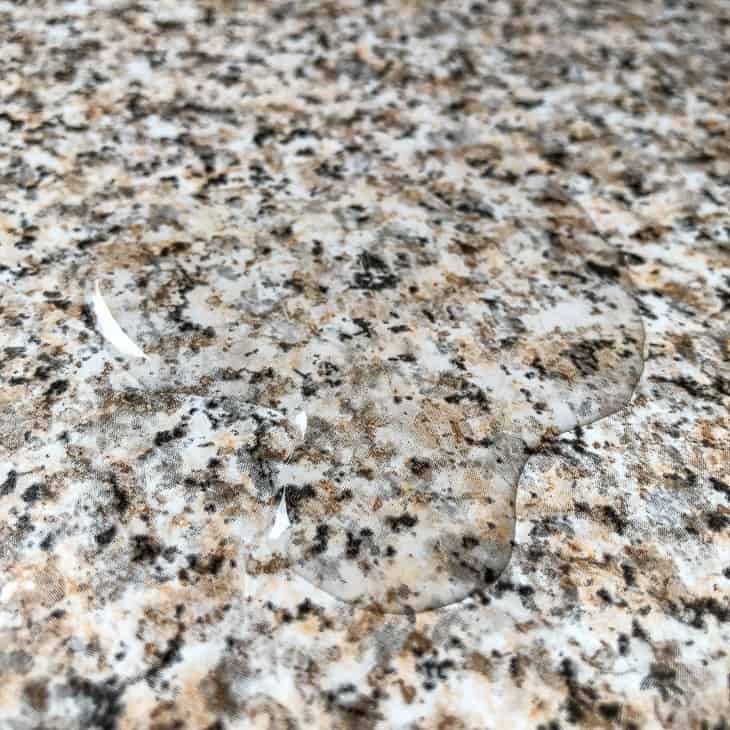 How to Install a Contact Paper Kitchen Counter
I never really explained how I covered my kitchen counters with contact paper, so I'm peeling off a section just to show you!
I had a piece left over that was big enough to cover this small section next to the stove. Be sure to buy a little more than you need for your kitchen (you can find the one I used here). Colors can differ between print runs, so it's better to hold on to the extra roll in case you need it down the road.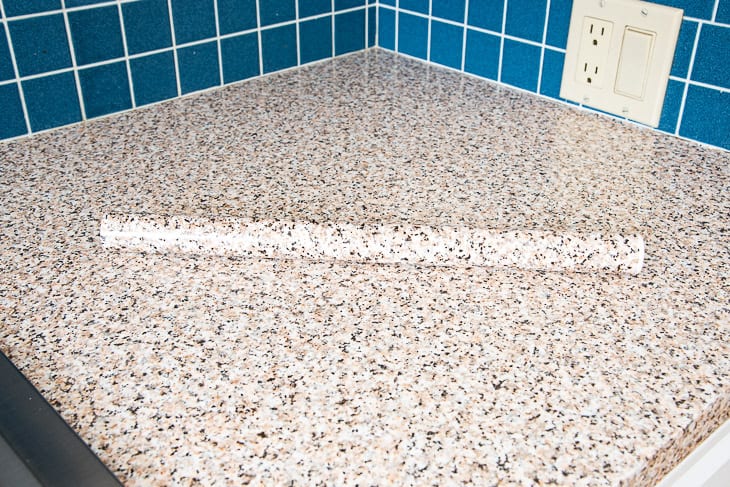 If anything got under the contact paper, you'd see it under the seam in the middle of the countertop (Can't spot the seam? Neither can I!) I overlapped the two rolls by about half an inch, rather than butting up the two edges. The overlap hopefully prevented anything from getting down to the original countertop.
If you don't want any seams down the middle of your countertop, you can also buy two foot wide rolls that will cover the entire surface.
Removing the Old Contact Paper
One question I get all the time is . . . what does it look like underneath? Contact paper kitchen counters are a great solution for renters or military families in government housing who can't change the countertop. But if there's a sticky mess underneath, it might not be worth risking the security deposit.
Here's what ours looks like when the contact paper is removed. Keep in mind that it's been stuck on there for two years. Now you can see why I chose to hide that ugly blue laminate!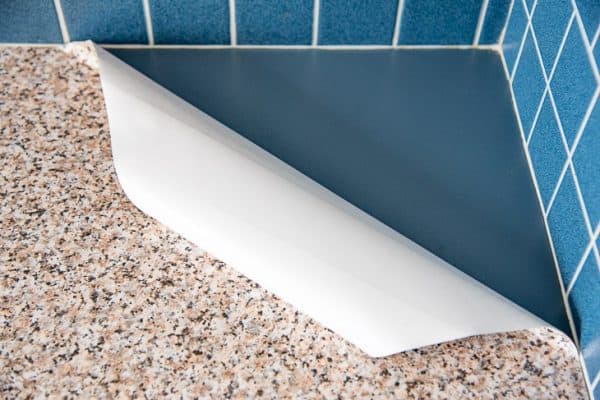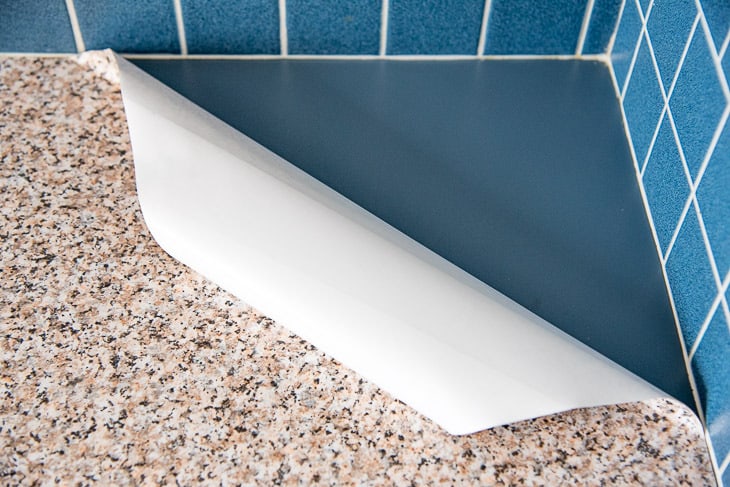 The original countertop surface is not sticky at all! It looks and feels exactly like it did the day I covered it up. The contact paper peeled up in one big piece, so I didn't have to scrape off any stubborn slivers.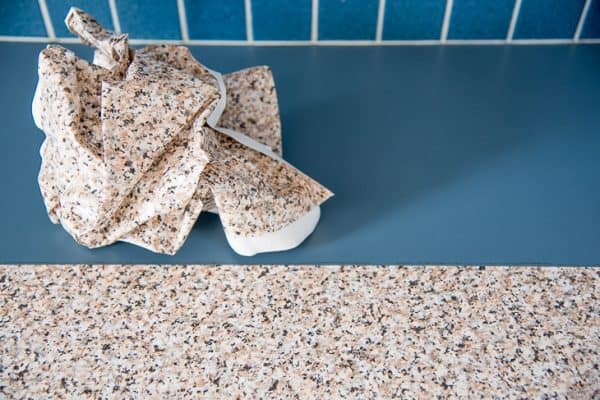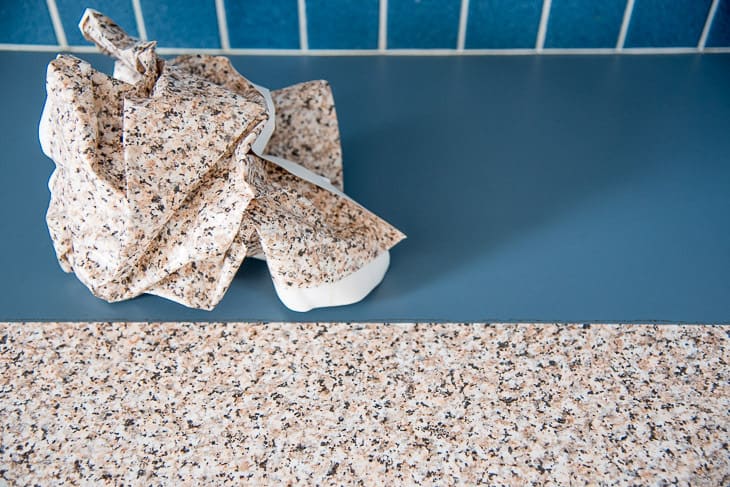 I wiped down the seam where a thin line of gunk had formed. It cleaned up easily with soap and water without leaving a stain.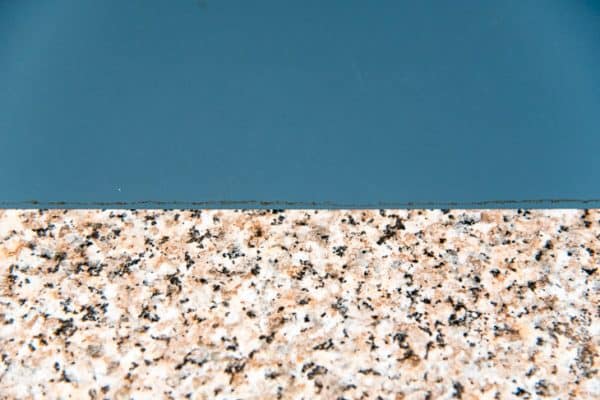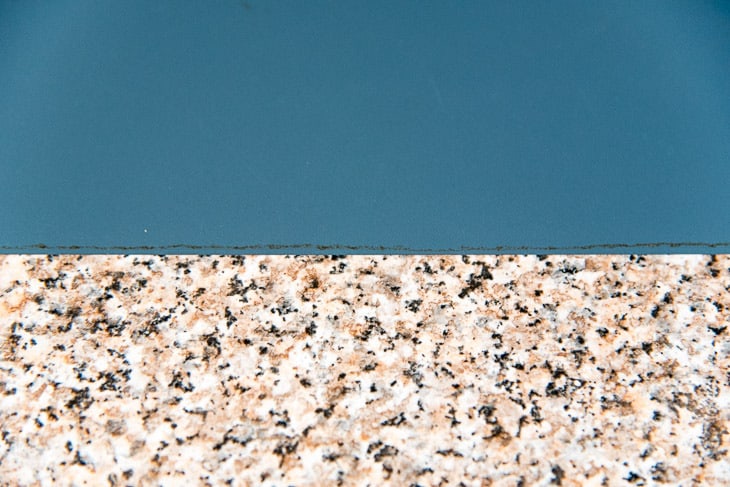 Applying New Contact Paper to the Counter Top
Trim the contact paper to size, leaving an extra inch all the way around. The lines on the back make it easy to keep a straight line.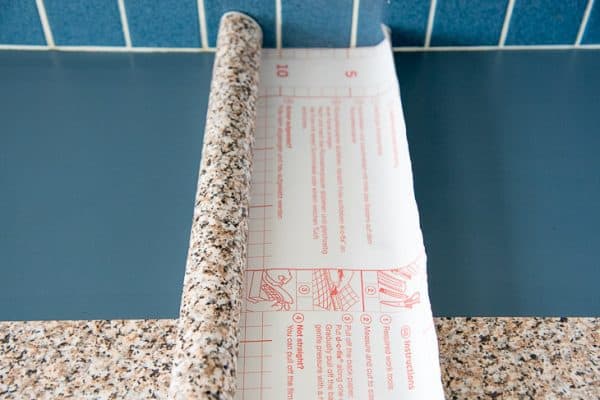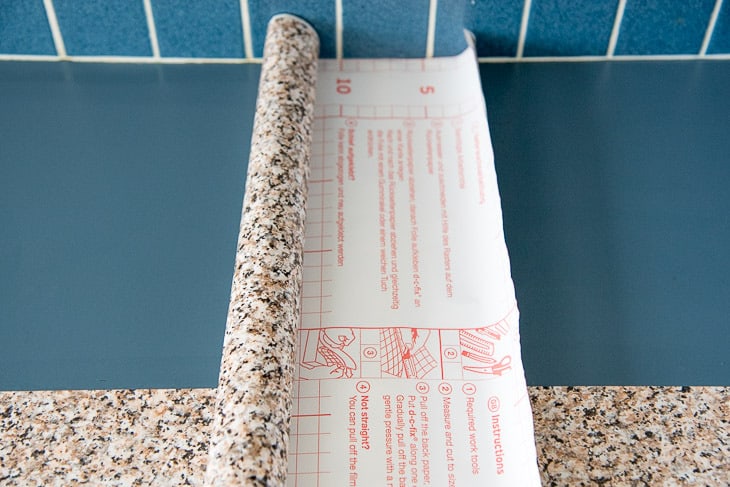 Start in a back corner, where you can line up the edge of the contact paper with a straight wall. Peel the paper backing away about 6 inches, and stick it down. Run a smoothing tool (I used the one from my Silhouette machine, but you could use a credit card) over the contact paper to adhere it firmly to the surface. Push out any air bubbles towards the edge.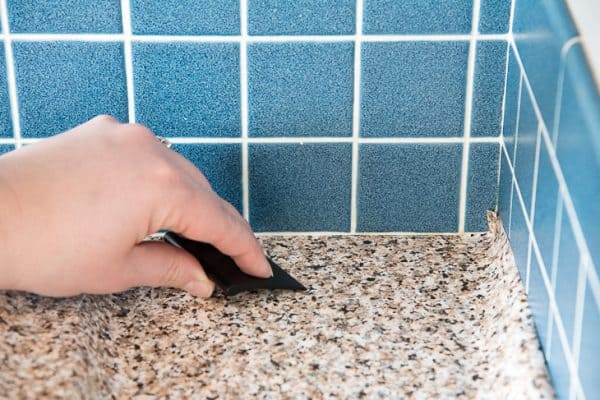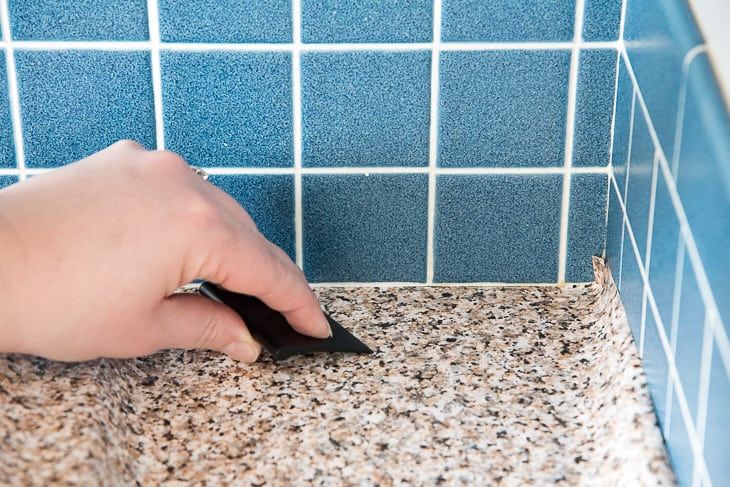 Continue rubbing the contact paper down onto the countertop, making sure that you're going straight. If you veer off track, just pull up the contact paper and try again!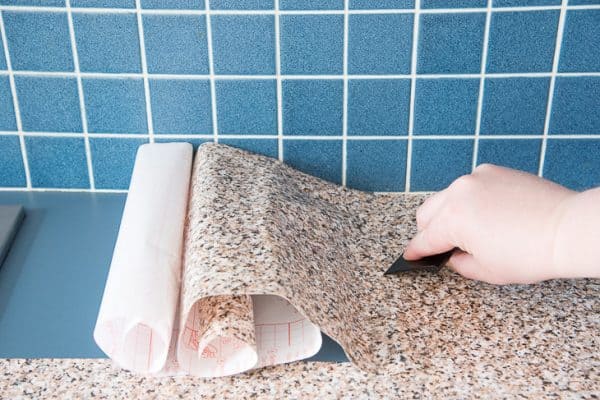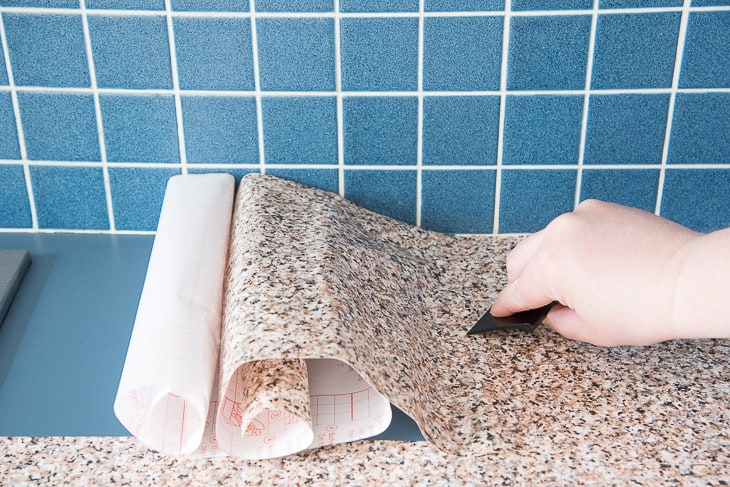 To trim the excess, press the corner tight with the smoothing tool and run a utility knife down the edge.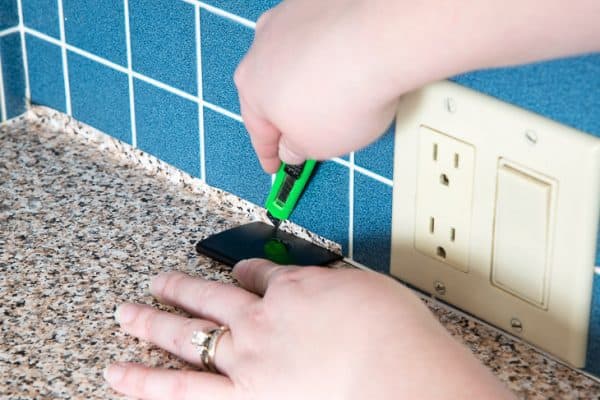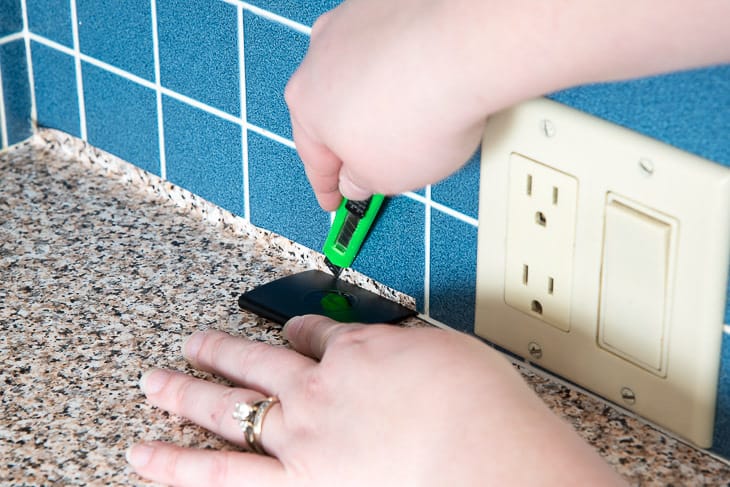 That's it! My countertop is ready to go for another few years!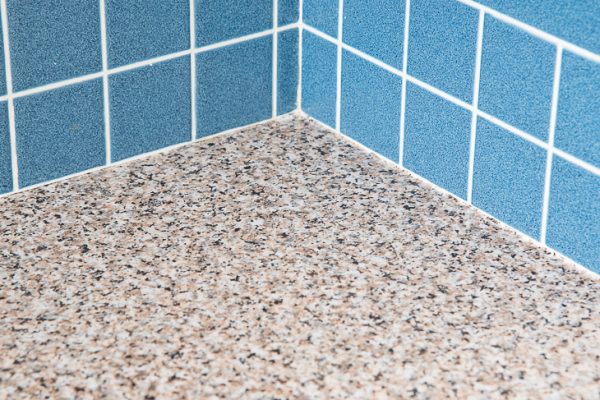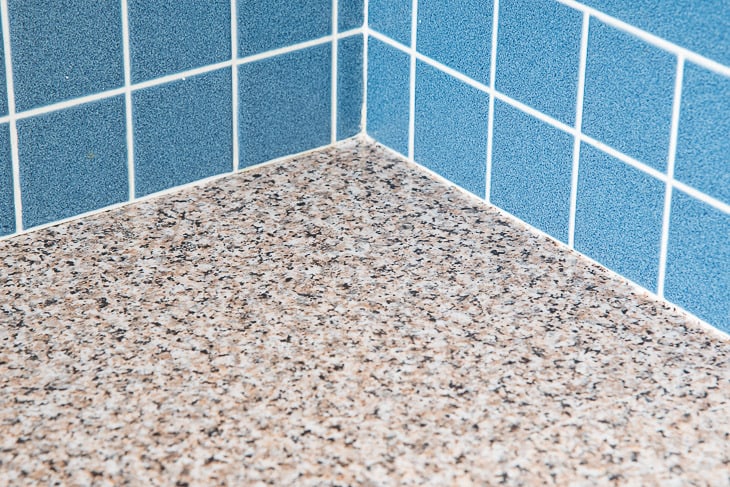 Having these contact paper kitchen counters in place for two years has allowed us to save up for a full remodel sometime in the future. Are we going to fool a potential home buyer with this stuff? No, of course not! But until we start swinging the sledgehammer and demolish the entire space, we might as well enjoy the look of faux granite over the cobalt blue laminate, right? 🙂
---
If you would like to keep up to date with my latest posts about DIY projects, woodworking and more, you can follow me on Facebook, Pinterest, or Instagram. You can also sign up for my email list below and get the latest post delivered to your inbox, plus exclusive access to my woodworking plans library!
Want more DIY projects?
Subscribe to get project ideas, home improvement tips, woodworking plans and more delivered straight to your inbox!