Confused by all the different types of countertops? Learn the pros and cons of each type of countertop to find the right one for you!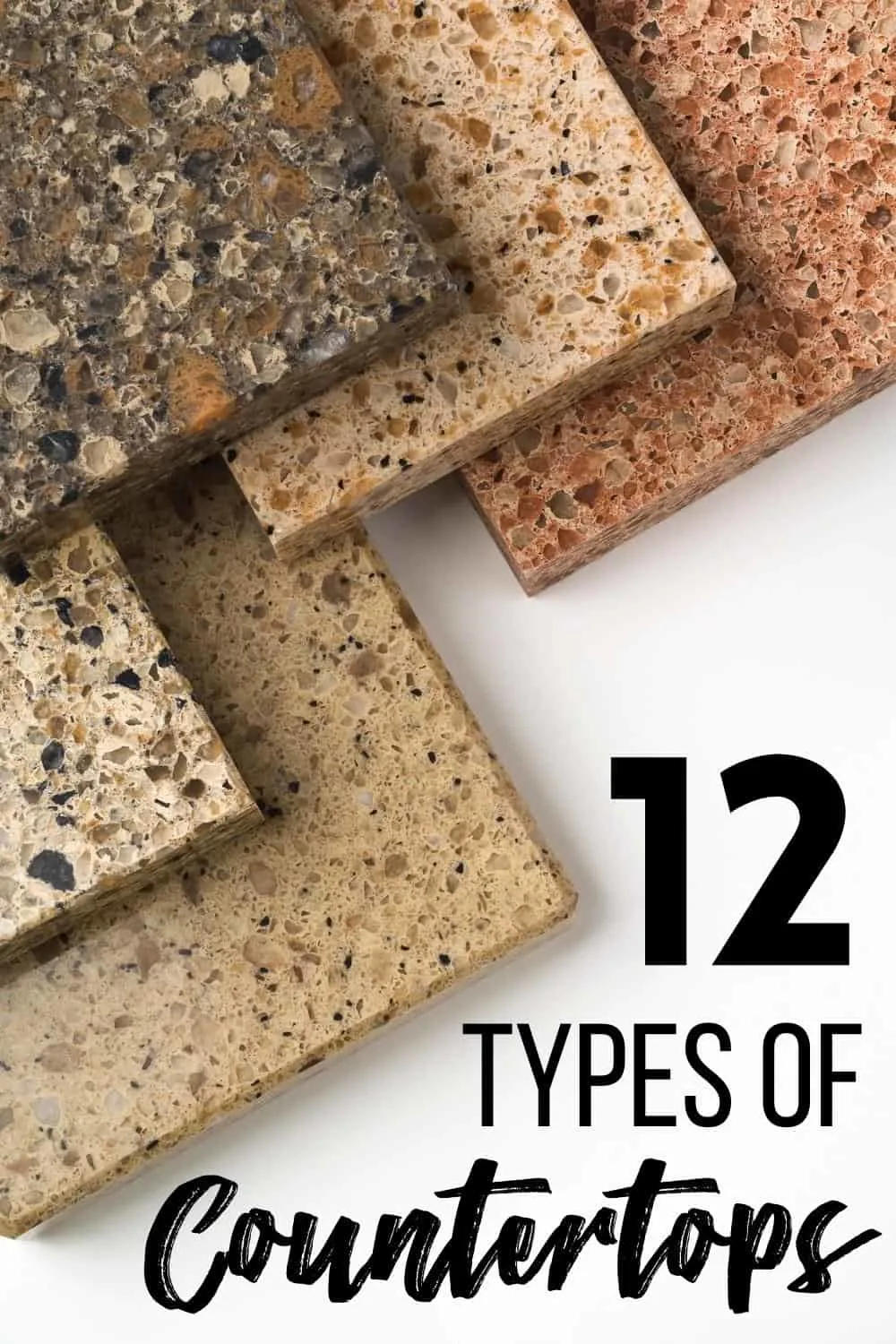 People say the heart of the home is the kitchen! But what's the heart of the kitchen? The countertop!
This article will go over all the different types of countertops, from natural stone to manmade options. Each type has its pros and cons, so you can decide which one works best for you! You'll likely be surprised at all the unique and creative options.
This list comprises some of the most popular countertops on the market. Regardless of your price range, you'll find a countertop that fits your budget and style.
Alright, let's explore all these different options!
Marble Countertops
Marble is a beautiful, high-end countertop that has a style for almost every home. If you're looking for a quality countertop that will add value to your home, marble is a clear choice.
Also, marble tends to age well with your kitchen, developing slightly different color tones and giving your countertop a mature appearance.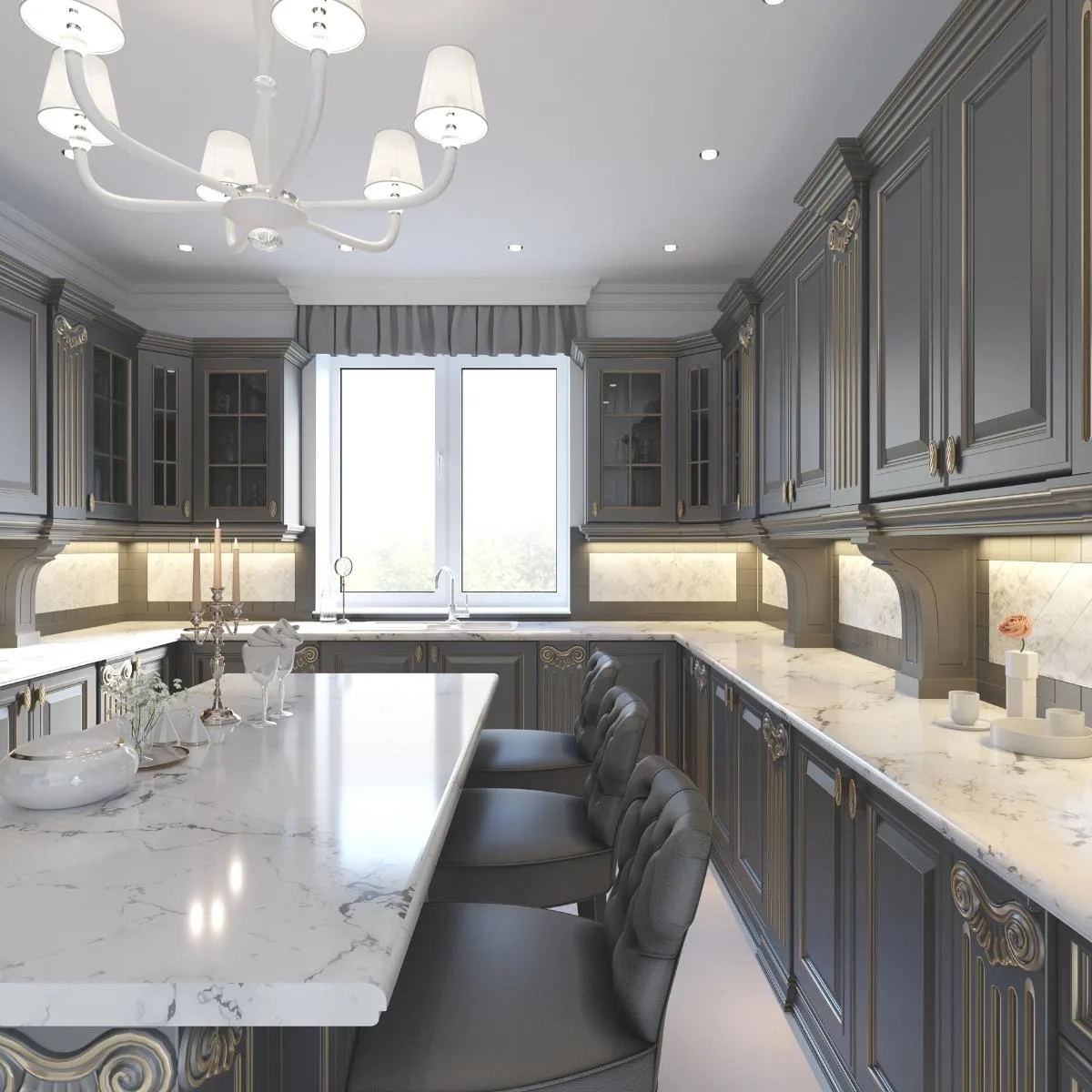 Although marble is luxurious, it does have some downsides. First, you'll be paying top dollar for a marble countertop. Second, marble needs regular maintenance, including sealing, as it's a porous finish (many stones are porous; meaning they contain little microtubes that will absorb moisture). Also, marble can stain and scratch.
Pros and Cons of Marble Countertops
Granite Countertops
Granite and marble are the most popular types of countertops. Some people prefer granite over marble, as it has slightly less maintenance and is available at different price tiers and thicknesses.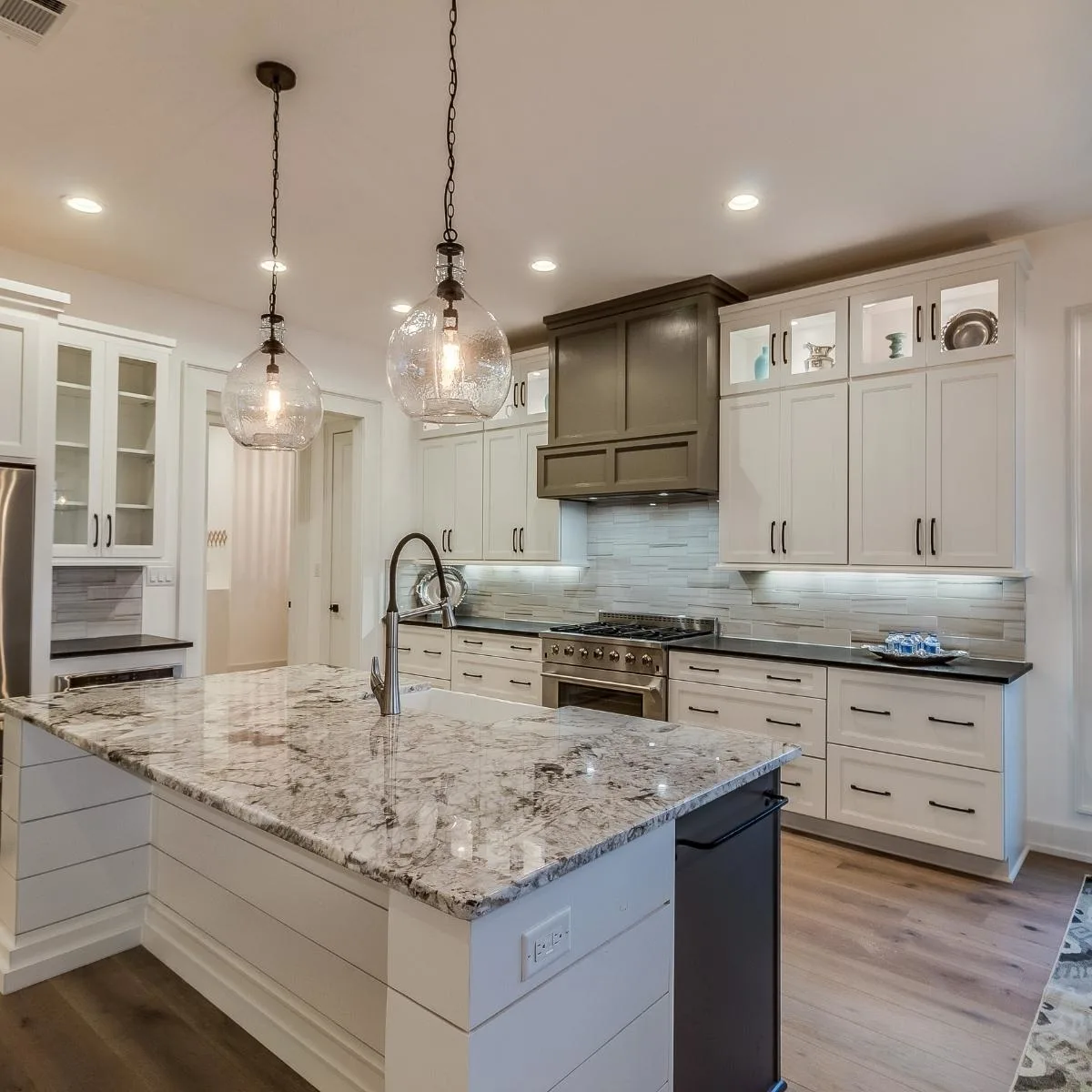 However, granite is still a porous stone surface, so you'll need to maintain it and watch out for stains. The small pores can soak up liquid, leaving you with blemishes.
Pros and Cons of Granite Countertops
Soapstone Countertops
Soapstone also falls into the high-end category of countertops. Soapstone doesn't come in many color varieties. Usually, soapstone is some shade of rich grey.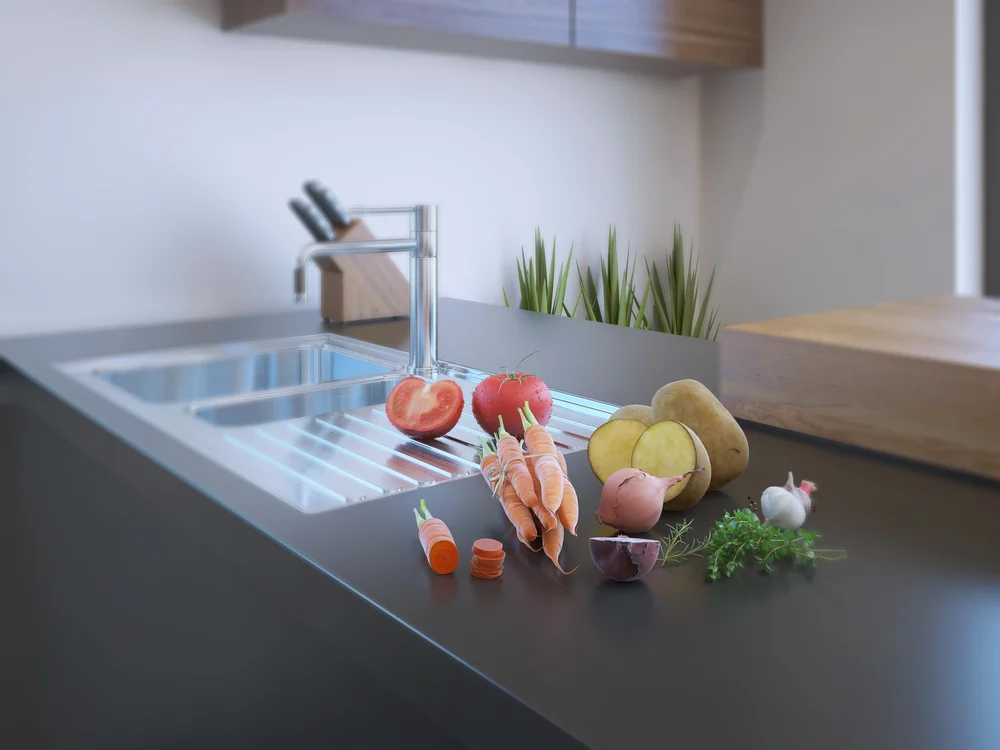 However, soapstone is durable and less prone to cracking than granite or marble. Also, soapstone is non-porous, so you don't need to worry about spills - and you don't need annual sealing.
While soapstone is durable, it's also more likely to scratch. However, some people feel the scratches add to the soapstone's overall look.
Pros and Cons of Soapstone Countertops
Quartz Countertops
Quartz is an engineered stone countertop. The great thing about quartz is that you get the look and feel of stone with upgraded durability.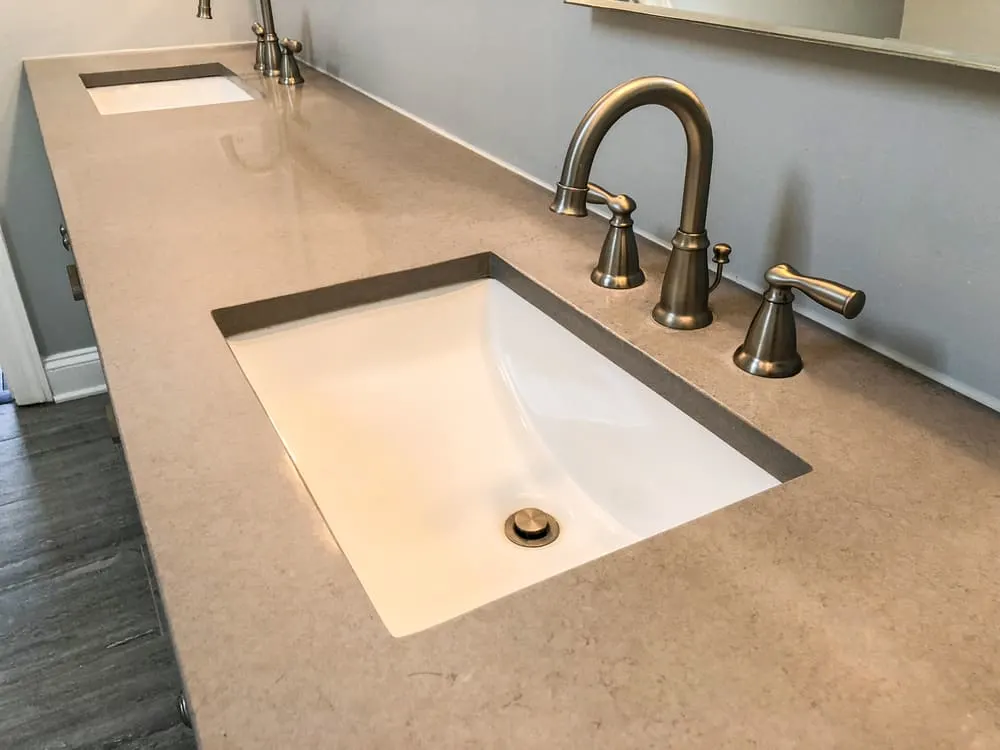 Quartz is a solid option if you want that stone feeling but need something that can take some abuse. You'll find more consistent colors throughout the slab because it's an engineered stone. You don't need to seal quartz every year, and it resists heat and scratches.
However, quartz can be just as expensive as granite and will require professional installation. It's also less heat-resistant than natural stone, because the resins that bind the material together can fail under extremely high heat.
Pros and Cons of Quartz Countertops
Wood or Butcher Block Countertop
As a woodworker, I'm always going to lean toward natural wood! It's no different when it comes to countertops. Some wood countertops are called butcher block because they contain strips of wood glued together like a butcher block cutting board.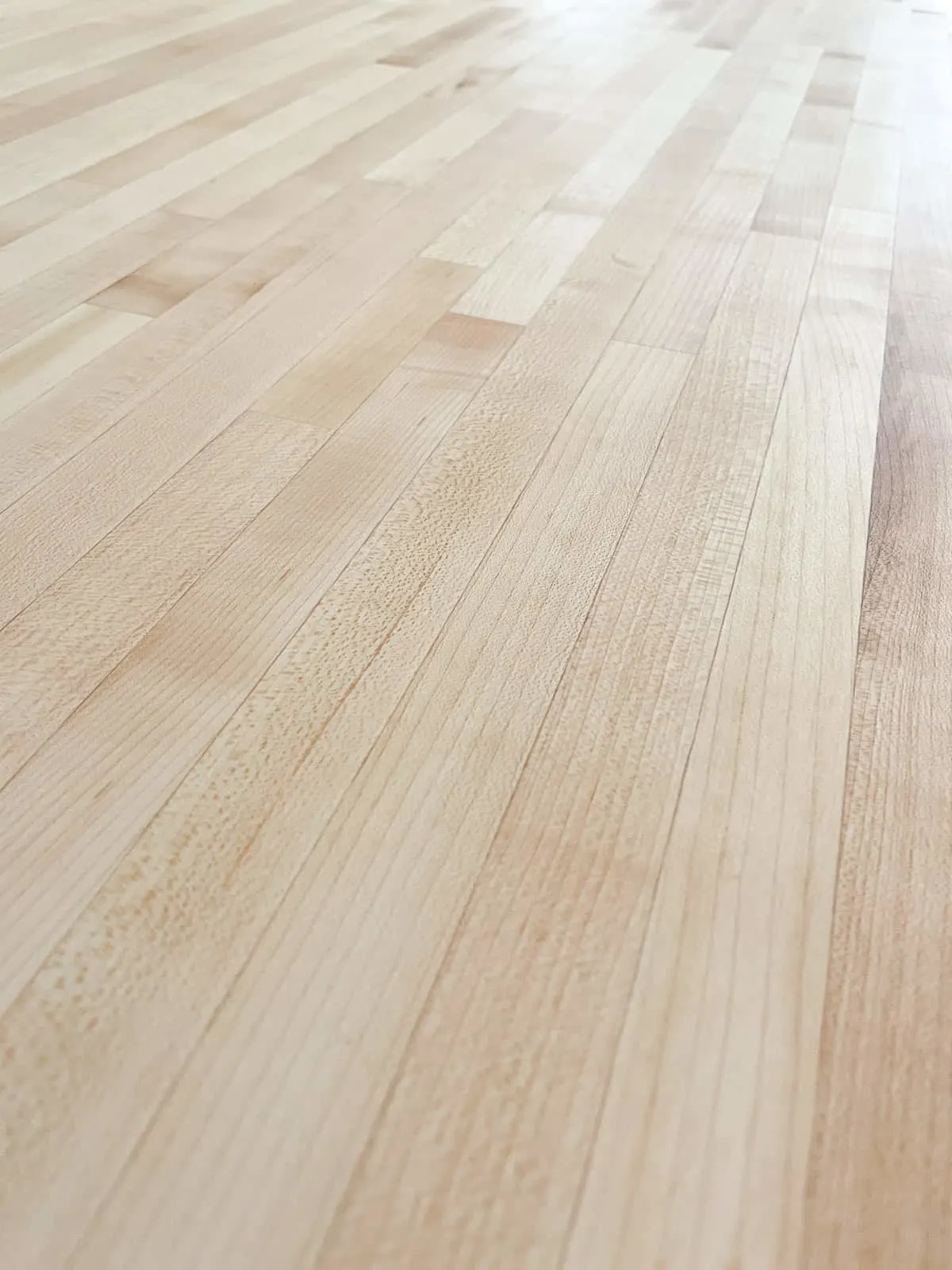 Using a wood countertop is smart if you want to install it yourself. Also, wood gives your kitchen a warm, natural look, without spending a ton of money. If you're curious, I've put together a complete guide on installing a butcher block countertop.
On the downside, wood isn't very heat-resistant. It can stain easily, especially if it isn't sealed properly. And, it can crack with the changing of the seasons if it's not installed correctly.
Check out this article for a deeper dive into the pros and cons of butcher block countertops!
Pros and Cons of Wood Countertops
Concrete Countertops
Concrete countertops have become quite popular. It's super durable, and it can be tinted to a variety of colors. You can even install it yourself! Check out the video below to see if your skills are up to the task.
You might think using sidewalk material for your countertops would be cheap. However, if you have someone install concrete countertops for you, you're looking at a price tag comparable with granite or marble.
Pros and Cons of Concrete Countertops
Tile Countertops
Want a marble or granite look in your kitchen or bathroom, but don't have the budget for a huge slab? Try tile instead! You can install it yourself, and it will give you many of the same properties. I used limestone tile in my bathroom renovation, and it looks amazing!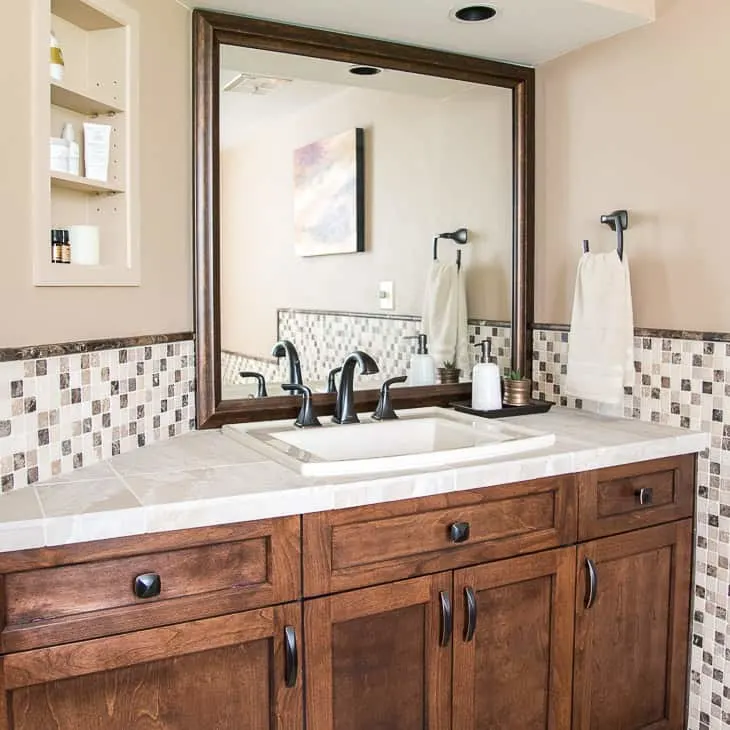 However, tiles can break or chip with heavy use. You also have to deal with grout lines, which can be difficult to keep clean. Learn the difference between sanded and unsanded grout, and which one to choose for your countertop.
If you get tired of the color of your tile, you can change it! I have a guide that shows you how to paint over tile!
Pros and Cons of Tile Countertops
Stainless Steel Countertops
Stainless steel countertops will give you an ultra-modern, sleek, clean look. It's more commonly found in commercial kitchens and restaurants because it's so durable. You don't need to worry about cracks or chips in your stainless steel countertop!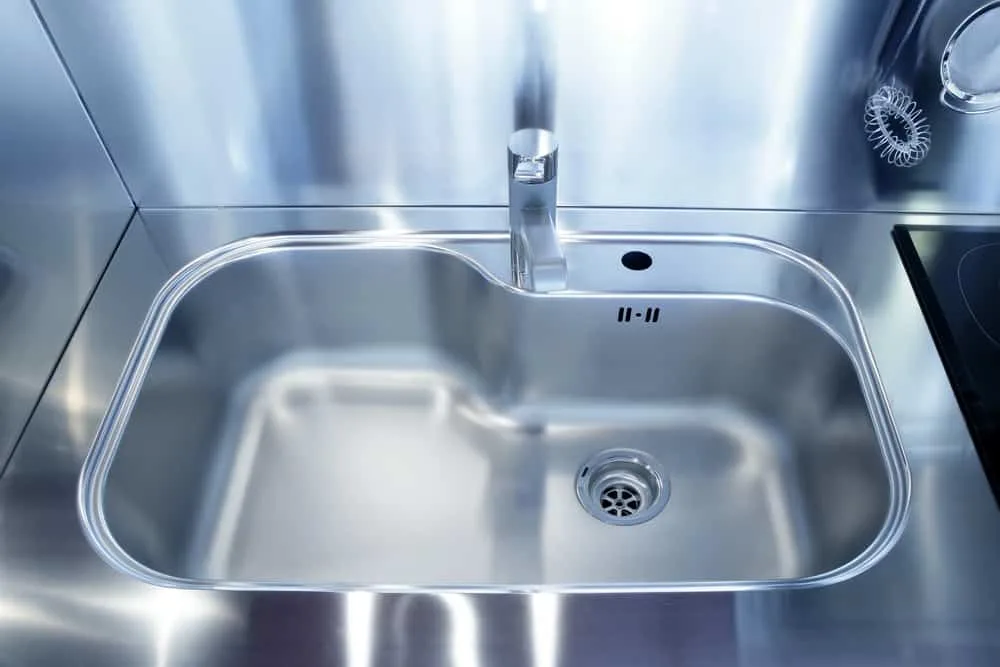 However, there are some downsides. Stainless steel does scratch, and it's not cheap! On top of that, stainless steel is loud and can look and feel cold to the touch.
Pros and Cons of Stainless Steel Countertops
Glass Countertops
For a super modern look, try a glass countertop! It can be manufactured with different tints to give it a custom color, and lights underneath make it glow.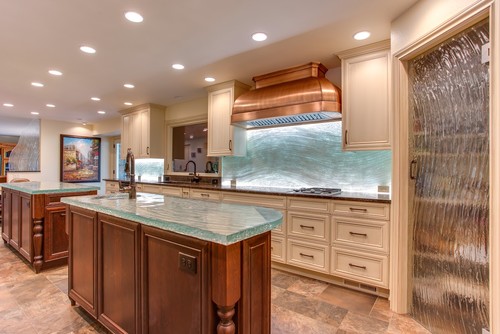 Most glass countertops are tempered, so you don't need to worry about them shattering! Glass is heat-resistant and durable, but may show scratches.
Pros and Cons of Glass Countertops
Laminate Countertops
Laminate countertops are made from sheets of MDF with a waterproof coating on top. It's a great budget option with tons of different colors and styles.
Plus, you can easily cut and install it yourself! Either buy a premade option at the store or apply a new laminate sheet to an existing substrate.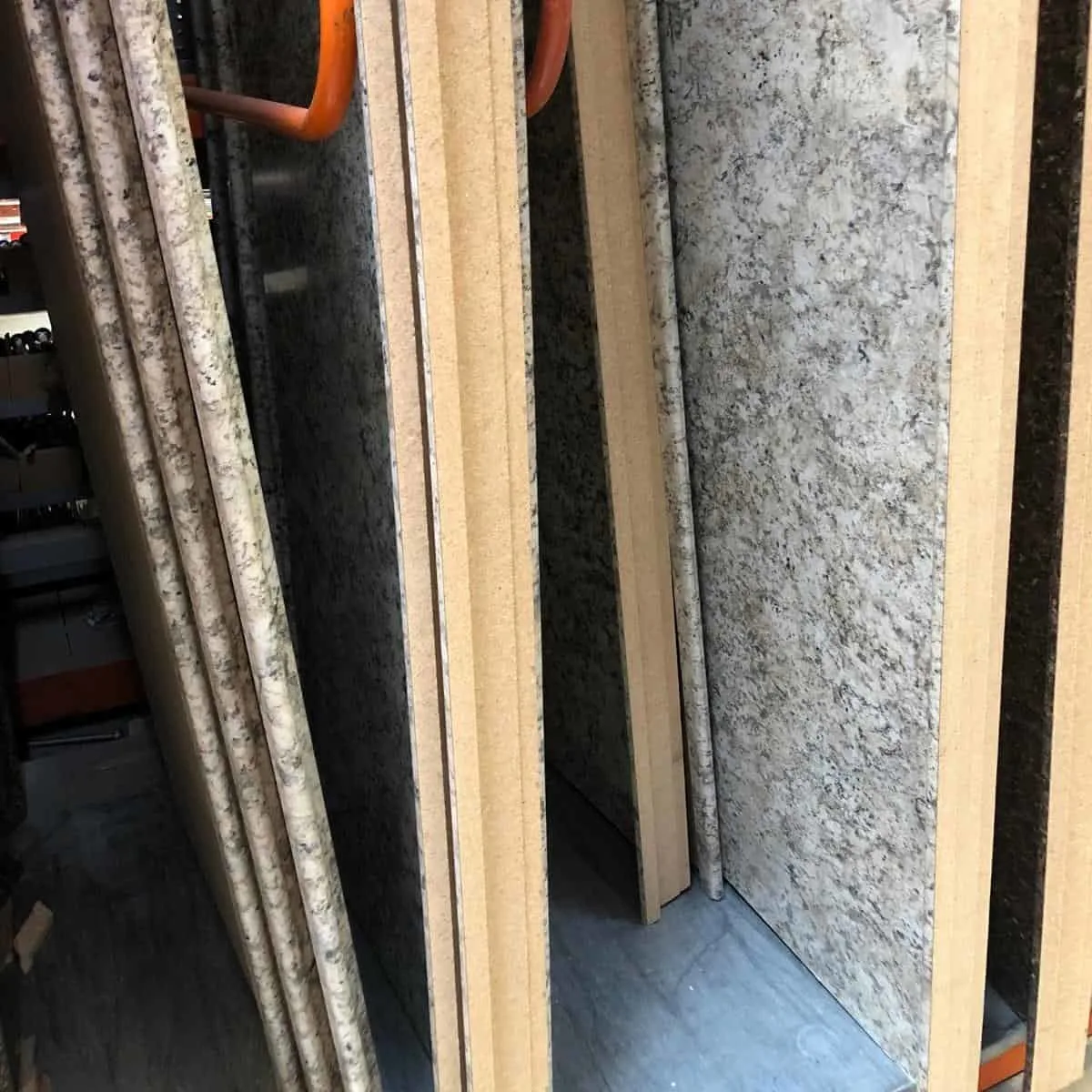 If you're renting out a home or apartment, laminate makes sense, as it's more difficult to maintain a higher-end countertop in a rental property. When properly installed, laminate can last you for many years!
However, the smaller price tag comes with some drawbacks. It can melt under high heat, so you can't put a hot pan on the countertop. Seams between the laminate sheets will be visible, and it may peel up over time.
Pros and Cons of Laminate Countertops
Solid Surface Countertops
Solid surface countertops such as Corian used to be one of the most popular options on the market. It's made from an acrylic material that gives you a solid, stone look without the high price tag.
Also, the material runs through the thickness of the countertop, so you can sand or buff out scratches. It can even be formed into a sink for a seamless look!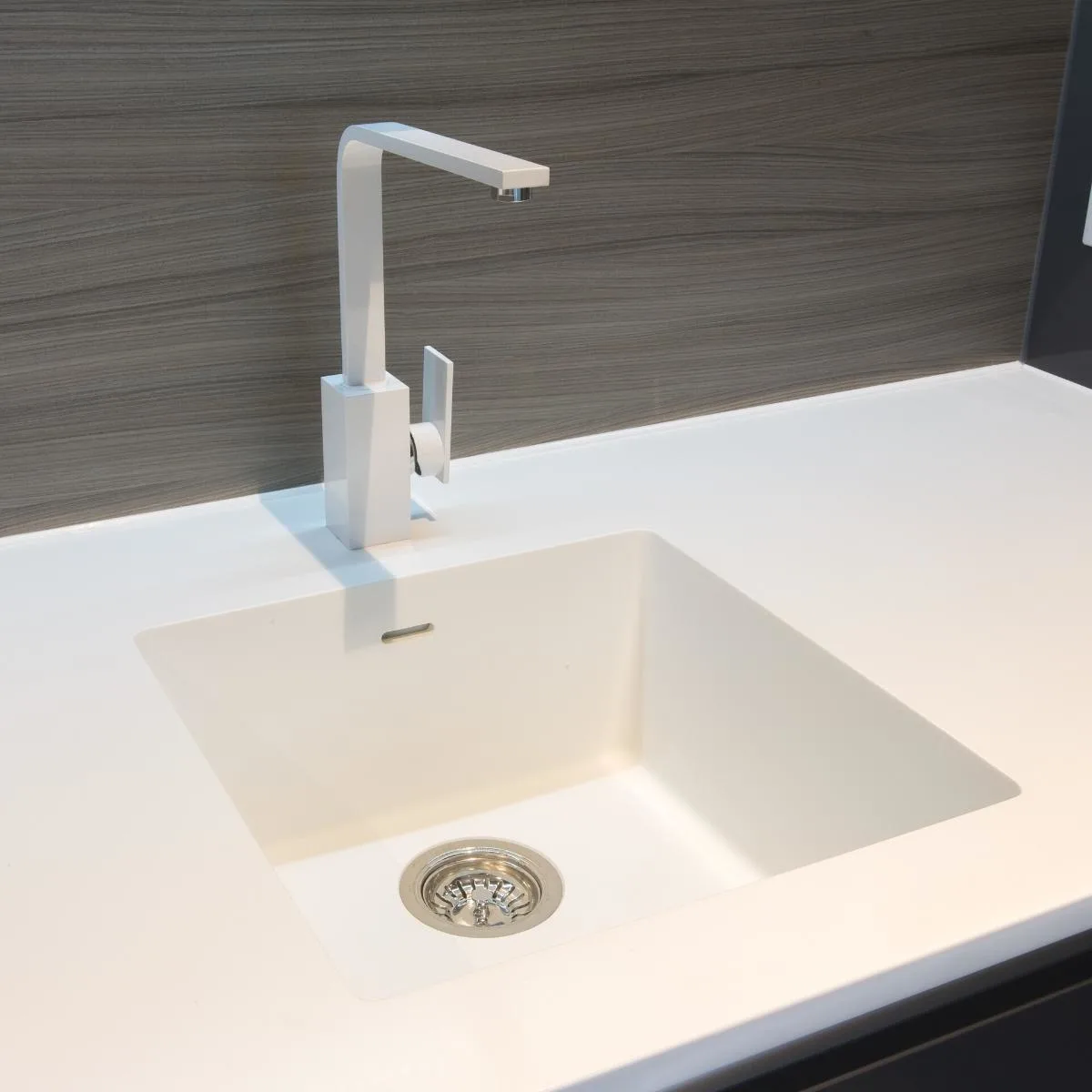 However, this leads us to one of the downsides to solid surface countertops: it's relatively soft and will scratch under sharp knives and metal pots. Also, the solid surface material can deform under hot temperatures, so you'll need to be careful about high heat.
Pros and Cons of Solid Surface Countertops
DIY Countertops
If you're looking for a DIY countertop, there are a ton of options! In fact, I've compiled a whole list of the 20 best DIY countertops. Many of these ideas don't even require removing your existing countertop!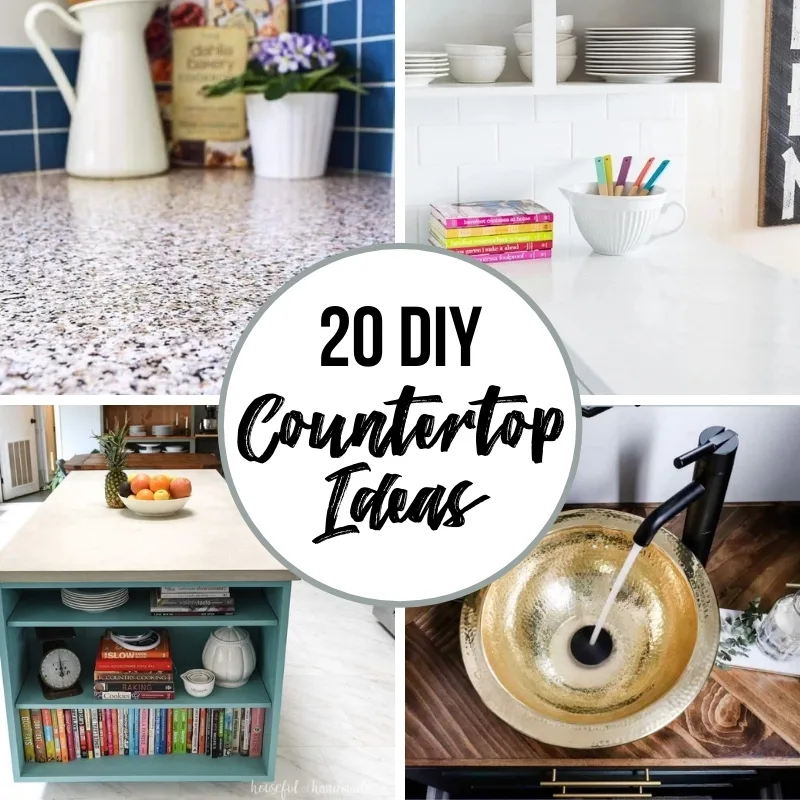 ---
Whether you splurge on fancy stone or a basic wood version, the most important part of choosing a countertop is whether you like it! Which types of countertop are your favorite? Let me know in the comments below!
Check out these other kitchen tutorials!