You've got to check out the before and after photos of this DIY half bath remodel! The space has been completely transformed in just six weeks!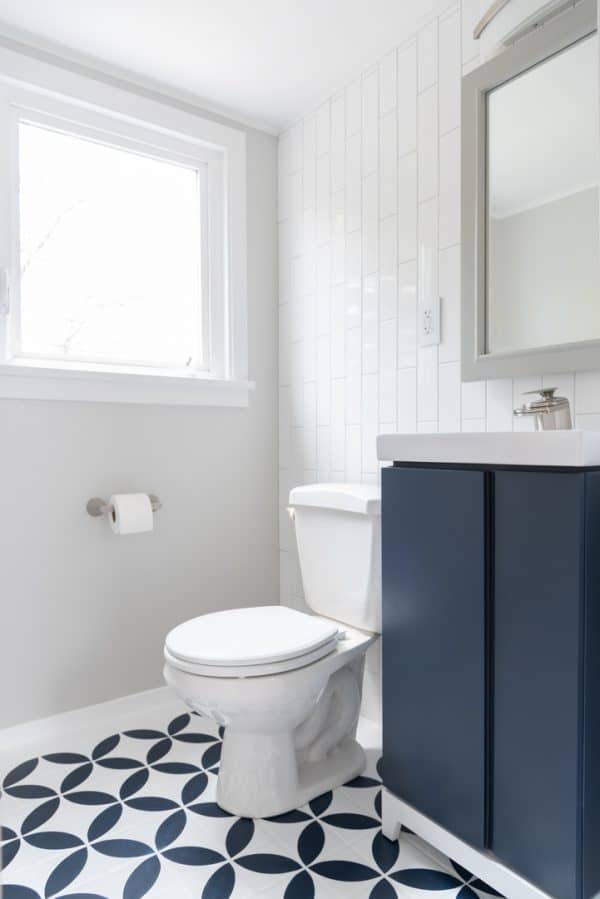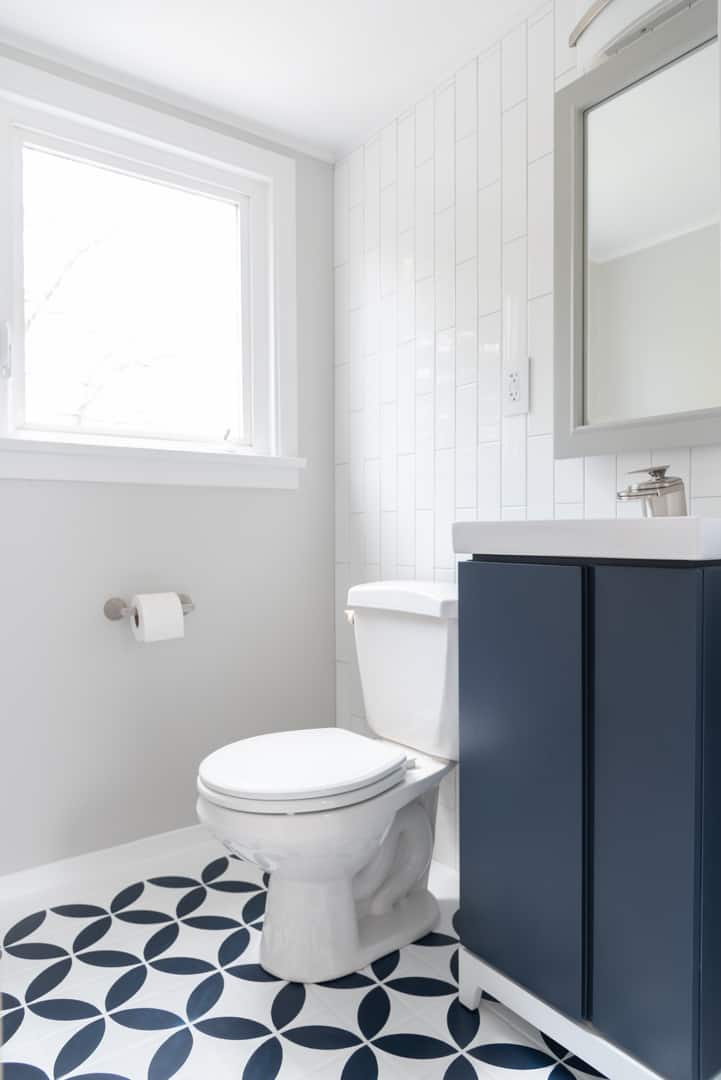 The demolition, tiling, painting and installing is done, and my DIY half bath remodel is finally complete! This project was much easier than my previous bathroom remodel, but the transformation is just as impressive. The space went from dark and dated to bright and modern, for around $500!
This post contains affiliate links for your convenience. Purchases made with these links may earn me a small commission at no additional cost to you. I received free product from Spectrum Brands, but the opinions expressed here are my own.
Half Bath Remodel Progress
First, here's a rundown of the past six weeks. In case you missed my previous posts, this is the bathroom I started with. Yuck!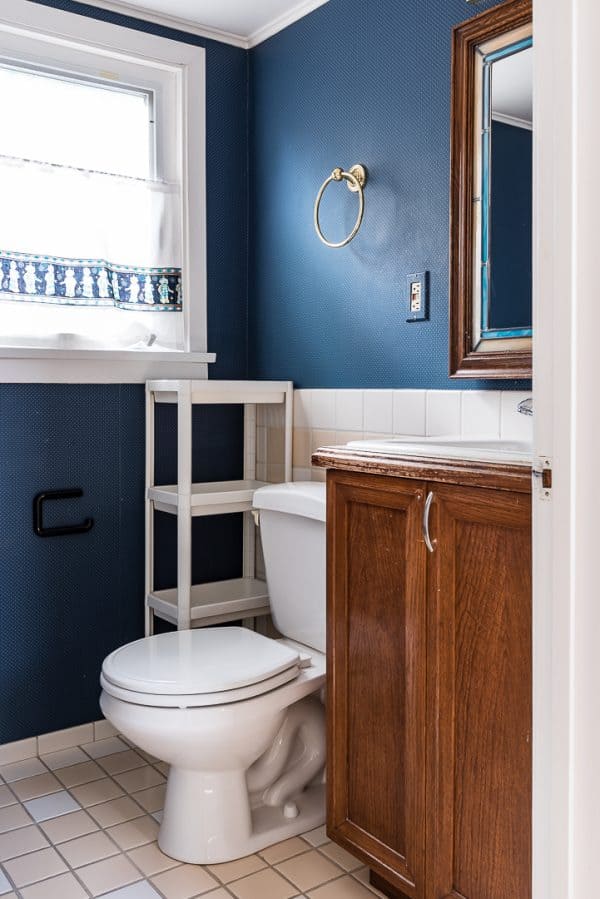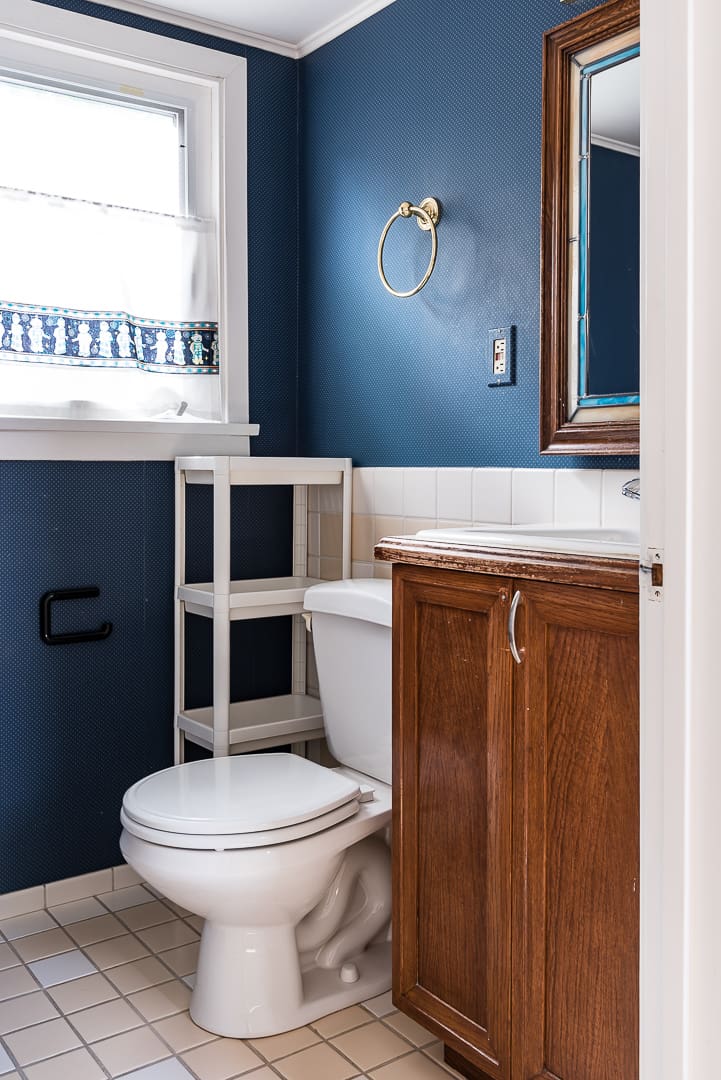 I had big plans for this small bathroom, and I managed to complete all but one project in the six week deadline. The wall art I mentioned is still a work in progress, but you'll see a tutorial for it soon!
Demolition went smoothly, since there wasn't much to demolish! The wallpaper ripped off easily, and the tile popped off the walls like they wanted to come down!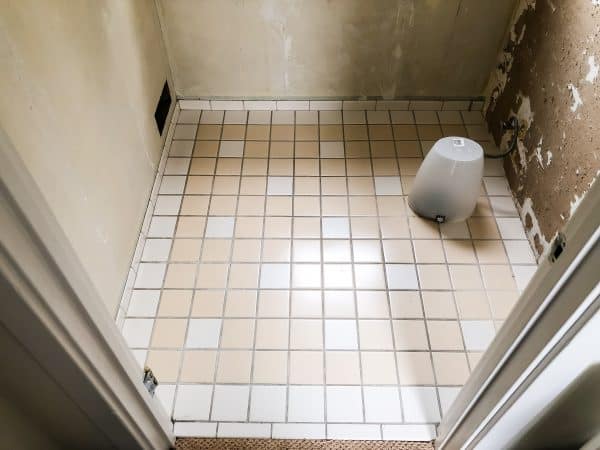 The ceilings are really low in here, so I installed vertical subway tile to make it appear taller. I think it worked, because it instantly felt bigger in here!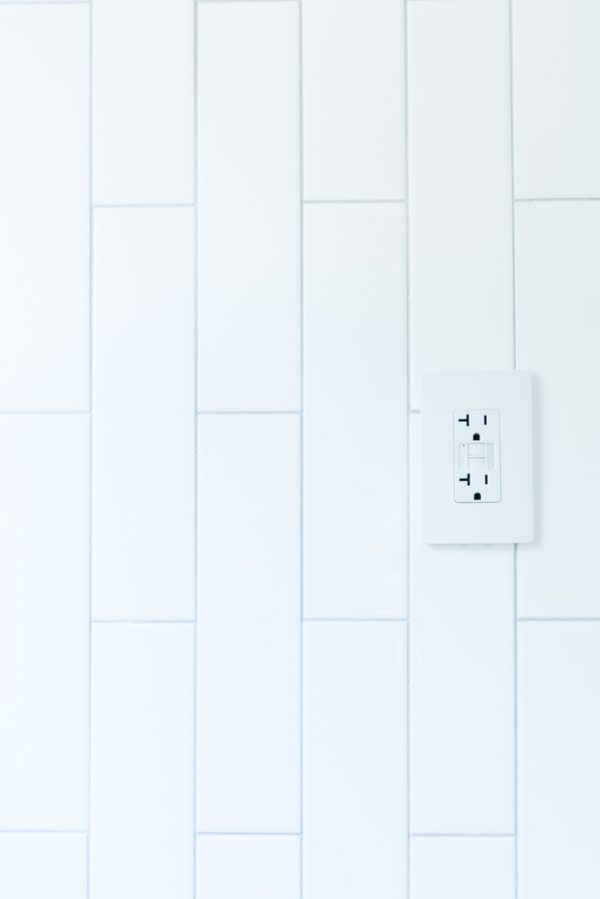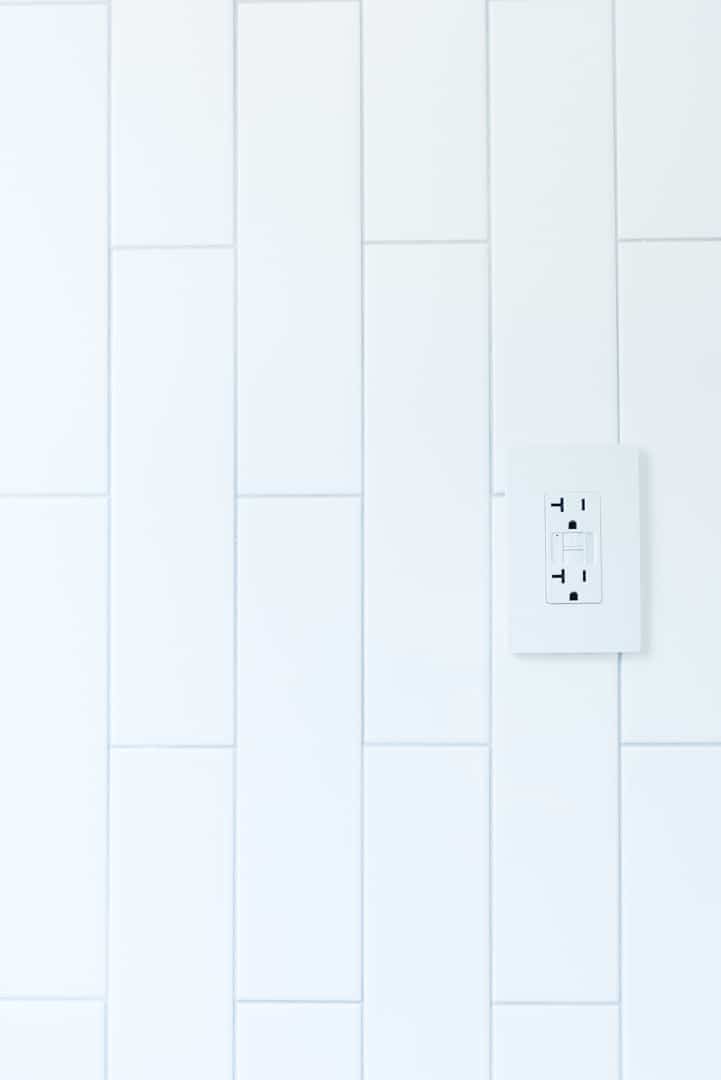 The biggest change came when I painted the tile floor with a bold stencil that really pops! It was a lot of work, but it was totally worth it in the end.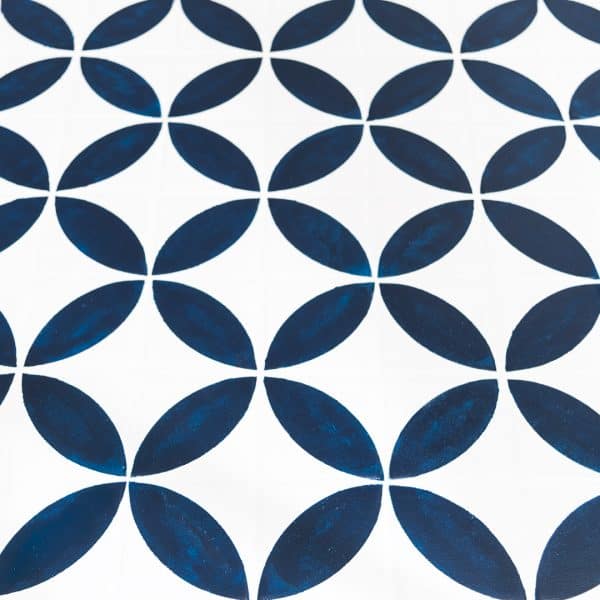 This week, I've been installing all the fixtures and touching things up for the final reveal. Let's see how it turned out!
Half Bath Remodel Reveal!
First, I finally brought in the vanity and sink that were the inspiration for the color on the floor. I was so relieved when it fit in the tiny space with room to spare!
Now instead of a water-damaged cabinet wedged into the corner with a ridiculous triangle sink . . .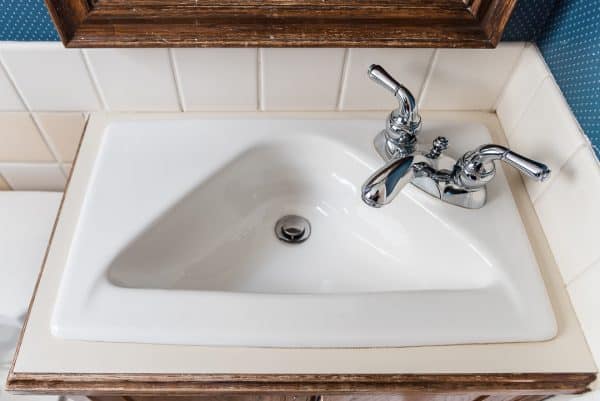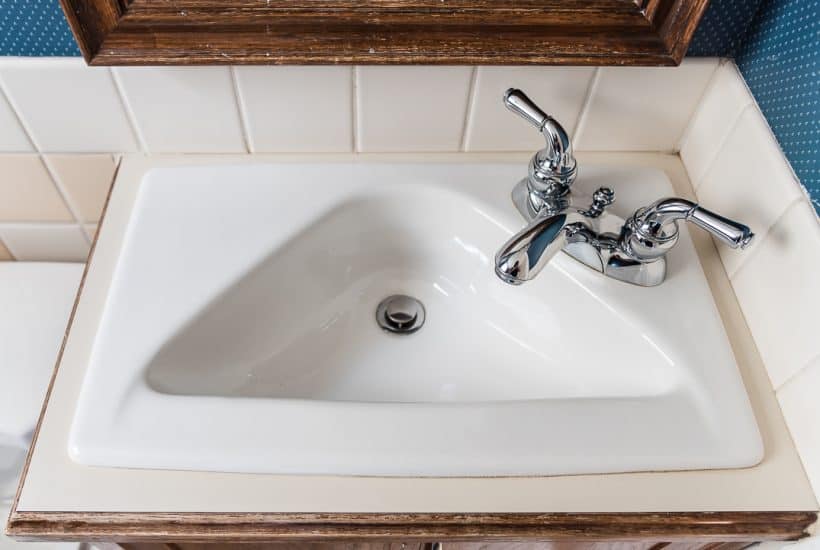 we have a modern sink and vanity that gives us plenty of room to wash our hands without feeling cramped!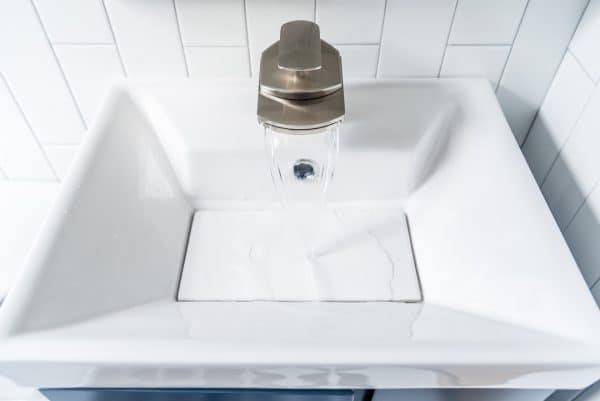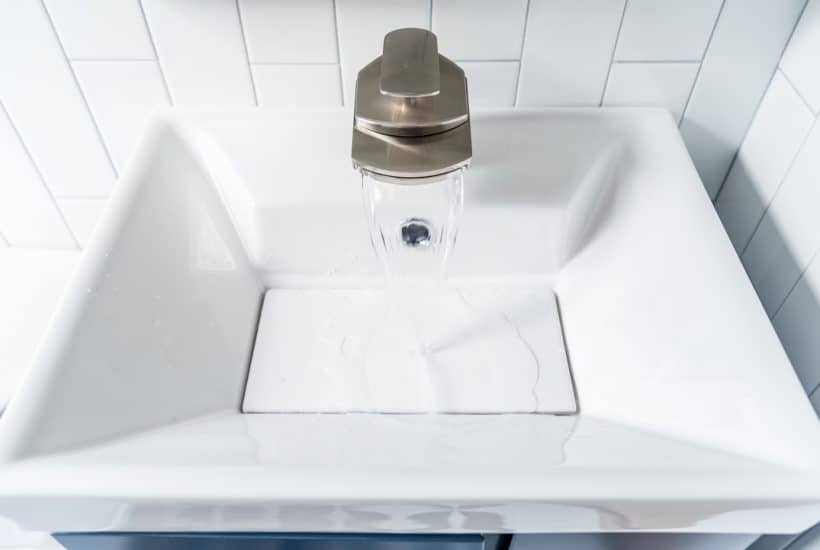 The old medicine cabinet had a nice mirror with stained glass, but it wasn't our style. And those lights aren't anyone's style!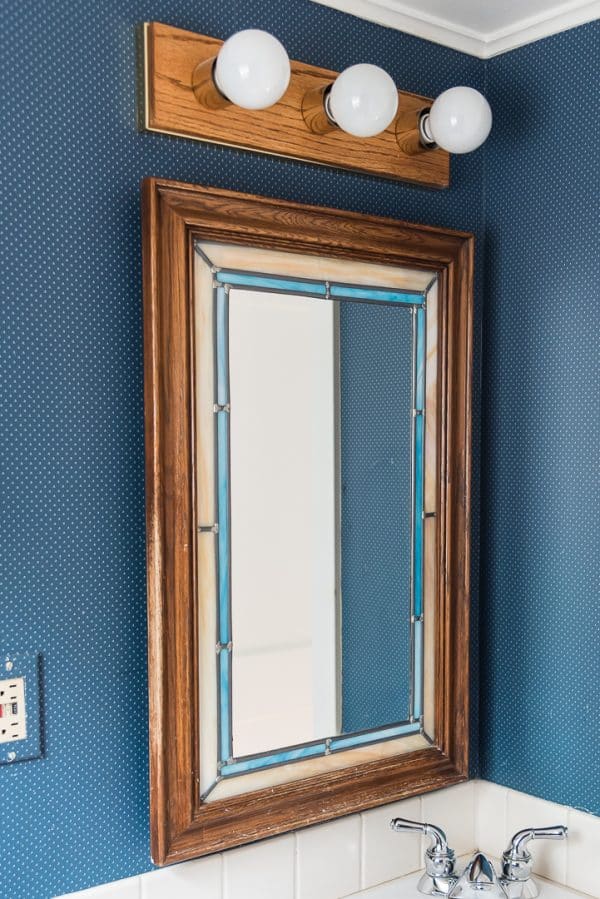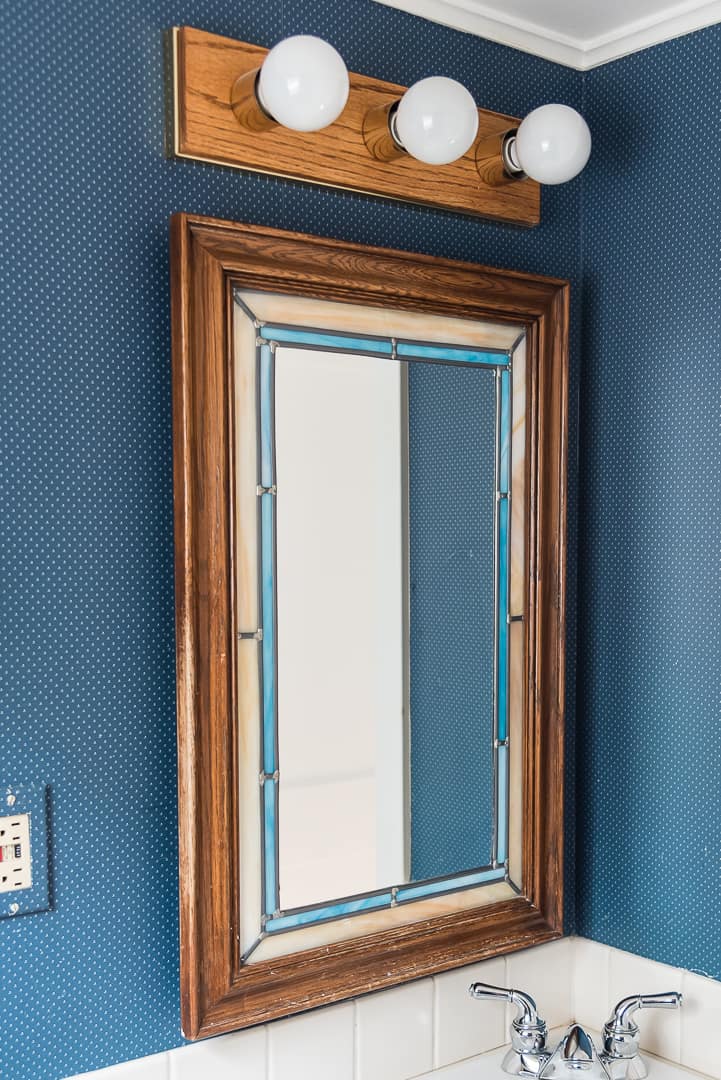 It took some searching to find a mirror that would fit on the existing medicine cabinet, but I found one in the perfect gray color to match the grout and metal fixtures!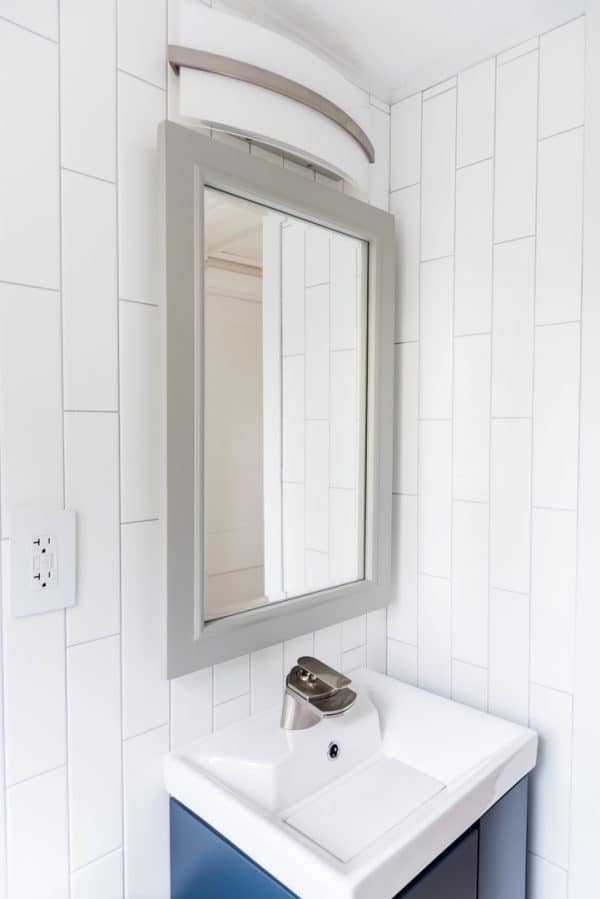 The juvenile curtain is gone, and the trim got a new coat of paint. I plan to add frosted contact paper similar to the kind I used on my contact paper kitchen counters for added privacy while still allowing the sun to shine through.
Pfister kindly provided me with the Brea toilet roll holder . . .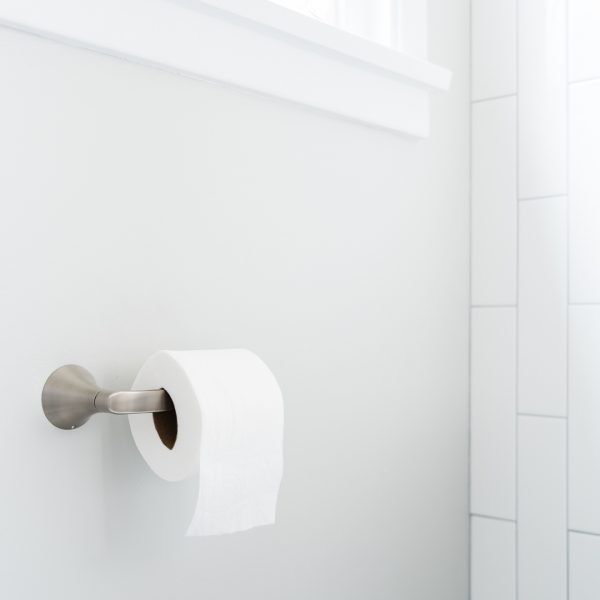 and towel rack for my bathroom remodel. Wood wall art above the towel rack mimics the pattern on the floor and brings some color to the otherwise bare side of the room.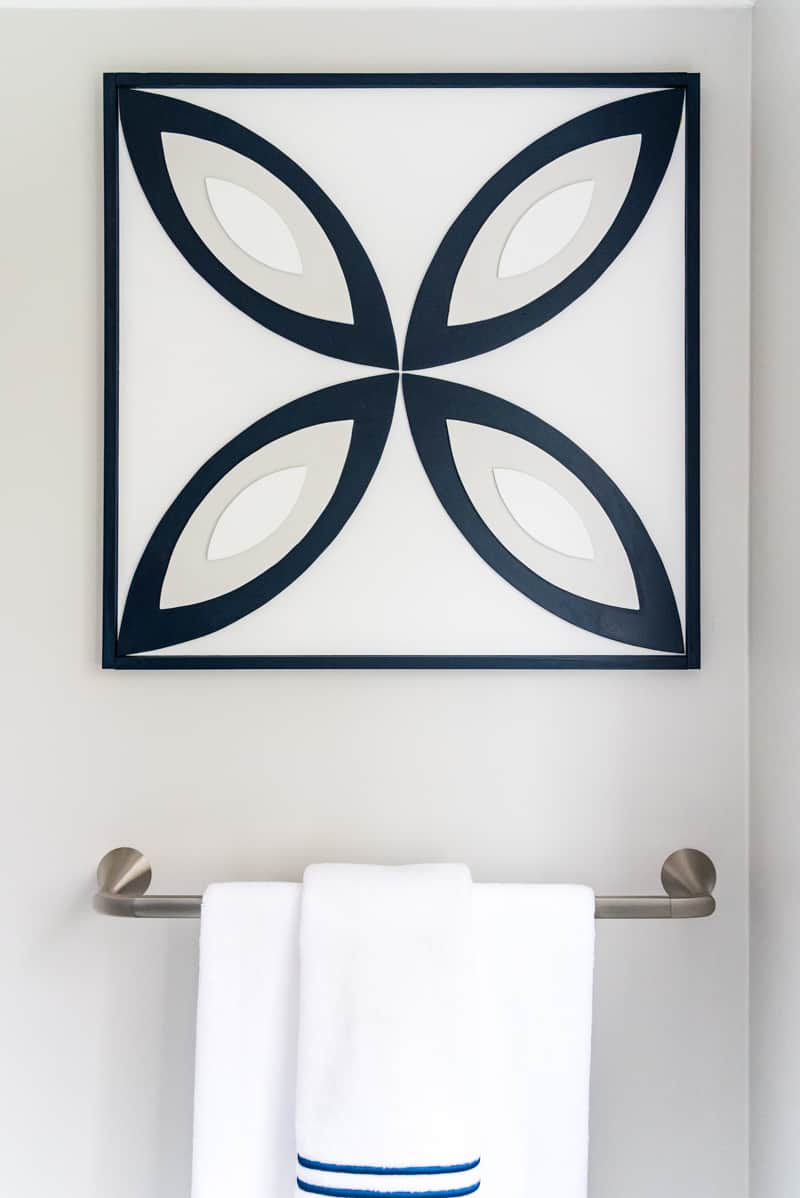 But my favorite update of all is the floor! I still can't believe that all it took was floor paint and a stencil to turn this. . .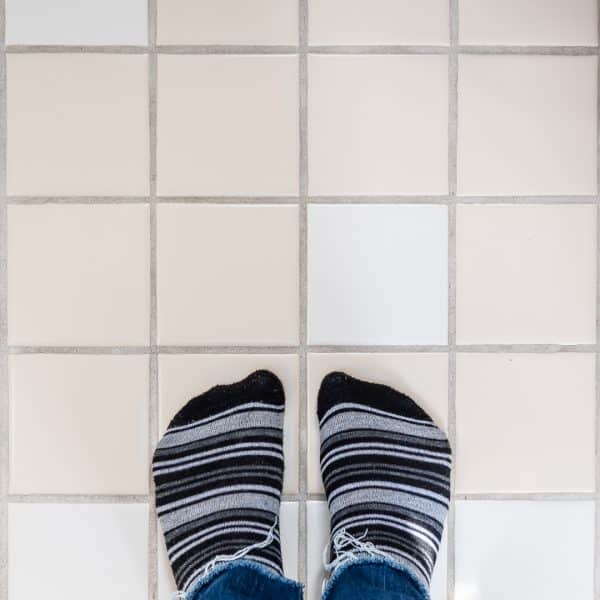 into this!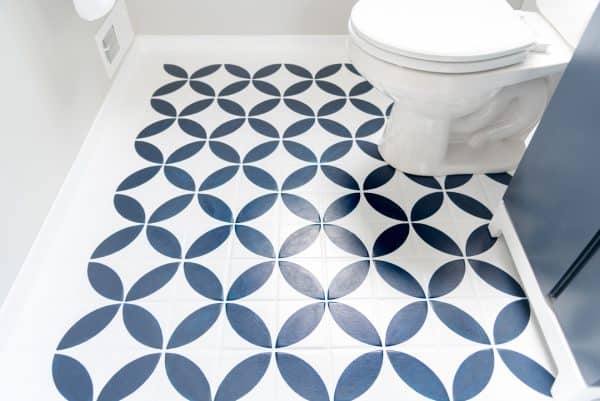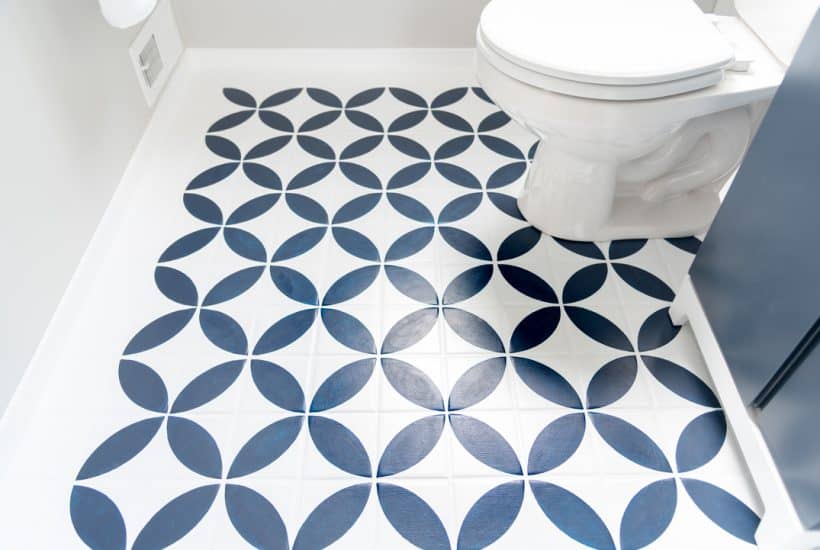 Even though the vanity and sink feels bigger than the old one, it's significantly smaller. Now there's more room between the sink and the toilet, so they don't feel like they're right on top of each other!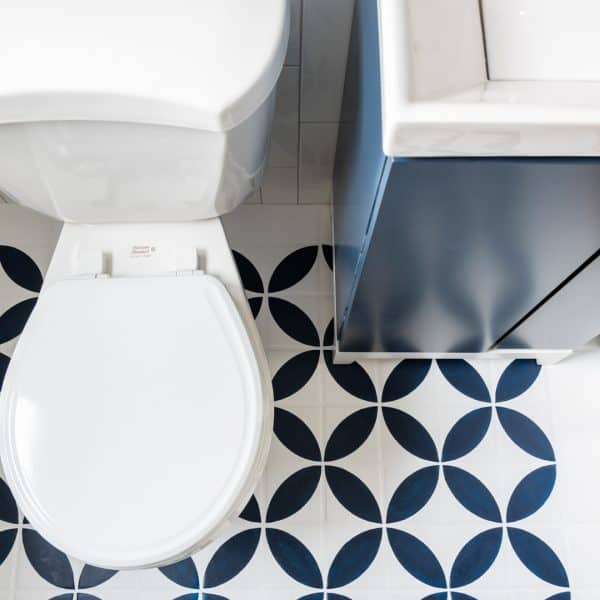 It's amazing how different the room looks now! It doesn't even feel like the same space!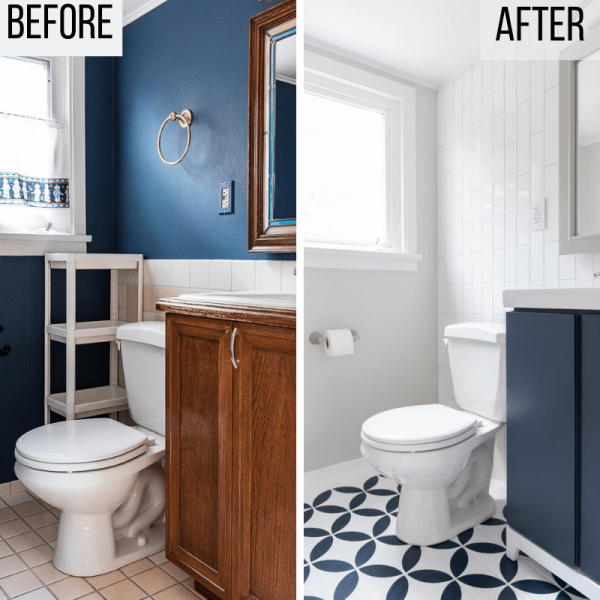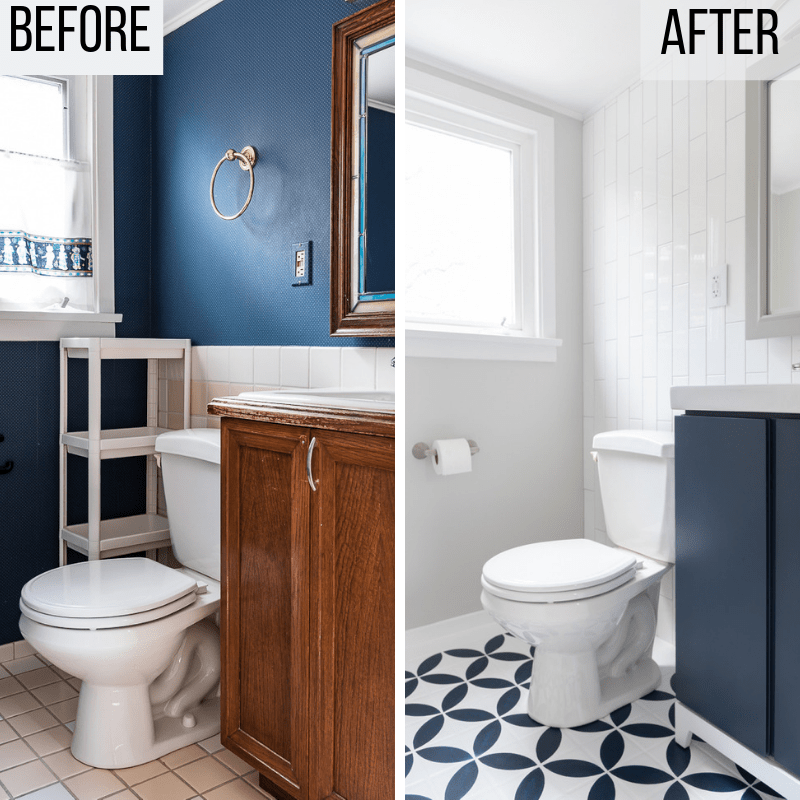 Source List
Here's the list of everything I used for this half bath remodel and where you can find it, in case something caught your eye!
Fixtures
Tile and Paint
---
After two bathroom remodels in less than a year, I think I'm done for a while! There's still one bathroom left to go, and it's looking a little sad compared to the newly renovated ones. Maybe I'll go three for three for the One Room Challenge in the spring (but don't count on it!)

Make sure to check out all the other participants and marvel at their amazing transformations! I'm always inspired by all the designs and creativity of my fellow bloggers!
---
If you would like to keep up to date with my latest posts about DIY projects, home improvement and more, you can follow me on Facebook, Pinterest, or Instagram. You can also sign up for my email list below and get the latest post delivered to your inbox, plus exclusive access to my woodworking plans library!
Want more DIY projects?
Subscribe to get project ideas, home improvement tips, woodworking plans and more delivered straight to your inbox!