Don't throw away that rusty metal patio furniture or medicine cabinet! Learn how to paint rusted metal and make it look like new again!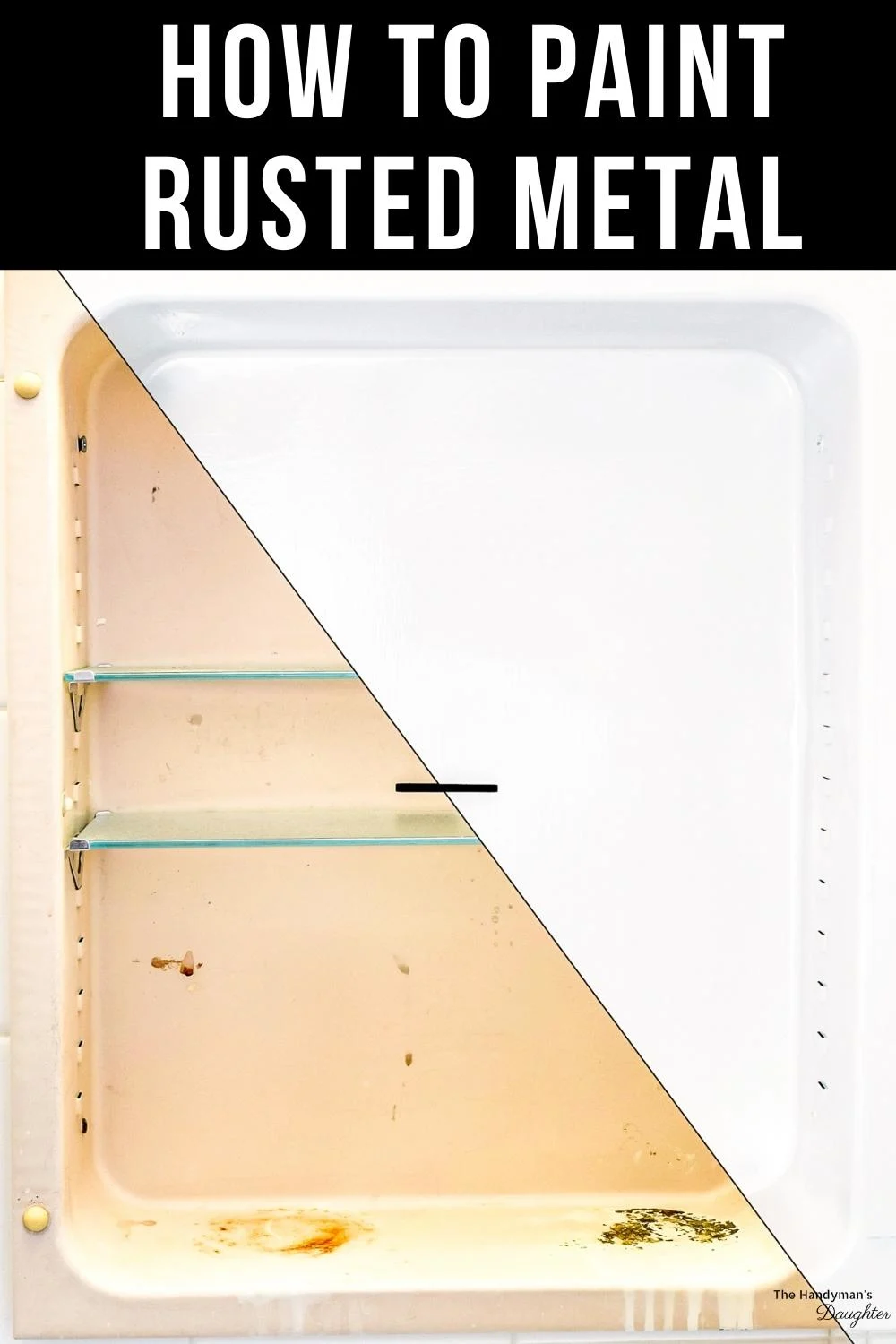 Are you afraid of what people will see when they open your medicine cabinet? No, not the anti-itch cream or the hair regrowth tonic. I'm talking about the gross rust that's eating away the metal like a cavity on a sweet tooth.
Or maybe your patio chairs have seen one too many rainstorms, and you're worried that the rusted metal surface will result in a trip to urgent care for an updated tetanus shot.
Luckily, it's easy to paint over rust and make metal look like new! Here's how!
This post contains affiliate links for your convenience. Purchases made through these links may earn me a small commission at no additional cost to you. Please visit my disclosures page for more information.
I'm using our rusty medicine cabinet as an example, but the same process works for any paintable surface. Sometimes small home improvement projects like this make a huge impact!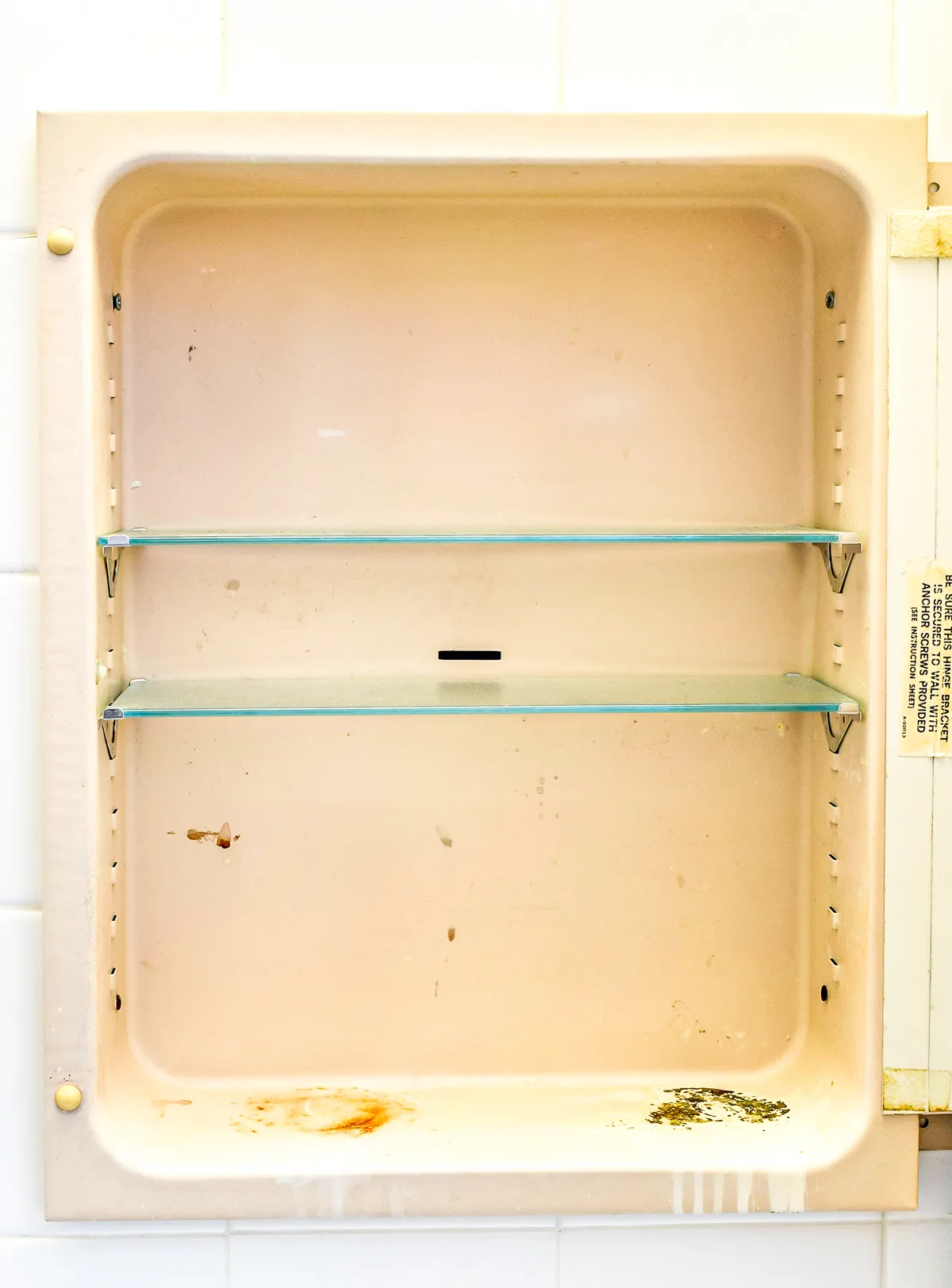 Materials needed
Tips for painting rusted metal
Work in a well ventilated area
This project creates dust and loose rust, and oil based primer and paint is high in VOCs, so it's always best to work outdoors when possible. However, the screws holding this medicine cabinet to the wall were just as rusty as the rest of it, and were crumbling as I tried to remove them!
So I left it in place and I applied painter's tape to the tile and around the mirror frame. Then I ran the bathroom fan and wore a respirator to protect my lungs while I worked.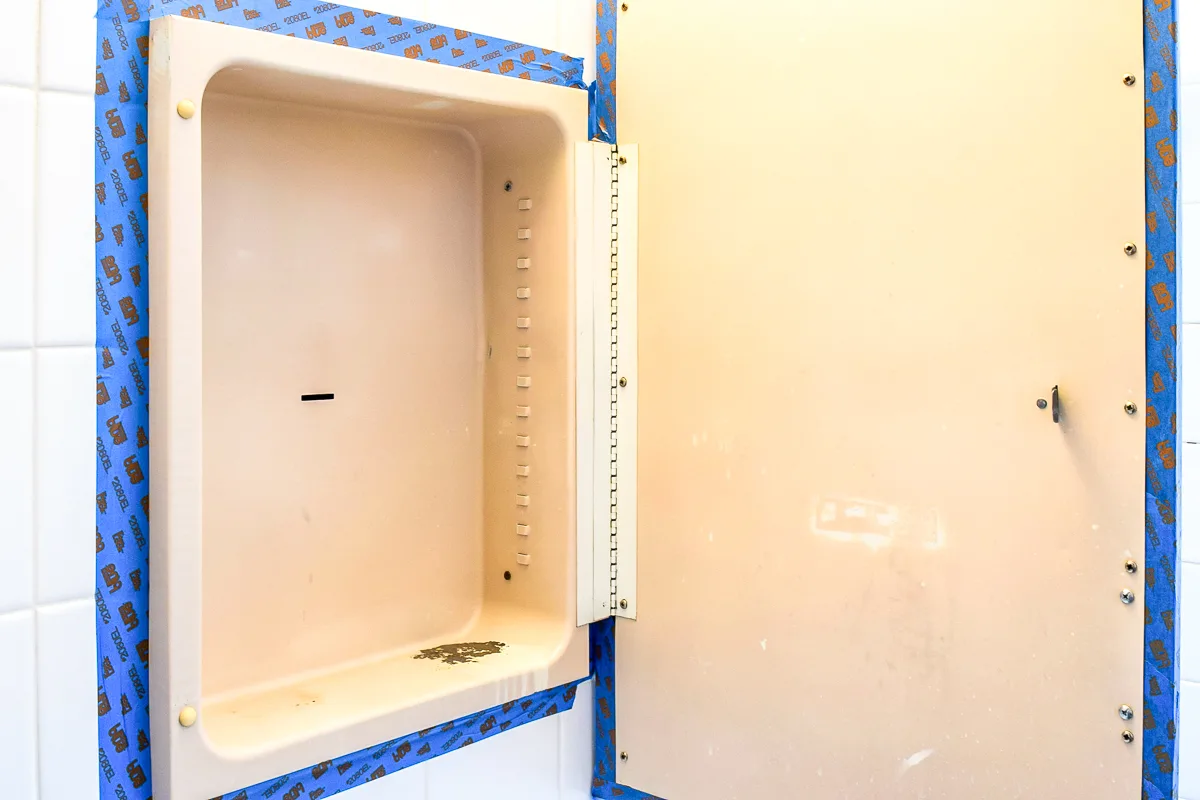 Clean the rusted metal surface
The key to any good paint job is good surface preparation. You need to remove loose rust as well as any flaking or peeling paint. You don't need to get back to bare metal, but any flaking rust will prevent proper paint adhesion.
Start with a rust remover and inhibitor like this product from Krud Kutter. This stuff dissolves and removes rust and makes a smoother surface for painting.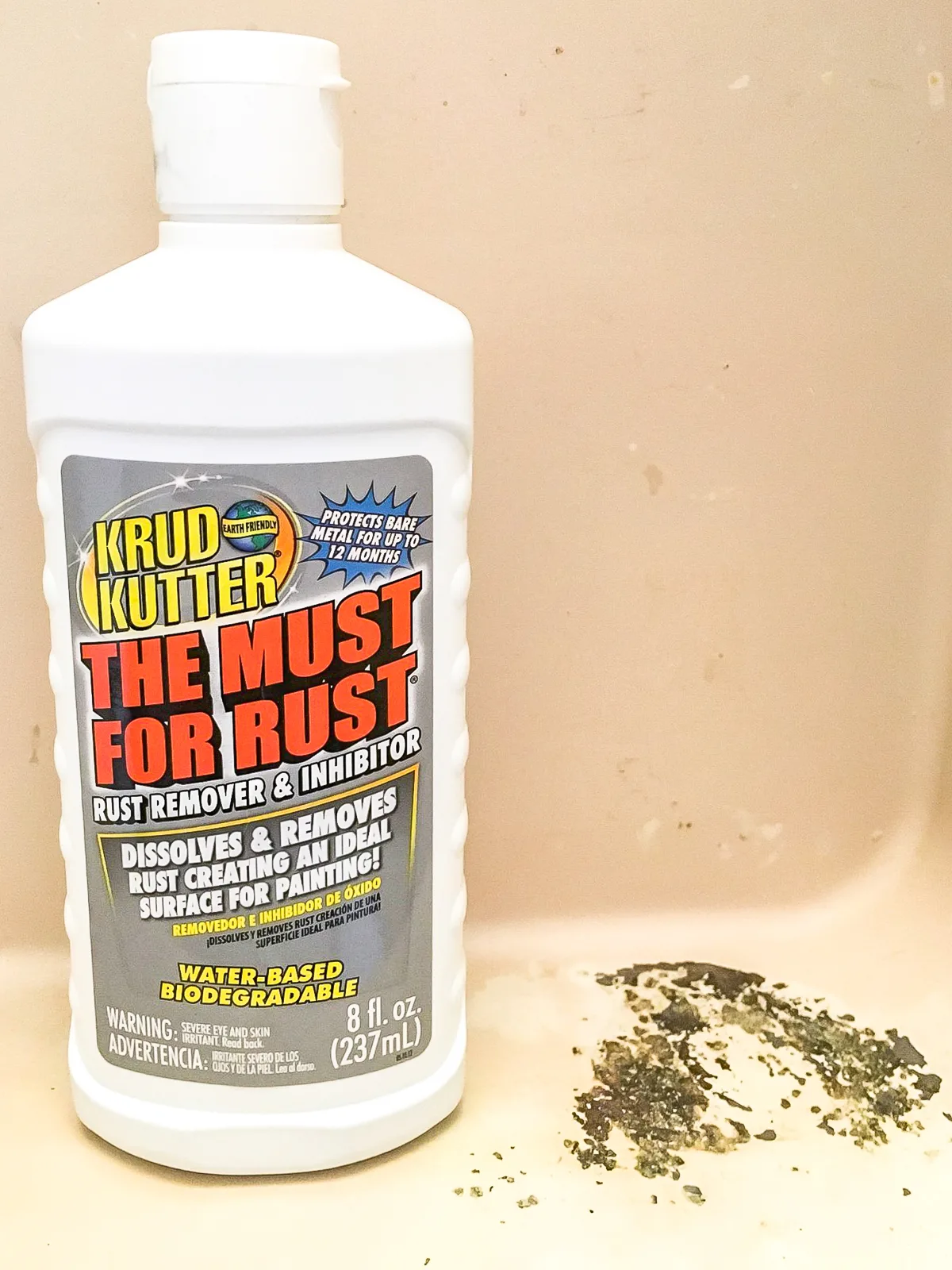 Just apply it to the rusted area and allow it to soak in. Before it dries, use steel wool or a wire brush to remove any rust flakes. You don't need to remove all the rust, but there shouldn't be any loose rust or flakes.
For heavy rust, you may need to repeat the process several times and use a wire wheel attachment on your drill to properly prep the surface. You may want to sand the area smooth if the rust left a pitted surface on the metal.
Wipe up the mess with a damp soft cloth and allow it to dry completely before painting. Remember to clean the entire surface, not just the rusty spots, so the paint will adhere properly.
Apply metal primer
Metal primer will allow the old paint to adhere to the new paint, and protect the rusted surfaces from further corrosion. It comes as a spray paint or in a can, so you can choose the best one for your particular project.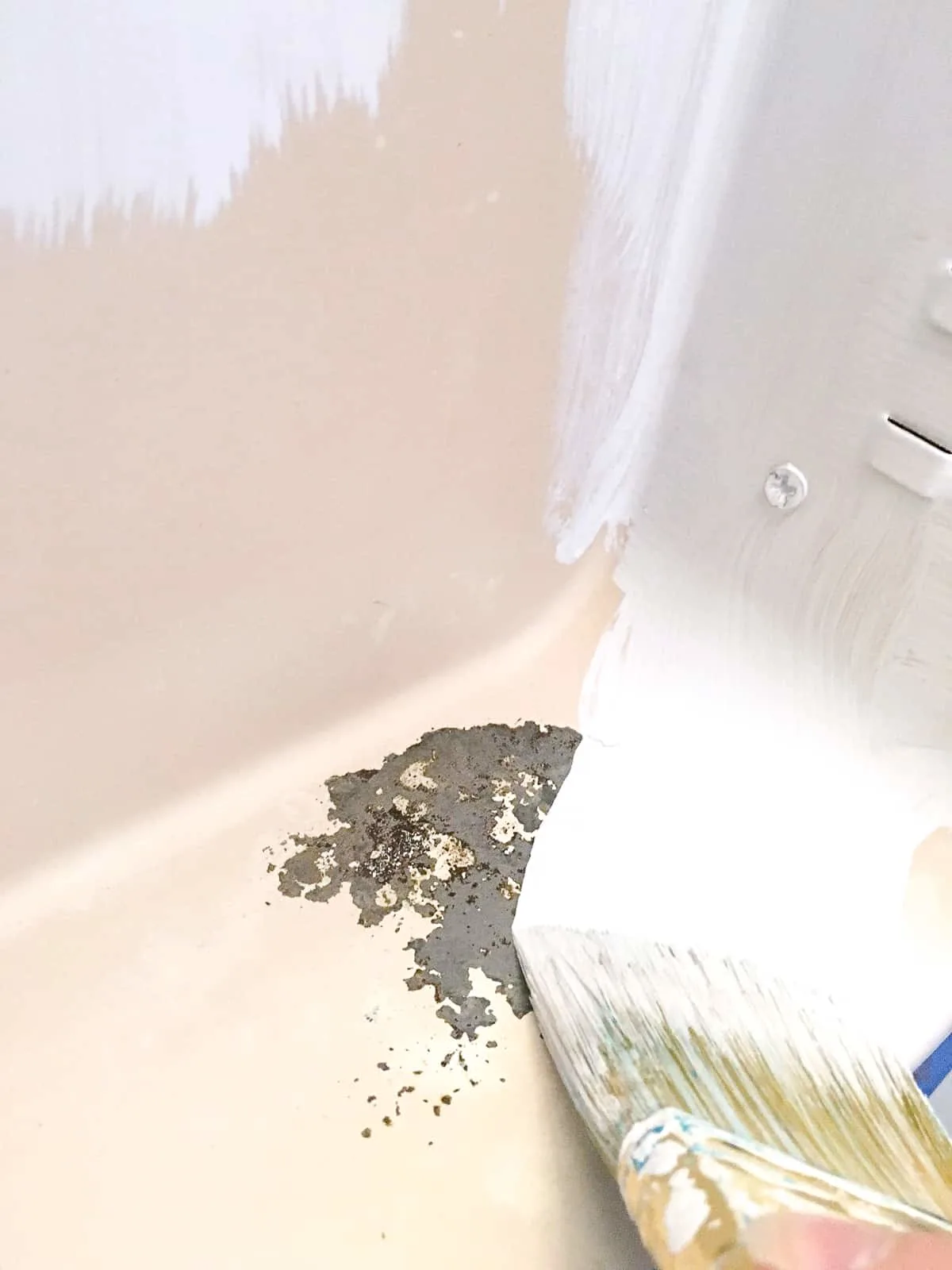 I applied a thin coat of Rust-oleum Clean Metal Primer to the entire medicine cabinet. It's stinky stuff, so wear a respirator and open up the windows while you're working to vent the fumes.
Be aware that this oil-based primer takes a loooooong time to dry. I gave it about 12 hours between primer coats, and 24 hours before applying the final topcoat. Check the can for specific dry times.
Apply Metal Paint
Primer by itself isn't enough to protect the metal surface. Apply a top coat of paint to repel moisture and prevent it from rusting again. Check the label on your paint can to make sure that it will adhere to metal.
I went with Rust-oleum's protective enamel paint in gloss white. This will be the first line of defense against moisture, and the glossy surface will make cleaning easier.
Behold, the power of paint!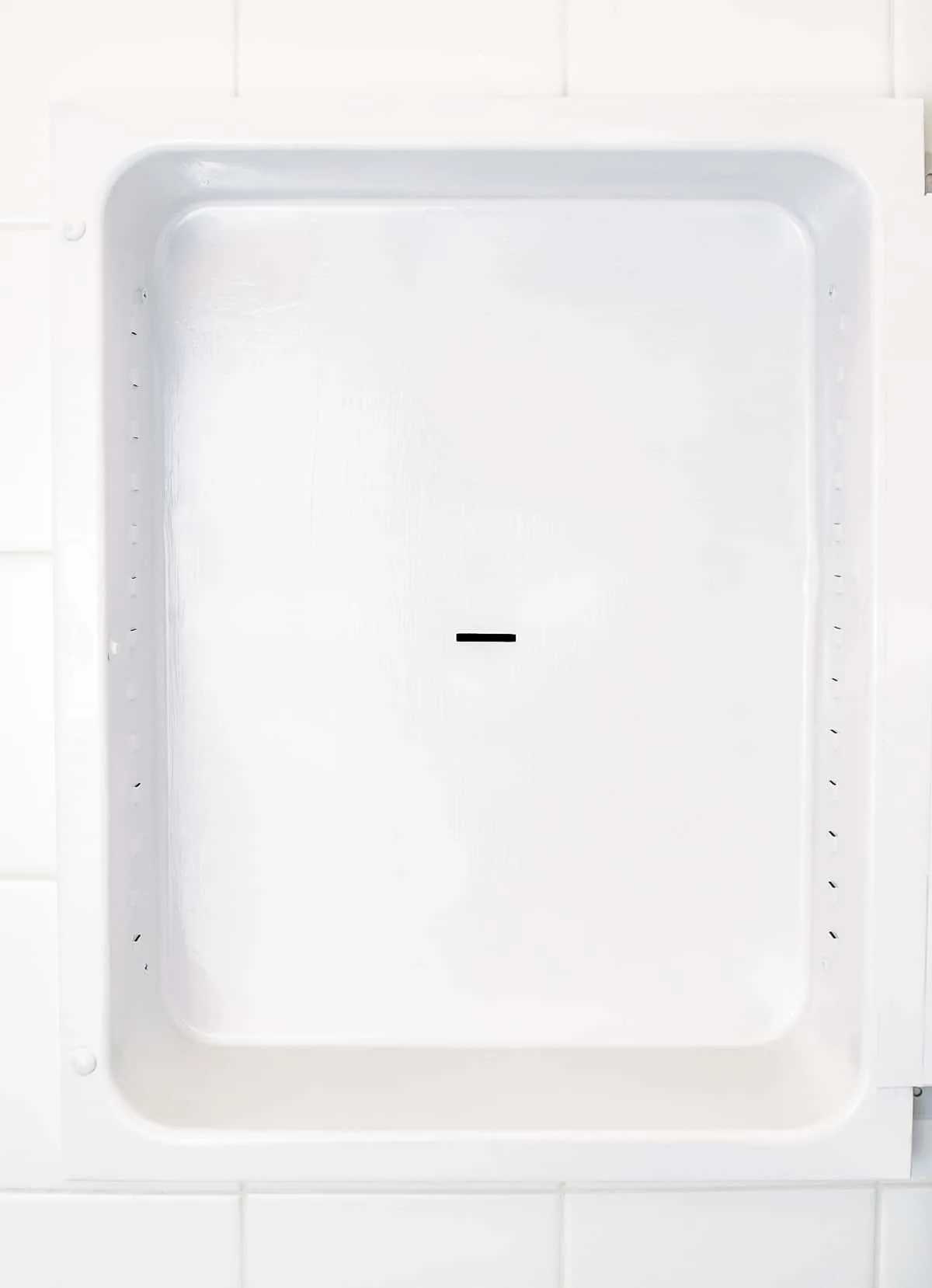 No embarrassing rust here! It looks like new!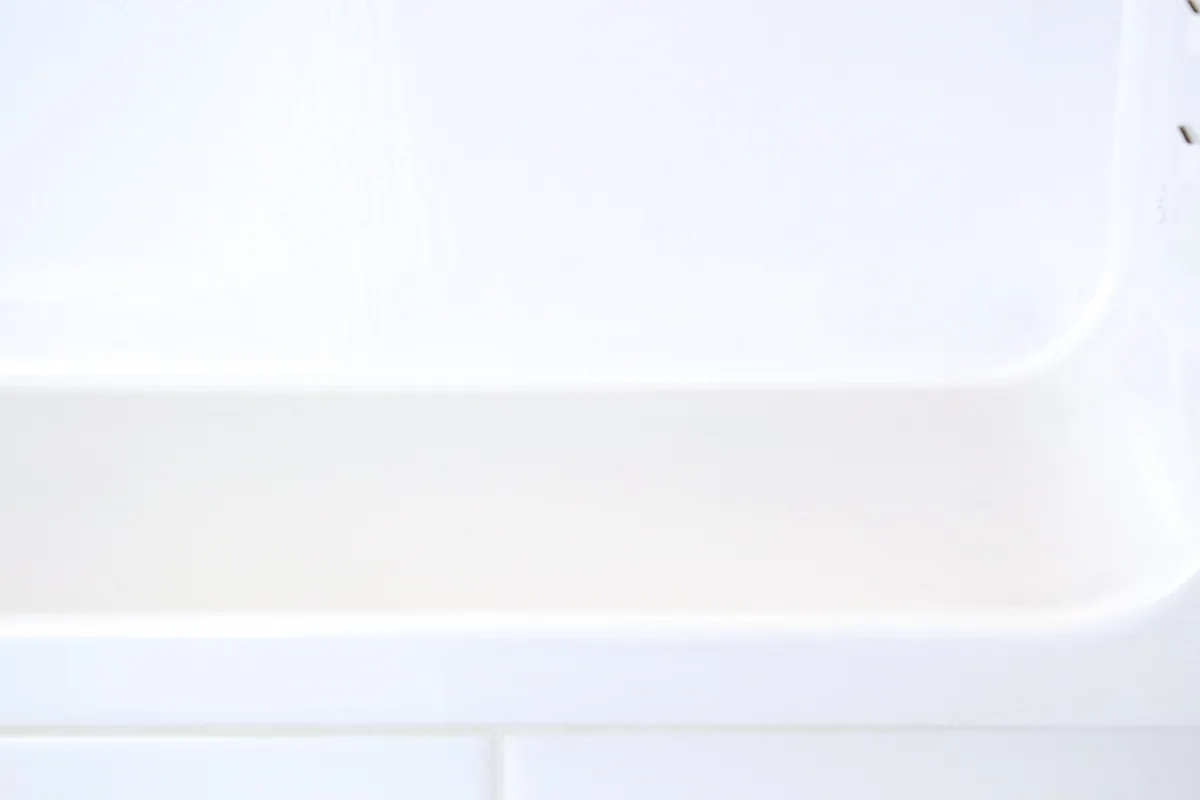 I took this opportunity to clear out some unused makeup and multiple boxes of floss. Now the medicine cabinet is bright, clean, and organized!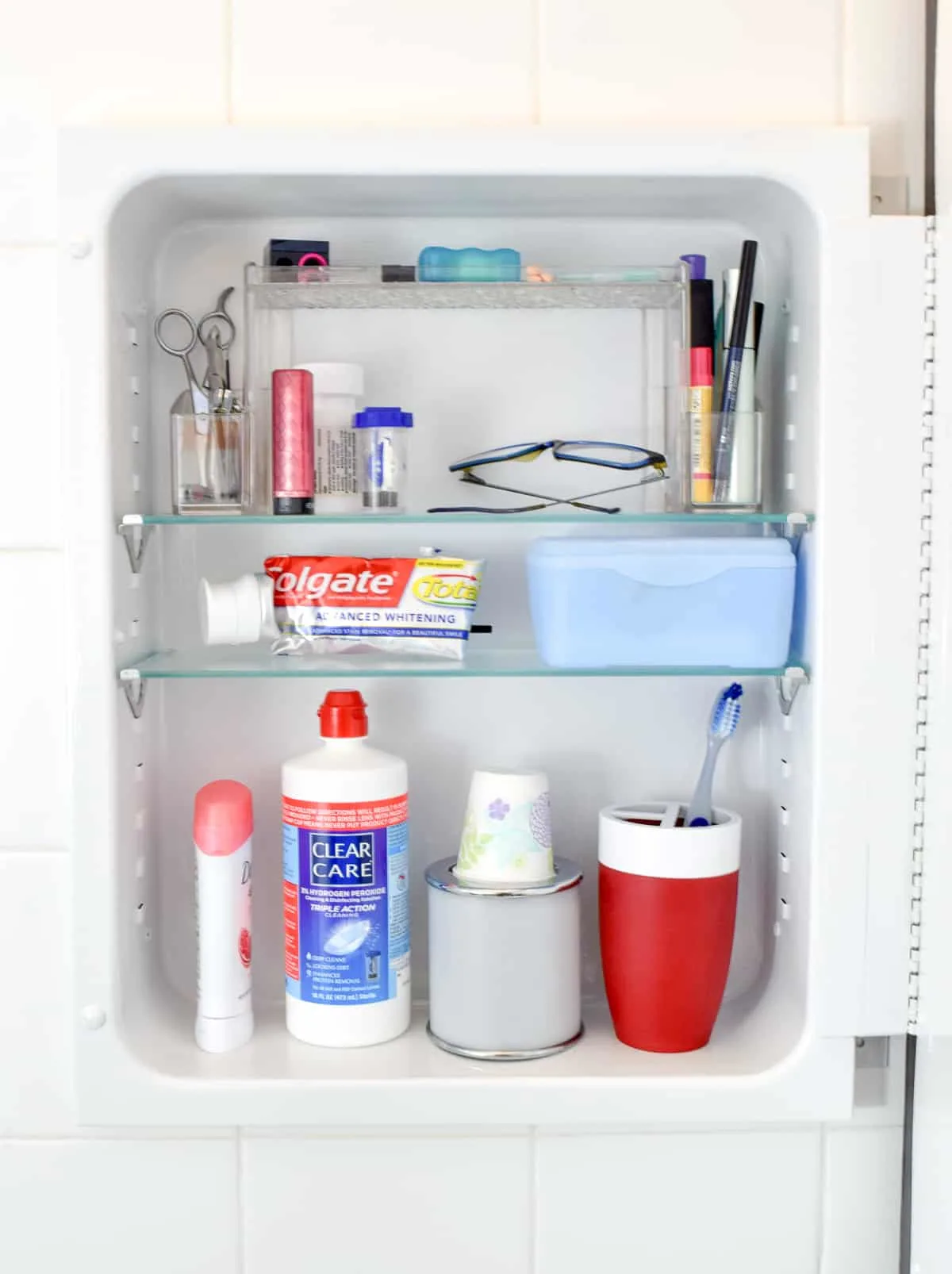 When I see the before next to the after, it really makes me wonder why I didn't do it sooner!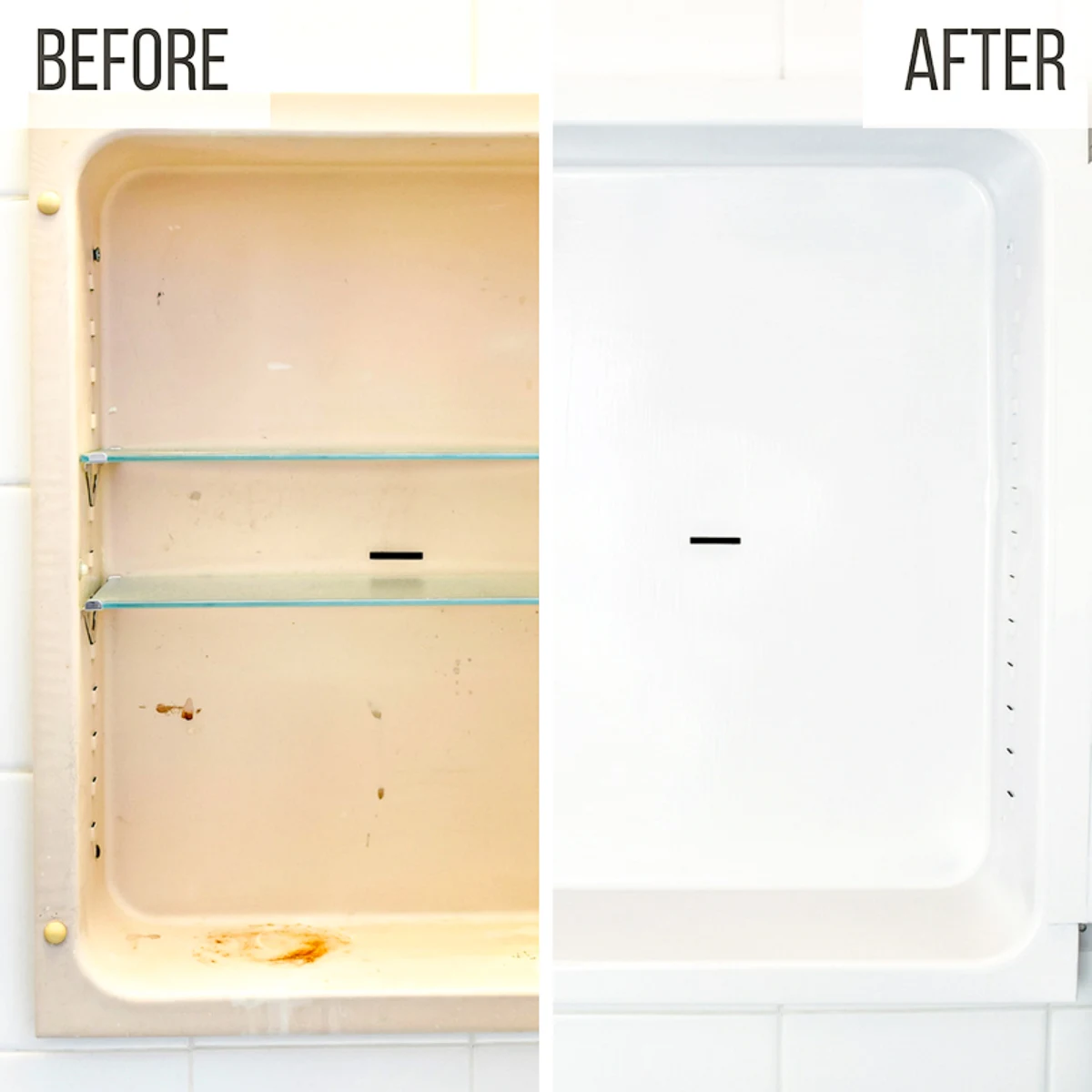 ---
Frequently Asked Questions about painting rusty metal
Can you spray paint over rust?
Yes, once the loose flakes have been removed from the surface, you can spray paint over the rust. Use a spray primer specially formulated for rust first, then apply spray paint for metal on top.
Can you paint over rust without sanding?
You don't need to sand before painting over rust, but you should make sure that the surface is free of flakes and loose paint first. A wire brush can quickly remove the debris and prepare the rusted metal for paint.
What paint is best for rusted metal?
The paint you use depends on how much rust is on the surface. For light rust, Rust-Oleum's oil based protective enamel works great. For heavy rust, apply a coat of Rust-Oleum Automotive Rusty Metal Primer before the top coat for the best results.