Want to update your door hardware without blowing your budget? Check out how to spray paint door knobs and handles to give them a new look!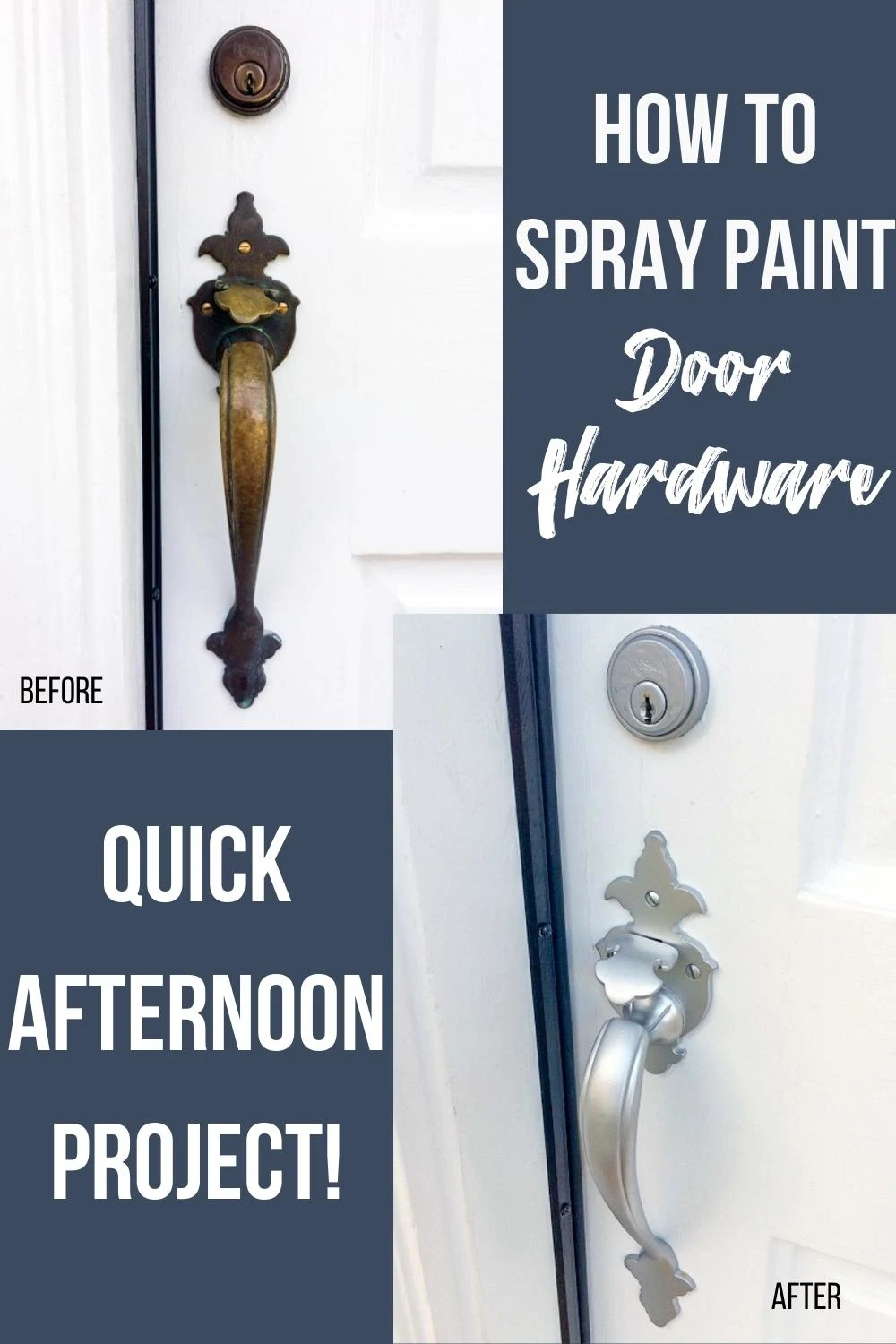 Spray paint seems to have magical qualities. I've used it on so many things, from window blinds to glass. I love how it can get into every crevice and coat everything smoothly.
When looking to update something, I always try to reuse what I already have. Sometimes all it takes is a little spray paint to give it a whole new life! You can learn all my spray paint tips and tricks here!
This post contains affiliate links for your convenience. Purchases made through these links may earn me a small commission at no additional cost to you. Please visit my disclosures page for more information.
Our door hardware had definitely seen better days. It's solid brass, although you wouldn't have guessed that by looking at it! The door knocker was covered with grime and had aged to a dull brown color.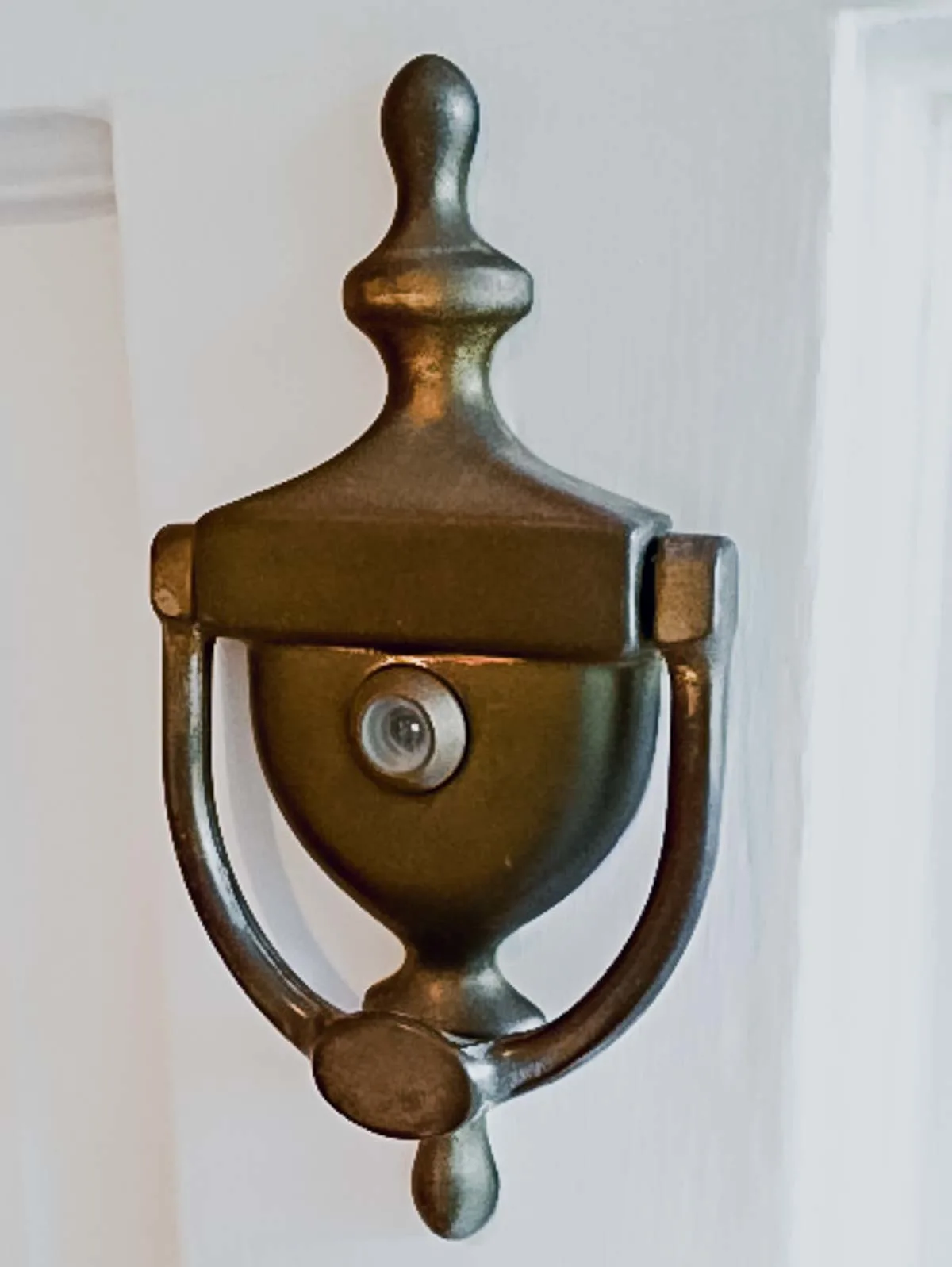 Time to give this old door hardware a makeover!
How to Spray Paint Door Hardware
Remove the hardware from the door
This step is going to be different for every door. Look for screws hidden somewhere on the underside or back and remove them.
Clean and sand the metal
Start by giving your door hardware a quick scrub with dish soap and a toothbrush. This will loosen up all the grime and expose the metal surface.
Using a soft sanding sponge, sand down every surface to bring it back to its original shiny state. The sponge allows you to sand every curve, and the angled edges gets all the crud out of the corners.
Prop up the pieces
Find a piece of styrofoam or cardboard to prop up the door hardware pieces. This will protect your work surface, and allow you to get to every part of the hardware without handling the wet paint. I used screws poked into the styrofoam to hold up the knocker part.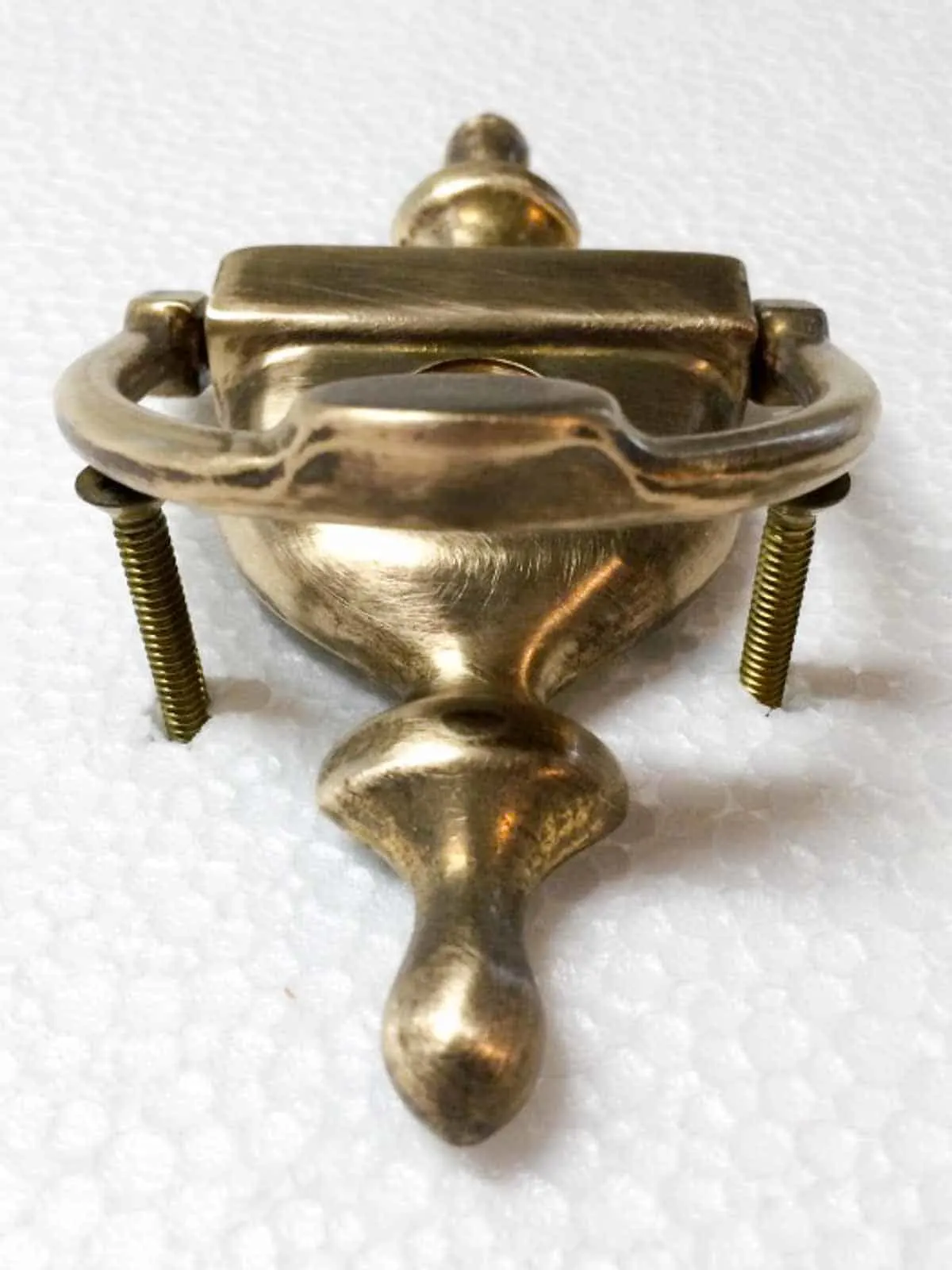 Don't forget to paint the heads of the screws, especially if they'll be seen when everything is reassembled! Just poke them all into the styrofoam or cardboard with the heads facing up, so you can access all the sides.
Spray paint with light coats
Make sure the spray paint you're using will stick to metal surfaces. I gave the knocker a few coats of Rust-Oleum's aluminum colored spray paint, waiting a few minutes between each coat. Once you get sufficient coverage, let the paint dry for an hour or so before handling it.
Then, flip the knocker to the other side, propping it up the same way, to spray paint the underside. You can see that it was already looking a million times better!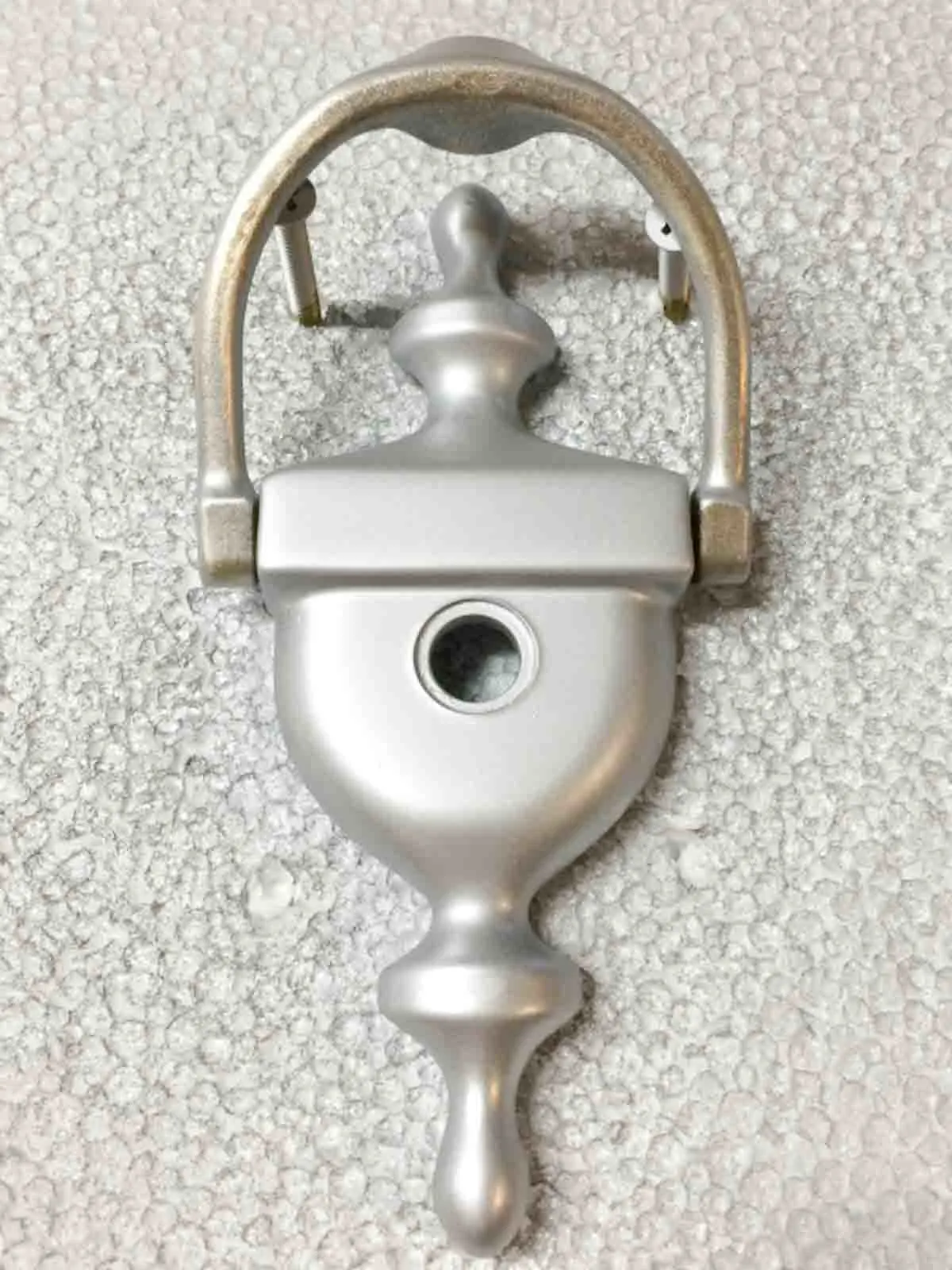 I gave the viewer (the little peephole that lets you see who is on the other side of the door) a quick spray as well. Don't worry about getting paint on the glass. After the paint dries, just take a razor blade and carefully scrape the paint off. So much easier than trying to tape off a little circle!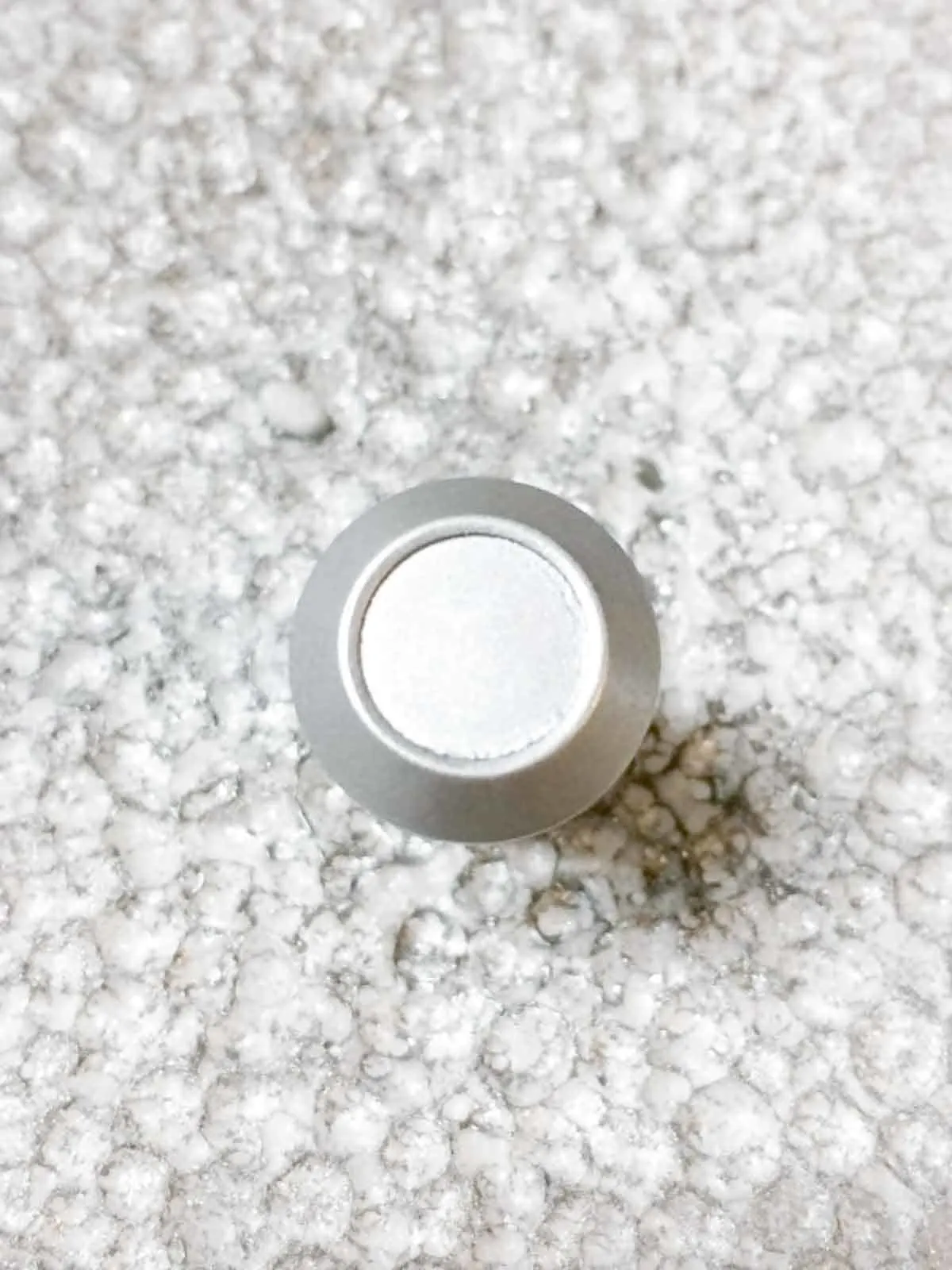 Apply a protective top coat
After the paint has dried completely, give everything a spray of Rust-Oleum's clear enamel. This will prevent the paint from chipping off after lots of use. I'm pleased to report that after a night full of trick or treaters, the spray painted door hardware still looking perfect!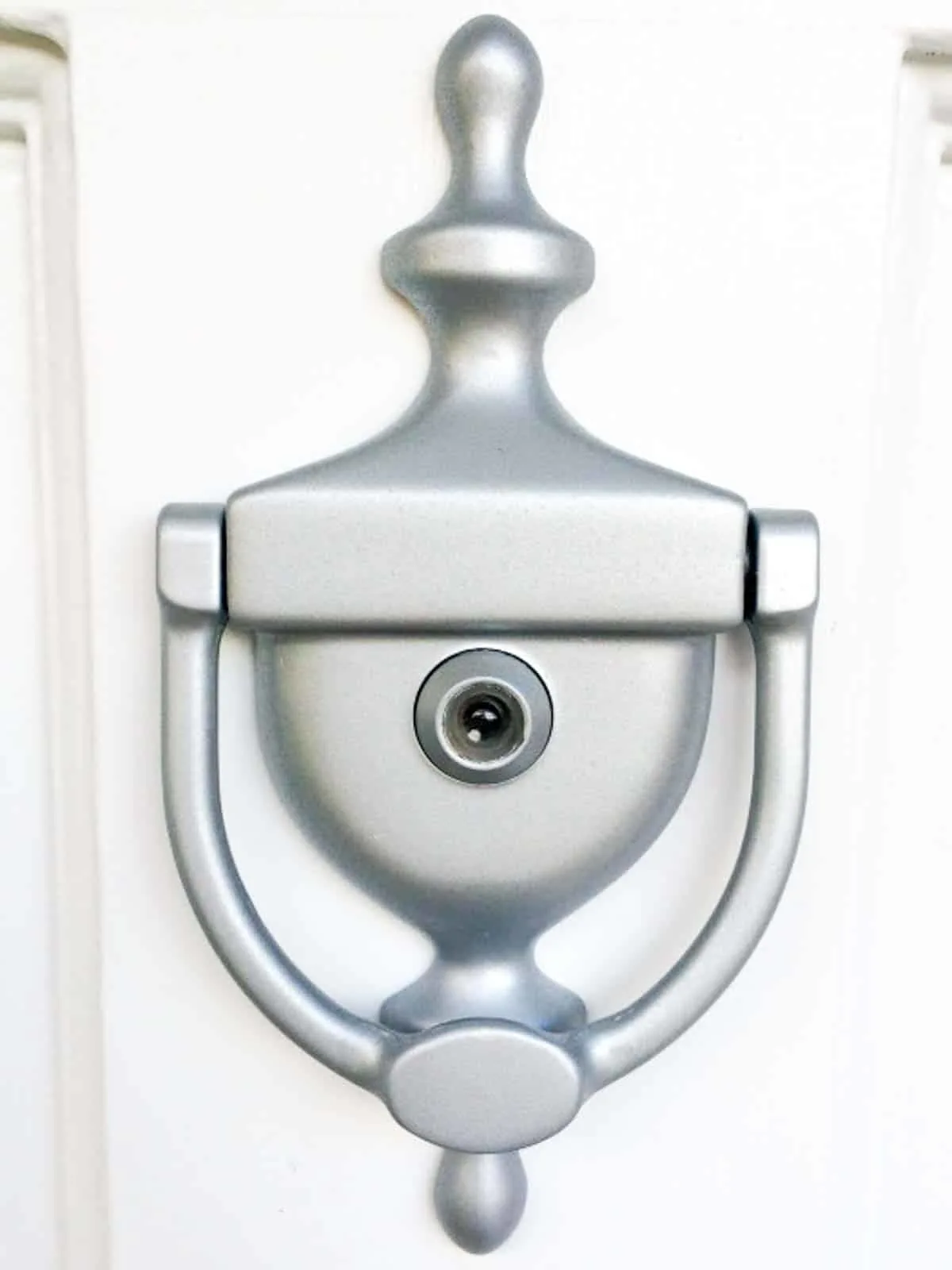 ---
I repeated the entire painting process for the door lock and handle. I was hesitant to use spray paint on something that gets so much use, but I quickly changed my mind when I saw how expensive replacing the hardware would be!
We have a very old door, with a mortise box lock, and finding something compatible is nearly impossible. We'll replace the door eventually, since it's pretty drafty and cracking a bit on the inside. But painting the hardware gave it a nice update until that day comes.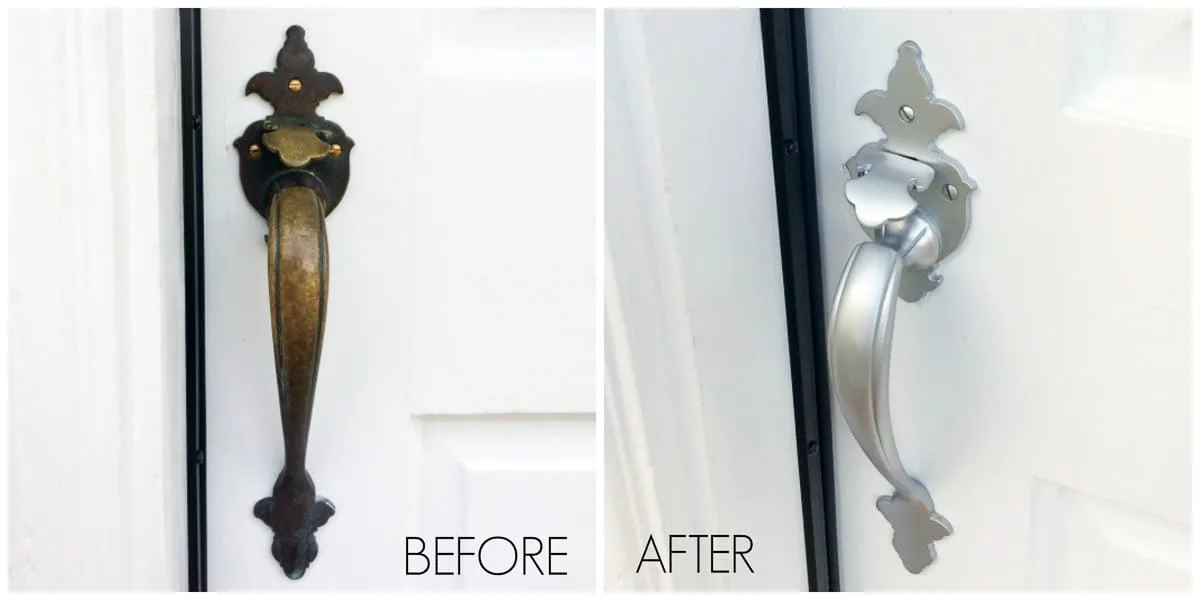 I hope this tutorial helped teach you how to spray paint door hardware for a quick and easy update! It makes a huge difference, and keeps useable stuff out of the landfill too!