Save money and keep that old rug out of a landfill! I'll show you how to paint a rug for a fresh new look on a budget!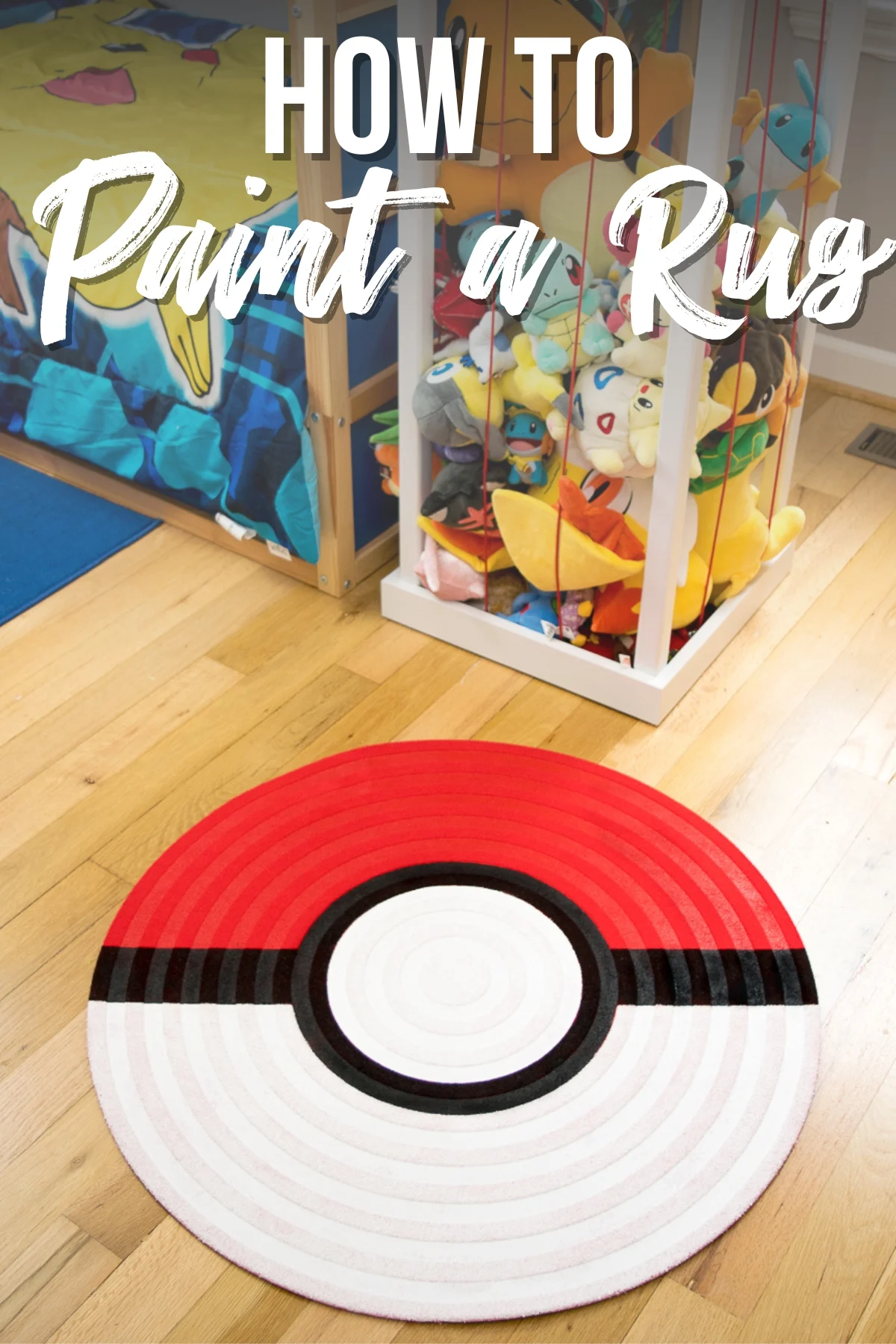 Painting a rug? It might seem unconventional, but it's a creative way to breathe new life into an old or plain rug.
Whether you're looking to match a specific color scheme, add a splash of personality to your decor, or simply experiment with your artistic side, painting a rug offers endless possibilities.
I'll walk you through the process of painting a rug step-by-step, covering everything from choosing the right rug and paint to the techniques that will help you achieve the desired look.
Let's get painting!
This post contains affiliate links for your convenience. Purchases made through these links may earn me a small commission at no additional cost to you. Please visit my disclosures page for more information.
Choosing the right rug to paint
When it comes to painting a rug, not all materials are created equal. Selecting the right rug is crucial to achieving the best results.
Flat-woven or low-pile rugs are typically the best choices. Plush or shaggy rugs can be challenging to paint evenly, and will become crunchy after a few layers.
Look for natural fibers like cotton or jute, as they tend to absorb paint better. The paint will sit on top of synthetic fibers, rather than soaking in.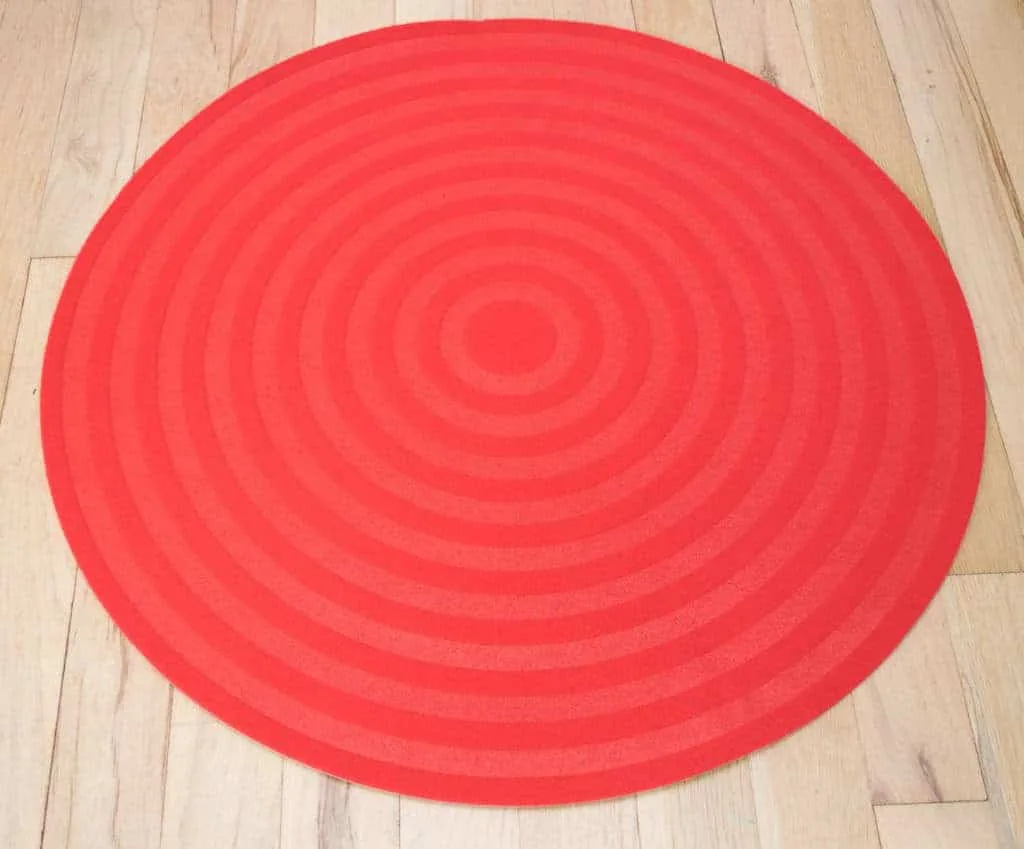 I bought this red circular area rug at IKEA years ago because it reminded me of a poké ball. My son is obsessed with Pokemon and I've been working on making his dream Pokemon themed bedroom. I already framed a few posters and created a stuffed animal zoo to house all his plush toys, but he needed a rug to soften the hardwood floors.
IKEA doesn't make this particular rug anymore, but I would recommend this one instead. The natural jute will absorb paint better, and the light color makes it easier to get the color you want with less coats.
Selecting the right paint
Picking the right paint is just as important as choosing the rug itself. Here's what you need to know:
Not all paints will adhere well to fabric. Fabric paint is specially designed to bond with fibers, ensuring a long-lasting finish that stays soft.
Fabric paint comes in a variety of options. You can find it in different finishes and in almost any color you can imagine. Explore your options to find what fits your vision.
The amount of paint you need can vary depending on the size of your rug and the complexity of your design. As a general rule, it's better to have a little extra than to run out halfway through (this happened to me!)
I used DecoArt's SoSoft fabric paint in Ultra White and Lamp Black for this project. DecoArt generously provided me with a bottle of each color to try out. I tried this fabric paint on my drop cloth rug, and I love how it doesn't feel crunchy underfoot.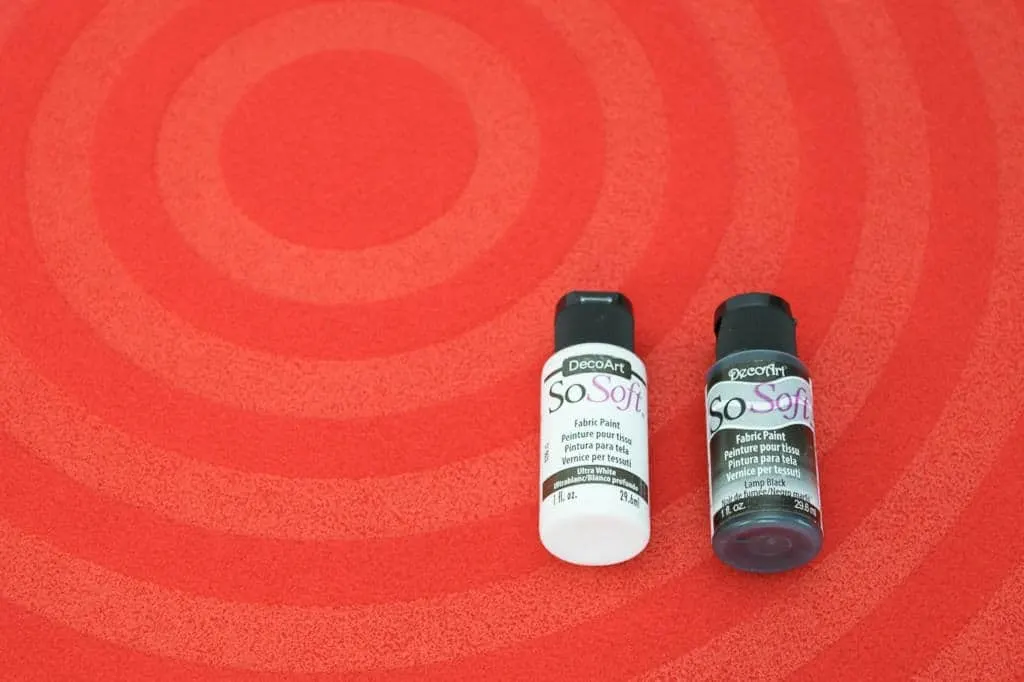 Preparing the rug for paint
Before diving into the painting, some prep work is necessary to ensure a smooth and successful project.
If you're using an existing rug, make sure it's free of dirt and stains. A thorough vacuum and a gentle wash with mild detergent can do the trick. Allow the rug to dry completely before painting.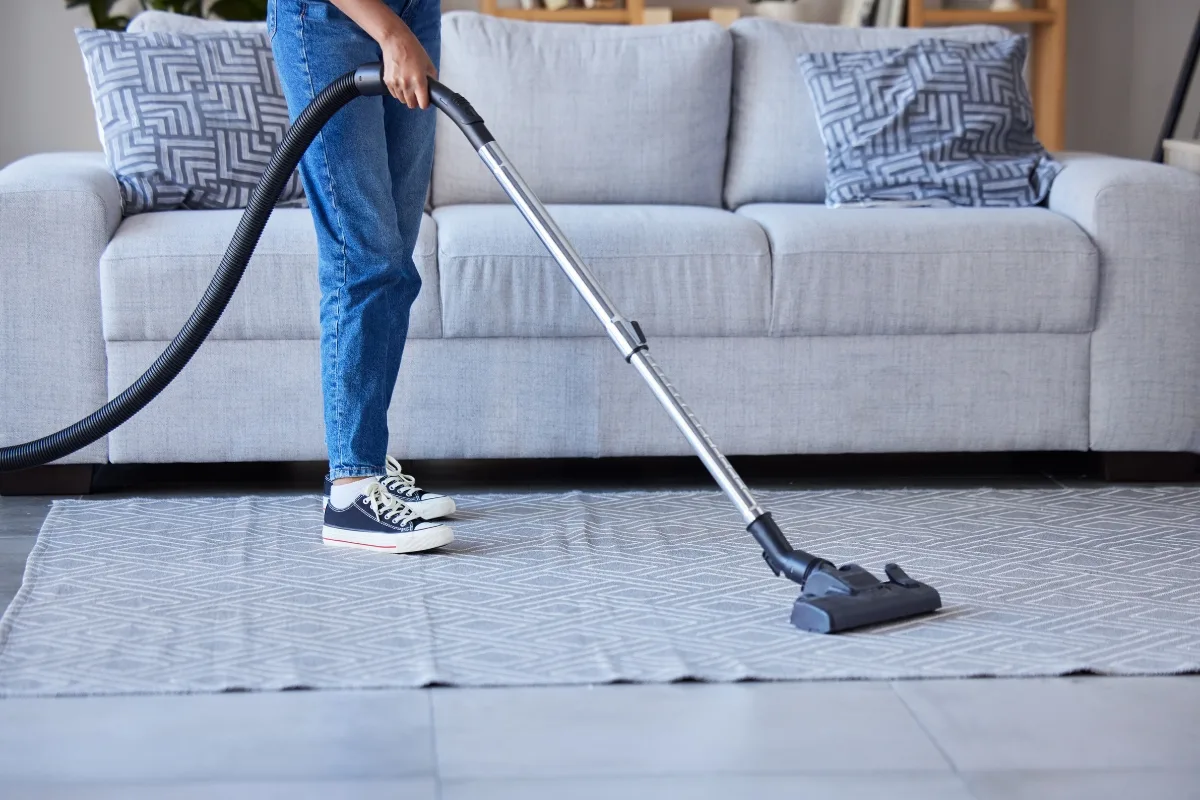 For optimal results, the rug should be as smooth as possible. If it's wrinkled, consider ironing it on a low setting (if the fabric allows) or placing heavy objects on the edges to flatten it out.
If you're planning to use a specific pattern or design, now's the time to tape off those areas. Painter's tape or masking tape can be your best friend here. If you're going freehand, sketching your design with chalk can give you a guide to follow.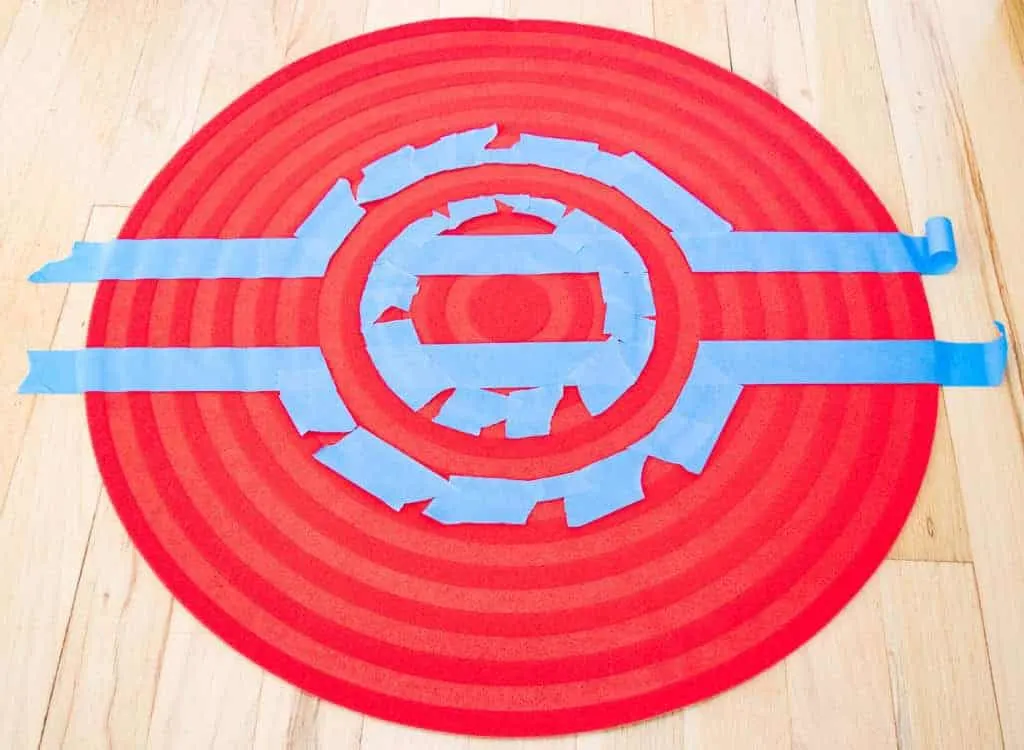 I used painter's tape to mark the center stripe and inner circle of the poké ball. This was super easy on my rug because there are already concentric circles to use as a guide.
Painting techniques
Now that your rug is prepped and ready, it's time to dive into the painting! There are a few things to consider, depending on your design and type of rug.
Apply the paint in thin, even layers. Start from one corner and work your way across to avoid smudging. For intricate areas, consider using fabric markers instead.
I used a stiff craft brush to really work the paint into the fibers of the rug. For crisp lines, start your brush over the tape and move towards the rug. Avoid brushing towards the tape, or you may push the paint underneath.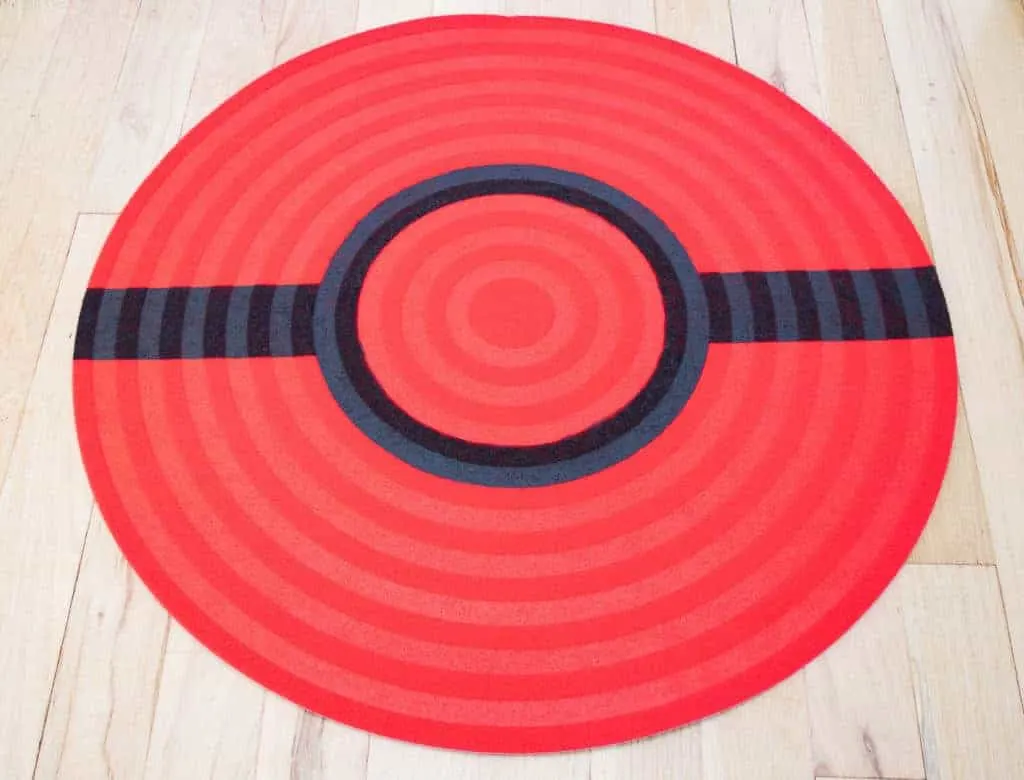 It might take a few coats to get the desired coverage, so be patient. This is where starting with a red rug is a challenge. The first coat of white turned out quite pink!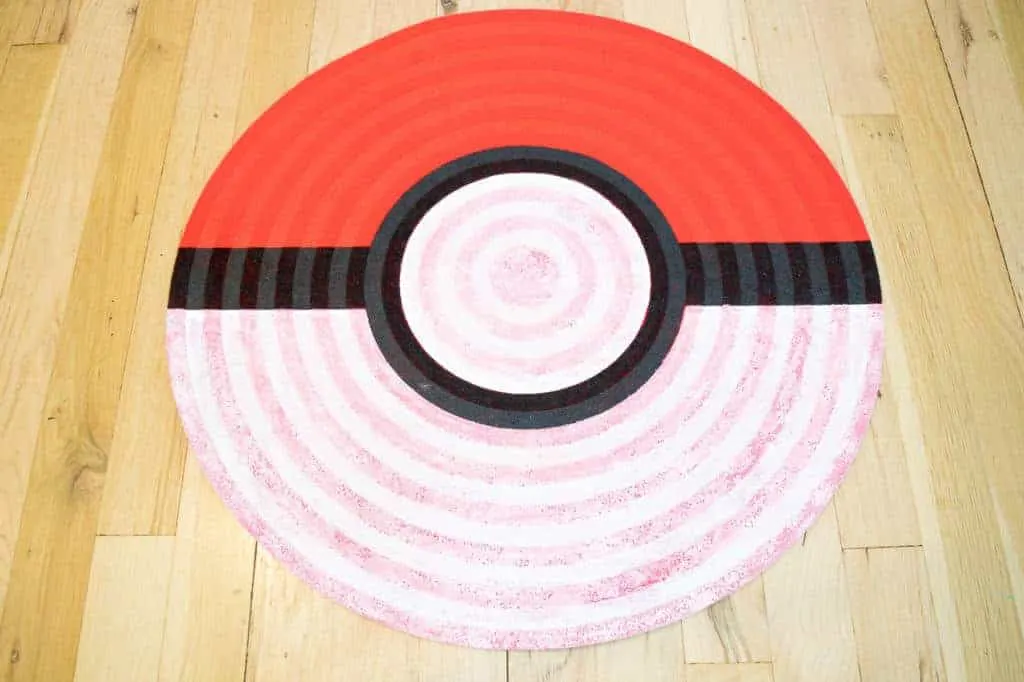 At this point, I ran out of white fabric paint! After a quick trip to the store, it took two more coats to get it fully opaque.
Drying and setting the paint
Most fabric paints require 24 hours to dry completely, but it can vary. Make sure to follow the instructions on the paint for specific drying times, and don't walk on it before then!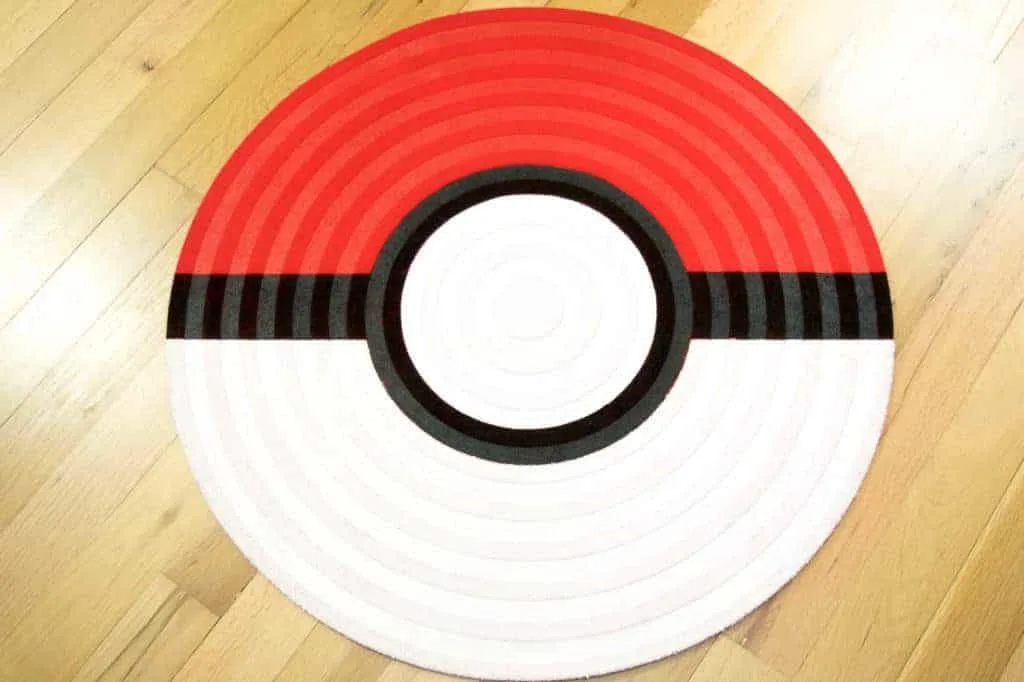 Some fabric paints might require heat setting to ensure durability. This usually involves using an iron on the reverse side of the rug for a few minutes. Check the paint's label to see if this step is necessary.
It's important to let the rug dry flat and to avoid touching the painted areas as much as possible. If you need to move the rug, I recommend getting someone to help lift the other end to avoid smudging.
Care and maintenance
I'm really happy with how my son's pokeball rug turned out! It looks great in his bedroom, and the paint has held up great even with constant foot traffic.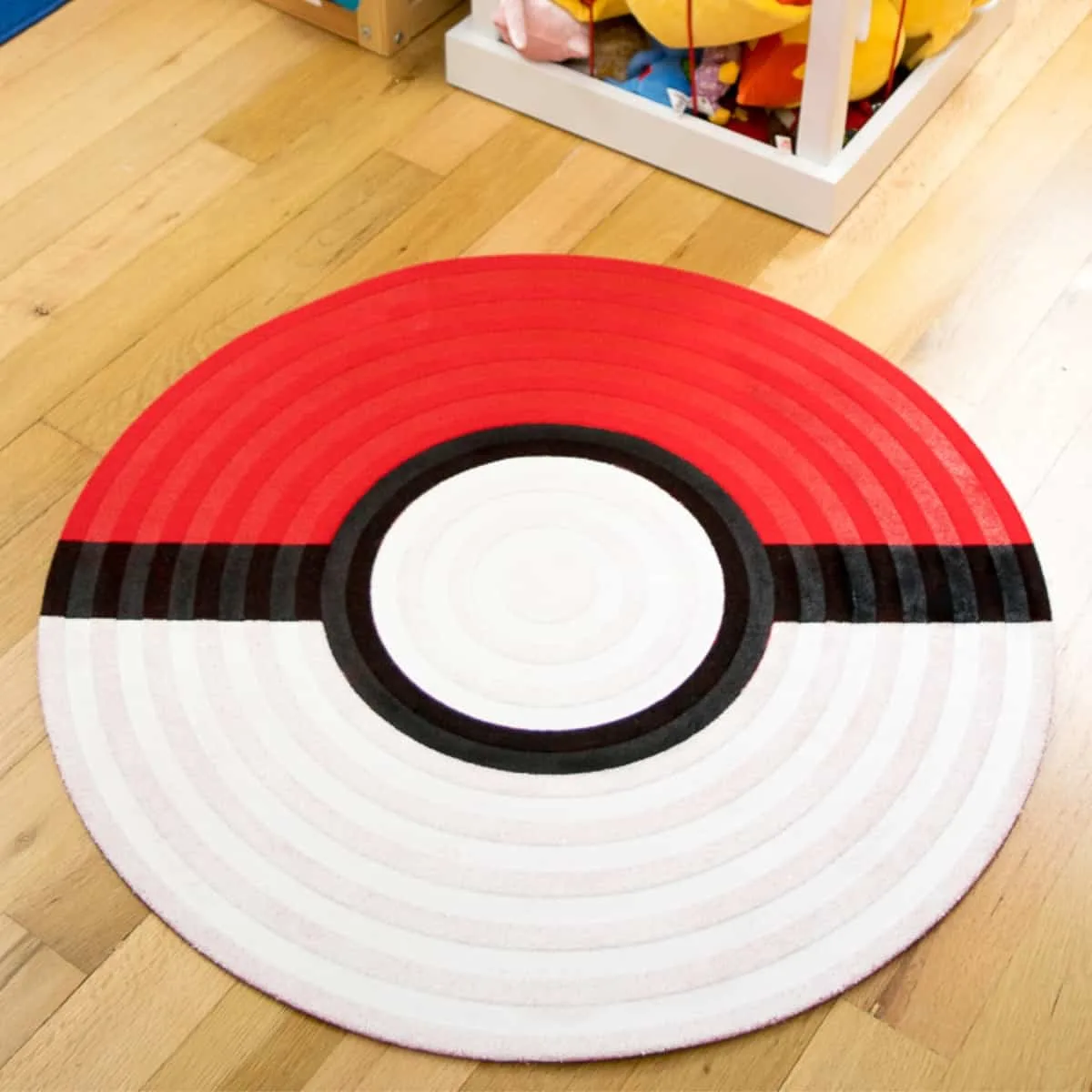 So how do you care for a painted rug and keep it looking pristine?
Generally, a gentle vacuuming or spot cleaning with mild detergent will be enough. Avoid using harsh chemicals or scrubbing too hard, as this can damage the paint.
I recommend keeping a bottle of the fabric paint you used on hand for touch ups. Painting over stains is easier than cleaning them!