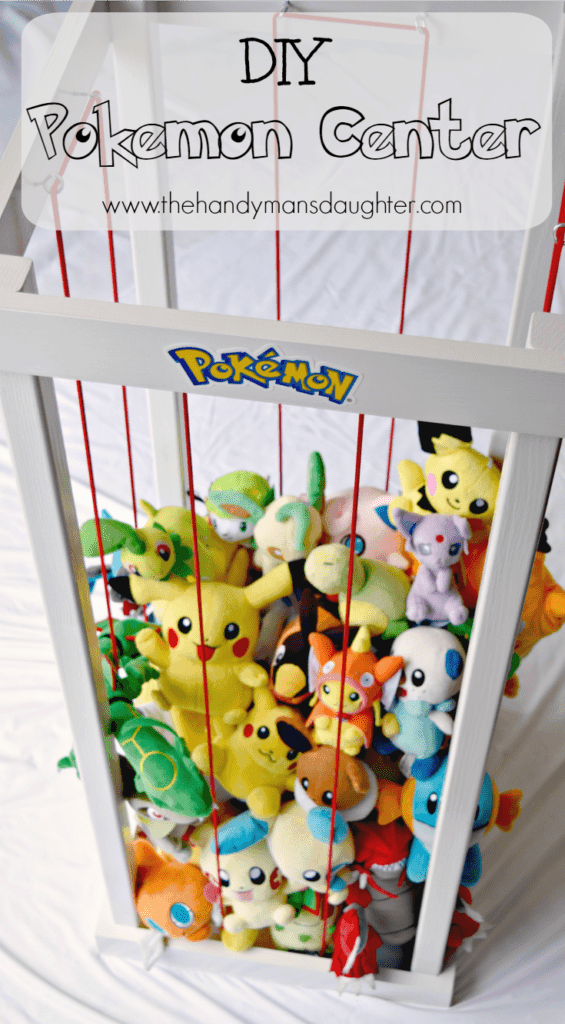 Our son is OBSESSED with Pokemon, and has amassed quite the collection of Pokemon stuffed animals. It's gotten out of control! There's no more room on the bed, so they end up spilling all over floor and migrating to other parts of the house. I wanted to make him something that could contain them all, but make them easily accessible when he wanted to play. This stuffed animal zoo is the perfect solution!
This post contains affiliate links for your convenience. For more information, please see my disclosures page.
Look at this happy face! We stopped by the Pokemon Center in Tokyo not once, but twice when we vacationed there last year. It's possible that trip contributed a bit to the stuffed animal problem…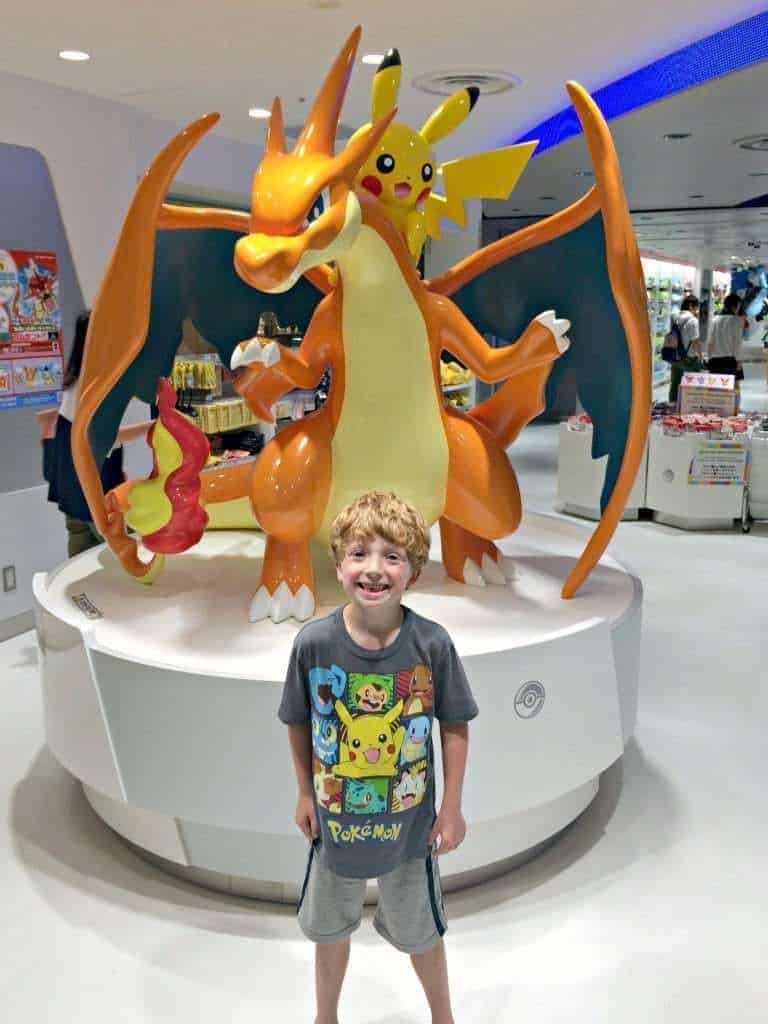 This great tutorial for a stuffed animal zoo by Ana White and Jaime from That's My Letter was the inspiration for this project. I changed the dimensions a little to make it square and even with the height of his IKEA Kura bed, and used bungee cord instead of rope. I love how little floor space it takes up in his tiny bedroom!
Supply List for Stuffed Animal Zoo
2 – 2×2 boards (the straightest ones you can find!)
2 – 1×3 boards (I used pre-primed boards)
Wood filler if you plan to paint and want to cover the screw holes
25 feet of shock cord – I used the red version
Pokemon sticker (optional)
Cut List
The finished dimensions of my stuffed animal zoo are 18″ square and 45 1/2″ tall.
2 x 2 boards cut to 45 1/2″ – cut 4
1 x 3 boards cut to 18″ – cut 4
1 x 3 boards cut to 16 1/2″ – cut 4
Building a Stuffed Animal Zoo
Don't forget your safety gear when woodworking! Here are my recommendations for safety glasses and ear protection. No excuses!
You want to start with the straightest 2 x 2 boards you can find. I went through the entire pile at Home Depot searching for ones that weren't warped, twisted or had lots of knots. For the 1 x 3's, I used pre-primed boards, because they tend to be straighter and saves me a step!
Attach the 16 1/2″ pieces to the top and bottom of the 2 x 2's to make two of the sides. The edges of the 1 x 3's should be even with the sides of the 2 x 2's. I predrilled countersink holes into my 1 x 3 pieces so that the screw heads rest below the surface of the board.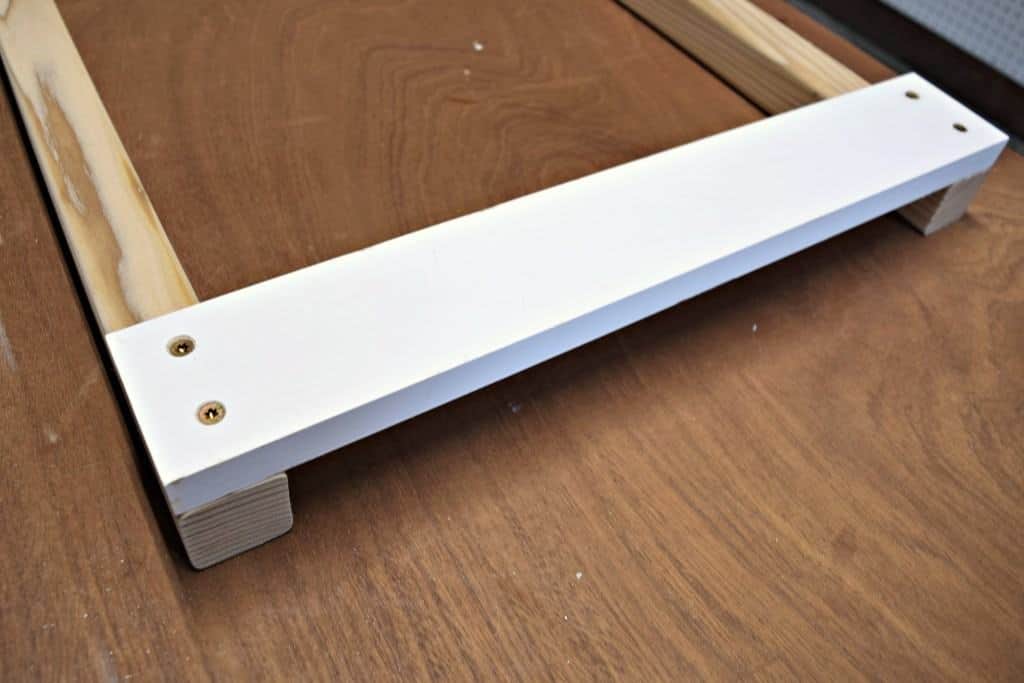 Your sides should look like this when complete.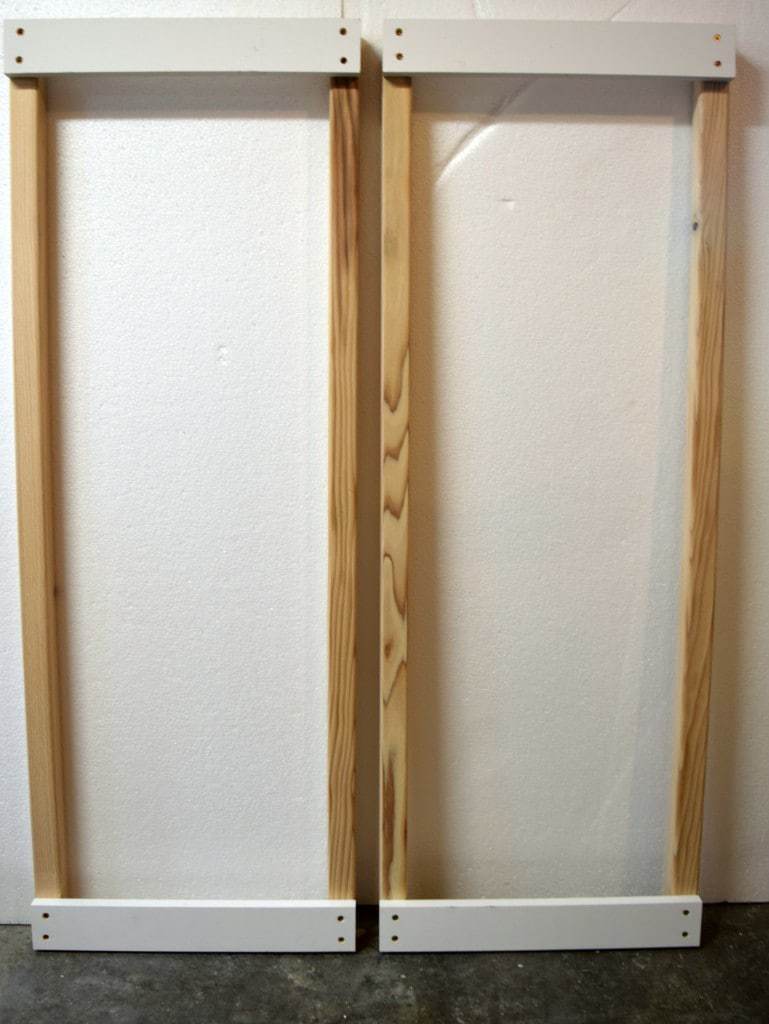 Set each side on its edge, and attach the 18″ pieces, making sure to keep everything square. A few clamps help to keep everything in place while you drill the screws. I only used one screw in the center of this side, to avoid the screws already inserted on the other side. There's not a whole lot of room in a 2 x 2 for all those screws, so strategic placement is important!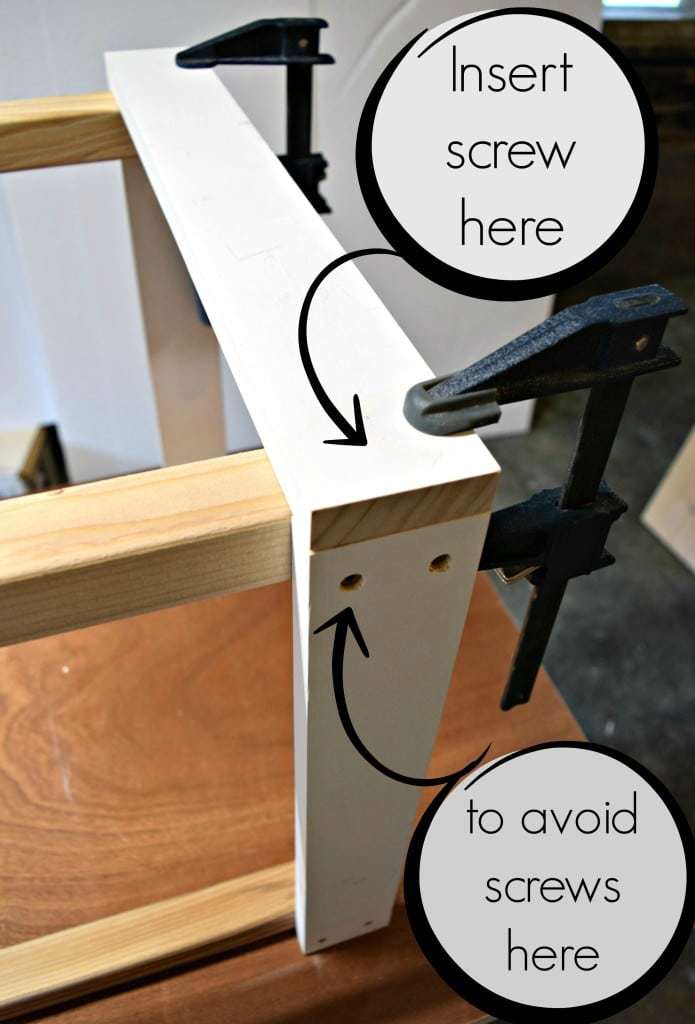 If you're going for a rustic feel, you can leave the screws exposed and stain the entire piece (don't use pre-primed boards if you want to stain it). I wanted a cleaner look, so I filled the countersunk holes with wood filler, then sanded it smooth when dry. I primed the 2 x 2's, then painted the entire stuffed animal zoo with two coats of semi-gloss white paint.
Finishing Touches
Now you can attach the screw eyes to the top and bottom boards. To make the "bars" evenly spaced, I marked spots 4 1/2″ in from each 2 x 2, and 1 1/4″ down from the top. Drill a small pilot hole at each of these spots, but don't go too far into the wood or you'll pop out the other side! I screwed the eyes in by hand, positioning the bottom ones horizontally and the top ones at a slight angle towards each other.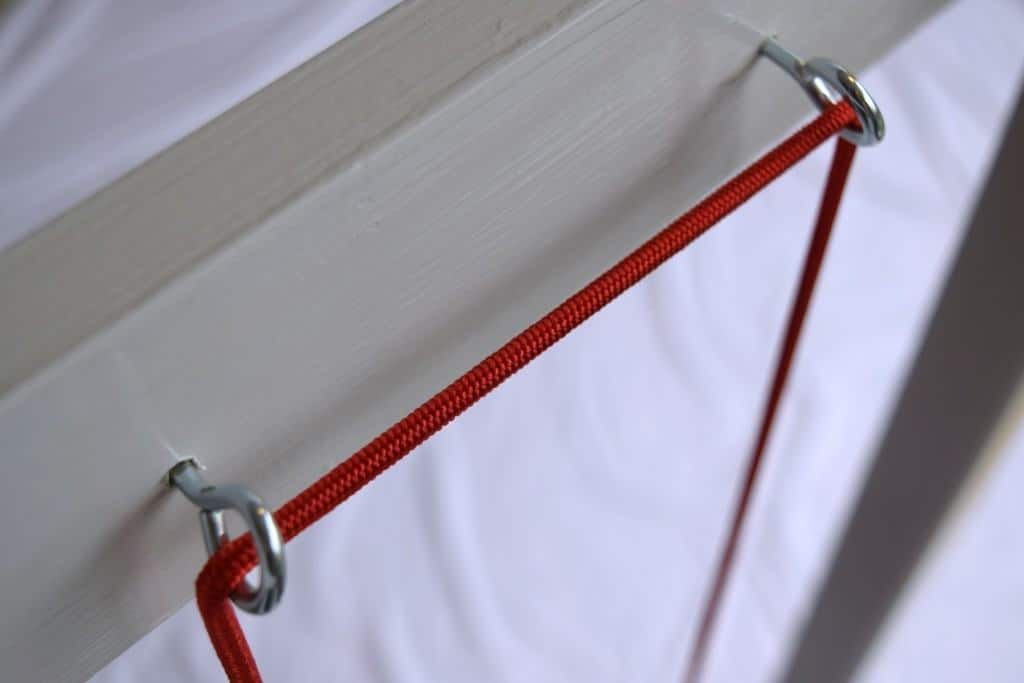 Tie the shock cord to one of the bottom eyes, then thread it through both of the top eyes before bringing it back down on the other side. This allows for more give when pulling apart the bars and looks nicer from the top.
Pull the shock cord until it is taut enough to hold the toys in place before tying off the end. I cut the knots a little long to make it easier to adjust if the shock cords stretch out over time. The ends will be covered up by all the Pokemon toys anyway.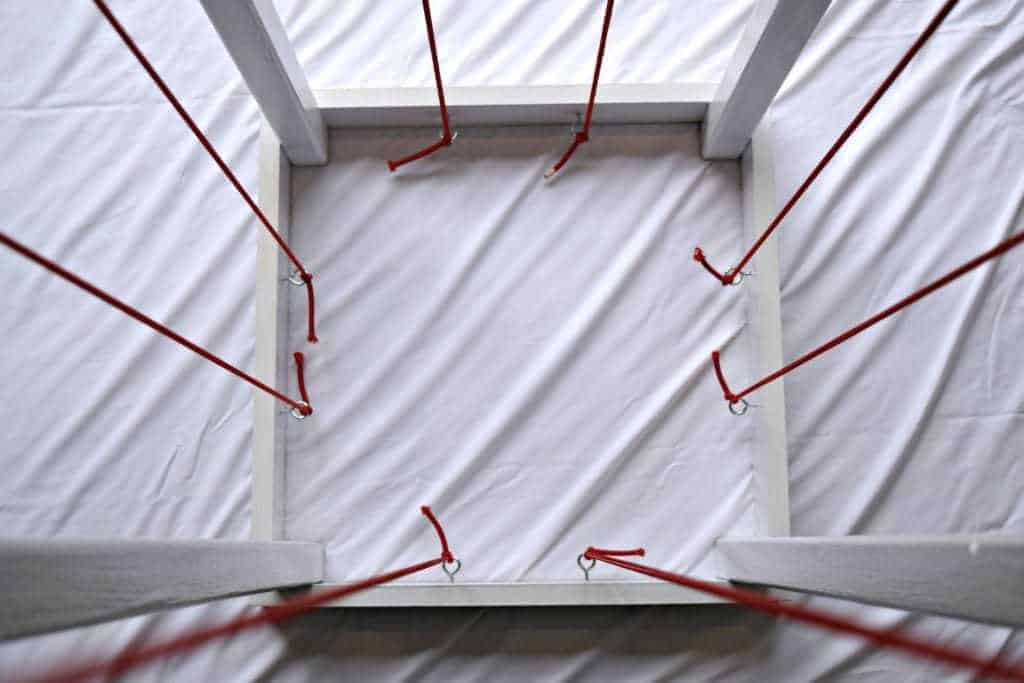 For the finishing touch, I applied the Pokemon logo to the top. You can personalize it with your child's name, or just stencil "Zoo" if you prefer.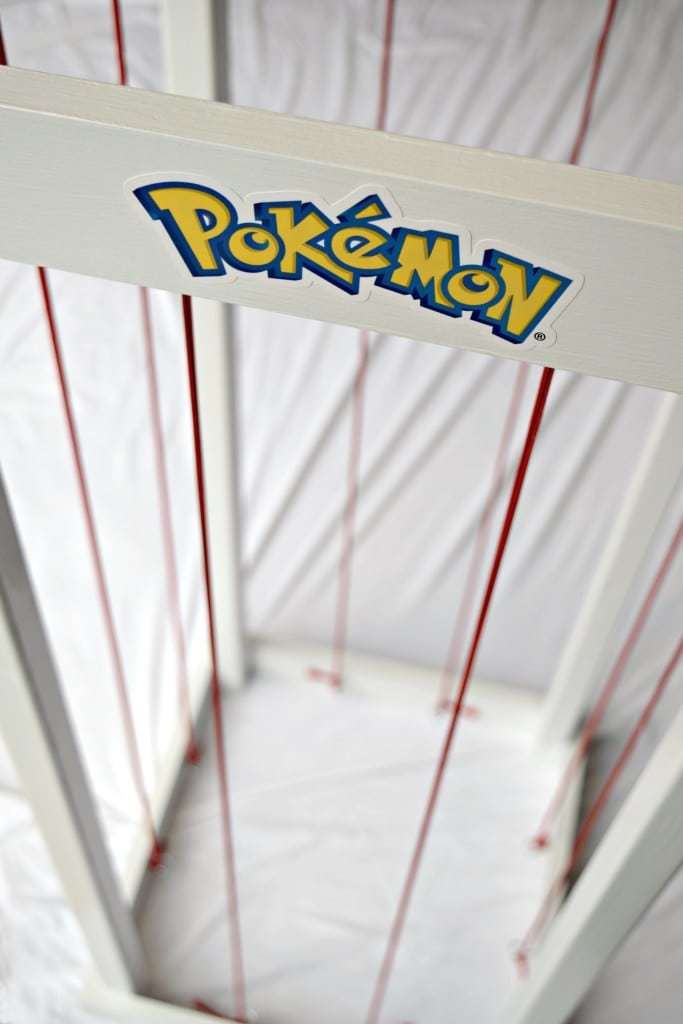 Fill it up!
I enlisted the help of my son to round up all his Pokemon plush toys to fill the Pokemon Center. I never realized quite how many he had until we put them all together like this! Guess he really does need to catch them all!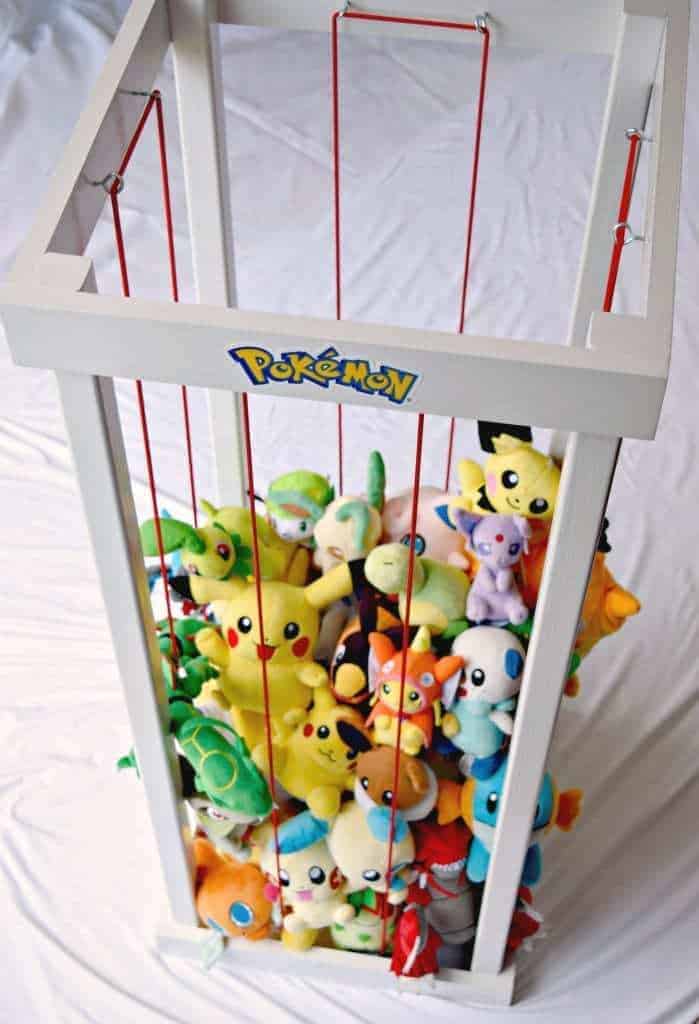 Want more Pokemon crafts? These Pokeball magnetic curtain tie backs would be perfect for any budding Pokemon trainer's bedroom!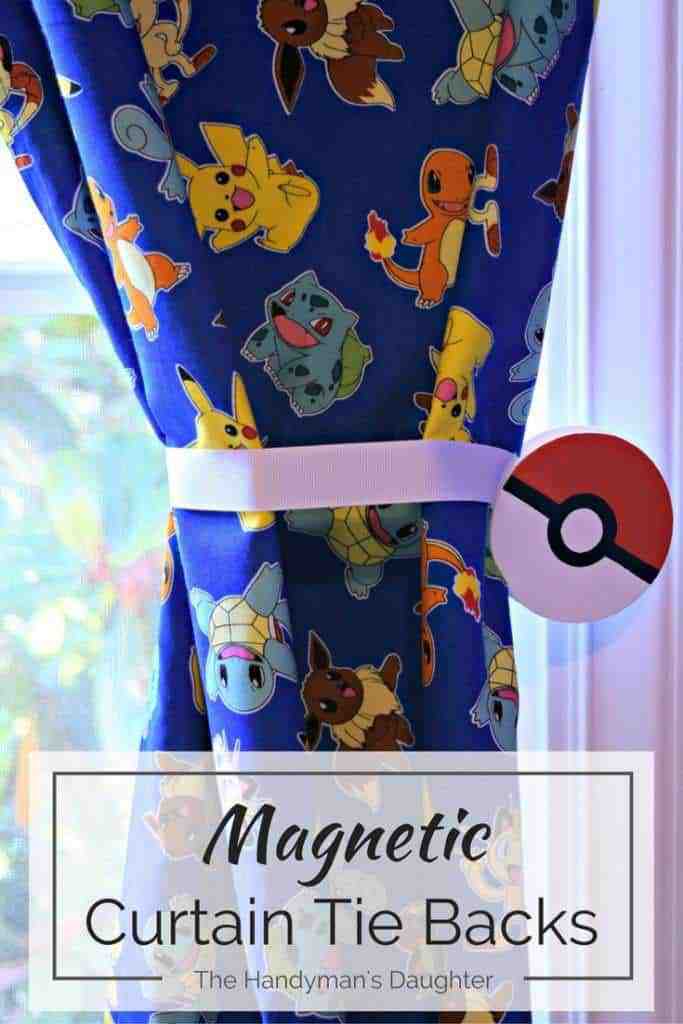 If you would like to keep up to date with my latest posts about woodworking, home decor and more, you can follow me on Facebook, Pinterest, or sign up for my weekly newsletter below.
Want more DIY projects?
Subscribe to get project ideas, home improvement tips, woodworking plans and more delivered straight to your inbox!