This adorable Starbucks ornament is sooo easy to make and looks so cute on the Christmas tree! Show your love of lattes this holiday, or pair it with a Starbucks gift card for the perfect Christmas present for coffee lovers!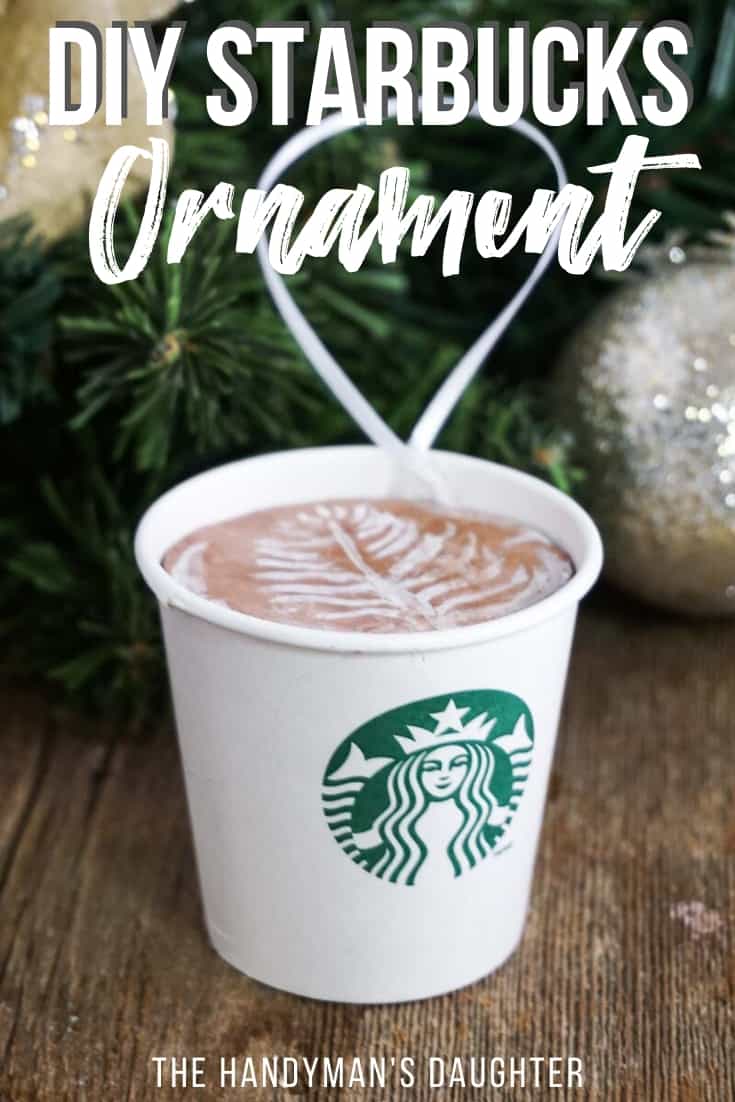 I live in Seattle, and I visit our "local" coffee shop for my overly complicated caffeinated beverage all.the.time. I've even decorated our kitchen with Starbucks mugs that I've collected in our travels! So what better way to celebrate the holiday season than with this adorable DIY Starbucks ornament on the Christmas tree!
This post contains affiliate links for your convenience. Purchases made through these links may earn me a small commission at no additional cost to you.
These miniature lattes are quick to make, and you could even customize them to look like your favorite drink! They make great gifts too! I'm hanging ours next to my DIY driftwood Christmas tree ornament for a Seattle themed branch. 🙂
Materials Needed for DIY Starbucks Ornament
Sample cup from Starbucks (just ask, they'll give you one if they have it)
Scrap piece of cardboard

I used one of our many Amazon boxes we get this time of year!

Scissors
How to Make a Starbucks Ornament
Cut out and Paint the Top
Using the top of the cup as a template, cut out a circle from the cardboard.
Paint the top of your cardboard circle with a combination of brown and white craft paint. Layer the colors with swirls of darker and lighter shades to simulate the effect of freshly poured coffee with milk. Allow paint to dry fully.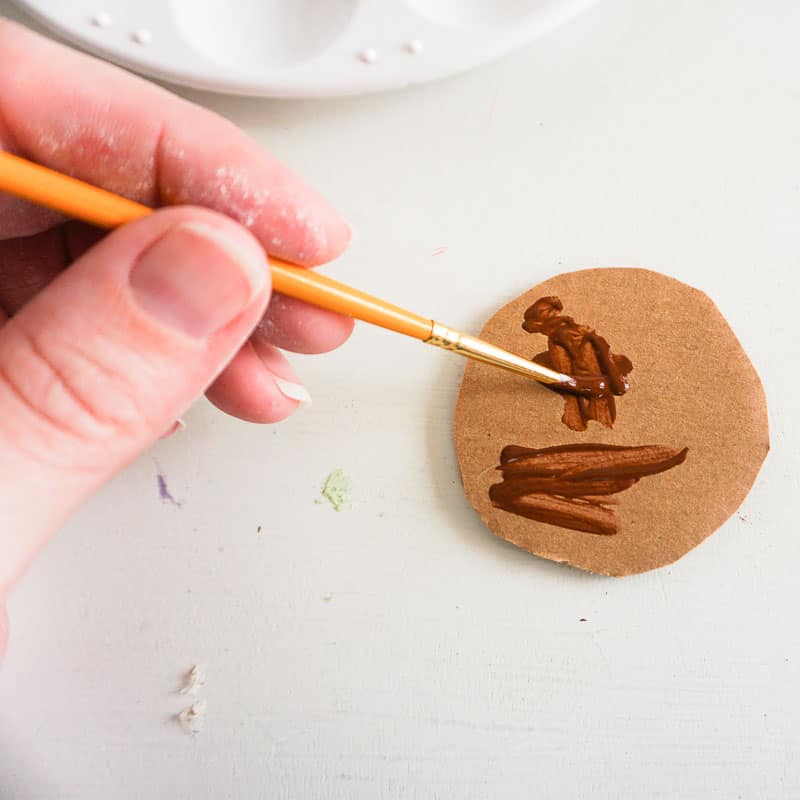 Gently dry brush the white paint onto the circle to create your latte design. Remember that even a master barista doesn't always make the perfect latte designs, so it's ok to make yours a little messy! You can brush off any mistakes with a paper towel before the paint dries.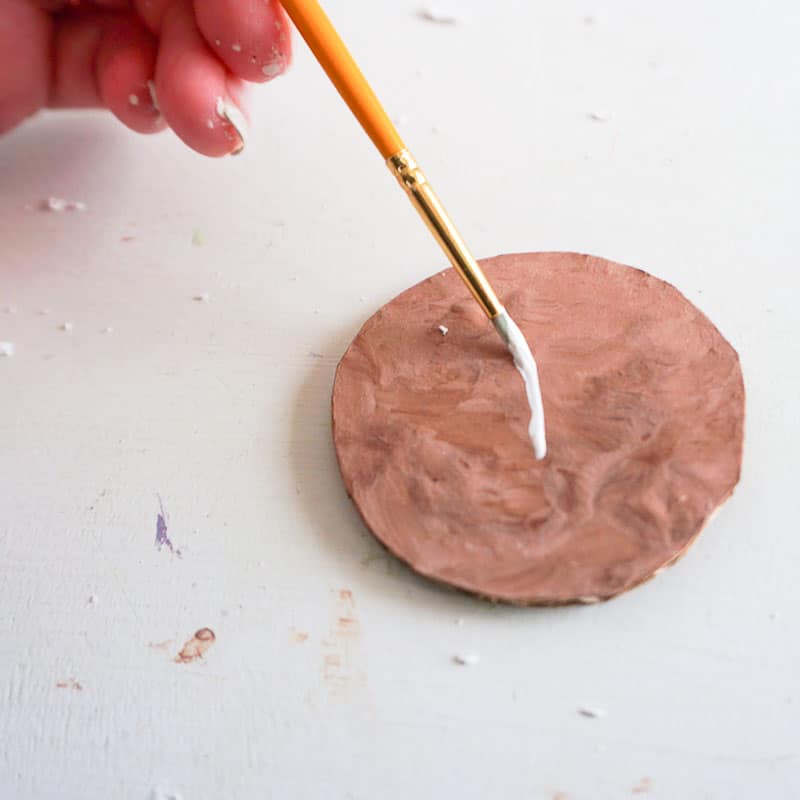 Trim the Circle to Fit the Cup
The circle should sit about 1/4" deep inside the cup so it looks like a full cup of coffee. Trim around the outside edge of the cardboard at an angle, so that the bottom (unpainted side) is slightly smaller than the top side. This will help it sit better in the cup.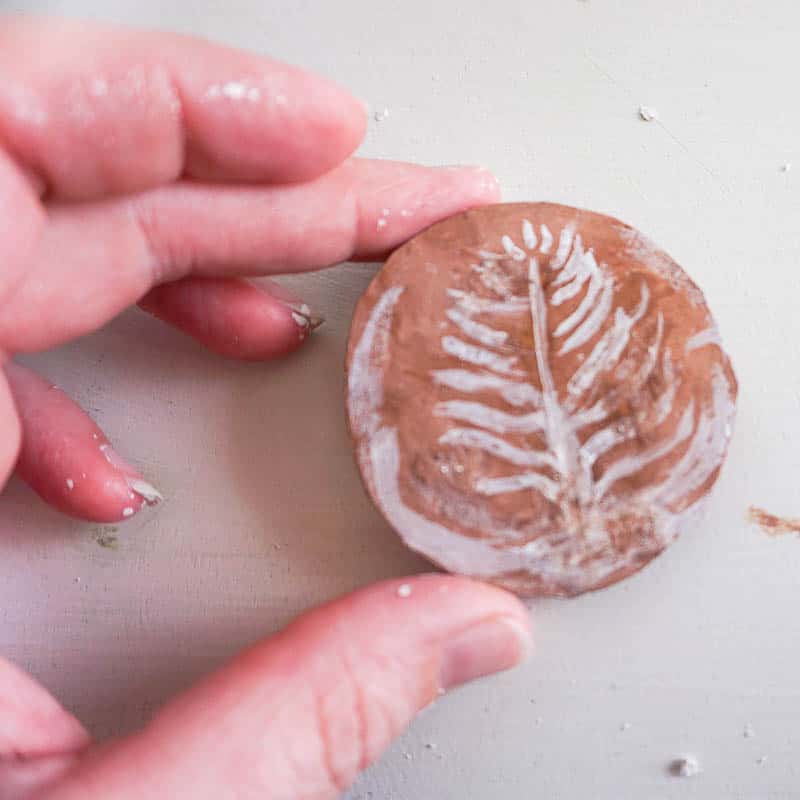 Add the Ribbon
You need to add a small bit of ribbon to the top of the cup in order to hang your Starbucks ornament on the tree. Cut a 3-4 inch piece of ribbon and make a loop, then hot glue it in place on the back side of the cup.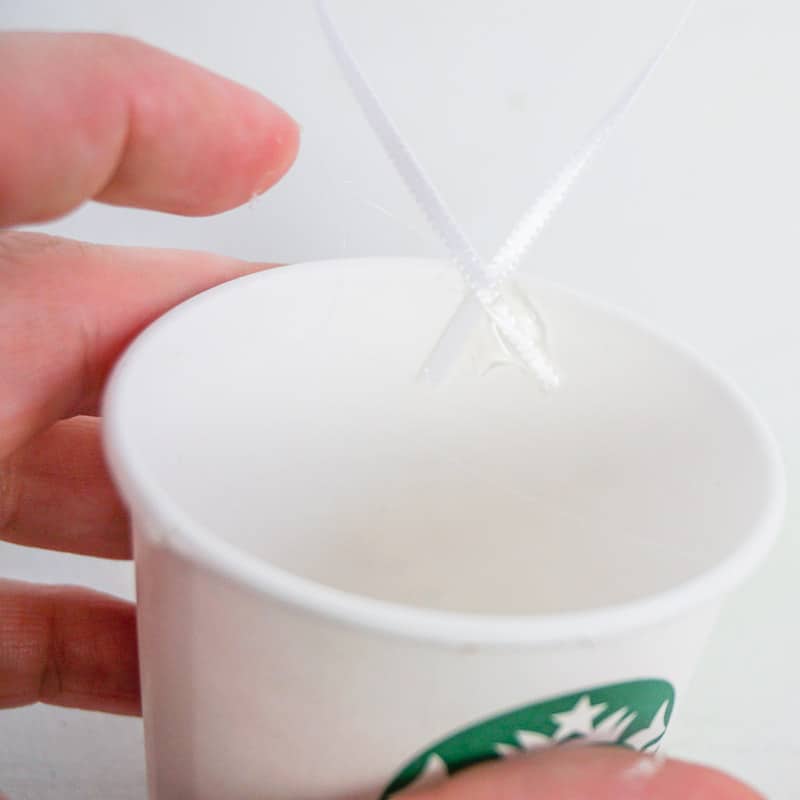 Insert the Painted Circle into the Starbucks Cup
While the hot glue from the ribbon is still warm, push the cardboard circle into the top of the cup. Add small amounts of hot glue along the edge to keep the disc straight and sturdy, but clean up any large blobs before they harden.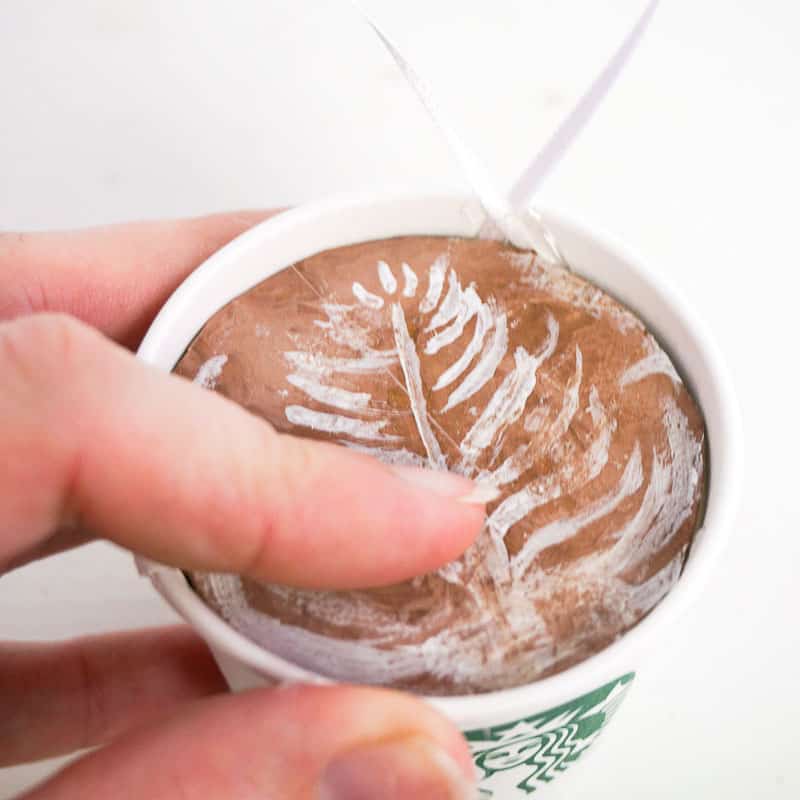 Hang your DIY Starbucks Ornament on the Christmas Tree!
Isn't it just adorable? I love how it looks hanging on the Christmas tree!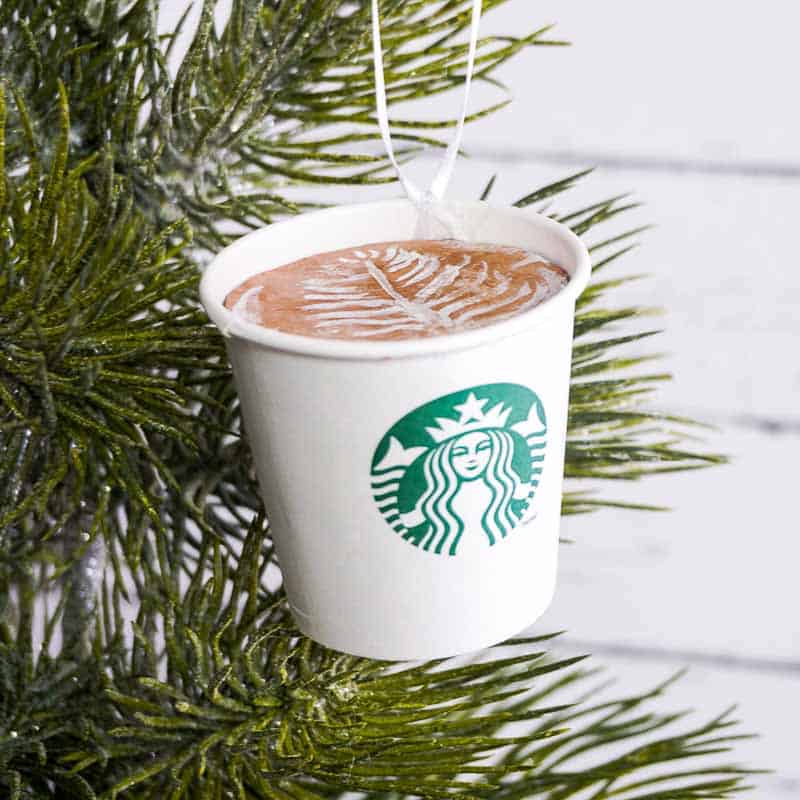 It would make the perfect Christmas gift paired with a Starbucks gift card for the coffee addict in your life!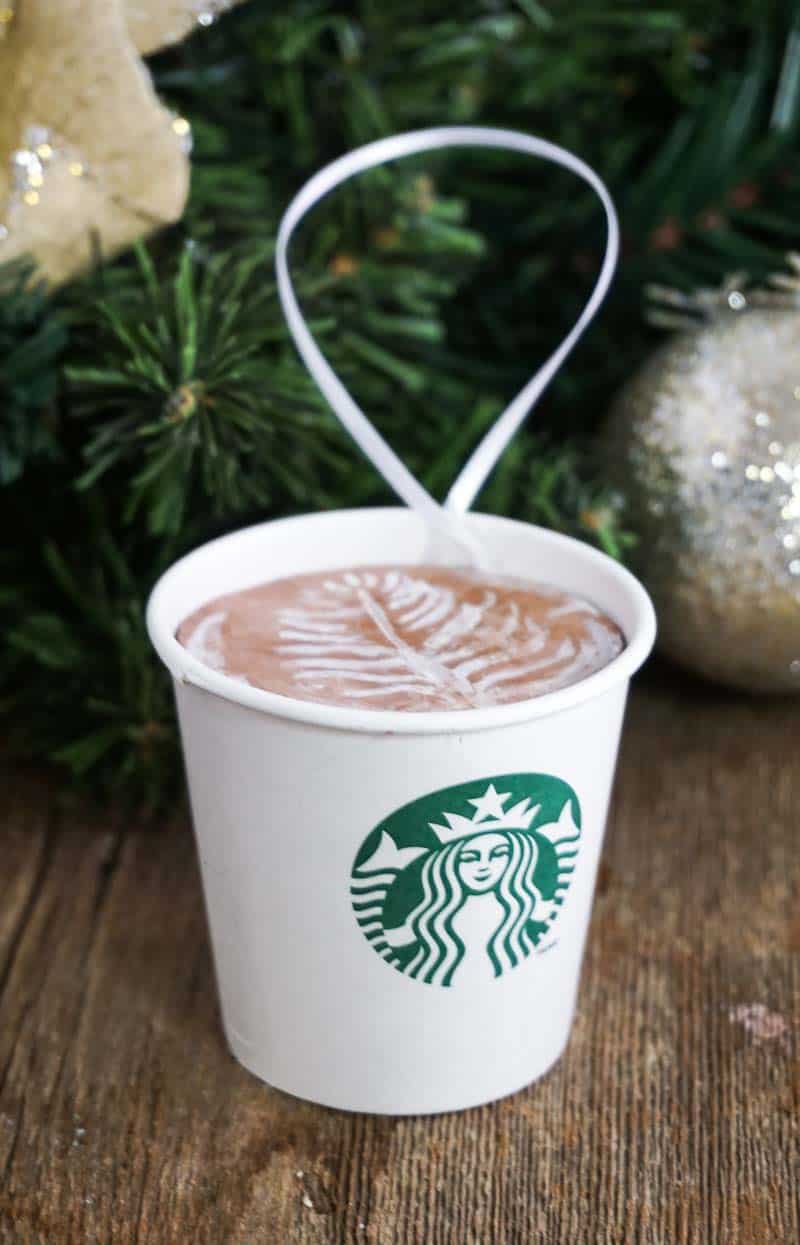 ---
Want more DIY Christmas decor ideas? Check these out!
---
Keep up to date with my latest posts about DIY projects, woodworking and more on Facebook, Pinterest, or Instagram. You can also sign up for my email list below and get the latest post delivered to your inbox, plus exclusive access to my woodworking plans library!
Want more DIY projects?
Subscribe to get project ideas, home improvement tips, woodworking plans and more delivered straight to your inbox!