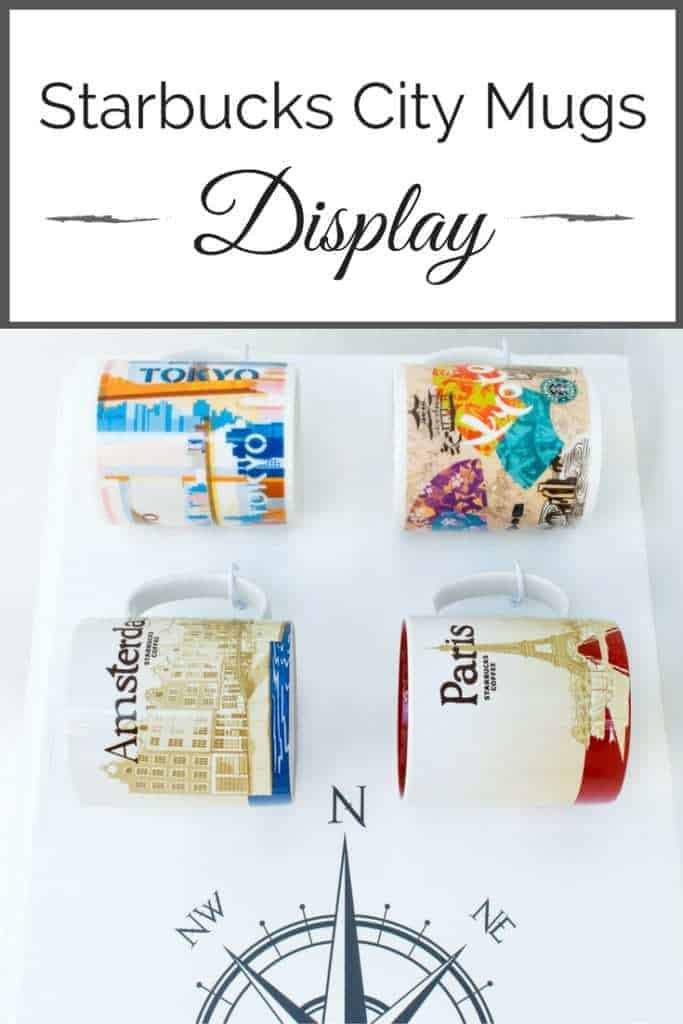 Our family loves to travel, and I love buying souvenirs that remind me of our adventures! My favorite way to commemorate our vacations is with Starbucks city mugs. Almost every city has one, and since I'm bound to hit a Starbucks when we're traveling, it's an easy souvenir to pick up. Over the years, I've amassed quite the collection, and it takes up a lot of room in the cabinet over the coffee maker. Today, I'm showing you how I'm reclaiming valuable cabinet space and displaying my favorite mugs!
This post contains affiliate links for your convenience. If you would like to learn more about how you can support this site at no additional cost to you, please see my disclosures page.
Last year, I went through the painstaking process of painting my ugly 80's kitchen cabinets. Now, instead of an orange oak end panel facing the dining room, we have a bright white one. The perfect backdrop for my colorful mugs!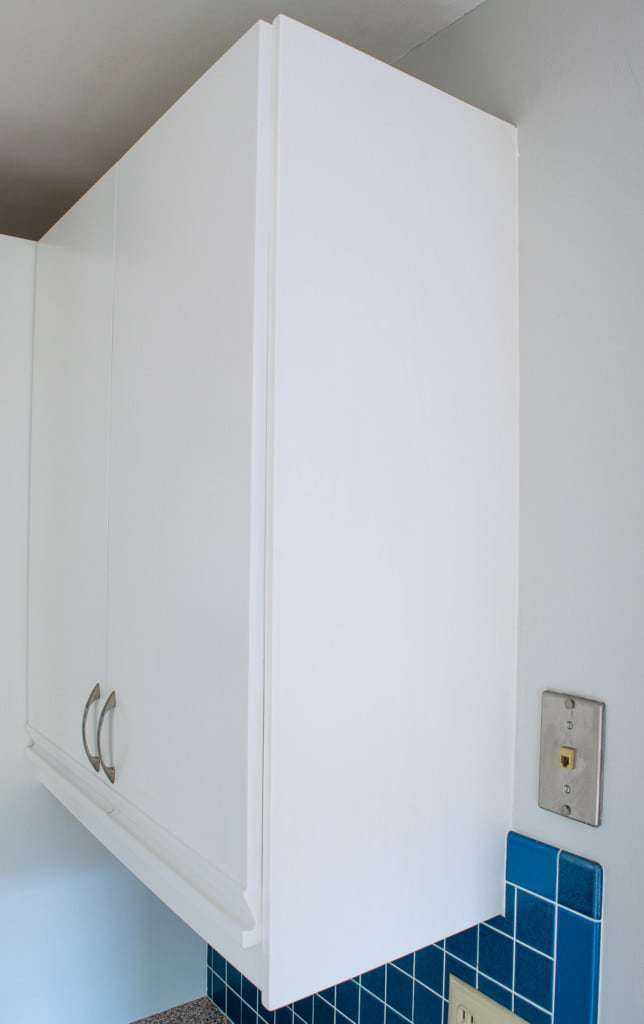 First, I had to do something about the unused phone jack in the wall. We haven't had a land line since 2002, so there's no reason to keep it around. Rather than go through the trouble of closing it off with a drywall patch, I just shoved the wires back into the hole and attached a blank wall plate over it. I painted the plate the same color as the rest of the wall so it will blend in.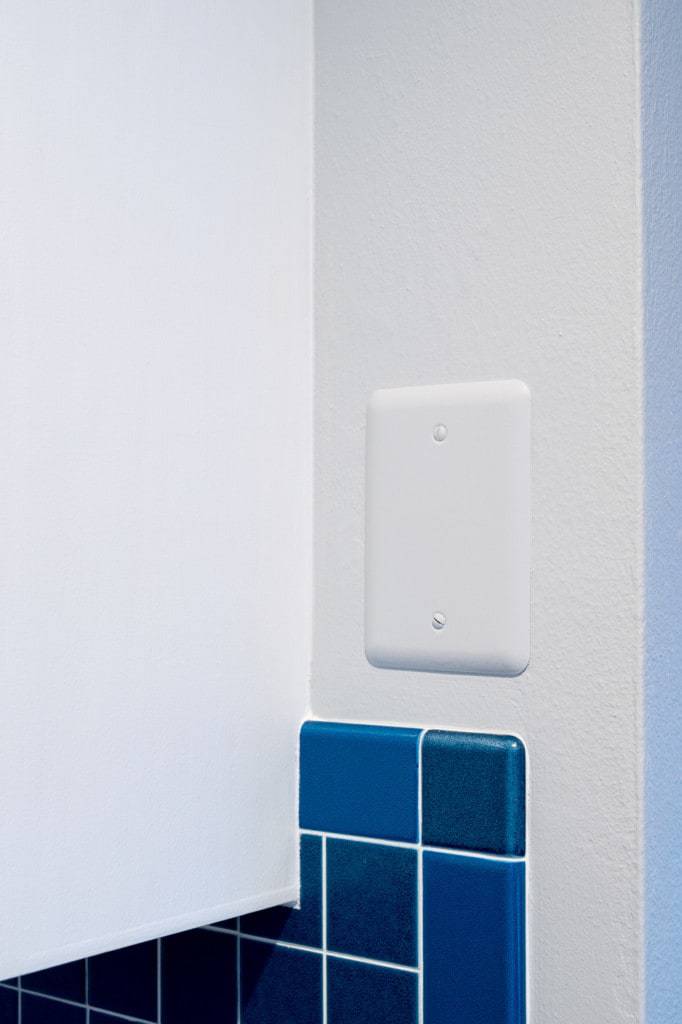 My Starbucks city mugs come from all over the world, so I wanted to give my display a global theme. A world map would look awkward in such a narrow, vertical space. A travel quote would be covered up by the mugs and become unreadable. I finally settled on a compass rose decal. The 11" x 11" size fits perfectly on the end panel of my cabinet!
Decals are a great way to decorate a plain, flat surface. I used one on my Game of Thrones cornhole boards, and the design doesn't interfere with the game and hasn't peeled up at all!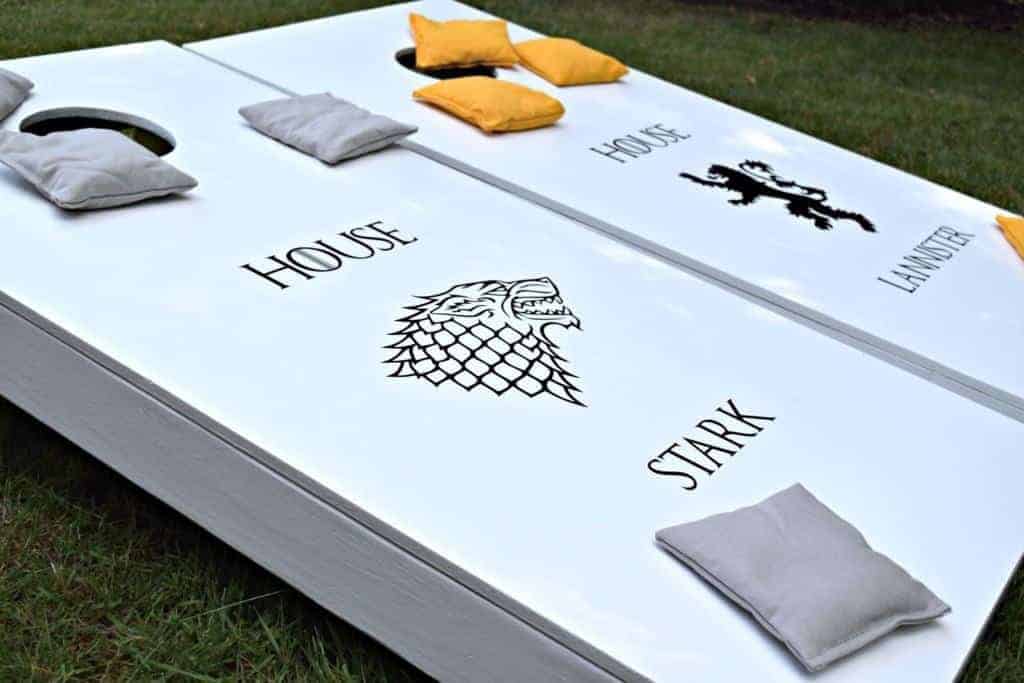 To apply the decal, simply rub the front and back of the paper with the included tool. You could also use a credit card. This transfers the design to the adhesive layer.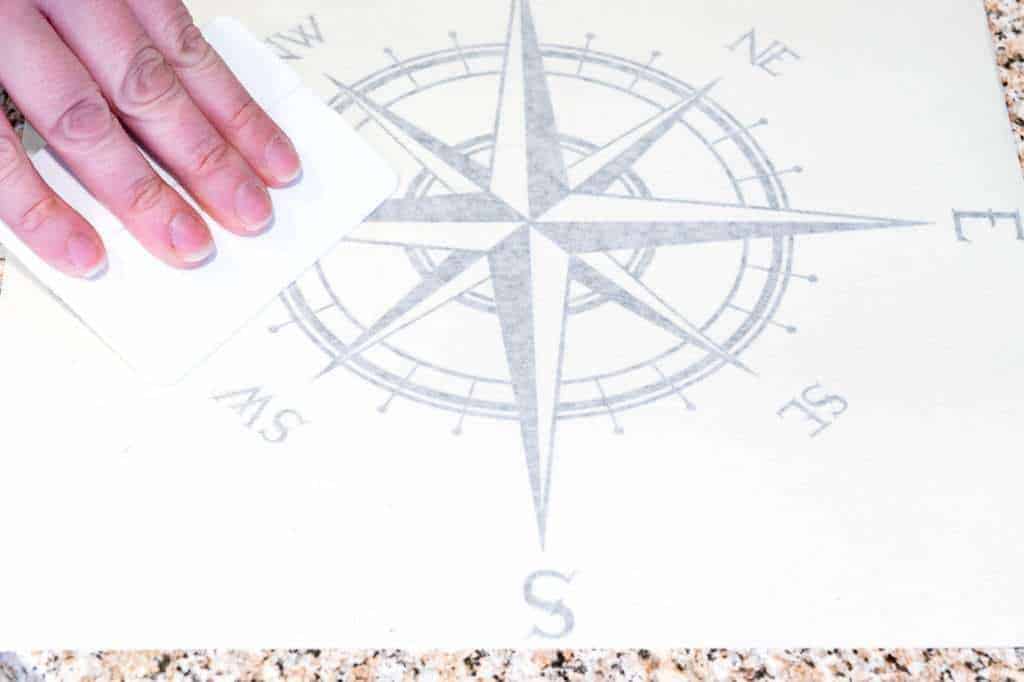 Peel off the backing, making sure that the design stays attached to the sticky sheet. If it's not cooperating, just give it another quick rub. I marked the center point of the cabinet with a pencil, and lined up the middle of the compass rose with that point. Now rub the surface of the decal again to stick it to the cabinet surface, then peel off the backing.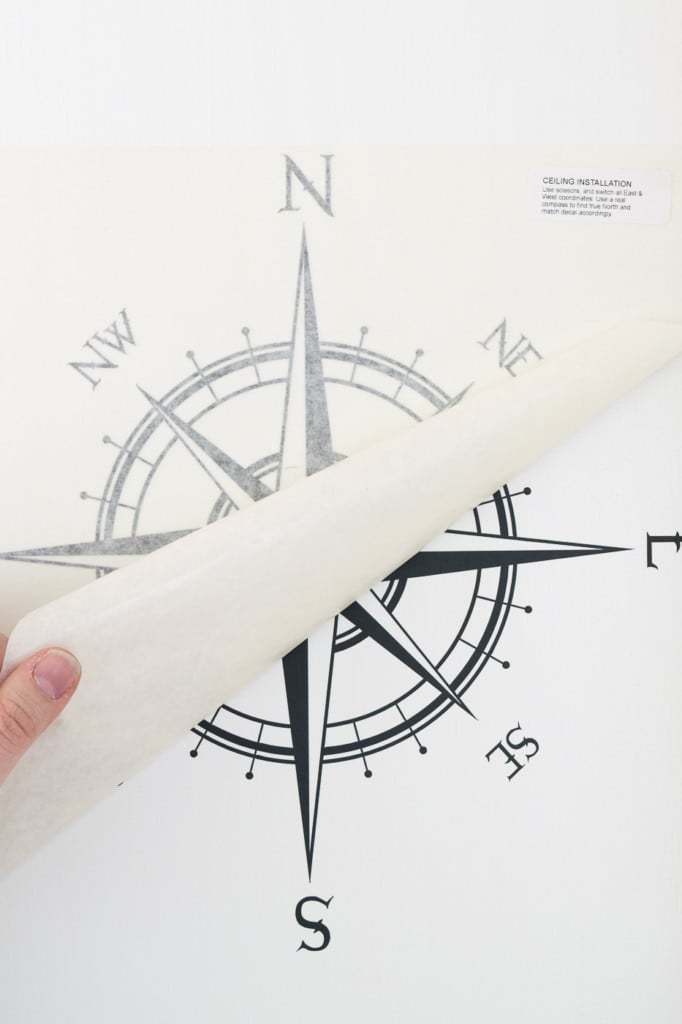 I have a few different sizes and styles of Starbucks city mugs, so I held them up to the cabinet to see how they would fit. Eight mugs give the display some variety without covering up the decal or looking too cluttered.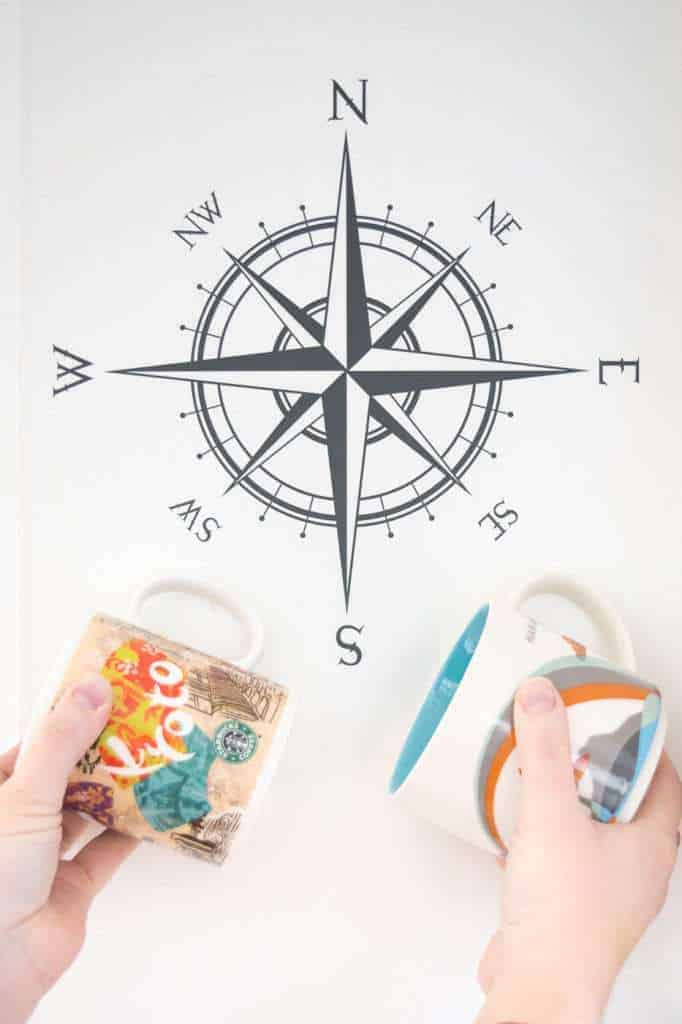 Mark the spots where you want the hooks, then drill pilot holes into the cabinet. I used these hooks, and screwed them in by hand.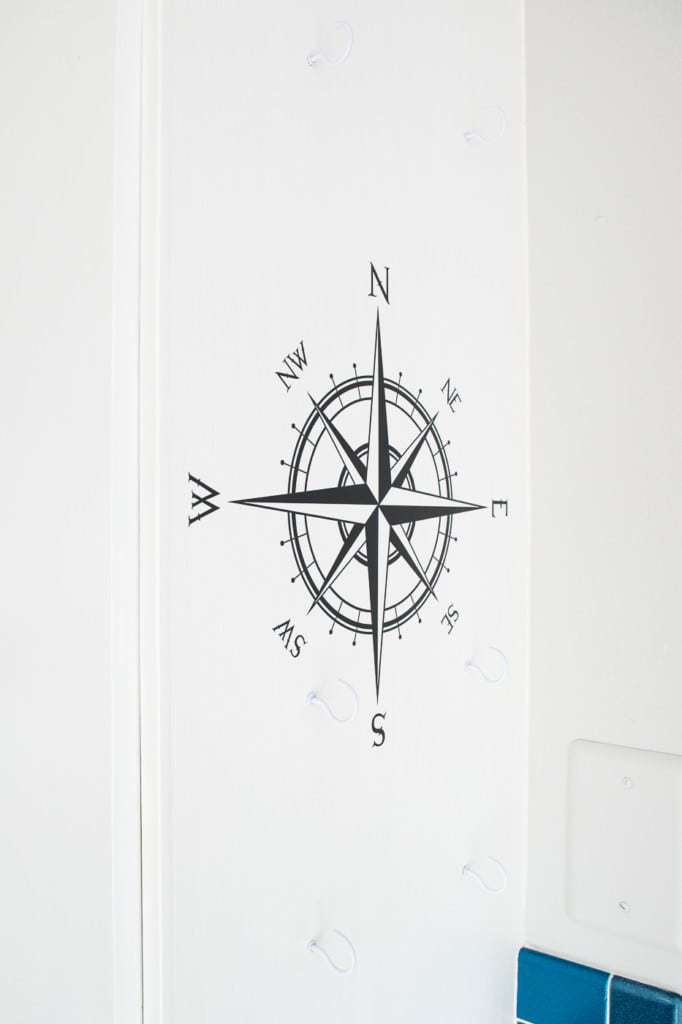 I played around with different mugs to see which arrangement I liked best. I wanted to match their geographical coordinates with the points on the compass, but my husband thought that was a bit OCD, even for me! I couldn't help myself and put Sydney next to the south point, though.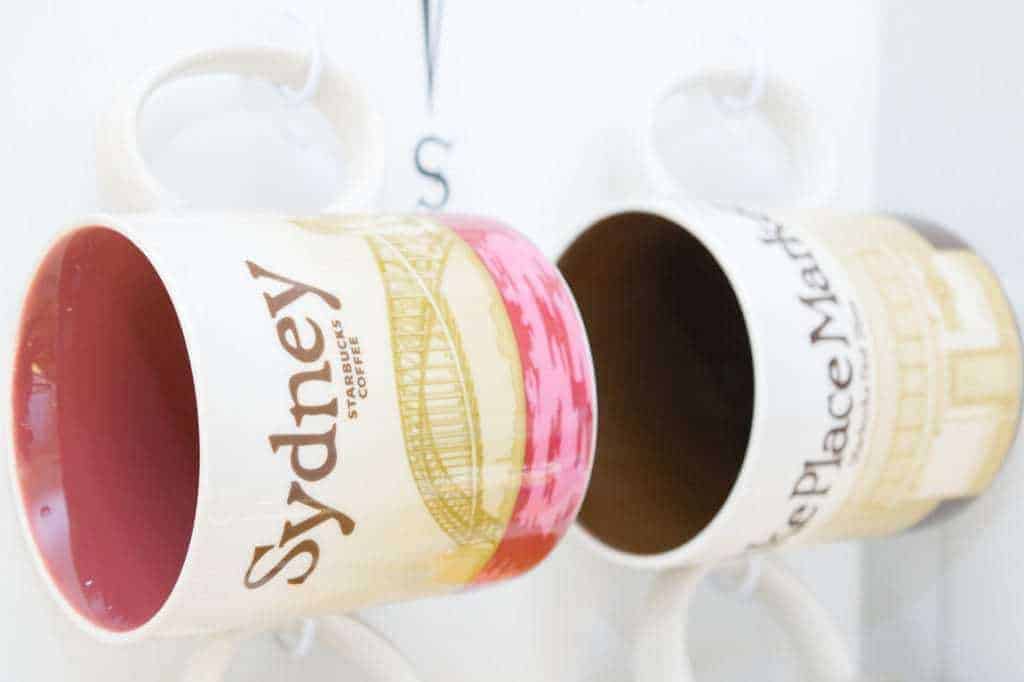 I didn't like how the mugs all hung at different angles on the hooks, so I cheated a little! Since these will be for display only (I have plenty left in the cabinet for coffee-drinking purposes), I put a little Gorilla Glue double sided tape on the back of the mugs where they touch the cabinet. Now they won't swing and crash into each other in case of an earthquake or 8-year-old boy!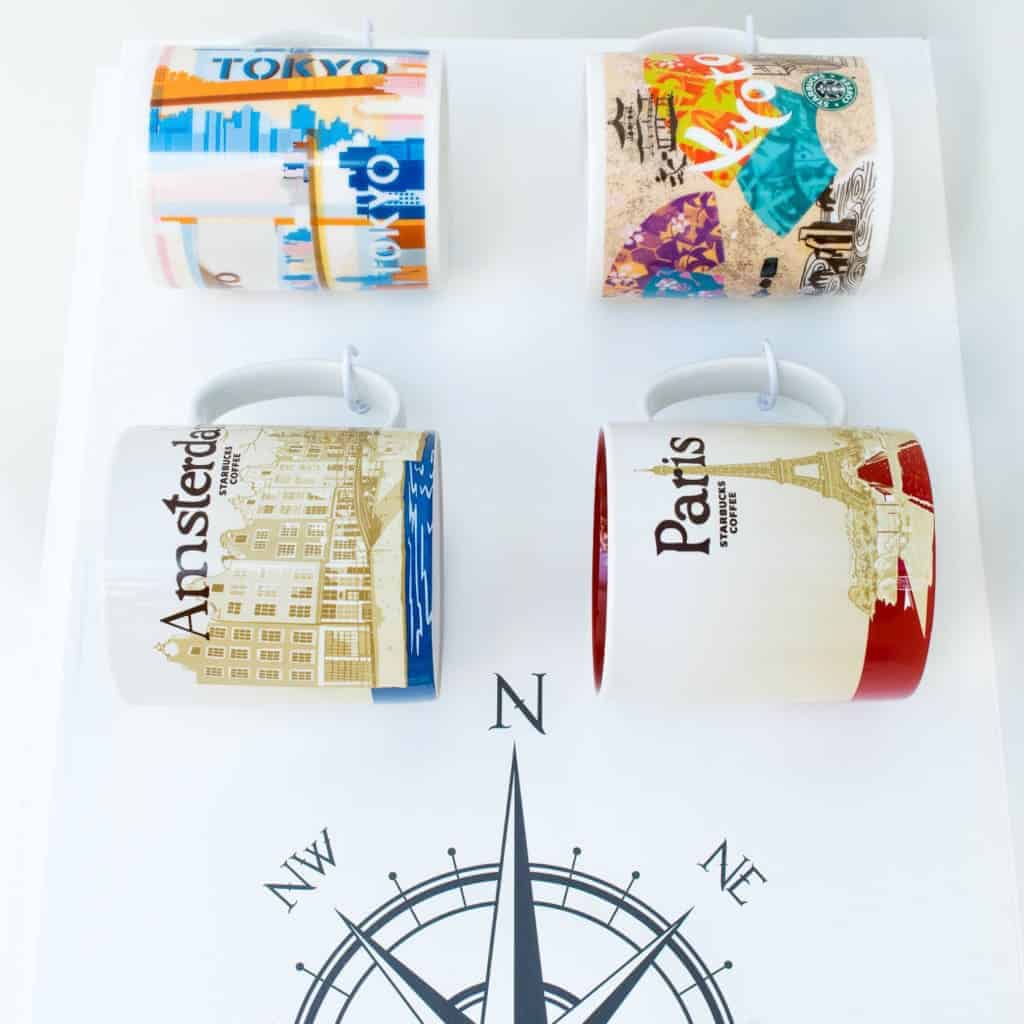 I'm so happy to finally get my favorite mugs out of the dark cabinet and on display! It gives a pop of color to an otherwise blank space, and reminds me of all our wonderful adventures!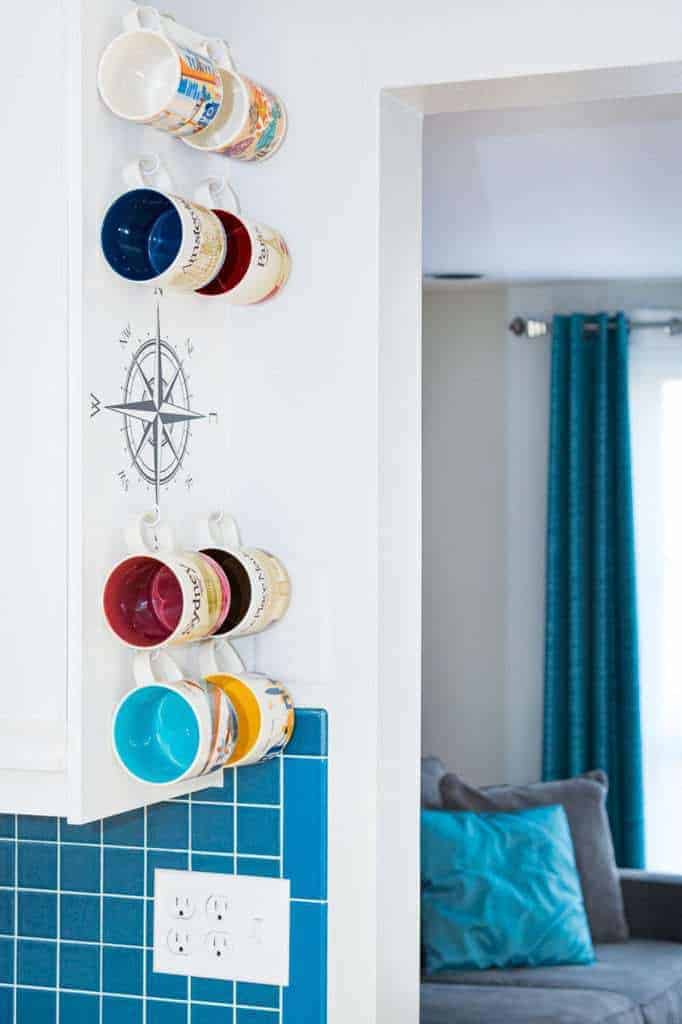 Want to start your own Starbucks mug collection? You don't have to revisit every place you've been just to get the mug! You can find almost any city, state or country mug online at Amazon here.
If you would like to keep up to date with my latest posts about home improvement, home decor and more, you can follow me on Facebook, Pinterest, Instagram, or sign up for my weekly newsletter below.
Want more DIY projects?
Subscribe to get project ideas, home improvement tips, woodworking plans and more delivered straight to your inbox!