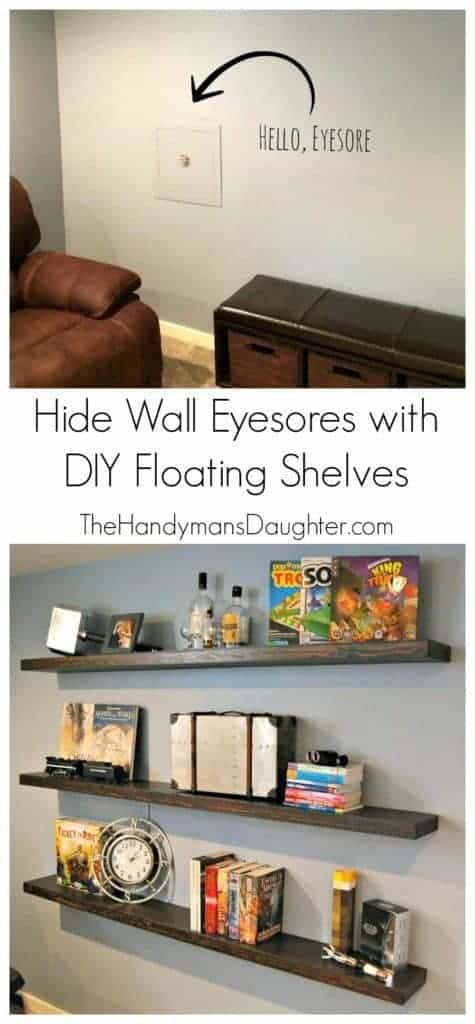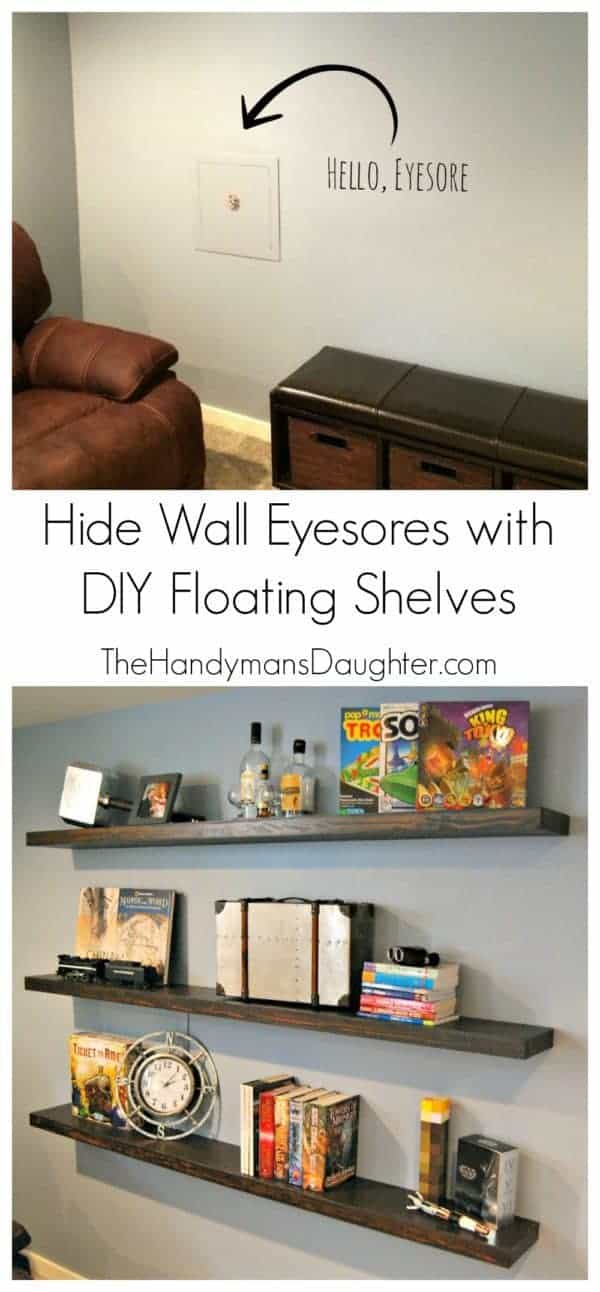 Welcome back for part 3 of our ongoing basement remodel project! If you missed the first two parts of our little adventure, you can find them here and here. Today, I'm going to show you how I disguised this ugly water main shutoff valve…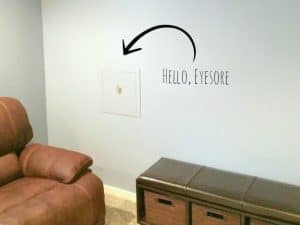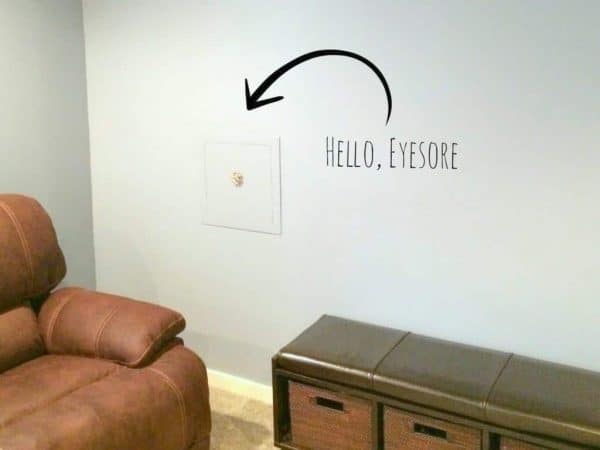 with floating shelves I built myself! This solution creates a storage and display area for all of my husband's geeky toys and books, fills up space on an otherwise blank and boring wall, and allows quick and easy access to the shut off valve in case of emergency.
This post contains affiliate links for your convenience. Please see my disclosures page for more information.
This large wall needed super long shelves, so I began by searching for floating shelves online. Most of the options I found (like these or these) maxed out at five feet, which wouldn't work for our space. The water shutoff valve was located to the far left of the wall, and the shelves wouldn't be centered if they were anything less than six feet. Feeling slightly defeated, I started looking for DIY options I could build with my limited woodworking experience.
If making your own floating shelves seems a bit daunting, and shorter shelves would work for your space, here are a few great options that are simple to install.

I found plenty of tutorials for making your own floating shelves, but this one from Young House Love ended up being exactly what I wanted. The interior brace looked super strong, the exterior is made as a wooden sleeve that can be stained before attaching to the wall, plus the dimensions were exactly what we needed. No math involved!
I won't go into every detailed step of the process, since Young House Love and Ana White (my personal DIY heroes) described it so well. But I will admit that it wasn't quite as easy as it looked, especially for someone like me who is just starting out woodworking. Hopefully you can learn from my mistakes!
Start by drilling countersink screw holes into the long interior bracket 1×2 board. I made sets of two holes about 11″ apart.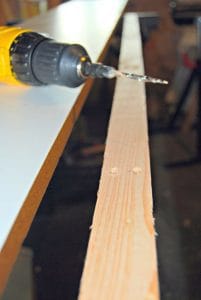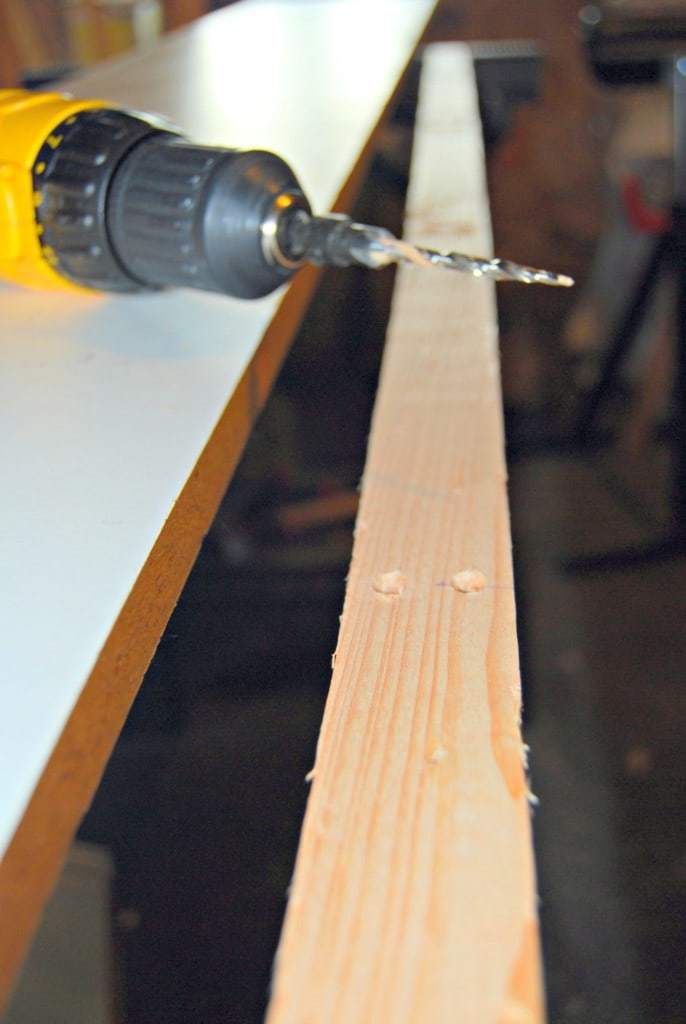 Then clamp the short bracket pieces together and drill two pilot holes into one end, making sure they are lined up with the countersink holes. This is where I made my first mistakes. I forgot to drill the pilot holes when I made the first shelf, and the boards split as soon as the screw hit them. I cut new pieces and tried again, but now some of the pilot holes didn't match up with the countersink holes! After that, I wised up and made marks with a pencil through the countersink holes and drilled at those marks. (Hope that made sense!)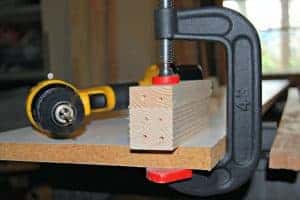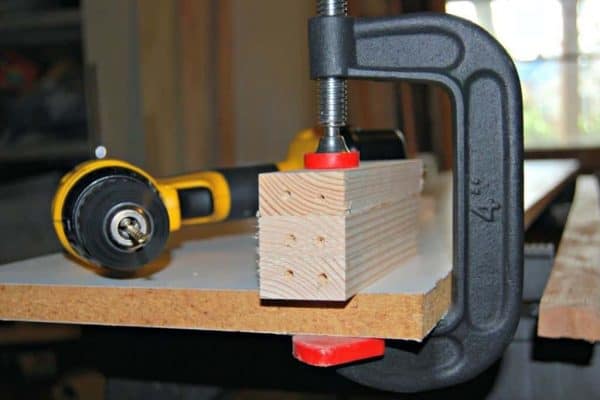 Here's what my half-finished support bracket looked like. Some tutorials I found had you stop here after attaching the end pieces, but I liked the extra stability of an additional 1×2 board on the other side. However, now that I have installed the shelves, I will say that it would have been MUCH easier to screw the brackets to the wall without that last piece.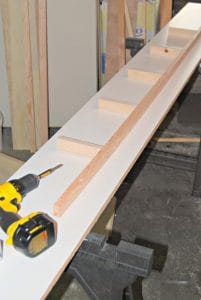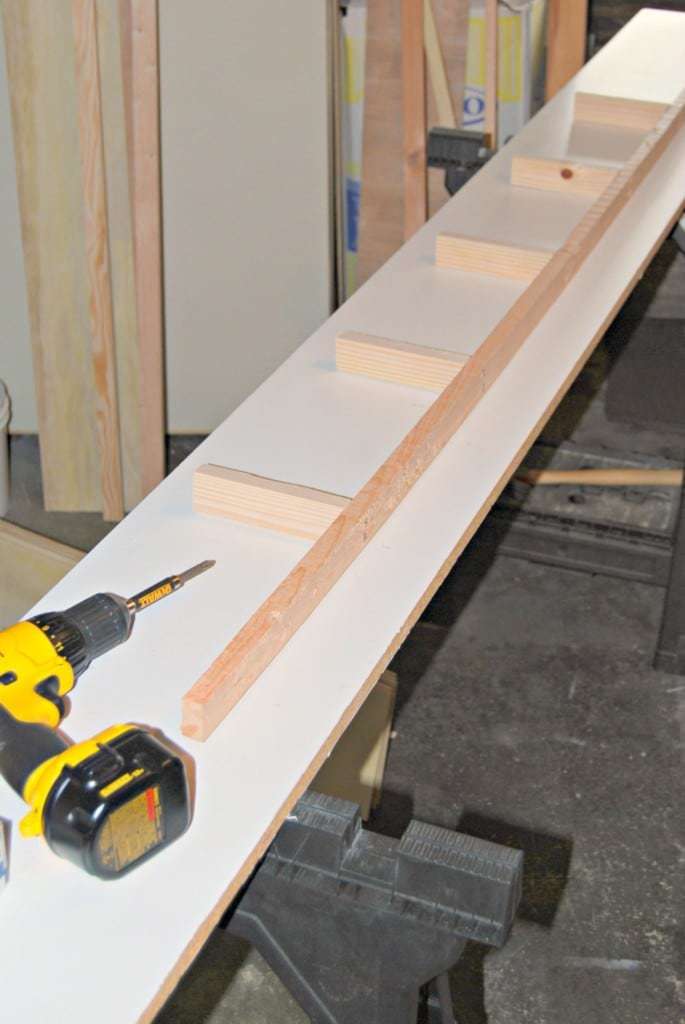 I attached the ends, then pondered how to drill the countersink and pilot holes on the other side. I decided to use a longer countersink drill bit and drill both pieces at the same time. If I had been smart, I would have used a clamp to hold the pieces together while I did this. I went with the brute force of my hand instead, and ended up with a few pieces that weren't quite square and had to be sanded down.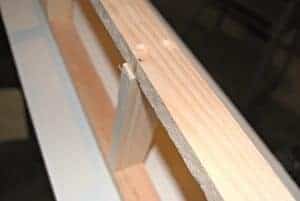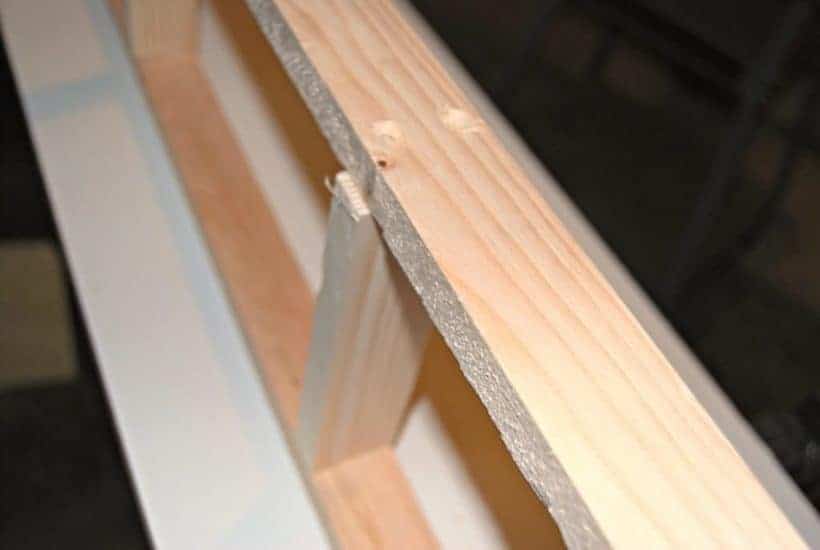 Once the brackets were done, I moved on to the plywood sleeves. I had the plywood cut to the dimensions I needed at the store, so it was a fairly simple matter of nailing the top and bottom together with the shelf trim as shown in the tutorial. However, each of my brackets was a slightly different size, so I had to adjust the trim piece in order to make the bracket fit snugly. I suggest dry fitting the pieces together with the bracket inside before assembling anything.
Finally, it was time to get the sleeve ready for stain! I applied wood filler to the gaps between the plywood and the trim. If you are staining the wood, be sure to use a wood filler that is stainable! I used 3M Stainable Wood Filler, which took the dark stain perfectly. Be sure to overfill the gaps, then sand smooth when dry.
I wiped down the wood with wet paper towels to remove all the dust and open up the pores for stain. After one coat of Varathane's Kona colored stain and a few coats of polyurethane, they were ready to go up on the walls! The bracket attaches to the wall studs with 3″ construction screws, and the sleeve slides right over the bracket. The sleeve fits snugly, so there's no need to screw or nail it in place!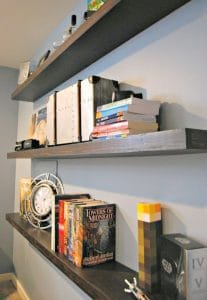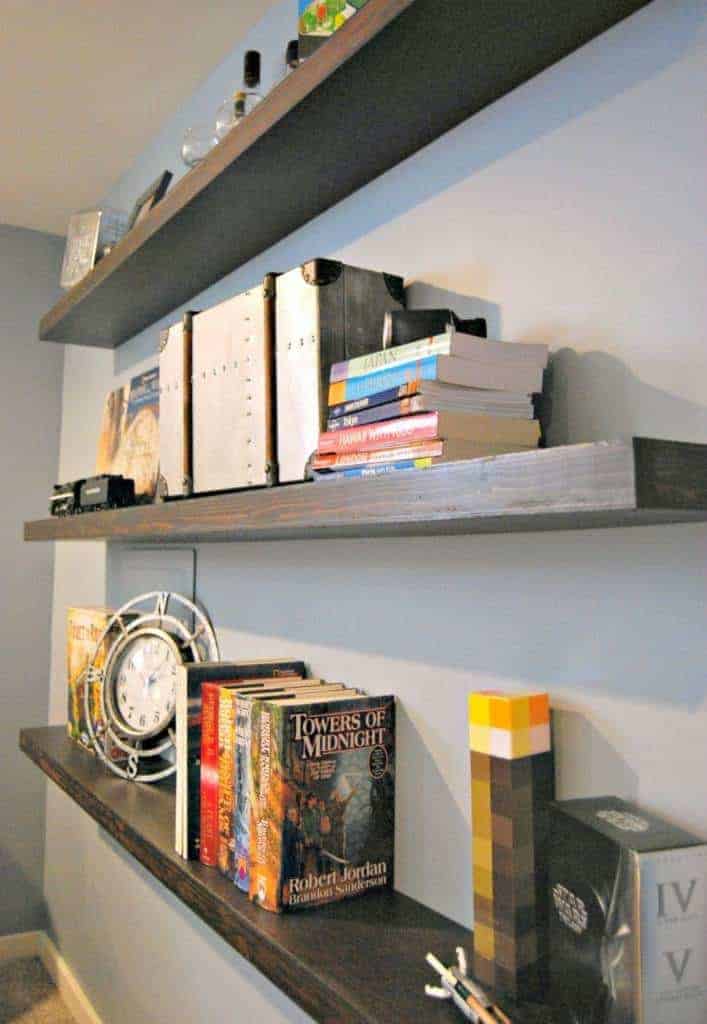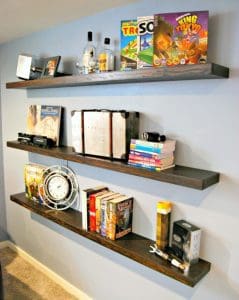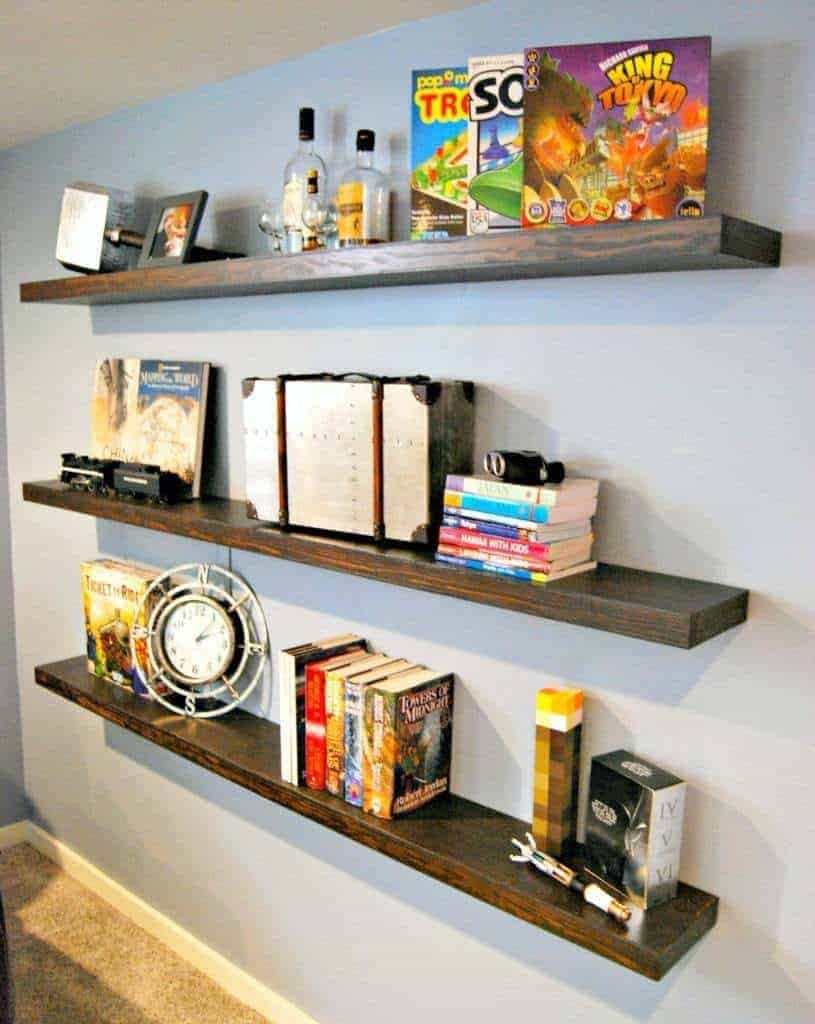 Here's a close up of the wall panel, now hidden.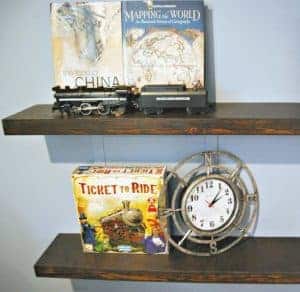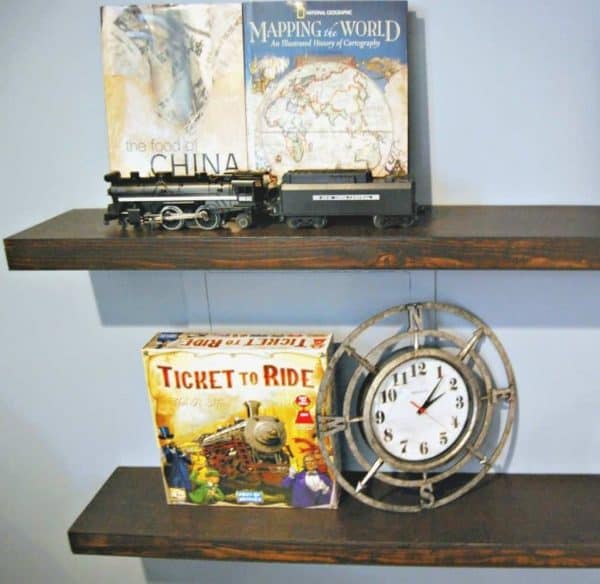 This will wrap up the basement remodel projects for now. We will eventually put in a bar on the other side of the room, and we need some more art on the walls, but the big projects down there are done! Here's the before and after shots of the room for comparison.
It feels like a completely different room now, and we use it all the time. The game table is currently housing our son's vast collection of Pokemon cards, and the new shelves are great for displaying board games he loves to play. The TARDIS door brings a smile to my face whenever I go through it. Still no time travel capabilities, though. We're working on it!
If you would like to keep up to date with my latest posts about woodworking, home improvement, decor and more, you can follow me on Facebook, Pinterest, or sign up for my weekly newsletter below.
Want more DIY projects?
Subscribe to get project ideas, home improvement tips, woodworking plans and more delivered straight to your inbox!