Get organized with Daiso products! This fun Japanese dollar store has all the storage containers you need to get your clutter under control!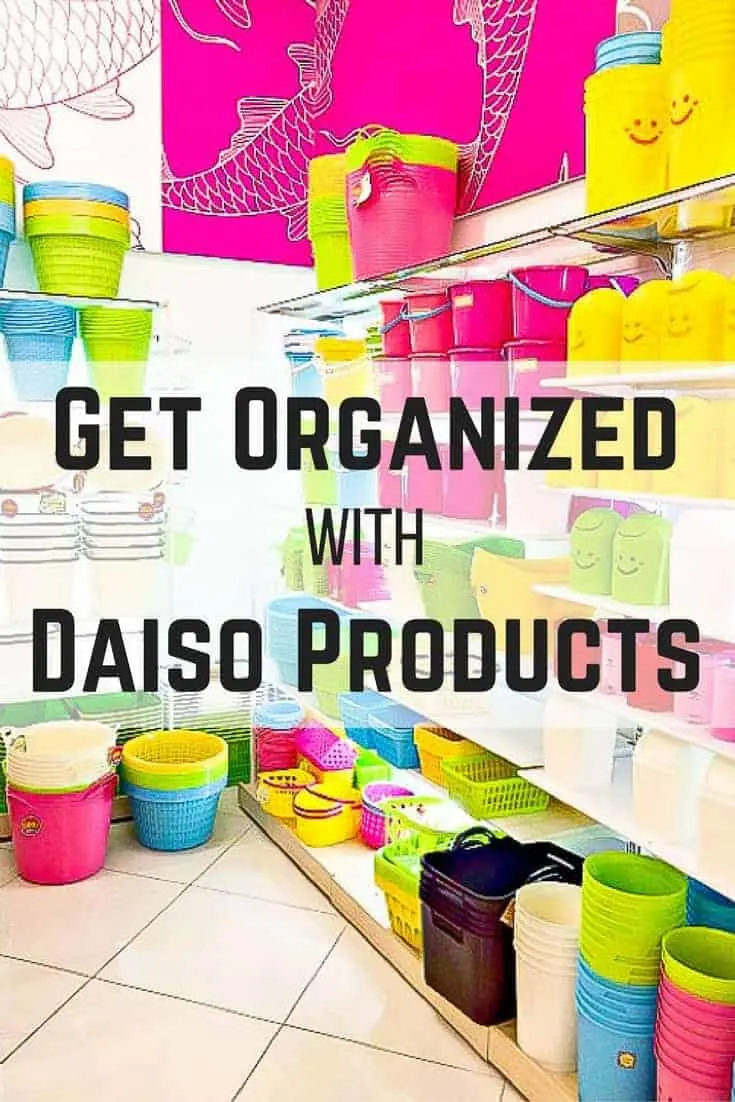 Like many people, I want to focus getting organized at the beginning of the year. One area of our home needing a lot of love is our linen closet. I'm going to show you how I gave it an overhaul for just $15 using Daiso products! This fun Japanese dollar store has all the storage containers and labels you need to get your clutter under control.
This post contains affiliate links for your convenience. Purchases made through these links may earn me a small commission at no additional cost to you. Please visit my disclosures page for more information.
We have very little storage in our bathroom, even after adding a corner cabinet. Most of our stuff ends up in the linen closet right outside the bathroom door. And it looked like this...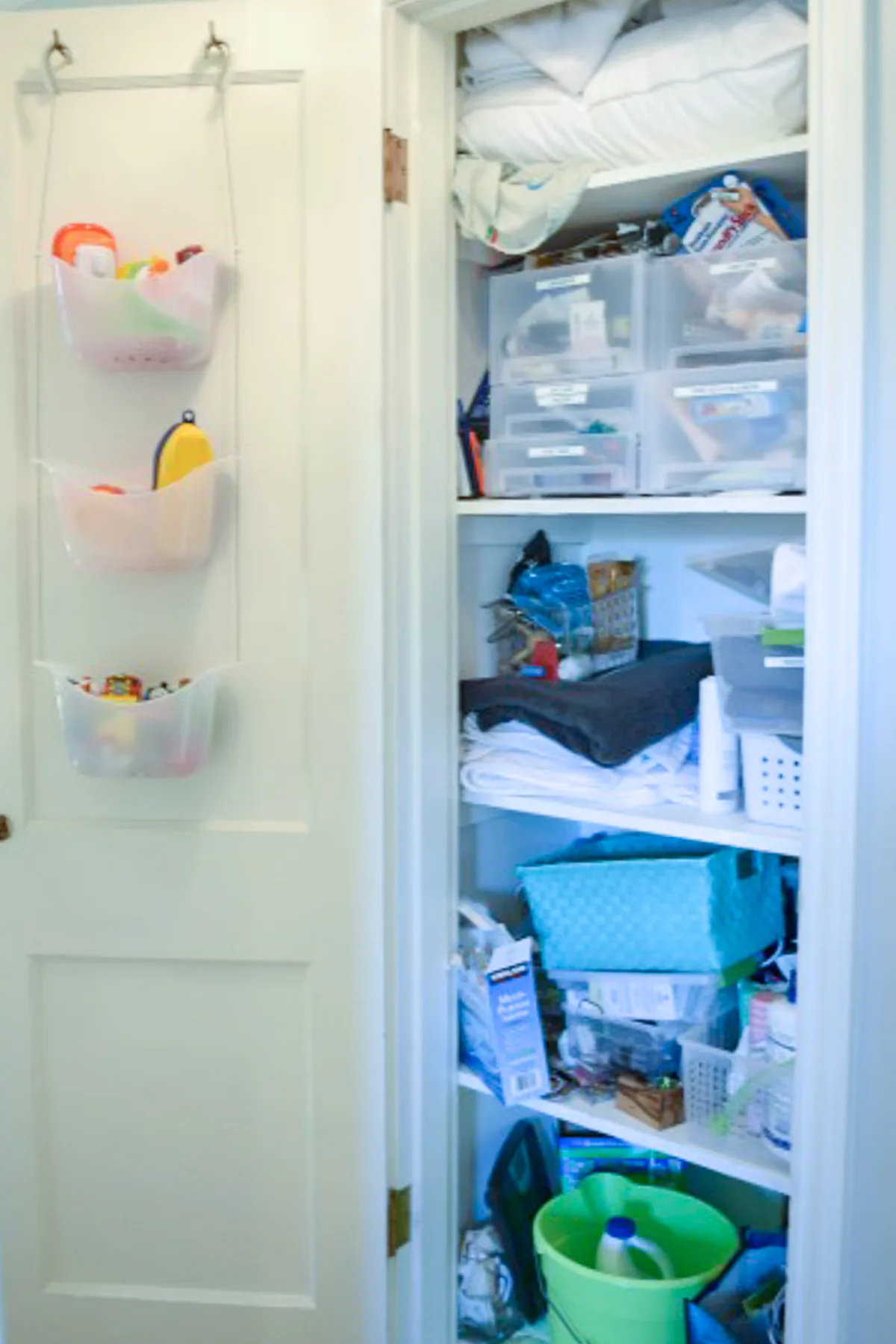 What a mess! Bath toys, extra pillows and cleaning supplies threatened to fall on us every time we opened the door.
You can see my previous attempts at organization with these labeled drawer bins from IKEA (no longer available, but you can find similar items here and here). But their placement on a higher shelf made it impossible to see what was inside, and obviously the labels didn't match the contents anyway.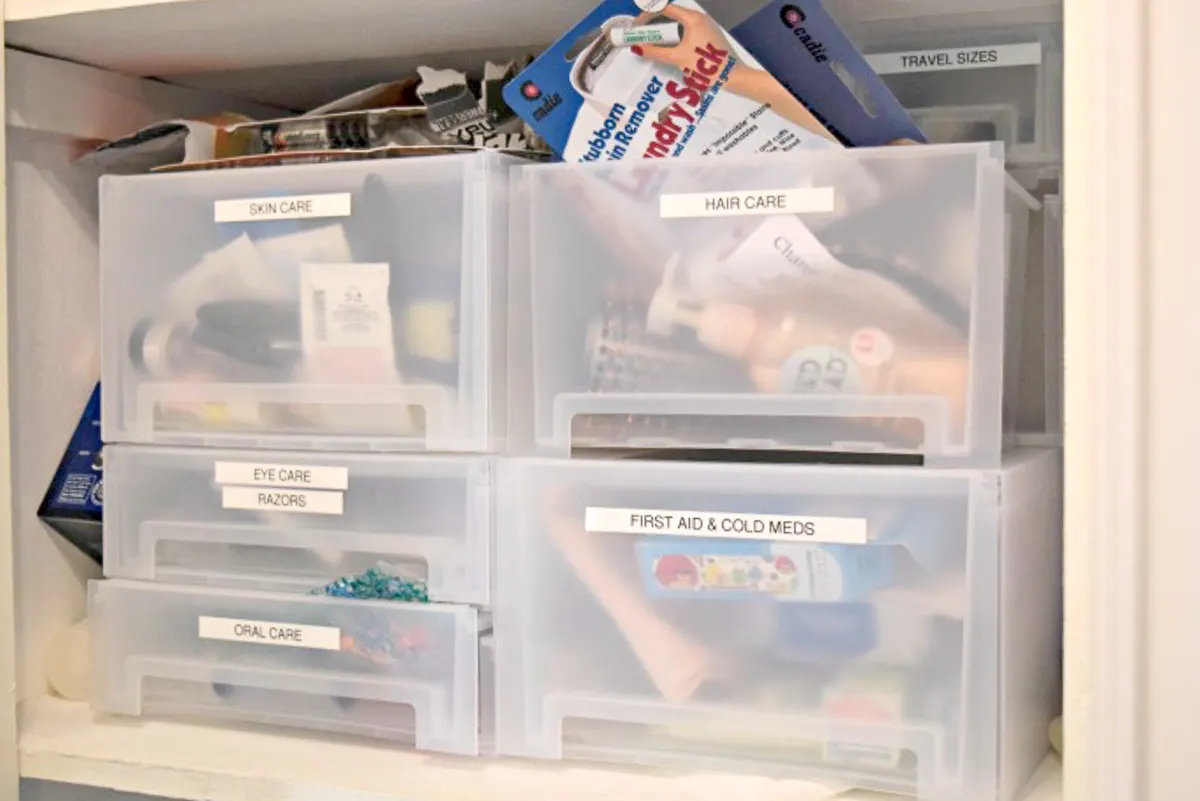 So after taking a quick inventory of what we had and what we needed, I headed to my favorite store for cute yet inexpensive storage solutions: Daiso Japan, a.k.a. the Japanese Dollar Store.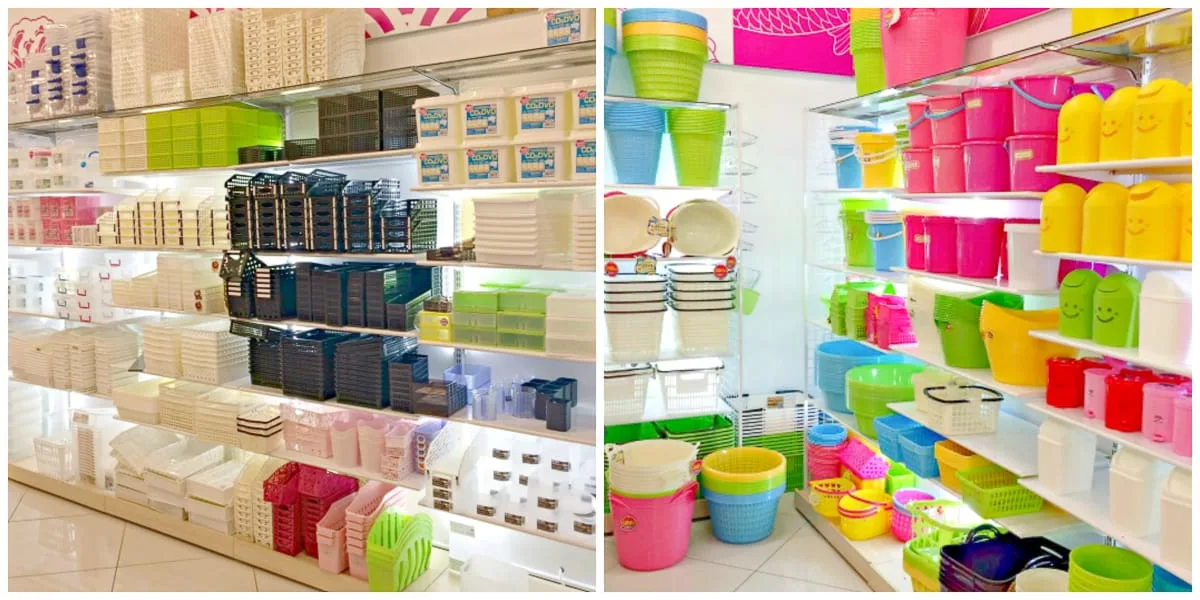 I shopped at an amazing, multi-story Daiso when we visited Japan one summer, and we're lucky enough to have a few smaller stores in the Seattle area. So many cool things for $1.50 each! I always stock up on Daiso storage products whenever I'm nearby, because they're so colorful and practical!
I pulled everything out of the closet and started organizing it into categories. Anything that hadn't been needed since we moved in was tossed. I unearthed a massive collection of travel size products from all the hotels we've stayed over the years. Why in the world was I saving these?!? All but the best ones went in the recycle bin. It felt good to clear out all the clutter!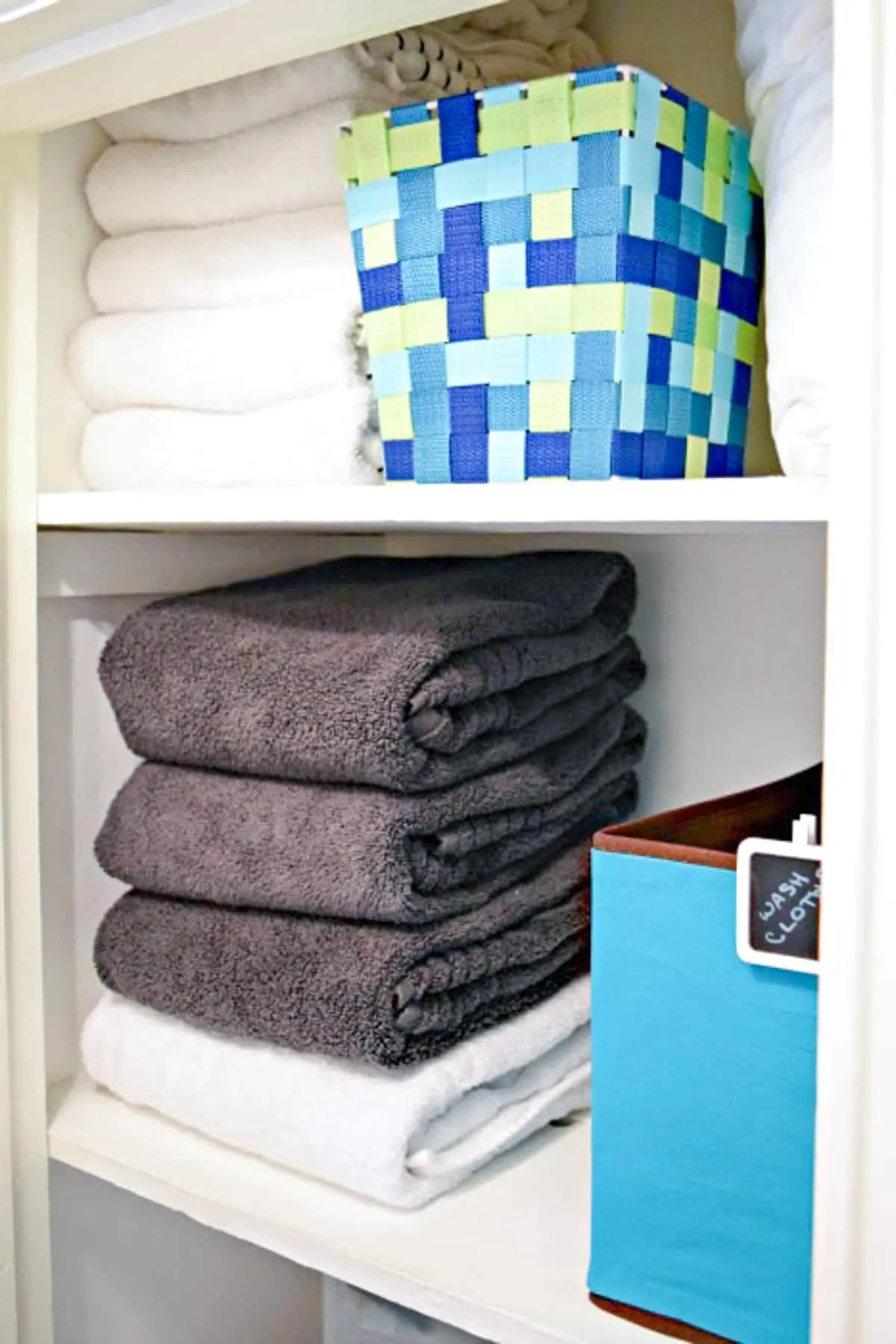 I dedicated the top two shelves to light, soft items like towels and pillows that won't kill us if we pull them down accidentally. Brightly colored bins (both are Daiso products) make the closet more cheerful while also giving us the storage and organization we so desperately needed.
The big fabric box is great for tossing in washcloths straight out of the laundry, and those adorable chalkboard clothespin labels (also from Daiso, but these are similar) clip to the top.
I did a little DIY upgrade to the box to color coordinate with the other bins in the closet. It was a crazy tropical print before, which wasn't exactly the look I was going for. Check out my tutorial for how to cover your own fabric bins without any sewing!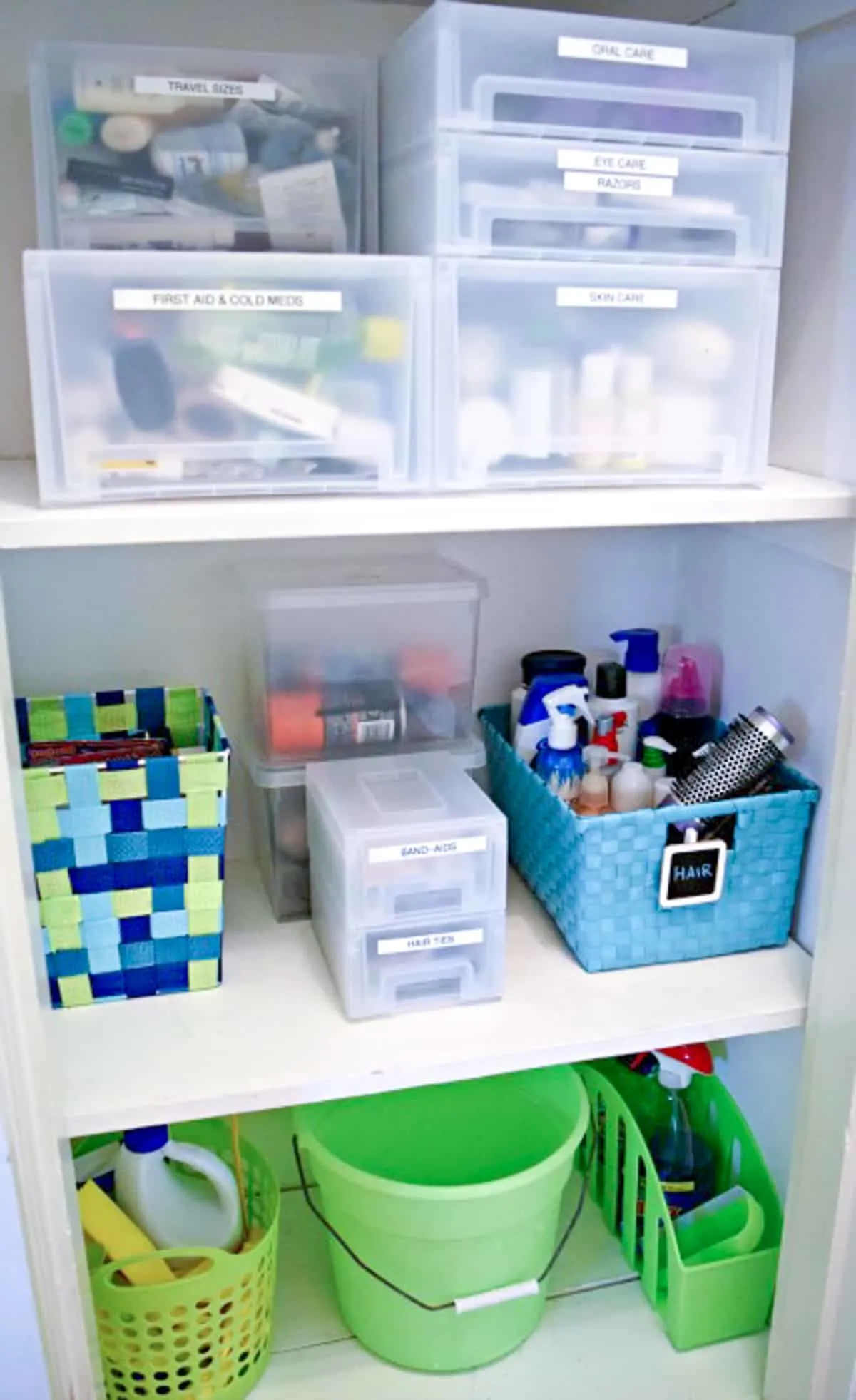 I reused the IKEA bins, but moved them down a shelf and got rid of anything we weren't using. The band-aids are in their own little container, instead of sprinkled throughout the first aid bin (speed is of the essence when there are bleeding children involved).
More brightly colored woven baskets from Daiso hold hair care supplies and other bathroom necessities. Bathroom cleaning supplies are gathered together on the bottom shelf. I never realized it until now, but apparently in our house, green means clean!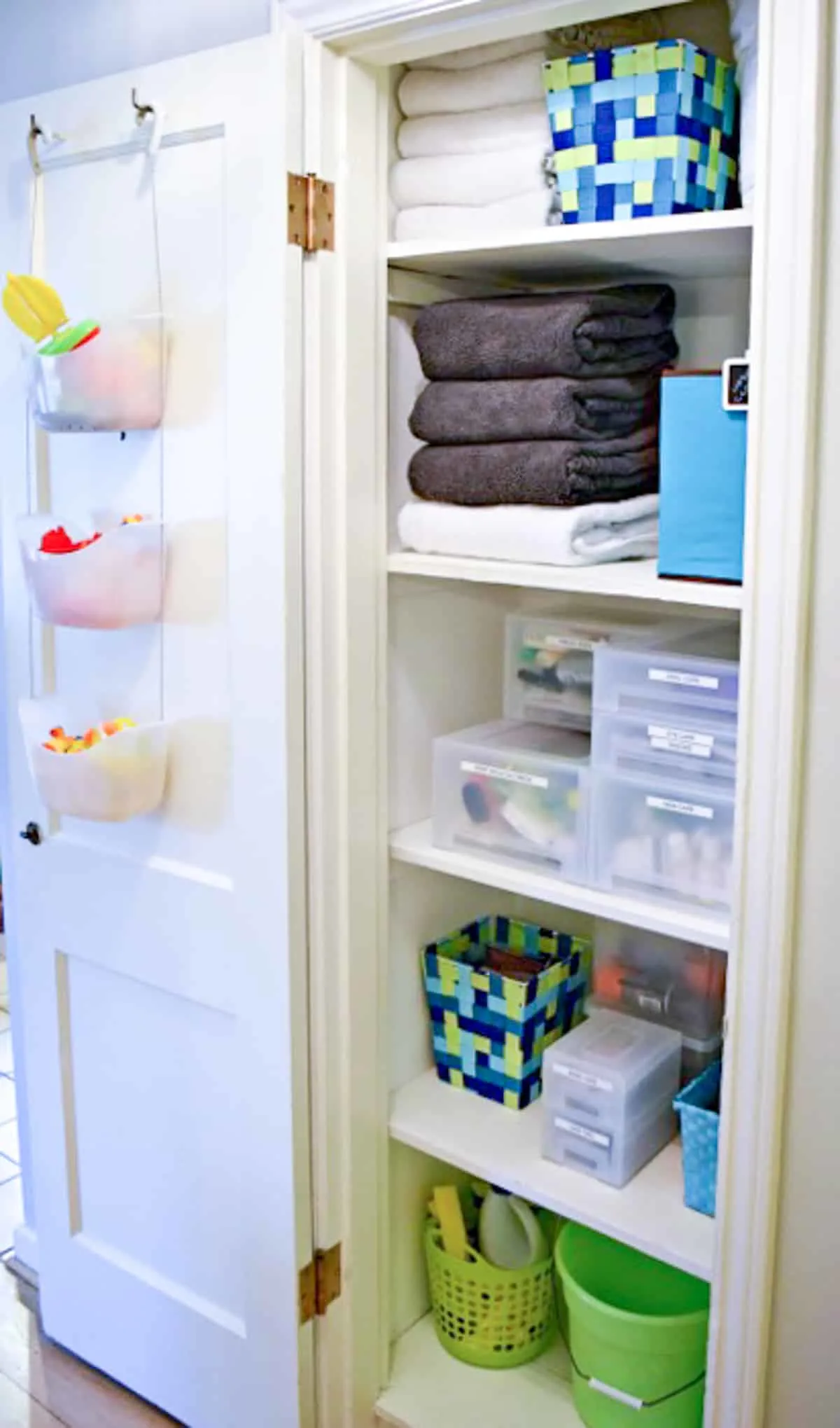 I can breathe a sigh of relief now that this closet is better organized. It's so easy to grab what I need quickly! And now I know I don't need to buy travel size shampoo and conditioner ever again!
Next, I'm keeping the organizing momentum going into the kitchen. We got a new fridge over the holidays, so I'm determined to keep it looking neat and organized. More Daiso products to the rescue!