Tired of clogged shop vac filters and reduced suction power? You need a cyclone dust separator! Learn why you need one in your workshop!
Dust collection is an important part of any workshop. Fine dust can get trapped in your lungs, causing health problems down the road. Plus, it's much easier to keep your workshop clean when you suck up the mess as you make it!
In my small basement workshop, I have a wall mount dust collector, a shop vac, a dust extractor and an air filter to prevent sawdust from floating around. You can learn the difference between all these machines here. That's a lot of filters to clean and replace!
I don't know about you, but I'm really bad at remembering to take care of filters. I tend to get frustrated at the suction loss and wonder if there's a clog in the hose, when it's actually just a dirty filter. With a cyclone dust separator attached, I rarely have a problem with airflow or suction!
In this article, I'll show you why you should add a cyclone separator to your dust collection system, and a few different options for both a shop vacuum and a dust collector.
This post contains affiliate links for your convenience. Purchases made through these links may earn me a small commission at no additional cost to you. Please visit my disclosures page for more information.
What is a cyclone dust separator?
A cyclone dust separator is installed between the intake hose and the dust collector or shop vacuum. It uses centrifugal force from the vacuum's air stream to separate the dust particles.
As the dust spins around the funnel, heavier debris drops into the collection bin while the fine dust gets caught in the vacuum filter. It's easy to see when the cyclone separator is full, and you can just dump it out without having to mess with dust bags!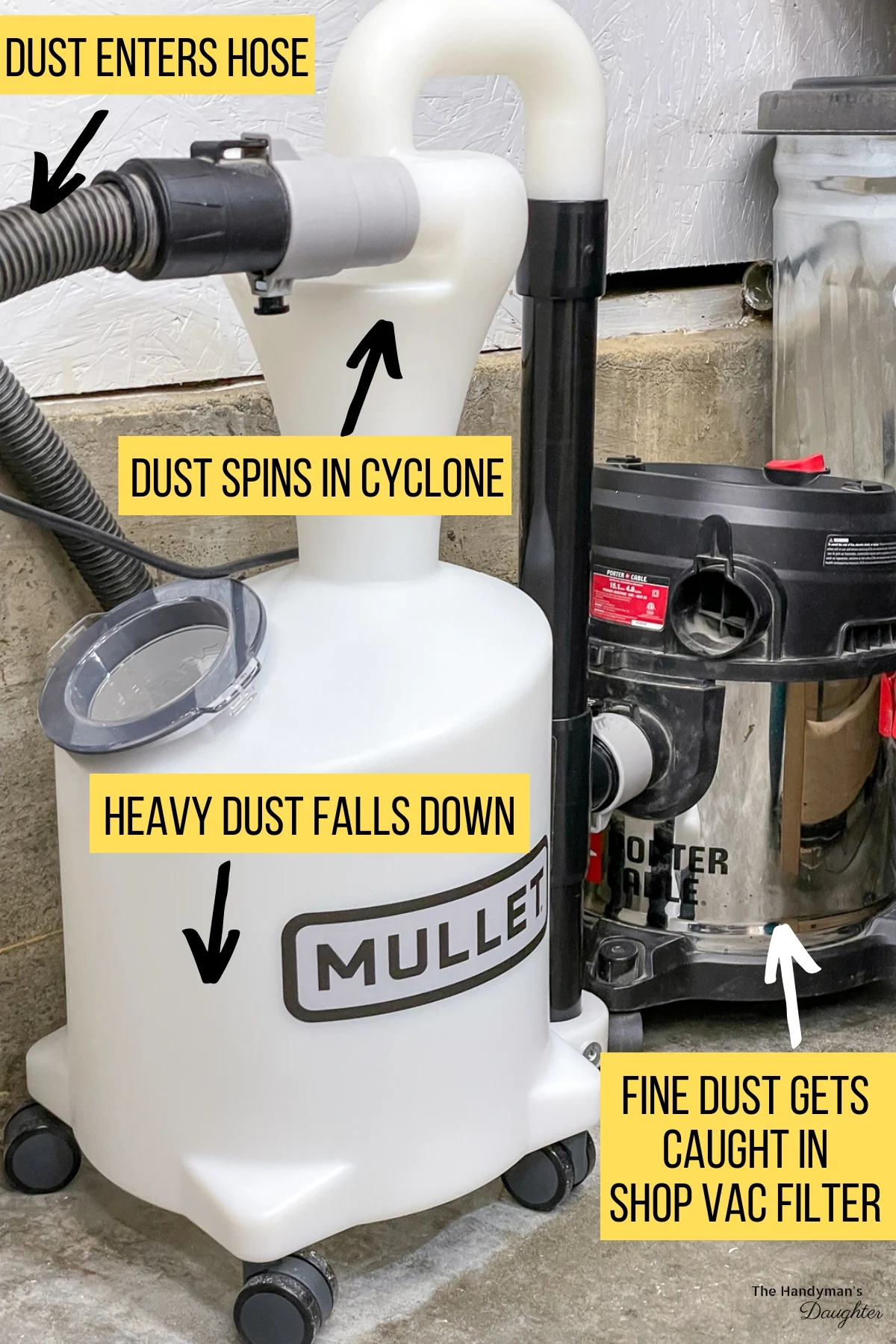 Shop vac dust separator
There are several different shop vac cyclone separators on the market. Some are as simple as a bucket cover, which I've used in the past. Others are more complete systems, like this Mullet cylone separator. Full disclosure: Mullet Tools provided me with their product to try out, but all opinions are my own.
While the bucket cover version is cheap and easy, I've found that it doesn't separate out as much as I would like. As the five gallon bucket fills up, there's less room at the top for the air to spin around. Large debris would get caught up in the air flow and end up in the shop vac anyway!
The Mullet has a funnel that separates the dust better than a straight sided bucket. It's also really easy to set up, and fits any brand of shop vacuum. Just align the intake on the shop vac with the PVC pipe of the Mullet, then cut the pipe to size as indicated on the sticker.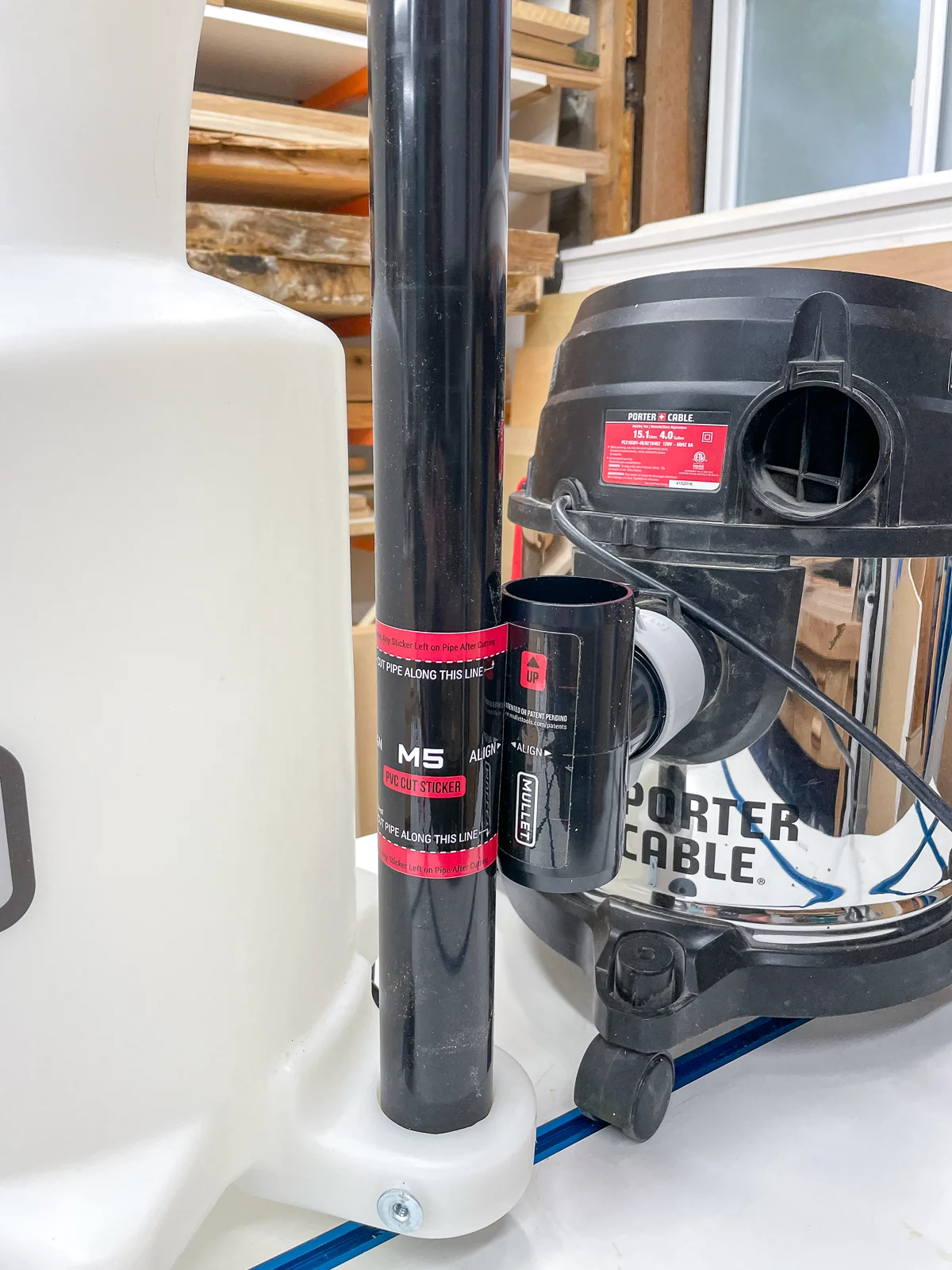 When the two are joined together, they can be easily wheeled around the workshop to suck up messes anywhere! I keep mine under my MFT workbench, with the hose clipped in place with these clamps so I can grab it quickly or push it out of the way.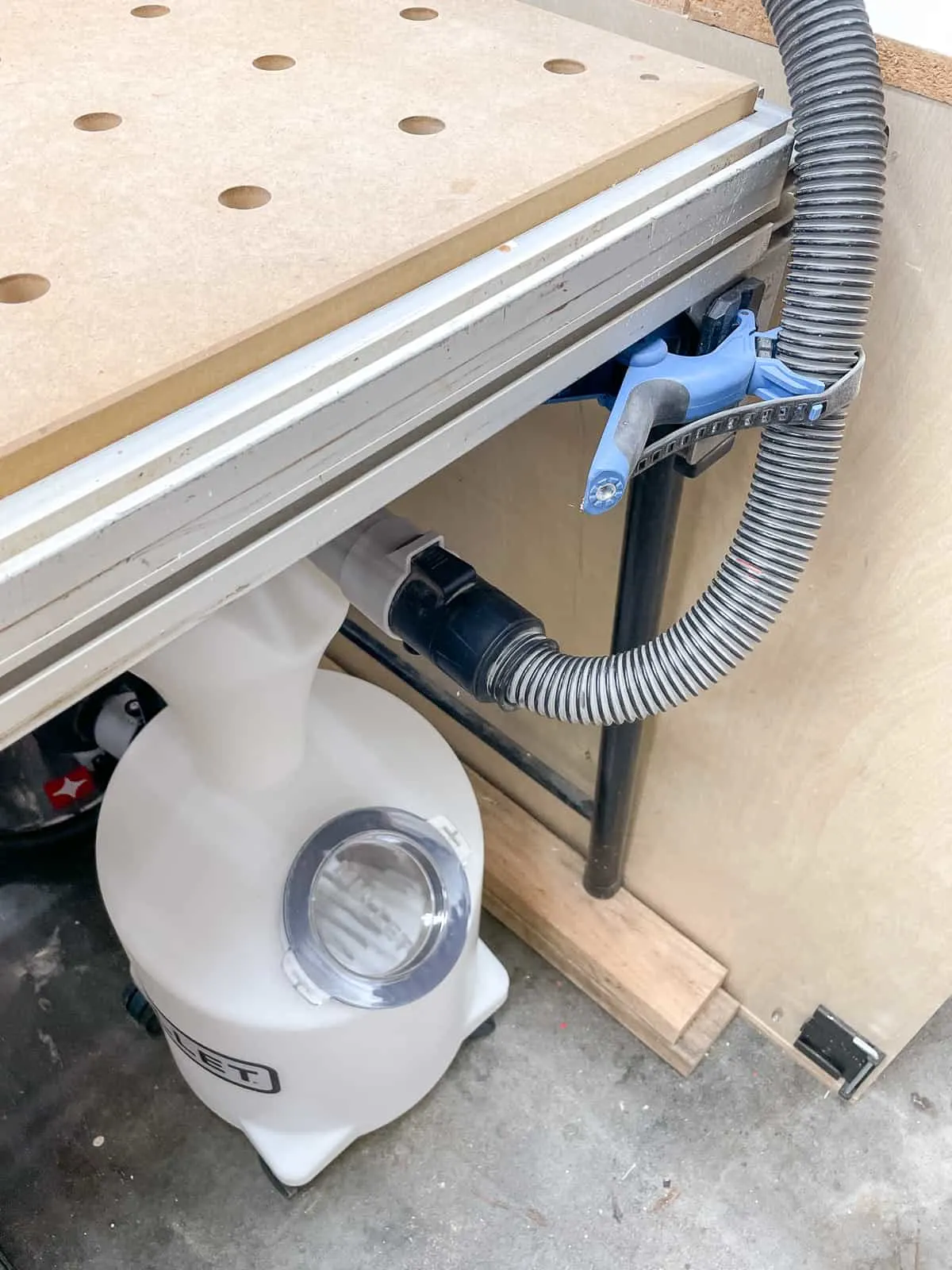 It does a great job separating out all that fine dust and keeping the shop vac clean. I was pleasantly surprised to see that even drywall dust ended up in the Mullet, instead of clogging up the filter!
Dust collector cyclone separator
When you add a cyclone separator to your dust collector, it becomes a two-stage dust collector. It performs the same function as the shop vac version, just on a larger scale.
I've had a trash can separator lid on my dust collection system for years. Unlike the small bucket lid version, this metal trash can has a much larger volume, so it takes longer to get full and lose suction.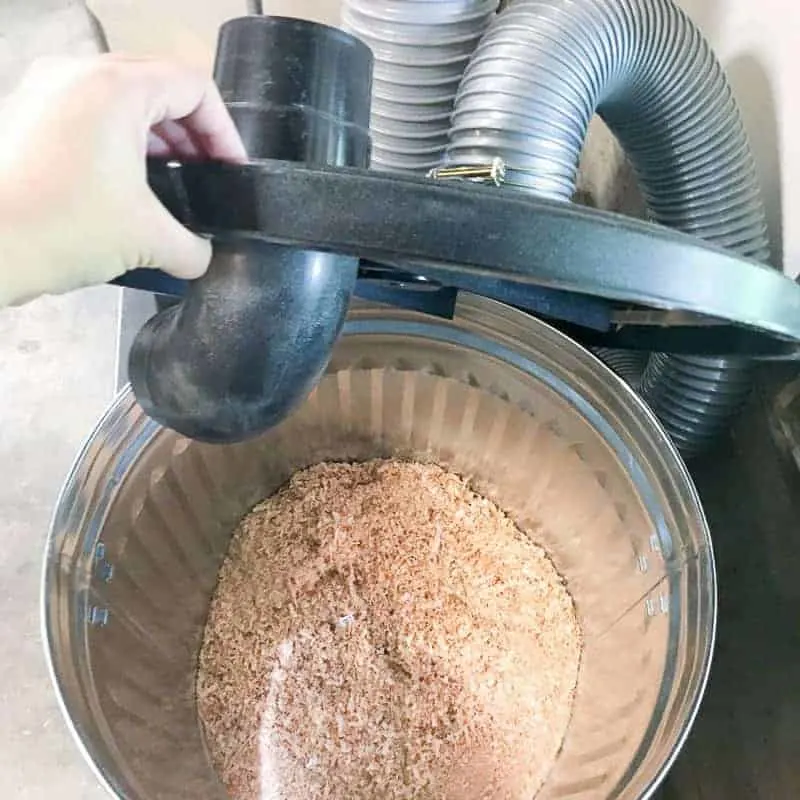 It fits perfectly under the wall-mount dust collector at the end of my miter saw station. I rarely have to clean out that messy fabric dust bag now! If you have one of these things, you know it can be quite a chore!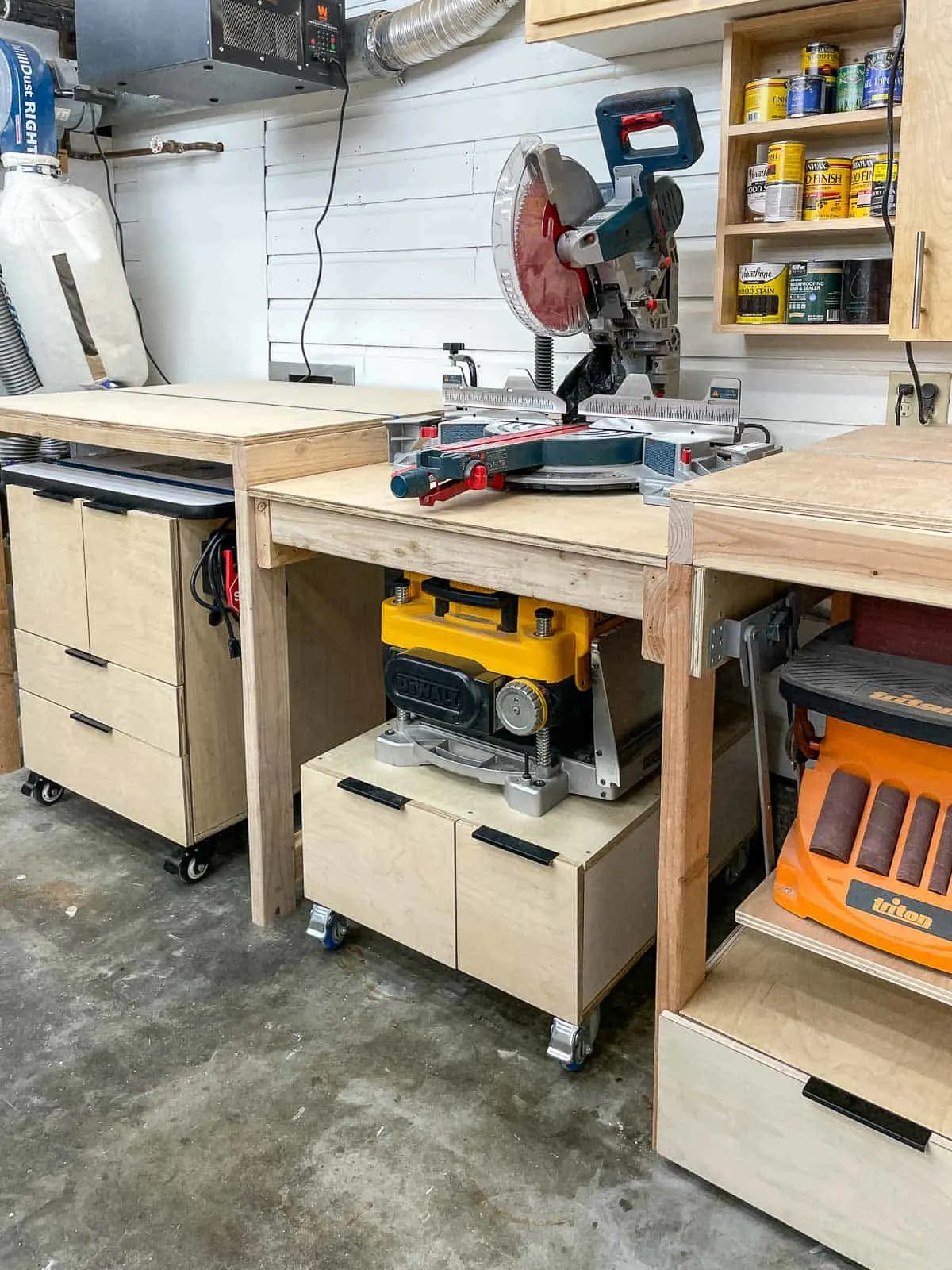 Each large tool is connected to the dust collection system with a blast gate, which I can open and close as needed to direct the air flow.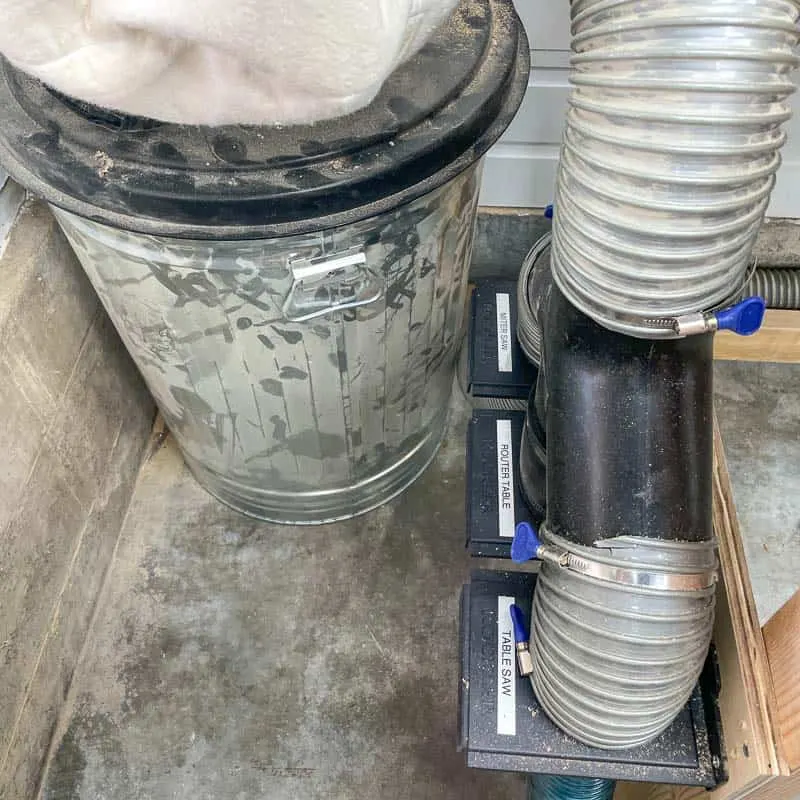 This is so much better than the octopus system I had going on before!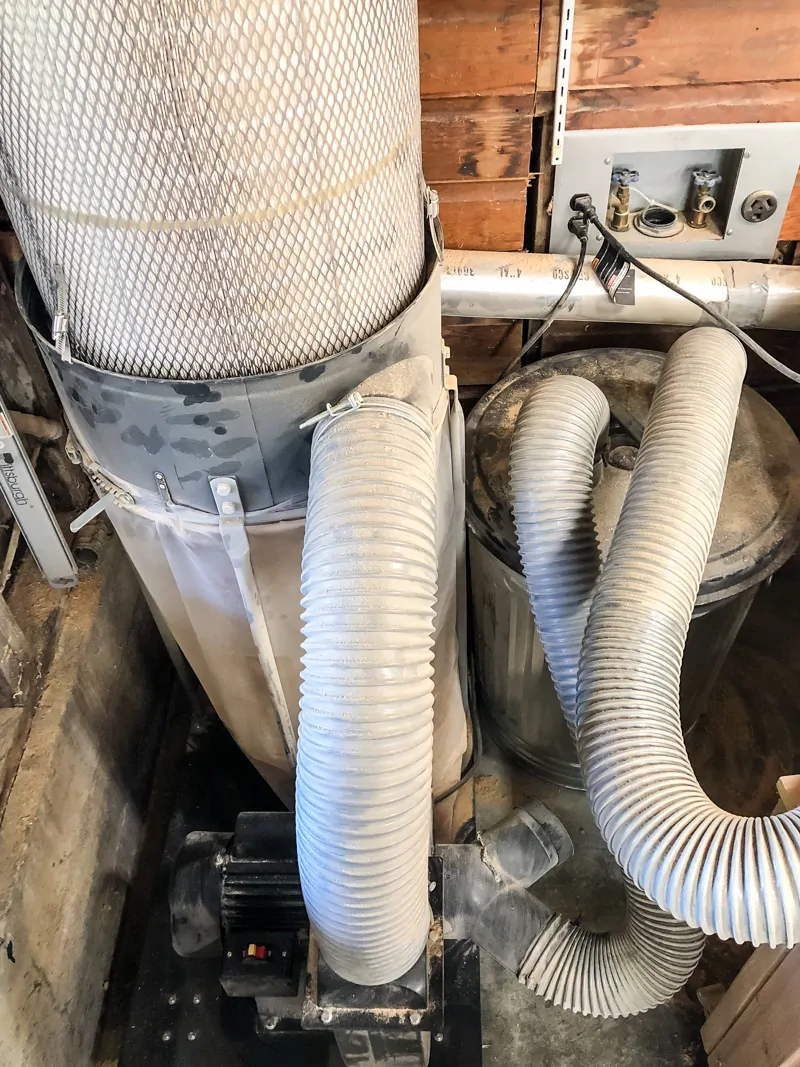 ---
Dust from woodworking can be a serious health hazard. A cyclone dust separator is an effective way to remove sawdust in your woodshop, while maintaining the effectiveness of your dust collector.
Do you have one in your workshop? I'd love to hear about your set up in the comments below!
Check out these other dust collection articles!