Miter saw dust collection seems like an impossible feat, but I've found the best solutions for your workshop! Keep sawdust contained and out of your lungs!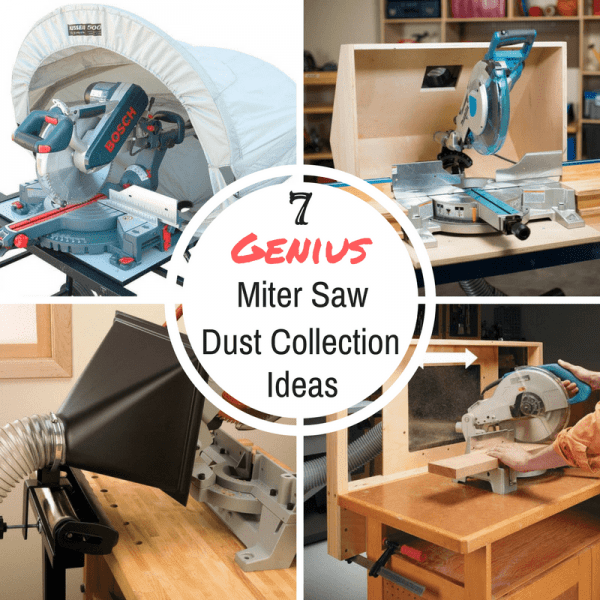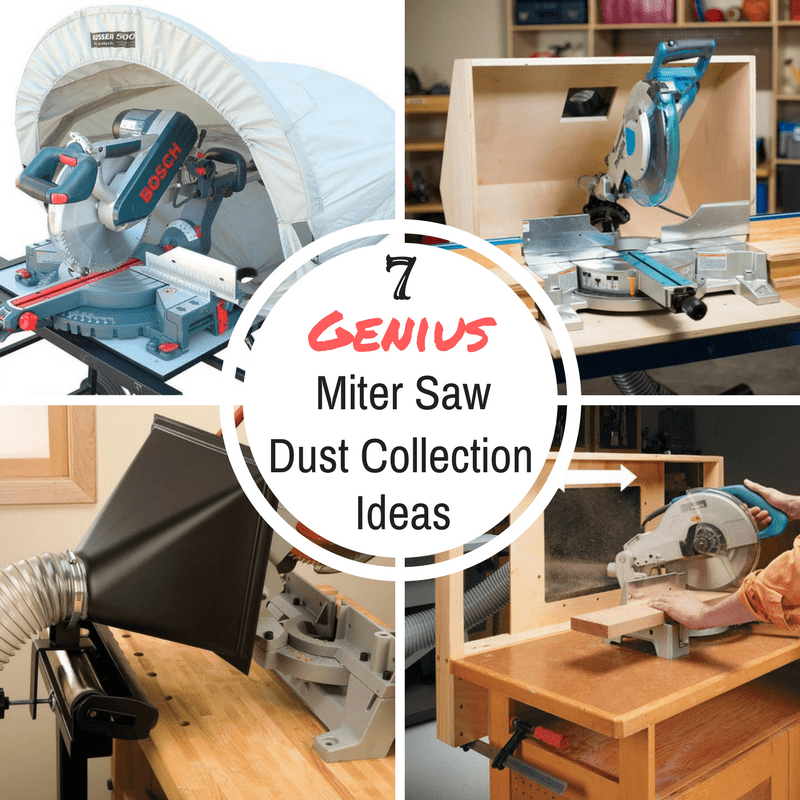 Last week, I showed you my new dust collector and how I upgraded it for better performance. Since then, I've been brainstorming the best way to hook up that beast to all my machines. First up: the miter saw. Miter saw dust collection is tricky because it spews sawdust in every direction, making it hard to contain. These genius solutions will hopefully inspire you to get that miter saw mess under control!
This post contains affiliate links, which means I may receive a small commission for purchases made through links in this post.
The dust ports found on most miter saws aren't particularly helpful. Even when hooked up to a shop vac, it still leaves a huge mess. This video does a great job of comparing different brands to see which one creates the least sawdust.
The key to controlling miter saw dust is to get it contained. There are so many different ways to do this, with varying results. Some only work for saws without the sliding mechanism for cutting those wide boards, so check the depth of yours before you start building!
Tent-like domes like this one get great ratings, but come with a hefty price tag. I thought about purchasing one for the longest time, but I just can't justify the cost! I'd prefer this model because it has a 4″ vacuum port in the bottom to connect to my dust collector. Other miter saw tents like this one funnel the dust down to a container under the machine for later disposal.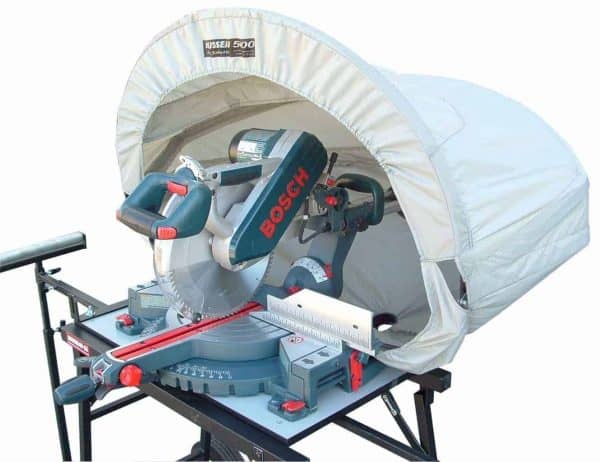 Why not make your own instead? I created a miter saw dust hood using a baby tent! It works the same way as the expensive versions above, for a fraction of the price!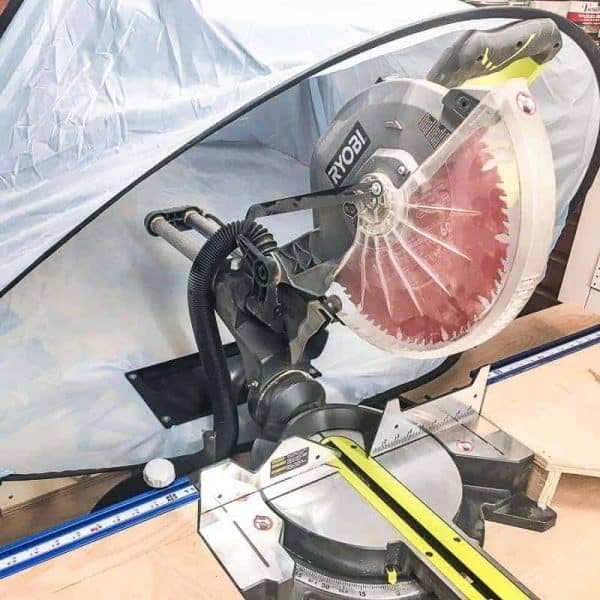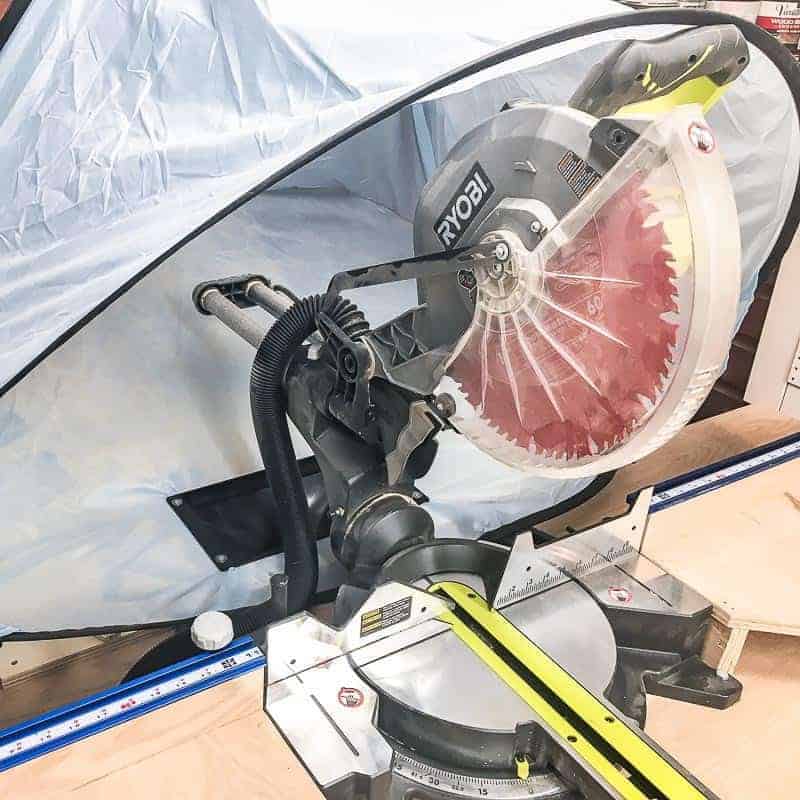 This miter saw hood plan on the Build Something site is a good way to use up all those oddly-shaped plywood scraps. Unfortunately, this one wouldn't work for my sliding compound miter saw unless I made it a foot deeper!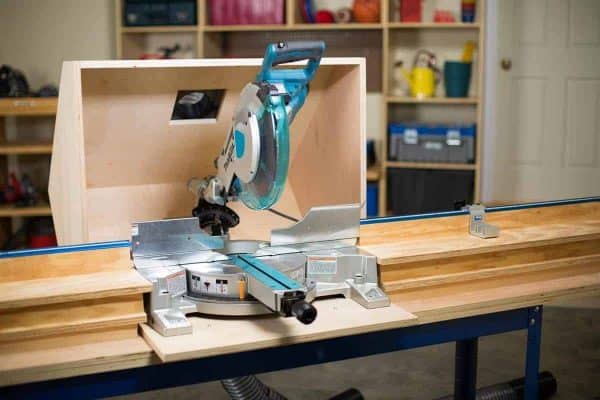 Let the light shine through this plexiglass version from One Project Closer! This one would even work on a sliding miter saw.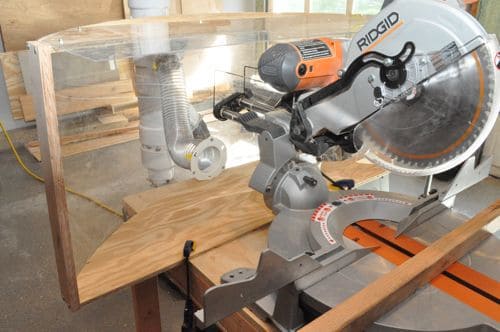 Still too much for you? This trash can solution might be just what you're looking for! I've also seen plastic storage bins and even cardboard boxes used as a quick fix for miter saw dust collection.
Want something that's a bit more mobile? This set up uses a roller stand with a special clamp to hold this huge dust hood in exactly the right spot. Then move it over to the thickness planer, lathe or even when sanding to keep the area dust-free!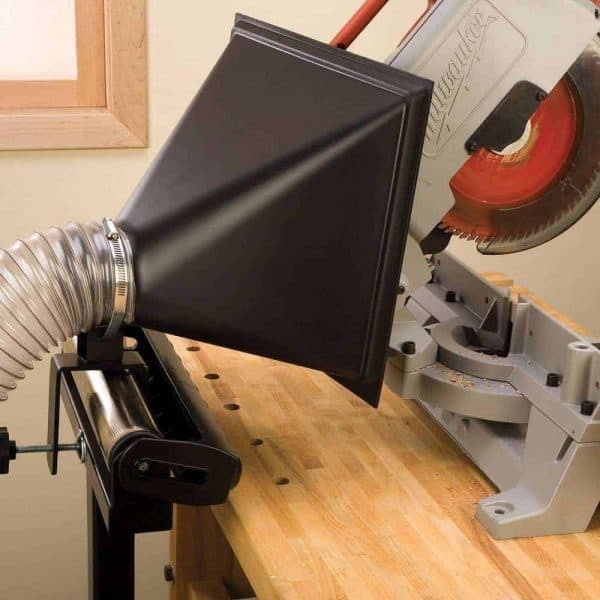 Some of these solutions work great . . . until you need to make a mitered cut. Change the angle of your saw and you're spewing sawdust everywhere! This sliding dust port can move back and forth to capture the mess from any direction.
If you would like to keep up to date with my latest posts about woodworking, home improvement and more, you can follow me on Facebook, Pinterest, or Instagram. You can also sign up for my email list below and get access to my woodworking plans library!
Want more DIY projects?
Subscribe to get project ideas, home improvement tips, woodworking plans and more delivered straight to your inbox!