Discover 15 stunning DIY hall tree ideas to transform your entryway into an organized and stylish space! Get the plans and get building!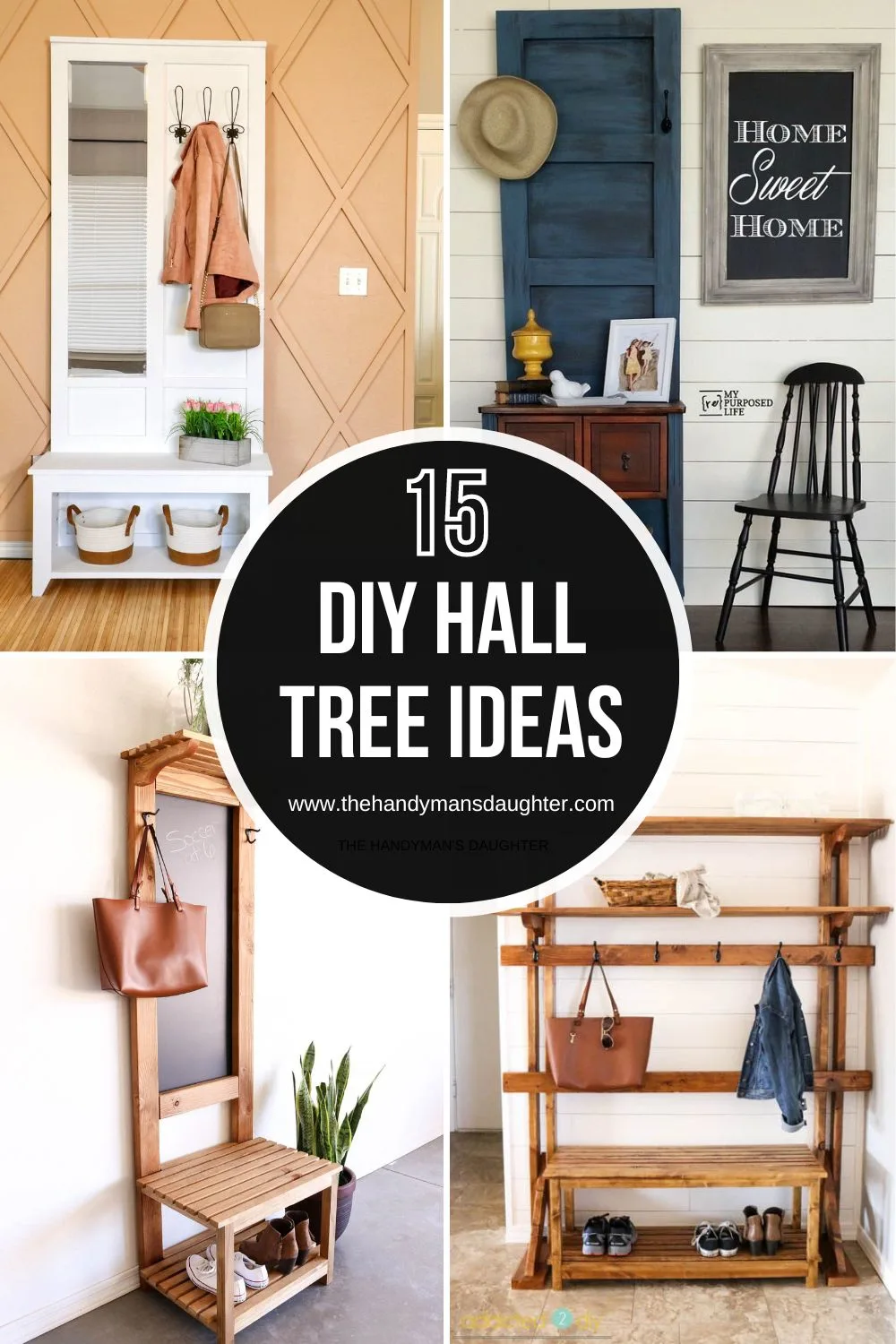 Picture this: you've just arrived home after a long day. Your hallway, once a cluttered disaster zone, now sparkles with order and charm. No more tripping over shoes, hunting for lost keys, or draping coats on the nearest chair.
In this article, I've compiled 15 brilliant DIY hall tree ideas that will not only help you create a functional and organized space but also showcase your unique style. Most of these designs have woodworking plans that walk you through every step!
Whether you're a seasoned woodworker or a beginner looking for a new project, get ready to be inspired by these amazing designs!
Photo Credit: www.lizmarieblog.com
This hall tree exudes a warm, farmhouse feel with its whitewash finish and antique hardware. The sturdy bench offers ample seating, while the shelf and hooks above provide generous storage for hats, coats and decor.
Photo Credit: ana-white.com
The fusion of distinctive X legs and a shiplap backdrop not only creates an organized and functional space, but also infuses your home with rustic farmhouse-inspired style.
Photo Credit: handmade-haven.com
The open shelving and multiple hooks of this hall tree design creates an organized space, while the durable bench seat offers a comfortable spot to slip on shoes before heading out.
Photo Credit: addicted2diy.com
This design was inspired by Pottery Barn and has all the organization you need to keep your entryway neat and organized. Download the free plans for this project and get building today!
Photo Credit: addicted2diy.com
Tired of leaving sticky notes on the front door to remind you to pick up milk? For under a $100 you can build this DIY hall tree with a chalkboard to write reminders!
Photo Credit: www.theawesomeorange.com
I love the two toned look of the dark vertical shiplap design partnered with the solid wood bench! The neutral color palette and uncluttered aesthetic make this hall tree a seamless addition to any contemporary home.
Photo Credit: refreshrestyle.com
Not all hall trees have to be built from scratch. You can upcycle a door and sewing cabinet to give old pieces new life!
Photo Credit: handmade-haven.com
Grab your jacket and bag, check your hair and out the door you go! The elegant mirror adds a touch of sophistication and makes the room feel more spacious. The combination of hooks and baskets ensures that your belongings stay organized and easily accessible.
Photo Credit: angelamariemade.com
The attractive blend of form and function makes this hall tree with cubby bench a valuable addition to any entryway, creating a tidy and welcoming atmosphere for you and your guests.
Photo Credit: www.instructables.com
Buying this piece of furniture at the store will set you back a pretty penny. Why not build it yourself?
Photo Credit: www.remodelaholic.com
Our family always has a variety of jackets and coats for our unpredictable weather. This option has plenty of hooks to hang everything from a heavy winter coat to a light hoodie in one convenient spot.
Photo Credit: ana-white.com
Are you looking for a place to corral all those backpacks? This leaning hall tree is perfect! Made from 2x4s, it's an easy beginner project that will help you organize your entry and create a drop zone for bags and backpacks.
Photo Credit: craftedbythehunts.com
This stylish option features hooks on the front and sides, a bench to sit on, a storage shelf underneath, and a drawer to keep things organized and easy to find.
Photo Credit: hip2save.com
This hall tree features a crisp white finish and wainscoting details that flow seamlessly into the surrounding trim. The built-in bench provides a cozy spot to sit and relax, while the ample hooks and storage compartments keep your entryway neat and tidy.
Photo Credit: www.ashleymccollum.com
This charming hall tree showcases the timeless appeal of classic beadboard paneling, instantly adding a cozy, cottage-inspired touch to your entryway.
Hopefully these DIY hall tree ideas inspired you to transform your entryway! Remember that you can mix and match elements from different projects to create your own unique design. So go ahead, roll up your sleeves, and turn your hallway into a welcoming, clutter-free space!