This DIY outdoor end table does double duty on your deck or patio! Keep drinks cool while you relax outside with the built in ice bucket, or switch it to a planter box for sweet-smelling flowers.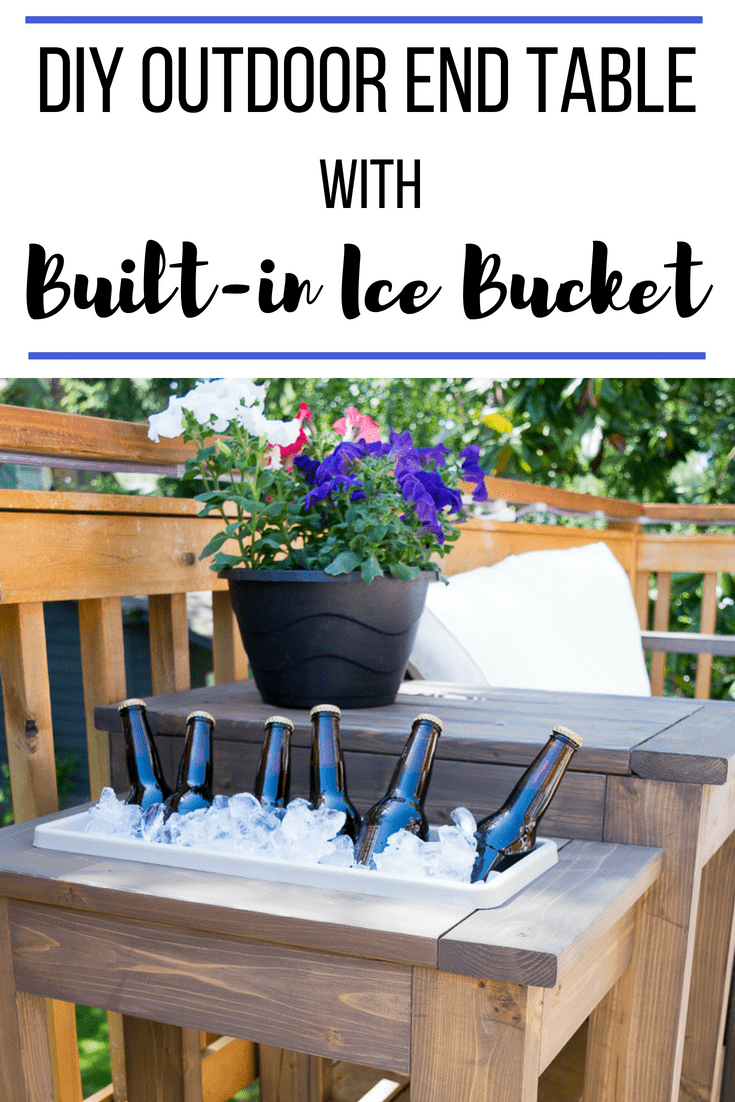 Our quest for the ultimate deck is slowly starting to come together! The outdoor sofa and loveseat set I built creates a cozy seating area in the corner, and outdoor rope lights around the perimeter give it just the right ambiance.
But what good is all that when there's nowhere to set your drink?!? This DIY outdoor end table provides the perfect solution to two problems in one compact space!
Looking for a different type of end table? Check out this list of 20 amazing DIY end table ideas and see what inspires you!
This post contains affiliate links for your convenience. Purchases made through these links may earn me a small commission at no additional cost to you. You can read more about how this site earns money on my disclosures page.
Materials needed for DIY outdoor end table
2 - 1 x 4 cedar boards @ 8 feet
3 - 2 x 4 cedar boards @ 8 feet
Kreg Jig
18" long plastic planter box

Buy two if you plan to switch out the flowers for an ice bucket occasionally!

Exterior wood stain
Don't forget your safety gear when woodworking! Here are my recommendations for safety glasses and ear protection. No excuses!
How to make an outdoor end table
Download the woodworking plans
Before you begin, download the woodworking plans for this DIY outdoor end table by clicking the box below. The plans include a cut list with all the dimensions, 3D models of each step and the instructions in a checklist format so you can keep track of your progress as you build!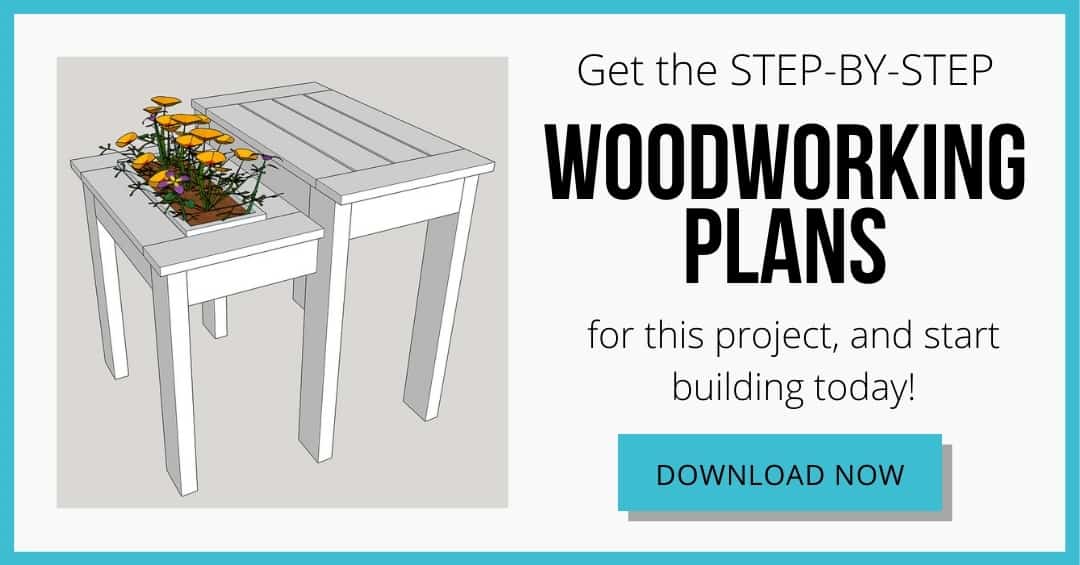 Assemble the legs
Drill pocket holes in both ends of top tier frame pieces at the 1 ½" board thickness setting.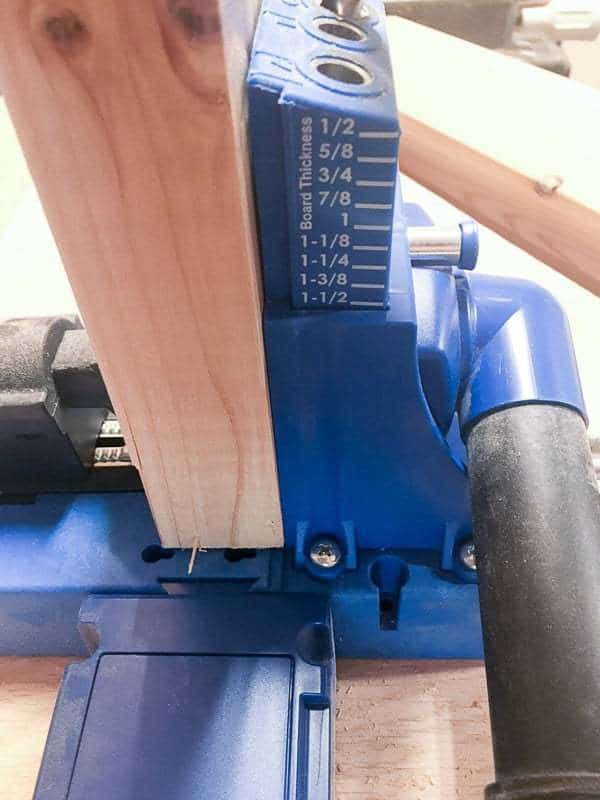 Then drill pocket holes along one length at the ¾" setting.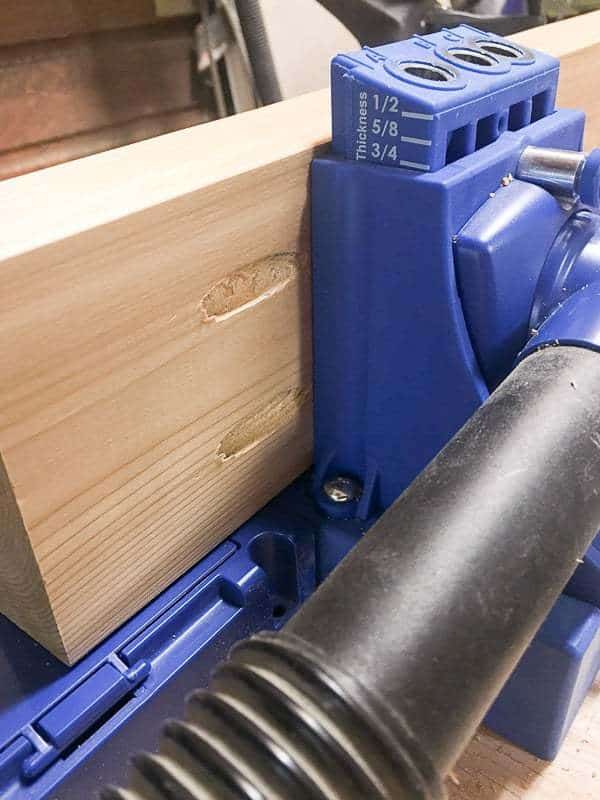 Attach these to the legs with 2 ½" pocket hole screws. The holes along the long edge should be facing up and will be used to attach the top later.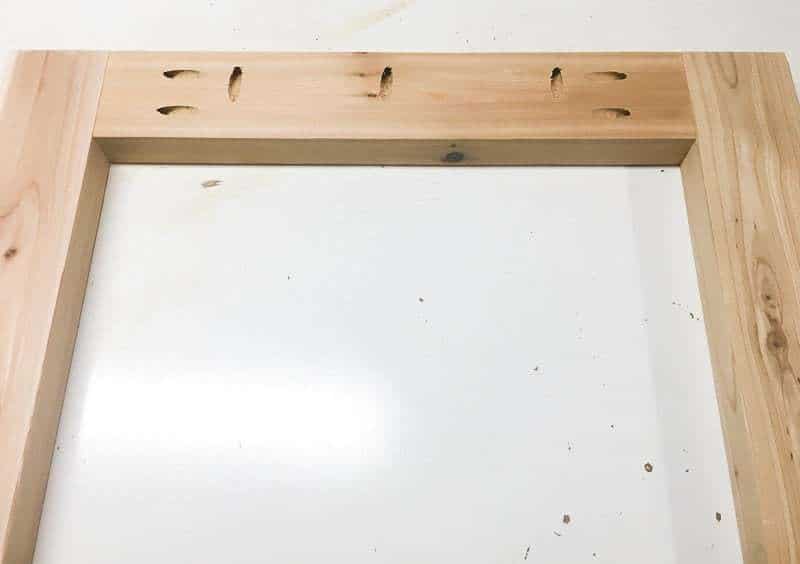 Repeat the process for drilling pocket holes for the bottom tier frame pieces. Attach them to the outside edge of the end table legs with 2 ½" pocket hole screws.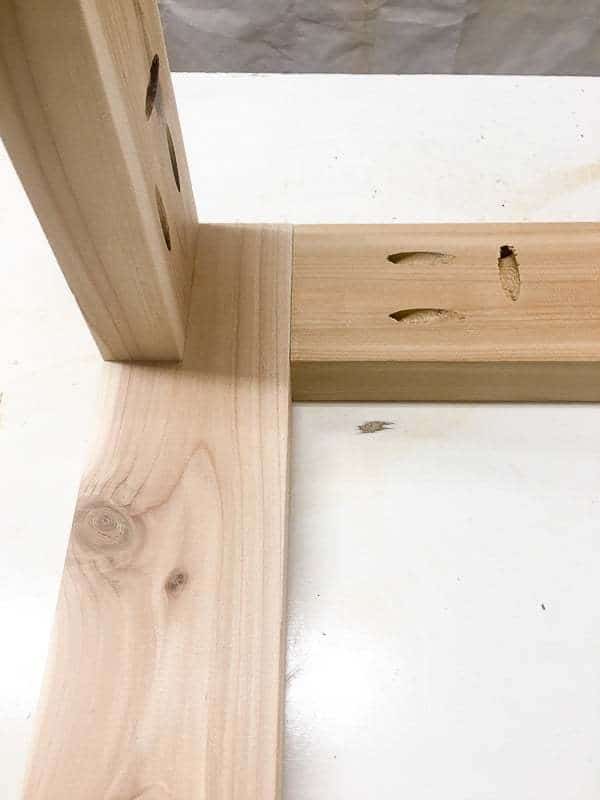 Attach the other set of legs. It may be a little tricky to fit your drill inside the frame to attach this piece. I used a right angle drill attachment to get into this tight spot.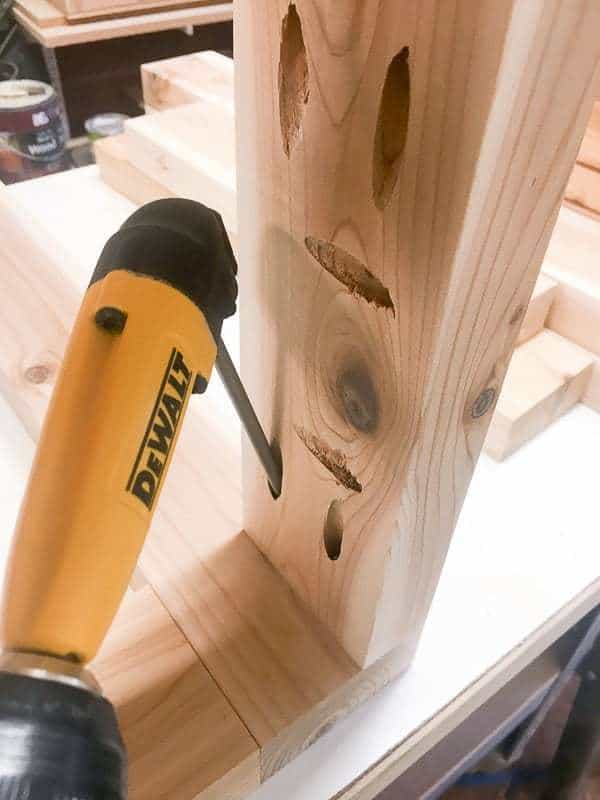 The planter side of the end table only needs one pair of legs.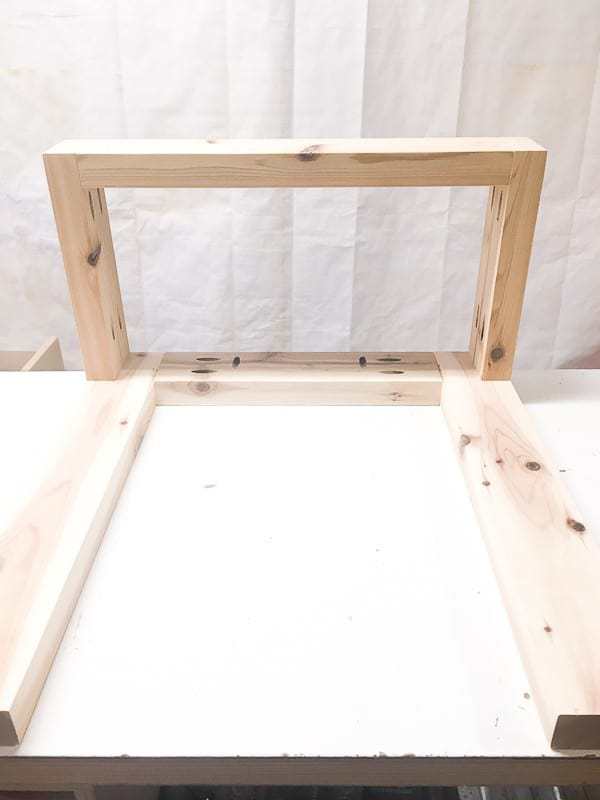 Assemble the end table tops
The tops of the end table are made out of 1 x 4's. Drill two pocket holes into both ends. Attach these to the side pieces with 1 ¼" pocket hole screws, leaving about ¼" between each slat.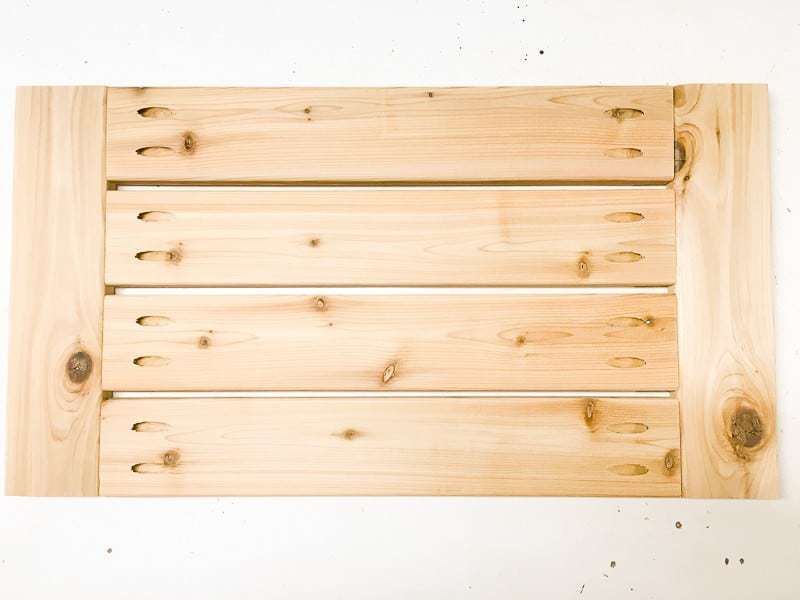 Assemble the planter side the same way, but leave a space in the middle that is big enough for the lip of your planter box to rest on top securely. This one was custom fit to this plan.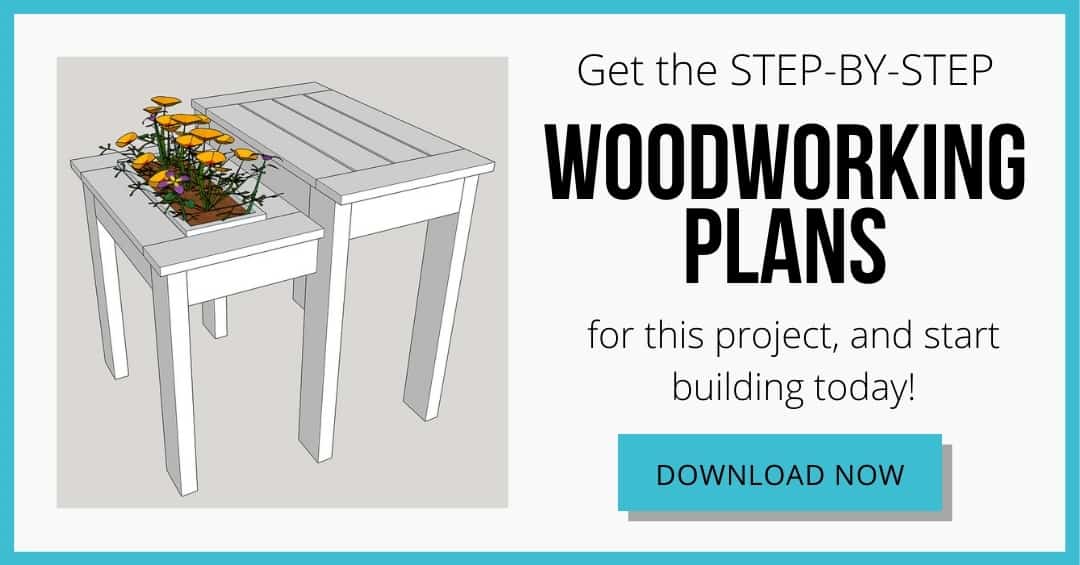 You'll want to buy two planter boxes if you want to switch out flowers for the ice bucket, unless you like dirt in your ice!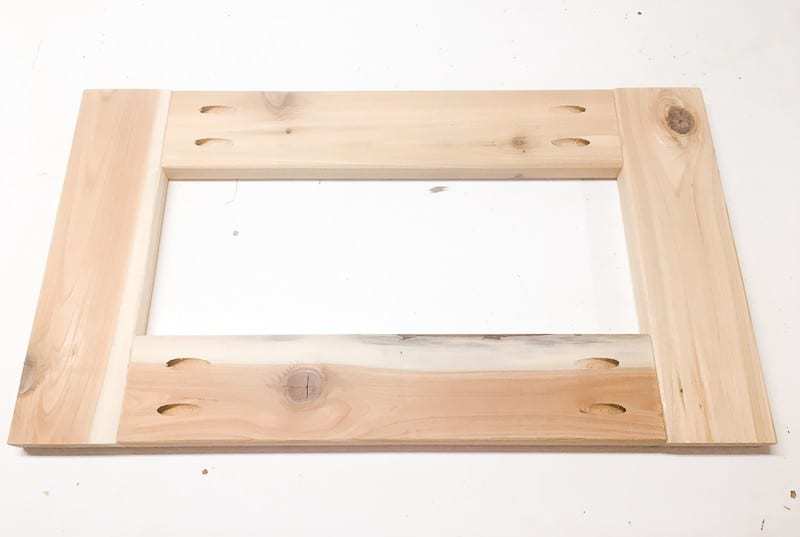 Attach the end table tops to the legs
Attach the table tops to their matching frames with 1 ¼" pocket hole screws. One long edge should be flush with the legs, and the other sides should overhang by ¾".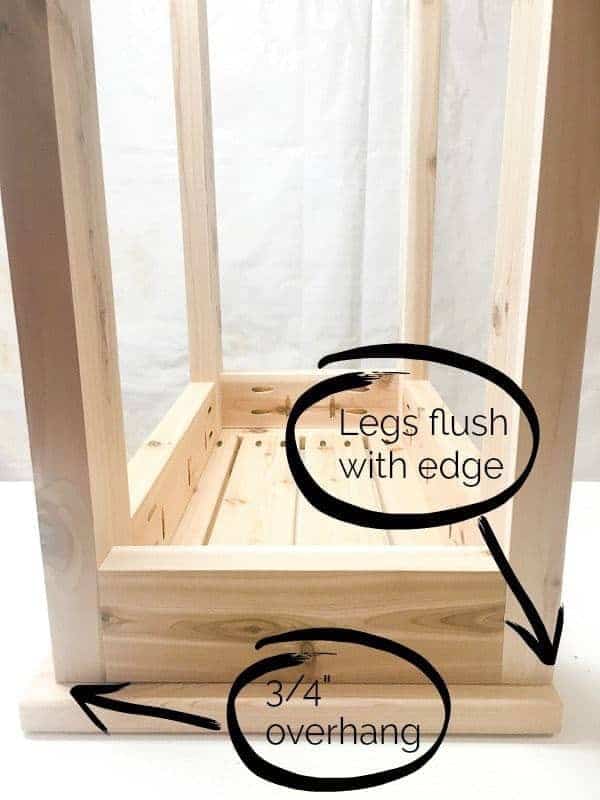 Now is a good time to paint or stain your end table. I used the same exterior stain as the outdoor sofa and loveseat I built, so the entire set matches perfectly!
Attach the two sides together
Stand both halves next to each other on a flat surface with the flush sides together. Check that the planter side is level, then attach it to the upper end table side with 1 ½" L angle brackets.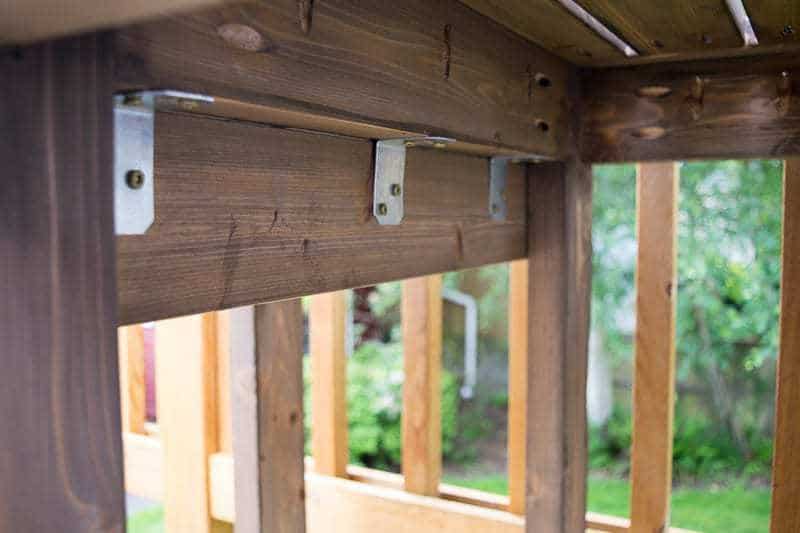 ---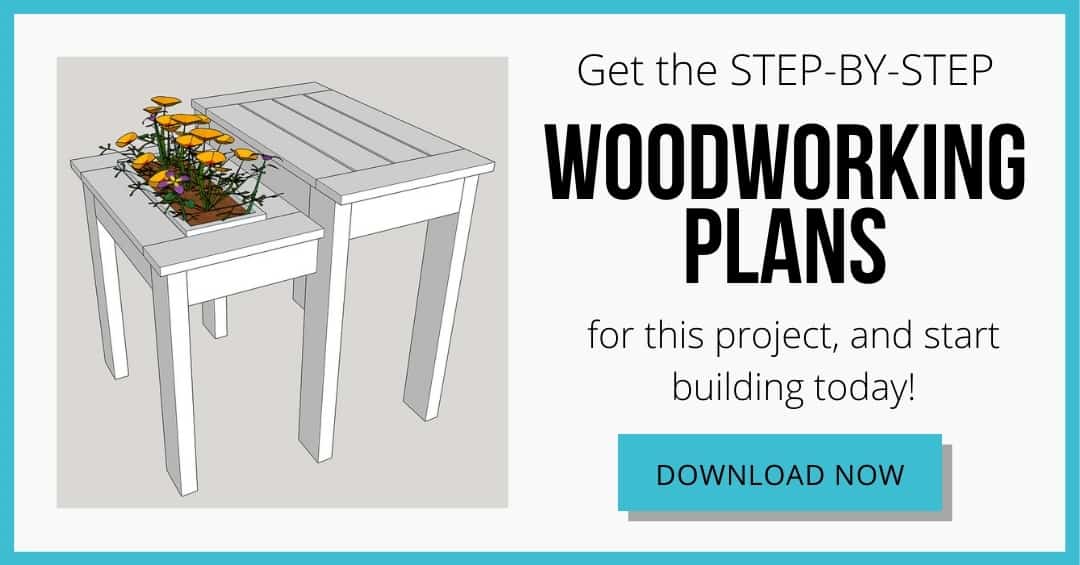 Fill your planter box with flowers (or ice) and drop it in. The lip of the planter box should rest on the edges of the table top, and can easily be switched out.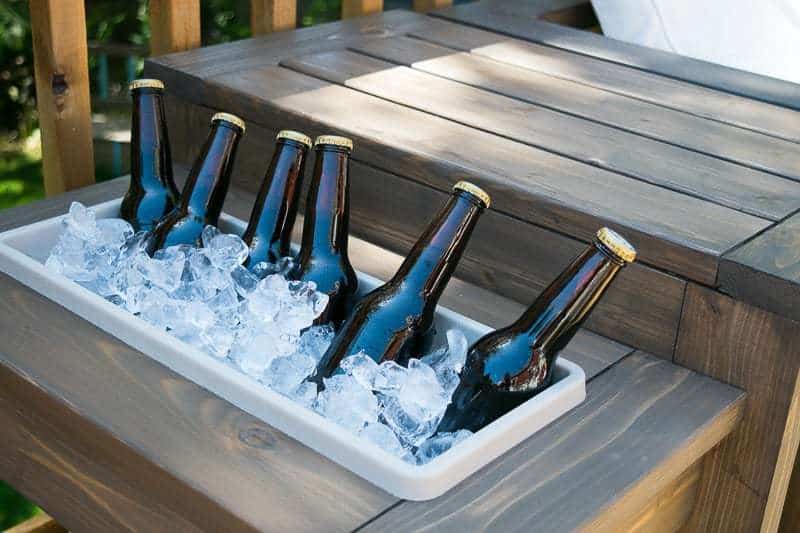 The planter box comfortably fits a six pack, so you always have your favorite beverage cold and close at hand.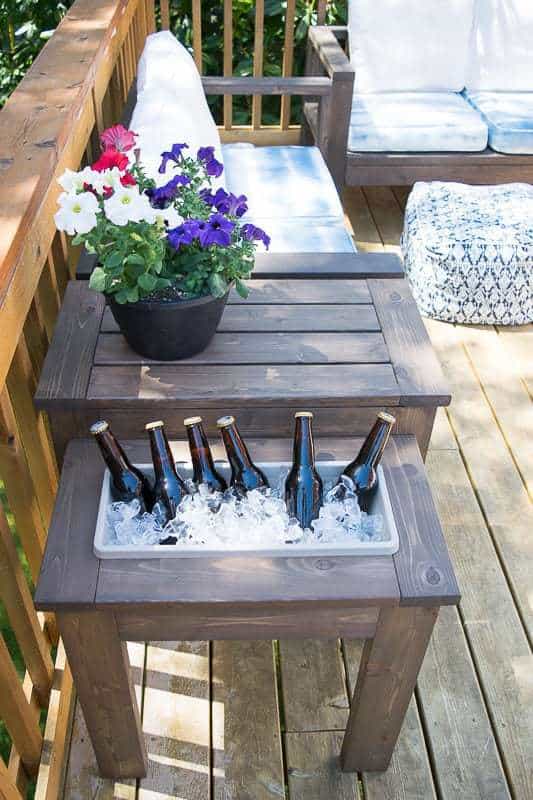 Or switch out the box with one full of beautiful flowers to enjoy while relaxing on your deck or patio.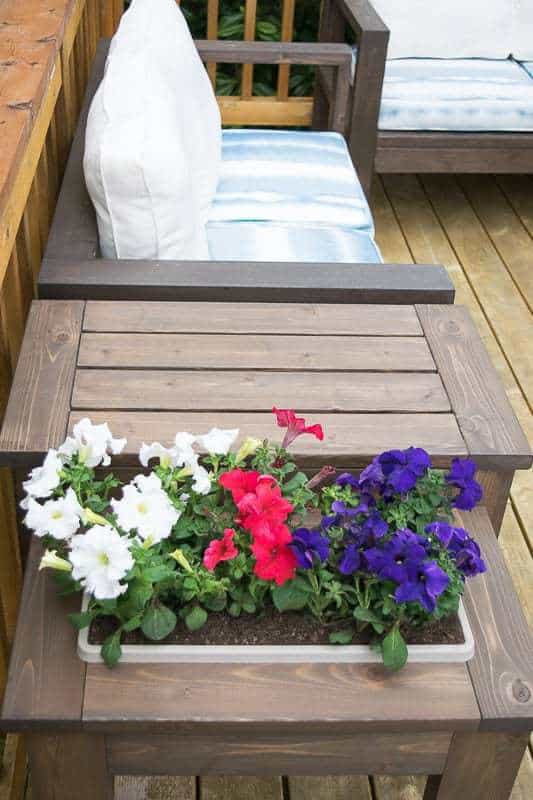 Want to build more outdoor furniture? I have a tutorial and plans for this DIY umbrella side table and an outdoor coffee table too!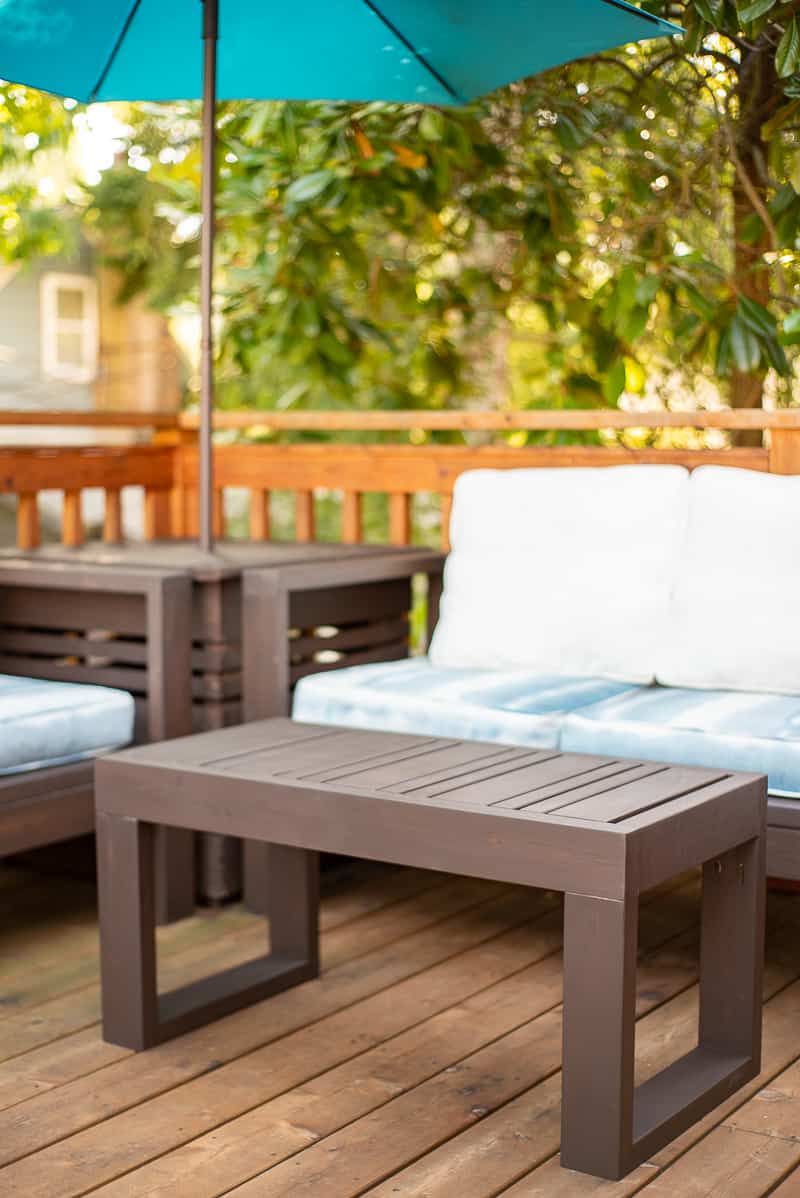 If you would like to keep up to date with my latest posts about DIY projects, woodworking and more, you can follow me on Facebook, Pinterest, or Instagram. You can also sign up for my email list below and get the latest post delivered to your inbox!
Want more DIY projects?
Subscribe to get project ideas, home improvement tips, woodworking plans and more delivered straight to your inbox!