There are so many types of drawer slides, and choosing the right one can be a challenge. Find out the pros and cons of each style here!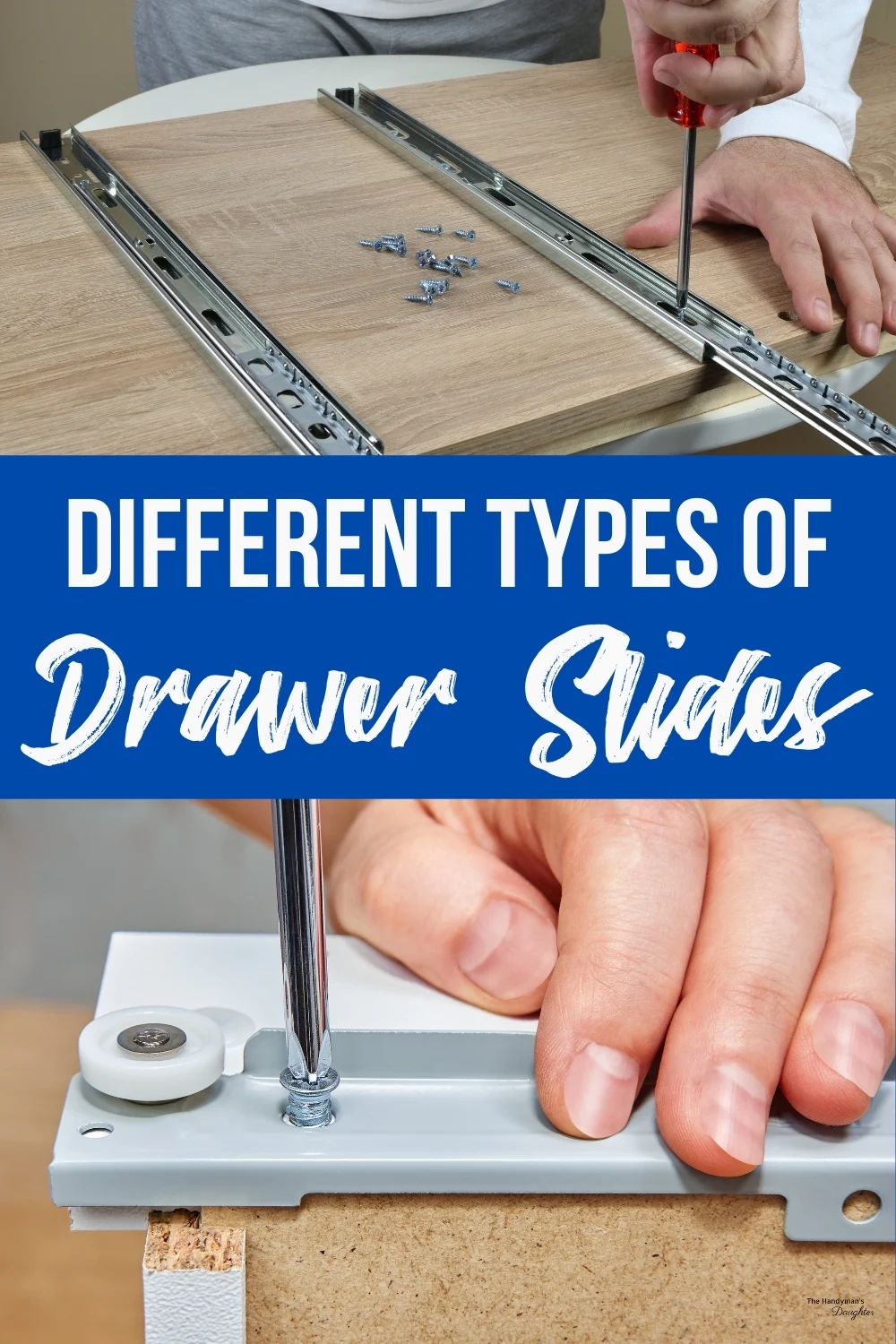 Stroll down the hardware aisle, and you'll see dozens of different options for drawer slides available. It can get overwhelming! Should you get an undermount soft close drawer slide, or a full extension ball bearing drawer slide? What's the difference?
This handy guide will help! I've consolidated all the information on every type of drawer slide available today so you can easily compare the different types and find the right one for your project!
This post contains affiliate links for your convenience. Purchases made through these links may earn me a small commission at no additional cost to you. Please visit my disclosures page for more information.
Different Types of Drawer Slides
You should choose the type of drawer slides you'll be using for your project before you begin building the drawer. The size of the cabinet opening and the installation method of the drawer slides will dictate what size your drawer box should be.
Ball Bearing Drawer Slides
Ball bearing drawer slides are the most common type of drawer slides. They are made with steel ball bearings that roll in a thin track. This allows the drawer to move in and out smoothly with less friction.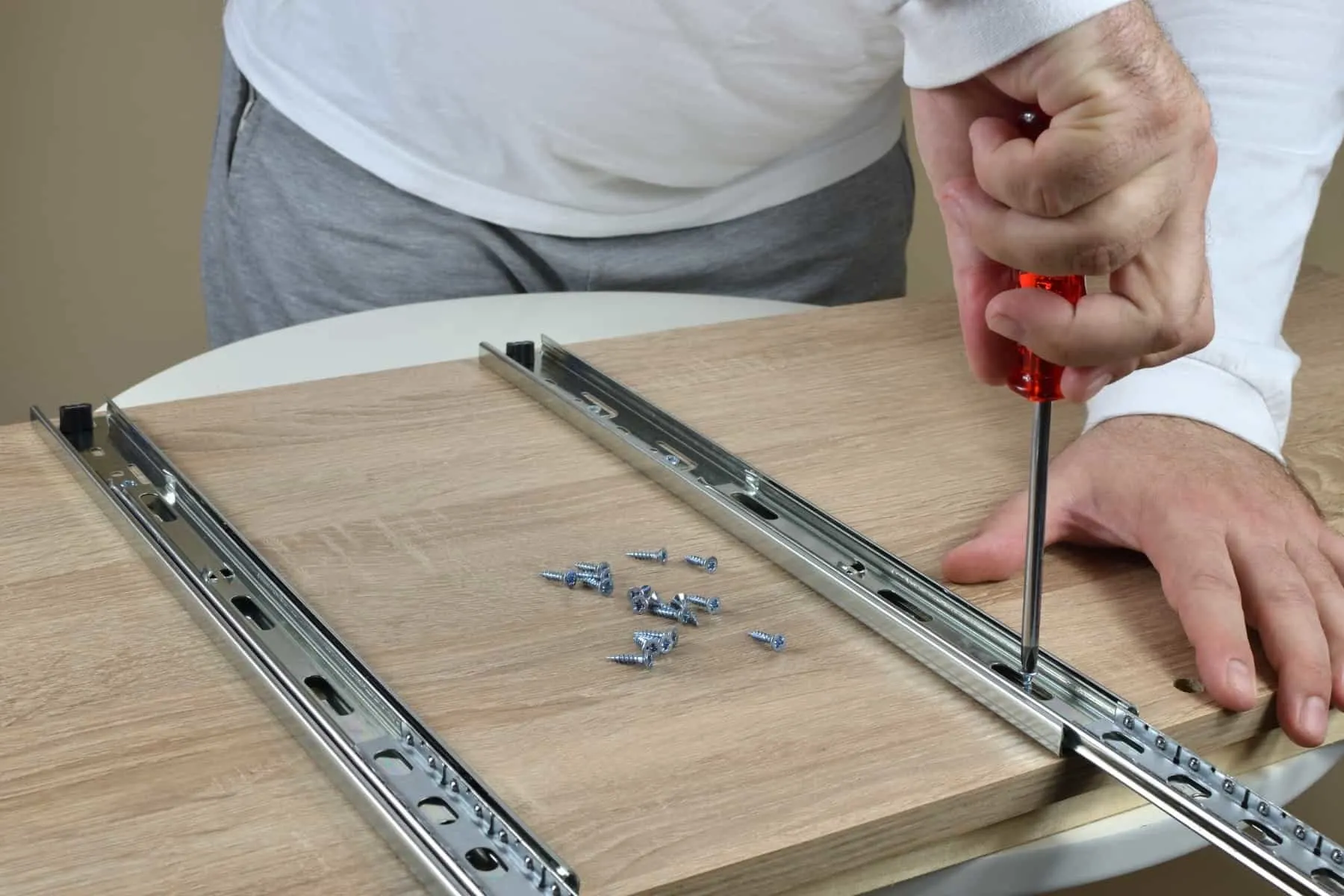 This type of drawer slide is easy to install, but requires precision when building the drawer box. If you make your drawer even a tiny bit too big or too small, the drawer slides won't roll properly. I go over the formula for determining the width of a drawer box using these slides in this tutorial.
Ball bearing drawer slides separate into two pieces: one half for the inside of the cabinet and the other half for the side of the drawer box. There's a small plastic tab located inside the track to release the two halves for easier installation.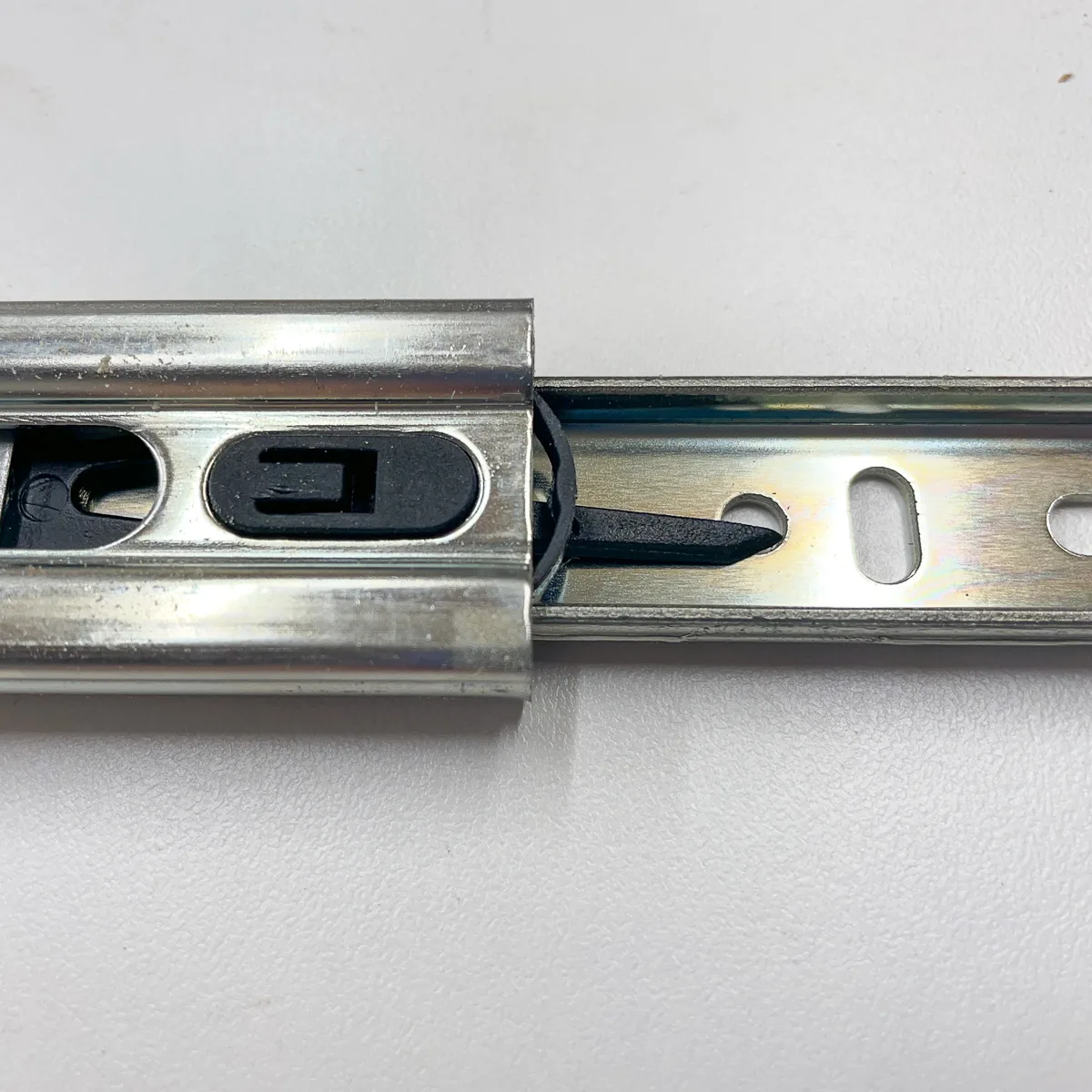 Pros: Inexpensive and easy to install. Can be found in any hardware store. Can hold a lot of weight.
Cons: Steel balls are not suitable for environments that are likely to get dirty or dusty. Drawer box dimensions need to be precise. Slides are visible when drawer is open.
Undermount Drawer Slides
Undermount drawer slides are mounted to the sides or bottom of the cabinet with an L shaped bracket and a sliding track. The only hardware attached to the drawer box is a special clip on the underside to lock it onto the track. I'm using Blum undermount drawer slides in all the base cabinets of my new kitchen remodel, and they're totally worth it!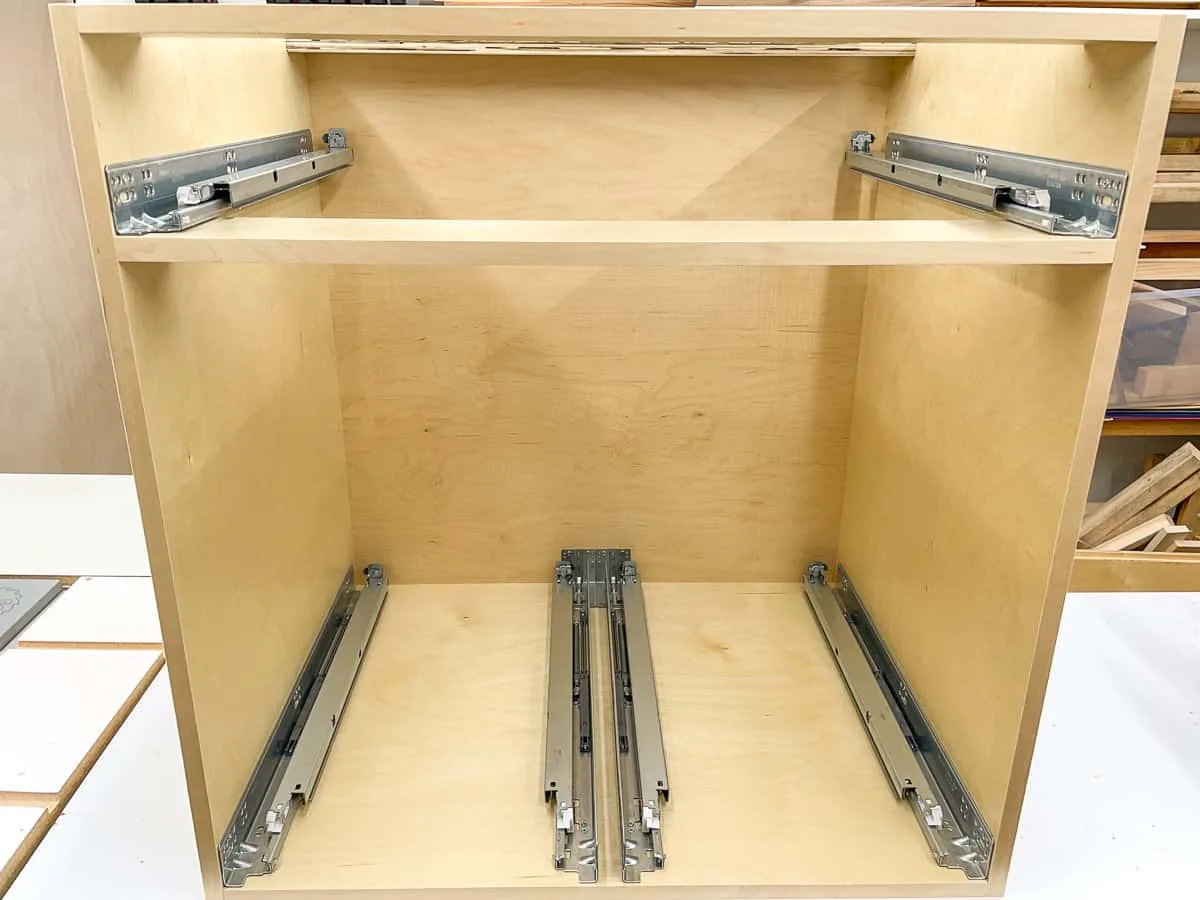 This type of drawer slide isn't visible when you open the drawer, giving your cabinet a sleek look. It's also much easier to remove the drawer when needed just by disengaging the clips underneath and lifting off the box.
Undermount drawer slides also have more adjustability, making it easier to fine tune the position of the drawer front. Dials on the clips allow you to move the drawer box in all directions to achieve the perfect reveal!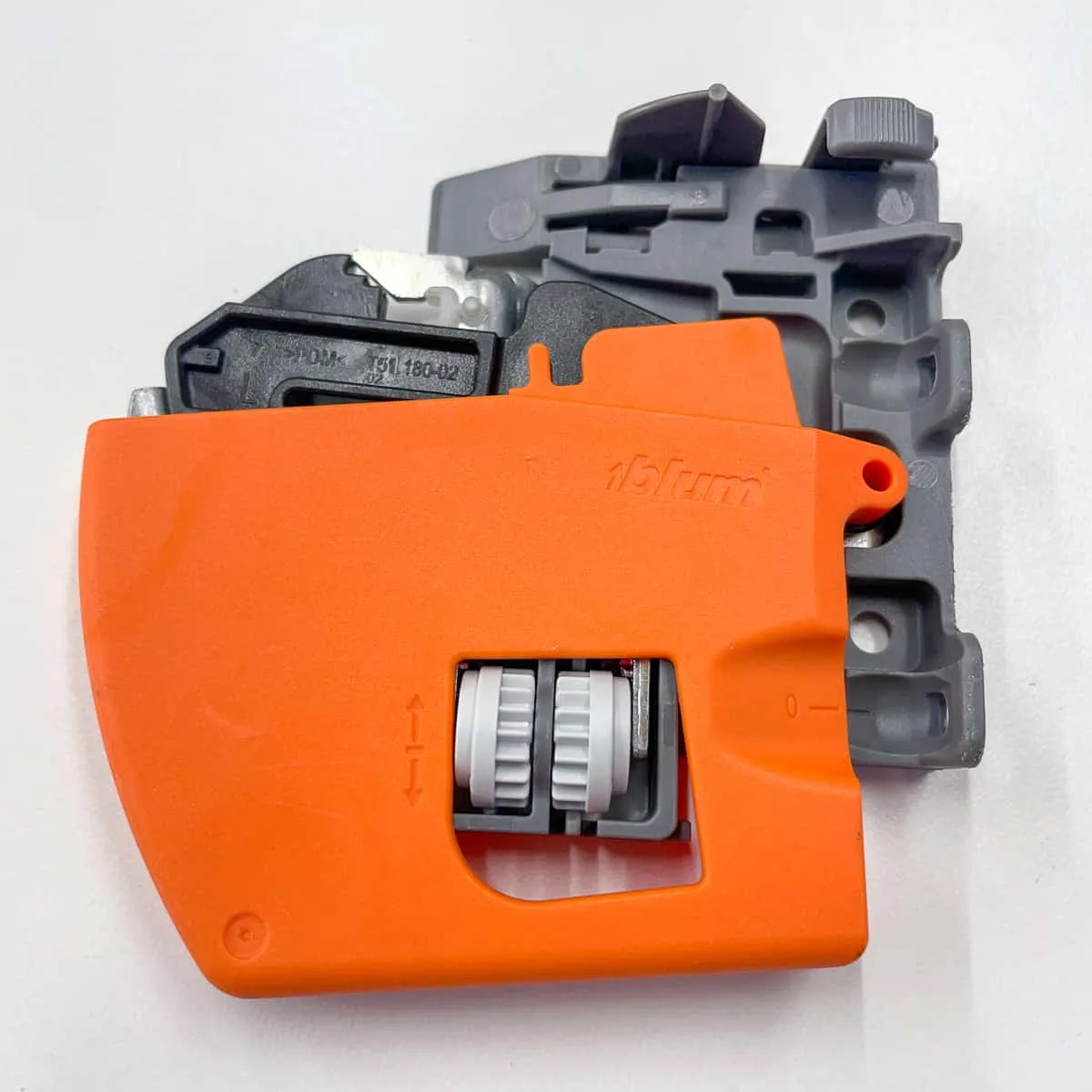 One drawback to undermount drawer slides is that you have to build your drawer box to the exact specifications listed in the instructions. You can only use drawers with a captured or recessed bottom, so there's room for the clips underneath. They're also much more expensive than other styles.
Pros: easy to install, can hold a lot of weight, hidden
Cons: expensive, can only use one type of drawer box
Center Mount Drawer Slides
Center mount drawer slides have a rail down the middle of the drawer box, and rollers on the sides of the cabinet opening to keep the drawer aligned. This is the type of drawer slide I used on my pull-out trash can cabinet project, because it supported the weight of the trash can down the center rather than suspended on the sides.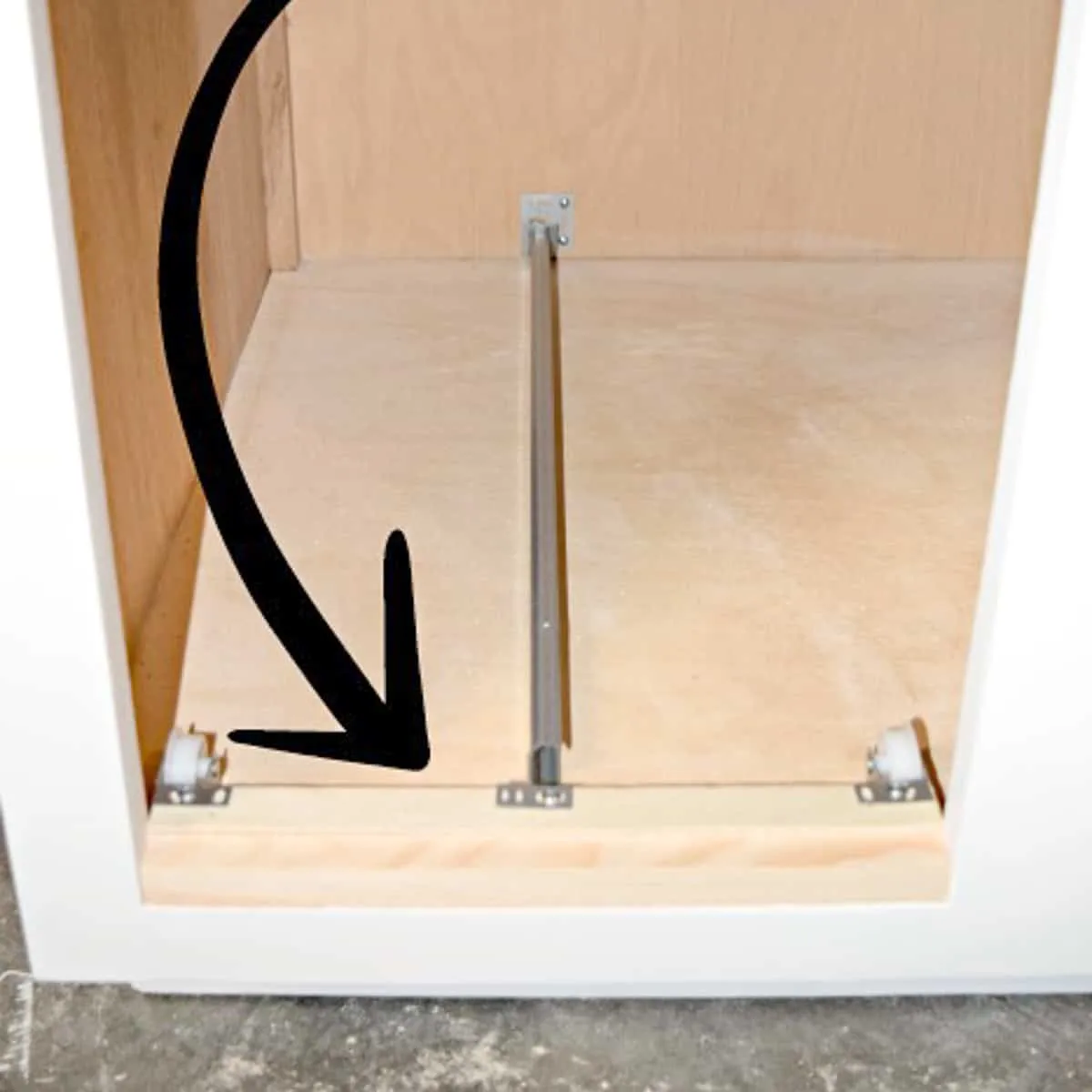 Center mounted drawer slides support less weight compared to other types. I also found that it was too easy to knock the drawer out of alignment over time.
Pros: easy to install, hidden
Cons: doesn't stay aligned, not suitable for large weight capacities
Roller Drawer Slides
Roller slides are attached along the corners of the drawer box, with a rolling wheel to allow it to move back and forth along the track. This type of drawer slide is typically found on cheaper furniture and cabinetry.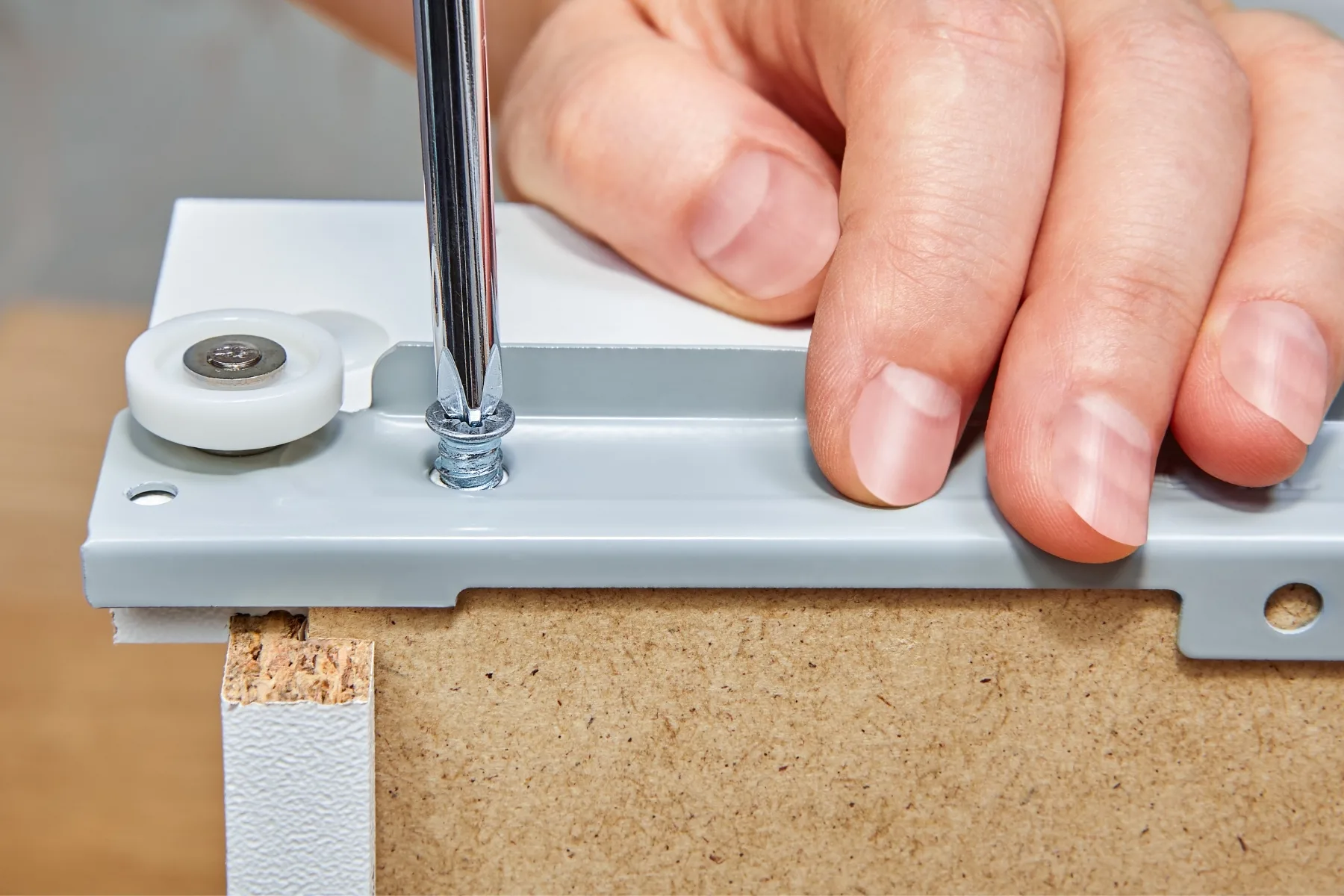 This style of drawer slide is more flimsy than the other types, and is more prone to bending under a heavy load. You also need to install roller slides perfectly level, or it will roll open on its own.
Pros: Inexpensive, easy to install
Cons: Flimsy, holds less weight, no special features like soft-close.
Wooden Drawer Slides
Wooden drawer slides are typically seen in older furniture pieces and smaller items like a jewelry box. You can make this type of drawer slide yourself with just a couple strips of hardwood mounted to the side or bottom of the cabinet. There's a corresponding groove cut into the side of the drawer box that slides onto the rail inside.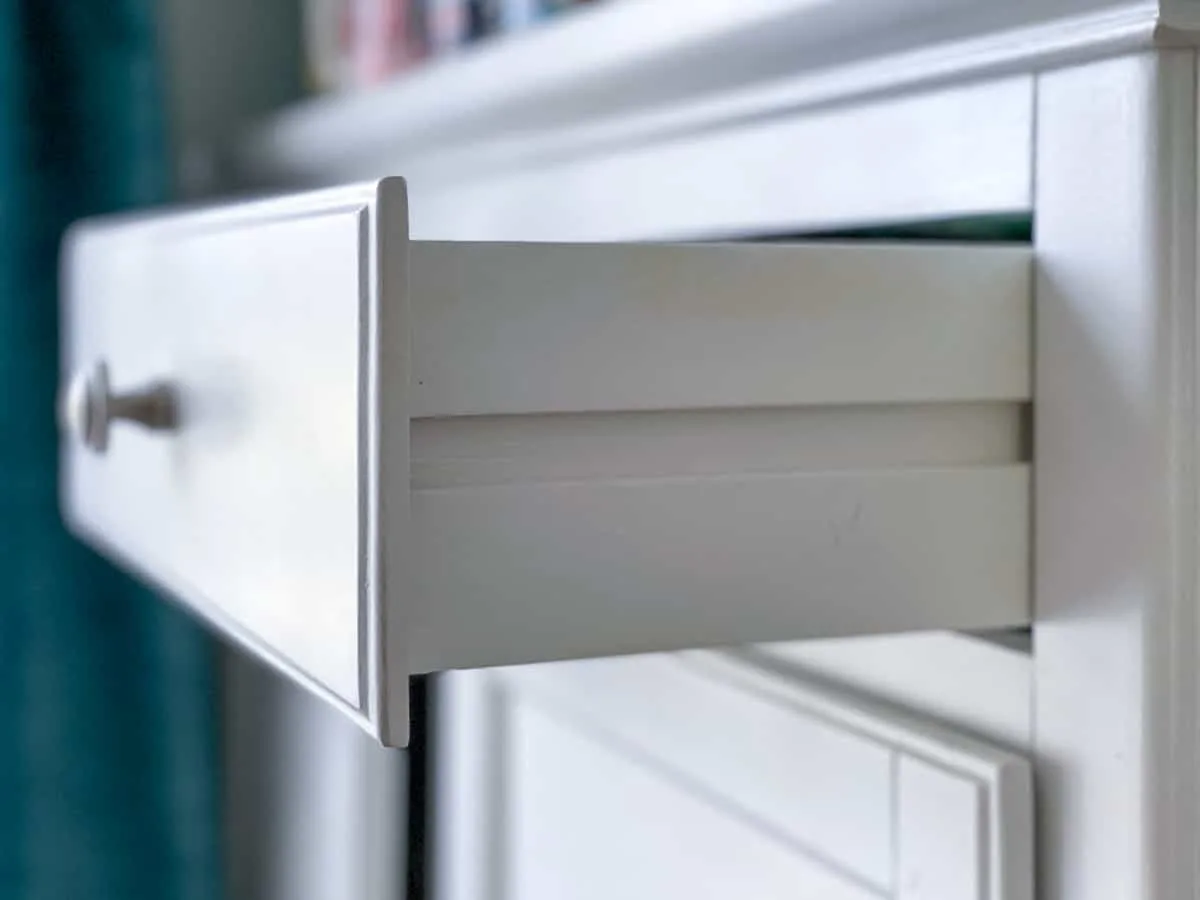 This is a great way to save money if you're making a huge chest of drawers. Even the cheapest metal drawer slides cost $5-10 each, but you can make wooden ones out of scrap wood almost for free! The video below shows a good example of why you might want to go this route.
But wooden slides have their drawbacks.
You have to wax the wood periodically to keep them running smoothly.
Seasonal wood expansion can cause your drawers to stick.
If you pull out the drawer too far, it can fall off the track.
It's difficult to adjust them to get the right reveal around the drawer front.
Drawer Slide Extension Types
Each type of drawer slide has several different extensions available. The extension refers to how far you can pull the drawer out. Some stop before the back of the drawer box is visible, and others pull out past the front of the cabinet.
¾ Extension Drawer Slides
¾ extension drawer slides will allow you to open a drawer partially out of the cabinet. These are the cheapest option, but also the most aggravating for users. It's difficult to access items at the very back of the drawer, and drawer organizers will block off this area entirely!
Full Extension Drawer Slides
Full extension drawer slides allow for access to the entire drawer. This type of slide is easy to find in stores, and are the best option for most cabinets. They tend to become less sturdy the more weight they are holding, so be sure to check the load rating so you're not overloading them.
Over-Travel Drawer Slides
Over-travel drawer slides have a longer extension than other slides, so the drawer pulls out past the front of the cabinet. This will allow you to store containers with a lid that can be raised past a 90 degree position to access the items inside. The video below shows a great example of why you would need to use over-travel drawer slides.
Drawer Motion Types
All drawer slides move back and forth with ease. But sometimes you want to get fancy, especially when it comes to kitchen cabinets that get a lot of use. These added features can help make your drawers close quietly or open at the slightest push!
Self-Closing Drawer Slides
Self-closing drawer slides are helpful in keeping your drawers shut, even if they're not pushed all the way closed by hand. These slides will close the drawer automatically once it moves past a certain point, either with a spring or a slight downward ramp at the back of the slide.
Soft-Closing Drawer Slides
Soft close drawer slides prevent the drawer from slamming shut. It has a catch mechanism that slows down the drawer at the end of its travel to close quietly. They're more expensive, but totally worth it!
Push-to-Open Drawer Slides
Push to open drawer slides are common in high-end kitchen cabinets. They are operated by pushing on the front of the drawer to pop it open, and it will stay shut when closed. This eliminates the need for drawer and door pulls, so all you see are the flat fronts of the cabinets.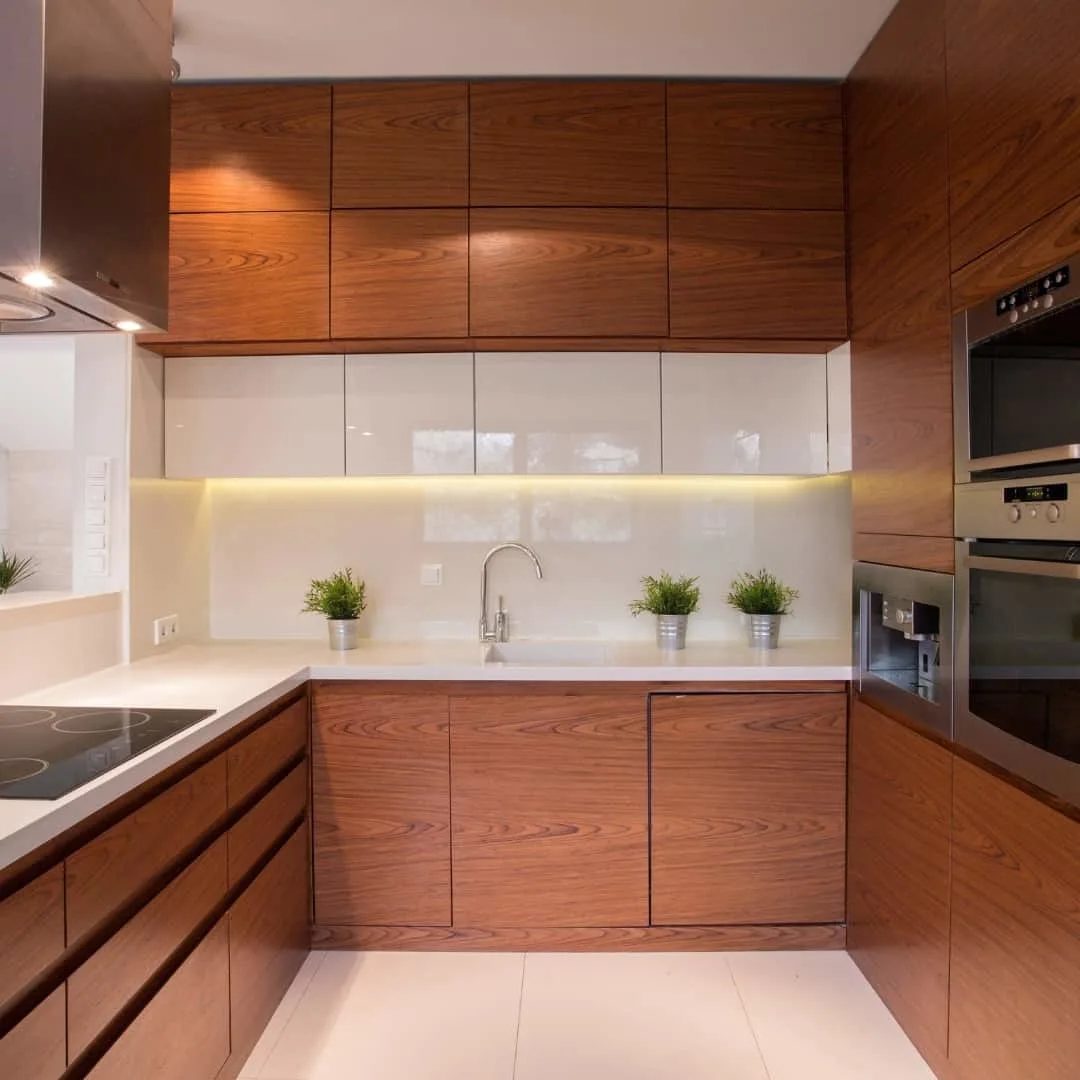 What is Load Rating?
The load rating of drawer slides is important because it tells you how much weight the slides will hold. You don't want to overload your drawer slides or else they'll bend over time, so be sure to only put the amount of weight on them that they are rated for. It's always better to err on the side of caution and purchase drawer slides that can hold more weight than you think you'll need!
How to Choose the Right Drawer Slide Length
Choosing the correct drawer slide length is important, as it affects how far your drawer will be able to extend out of the cabinet. Too short of a slide can make it difficult to open or close your drawer fully, while too long of a slide may not fit inside the cabinet.
As a general rule of thumb, you should choose the drawer slide length that matches the depth of your drawer box. There should be at least ½" between the back of the drawer box and the back of the cabinet.
---
There are many different types of drawer slides on the market, each with its own pros and cons. It's important to choose the right kind of drawer slides for your storage needs, because not all slides are made equal. Be sure that you're choosing the best type of slide for your particular project!