Tired of stepping on LEGO pieces? Here are three LEGO storage solutions for your child's large collection that will get them organized.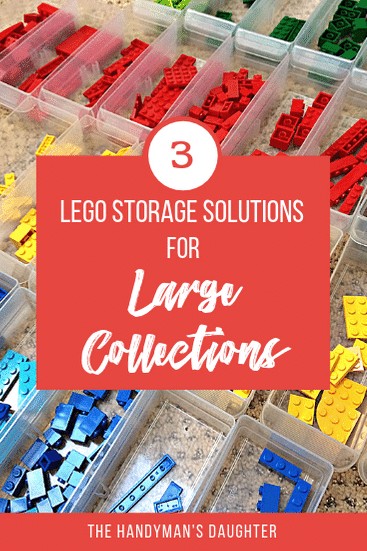 It's official. The playroom has been overtaken by LEGO. Somehow, our son has accumulated thousands upon thousands of these little plastic pieces. To prevent them from getting stepped on or lost forever, I needed to come up with a new Lego storage solution, stat!
This post contains affiliate links. To find out more about how you can support this blog at no cost to you, visit my disclosures page.
Our previous LEGO storage situation involved separating the pieces by set and keeping them each in their own labeled box in a storage tower similar to this one.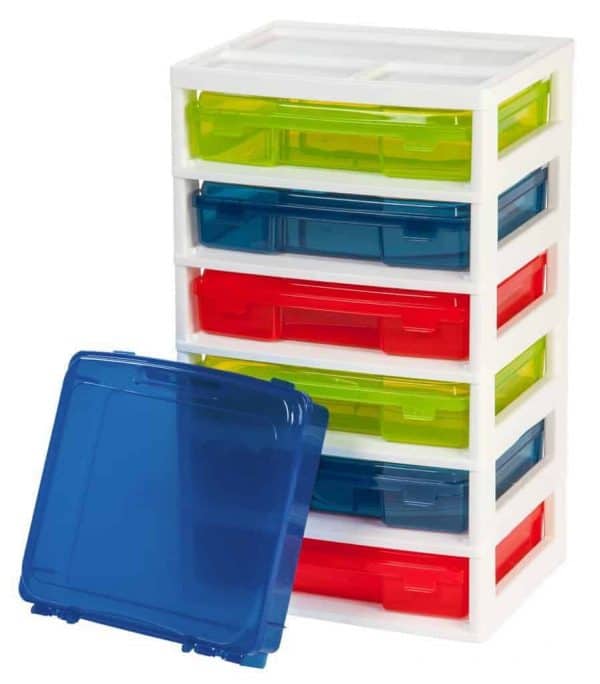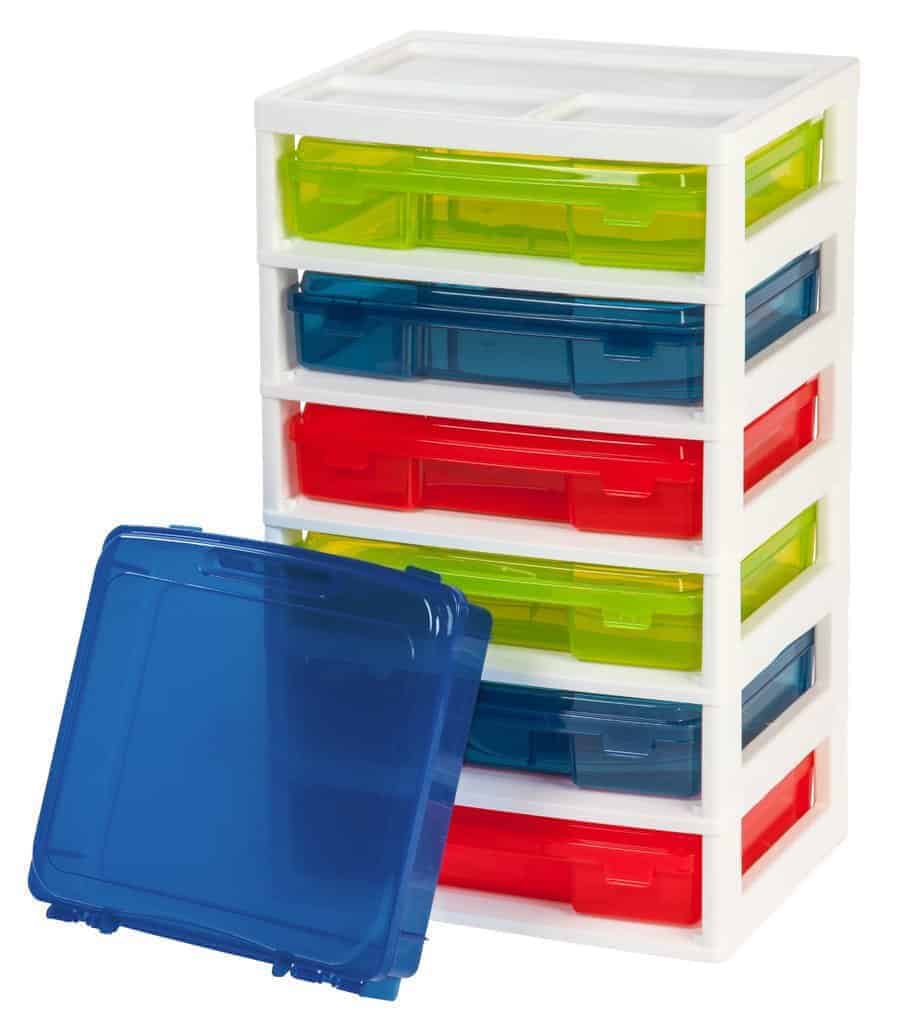 We even added an additional, smaller one on top for even more storage. You can see them in the corner of his new DIY Lego table set up below.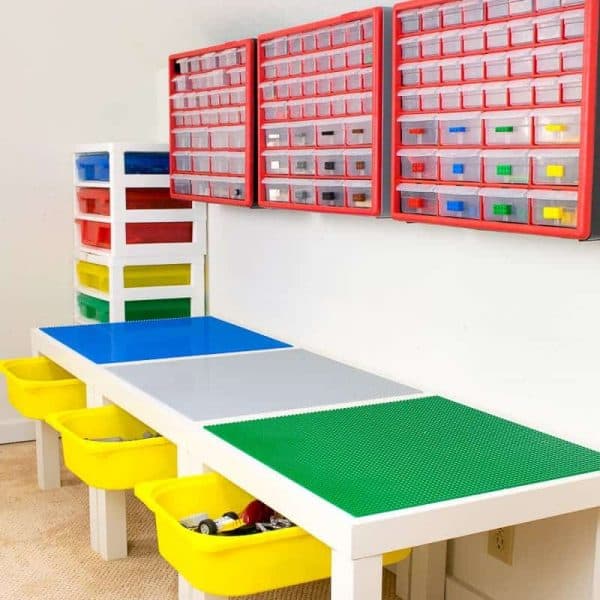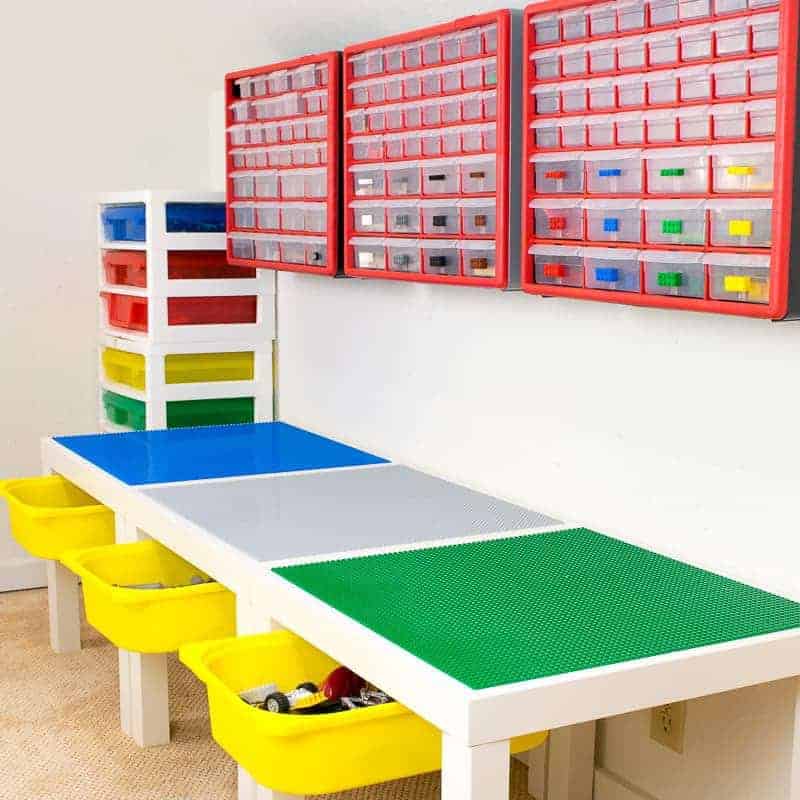 We have far more than six sets now, and there are more than six colors of LEGO, so we needed even more storage. I picked up a huge 1600 piece box of random pieces on Black Friday last year, and we were tossing every loose Lego we find into the box. If our son is looking for one piece to finish a creation, he needed to dump the entire box onto the floor and sift through it.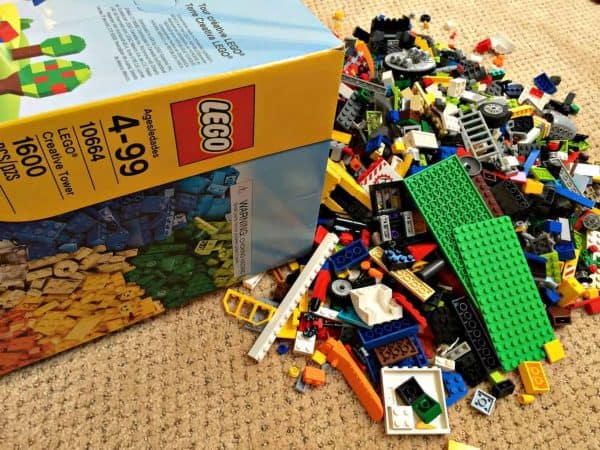 After cleaning this up for the millionth time, I made this clear sided Lego bin to make it easier for him to see that elusive piece at the bottom. The built in Lego baseplates and handle lets him take his Legos on the go!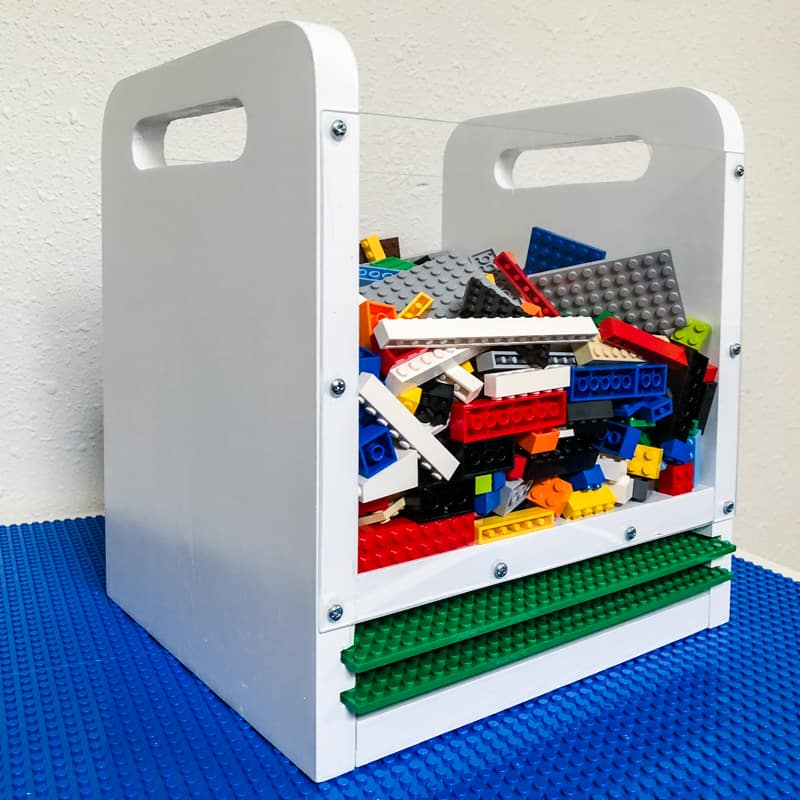 His minifigures have a home on this DIY Lego minifigure display case, but the pieces are still all over the place!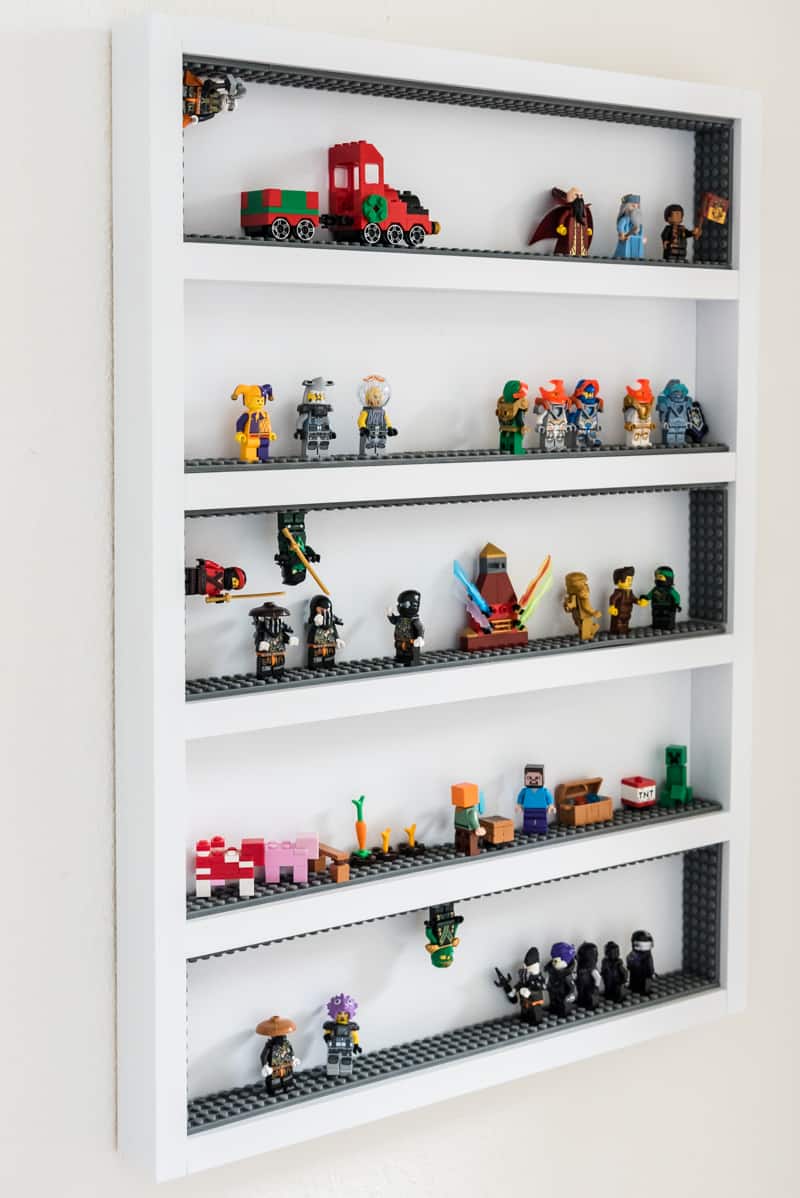 So I started researching a new LEGO storage system. A lot of the great ideas I found either were made for a smaller collection or didn't allow for the level of OCD organization I was looking for. I wanted to sort by color, and to some extent, size and shape. I narrowed it down to these three options.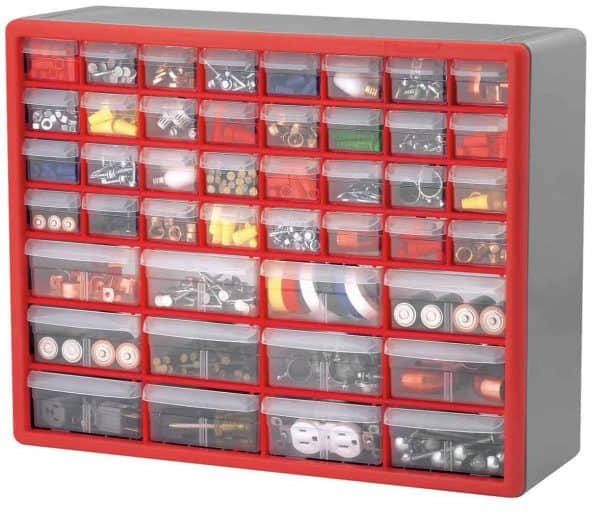 This one has lots of drawers in two different sizes, so he can separate the larger pieces from the smaller ones and sort by color. It comes in either black or red and gray, which matches his brightly colored decor. The drawers can be removed if he's building something with a lot of one color, or he can pull a drawer open to grab a single LEGO without disturbing the others. It can be mounted on the wall or kept on top of his desk.
I attached a brick to the front of each drawer with double sided tape to make it easier to find the part he needs. You can find more details about this set up here.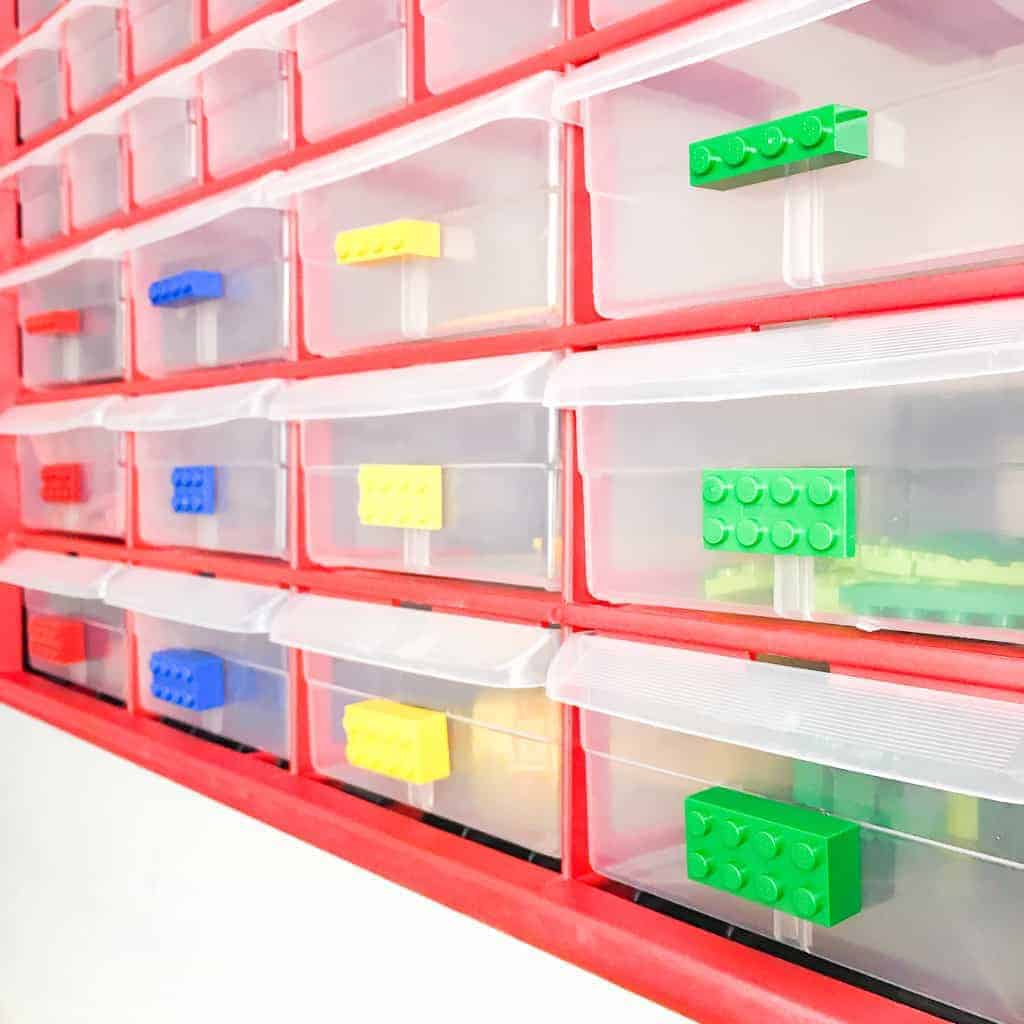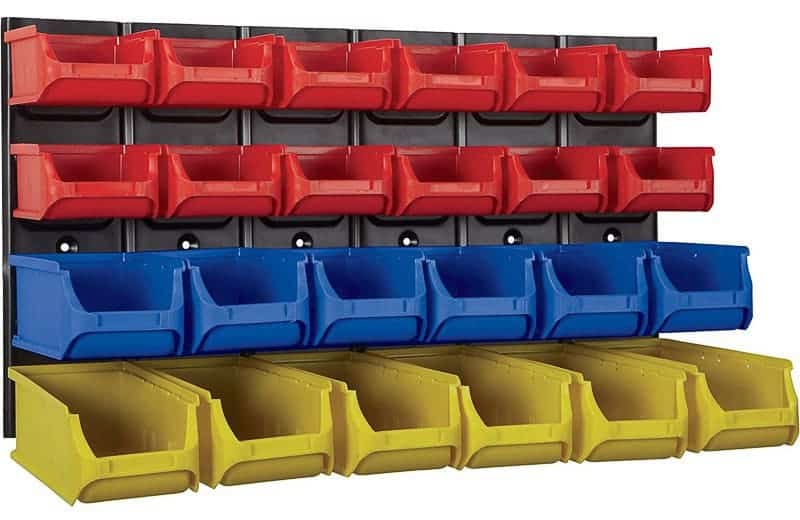 There are lots of different versions of these kinds of bins on the market, but I liked these because there are multiple sizes in bright colors. I'm not sure if the bins can be removed if he's constantly reaching for the same type of Lego piece repeatedly, though.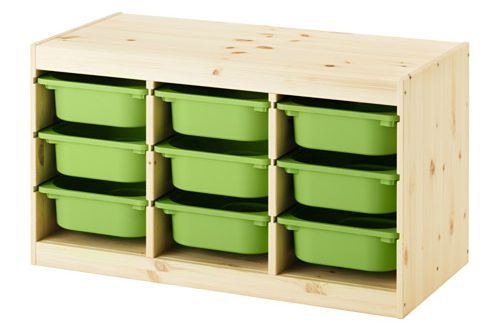 It became clear pretty quickly that our son wasn't going to sort his Lego pieces with any resemblance of organization! He just needed places to quickly spot what he was looking for in his vast collection.
I bought two IKEA Trofast drawer units like the one above, put them on wheels and turned them into giant Lego bricks! You can check out the full tutorial on how to make this IKEA Lego table here.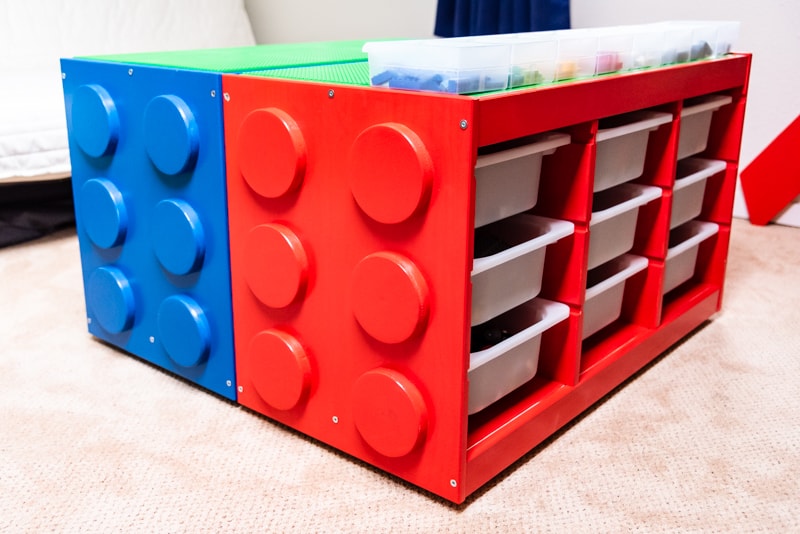 The Ultimate Lego Storage and Organization Set up
Remember this scene from The Lego Movie?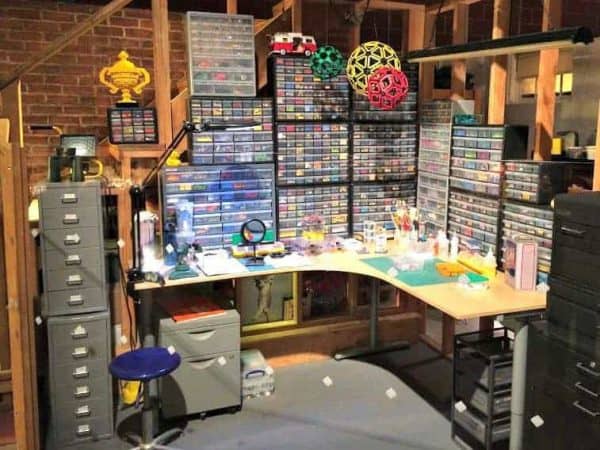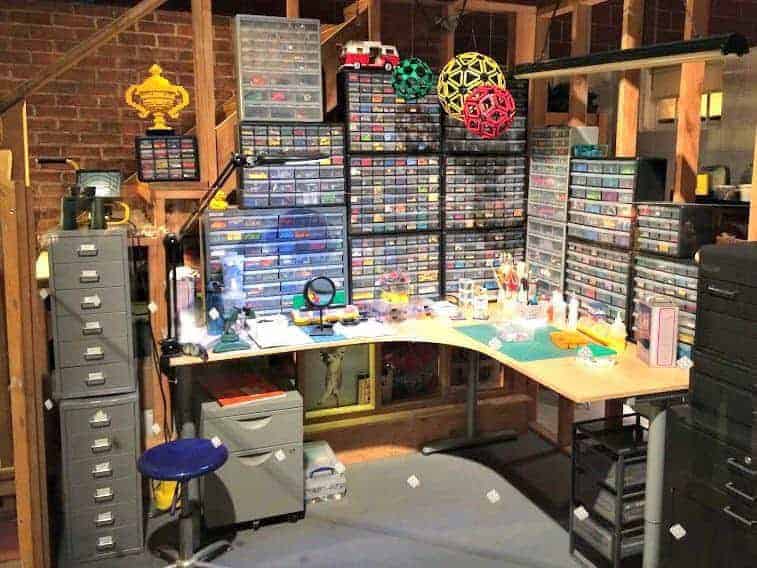 Legoland California has the actual set, all exactly as it was in the dad's basement. We went back to it three times during our stay so we our son could check out every detail. I was looking back at the photos we took of the set one day when I noticed the black version of option number 1 on the dad's workbench! I was sold!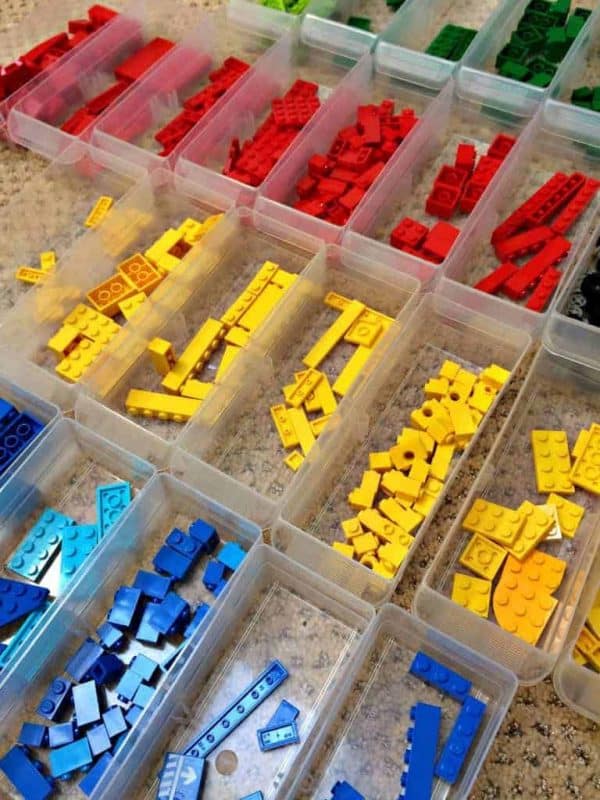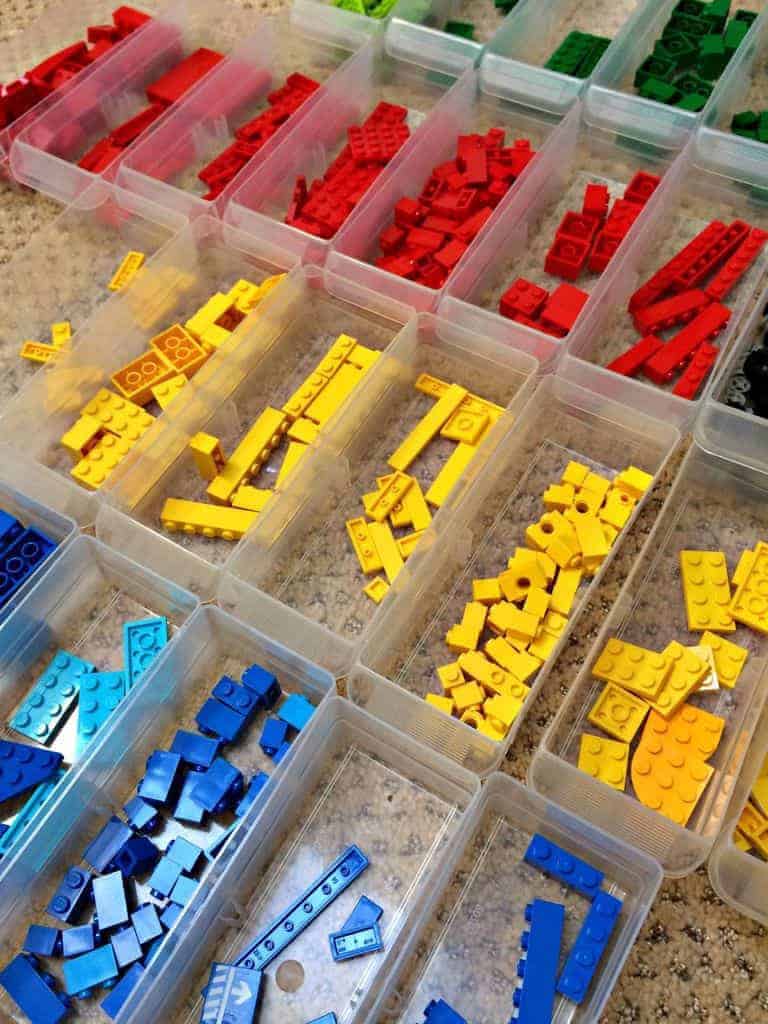 The smaller boxes are perfect for separating out the different sizes and colors, and the larger boxes are being used for things like wheels and minifigure accessories. Sorting out all the pieces in his collection is a work in progress, but at least all those LEGO finally have a home!
If you would like to keep up to date with my latest posts about organization, home decor and more, you can follow me on Facebook, Pinterest, or by signing up for my weekly newsletter below.
Want more DIY projects?
Subscribe to get project ideas, home improvement tips, woodworking plans and more delivered straight to your inbox!