If your ottoman has seen better days, then you need this tutorial! I'll show you how to reupholster an ottoman for a whole new look. I've also included woodworking plans for a DIY ottoman so you can build one of your own!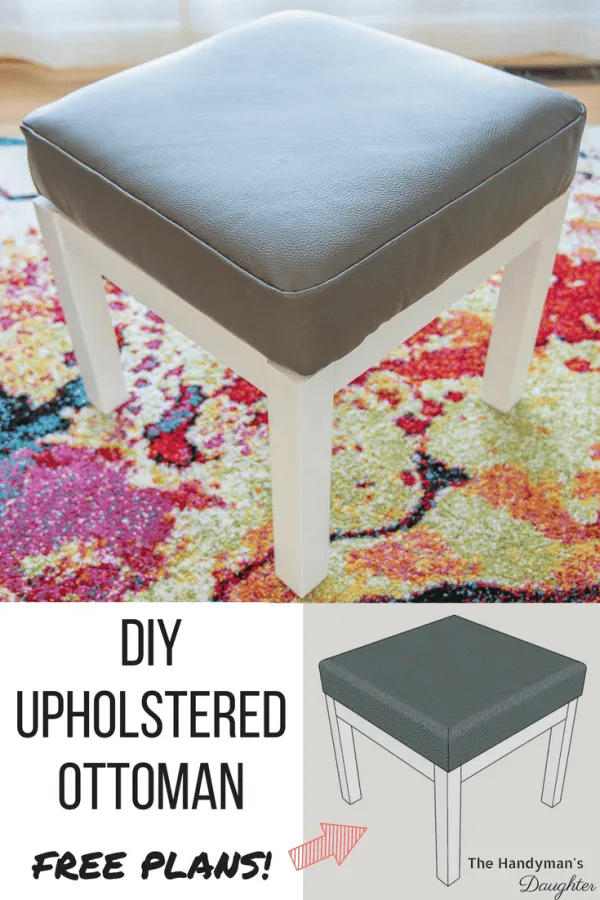 We've had this ottoman in our house for-e-ver and it's taken a LOT of abuse. The microfiber cover has a thin layer of sippy cup spills and Cheerio crumbs from our son's toddler years. I'll show you how to reupholster an ottoman with gorgeous leather, so you can transform those thrift store finds. As a bonus, I've also included plans for a DIY ottoman so you can build your own!
This post is sponsored by Leather Hide Store, and contains affiliate links for your convenience. Purchases made through these links may earn me a small commission at no additional cost to you.
This isn't my first time incorporating leather into our decor. You may remember this upholstered headboard I created for the master bedroom (you can get the plans for it in the woodworking plans library!)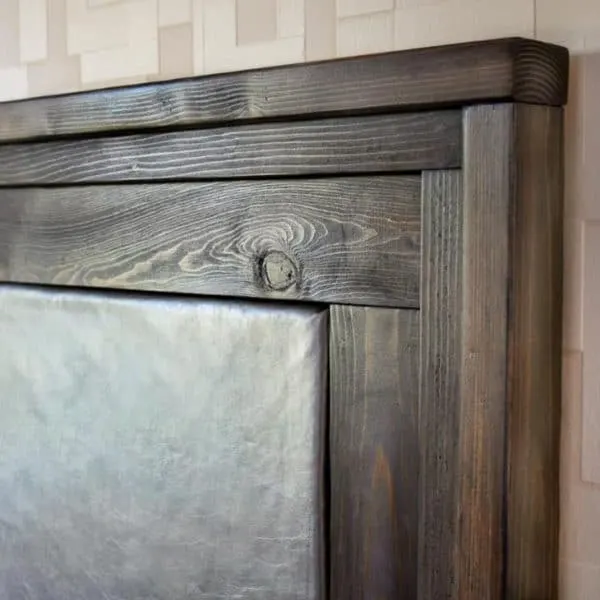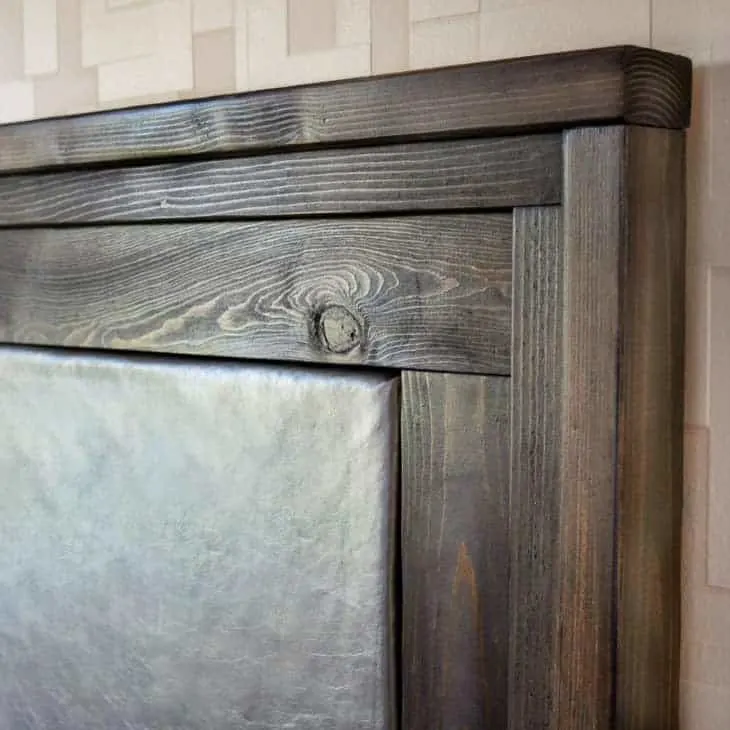 When Leather Hide Store asked me if I had any other projects that could use leather, I instantly thought of my old ottoman. It had been banished to the basement ever since we moved, because it didn't fit in with our new decor. But the small size is perfect next to the coffee table in our living room, so I can prop my feet up while writing this blog!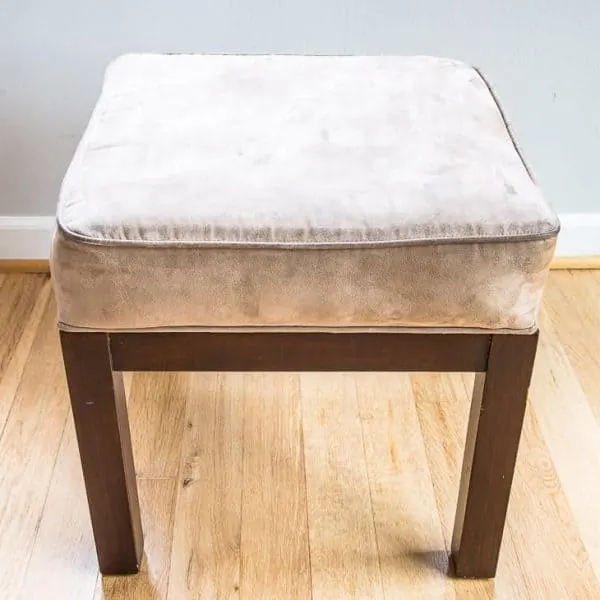 Leather Hide Store sent me a few samples, and I decided to go with their Philadelphia Steel gray leather, which matches our living room sofa perfectly.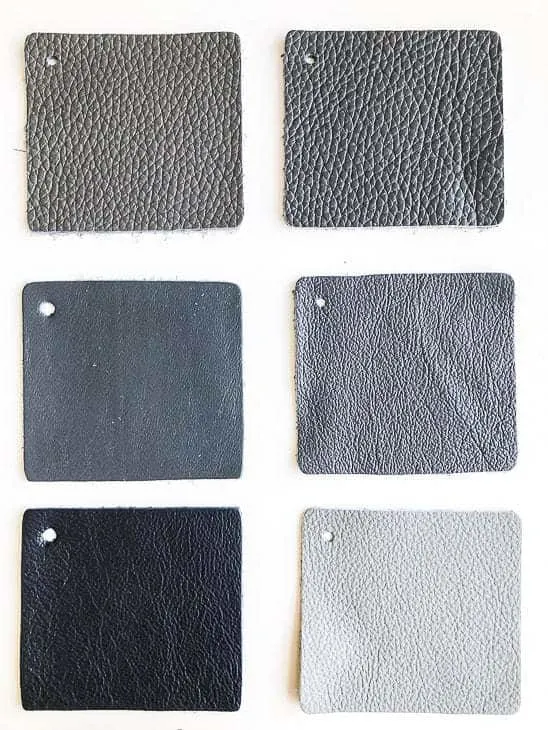 I have a second project in mind for this leather, so they sent me a whole hide. This is a great option if you want to ensure that different elements of a room match precisely. If you're not sure what size you need, they have a handy guide to help you out!
Don't have your own ottoman in need of a makeover? This would be the perfect beginner woodworking project! I've drafted up the plans for a DIY ottoman that looks just like mine.
It's like those Choose Your Own Adventure books! Will you makeover an existing piece or make your own ottoman? Here's the materials list for both.
Materials Needed for DIY Ottoman Cover
Materials Needed for DIY Ottoman
Don't forget your safety gear when woodworking! Here are my recommendations for safety glasses and ear protection. No excuses!
Important note if you're going the DIY ottoman route: Put together the frame first (get the plans here). Then skip straight to "Create a New Ottoman Cover." The steps from that point on will be basically the same.
How to Reupholster an Ottoman
Remove the Old Ottoman Cover
Start by removing the cushioned top of the ottoman by unscrewing it from the base.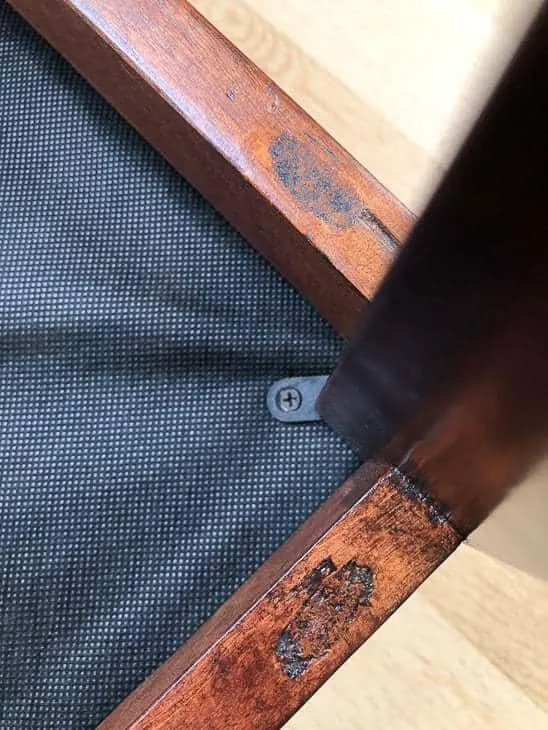 Remove the thin piece of fabric from the bottom with the staple remover. This just covers the mess underneath.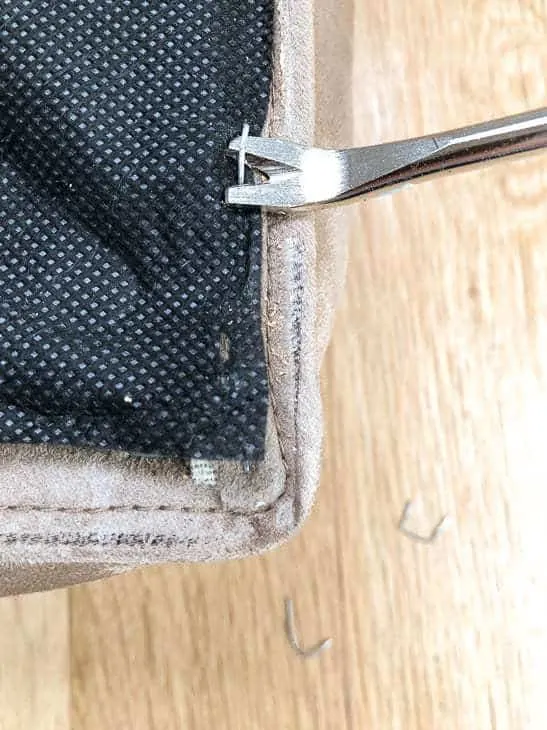 Now put on your favorite music or show, because you have a LOT of staples to remove! Just wiggle the head of the staple remover under each one and pop it up. Be careful not to rip the fabric, because you'll be using as a template for the new ottoman cover later.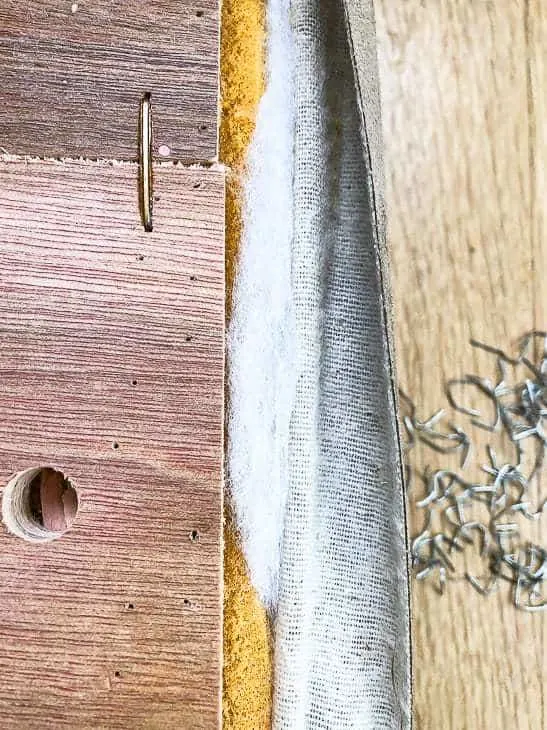 If your ottoman has piping and you'd like to keep it for your new cover, set it aside. I discarded mine because I wanted a cleaner look.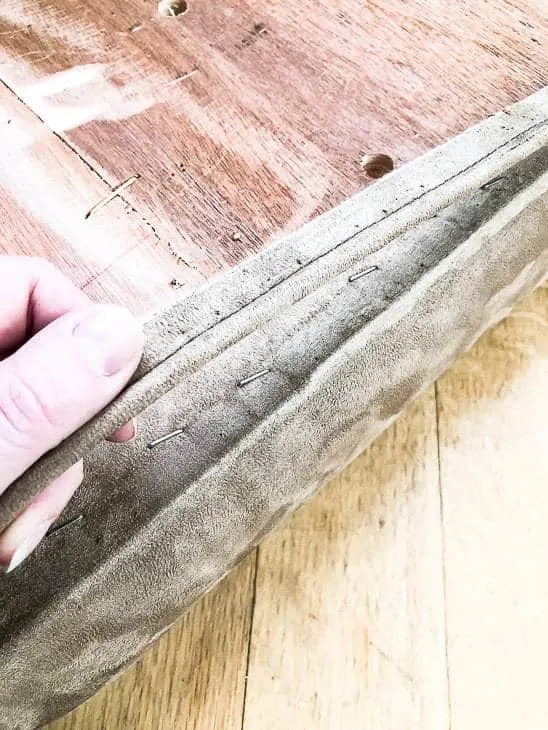 Next, use your seam ripper to take apart the old ottoman cover. Mine is just two pieces (the sides and the top), so it was pretty quick work.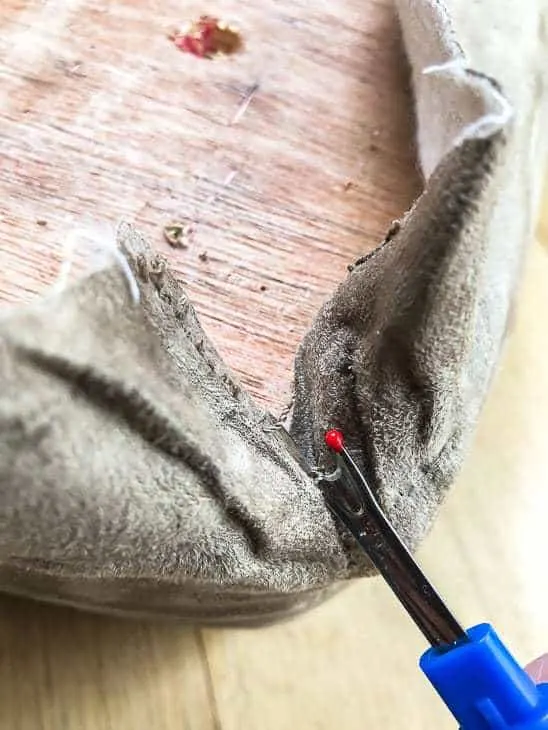 The batting and foam cushion were in surprisingly good shape, considering how dirty the cover was. I decided to keep everything intact on the plywood base.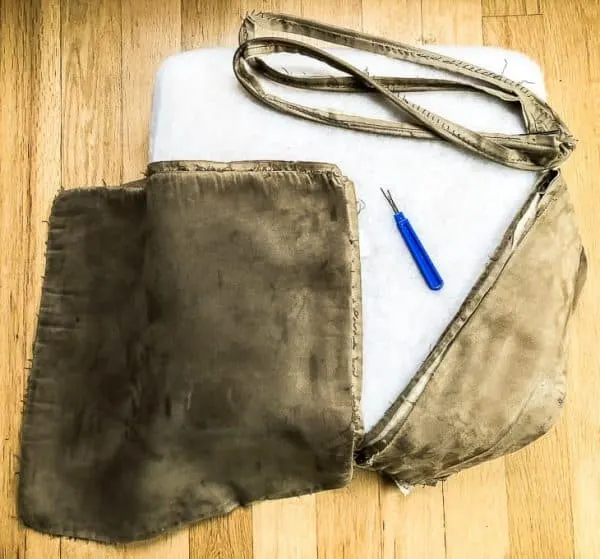 Create the New Ottoman Cover
Give your old ottoman cover pieces a good press with an iron to flatten it out. Then roll out your leather and decide where you want to place your templates. Try to avoid any irregular spots or thin areas, which are common in a natural material like leather. Luckily, leather doesn't have a grain, so you can cut it whatever way you like!
If you're going the DIY ottoman route, measure the top of your cushion and add ½" all the way around. Then measure the sides, but add 3" to the width of the leather strip and 1" to the length. The seam allowance will be ½".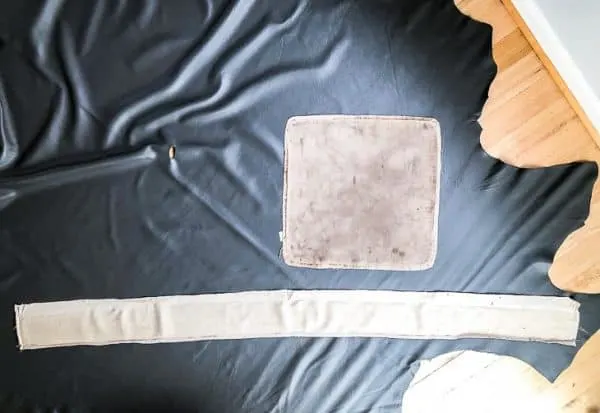 Use the chalk wheel to mark the outside edge of the templates. Be careful not too stretch the fabric out of shape as you trace. Then cut out each piece with sharp fabric scissors.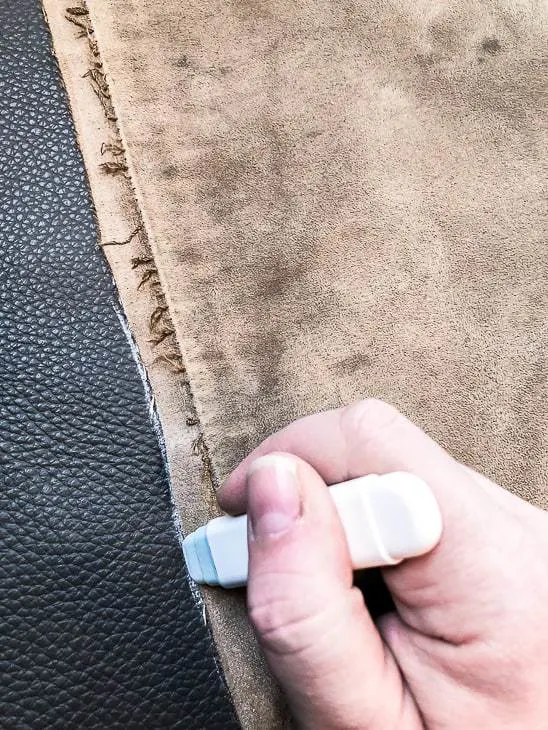 Sew New Ottoman Cover Pieces Together
Believe it or not, sewing was my first hobby, not woodworking! My sewing machine has been gathering dust for the past few years while my table saw takes center stage, but it's just like riding a bike! 🙂
Measure the size of the seam allowance on the original cover. Mine was ⅜". Sew the two ends of the long piece together. I found that a walking foot really helps move the stiff leather through the sewing machine easily.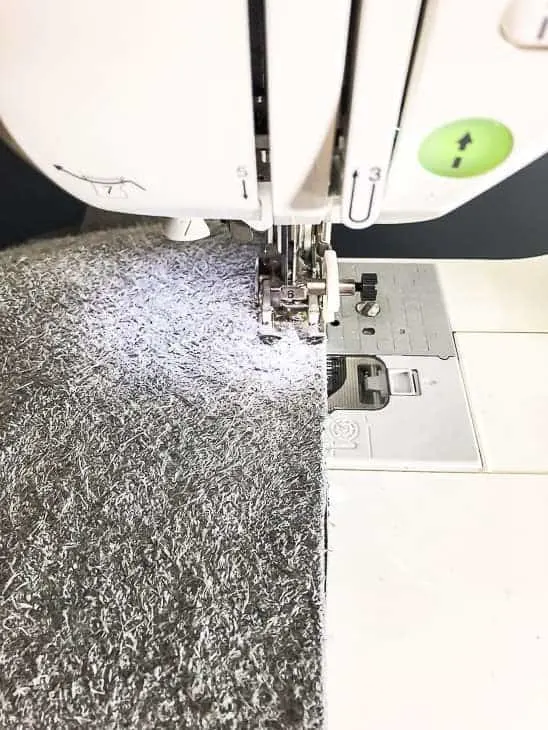 The original cover had the seam at the corner, but I thought it would be too bulky with the thick leather. I centered the seam on one side, and sewed the top to the sides. To reduce bulk at the corners, clip each curve right up to the stitching line (without cutting the thread).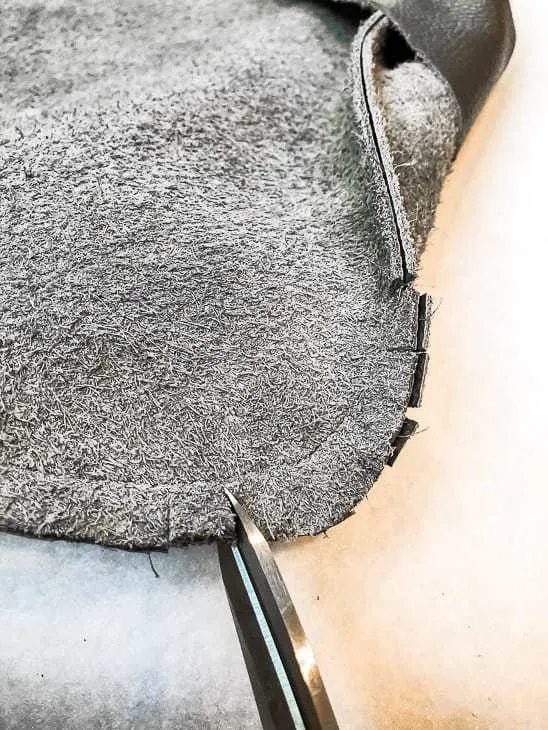 Attach cover to cushion and plywood base
Remember all those staples you removed before? Now you get to put them all back! Slide your new cover over the cushion and batting, and adjust the seams so they're all facing down the sides. This gives it a bit of a piped look without the piping.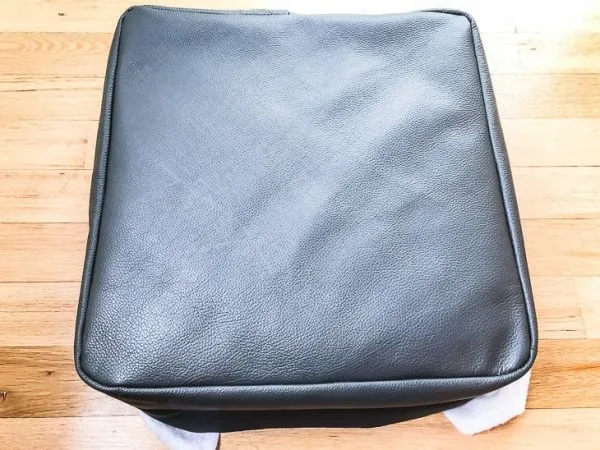 Flip the ottoman cushion over, and pull the cover tight against the plywood backing. Staple each side first, then fold in the corners and secure them in place.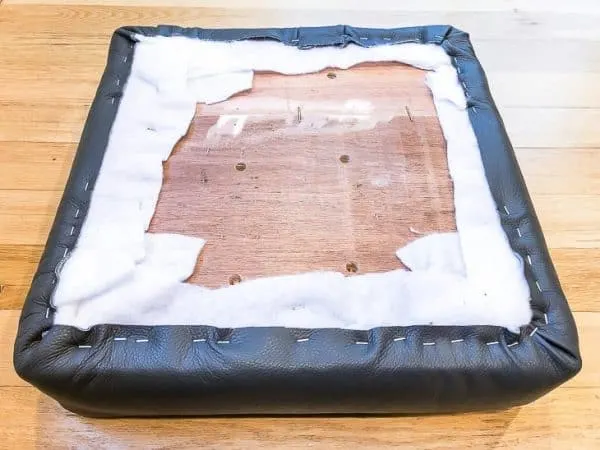 Flip it over from time to time to make sure there aren't any wrinkles in the top. If one of the corners is looking a little deflated, unstaple it and fill it in with extra batting.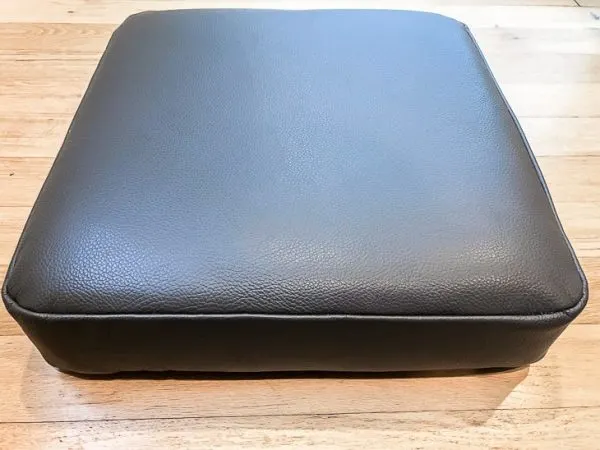 Paint the Base and Reattach Top
This part is pretty straightforward. I sanded down the base a bit, then gave it two coats of Kilz Max primer. When that was dry, I sanded it smooth with 220 grit sandpaper and gave it two coats of Decorator's White by Benjamin Moore.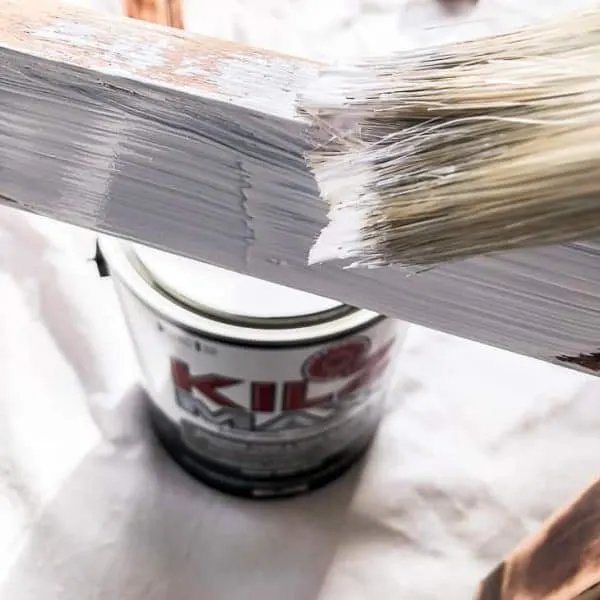 I reused the same hardware to attach the top to the base. I didn't bother covering the bottom with the black fabric, since it would just add more bulk. If you're going the DIY ottoman route, you can find similar hardware here.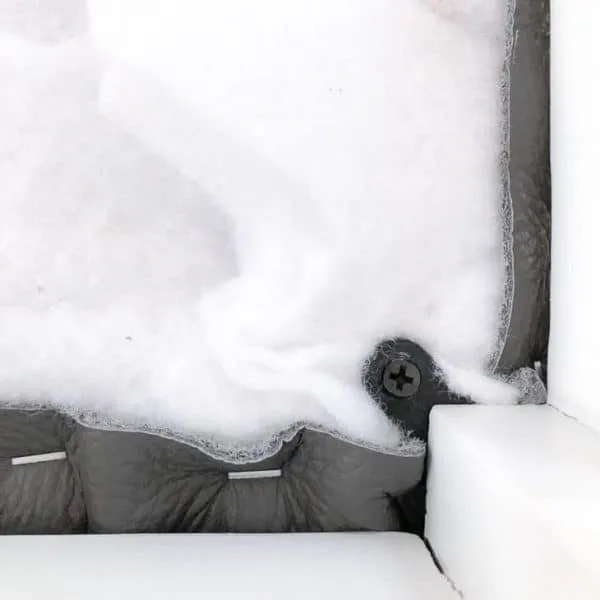 Put your feet up and relax!
My ottoman looks like a brand new piece of furniture! I love the combination of textures in our living room now. The grays look different here because the light reflects off the leather but not the couch. In real life they're almost identical.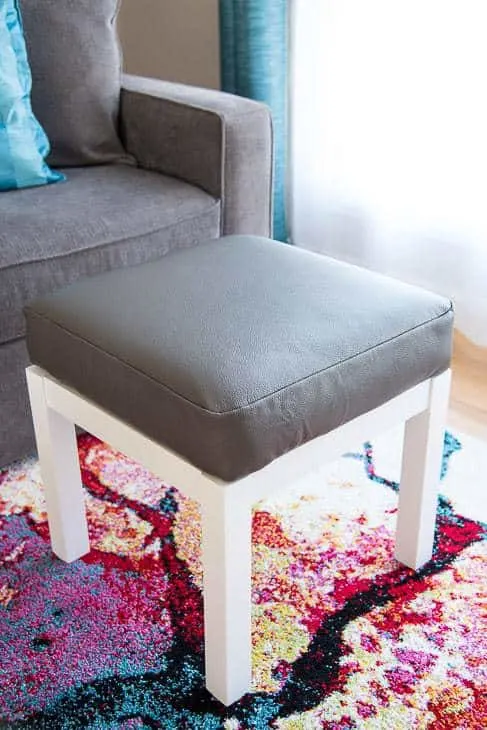 Now I finally have a place to put my feet up while I write!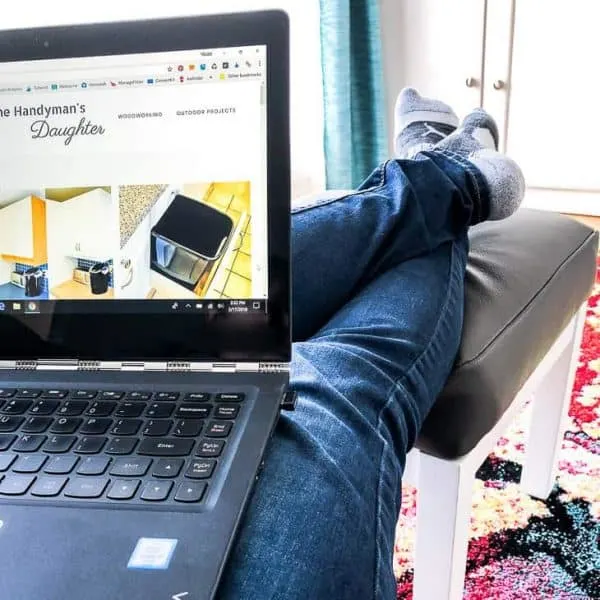 Want to make your own DIY ottoman? Enter your email address in the box below to get the woodworking plans sent straight to your inbox!