Learn how to paint melamine so it doesn't peel or scratch off! These painting tricks work great for melamine cabinets and furniture.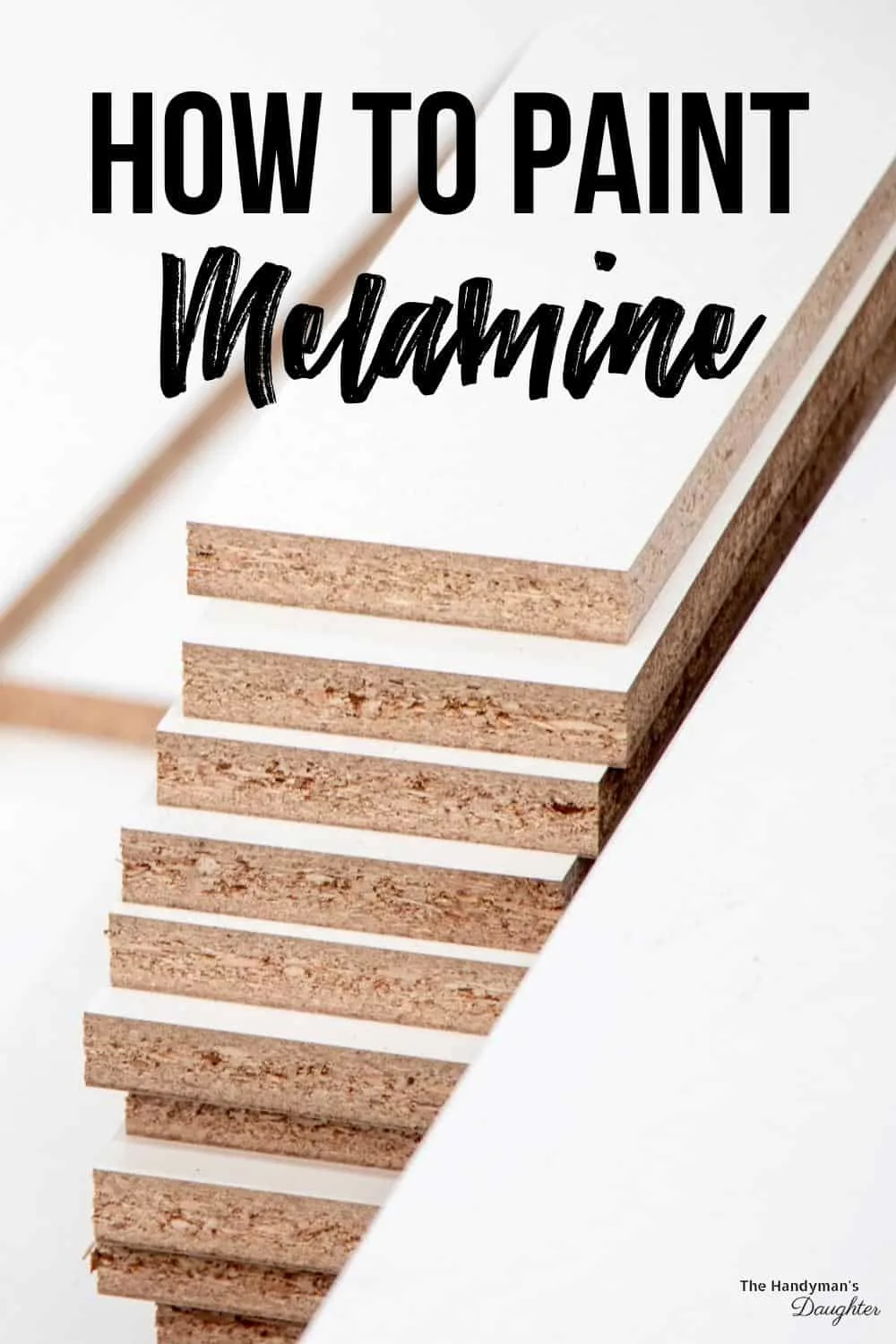 Melamine is a particle board core with a hardened plastic laminate material on the faces. It's commonly used in inexpensive kitchen cabinets and furniture, and that slick surface can be tricky to paint!
To paint melamine properly, you'll have to account for the smoothness of the surface and the lack of absorption. Both of these properties will affect how paint adheres and how it dries.
But the good news is that if you know how to handle these two factors, you can paint melamine successfully! Like any painting task, preparation is key. However, it's also important to use the right products and techniques.
This post contains affiliate links for your convenience. Purchases made through these links may earn me a small commission at no additional cost to you. Please visit my disclosures page for more information.
When we bought our house, the kitchen was in serious need of some updating. The cabinets were installed in the 80's, and were soooo ugly! They were made of almond melamine with orange oak grab bars instead of door and drawer pulls.
After doing a ton of research, I discovered that you CAN paint over melamine, as long as you prepare the surface correctly and use the right paint. Check out my tutorial on painting melamine cabinets for all the details. Just look at the difference!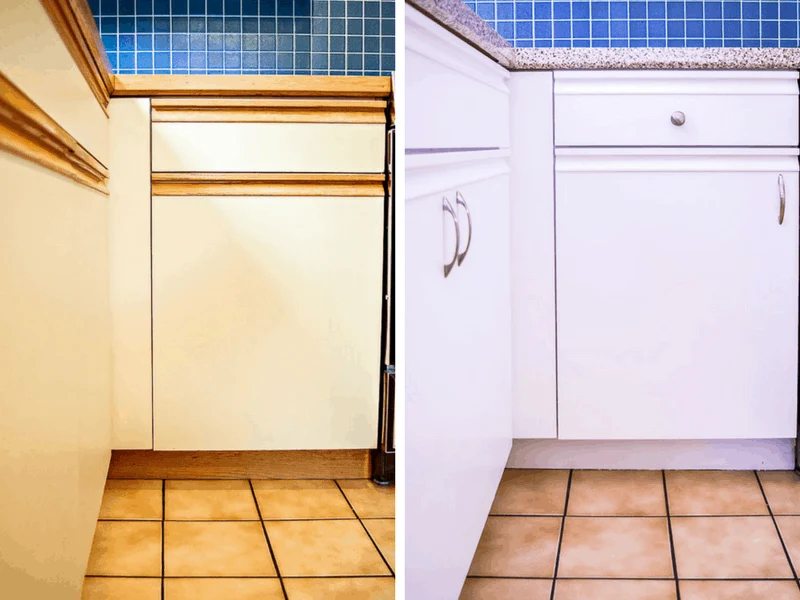 All the painted surfaces have held up great over the years, with only some minor damage in areas that get a lot of use, like the silverware drawer. You can see all the before and after photos of this kitchen makeover here.
Materials Needed to Paint Melamine
Before you paint those melamine cabinets, you'll need the right tools! Paint on melamine kitchen cabinets is notorious for chipping and peeling, so it pays to be prepared with the correct materials.
Dust mask and eye protection
Sandpaper
Painter's tape and drop cloths
After you have your materials ready, it's time to prep the surface and start painting!
How to Paint Melamine: Step by Step
For the best results, you'll need a combination of patience and persistence. Just slapping some paint on the melamine and hoping for the best isn't a great strategy. One of the great paradoxes of any DIY project is that trying to go faster almost always makes the project take longer!
Safety
Whenever you're sanding or painting, take a moment to consider safety. There have been some reported possible health risks associated with melamine dust. It's always best to be on the safe side and make sure you wear a mask while sanding this material.
Also, it's best to be in a well-ventilated area. If you're spraying the paint instead of brushing or rolling, it's essential to wear a well-fitted respirator. Now that we have safety covered, let's talk more about preparing melamine for paint!
Repair any chips or damage
Melamine is known to chip, and you probably have a few spots that need to be fixed. To do this, you can use a specialized filler made for melamine. Just apply the filler to the chipped areas and allow it to dry before painting.
Also, if the edge banding on a melamine board is broken or peeled away entirely, you can easily replace it. You can buy melamine edge banding and apply it with an iron. You can find more details on how to apply edge banding in this tutorial.
Lightly sand the melamine surface
Melamine is so smooth, paint will have trouble sticking. It's also non-absorptive, so the paint does not penetrate the material. Not only does this affect the hold of the paint, but it also impacts dry time (more on that later!)
So, before painting melamine cabinets or doors, take some 120-grit sandpaper and run it over the surface. You're not trying to remove material; you're just trying to rough things up so that the melamine has something to adhere to.
Clean and degloss
After you've sanded the surface of the melamine, it's time to give it a good cleaning. If there is any dust or residue left on the surface, it will make the primer and paint less effective.
Start by vacuuming up any dust and particles. Then, you can wipe the surface with a rag soaked in deglosser to ensure there are no hidden oils on the surface.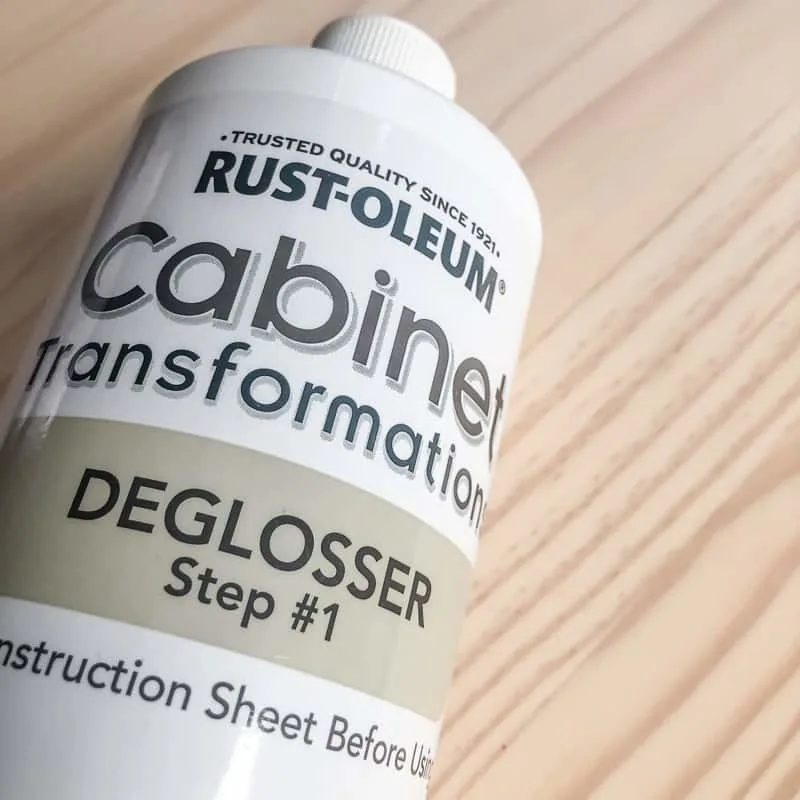 Prime the melamine first
Priming melamine can really help the paint hold - but only if you do it right! Here are a few things to know.
First, you should use a primer known to adhere to extra smooth surfaces. I've used Insl-X bonding primer on tile floors and backsplashes with great results, and it works on melamine too!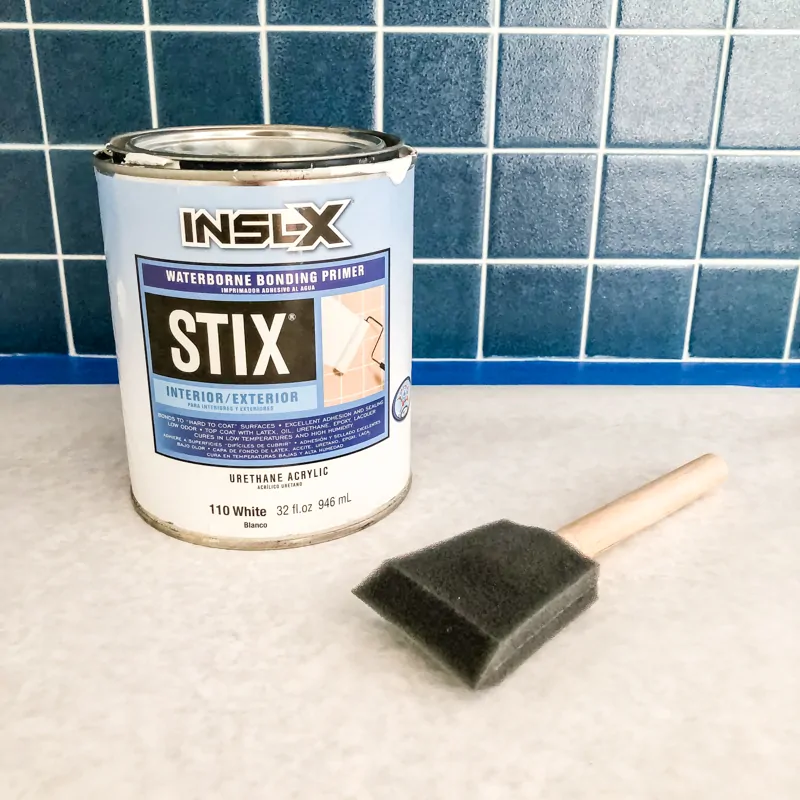 Second, you need to give the primer time to dry. Melamine will extend dry times as it doesn't absorb moisture like wood. It's wise to give your primer even more time to dry than required.
One drawback to this bonding primer is that it leaves a rough surface. Knock down the texture with 180 grit sandpaper, then remove any dust with a tack cloth.
Paint the melamine
After giving your primer time to really dry, it's painting time! Your first step here is to make sure you use the appropriate paint. I used Rust-Oleum Cabinet Transformations paint on my melamine kitchen cabinets, but there are several others on the market that will also work.
Use quality brushes or a small foam roller to evenly apply the paint to the surface. I like to brush on the paint first, then go over it with a roller to remove all the brush marks. Don't forget about the edges!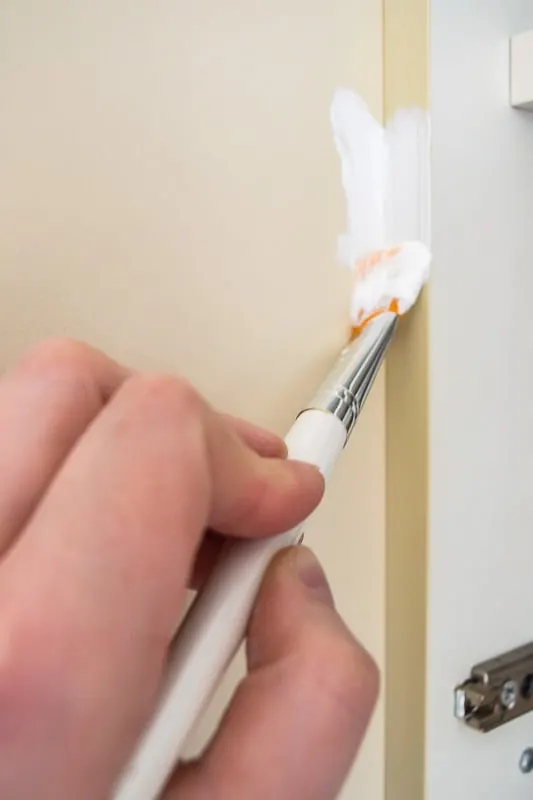 You'll probably need at least two coats for full coverage. For the best results, allow the paint to cure for the entire time listed on the label. This will give you a harder surface that is less prone to dents and scratches.
Frequently Asked Questions about Painting Melamine Surfaces
Can I spray paint melamine cabinets?
Yes, you can spray paint melamine, but not with the stuff you find in a can! You'll need a high quality paint sprayer that can handle the viscosity of the speciality paint you'll be using.
Also, make sure to tape off every surface that you don't want to get paint on with drop cloths or tarps. Overspray can get everywhere, and you don't want to ruin your countertops or appliances!
You'll also need to wear a respirator to protect your lungs from the paint flying around in the air.
Do I need to prime before I paint melamine cabinets?
It's best to prime melamine before painting. Melamine is already a difficult surface to paint. Using a primer will give you the best chance of obtaining a good paint finish. Kitchen or bathroom cabinets are heavy use areas, so they'll likely chip without proper preparation.
Are melamine and laminate surfaces the same thing?
Technically, melamine is a type of laminate. However, not all laminate is melamine. Melamine is manufactured under a lower pressure system than laminate and is considered less durable.
---