Create a drop zone by the front door with this DIY entryway mirror with hooks! Hang keys, drop your change and check your hair all in one convenient spot!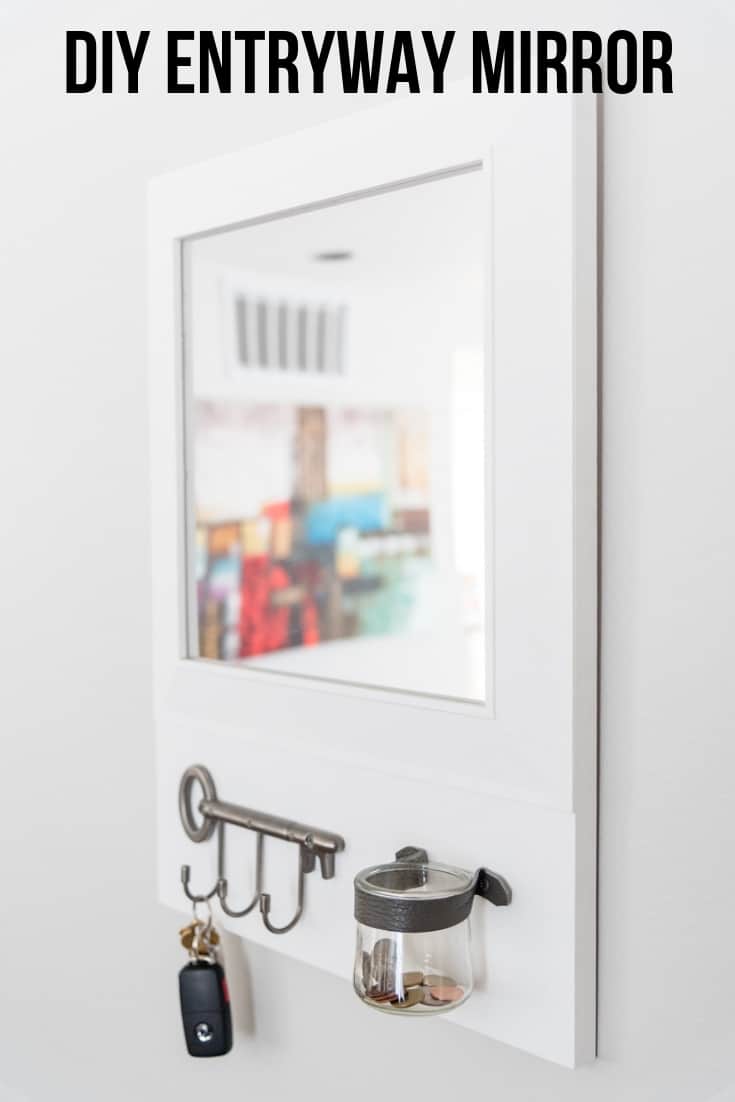 Our front door opens right into the living room, so I'm creating a drop zone so stuff doesn't get scattered everywhere! I built an entryway bench for all the shoes, and plan to make a console table to store hats, gloves and my purse. But our keys are always getting lost! This DIY entryway mirror with hooks gives us a place to hang our keys and check our hair before heading out the door!
This post contains affiliate links for your convenience. Purchases made through these links may earn me a small commission at no additional cost to you. Please visit my disclosures page for more information.
I dug out these small pieces of trim leftover from my fireplace remodel when I was cleaning up the workshop. This trim was used to frame the fireplace tile, and is perfect for framing a mirror too!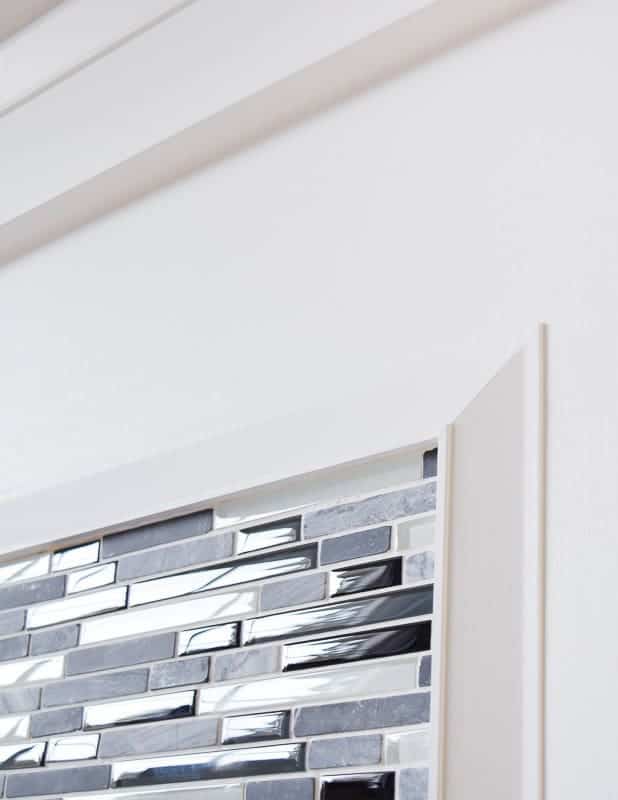 You could create the same type of trim with standard lumber by cutting a small rabbet along one side for the mirror to rest in. Any kind of picture frame moulding would work too!
This isn't the first project I've created using leftover fireplace trim. This DIY candle lantern was made by cutting apart the architrave under the mantle! This is why I never throw away scraps! 🙂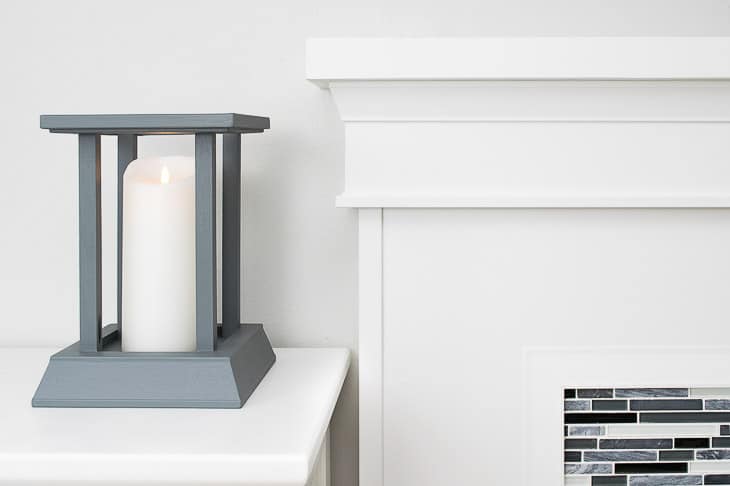 Materials Needed for DIY Entryway Mirror with Hooks
Don't forget your safety gear when woodworking! Here are my recommendations for safety glasses and ear protection. No excuses!
How to Make an Entryway Mirror with Hooks
Dry Fit All the Pieces
I'm on a mission to use up all the scrap plywood around the workshop, and this 16" x 20" piece was a perfect fit. I wanted the trim to line up with the edges of the plywood, so I dry fit the mirror between two pieces and marked the side to be cut.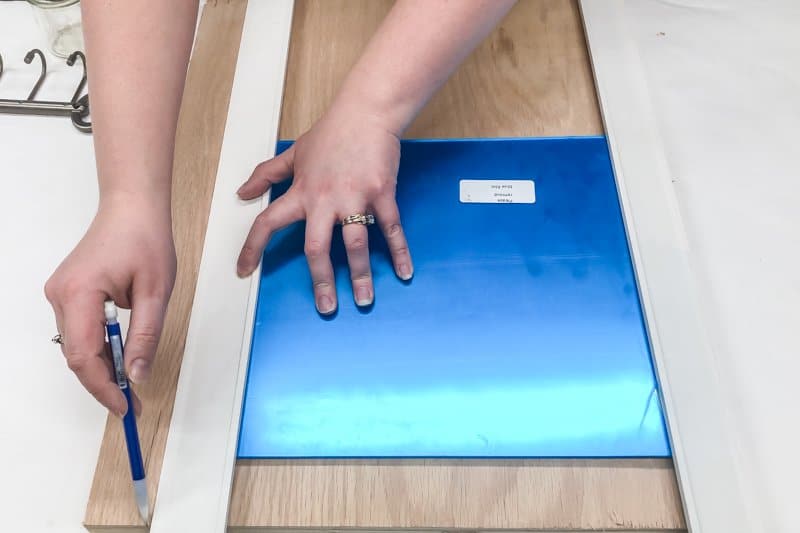 Then I did the same thing with the top and bottom, and roughly placed the key hooks and change jar underneath the trim. I decided to take off about an inch from the bottom.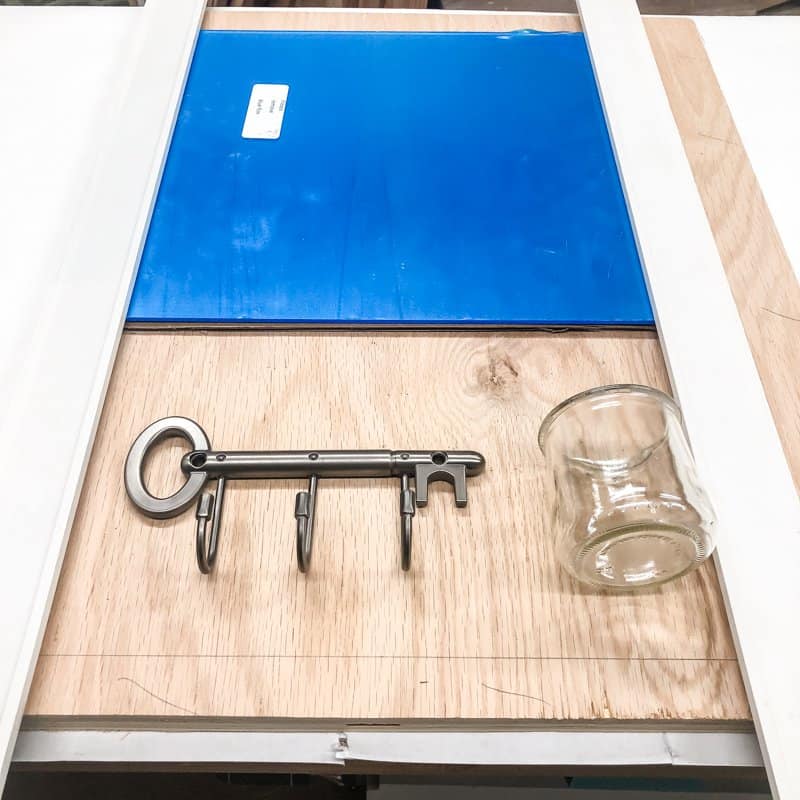 The notch in the trim is a little too tall for this thin acrylic mirror, so I added a piece of cardboard behind it to make it fit snugly.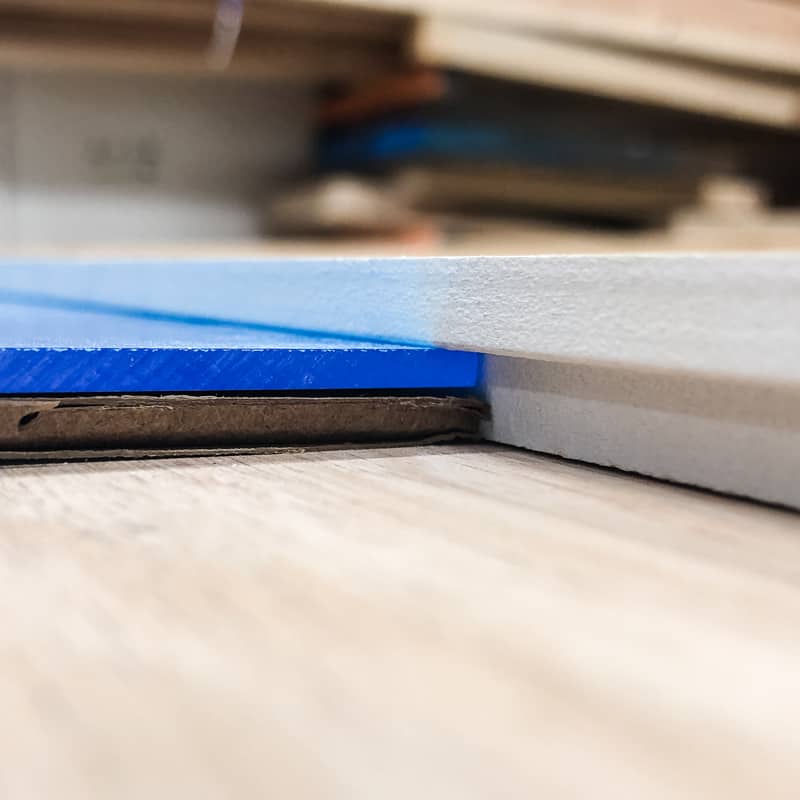 Cut Plywood and Apply Edge Banding
After marking the edges of the frame, I took the plywood over to the table saw and cut it down to size.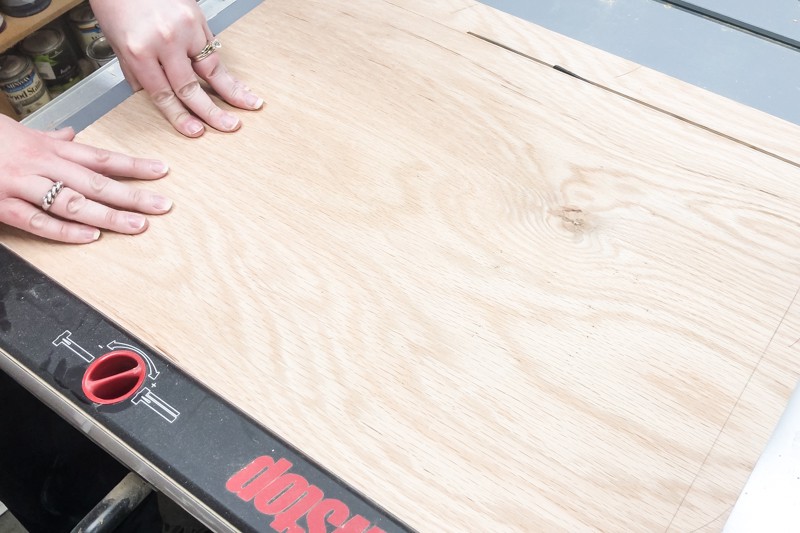 To cover up the exposed plywood edges, I applied edge banding to all four sides. You can find my tutorial on how to apply edge banding here.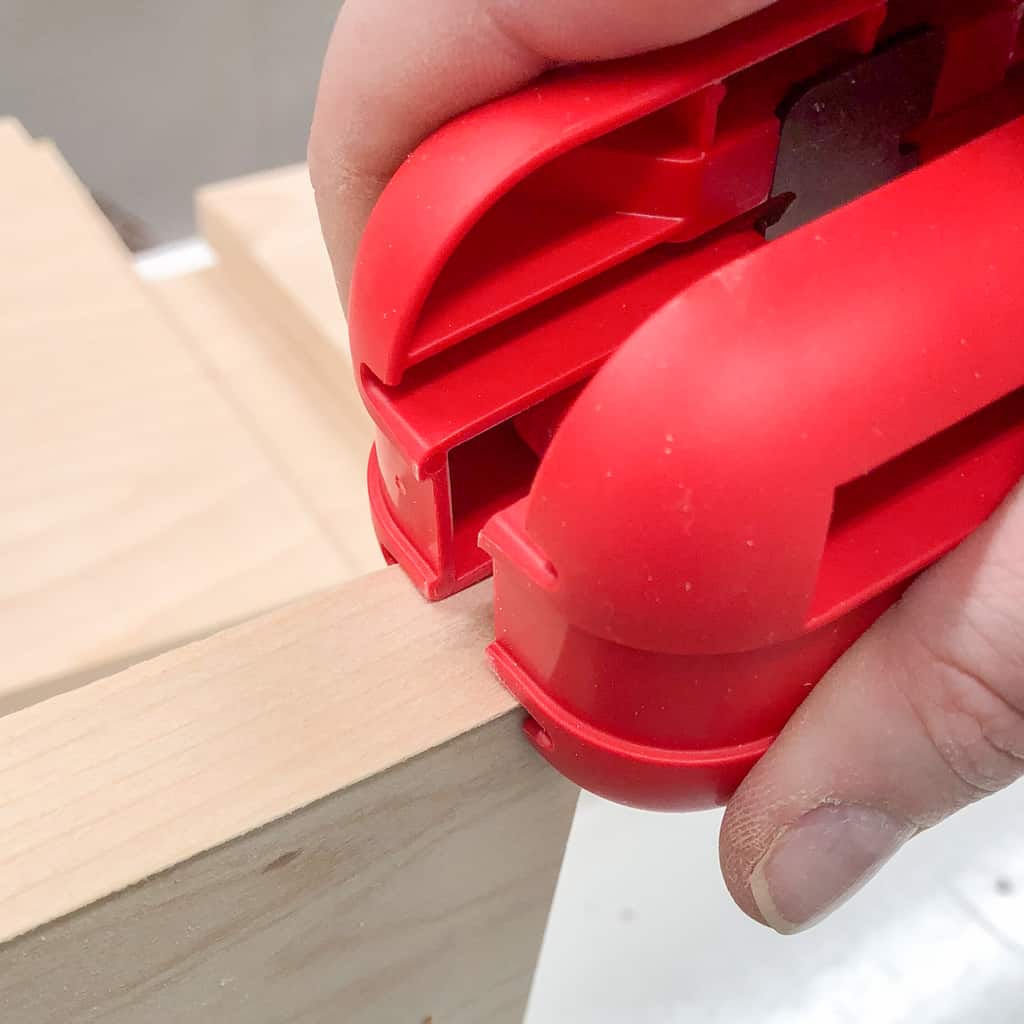 Cut Mirror Frame Trim
Cut each end of the trim at a 45 degree angle on the miter saw. Remember that the notch goes in towards the middle of the frame!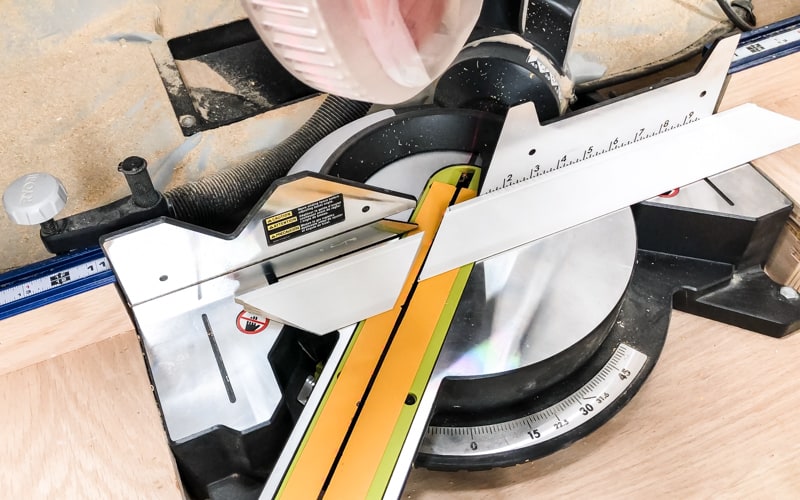 I like to cut my pieces just a bit longer than necessary, then creep up on the cut line until I get a perfect fit. My friend Serena from Thrift Diving has a great video showing you how it's done!
Attach Trim to Plywood
Apply wood glue to the back of the trim and the mitered corners, then frame the mirror. Ignore the reflection of my ugly workshop ceiling! 😉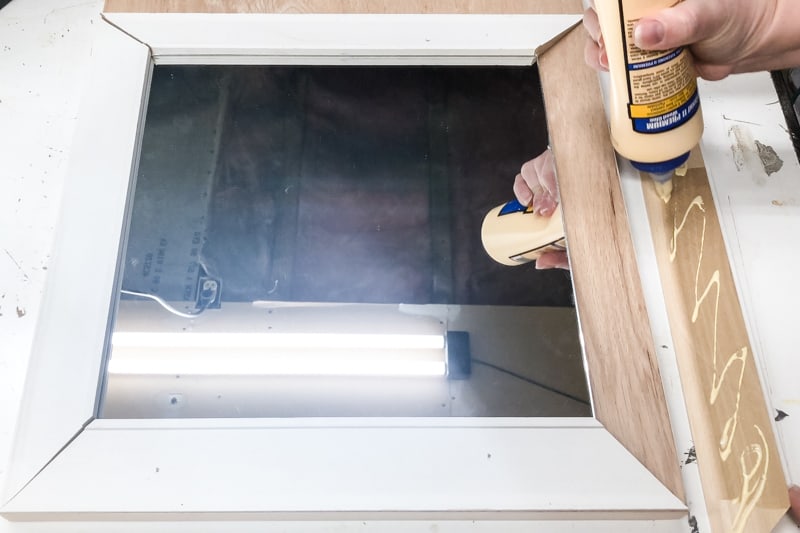 Secure the pieces in place with ¾" brad nails.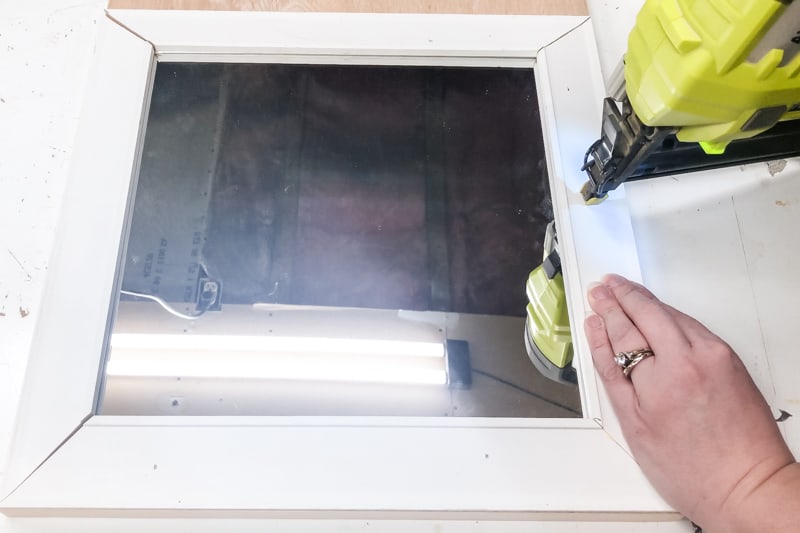 Fill the holes and gaps with wood filler, then sand smooth when dry.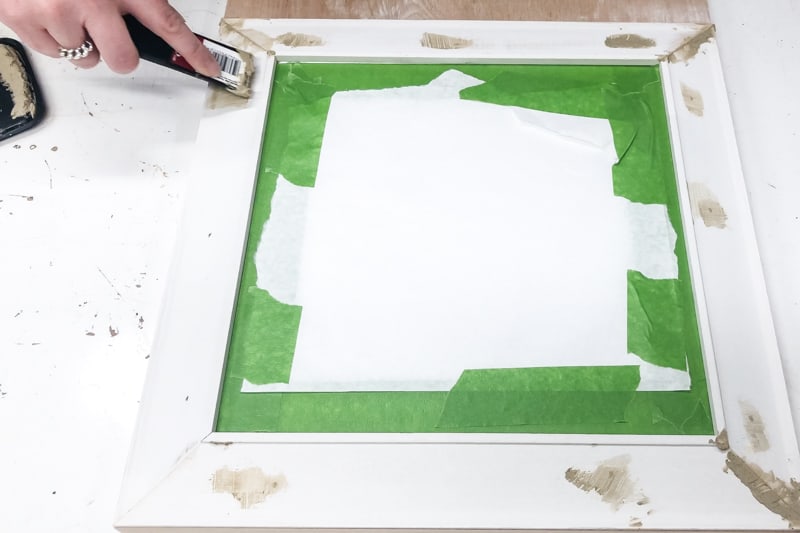 Paint the Mirror and Attach the Hooks
Apply painter's tape and paper over the mirror before starting to paint. I used the same Decorator's White paint by Benjamin Moore as the entryway bench that will be below it.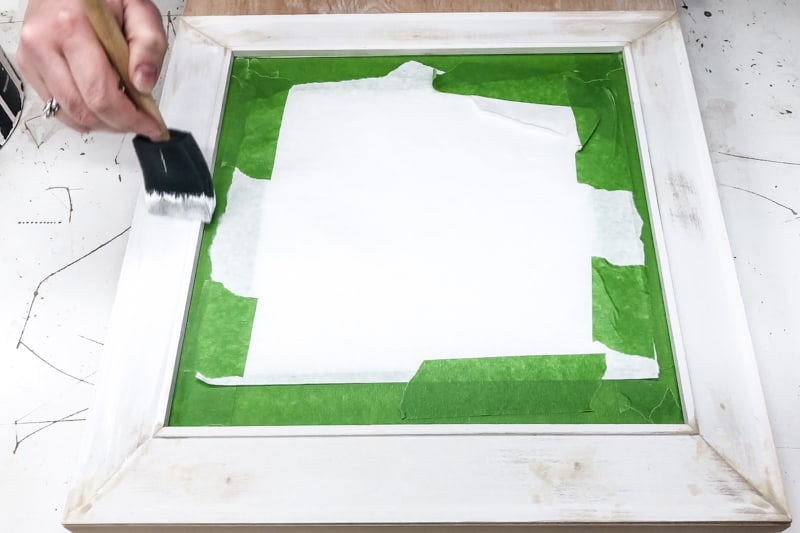 When the paint is dry, attach the key hooks with ¾" screws.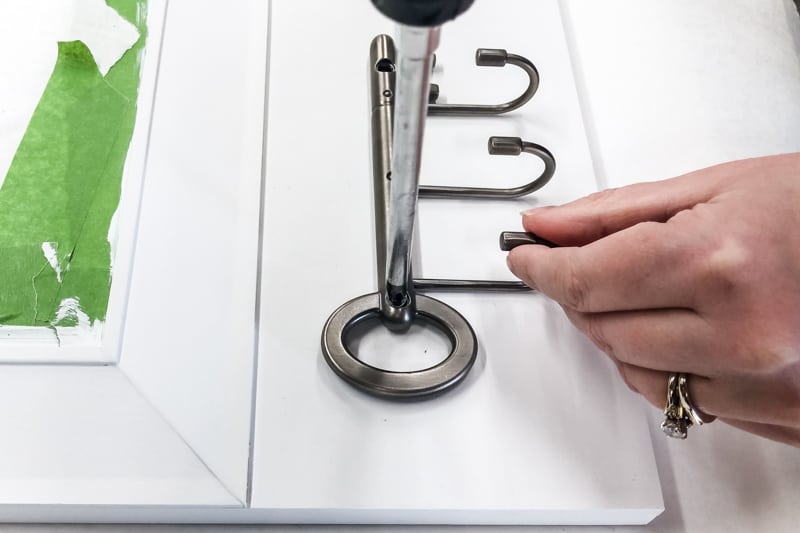 The change jar (which is just a glass yogurt jar!) is held in place with a scrap piece of leather from my DIY upholstered ottoman and the upholstered cushion on the entryway bench. Just cut a strip long enough to go around the front of the jar, plus an inch on each side to screw it into place.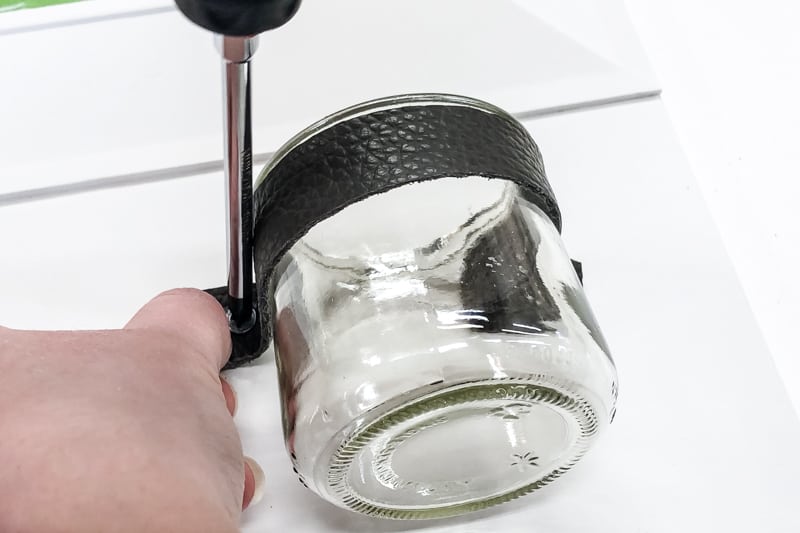 Hang Your New Entryway Mirror
I used a French cleat to hang my new entryway mirror next to the front door. It holds the entire piece firmly in place, even if you yank your keys off the hook! I used a metal one, but you can make your own French cleat out of plywood too.
This new entryway mirror will be so nice for checking my hair before that early morning run to the bus stop. Nothing is more embarrassing than dropping your kid off with serious bed head!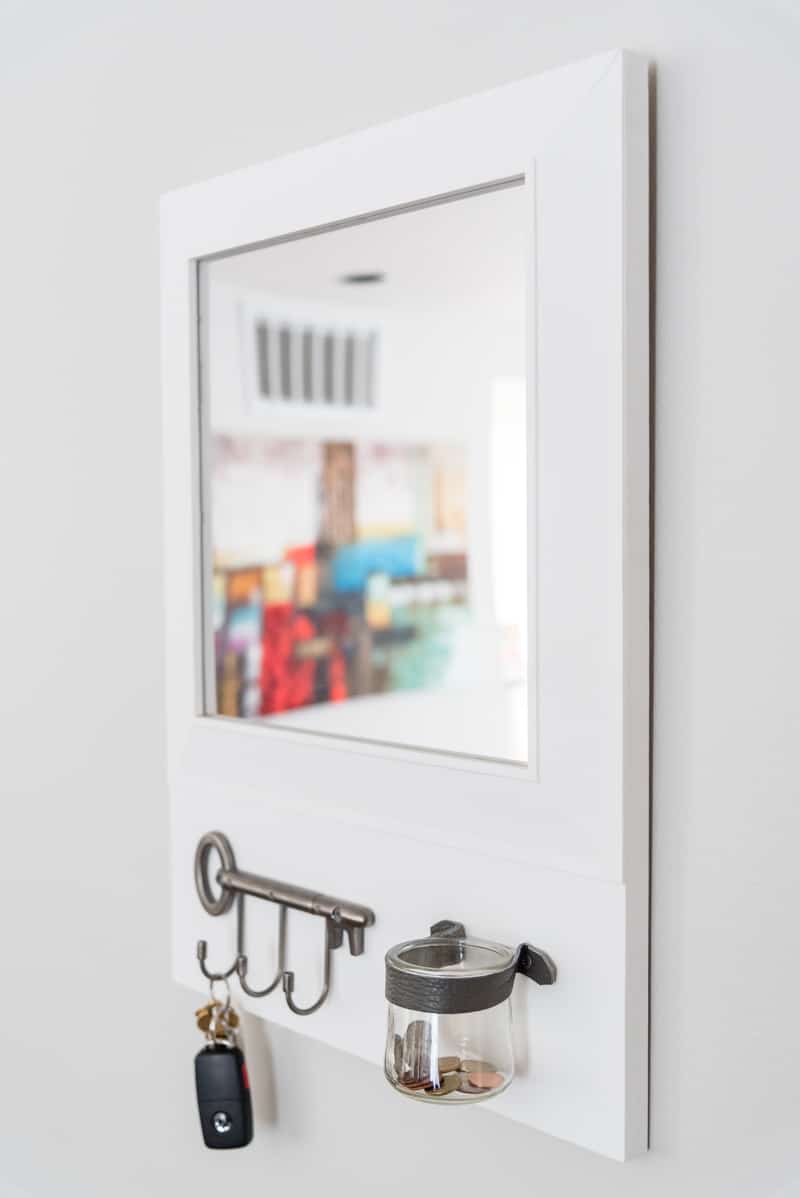 We always seem to find a ton of change lying around, but never have it when we need it. With this small change jar, I can easily grab a handful to feed the parking meter if I'm going downtown. And now we're not hunting for keys when we're rushing out the door, because they each have their own hook!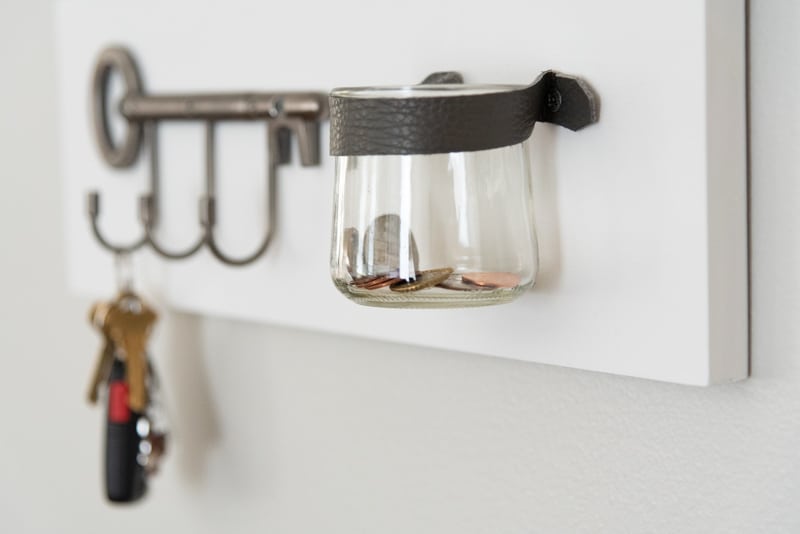 This entryway drop zone is really coming together! I'm working on building a console table to complete the look soon!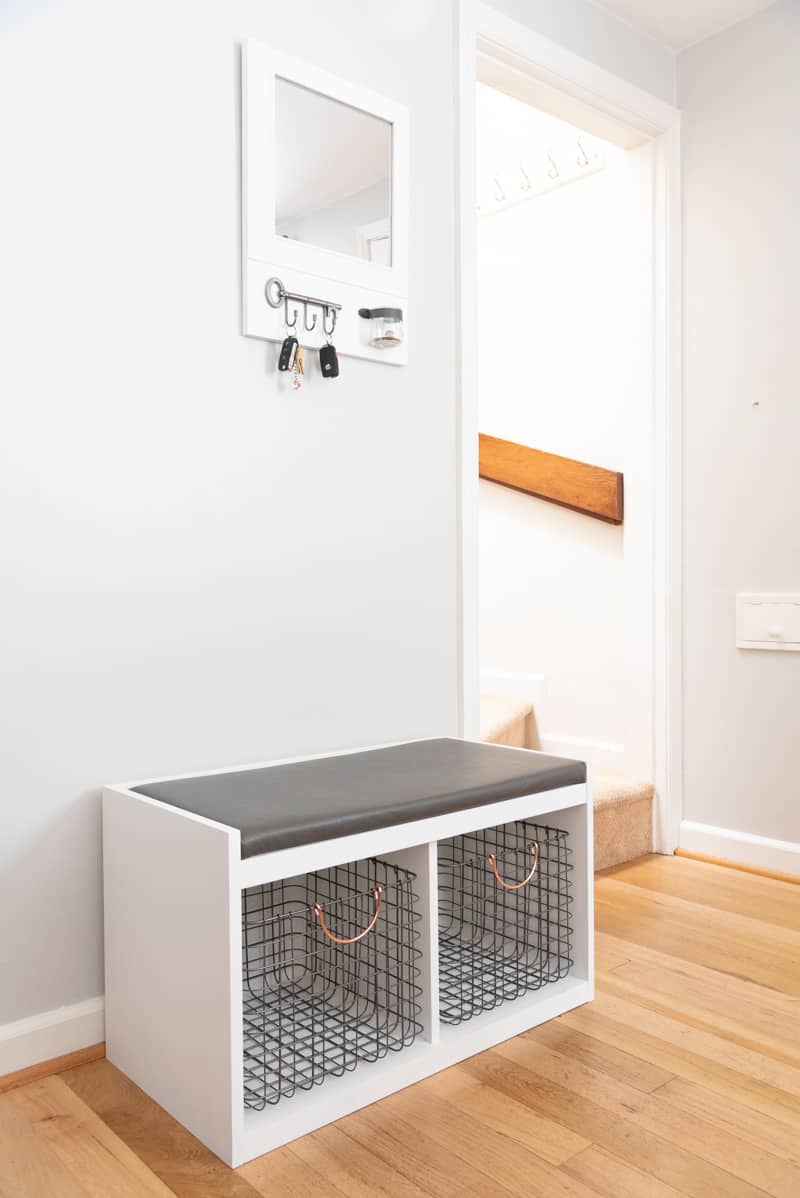 ---
Check out these other DIY bench ideas!