Keep your lumber rack organized and labeled with a whiteboard wall! This paneling lets you write directly on the wall to identify dimensions and species at a glance.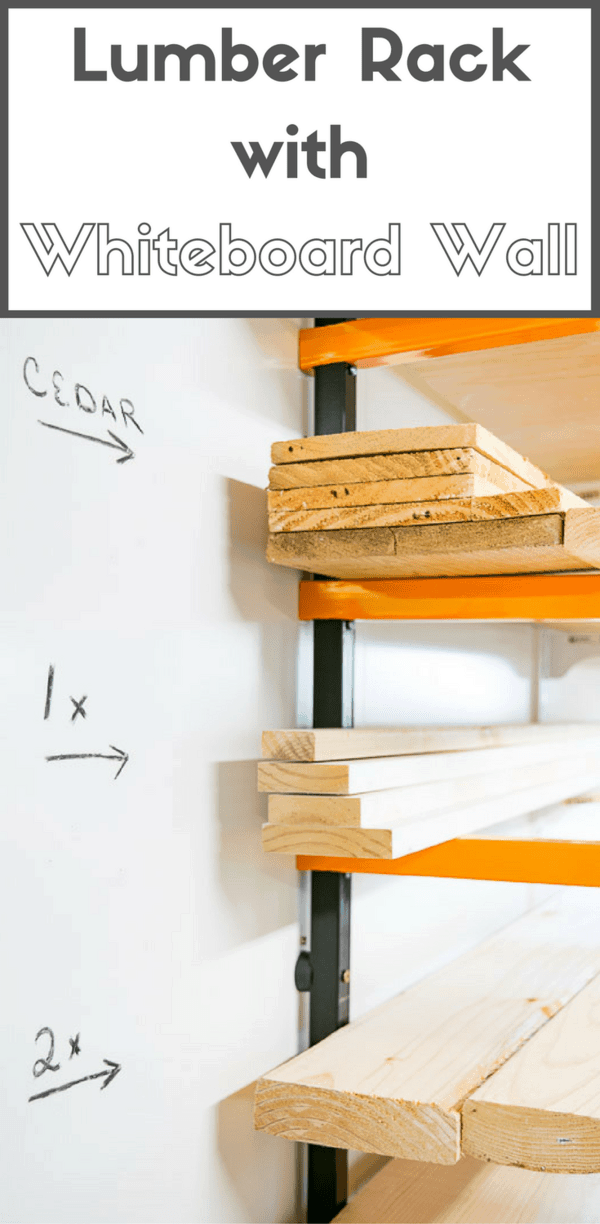 Welcome back to Workshop Wednesday! You can see all my previous Workshop Wednesday posts here. Today, I'm giving my lumber rack an upgrade! No more digging through piles and dodging falling 2x4's to find the piece I need!
This post contains affiliate links for your convenience. Purchases made through these links may earn me a small commission at no additional cost to you. Please visit my disclosures page for more information.
My workshop is in our former garage in the basement. The wood-lined walls, low ceilings and minimal natural light leave it feeling cramped, and the clutter makes it even worse!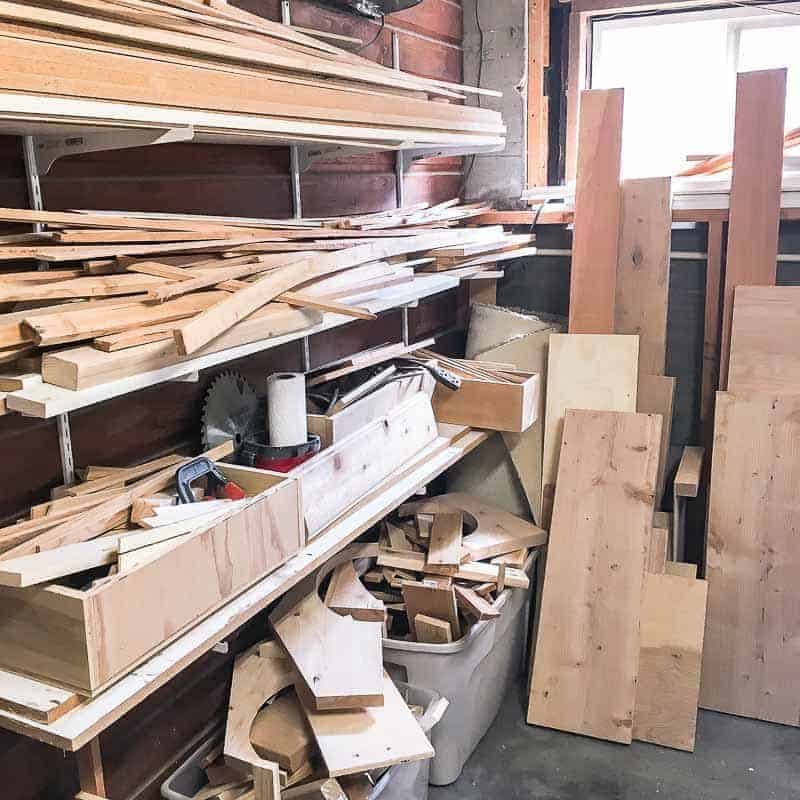 This lumber rack was left by the previous owner, and probably wasn't meant to hold this much weight. I had stacked it so full, it was hard to pull out one board without causing an avalanche!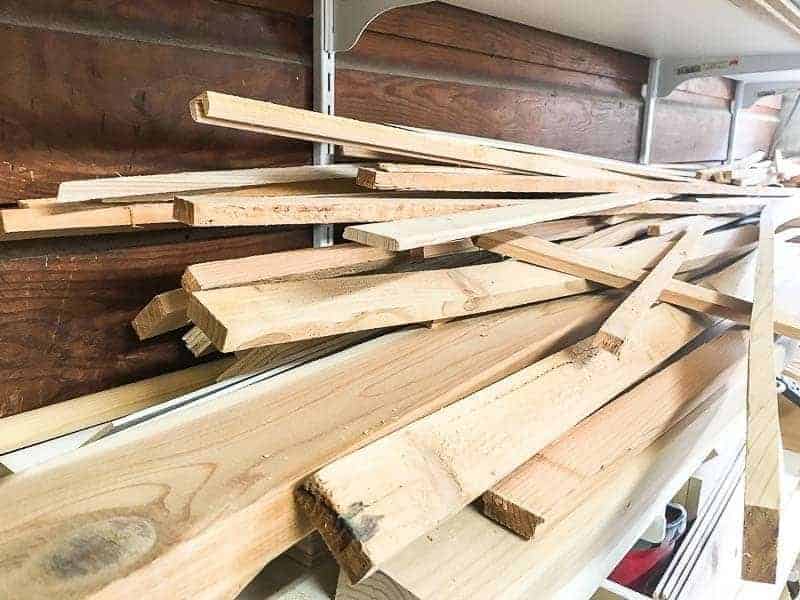 I wanted to brighten up the workshop and create a more organized system for storing scrap wood. This lumber rack with whiteboard wall solves both those problems!
Materials for Lumber Rack with Whiteboard Wall
How to install a Lumber Rack with Whiteboard Wall
Clear the space
Start by clearing everything off the wall. I stacked all my lumber off to one side of the workshop and got rid of a lot of random scraps. Then I removed the shelf standards and pegboard. All I was left with was a dark wood wall.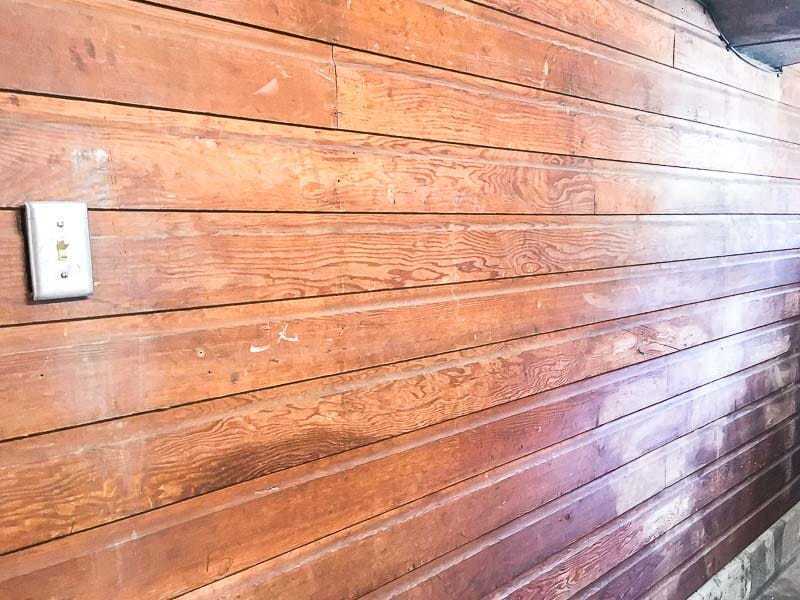 I had originally planned to just paint this wall white. But after painting the wood paneling in another section of the workshop, I decided it would take too long and use too much paint to be worth the effort.
Cut and install the whiteboard paneling
This white panel board is less than $15 a sheet. I had three sheets cut into 2 foot wide strips at the store so I could get it into my car. The narrower pieces were also easier to hang by myself!
Attach each panel to the wall with 1" screws. You could also use Liquid Nails. Cut around any obstructions, like I did with this heating duct. Make a template out of paper, trace it onto the panel board, and cut it out with a jigsaw. I tucked the cable cord behind the panels to keep it out of sight.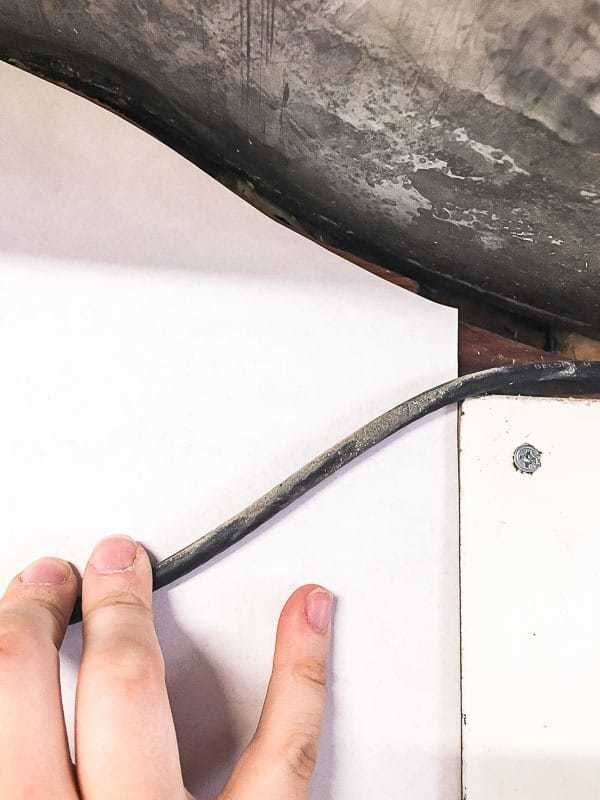 My workshop gradually transformed from dark and dreary to bright and airy as each panel went up!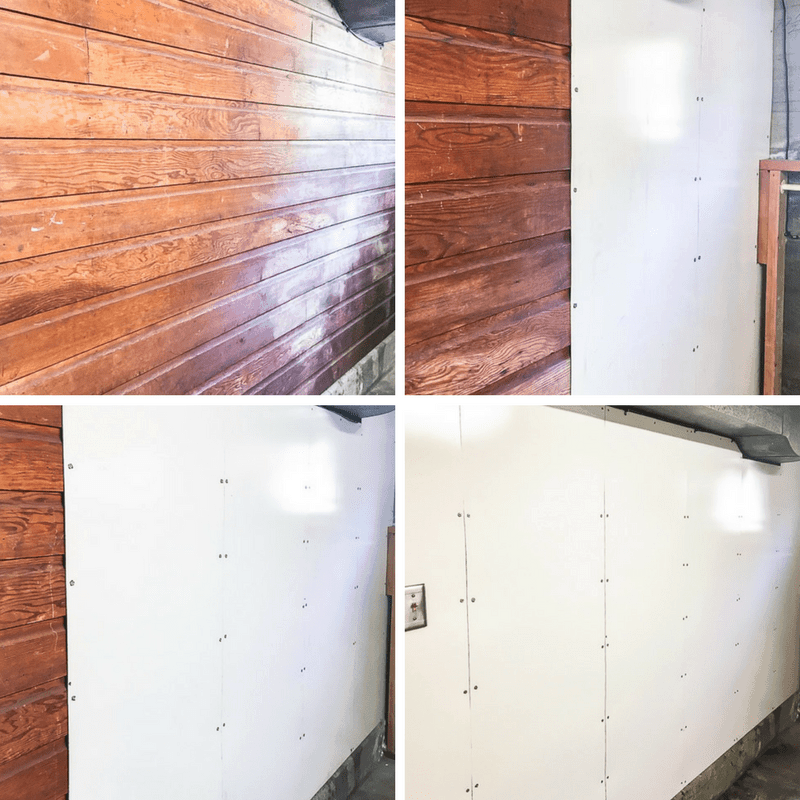 I gave it a good wipe down with Windex to remove the dust from cutting the panel board (it makes a mess!) I've heard that waxing the surface will make it last longer, but I'm not too concerned about it looking pristine. But I did cover up the seams and screws with white duct tape for a cleaner look.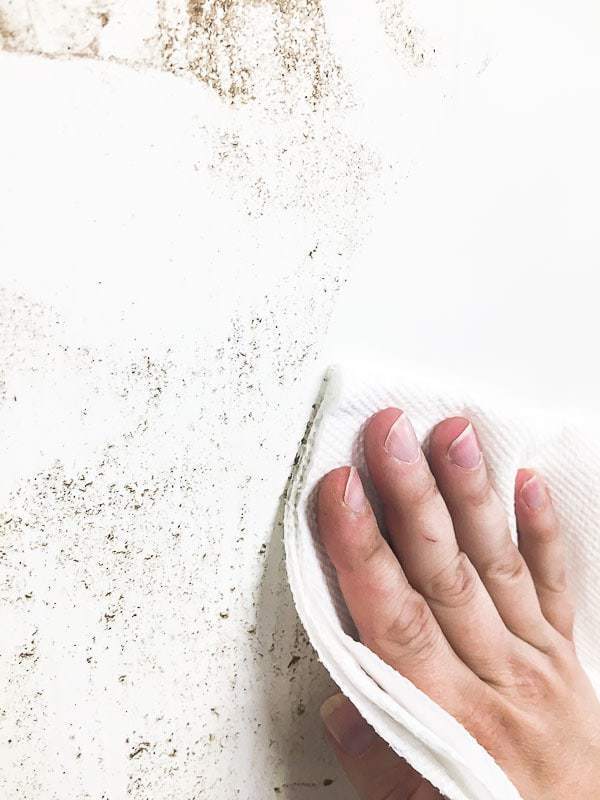 Install the lumber rack
After admiring my clean, white wall for a while, it was time to install my new lumber rack. I snagged this Portamate lumber rack on Amazon Prime Day for a great discount! It's really simple to install, and super sturdy.
I installed the lumber rack brackets five feet apart, but you can go anywhere between four and six feet. I love how the orange arms pop against the whiteboard wall!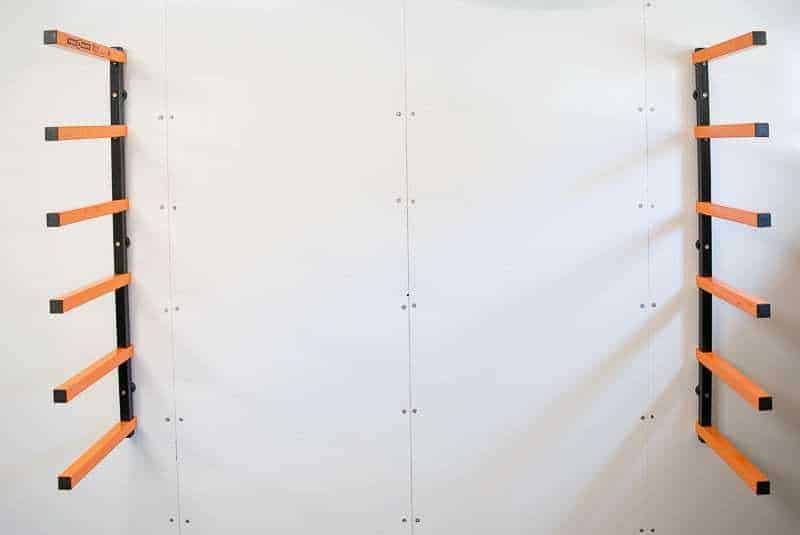 Add more supports if necessary
To support those smaller scrap pieces, I added two of the standards and brackets I removed from the wall earlier. The holes of one standard didn't line up perfectly with all the lumber rack arms, so I added a second one next to it and staggered the holes. You can learn more about how to install these adjustable wall shelf brackets in this post.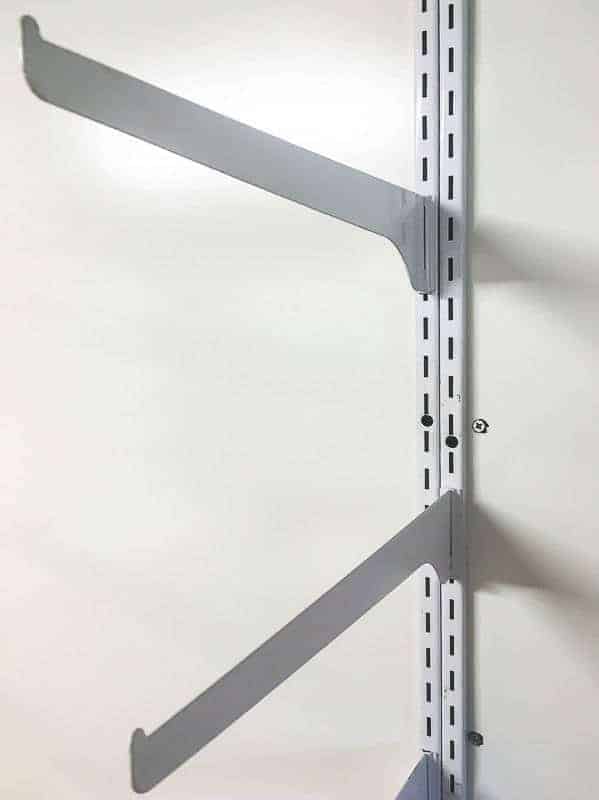 Load up your new lumber rack
Sort through your lumber and group like pieces together. Then load each type onto its own slot on the lumber rack!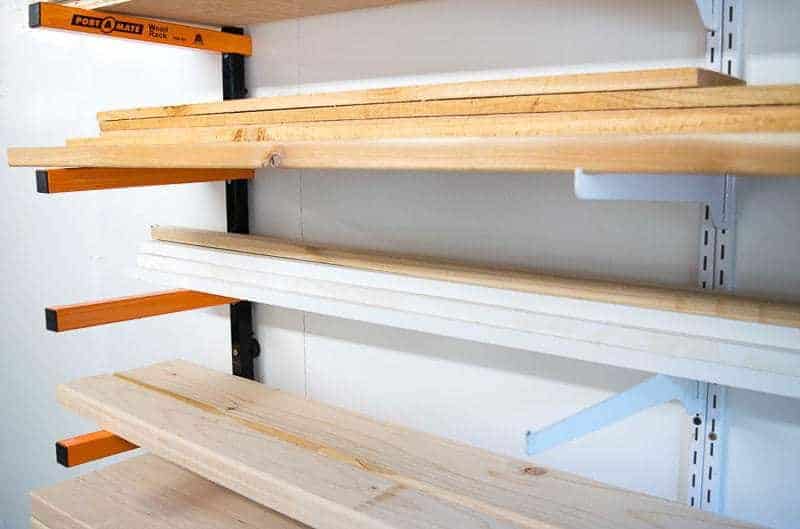 Label each shelf
Now here's the best part about that whiteboard wall . . . you can write on it! I tried a few different types of dry erase markers, but found that Crayola dry erase crayons are the easiest to remove. This whiteboard wall would be perfect for a kids playroom too!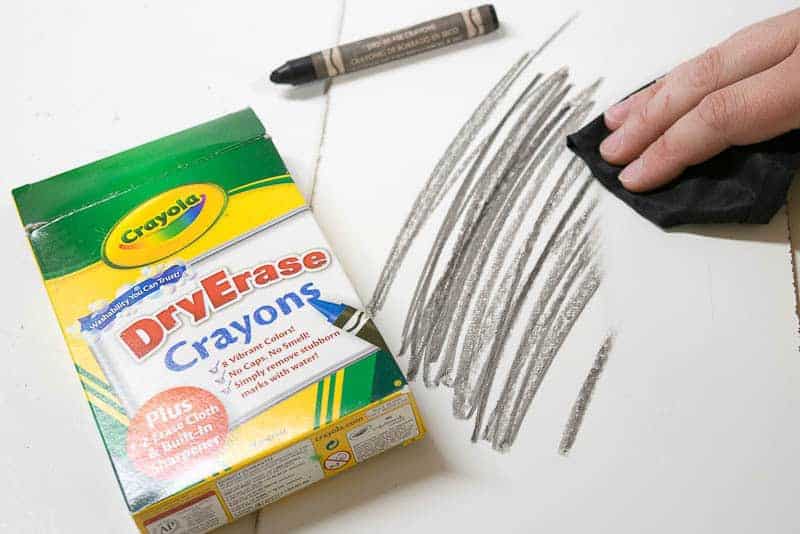 Next to each pile of wood, mark the dimension or species. It's easy to erase and change as you use up your scraps! Here's how I broke down mine:
There's still plenty of room left on the wall to draw plans, or write down cut lists. No more hunting for that piece of paper hiding somewhere in the workshop! I can glance up to see which piece to cut next, and cross them off as I go.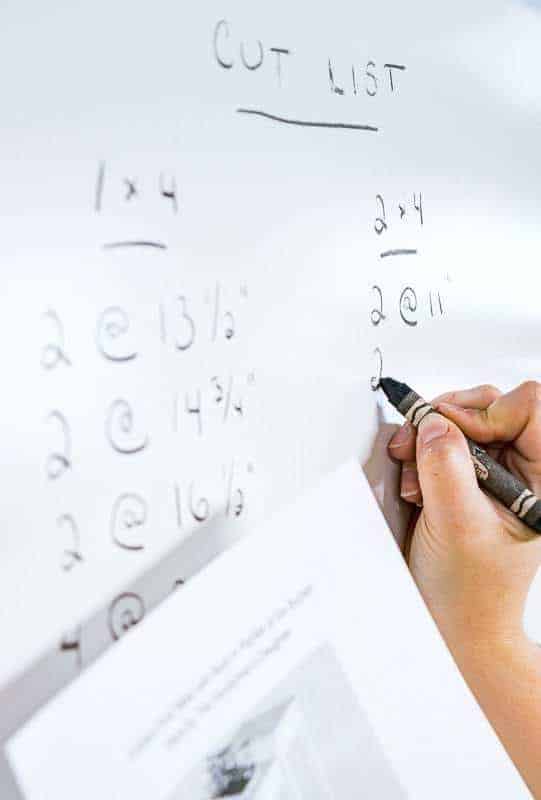 Add more storage with pegboard
The pegboard went back up on the wall, and I took the time to organize it properly this time. Frequently used items like clamps and a bench brush now have a home here. Everything else is on another pegboard on the other side of shop.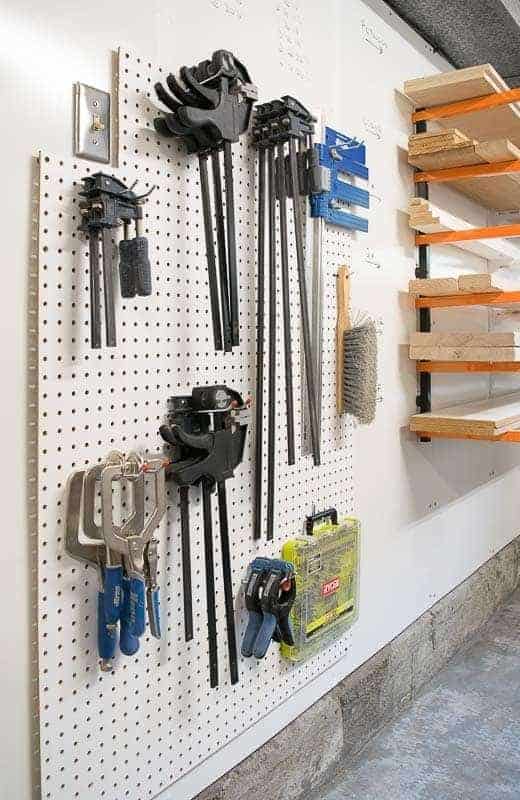 Changing up this wall was like a breath of fresh air for my workshop! Now I feel so much more productive, and can't wait to tackle my next project!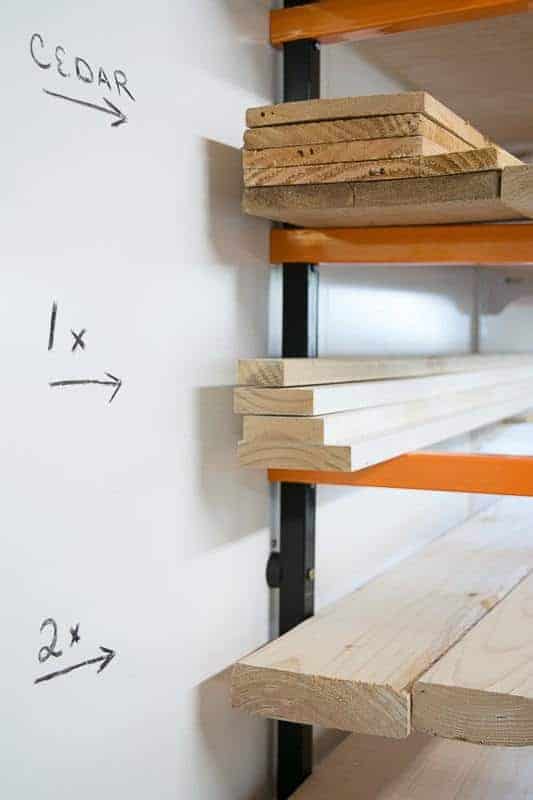 Want more lumber storage ideas? Check out my rolling scrap wood cart too!