Read this before you try painting over polyurethane or varnish! That clear coat makes it difficult for paint to adhere properly unless you follow these three simple tips!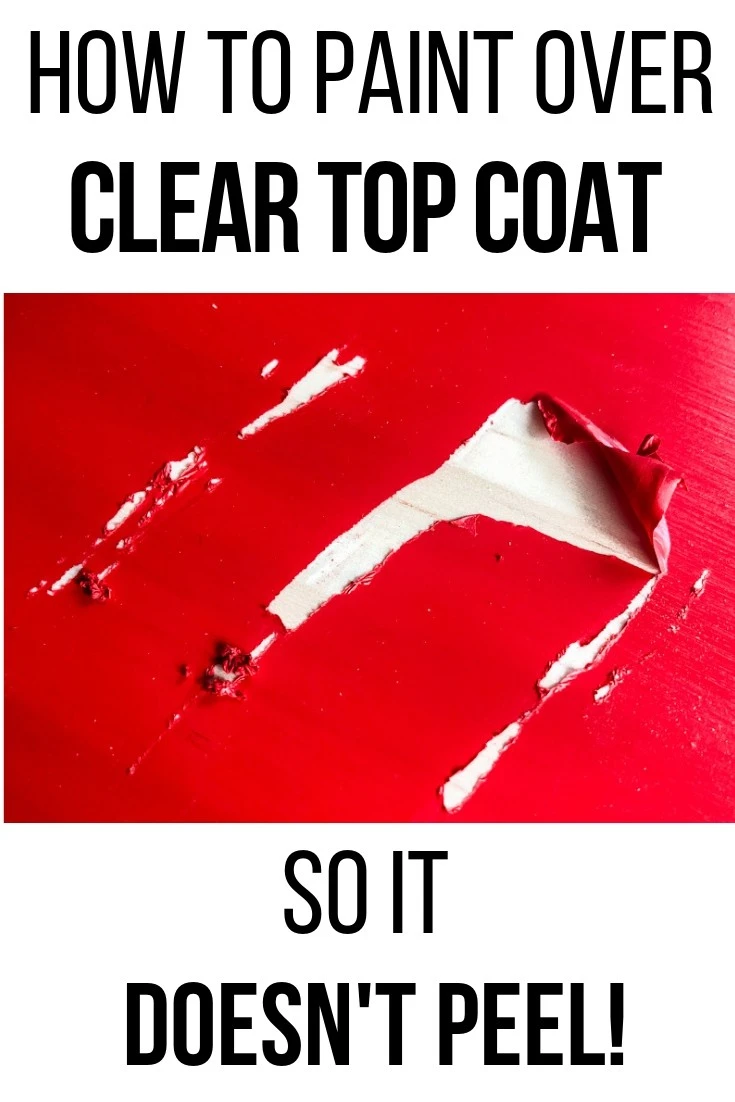 There's nothing worse than putting hours of effort into painting a newly acquired piece of furniture, only to have it scratch and peel off at the slightest touch! With some prep work and these simple tips, you can successfully paint over polyurethane treated surfaces and give your furniture or trim a whole new look!
This post contains affiliate links for your convenience. Purchases made through these links may earn me a small commission at no additional cost to you. Please visit my disclosures page for more information.
Can you paint over polyurethane?
While you can paint over polyurethane and other clear coatings, it's essential to prep the surface with a high-quality primer first. Polyurethane produces a smooth, glossy finish that can repel most paints. Using a bonding primer ensures proper adhesion by creating a surface that's receptive to paint.
For example, I bought what I thought were unfinished IKEA Trofast drawer units for my son's IKEA Lego table. Little did I know, but they had a thin coat of clear varnish over the wood! I didn't realize it until I had applied the first coat of paint, which scratched off under my fingernail easily.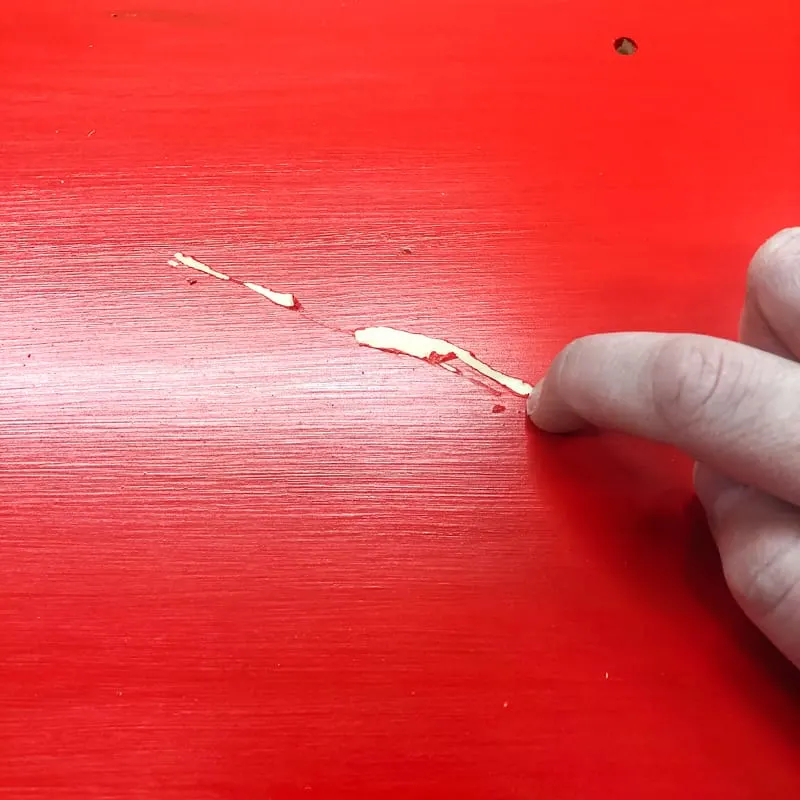 So frustrating! The only way to fix it was to sand off all the paint and try again. This time, I took the time to properly prepare the polyurethane surface, and the paint turned out beautifully!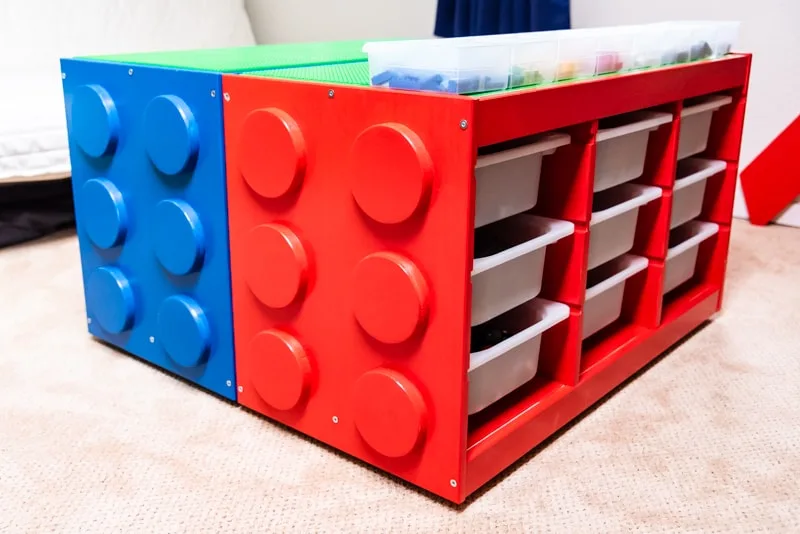 Another problem that can arise with older, worn polyurethane treated surfaces is that the tannins in the wood can bleed through the cracks, leaving you with a blotchy finish. Oak is the biggest culprit, and can make white paint turn orange over time!
When I painted my ugly melamine cabinets with oak trim, I found that the grab bars at the top of the cabinet door weren't as crisp white as the rest of the panel. But with the right primer, I could block the tannins from bleeding through.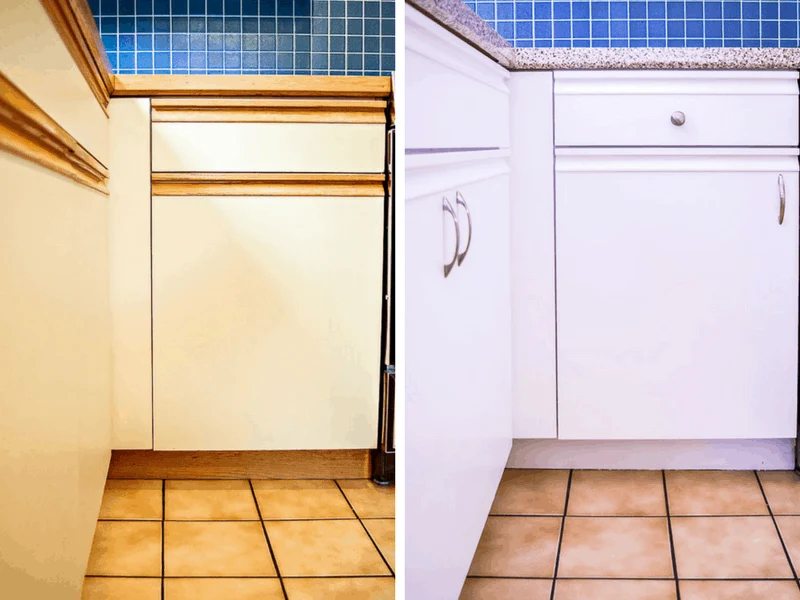 Want to learn my tricks? Here's how to successfully paint over polyurethane or other finished wood!
How to Prepare Polyurethane Treated Surfaces for Paint
Method #1: Sanding
I know, I know, no one likes to sand! It's a very tedious part of any DIY project. But removing the polyurethane before painting is the best way to ensure the good results.
Luckily, you don't need to remove all the finish from the surface. Just roughing up the surface with fine grit sandpaper is enough to get the paint to stick to polyurethane. With a little elbow grease, you'll be ready to paint in no time!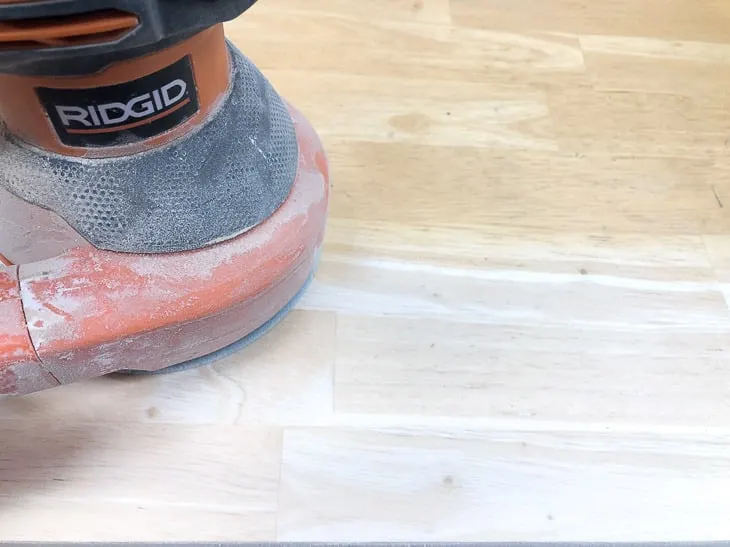 Sanding is especially important if you plan to stain the wood a different color instead of painting it. The stain can't be absorbed into the wood if there's a layer of protective finish on it!
When I refinished my dining table, I used progressively finer sandpaper grits to restore the wood to a smooth finish. With just a few passes of the sander, all that yellowed varnish was removed (along with scratches, dents and gunk)!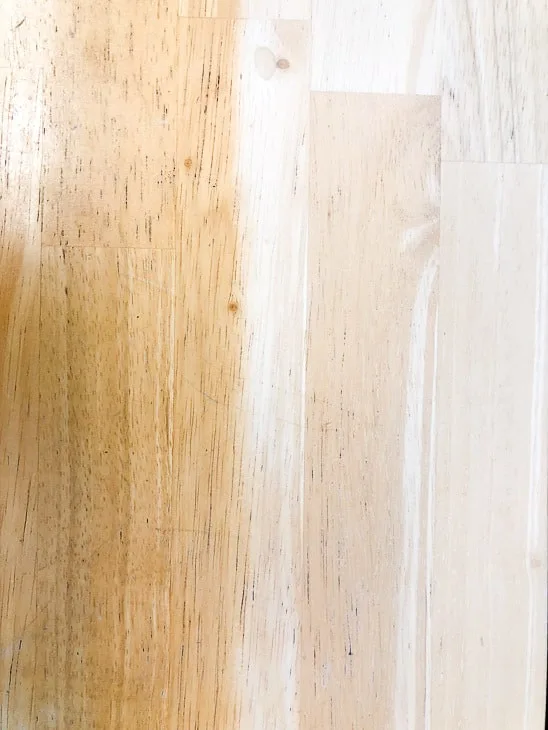 But how do you sand curved pieces or intricate details? Try these contour sanding grips for things like spindles or round table legs. For sanding in concave curves or holes, I like to use a drum sander attachment on my drill or Dremel.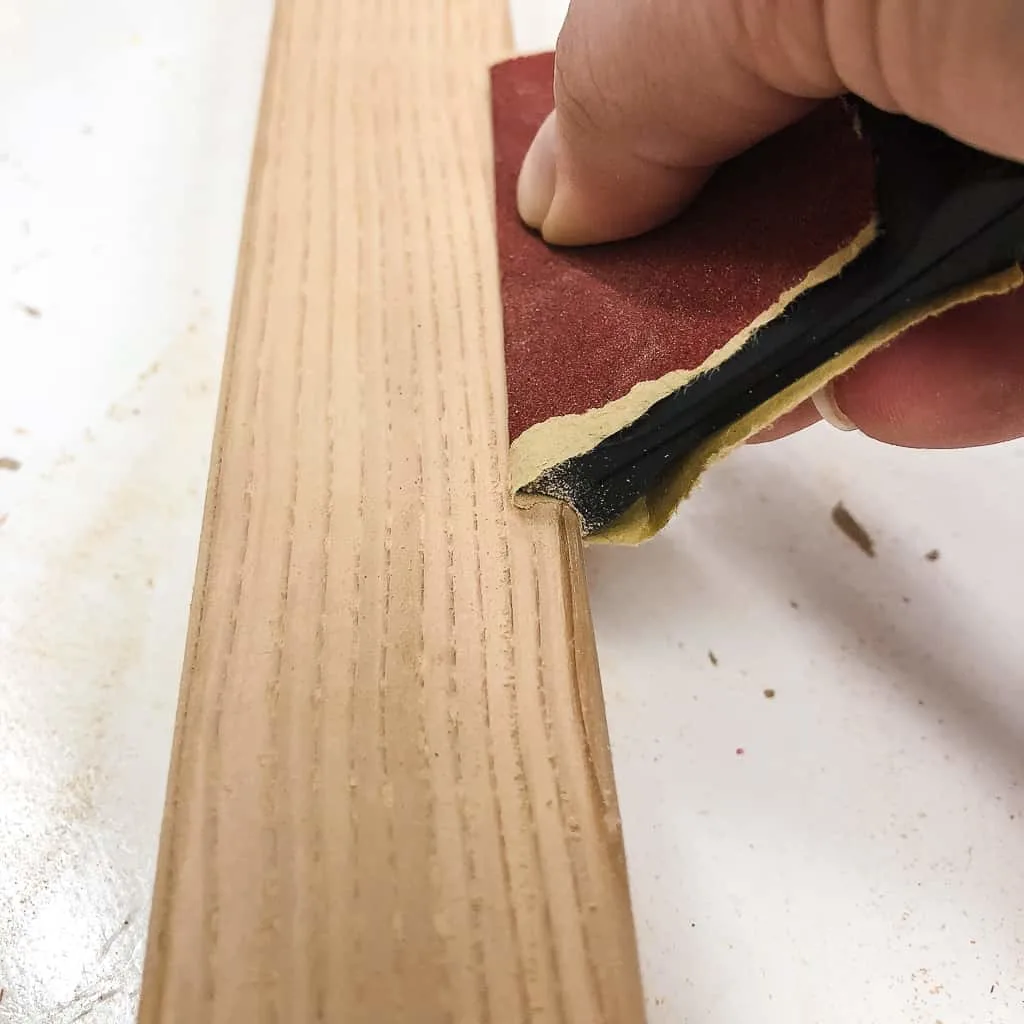 After sanding, make sure to remove all the dust with a damp cloth or tack cloth before painting.
Method #2: Deglosser
So you want to paint over polyurethane without sanding? Then you need this stuff! Deglosser is also known as liquid sandpaper. It's great for all those nooks and crannies or intricate details, or if you have a large piece that would take forever to sand.
The chemical acts like fine grade sandpaper, and will etch the polyurethane coating and allow paint to stick. However, it is a pretty powerful chemical, so make sure you use the proper eye and skin protection, and wear gloves!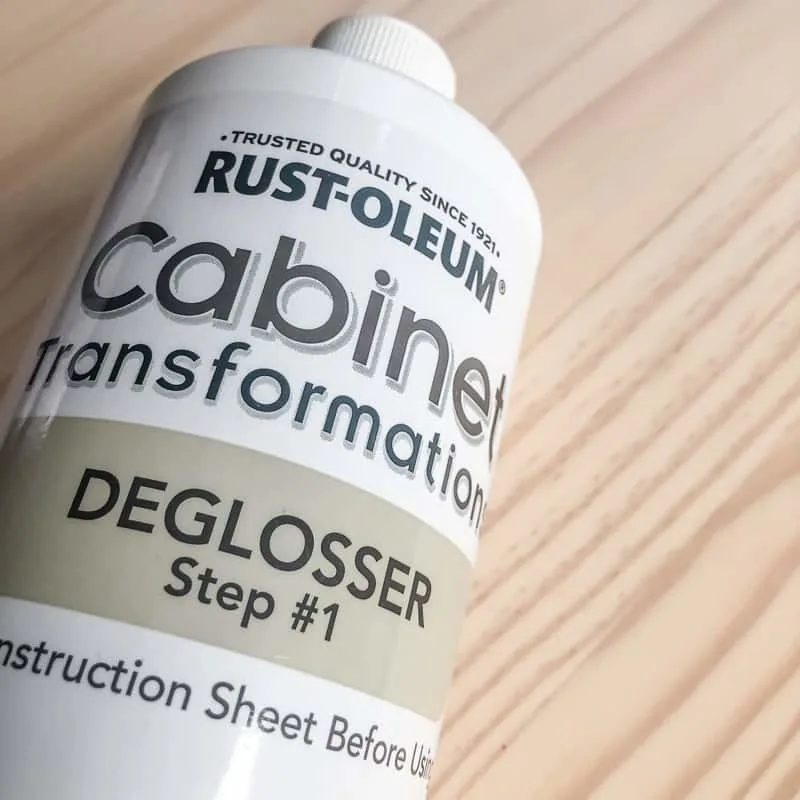 It's always a good idea to test the deglosser on an inconspicuous area of your project first to make sure it doesn't ruin the wood. To apply, just saturate a clean rag with the solution and wipe it over the entire surface. Let it dry, then you're ready to paint!
Check out the video below for a deglossing technique using acetone on polyurethane treated wood like trim.
When I painted my melamine cabinets, I used the deglosser in the Rustoleum Cabinet Transformations kit to clean and rough up the surface for painting. I was worried that the paint wouldn't adhere to the slick plastic laminate, but it worked like a charm! After two years, it still looks great!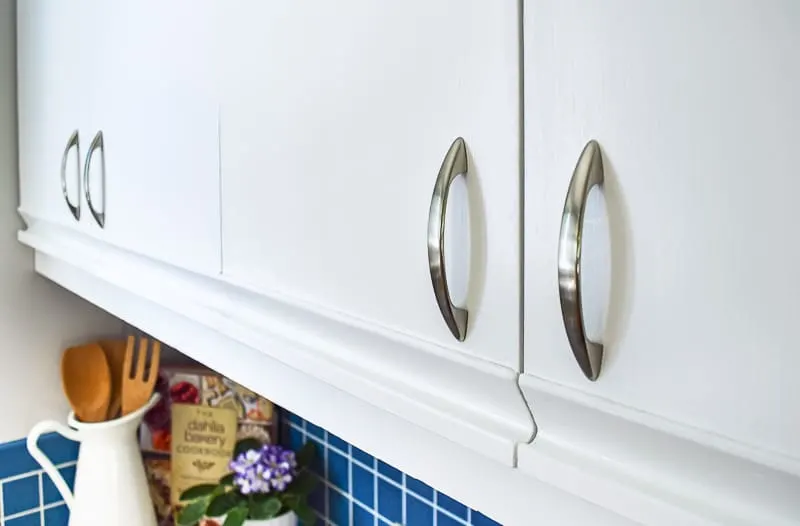 Method #3: Bonding Primer
If you don't want to sand or use deglosser, you can prime polyurethane with a good quality primer first. Not only will it ensure that your paint will stick, but it will take less coats to get full coverage! I've used two types of bonding primer for different situations.
Zinsser B-I-N primer is a shellac based primer that will stop tannin bleed in its tracks! It requires mineral spirits to clean up, so be sure to keep some on hand for any potential spills or drips. This is what I used on the oak sections of my kitchen cabinets.
The other primer I recommend is INSL-X Stix bonding primer. This stuff will stick to anything, including tile! It's what I used when I painted my tile floor, backsplash tile and the IKEA Trofast drawer units, and it's held up amazingly well!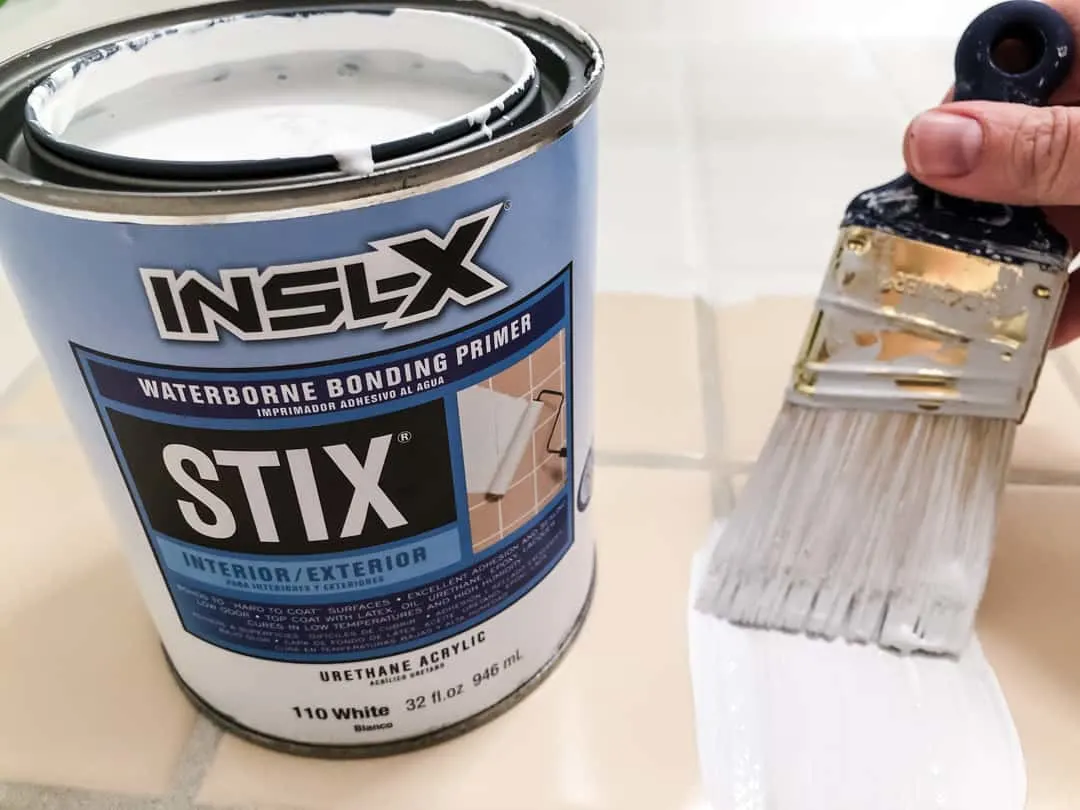 For the best finish, give the primer a quick sanding with 220 grit sandpaper and clean off the dust with a tack cloth before starting to paint. This will remove any brush strokes and give you the flawless look you want!
How to Paint over Polyurethane
Now that you've gone through the proper preparation steps, you're ready to paint!
What type of paint should I use?
Any type of paint will work, now that the surface has been sanded, deglossed or primed. You should choose the best paint for your particular project.
Oil based paints are the most durable, but can have strong fumes and dries slowly.
Latex paint, which is typically used as wall paint, is less durable and is better suited to low traffic areas. But it's a water based paint that has less odor and dries quickly.
Enamel paint, such as Benjamin Moore Advance (my personal favorite), has the best of both worlds. It's incredibly durable like oil paint, but with low VOCs and faster drying time like water based paints.
Clean the entire surface
Wipe down all the areas to be painted with a clean cloth and mineral spirits to remove dirt and dust. For particularly greasy areas, such as kitchen cabinets, use dish soap to break down the oils and get it squeaky clean. Use a dry cloth to soak up any excess moisture before moving on to the next step.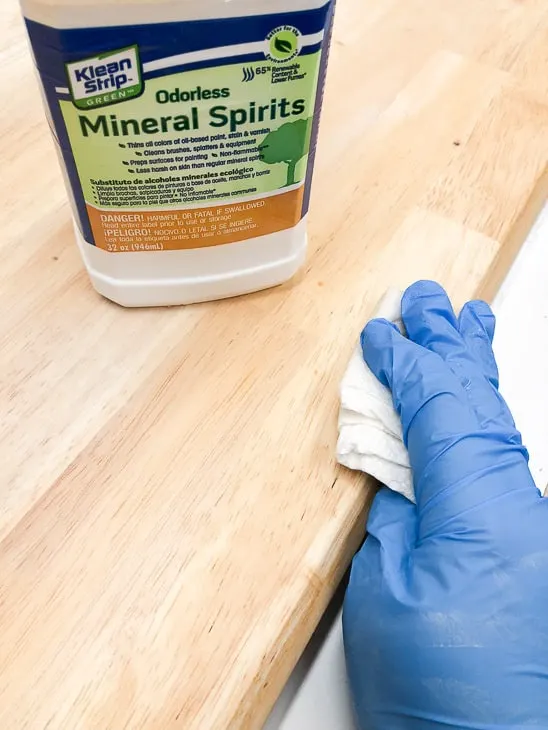 Apply primer
Primer provides a cost effective base coat that will hold up better than painting directly onto the wooden surface. Make sure you use oil based primer if you're using oil based paint, and water based primer if you're using water based paint.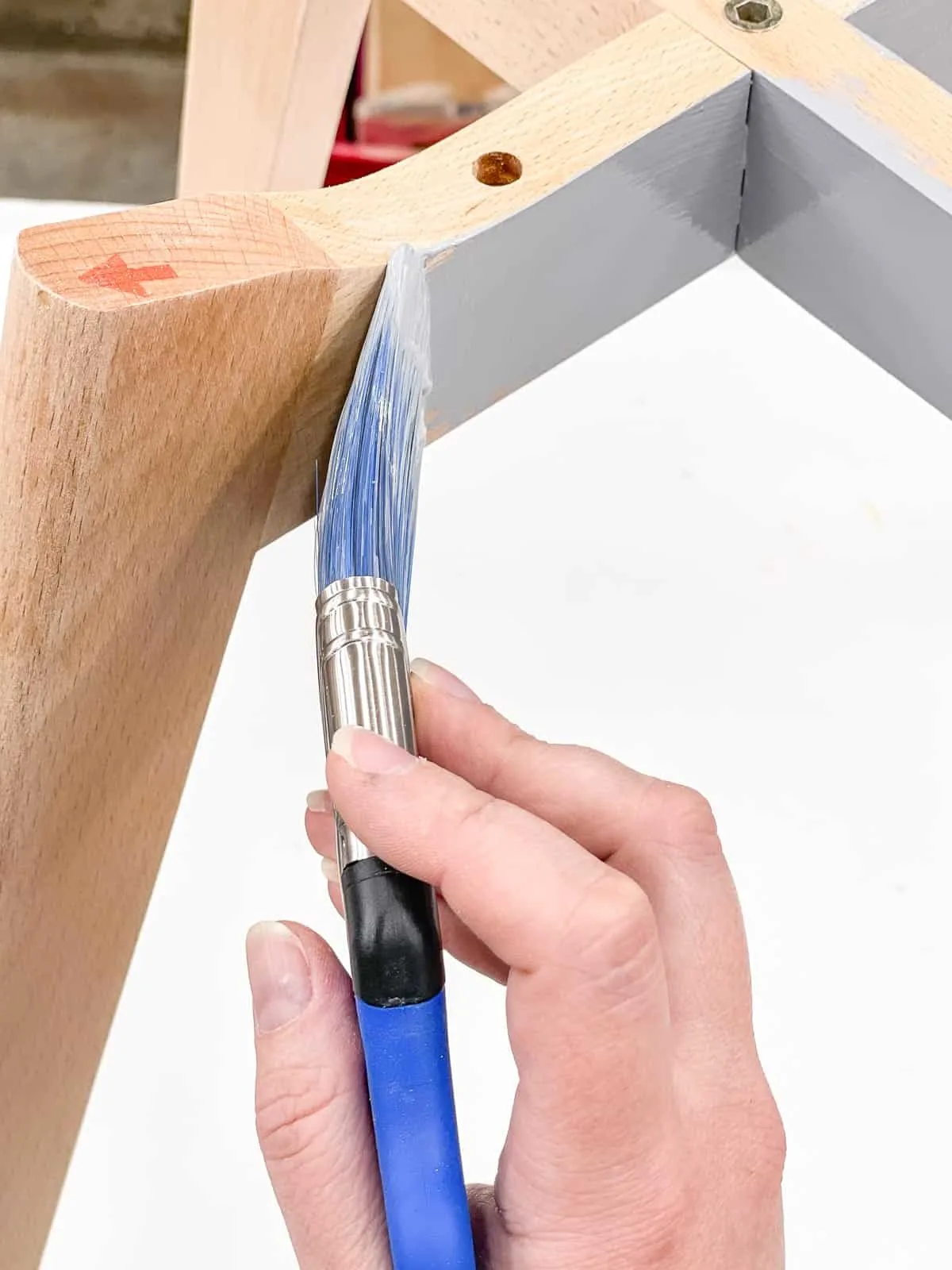 Allow the primer to dry, then give it a light sanding to remove rough spots. Water based primer will raise the grain of the wood, and a quick sand with fine grade sandpaper will knock down those raised fibers.
Paint
Finally, it's time to paint! Apply the first coat with long, even strokes, and try not to brush over already painted areas. Allow the paint to completely dry before applying a second coat. Check the can for recommended recoat times.
Allow the paint to dry overnight at the very least after the final coat, so it has time to cure and harden.
If you want an ultra-durable finish, you can apply polyurethane over the paint. Check out this article comparing polycrylic vs polyurethane for a closer look at which one to choose.
---
Now that you know how to paint over polyurethane and other clear top coat finishes, you can tackle that old furniture that's been sitting in your garage!