Add a little bling to your project with metallic furniture paint! I'll show you how to get a flawless finish with just a few simple tricks!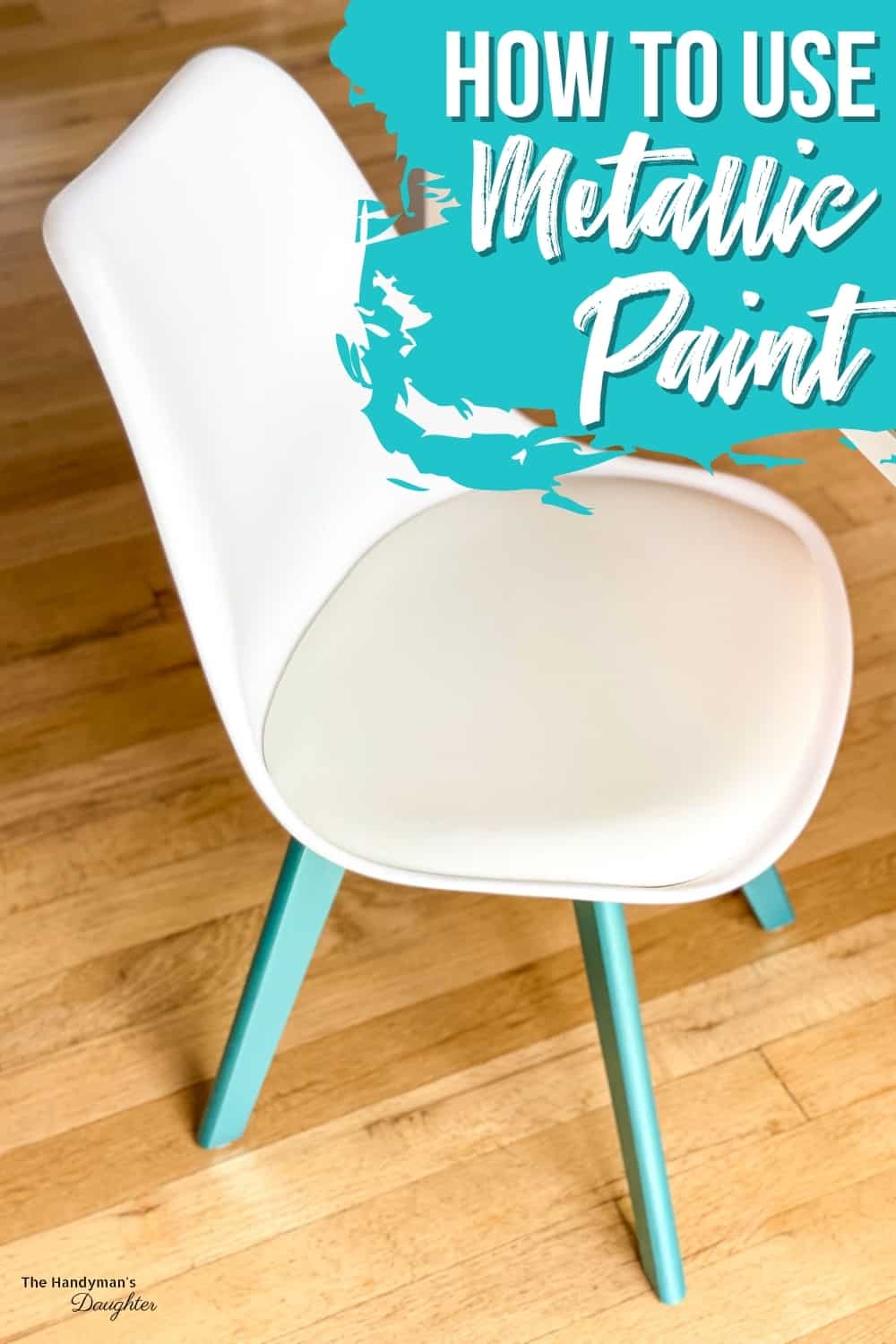 When you think of metallic paint, you probably imagine gold or silver, right? But now you can get it in every color of the rainbow! Transform your tired furniture with jewelry box colors ranging from ruby red to amethyst purple with a hint of sparkle and shine.
This post is sponsored by Modern Masters and contains affiliate links for your convenience. Purchases made through these links may earn me a small commission at no additional cost to you. You can read more about how this site earns money on my disclosures page.
Our living room is decorated with shades gray and white, and pops of bright color everywhere. A couple years ago, I refinished our dining table with gray wood stain to match the adjoining living room, but the lack of color makes the whole space look blah!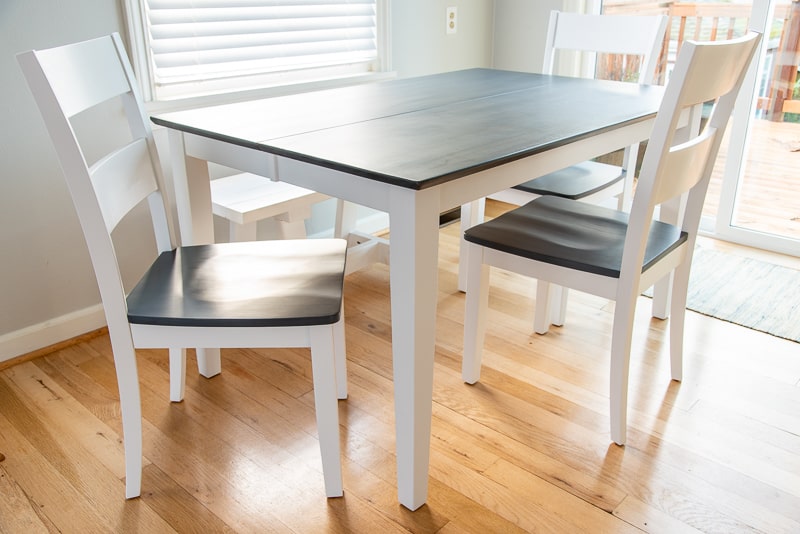 I plan to build a new mid-century modern inspired table in the future, but I decided to switch out the chairs now. These tulip chairs were exactly what I was looking for! They'll fit with the new style, and they're way more comfortable than the wooden ones.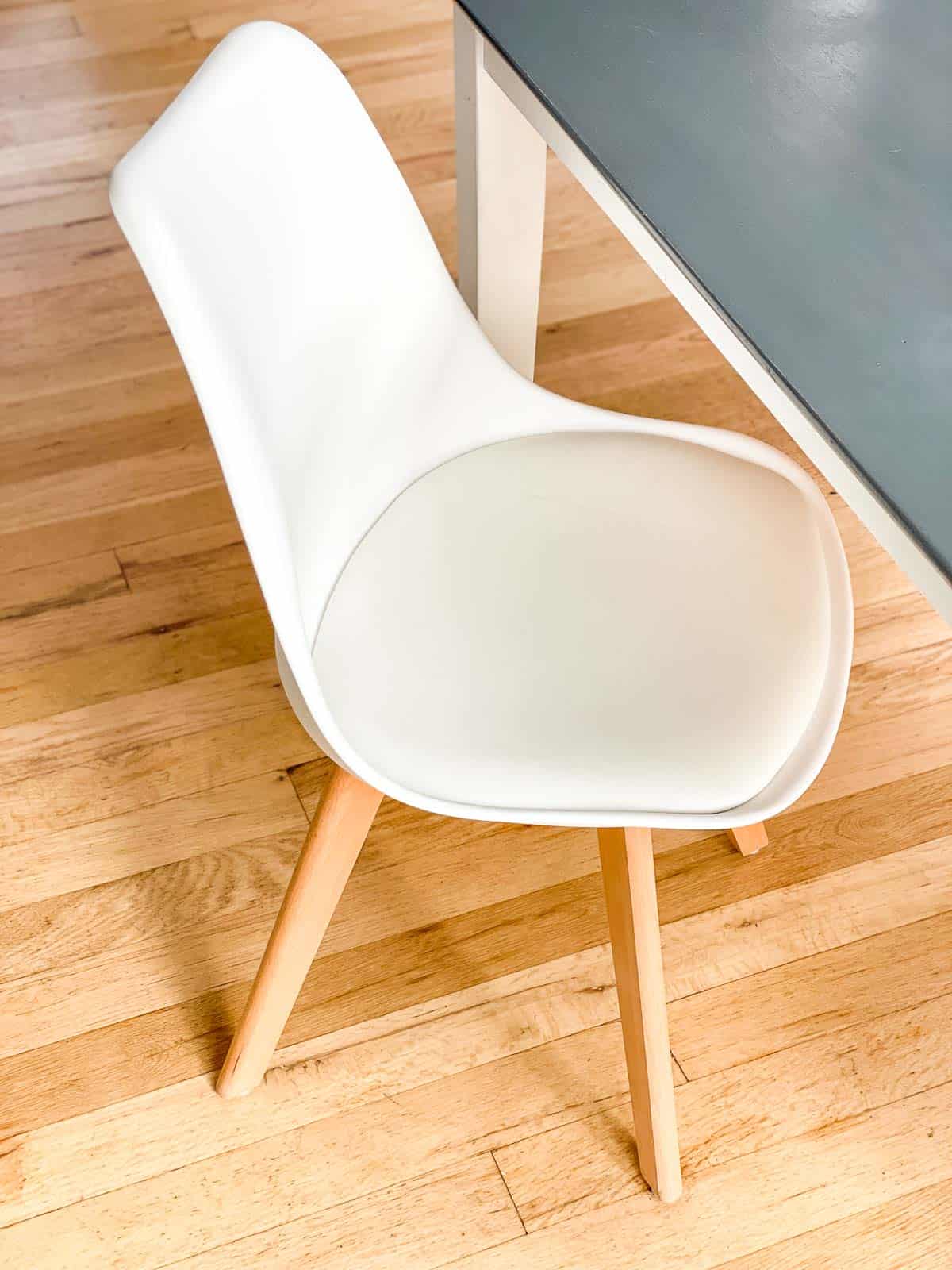 The only problem is that the legs blend into the hardwood floors, and they don't give me the pop of color I'm craving. So I partnered up with Modern Masters to add some fun, colorful metallic furniture paint to these chairs!
I went with Green Apple, Pink Topaz, Glacier Blue and Amethyst Purple for my chair legs, to bring in the bright colors from the living room area rug. You can find the Modern Masters metallic paint in a wide range of colors at Ace Hardware, Joann and Lowe's, as well as Amazon.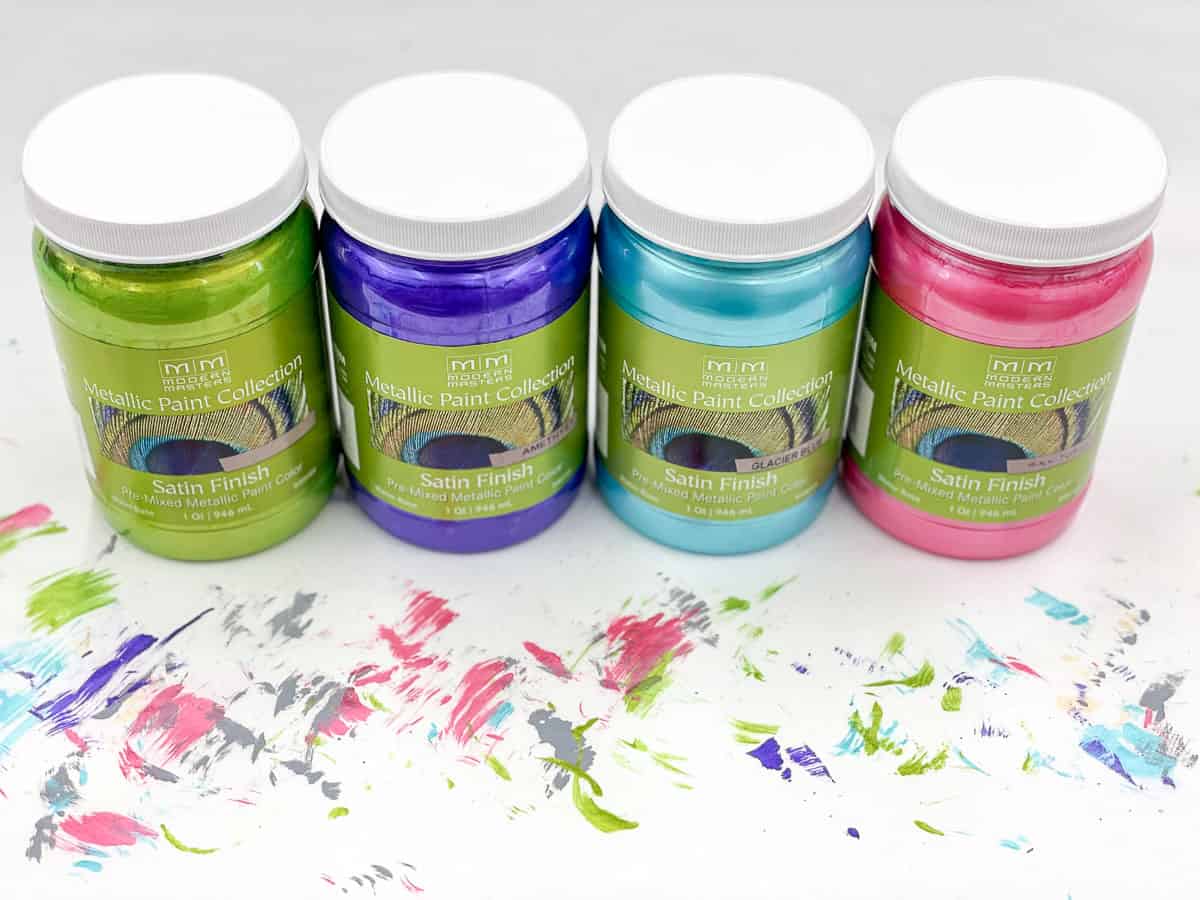 Metallic paint is a little different than your standard latex or acrylic paint, but it's easy to get a flawless finish with these tips and tricks!
Use metallic furniture paint as an accent
A little sparkle goes a long way! If you're intrigued by the sheen and color but don't want to make your home look like Versailles, try it on a smaller project or part of a larger one. Chair legs, picture frames and floating shelves are all great ways to add a fun pop of metallic color to a room.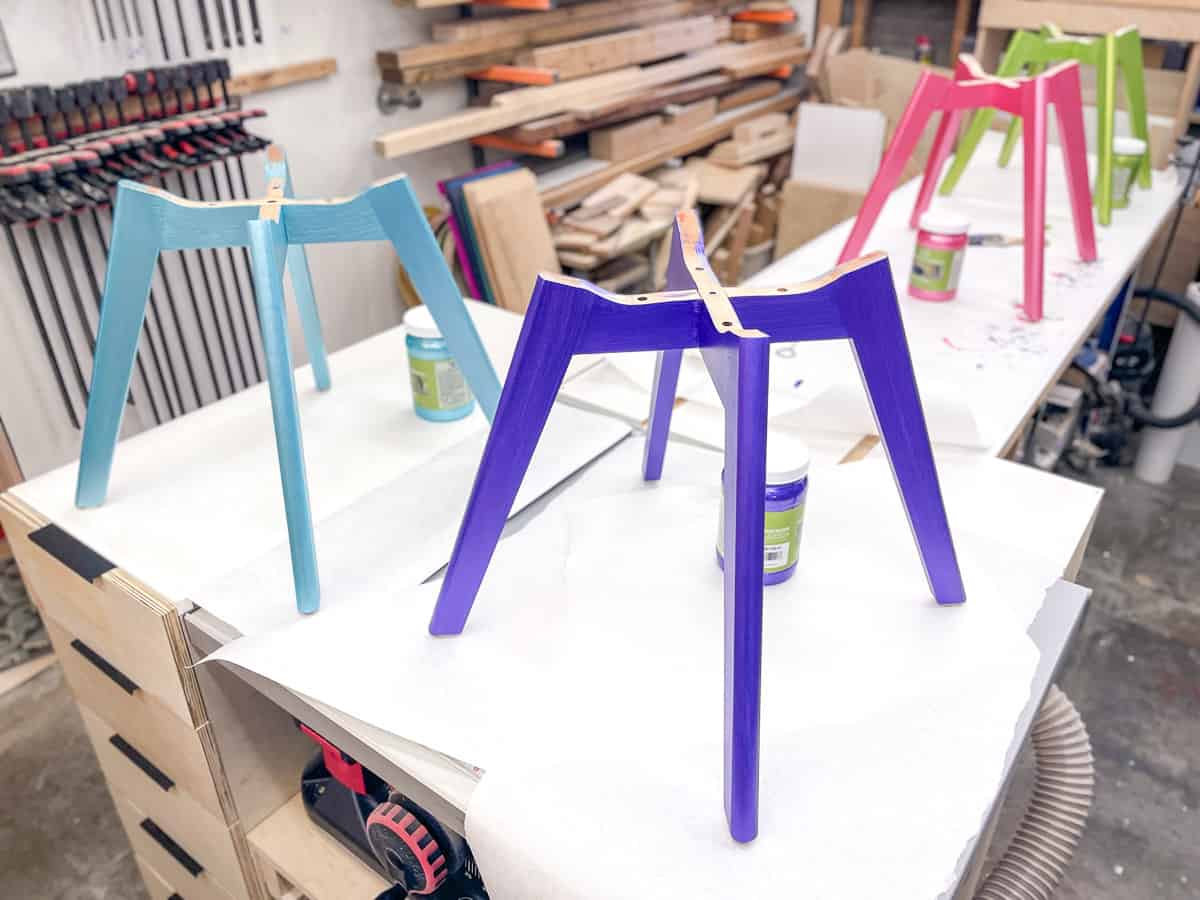 Pair metallics with neutral colors like black or white to highlight the shimmer without overpowering the whole piece. This DIY nightstand would be amazing with a silver or gold drawer front (you can also see the rug that inspired the colors for my chair legs underneath!)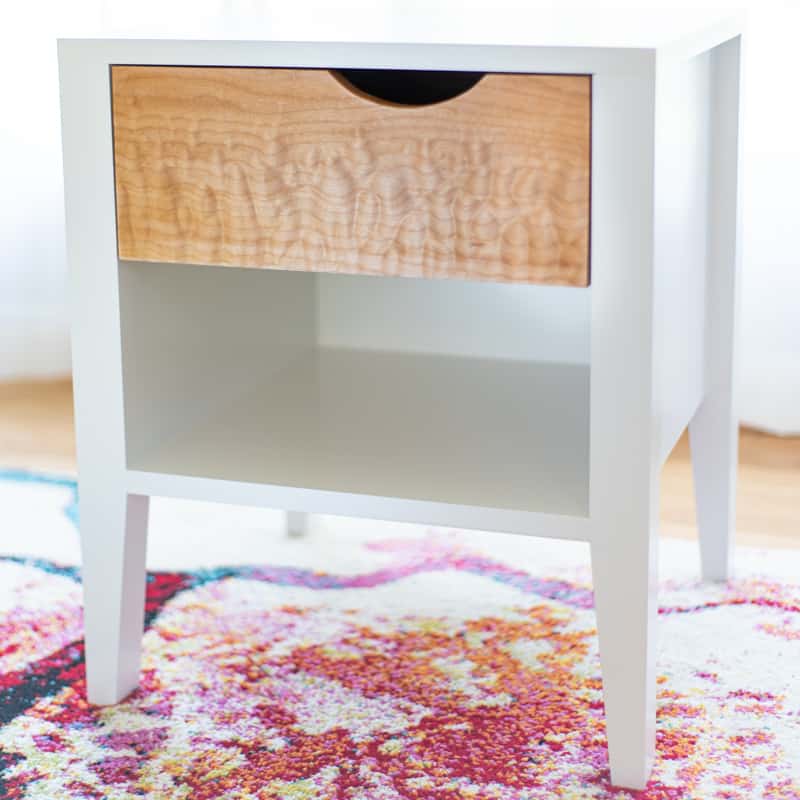 Use the proper base coat
To bring out the color and shine without a ton of coats, you should apply a complementing primer to your project first. Modern Masters has two different primers, depending on the color you're using.
For the green and pink colors, I went with the warm tone primer. It looks like beige paint, and covered the wood grain of the chair legs nicely. This is the primer you would use under gold and bronze metallic paint as well.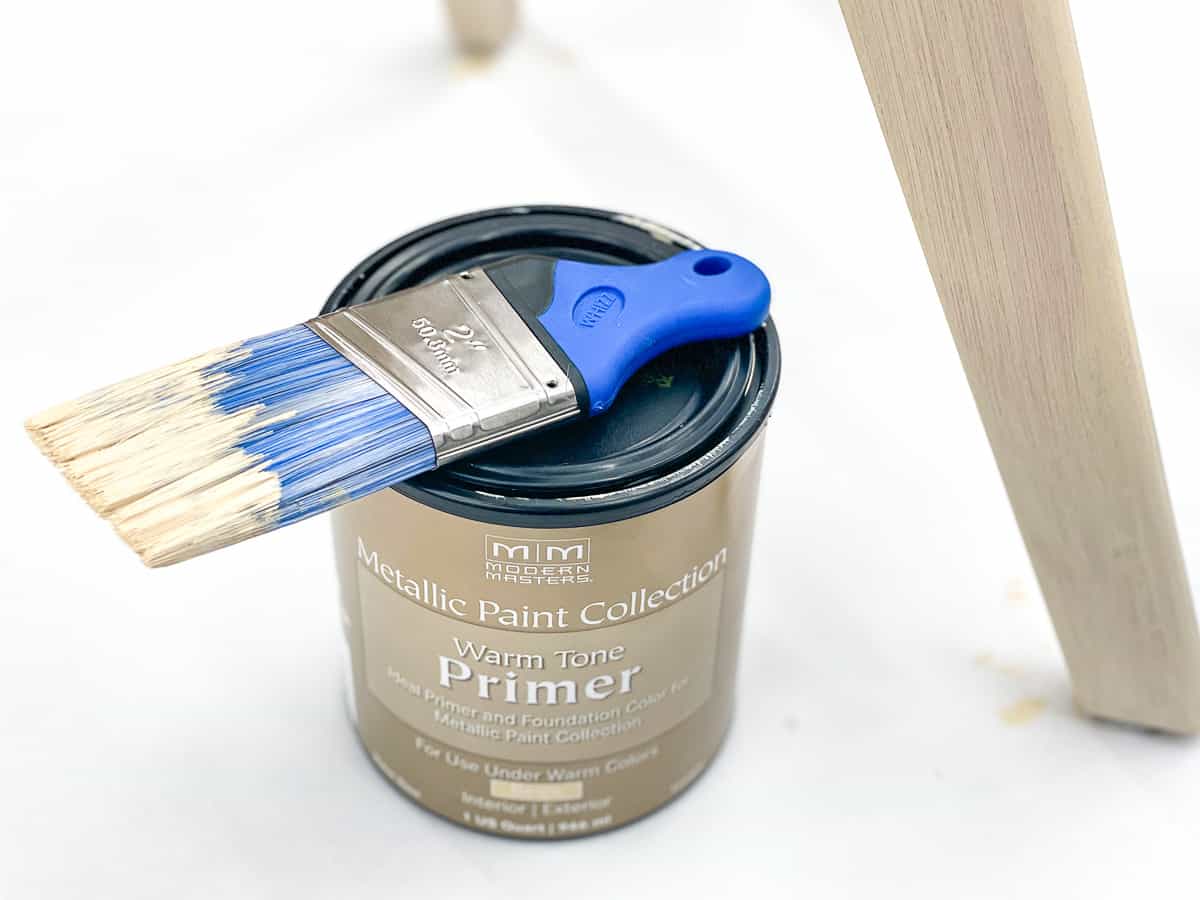 Blue and purple are on the other side of the color wheel, so I used the cool tone primer for the remaining two chairs. This one is gray, and will help neutralize the warm tones of the wood and create the proper base coat for these colors. You can also use this primer under silver metallic paint.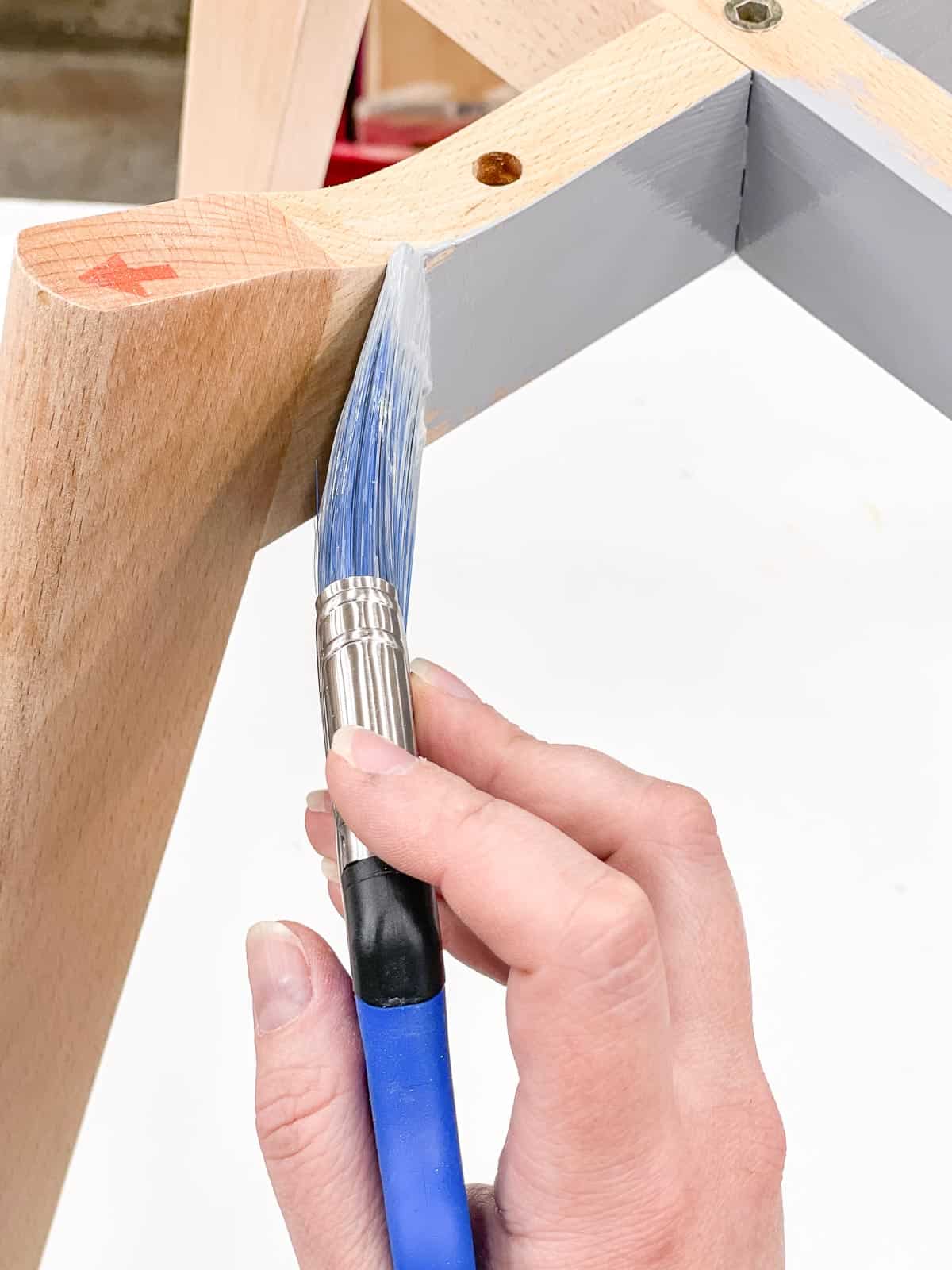 Before I applied the primer, I gave all these chair legs a quick sanding with 120 grit sandpaper to remove any clear coat that might prevent the paint from adhering properly. If your piece has intricate details, you may want to skip the sanding and try one of these other techniques for painting over polyurethane instead.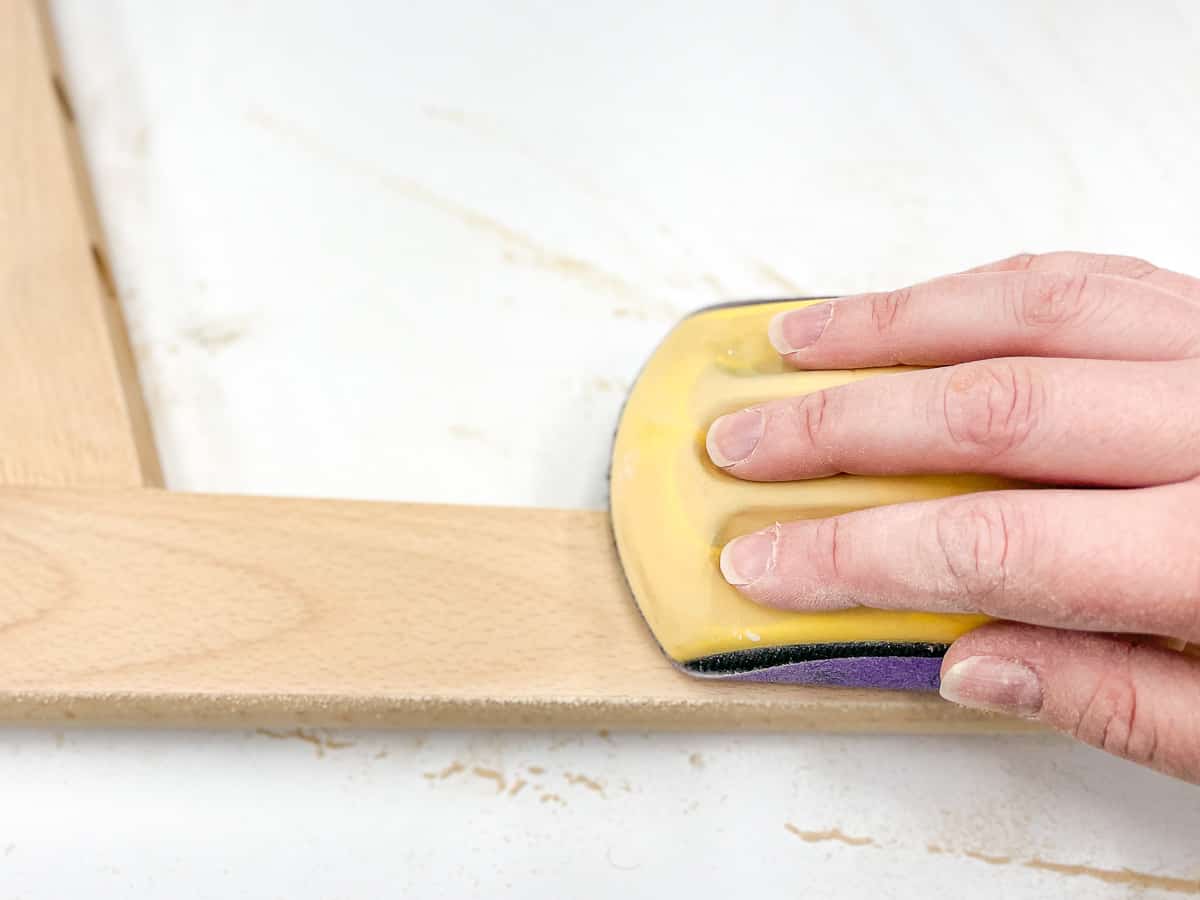 Get different effects with brushes and rollers
One of the cool things about metallic furniture paint is the variety of textures you can create with just a brush or a roller. You can create striations in the paint with a brush to mimic the look of real metal.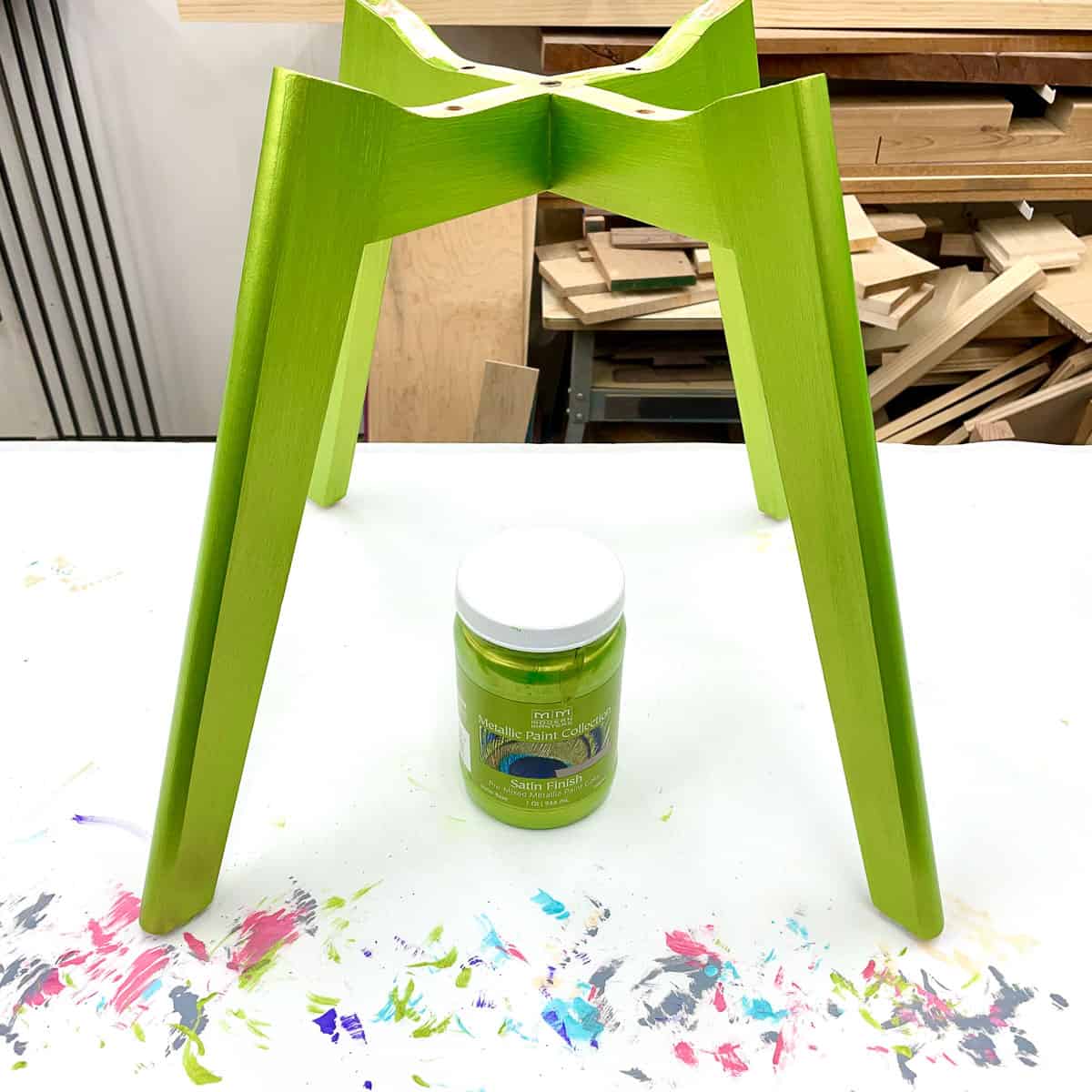 For larger projects like walls, you can use the Modern Masters roller cover to create a uniform finish without lap marks. Pair it with their sea sponge roller in a different color or sheen for a cool two-toned effect! You can see this technique in action in the video below.
Paint in one direction
The magic in these metallic paints is the mica pigments that give it that shine. The way those mica pigments are applied will change the effect, just like how velvet looks different depending on which way you brush it.
You can see this change in action on the blue chair. The color on the vertical legs looks completely different from the horizontal piece under the seat! I decided to the horizontal part first, then create a clean line down the leg to separate the two sections.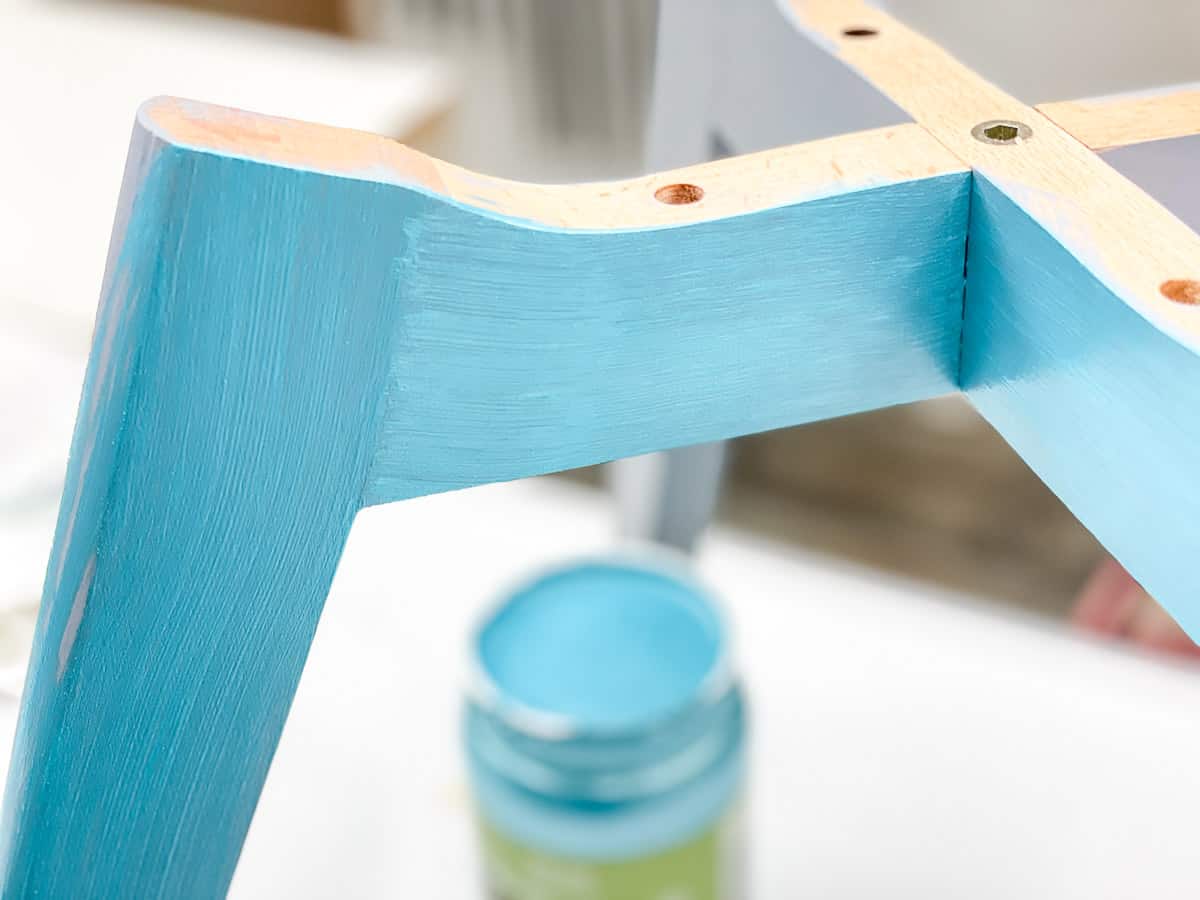 If you're painting a larger piece or a full wall with a roller, avoid making a W shape. Roll straight up and down, finishing each stroke at either the top or bottom of the wall each time. I'm not sure how metallic paint would look on textured walls, so test a small section to see if you like the effect first.
apply a top coat to protect the surface
If you're painting high traffic furniture like these chair legs, you'll want to apply a protective finish. Not only will it help prevent scratches, but it also makes the surface more durable when cleaning. Modern Masters MasterClear is specifically made for metallic paint, so it doesn't dull the shimmer or fade over time.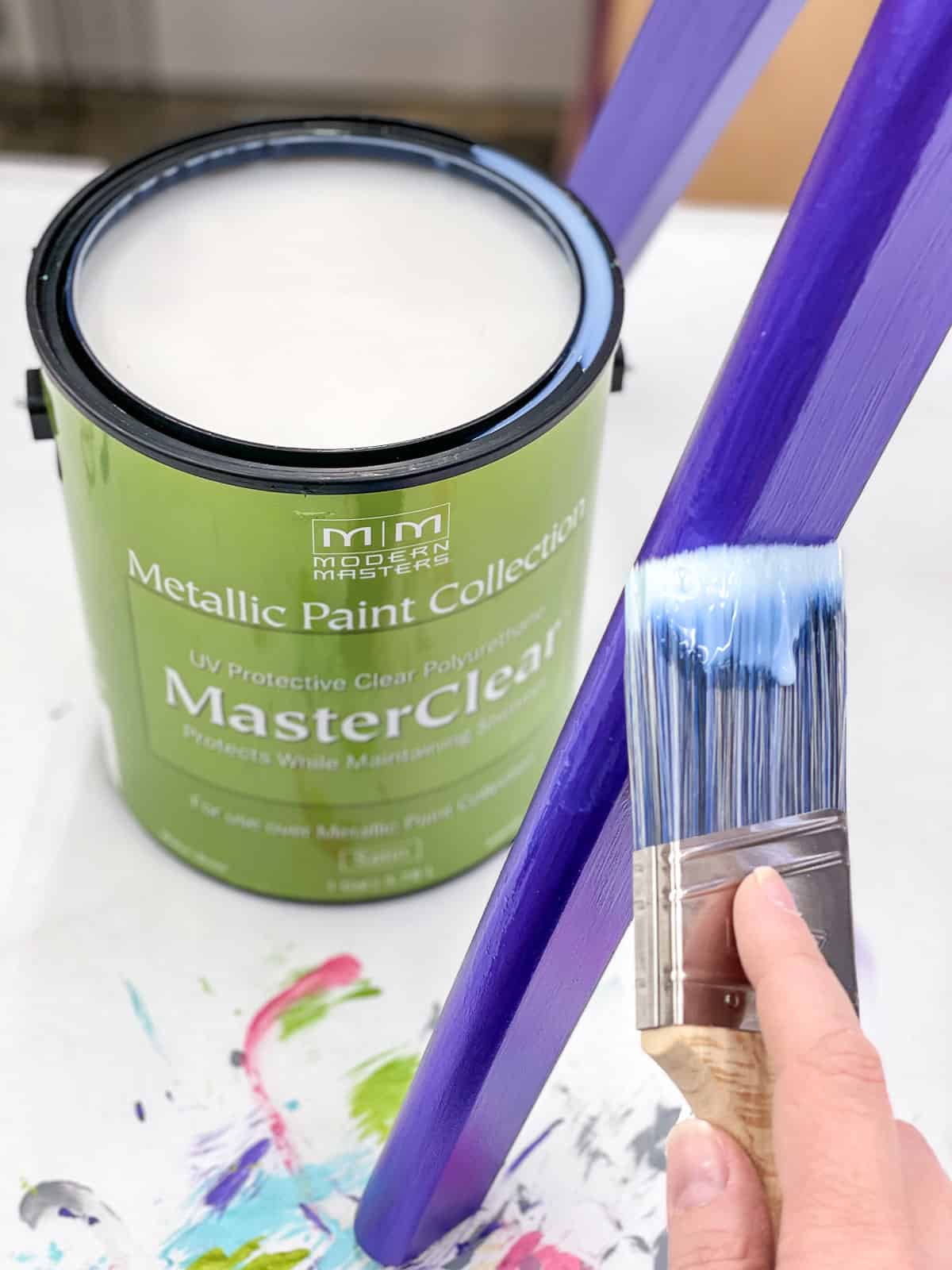 Use a high quality brush with fine bristles, and try not to brush over areas you've already coated. The top coat will level out and create a mirror-like finish that will hold up to everyday abuse!
Finally, our dining room has that pop of color I've been craving! The different colors may not be to everyone's taste, but it makes me smile every time I walk into the room.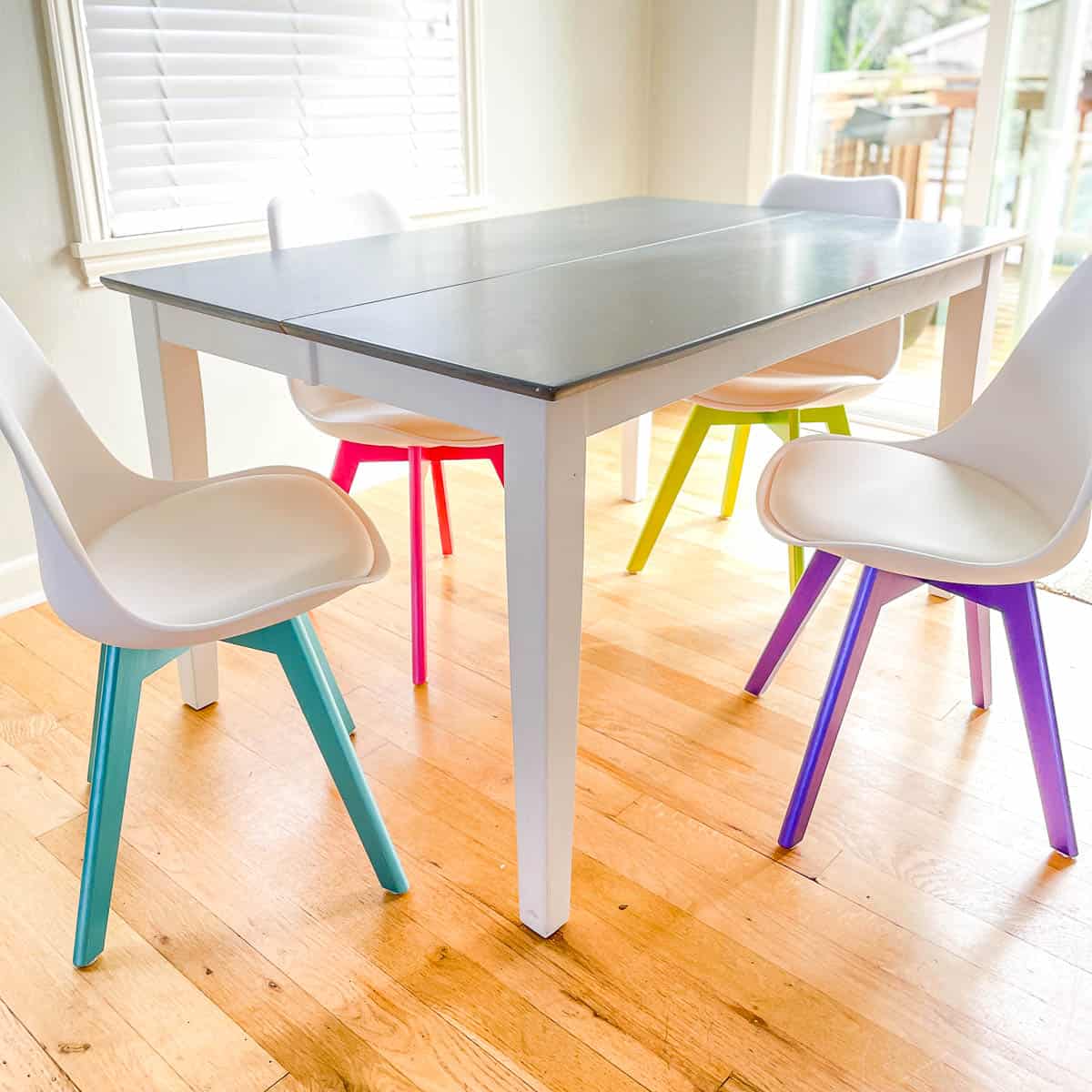 The metallic sheen gives the chairs an extra layer of depth that you can't get from regular paint. I really love how they all turned out!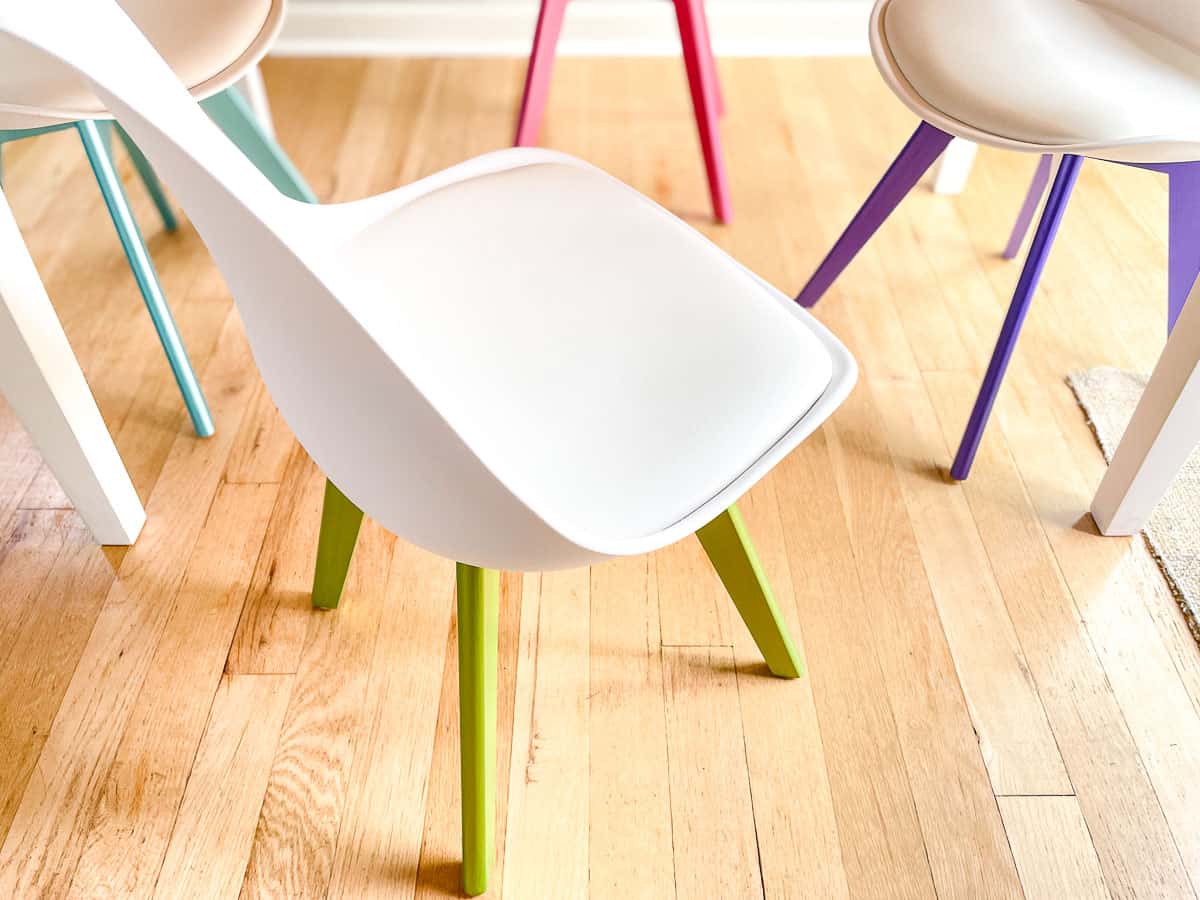 Which color is your favorite? I'd love to hear from you in the comments below!
Check out these other painting tips!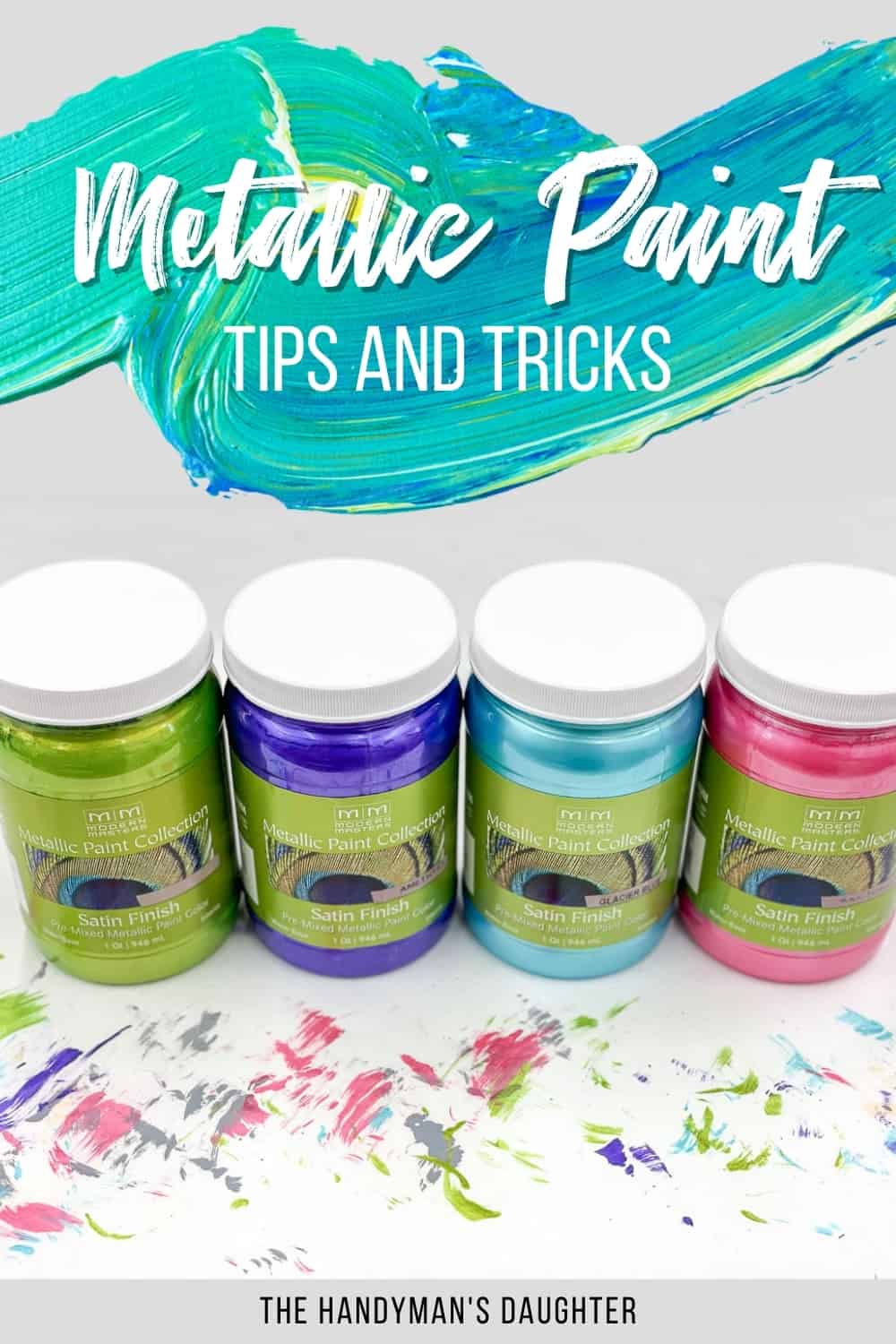 5 Tips for Using Metallic Furniture Paint Like a Pro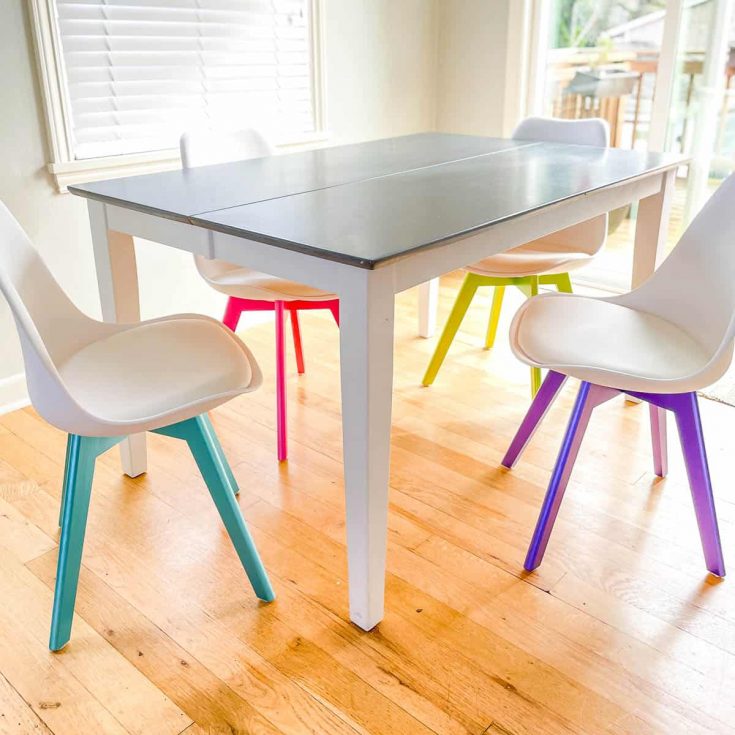 Add a little bling to your project with metallic furniture paint! I'll show you how to get a flawless finish with just a few simple tricks!
Instructions
Use metallic furniture paint as an accent. Try it on chair legs, drawer fronts and floating shelves.
Use the proper base coat.
Get different effects with brushes and rollers.
Paint in one direction.
Apply a top coat to protect the surface