We're terrible at keeping score when a cornhole game heats up! With this DIY cornhole scoreboard, we can keep track of points easily and see who's winning at a glance. This cornhole score keeper separates into two parts to make storage easy, and is made with just one board!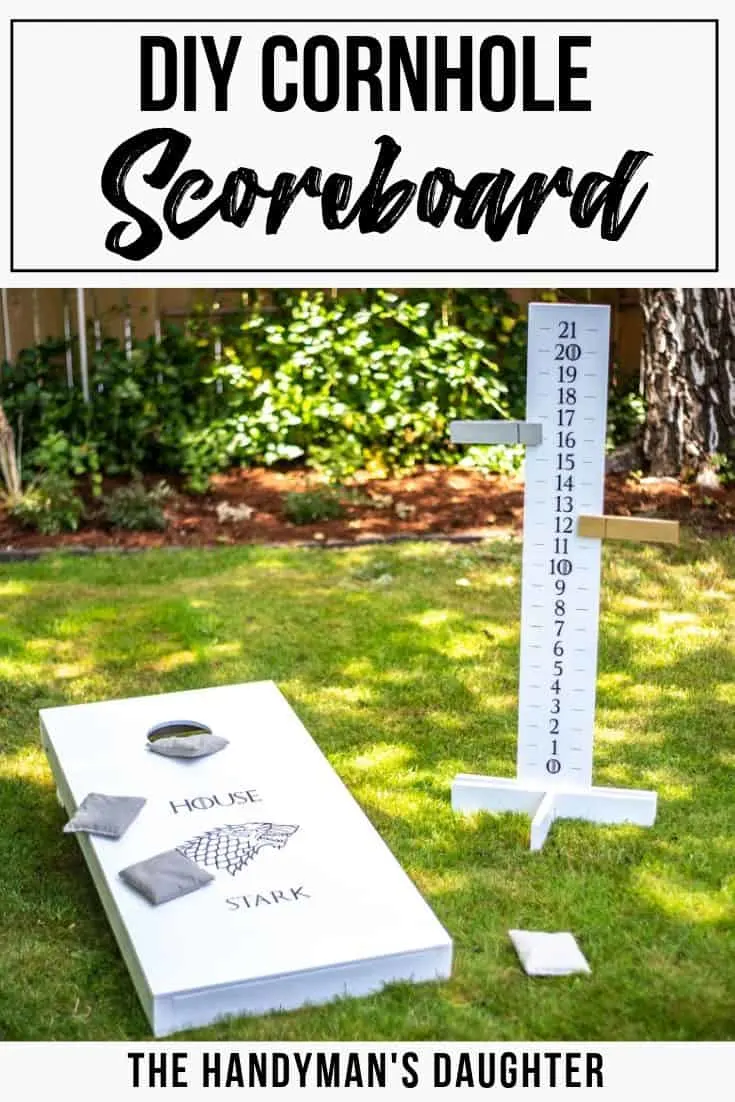 A few years ago, I made these Game of Thrones themed cornhole boards for my husband for Father's Day. We've been spending a lot more time in the backyard since I gave it a makeover, and I wanted to add a cornhole scoreboard to make playing the game more fun!
Check out more cornhole score keeper ideas here!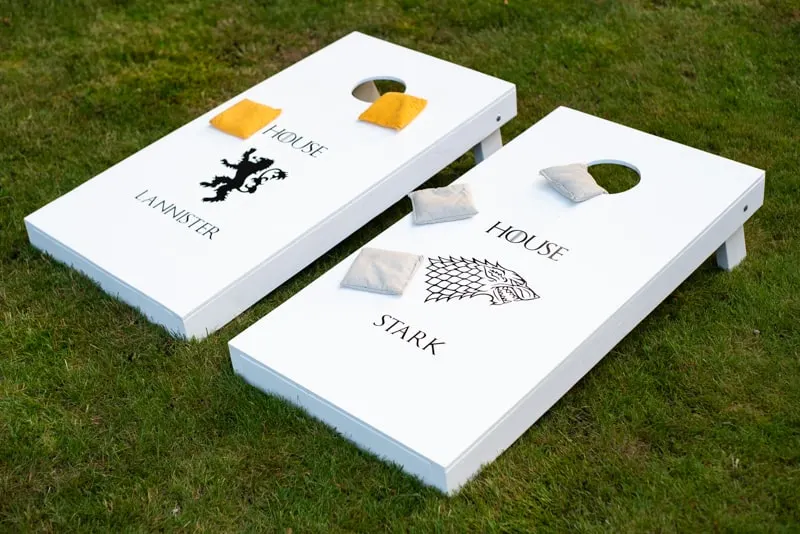 This post contains affiliate links for your convenience. Purchases made through these links may earn me a small commission at no additional cost to you. Please visit my disclosures page for more information.
This scoreboard is really easy to make, and keeps track of points with two oversized clothespins clipped to the sides. I continued the Game of Thrones theme with the same font and color scheme, but you could use any adhesive numbers for this project.
Materials Needed for DIY Cornhole Scoreboard
Tools Needed
Don't forget your safety gear when woodworking! Here are my recommendations for safety glasses and ear protection. No excuses!
Free Printable Cornhole Score Sheet
Don't want to make your own cornhole scoreboard? Just print off this free cornhole score sheet instead! Fill in the stars for each team as they score points, and the first one to 21 wins!
How to Make a Cornhole Score keeper
Before you begin, don't forget to download the free woodworking plans for this project! The cornhole scoreboard plans include a cut list and clear diagrams of each step, which you can print out to make building easier.
Cut the 1x8 Board to Size
With this design, I was able to get all the pieces I needed out of a single 1x8 board! Cut the main scoreboard piece to the length indicated in the plans, then cut two shorter pieces for the supports at the bottom.
Rip those shorter pieces down to 3 ½" wide on the table saw. Alternatively, you can buy a 1x4 board and cut it to the same dimensions.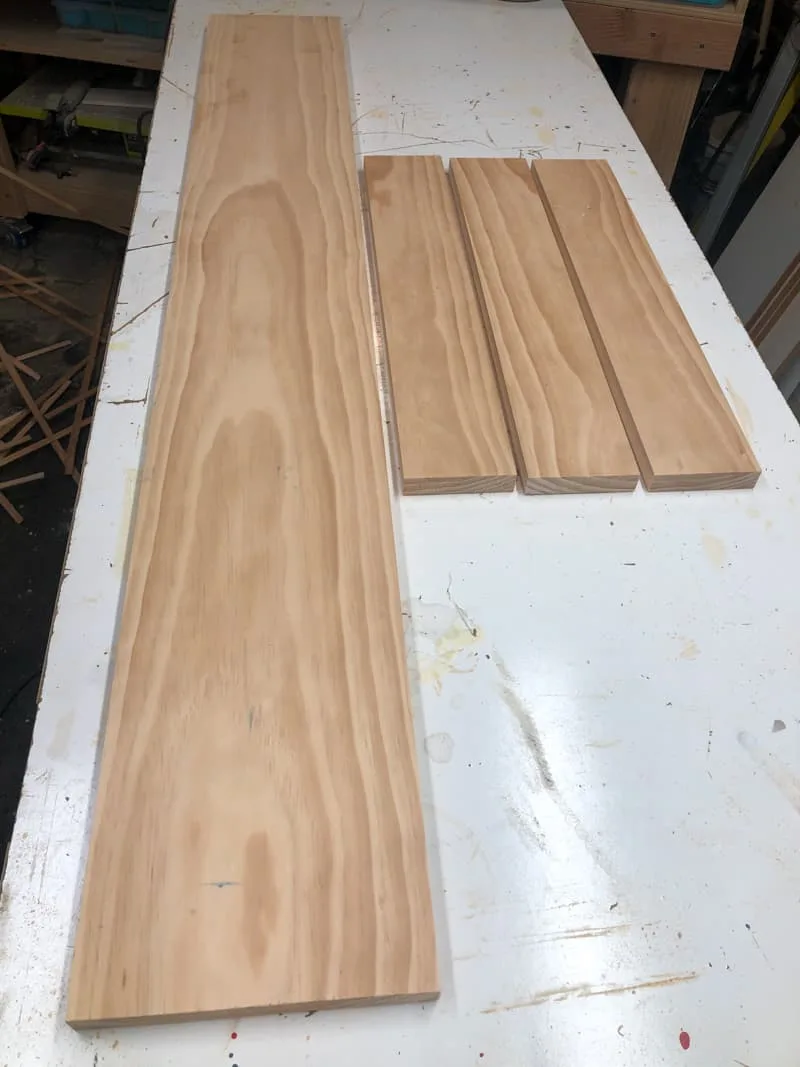 Mark and Cut the Notches
I wanted to build this cornhole scoreboard so that it stores completely flat. These notches at the bottom are just like the ones I made for my box dividers, only bigger!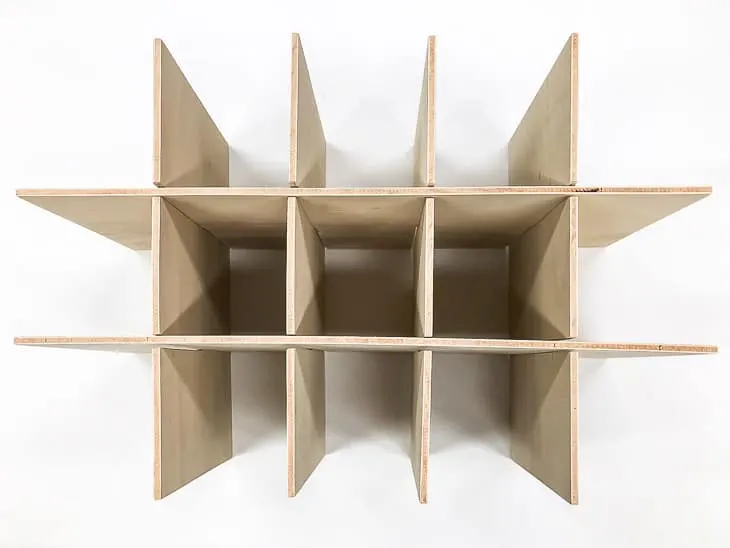 Find the center of the shorter boards and the bottom of the long scoreboard piece. Mark ⅜" from the center line on both sides, and 1 ¾" down.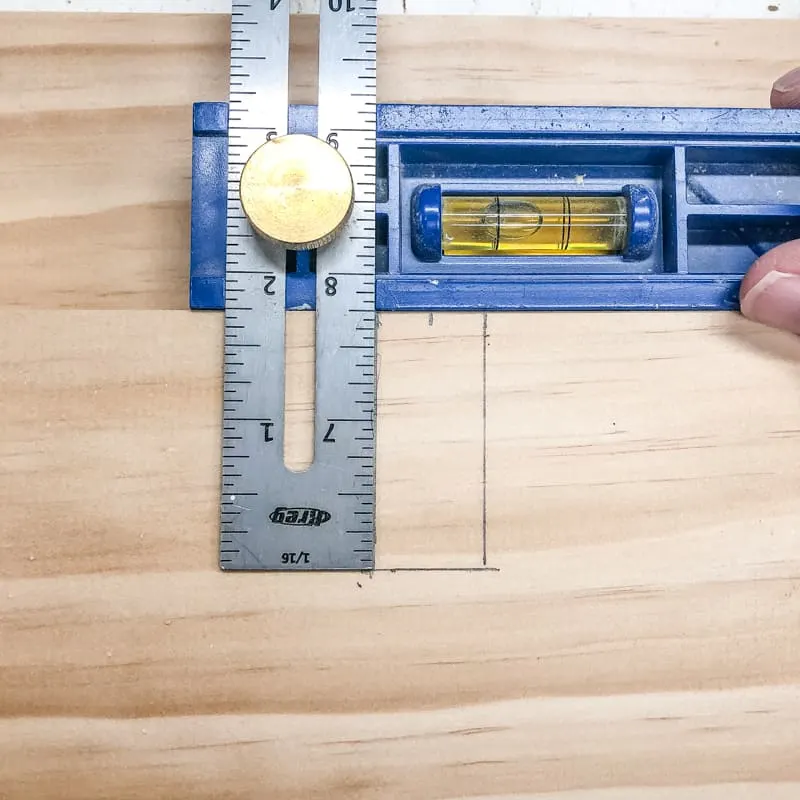 One of the shorter pieces requires a bigger notch to fit the three other boards. Add another ¾" to each side of the marked rectangle.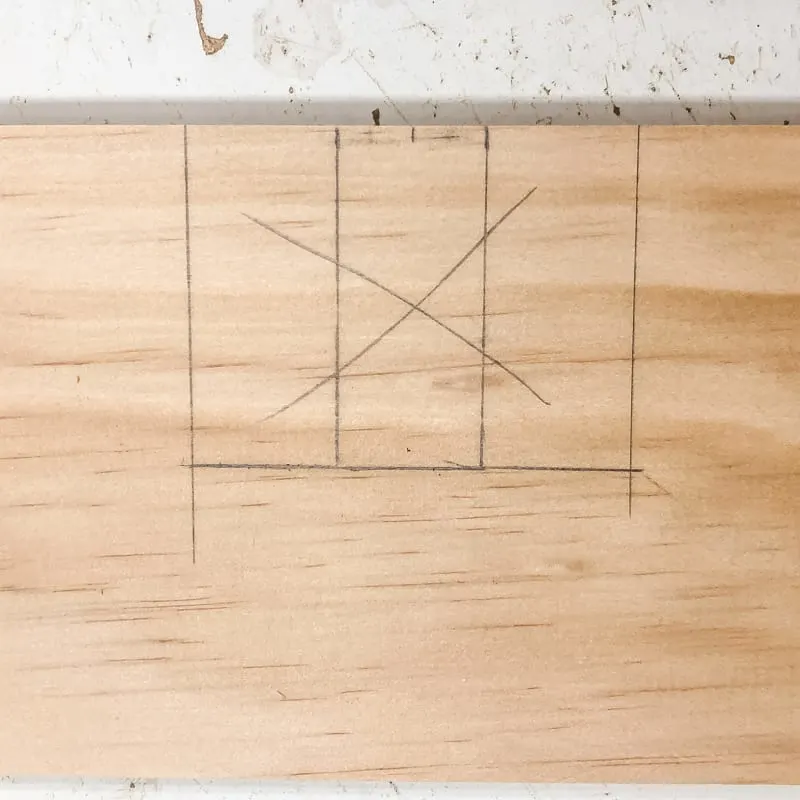 Use a jigsaw to cut out each notch. Test the fit with a scrap piece of wood and trim off a bit more if it's not big enough.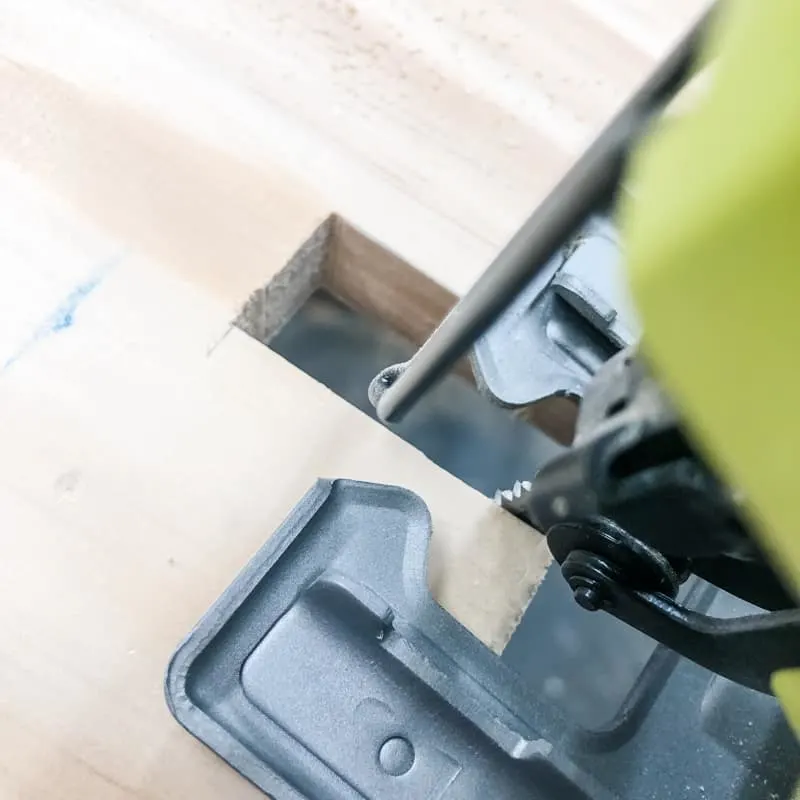 Sandwich the scoreboard piece between the two base pieces, lining up all the notches. Then use the larger notched piece to lock them all together.
Sand the inside edges until the boards slide together smoothly without being forced. The paint will add a little extra width to the boards, so a little wiggle room is ok.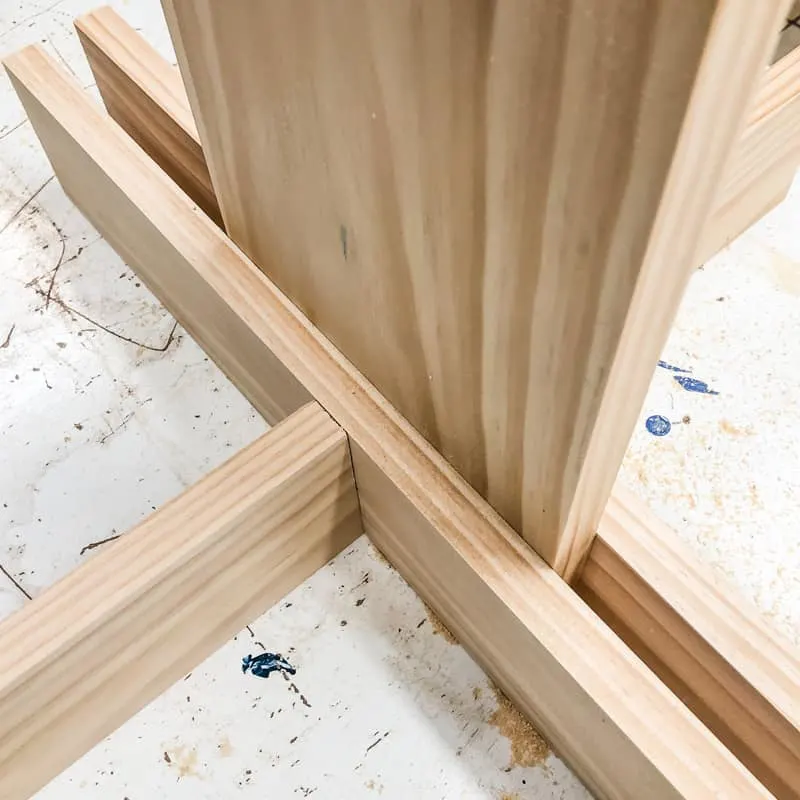 Paint and Apply Numbers
It's much easier to paint the cornhole scoreboard pieces before assembly. I used a small roller to paint mine white, but you can customize yours with your favorite team colors or any other theme!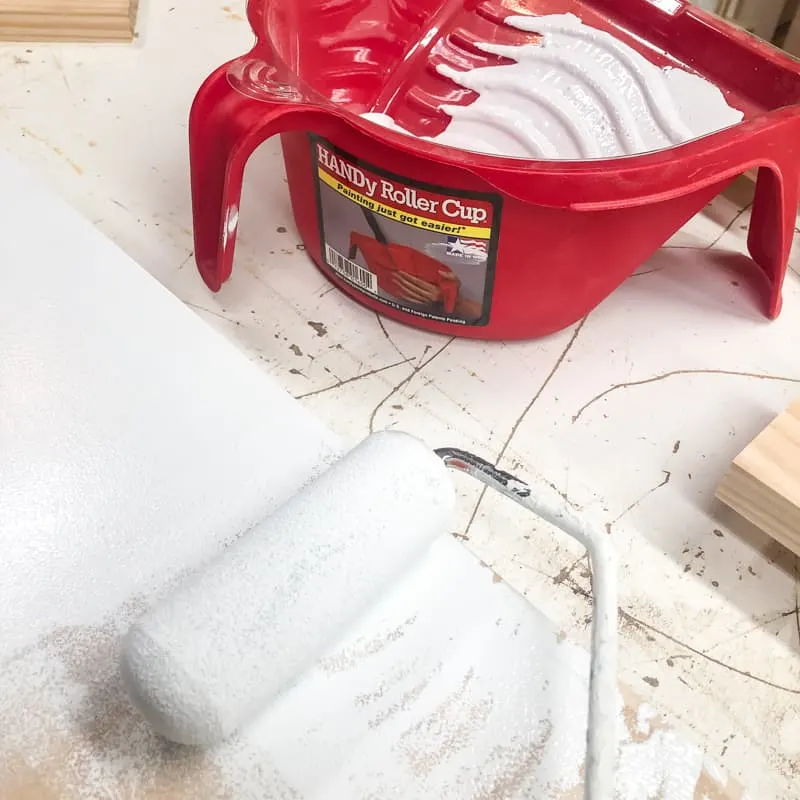 I cut the numbers out with my Silhouette machine in the Game of Thrones font. The numbers are 1 ½" tall and spaced ½" apart. If you don't have a cutting machine, these adhesive numbers would work perfectly and come in a variety of colors!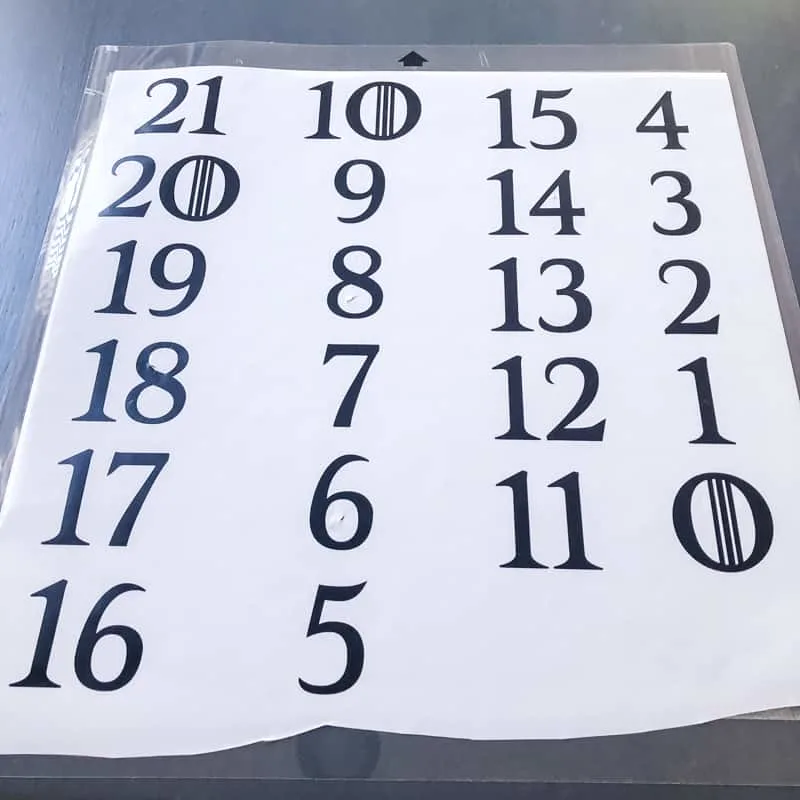 On either side of the numbers, I drew a line with a black paint pen. This makes it easier to see which number the clothespin is pointing to. The lines are 1" from the outside edge and are 1" long.
Finally, I spray painted the giant clothespins with the Lannister (gold) and Stark (gray) house colors to match the cornhole boards. Cover the metal spring with painter's tape so it doesn't get gummed up with spray paint.
Attach the Base to the Cornhole Scoreboard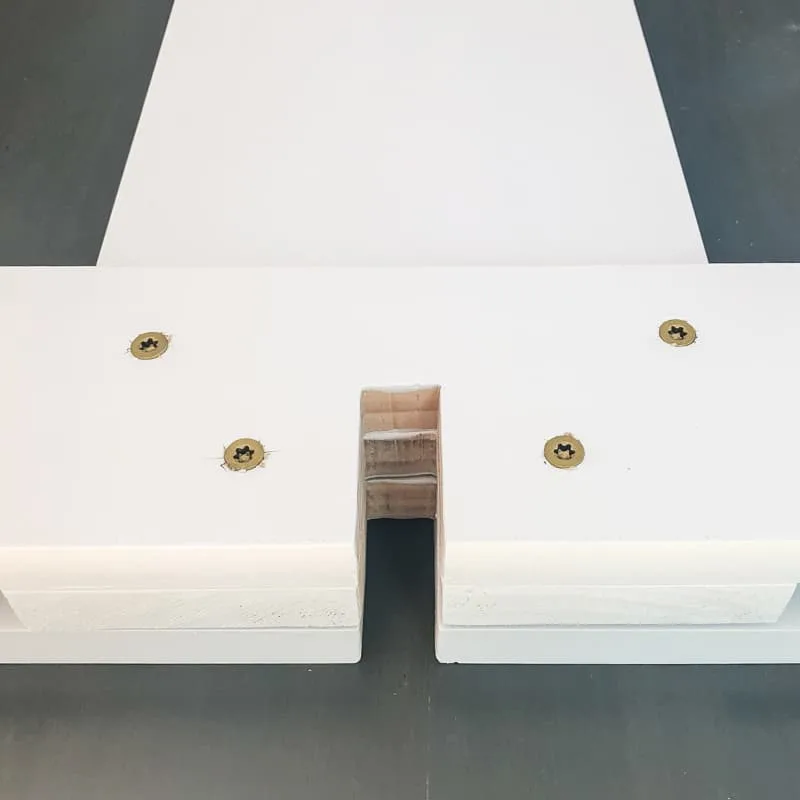 Sandwich the tall cornhole scoreboard piece between the two bottom supports. All three of the notches should line up, and the bottom edges should be flush. Screw them together with 2" screws through the back.
Countersink the screws and cover them with wood filler if desired, then give it one last coat of paint for a seamless look.
Slide the remaining base piece with the larger notch perpendicular to the three joined pieces, then stand up your new cornhole scoreboard!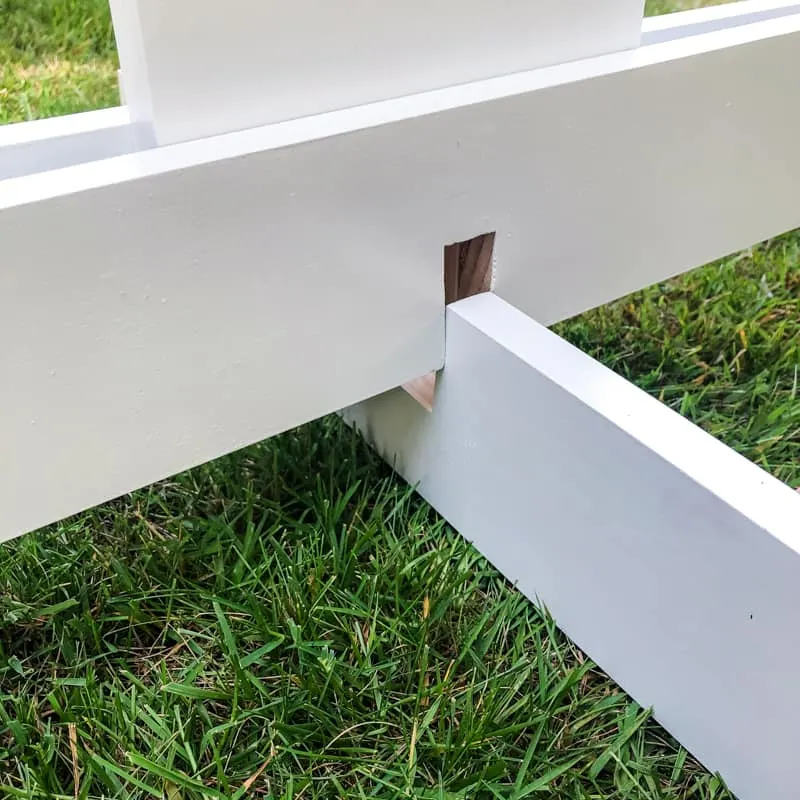 Enjoy Your New Cornhole Scoreboard!
Hopefully this new cornhole scoreboard will help us keep better track of who's winning, so we don't have arguments about how many points each team has!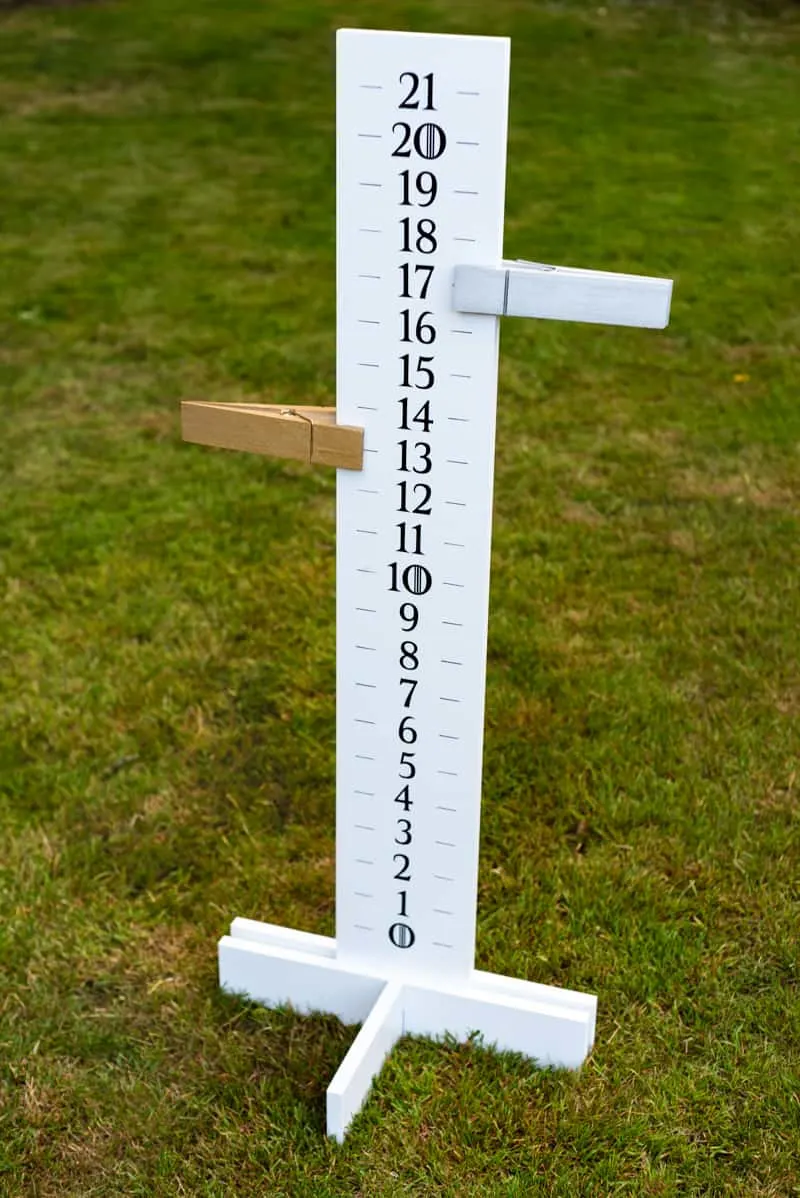 My son loves to move the clothespin markers up the board, so he never forgets to add up his score now!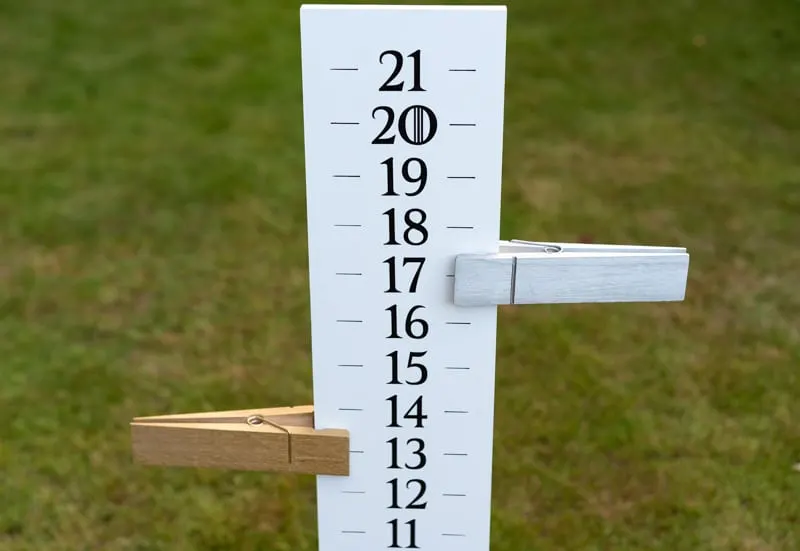 Now we have the complete Game of Thrones cornhole board set!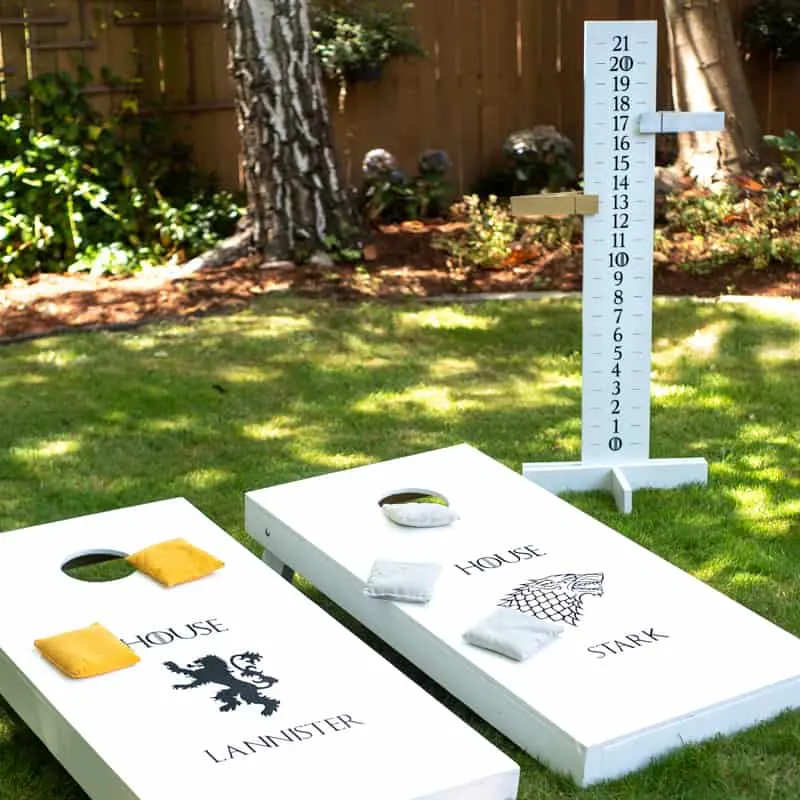 So what are you waiting for? Download the free cornhole scoreboard plans and get building today!
---
Check out these other backyard ideas!