Get the most storage possible out of your crates or boxes! These simple box dividers are made of 1/4" plywood, and can be custom fit to store anything you can think of!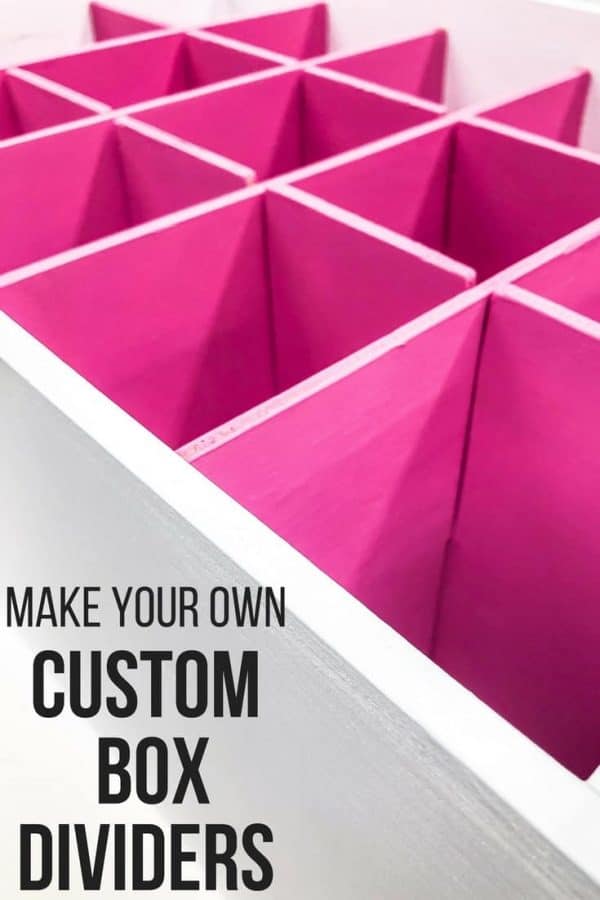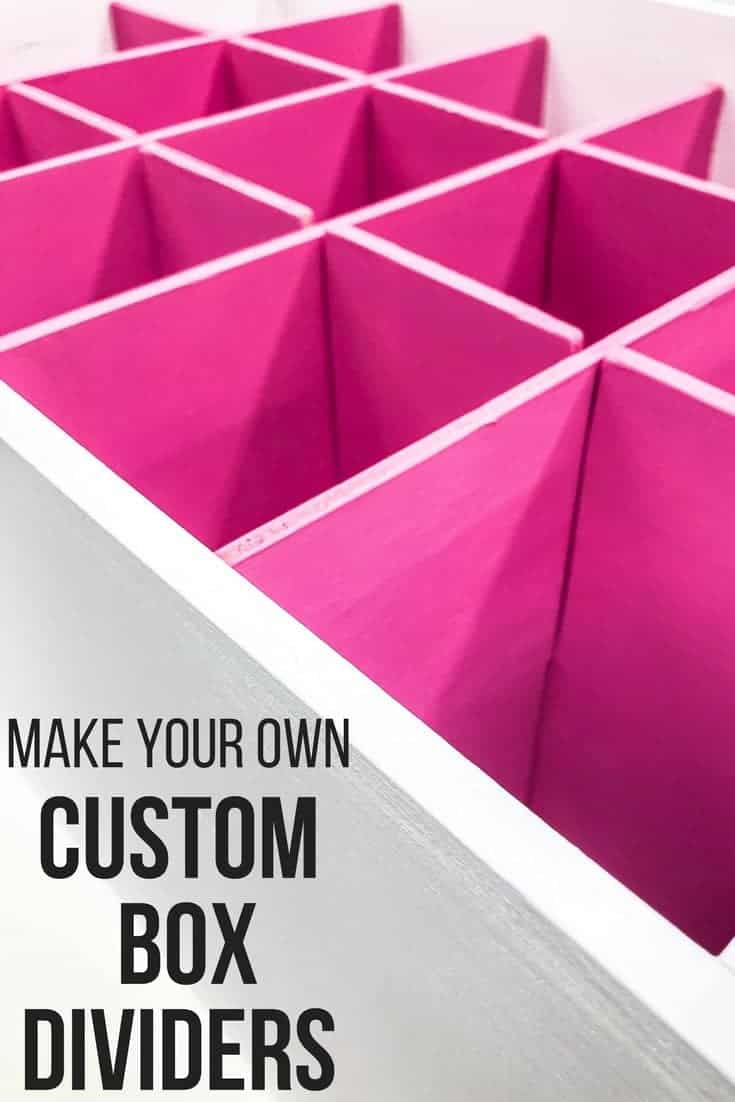 Crates and boxes are great for storage, but sometimes you want things a bit more organized. I have an entire bin full of paint samples and spray paint, and it's become a chore to go through them all. By separating them all with these simple plywood box dividers and marking the lid with a dab of paint, I can easily find the one I want!
This post contains affiliate links for your convenience. Purchases made through these links may earn me a small commission, which helps keep this site up and running!
Last month, Kilz asked me if I would like to try out their new Complete Coat paint + primer. I'm all about making painting quicker and easier! They sent me a wooden box full of samples, brushes and carpenter pencils, with the challenge to create something amazing. Challenge accepted!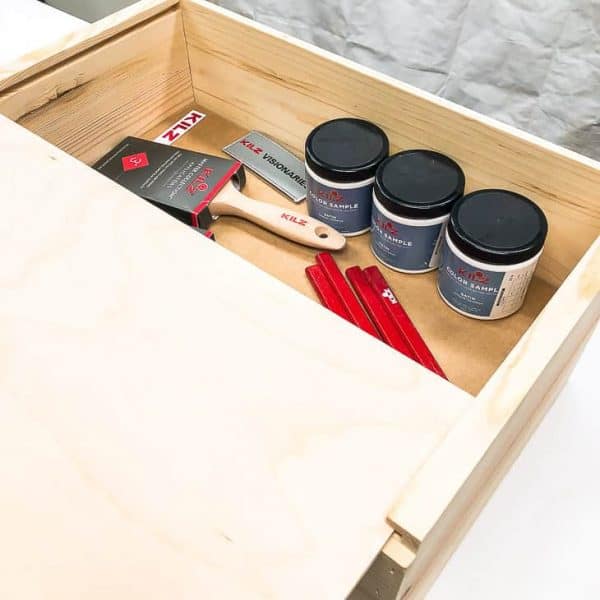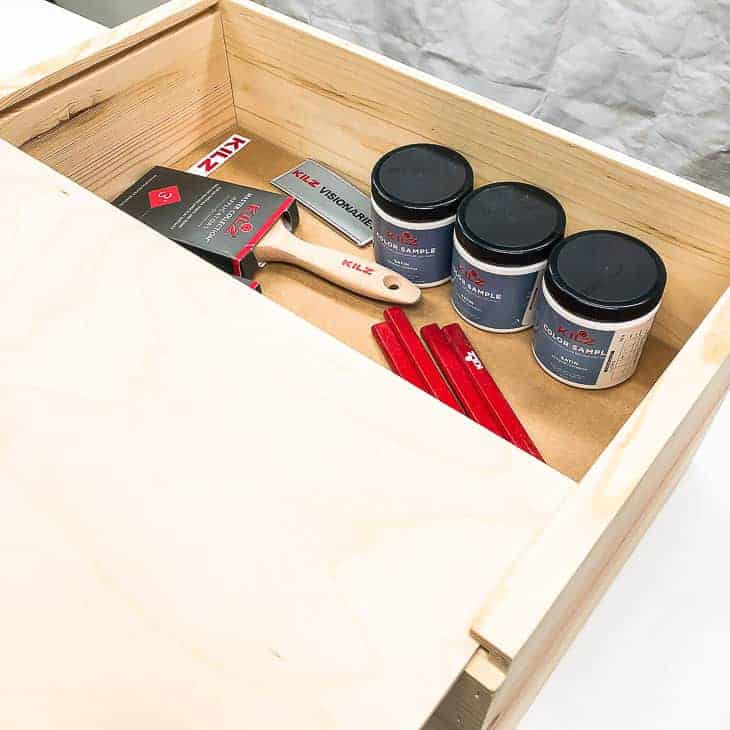 Seeing the paint samples in the box gave me the idea to create these box dividers. Whenever I'm painting a room or a project, I always try out a few different colors before I commit. The ones that aren't chosen are tossed in the lower bins of my IKEA Kallax desk, never to be seen again.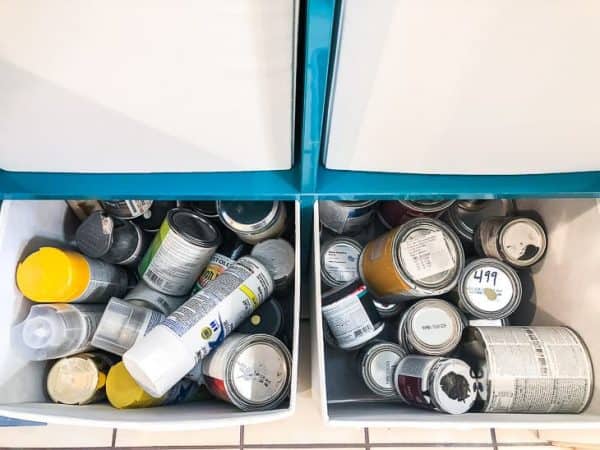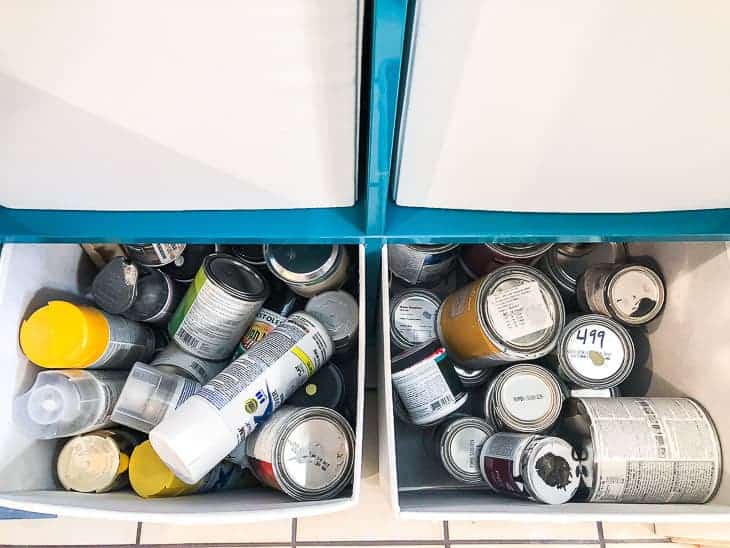 I'm always looking for easy ways to create more workshop storage. Right now, I'm focusing on items that I tend to collect multiples of, like paint, scrap wood and clamps. This paint storage box will help free up some space and get me organized!
Materials Needed for Wood Box Dividers
Instructions for Making Wood Box Dividers
Measure
Measure the interior dimensions of your crate or box. Mine is 12" wide x 18" long x 8" deep. Cut a strip of plywood to slightly less than the depth of the box. I had some 1/4" thick plywood strips left over from my floating shelves, and they just happened to be 7 3/4" wide! Score!
Next, measure the diameter of whatever you plan to store in the box. Paint samples are typically 3" across. If your items vary in size, either base your measurements on the largest one, or change up your spacing to custom fit everything.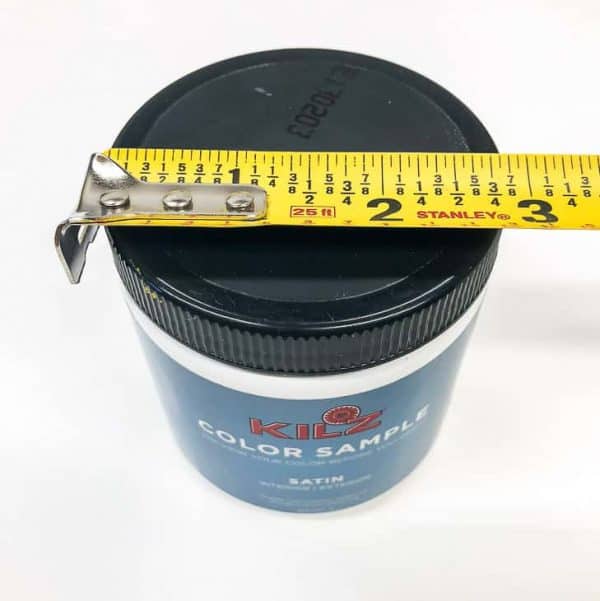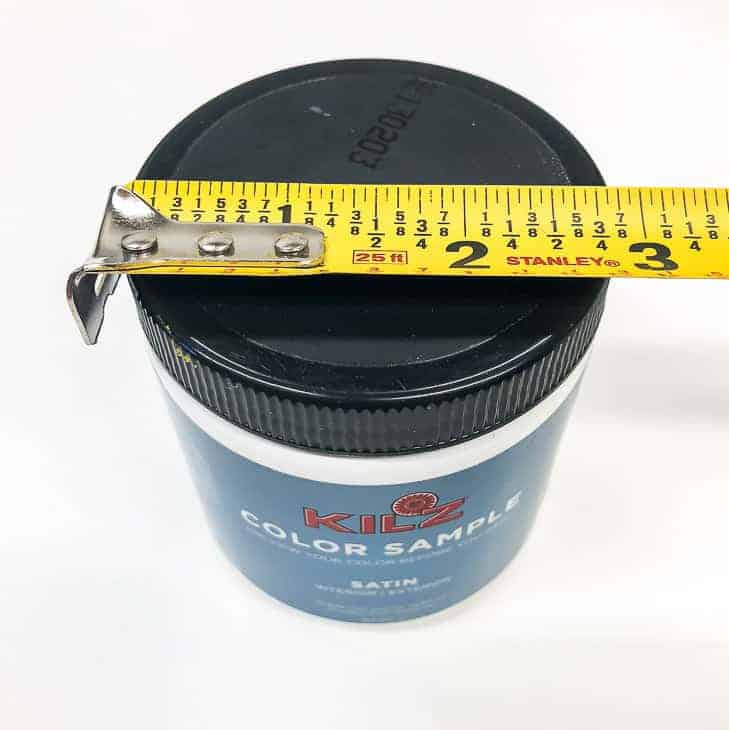 Add at least 1/2" to that measurement to allow enough room for your hand to reach into each compartment. I decided to make mine 3 3/4" apart, which is enough to evenly space five compartments down the 18" side. The 12" side is divided into three compartments 4" apart.
If you have trouble visualizing how they'll be spaced out, try sketching it out in pencil on the bottom of the box! No one will see it, and you can paint over later.
Cut
I cut four pieces to 12" long (the width of the box), and two pieces 18" long (the length of the box).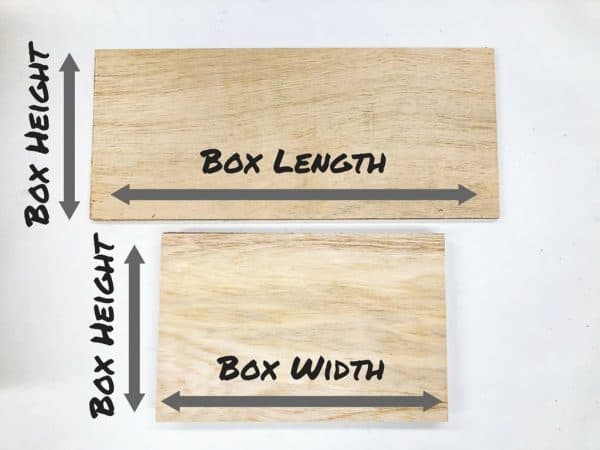 At each spot where two box dividers cross, you need to cut a notch halfway up the height dimension of the board. When these notches cross each other, they'll fit together snugly in the box. Mark the spacing along each plywood strip, then draw a line halfway up the height.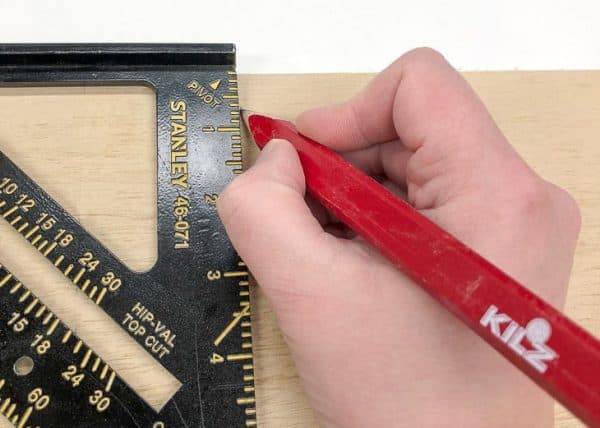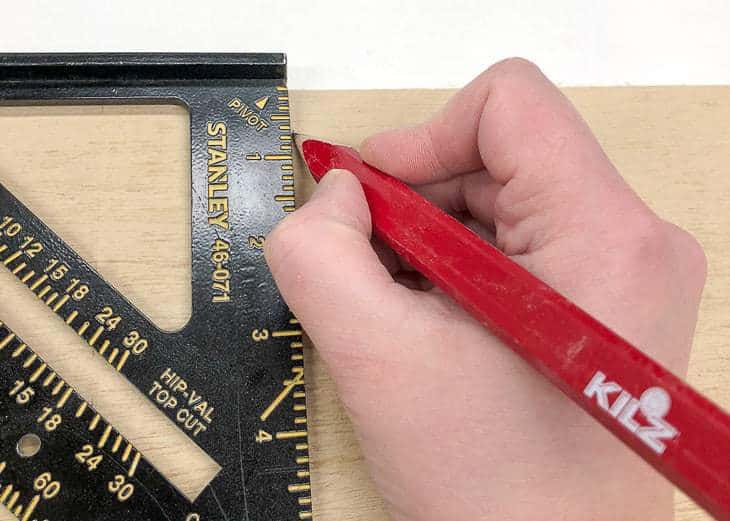 Stack the 12" strips together, with the markings on top. Clamp the stack to the workbench and cut on both sides of the line (not down the line) with the jigsaw. This should leave you with a notch about 1/4" wide.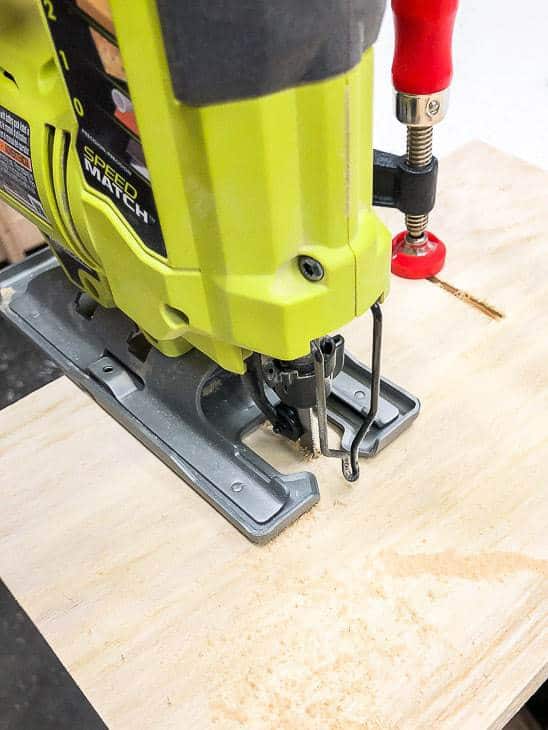 Repeat for the 18" pieces. Sand the edges of the notches until you can slide a piece of 1/4" plywood into each one easily. Your finished box dividers should look like this.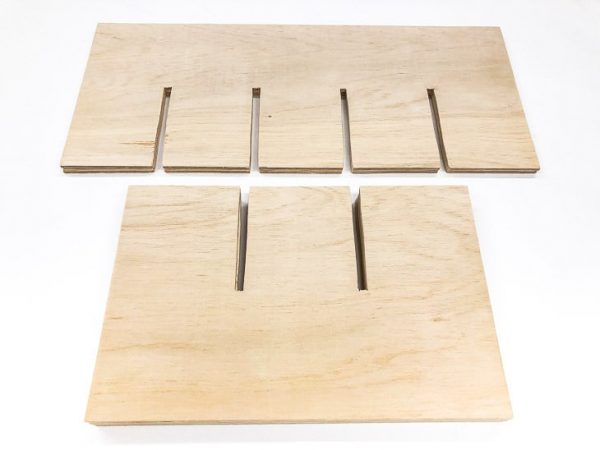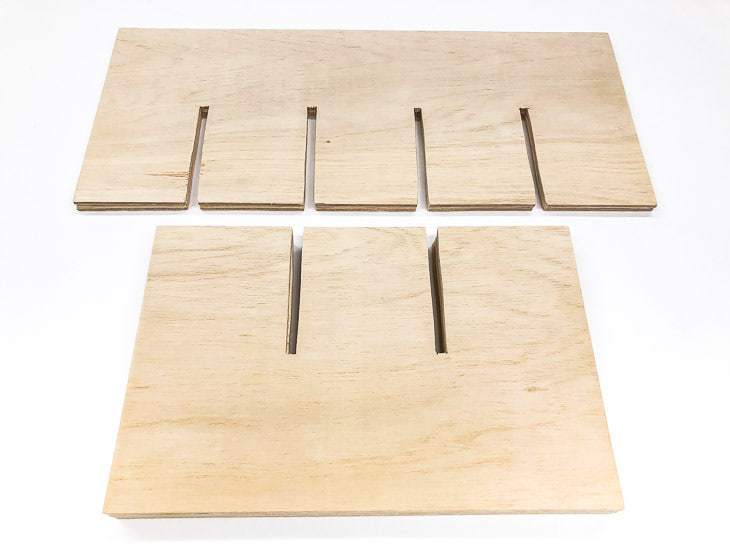 Slide the notches together to form a grid, then test the fit in the box.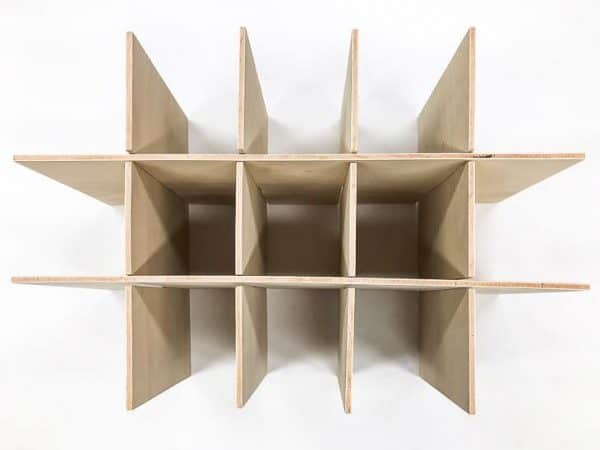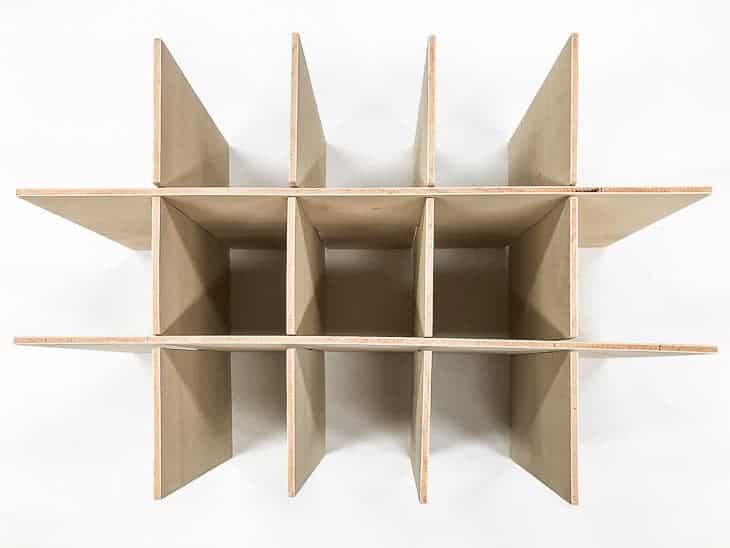 Paint
I painted the entire box white (Kilz Morning Hush) and the box dividers bright pink (Kilz Plumeria Lei) for a fun splash of color inside. Kilz Complete Coat had great coverage with just two coats on raw wood!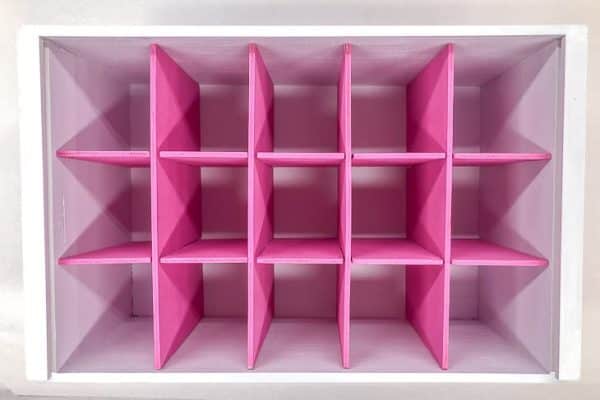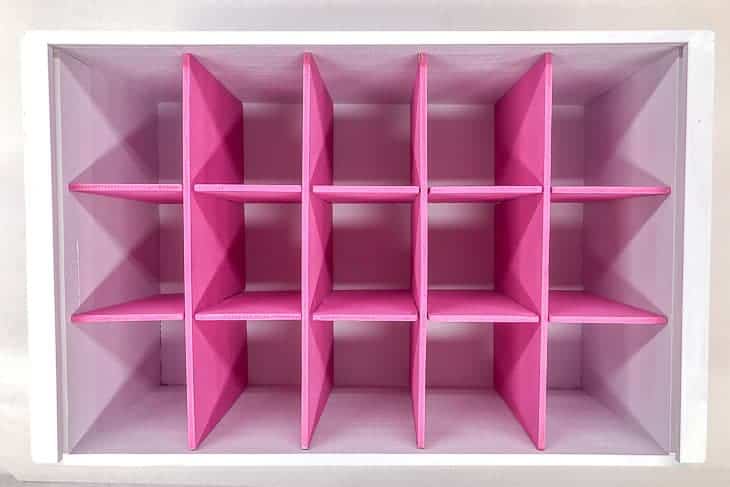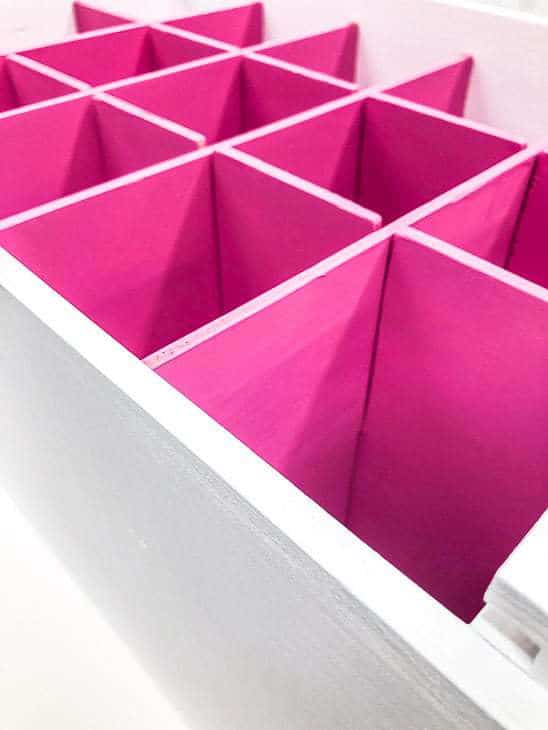 Add Labels to Lid
This box came with a lid that slides into a groove in the top. I wanted to be able to see at a glance all the colors I had available, without removing all the paint samples every time. I used painter's tape to create a grid on the lid that matched the box dividers inside.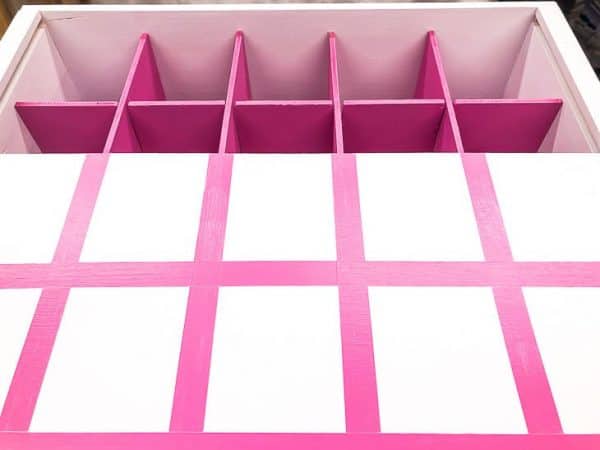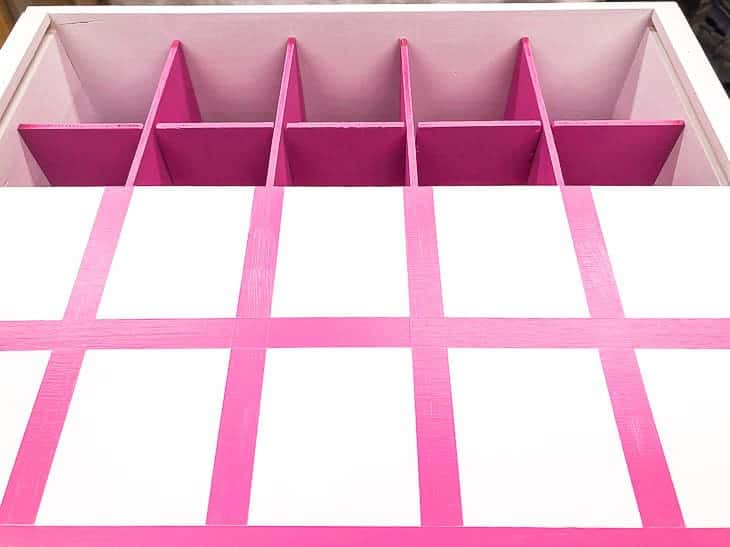 These removable address labels are marked with each color name and sheen, as well as a dab of paint.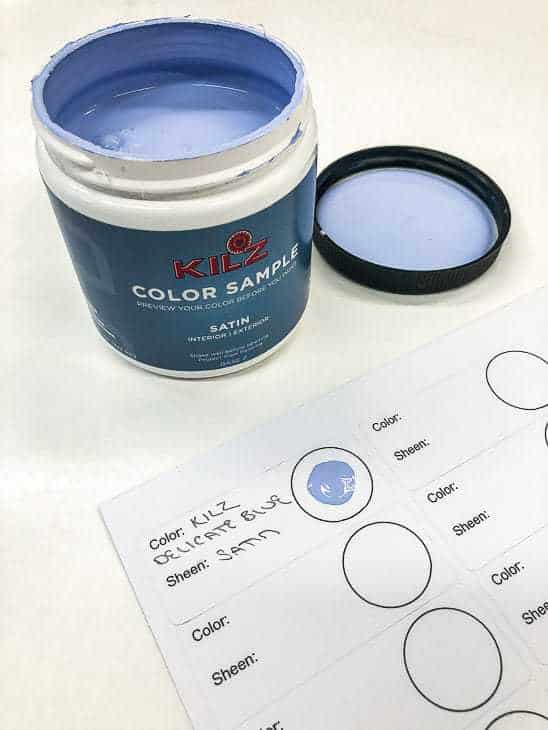 Now I can see at a glance which colors I have, so hopefully I'll use them up! I'll replace the labels with new ones as my supply is depleted and as I buy additional colors.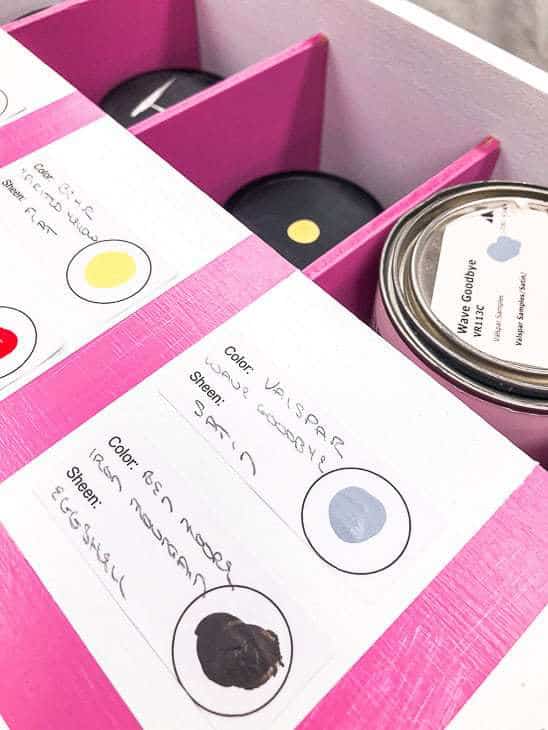 The box is exactly the same width as the shelf of my Kreg workbench, and it fits perfectly right next to my sandpaper storage box. It's great to have all these paint colors at my fingertips!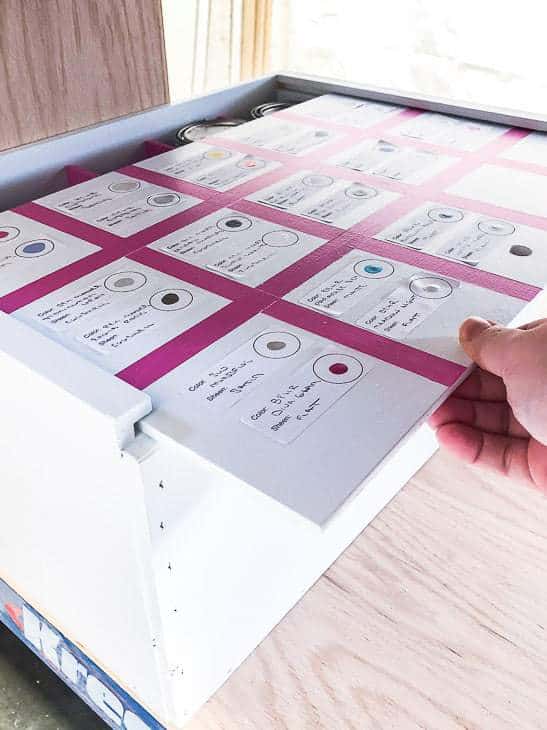 Let's Get Organized!
Just think of all the ways you could use these box dividers . . . spices, essential oils, rolls of vinyl. I'm planning to make a few more for other spots around the house!
Don't want to make your own box dividers? Get organized with these store-bought options!
Want more organizing ideas? Check these out!
If you would like to keep up to date with my latest posts about DIY projects, woodworking and more, you can follow me on Facebook, Pinterest, or Instagram. You can also sign up for my email list below and get the latest post delivered to your inbox, plus exclusive access to my woodworking plans library!
Want more DIY projects?
Subscribe to get project ideas, home improvement tips, woodworking plans and more delivered straight to your inbox!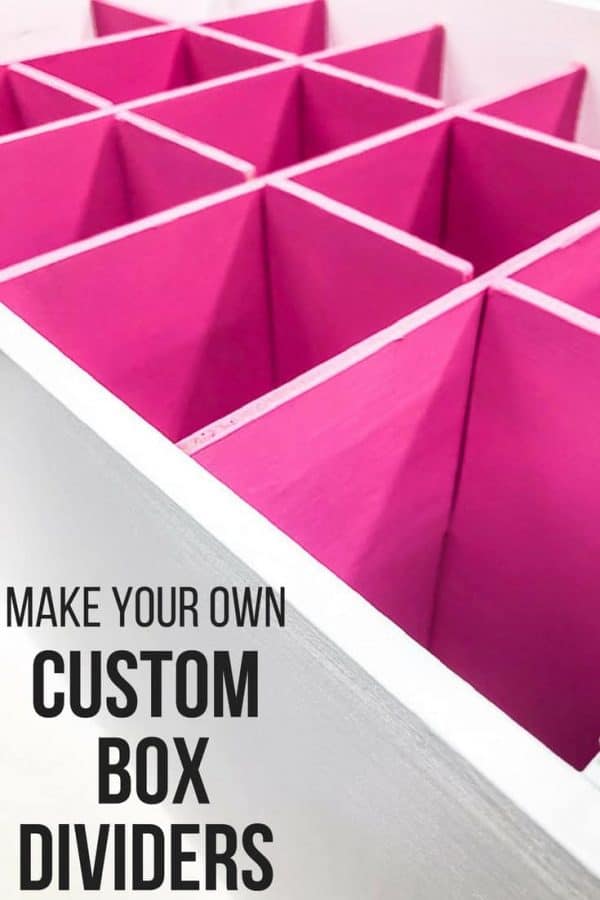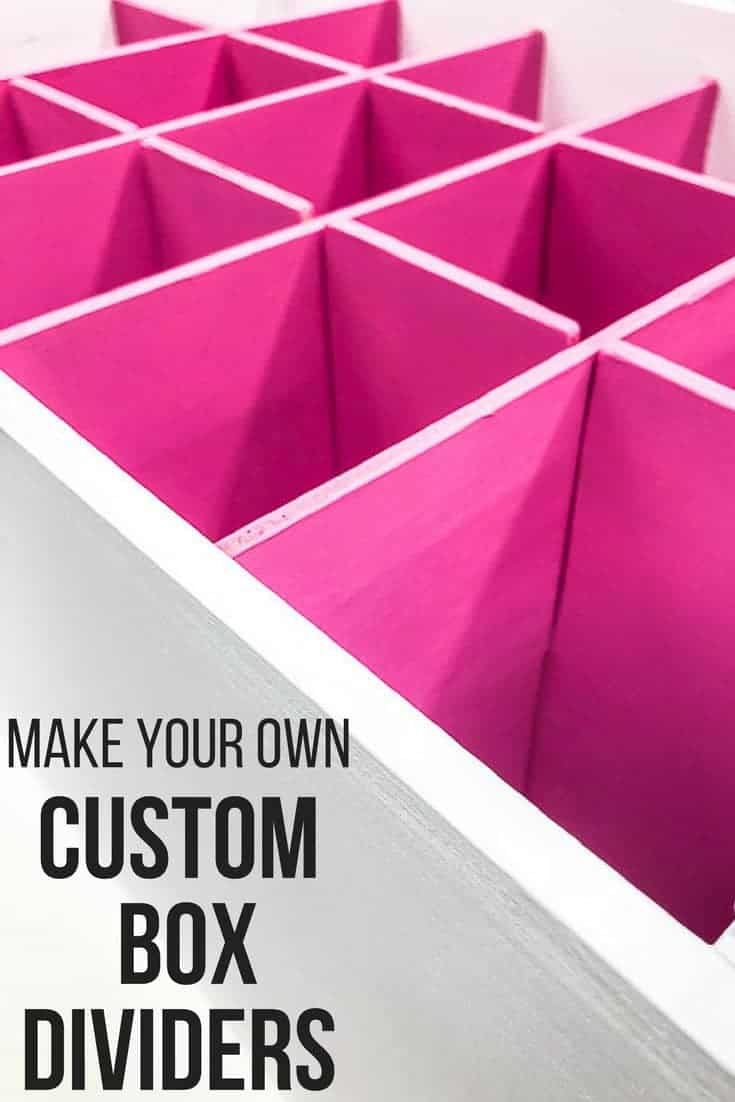 SHARE IT!