Keep your drills, batteries and chargers all in one place with this DIY cordless drill storage rack! Get the free woodworking plans and get your shop organized!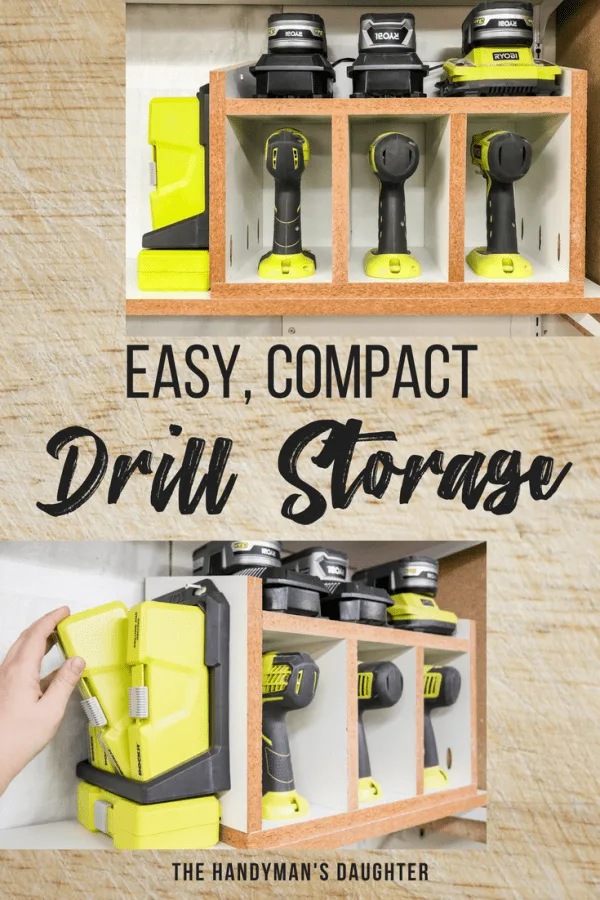 I'm always searching for my drills in the workshop (I swear, they get up and walk away when I'm not looking!) My tools stay more organized when they have a dedicated spot, like my sander and sandpaper storage or my circular saw stand. Now, with this cordless drill storage rack, I can keep them together and keep their batteries powered up and ready to go too!
This post contains affiliate links for your convenience. Purchases made through these links may earn me a small commission at no additional cost to you. Please visit my disclosures page for more information.
My Workshop Wednesday series is all about ways to make your workshop more organized and efficient. This project would be perfect for any homeowner who is tired of hunting down their drill or charged batteries! Best of all, it's a really quick and easy project that can be completed with a few cuts!
Materials Needed for Cordless Drill Storage Rack
Don't forget your safety gear when woodworking! Here are my recommendations for safety glasses and ear protection. No excuses!
Cut list
I had a ¾" melamine shelf that was previously used as a lumber rack until I installed a better one. Workshop storage doesn't need to be pretty, so use up those plywood scraps or left overs!
The shelf is 9 ¼" wide, which is just big enough to fit my drills with a short bit in the chuck. You could also use one 1 x 10 board, which has the same dimensions.
1 @ 17 ¾" long

1 @ 16 ¼" long

2 @ 12" long (I cut one end at an angle for easier access, but it's not necessary)

2 @ 8" long

Cut the ¼" plywood to 17 ¾" x 12 ¾" for the back.
Download the free plans to see how all these pieces go together!
How to Build a Cordless Drill Storage Rack
Assemble Cut Pieces with Pocket Holes
Drill pocket holes along one 9 ¼" side of the 8" and 12" pieces. Check out my guide to pocket holes for tips on how to do this.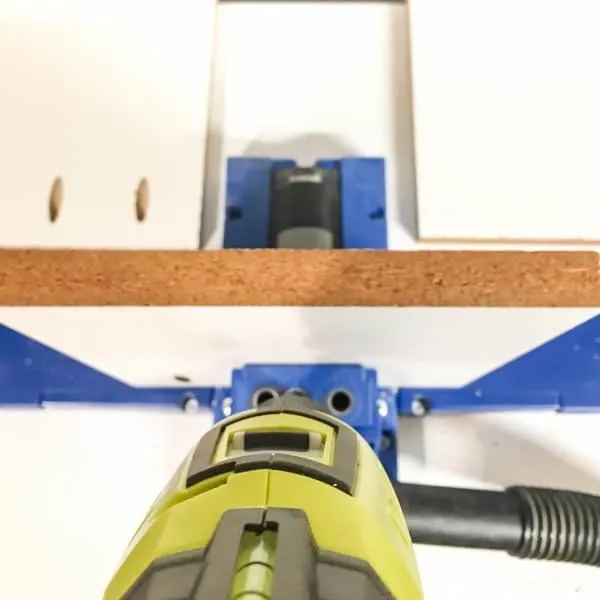 Attach the 12" pieces to the ends of the 17 ¾" base with 1 ¼" pocket hole screws. Add the two 8" divider pieces about 5" apart in between. I insert the center screw first, then use my Kreg Multi-Mark tool to make sure they're straight before driving in the side screws.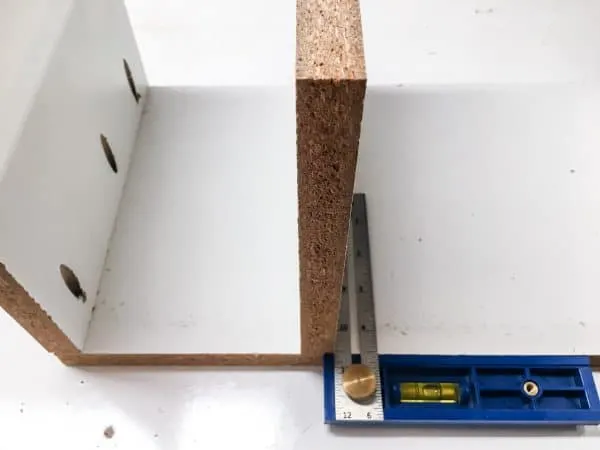 Drill three pocket holes into both ends of the 16 ¼" piece. Rest it on top of the center dividers in between the sides with the pocket holes facing up. Normally you would hide the holes, but they'll be hidden under the chargers (plus, it's for the workshop, so who cares what it looks like, right?)
Attach the top to the sides with 1 ¼" pocket hole screws.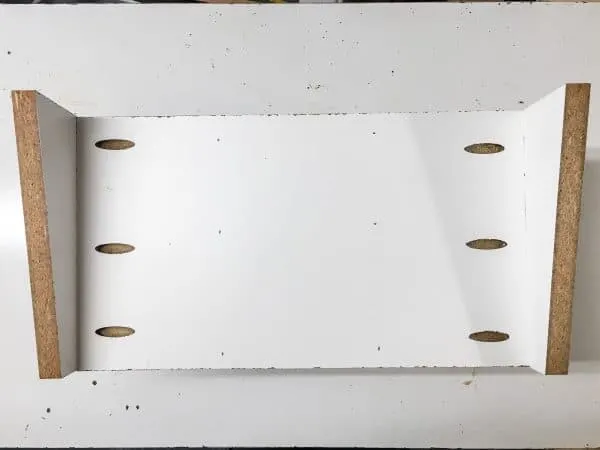 Attach Back
At this point, you can call it finished! But I didn't want to gouge my walls with drill bits, so I flipped the box onto its front so I could easily attach the back.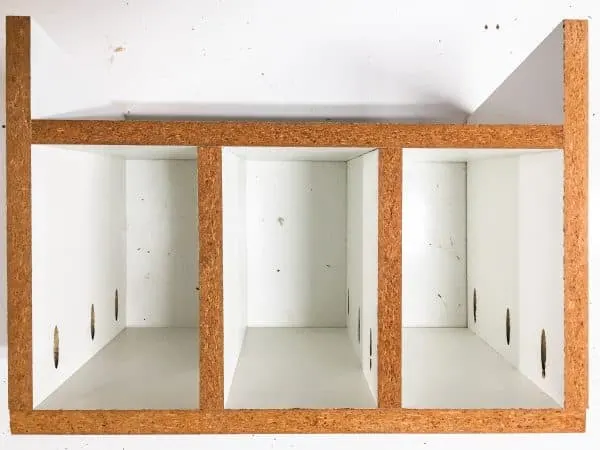 Attach the ¼" plywood backing (mine is actually a scrap of whiteboard) to the frame with ½" brad nails. I used my Ryobi Airstrike for this task.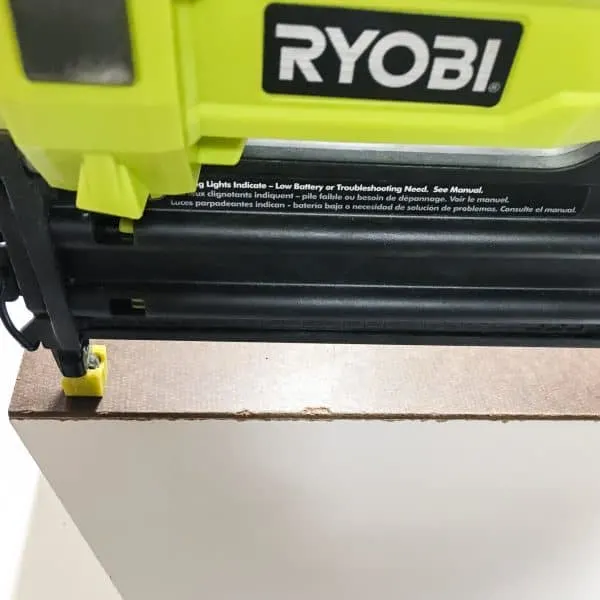 (Optional) Add Extension Cord and Drill Bits
I attached a short extension cord to the back so I didn't have a tangle of battery charger cords hanging down from the shelf. There's two outlets on the front and one on the back, which is perfect for my three chargers! It's held in place with a cable clamp on the raised back section.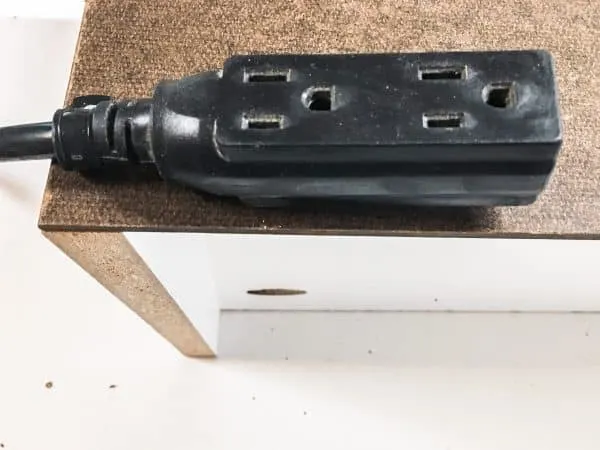 The cordless drill storage rack fits perfectly on the shelf, and creates a dedicated space for my impact driver and two drills. The shelf on top has room for all three of my Ryobi battery chargers, so I never run out of power!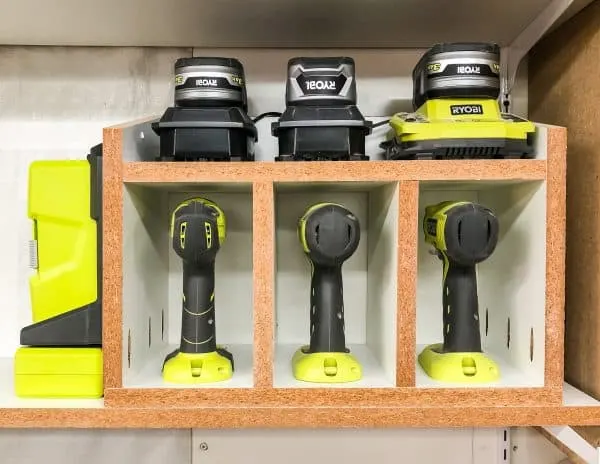 I attached the Ryobi Dock-it tray to the side of the box to store all my drill bits. Now they're at my fingertips instead of hiding all over the workshop! Each box is labeled, so I can grab the bits I need and get back to building.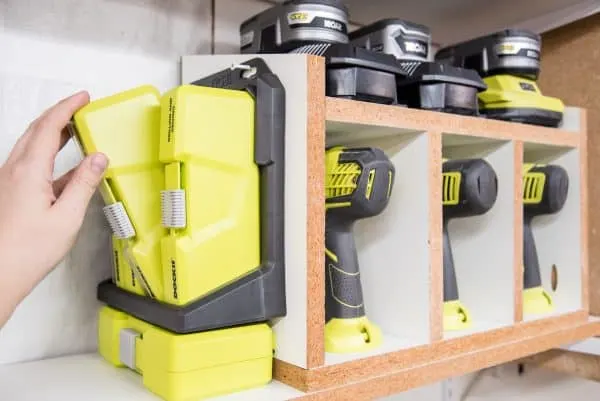 An additional box of bits underneath slides out for easy access.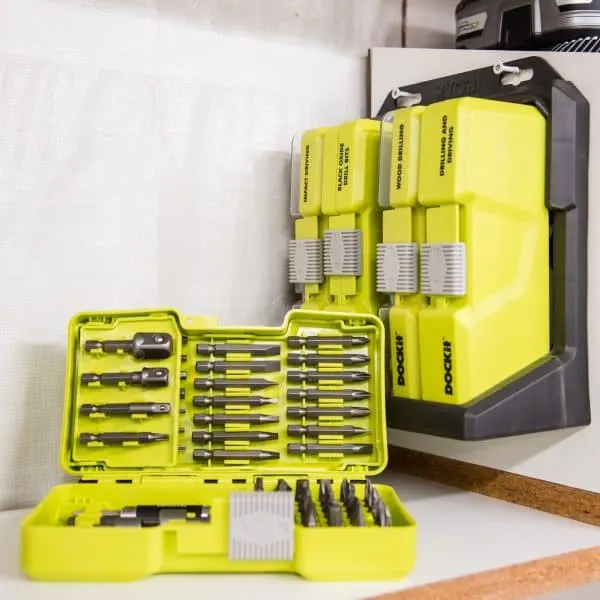 This cordless drill storage rack packs a lot into a small space! I love being able to grab whatever tool I need and get back to building. No more hunting for that missing drill or bit!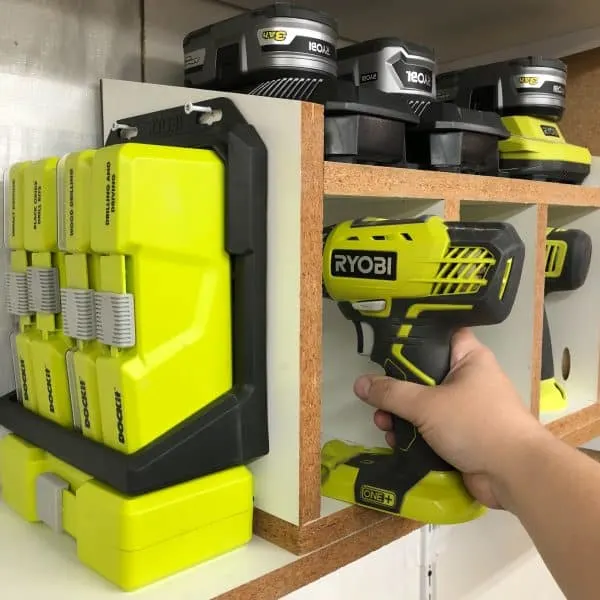 Get the rest of your workshop organized!
Now that I have my circular saw...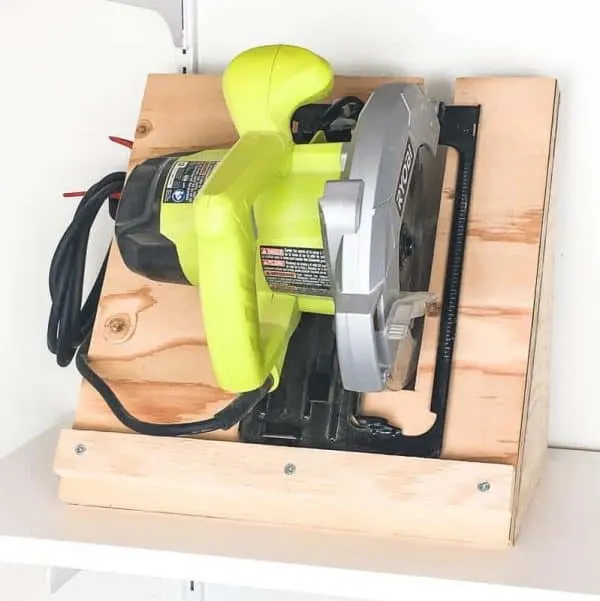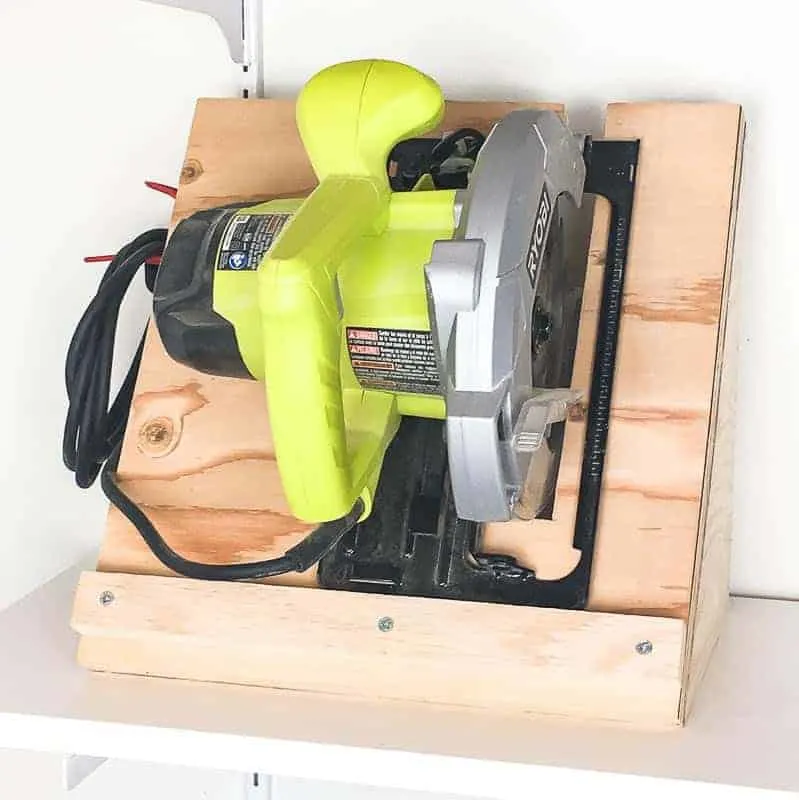 my sanders and sandpaper...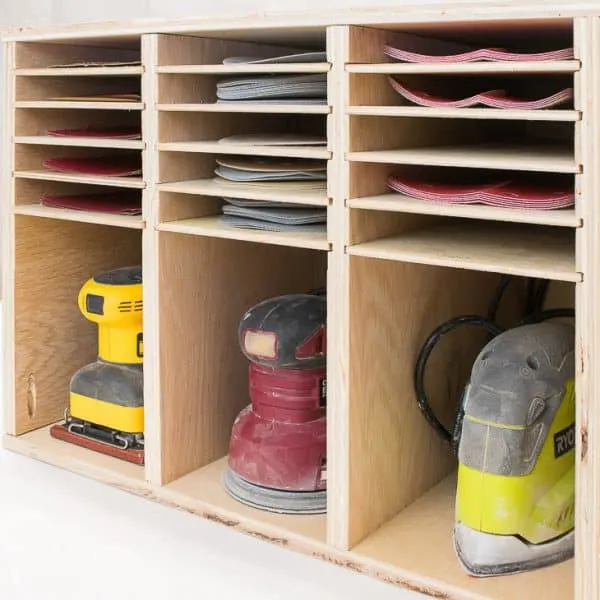 and nail guns organized...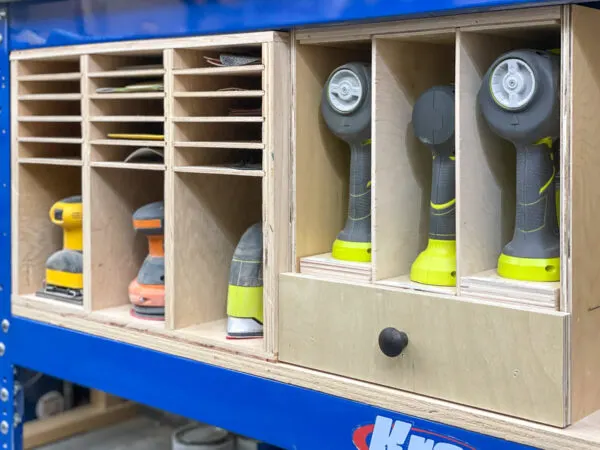 What should I tackle next? I'd love to hear your suggestions in the comments!
---