After a long winter, our backyard garden needed a complete overhaul! Check out the tools I used for my garden clean up, and my backyard makeover progress!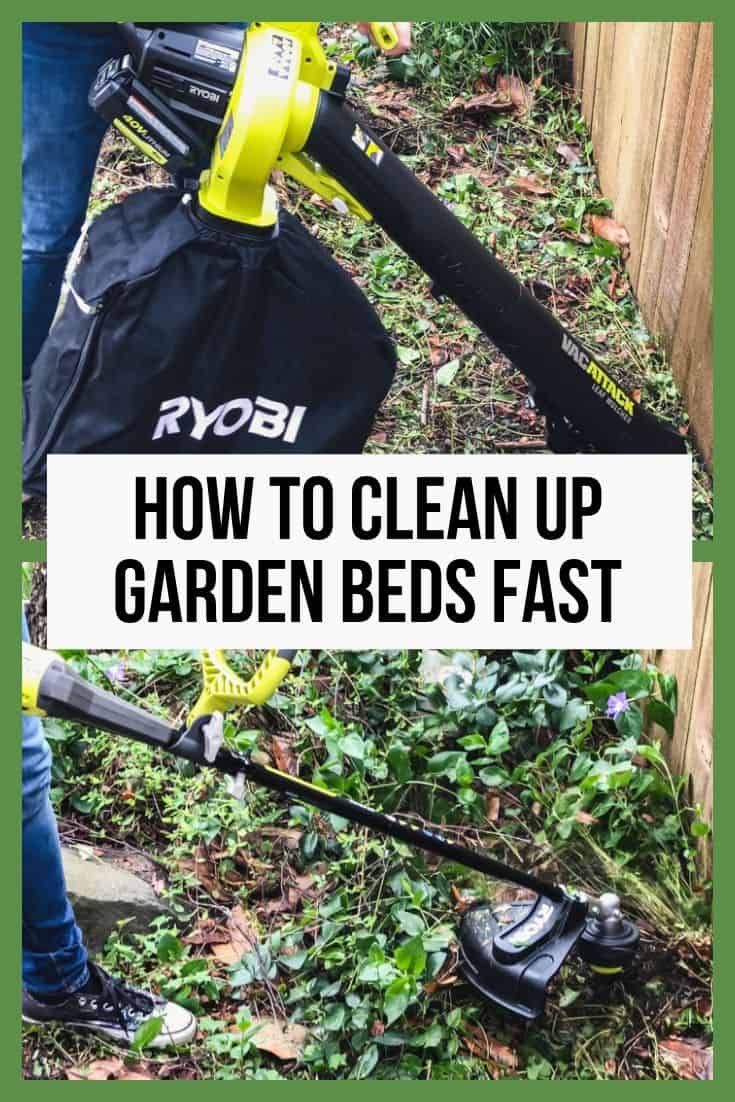 Last week, I outlined my plans for our backyard makeover. This week, I'm finally getting started with a long overdue garden clean up! I'm trimming branches, pulling weeds and mulching up leaves with the help of a few handy landscaping tools!
This post is sponsored by Ryobi Tools and contains affiliate links for your convenience. Purchases made with these links may earn me a small commission at no additional cost to you.
This dark, dirty corner of the backyard has been a dumping ground for toys and tools for years. I'm really excited to finally do something with it!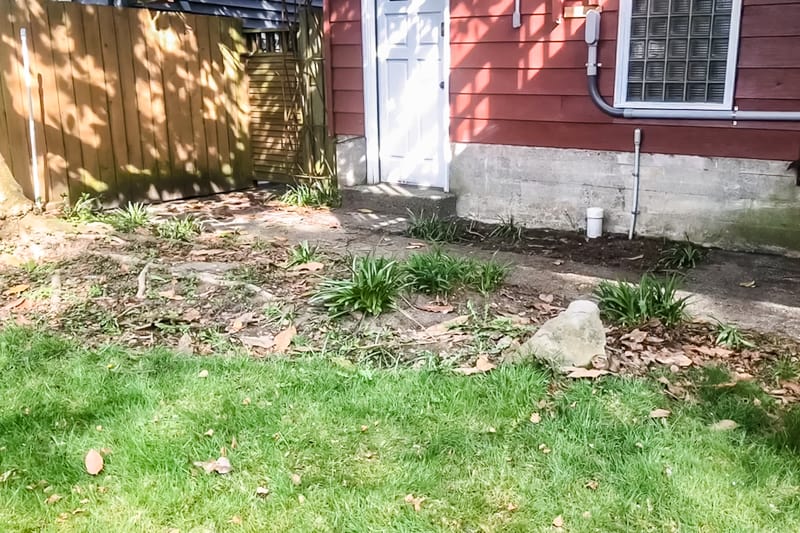 But before I can start building a new pea gravel patio and retaining wall, I need to do a serious garden clean up! Magnolia leaves litter the ground, and vines have grown beyond the clematis trellis to this area. Let's get to work!
Related: Landscape Maintenance Tools for Easy Fall Clean Up
First, check out my video of the progress I made this week! Then find all the details below.

Trim Low Hanging Branches
I decided to start at the top and work my way down so I only had to clean up the ground once! 🙂 In order to create enough head room for the new seating area with a propane fire pit, I needed to cut down that low hanging section of the Magnolia tree.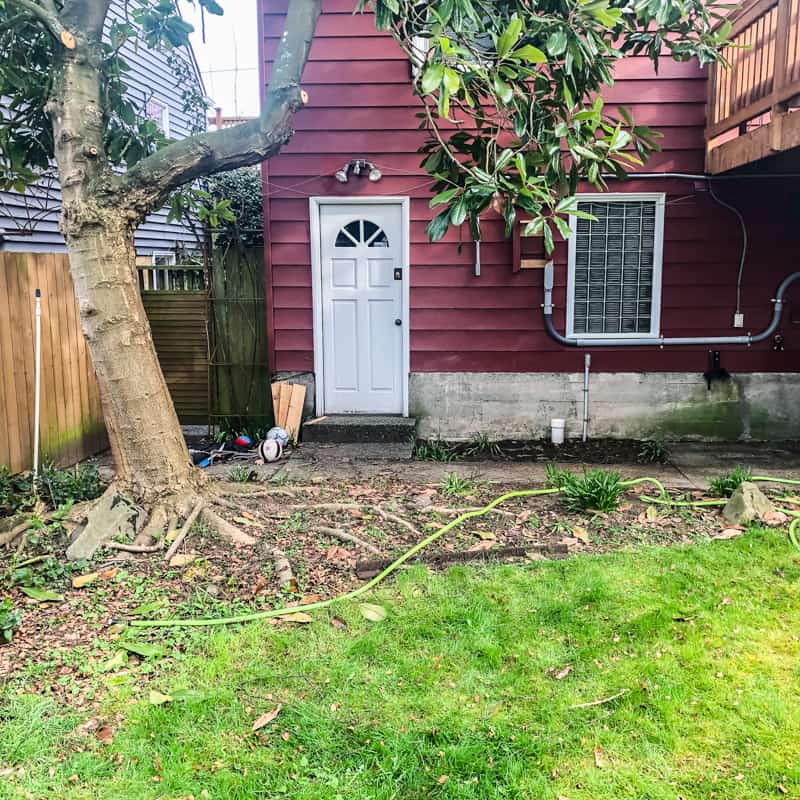 I used the Ryobi 40V pole saw attachment on the Expand-it power head to quickly cut down the lower branches. It instantly brightened up the space!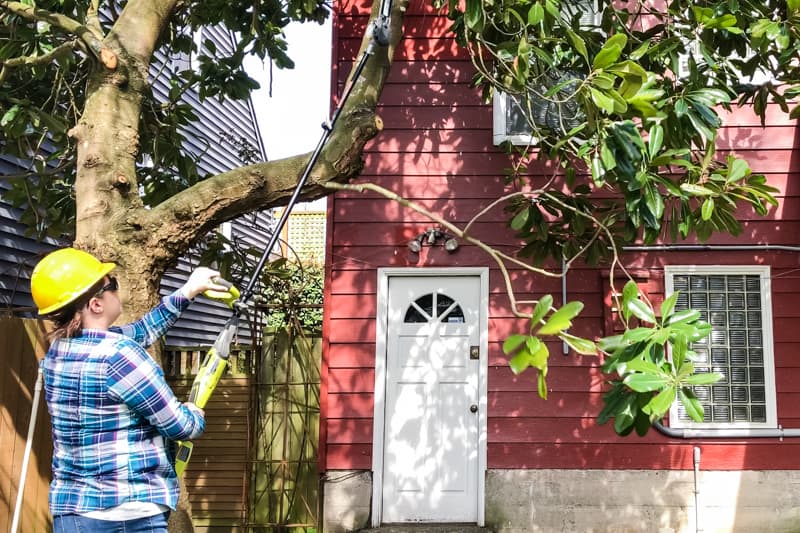 Cut Down Overgrown Vines
The clematis vines along the fence are growing like crazy, even without a garden trellis for support!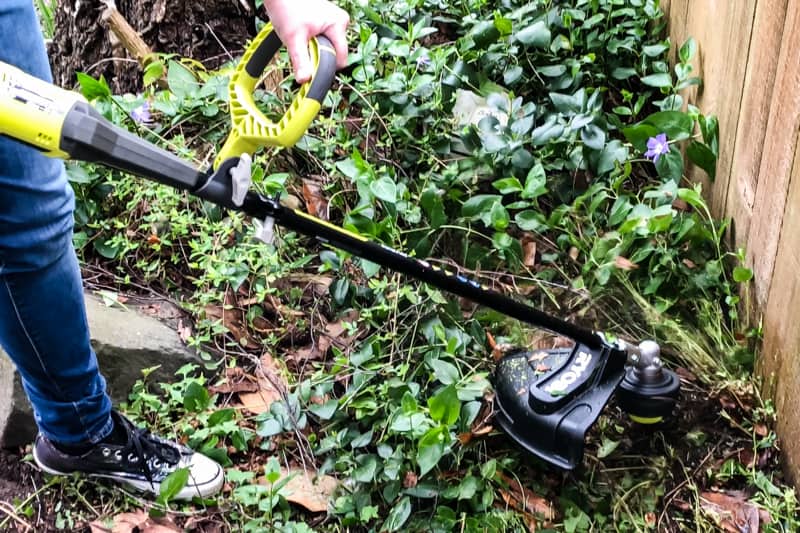 Instead of pulling each one individually, I saved a ton of time by hacking them all down with the Ryobi string trimmer attachment. I love how the Expand-it system allows me to switch from one tool to another on the same battery!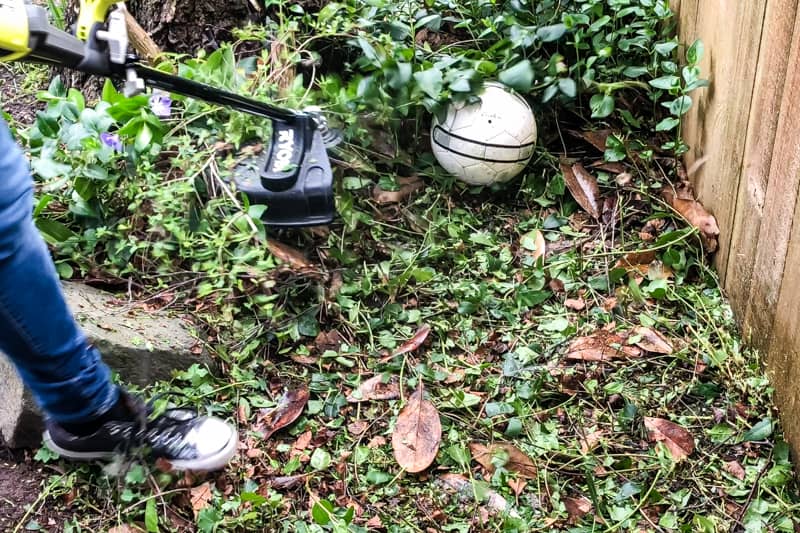 You never know what you might find in an overgrown garden! My son was thrilled that I finally found his long lost soccer ball hidden among the vines and weeds.
Garden Clean Up
Instead of raking, scooping and tossing all the cuttings into the yard waste bin, I tried out Ryobi's latest tool, the Vac Attack leaf mulcher! This is going to be the most used landscaping tool I own! It easily sucked up all the debris left behind by the string trimmer, so I could yank the remaining roots out of the ground.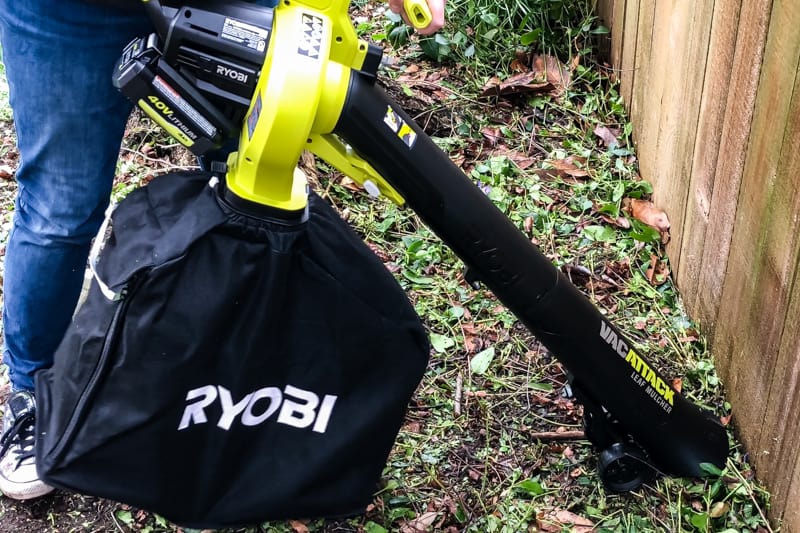 I used the Vac Attack on the rest of the garden beds in this area, sucking up leaves that were left there since the fall. There's a dial to change the suction settings, so you can remove loose leaves without damaging existing plants. When the bag is full, just unzip the bag and dump the mulched debris into the compost bin!
Lay White Marble Chips in Empty Garden Beds
These garden beds against the house are just empty mud pits! Nothing grows in the deep shade back here, and the soil flows onto the walkway in heavy rain. I have plans for a vertical garden planter in this spot, so I decided to brighten up the space with white marble chips to provide a nice, solid base.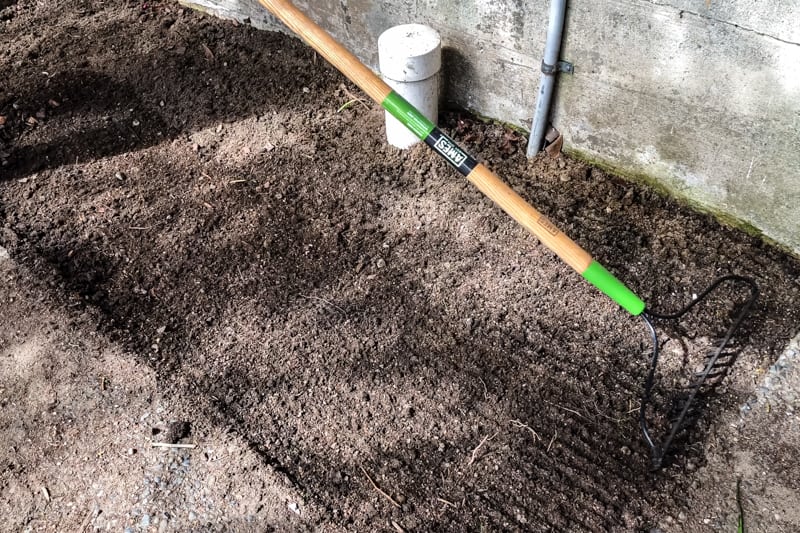 It took six bags of white marble chips to cover this section. Just keep dumping them and spread them out with a rake.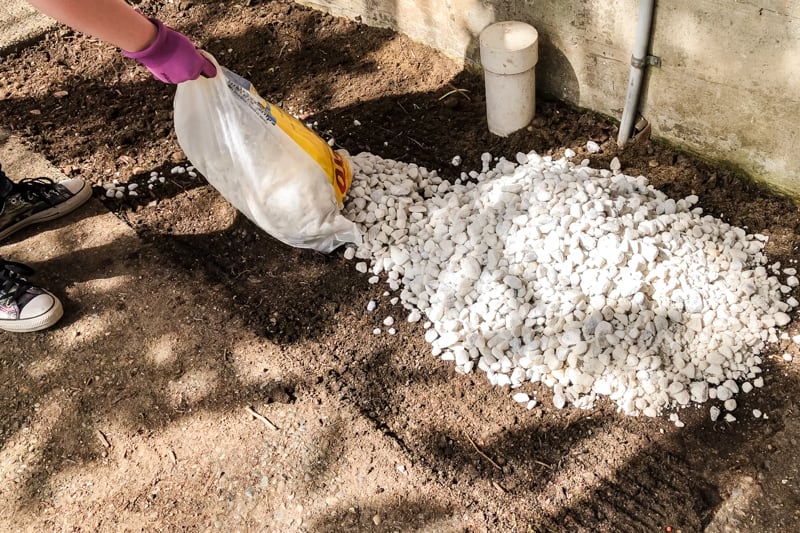 I didn't want the rocks to get loose and scatter over the walkway, so I pounded them down with a garden tamper. This locks them into place, so even walking on them doesn't knock them loose!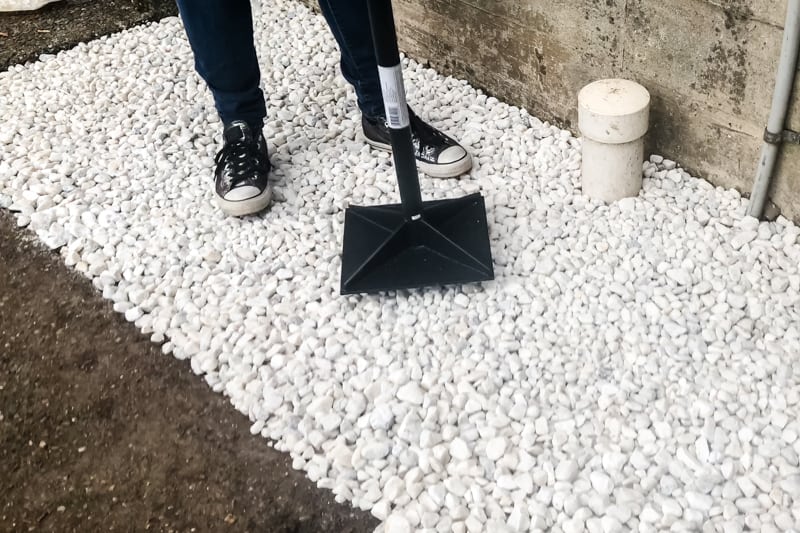 Next Steps
I'm glad I knocked out all the garden clean up this week, because I still have a LOT of work to do! Next on the agenda is covering up the giant hole in the aluminum siding left behind by the old electric meter. You might have noticed that it's already done in the video above, but I'll have a full tutorial on how I repaired the aluminum siding next week!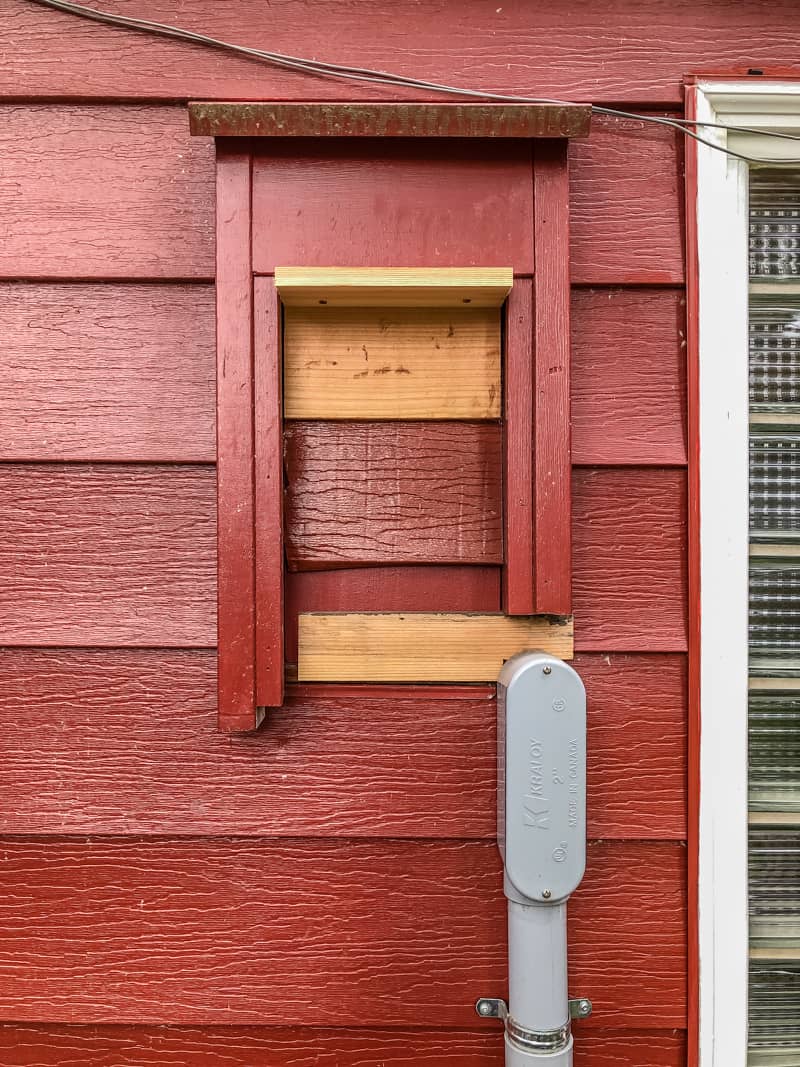 Then I'll clean the aluminum siding and paint the conduit to match the house. This whole mess will be hidden behind a new vertical planter wall I'm planning to build over it, similar to this one.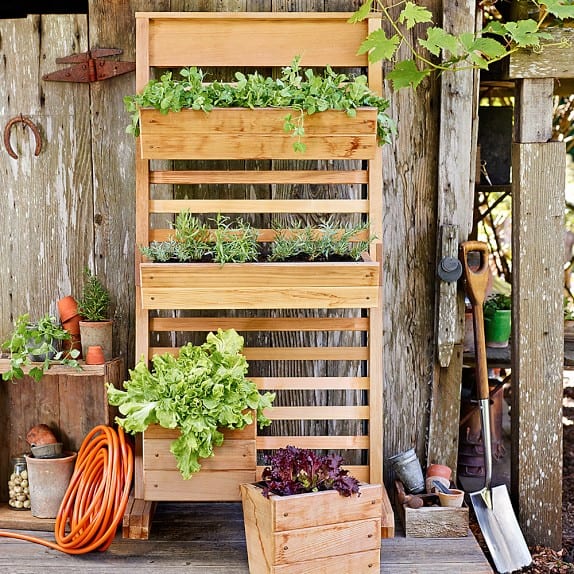 I started laying the first few rocks of the small retaining wall I'll be building just to test out the placement. Natural rock is a lot harder to work with than man-made concrete blocks, but it'll look so much better in our park-like backyard. I'm sure it will take a few tries before I get it the way I want!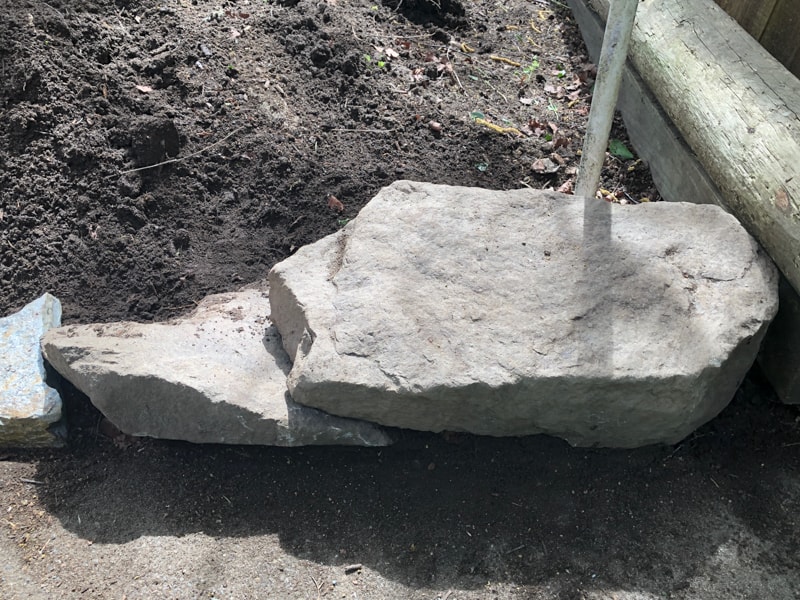 Check Out the Other Outdoor Overhaul Projects
Head over to H2O Bungalow, Thrift Diving and My Repurposed Life to check out their outdoor makeovers. There was a lot of progress made this week!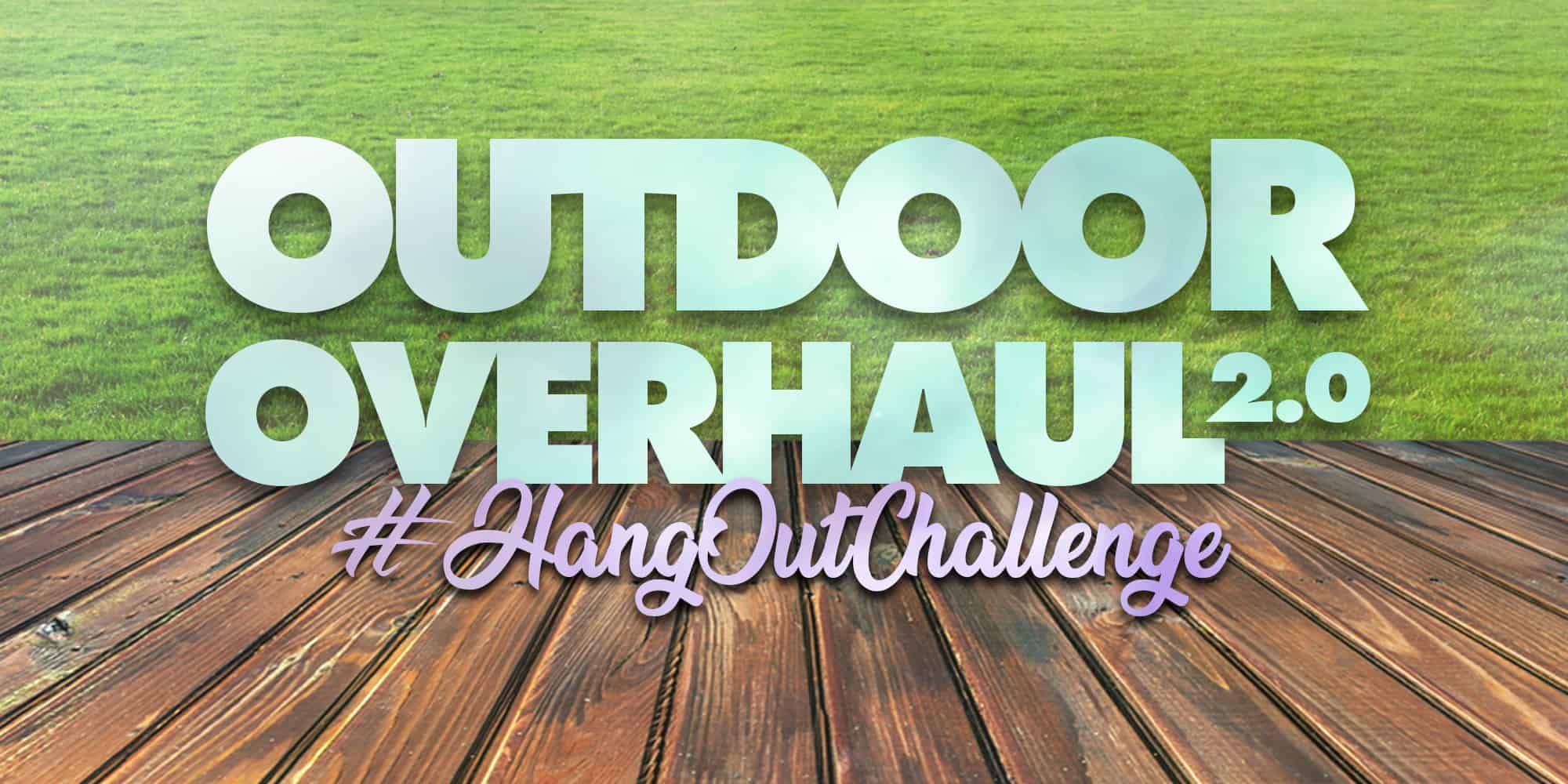 Enter to Win Ryobi Landscaping Tools!
Check back next week to see how my outdoor overhaul is coming along, and don't forget to enter to win one of the weekly prizes on Monday over on my Instagram page! Just repost Monday's Outdoor Overhaul 2.0 #HangOutChallenge photo on your own Instagram page with the appropriate tags.
Better yet, share a before and after of your own outdoor overhaul for a chance to win $500 in Ryobi landscaping tools! You can find all the rules below.
Get a reminder delivered to your inbox every week! Just subscribe to my newsletter and I'll make sure you don't miss an entry!
Want more DIY projects?
Subscribe to get project ideas, home improvement tips, woodworking plans and more delivered straight to your inbox!
---
RYOBI SWEEPSTAKES CONDITIONS
IN ORDER TO PARTICIPATE IN THE 2019 OUTDOOR OVERHAUL 2.0 HANGOUT CHALLENGE SWEEPSTAKES, YOU MUST BE 18 OR OLDER AND LIVE IN THE U.S. A BEFORE AND AFTER PICTURE OF YOUR OUTDOOR MAKEOVER MUST BE SUBMITTED TO INSTAGRAM BEFORE FRIDAY 5/3 AT 12:00AM, AND MUST TAG THE APPROPRIATE HANDLES. @ryobitoolsusa @thriftdiving @h2obungalow @myrepurposedlife @the.handymans.daughter #RYOBIOutdoorOverhaul #hangoutchallenge
Link to Official Sweepstakes Rules (GRAND PRIZE)
https://docs.google.com/document/d/1ti3WXiFgnigYjO0padhmYHHuEQsoszncUqjwztNuQYY/edit?usp=sharing
IN ORDER TO PARTICIPATE IN THE 2019 OUTDOOR OVERHAUL 2.0 WEEKLY GIVEAWAY SWEEPSTAKES, YOU MUST BE 18 OR OLDER AND LIVE IN THE U.S. WHEN SHARING YOUR POST TO WIN YOU MUST TAG @ryobitoolsusa @thriftdiving @h2obungalow @myrepurposedlife @the.handymans.daughter #RYOBIOutdoorOverhaul #hangoutchallenge
Link to Weekly Giveaway Rules (Tool Giveaways)
https://docs.google.com/document/d/1dNiSVKI6YaUZ9c2uI4iQkT4ryUmnUC9_FxObHQ6T8WY/edit?usp=sharing