Looking for the perfect grey wood stain? I found it! Check out how I gave our dining table a makeover with this amazing grey stain for a fresh, modern look!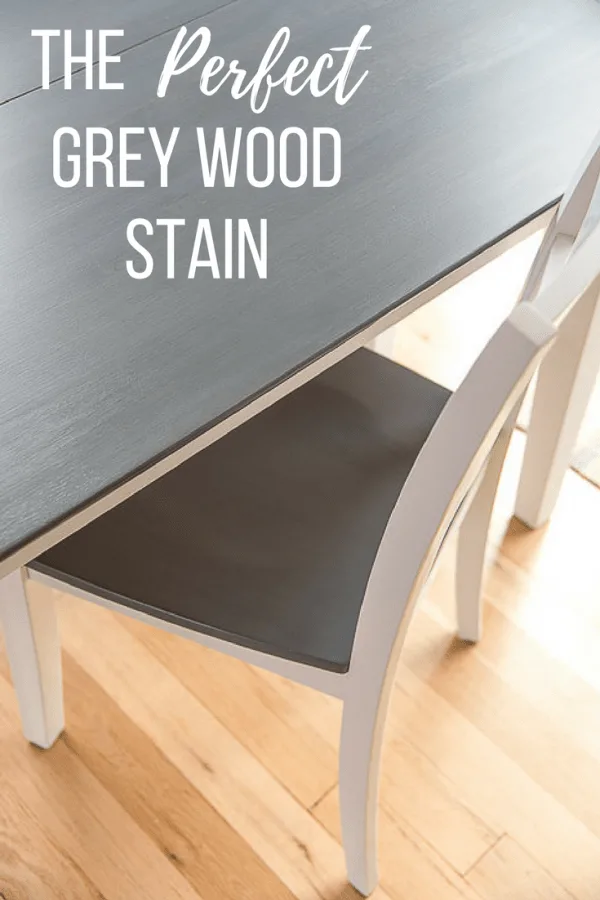 My hunt for the perfect grey wood stain has become an obsession lately. Colors that look promising on the can end up too light, too dark, too "weathered" or too brown. It's difficult to turn warm-colored wood a cool tone while still allowing the grain to show through.
I did a sample test of six different grey wood stain colors on various types of wood to help you decide! You can also see how these colors look on real furniture in this comparison of grey wood stain projects.
After lots of testing, I finally found the holy grail of grey wood stain! Our dated dining table now has a fresh, modern look that coordinates perfectly with the rest of our living space.
This post contains affiliate links for your convenience. Purchases made through these links may earn me a small commission at no additional cost to you. Please visit my disclosures page for more information.
This is our sad, abused dining table. We bought it off craigslist when we first moved to Seattle 12 years ago, and it miraculously survived my son's toddler years. The colors don't coordinate with our new decor at all. And the top matches the floors a little too well, so it all blends together and looks very blah.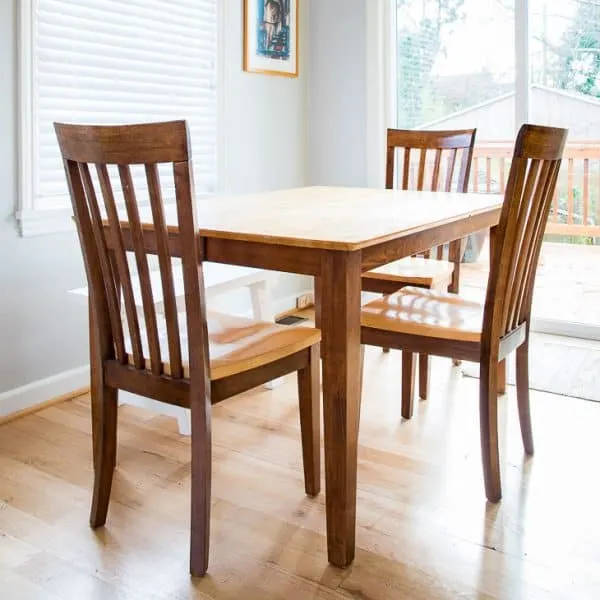 You can clearly identify where our son sits at the table, because the stain and finish have been wiped away after many, many cleanings. Honestly, the entire thing was pretty embarrassing!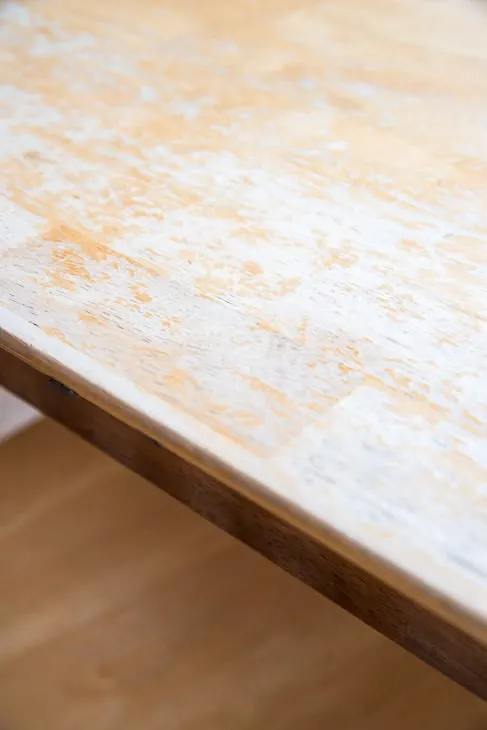 For all its faults, it's still a solid table that's perfectly sized for our small dining room. Anything bigger would spill into the living room and disrupt the flow of the whole first floor. I also like the clean, simple look of the legs and the beveled edge of the table top.
Time to give it a fresh, new look!
Materials Needed
How to Refinish a Dining Table with Grey Wood Stain
Remove Old Stain and Finish
The key to getting good color and coverage with this grey wood stain is raw, light colored hardwood. To do this, you need to remove all traces of the previous stain and finish. There are two ways to tackle this task: sanding and stripping. You can get my in-depth tutorial on how to refinish a table here, or keep reading for my brief overview.
On the tabletop, I just sanded the old finish right off. It didn't take too long since it was already halfway gone anyway! Start with the lowest grit of sandpaper (typically 80 grit) and an orbital sander.
Go very slowly so you don't leave whirls on the surface. Keep the sander in one area until the finish has been removed, then move slowly to the next. It was so satisfying to see the stains and scratches disappear, leaving fresh, clean wood behind.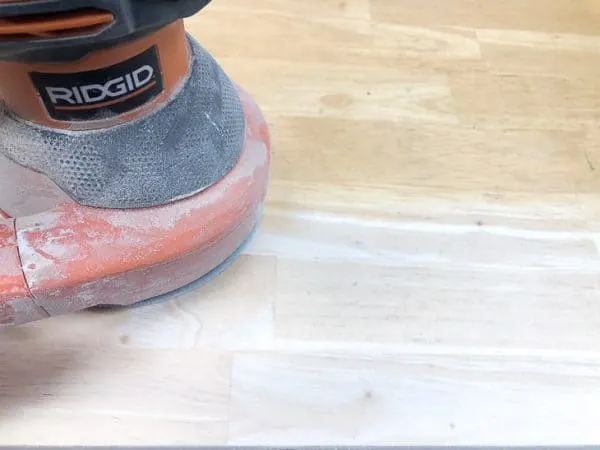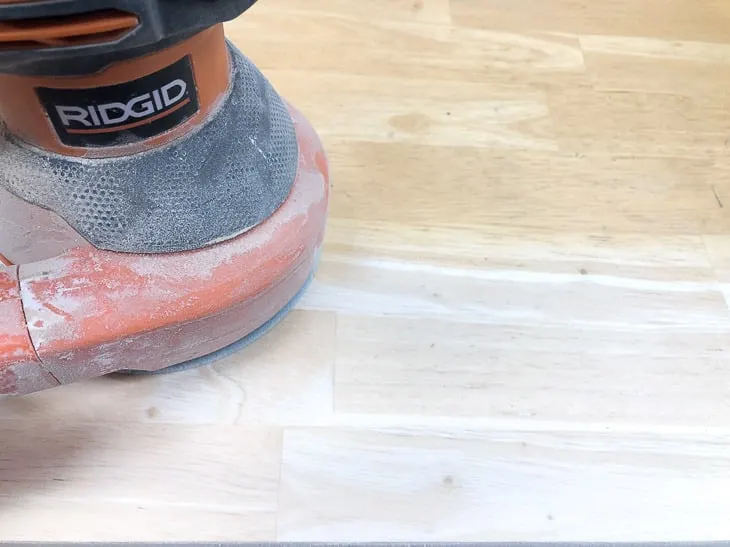 Repeat the process with the 120 and 150 grit sandpapers. Don't go any higher than 150, or the grey wood stain won't be able to sink in properly. Just look at the difference!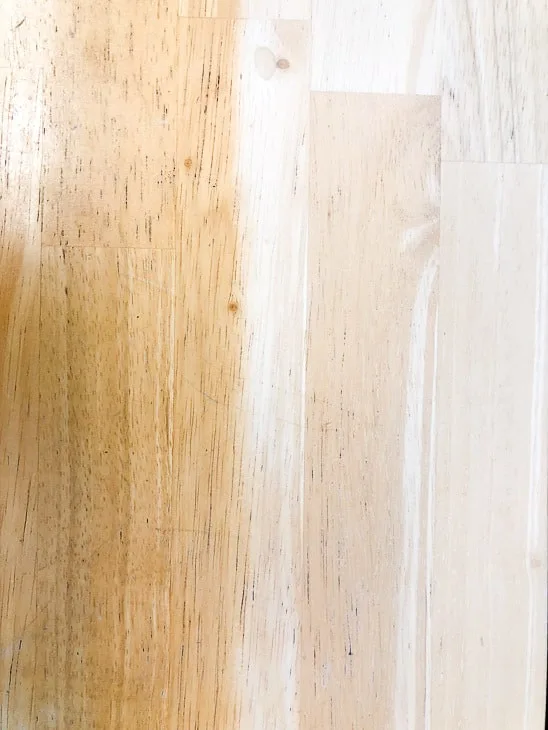 The chairs were a different story. I decided to buy new ones instead of refinishing the old ones because a) I'm lazy and b) I didn't like them anyway. These classic, modern chairs from Wayfair have the same lines as our dining table, making it look like they were an original set!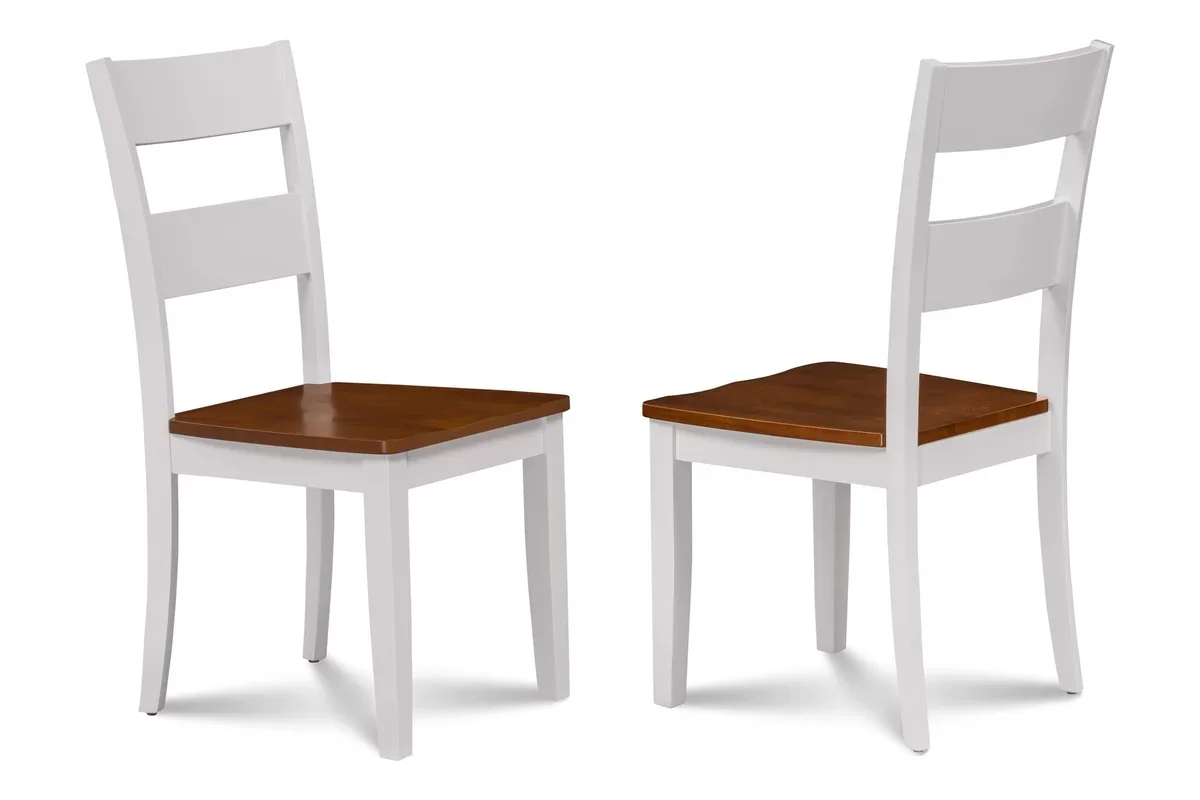 But the new ones were white with a cherry finish on the seat. I needed to remove that factory finish before I could match them to the grey wood stain of the tabletop.
I decided to try a new paint and urethane stripper that professes to be odor-free and non-toxic. It's made of soybeans (is there nothing soybeans can't do?) and is safe to use indoors! You could also use Citristrip, which has a citrus scent that I find nauseating.
Apply the stripper to the entire surface at once with an old paint brush. Do NOT use a foam brush! I learned that the hard way, and the entire thing disintegrated! Leave it on for 10-15 minutes, then scrape off with a plastic putty knife. Just watch how it scrapes off like butter!
Once you've scraped away as much as you can, mix some TSP (a degreaser) into a bucket of water. Wipe off any residue with a rag, then allow the wood to dry.
Easy peasy!
Apply the grey wood stain
Now we're getting to the fun part! With the tabletop and chair seats ready to go, it was time to apply the grey wood stain.
I propped up both sides of the table with bench cookies. This allowed me to stain the sides and the small overhang underneath at the same time as the rest of the table.
Wipe down the surface with mineral spirits. It will remove any last traces of dust, and allow the gel stain slide over the wood without lap marks.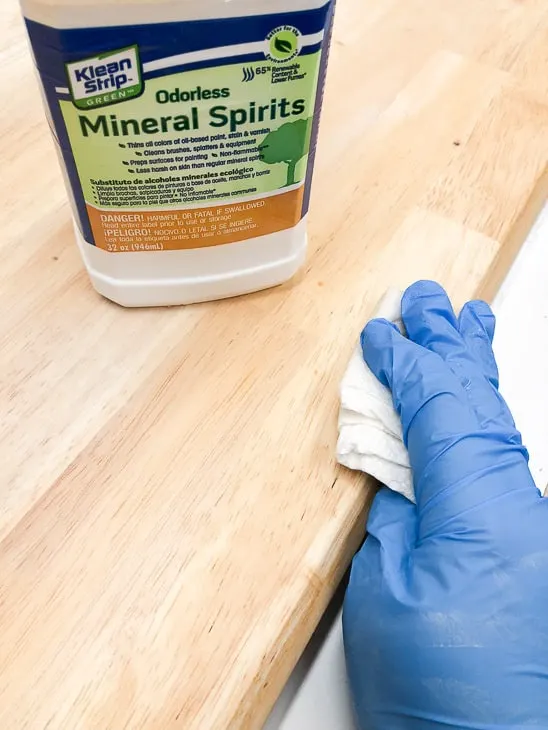 Some wood species, like pine, can create a blotchy finish when stained. You can avoid the worst of it by applying wood conditioner over the surface first. This will even out the grain so it absorbs the stain evenly. Just make sure to use oil based wood conditioner with this oil based gel stain!
Now here's the great thing about gel stains . . . it's really hard to mess them up! Just dip a foam brush into the grey wood stain and slap it all over the surface. This helps spread it out quickly. Trust me!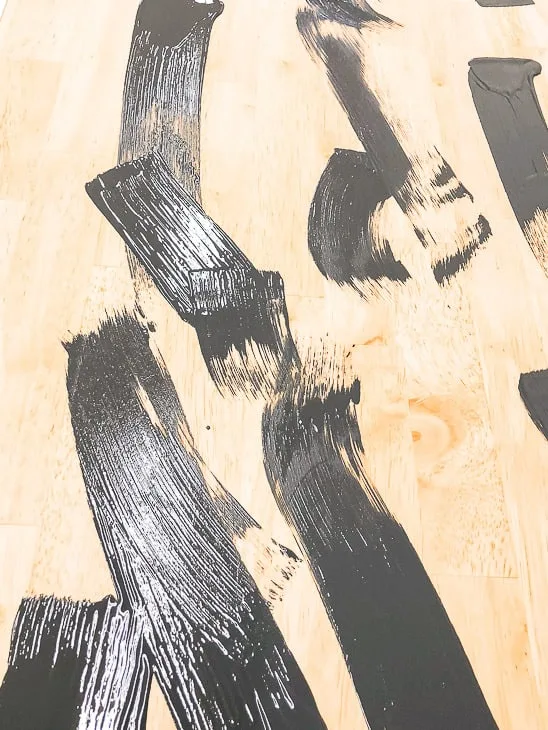 Now brush the grey stain over the entire top and sides. It doesn't matter if some spots are thicker than others, just make sure everything is covered.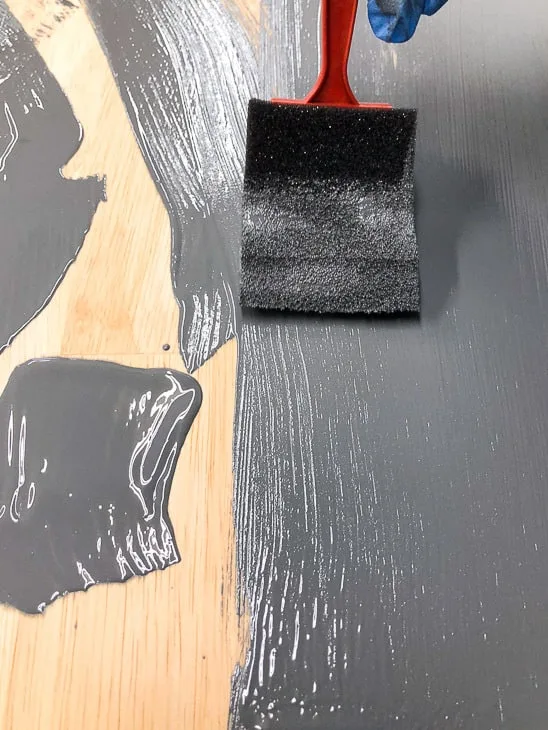 Wait a few minutes, then use a paper towel or shop towel to wipe off any excess. Don't scrub it off, just a light movement with the grain of the wood will do. Allow the grey stain to dry, then decide if you want to apply a second coat. Mine was just the right color after one application!
Apply top coat over grey wood stain
Now that I had the perfect grey stain on my tabletop and chairs, I needed to protect it. Dining tables withstand a lot of abuse from repeated cleanings, so you want a top coat that will hold up. I used General Finishes High Performance top coat in the flat sheen.
Gel stain is oil-based, and the top coat is a water based product. I had to wait three days for the oil to fully dry before applying the top coat. If you use an oil-based top coat, like this wipe on gel top coat, you only need to wait 24 hours.
Pour some of the top coat onto a paper plate, and dip a wide foam brush into it. Lightly brush the top coat onto the surface of the table, being careful not to overbrush. Just apply it and move on. It goes on white but dries clear quickly.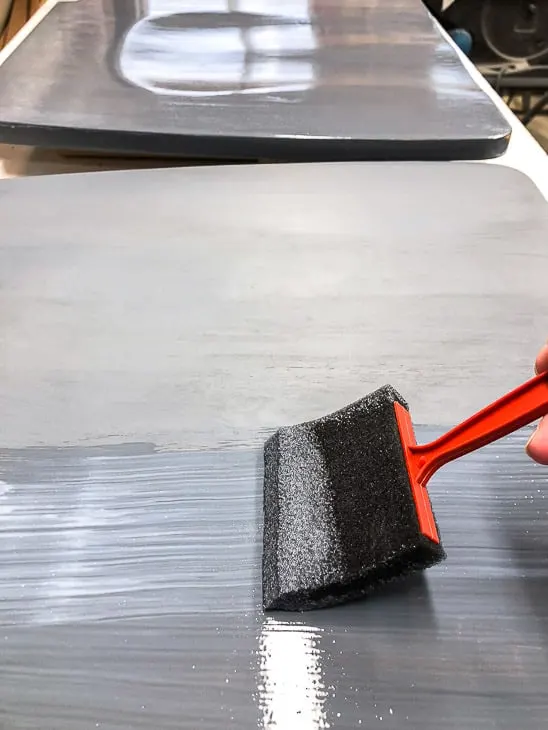 Allow it to dry for at least two hours. Then give the top coat a quick sanding with a super fine sanding sponge to even out any brush strokes. Wipe off the sanding dust with a tack cloth before applying another layer of top coat. Repeat for a third coat.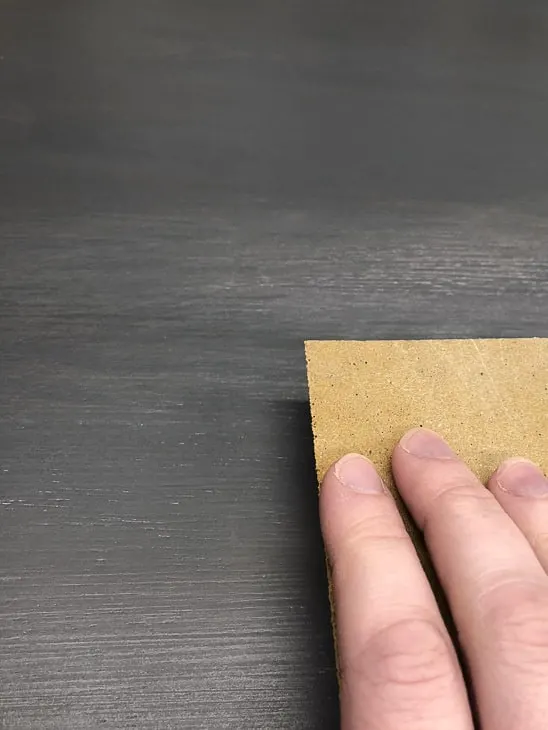 For a true rock-hard finish, wait a week before using the table. The top coat needs time to cure, and you don't want to ruin that gorgeous new grey wood stain! I moved the table top to a safe spot and worked on painting the legs and base.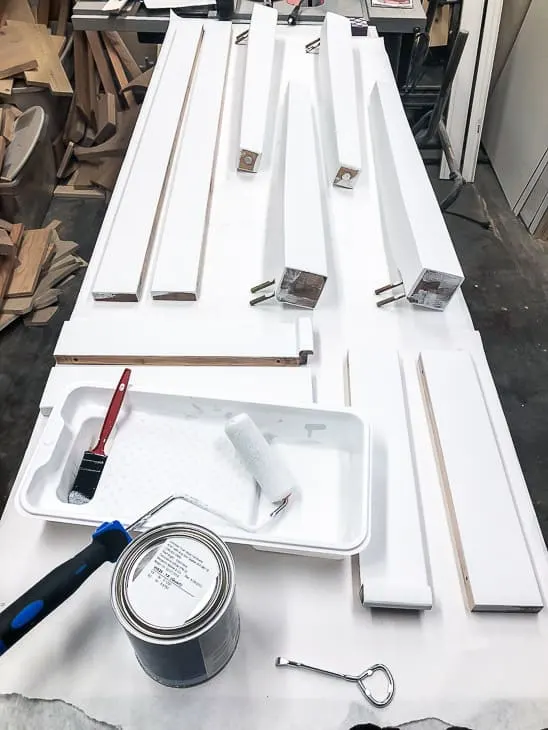 Reassemble the table and chairs
As I put the table back together, I couldn't help but marvel over the difference. My old, ugly table was totally transformed!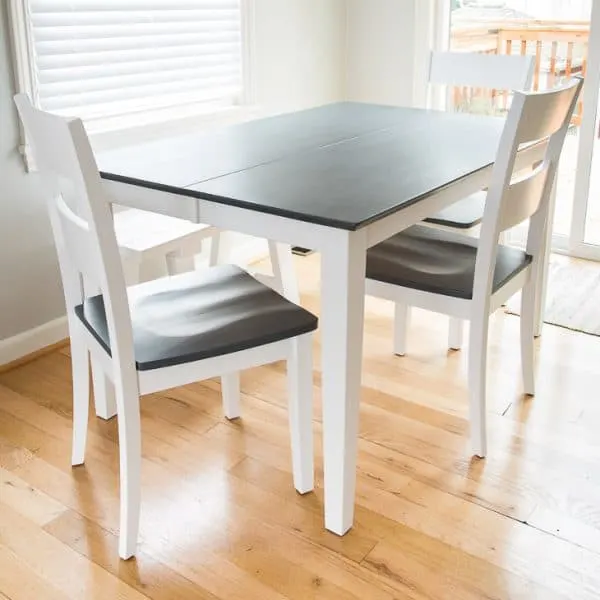 The new chairs create a perfect set with their grey stained seats.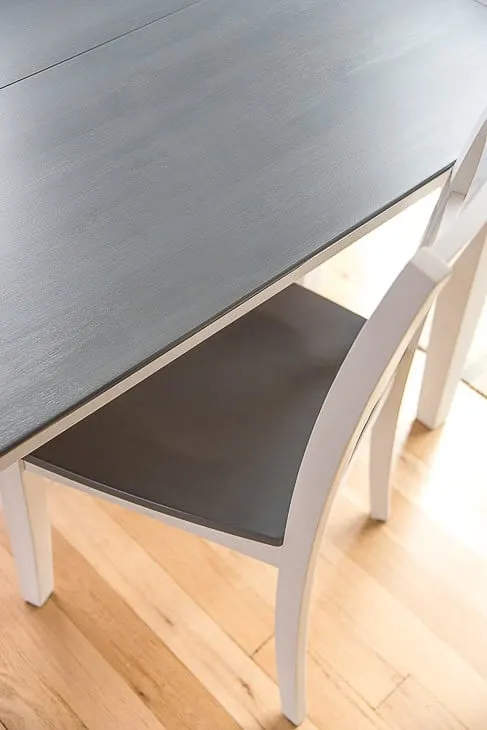 Even though the tabletop is darker than before, it actually feels lighter in the space because of the white base.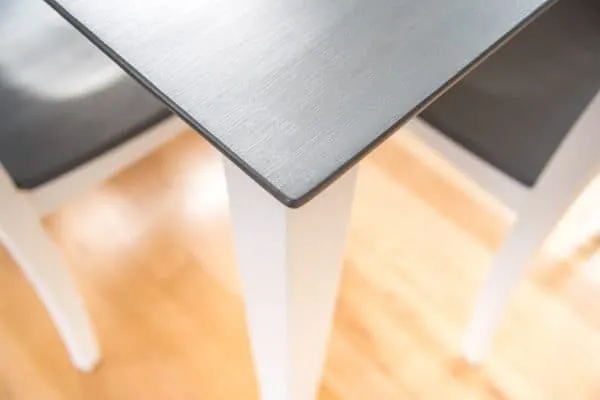 Now the living room flows seamlessly into the dining room, with dark grey pieces in both spaces. Even my new DIY ottoman matches perfectly!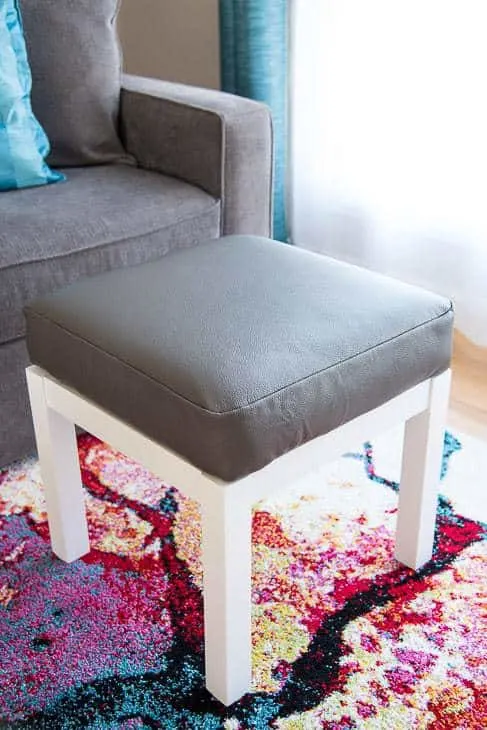 ---
Want to see more examples of this grey wood stain?
The species of wood and number of coats dramatically changes the color of this particular grey wood stain. My dining table is made of maple (I think), and it turned out a true grey. I edited this photo to turn down the highlights so you could see the color and grain better. You can still see the wood grain with one coat, but I'm guessing it would look more like paint with a second.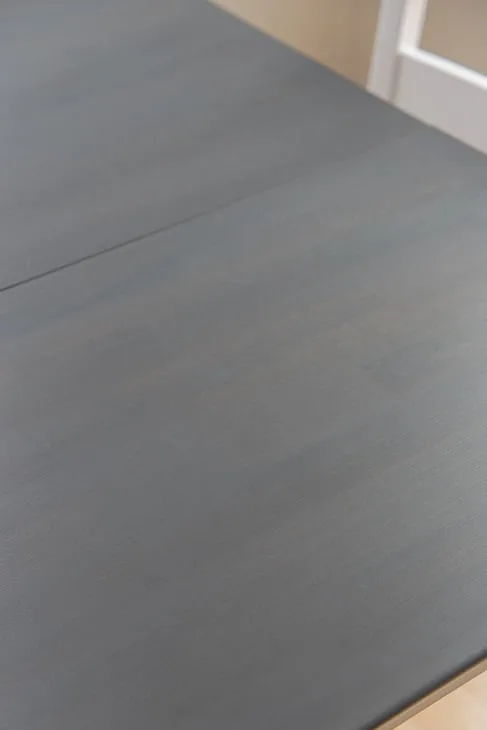 I've used it in several other pieces around the house as well. It takes on more of a blue tone when applied to pine, as you can see on my desktop organizer.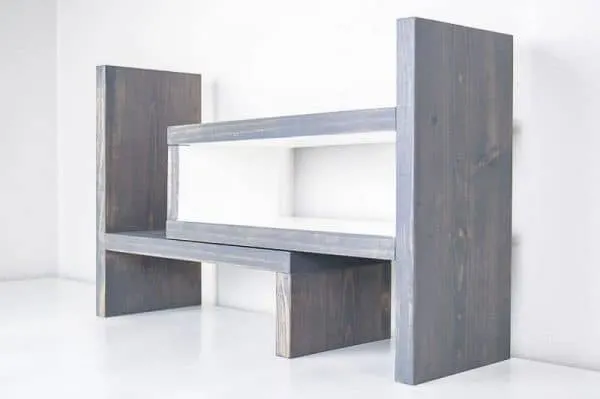 Two coats of the grey stain evens out the color, but still has a blue-ish tint on pine. You can see how that looks in my hexagon side table.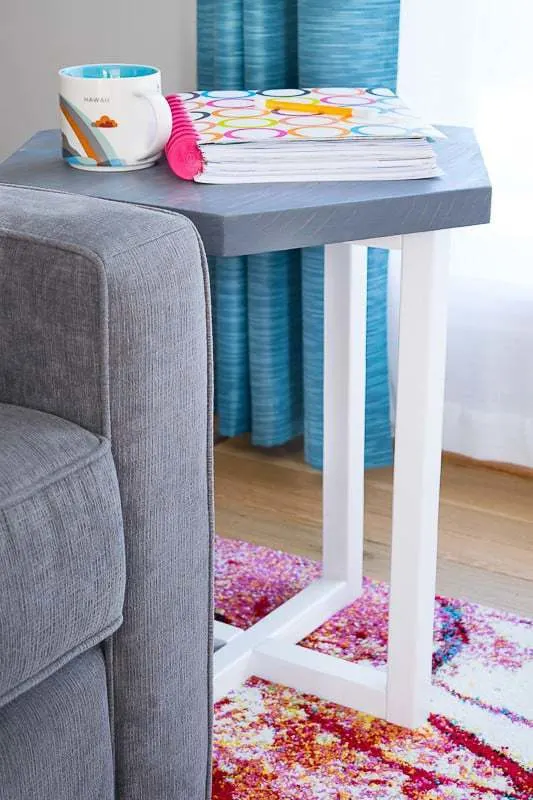 But I'd still prefer the blue tint of the General Finishes stain to the Minwax grey stain I used on this IKEA desk hack. It turned a weird shade of greenish grey that I'm not too fond of. Luckily, it's usually covered with clutter so I don't notice!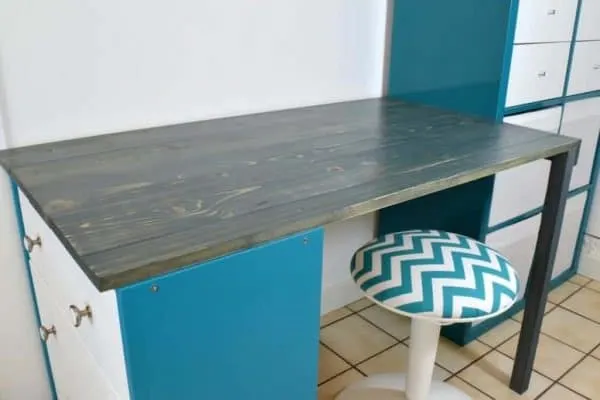 I've tested several other grey stains that never made it past the sample stage. Finding the perfect grey stain is definitely a challenge, but this one is my favorite by far!