This DIY side table with hexagon shaped top is easy to make and looks amazing in a modern living room. Get the free woodworking plans and start building!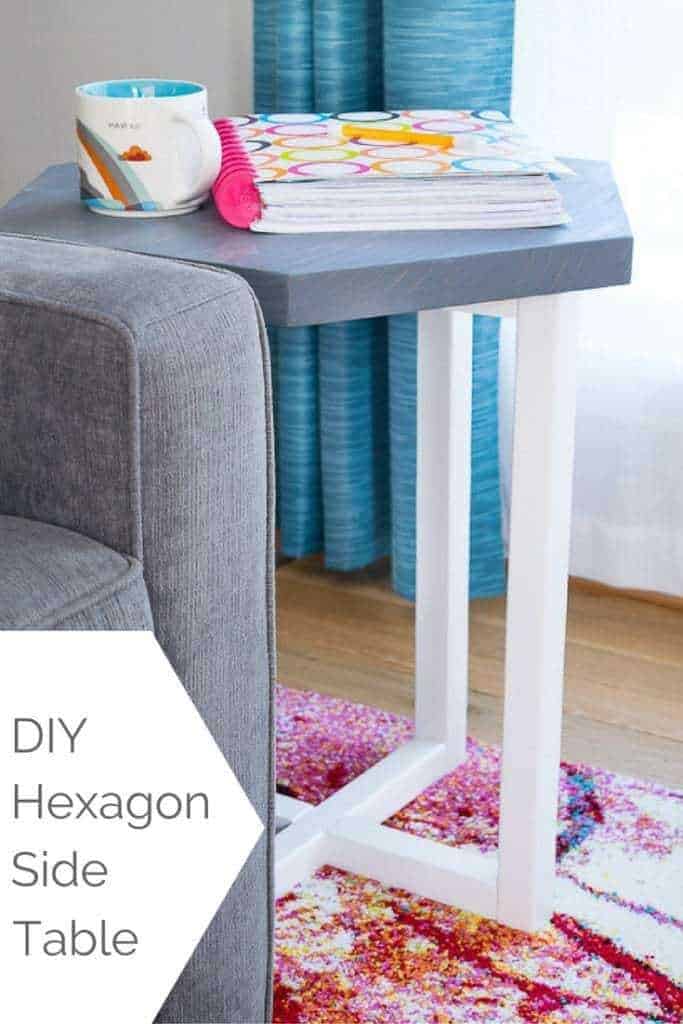 Hexagons are the new modern shape in home decor, and they're popping up everywhere! But trendy usually means pricey, and I never want to spend a ton of money on a passing fad.
Instead, I built this DIY side table with a hexagon top! The base is a classic X shape, and the top can be switched out if I want to change the look in the future.
This post contains affiliate links for your convenience. Purchases made through these links may earn me a small commission at no additional cost to you. Please visit my disclosures page for more information.
Inspiration struck when I unearthed a stack of 2 x 12 end cuts from a shelving project I did for a friend. I've struggled to find a good use for these big chunks of wood in the past, but this time the light bulb finally turned on! By edge joining two pieces together, I could create a small table top.
Pieces of 2 x 2 left over from my outdoor storage bench and stuffed animal zoo would become the legs and base. I even discovered four L angle brackets that I didn't use on my bi-fold door blanket box that would work perfectly for joining everything together. I love when I can make a project for free!
Materials Needed for DIY Side Table
2 - 2 x 2 boards @ 8 feet long

1 - 2 x 12 board

Kreg Jig

Paint or stain (or both!)
Various grits of sandpaper
Table saw or circular saw
Miter saw
Don't forget your safety gear when woodworking! Here are my recommendations for safety glasses and ear protection. No excuses!
Instructions for DIY Side Table with Hexagon Top
Cut List
2 - 2 x 2's @ 15"

4 - 2 x 2's @ 6 ¾"

4 - 2 x 2's @ 22"

2 - 2 x 12's @ 19 1/16"
Assemble the Hexagon Top
Start by creating a paper template for your hexagon top. Flashback to geometry class! A hexagon is six equal sides set at a 120° angle to each other, right? (Don't worry, I had to Google it too!) I wanted each side to be 11" long so each half would fit on a 2 x 12 board.
Draw your first 11" side, then position the center of your protractor on the end of the line and mark the point for 120°. Draw an 11" long line through that point, then repeat until you get back to the beginning. Cut out your hexagon, and mark the center line through two parallel sides. Cut along this line to create two identical templates.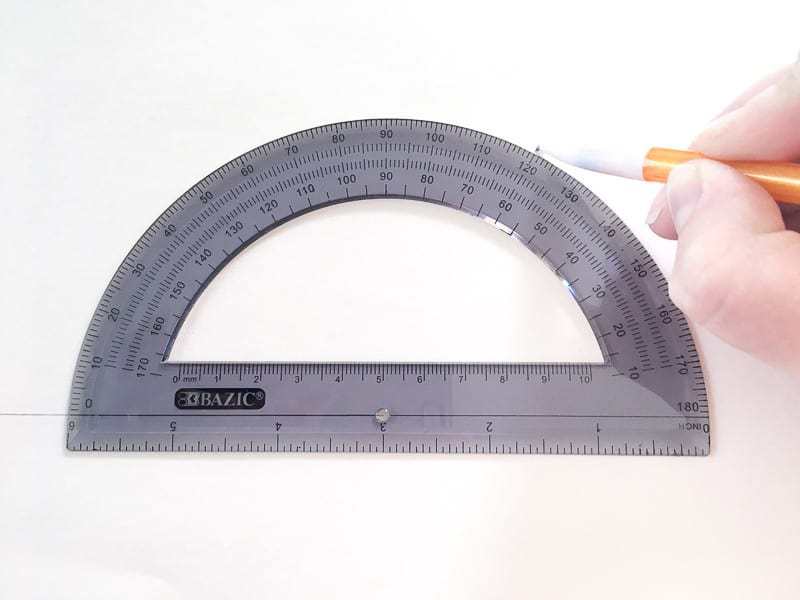 Using a table saw or circular saw, trim ¼" off of one side of the 2 x 12 board. This will give you a nice, smooth edge to join together later. Cut two 19 1/16" pieces, choosing spots on the board where the smooth edge is free from any knots or imperfections, and the grain lines are similar.
Position half a hexagon template on each board with the long edge lined up with the smooth cut edge. Trace around the template.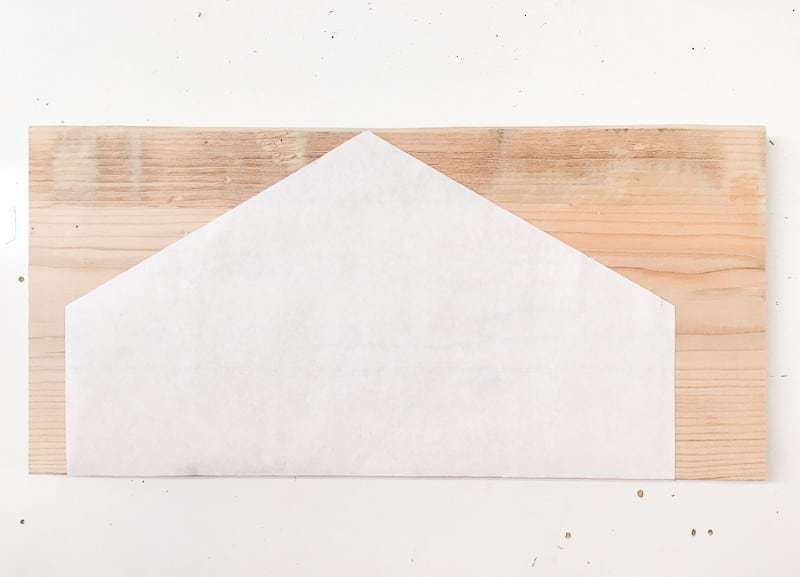 Set your miter saw angle to 30°. With the short end of the board against the fence, cut along your traced line. Flip the board over and repeat for the other side. Save the cut off angled pieces for clamping later on.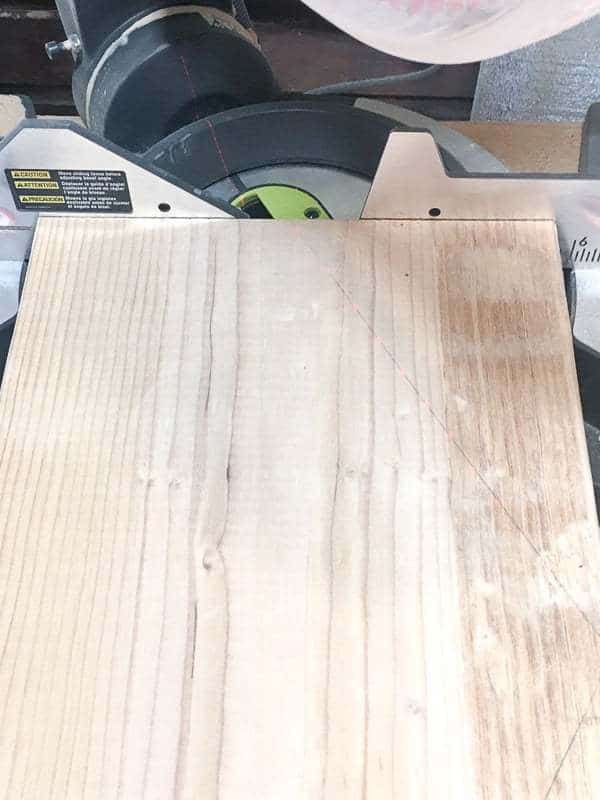 Sometimes, even with careful measuring, the two sides aren't perfectly identical. If this happens, just stack both pieces together, set them on end and sand down the taller piece until they're even.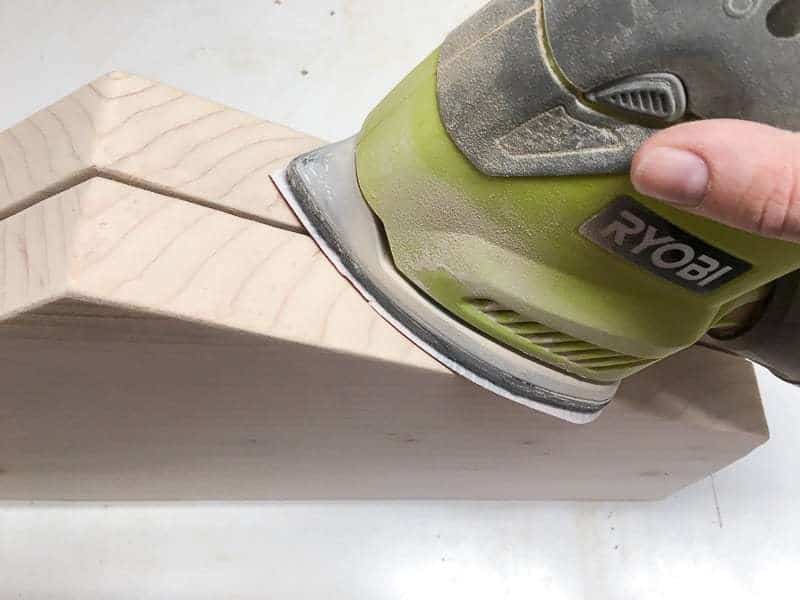 With a sharp center edge and similar grain lines, the seam almost disappears!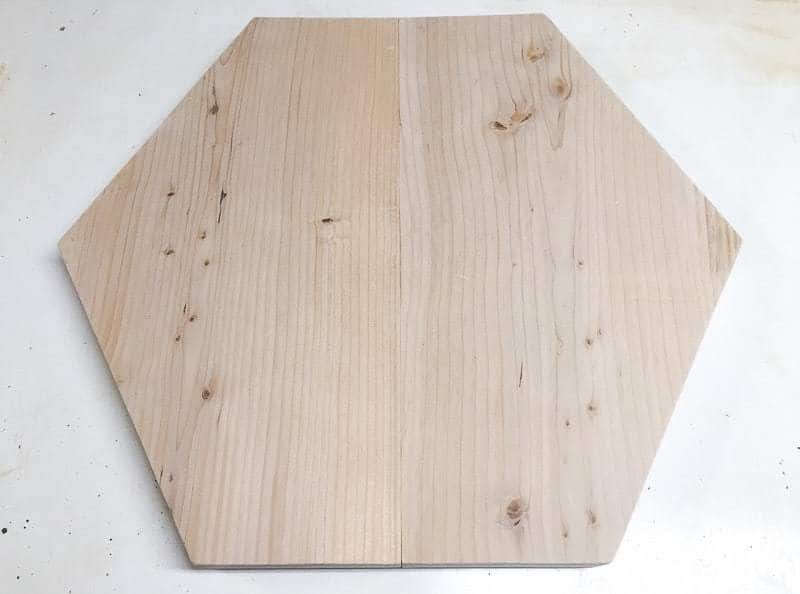 Flip the pieces over and drill pocket holes along the center line of one of the hexagon halves.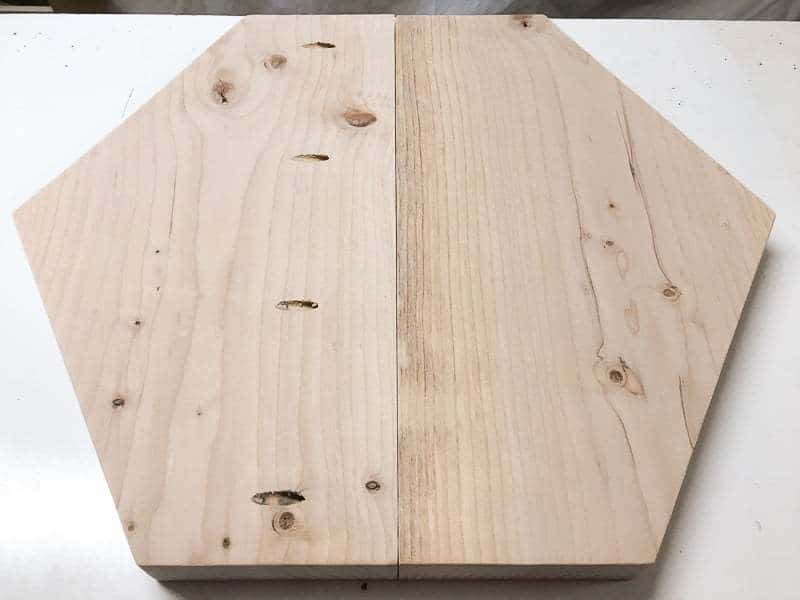 Apply wood glue along the center edge of the other half.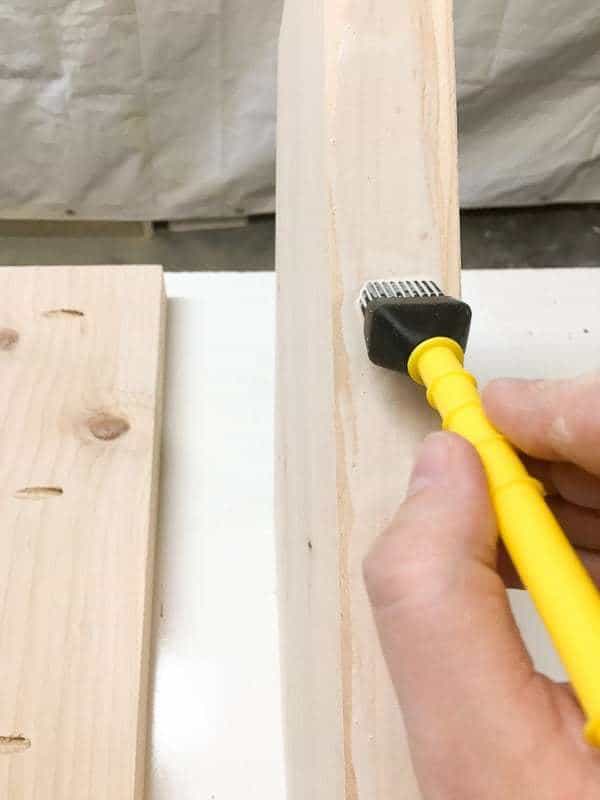 Place the cut off angles you saved from earlier on each corner of the hexagon to create a square. Clamp all the pieces together, making sure the two halves of the hexagon are perfectly even with each other down the middle. Screw together with 2 ½" pocket hole screws and leave in clamps until glue is dry.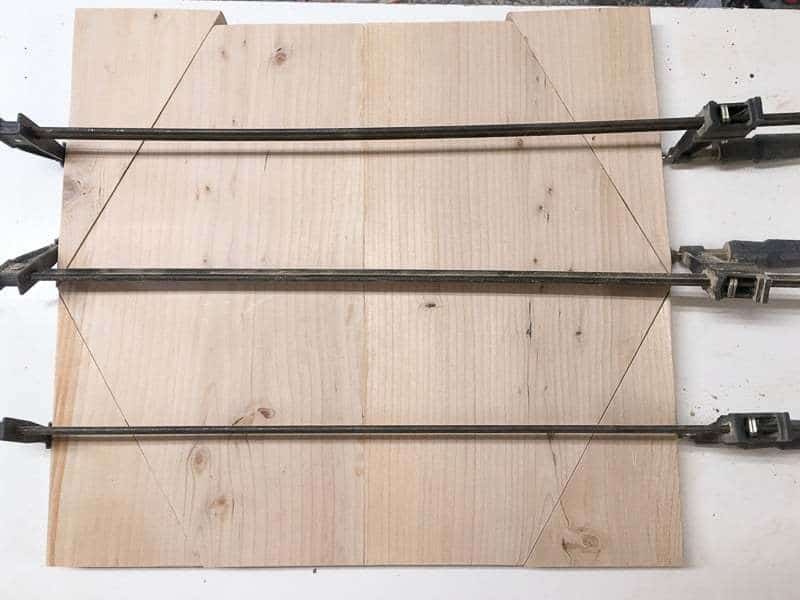 Remove the clamps and fill the seam with wood filler. Sand the entire surface smooth when the wood filler is dry. I also rounded over the sharp edges with my sander for a softer look.
I've been on the hunt for a gray wood stain that doesn't look too blue or green, and I think I've finally found it! This General Finishes gray gel stain is just the right shade of dark gray, with just the tiniest hint of blue. You can see another example of this grey wood stain in my dining table makeover!
I applied two coats to get to this hue, and finished it off with their gel topcoat. You can see some areas of the grain where the stain didn't soak in. A pre-stain wood conditioner would have helped to even out the color.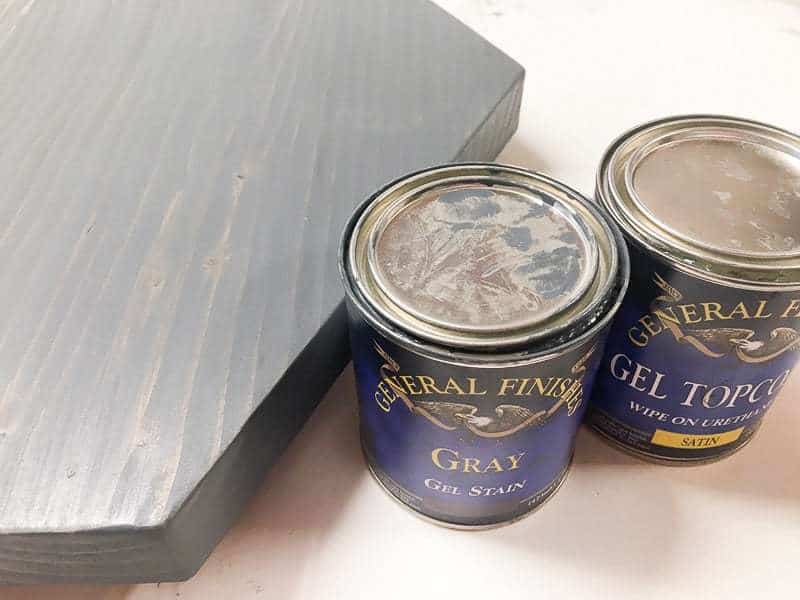 Assemble the Base of the DIY Side Table
Moving on to the base! If you're not a fan of hexagons, you could use this base with any shape top.
Cut the 2 x 2's as listed in the cut list above, and sand all the sides smooth. I used a few of the pieces from my outdoor storage bench that I cut wrong, which is why they're stained blue! A quick sanding removed the old stain, except in the pocket holes that won't be visible anyway.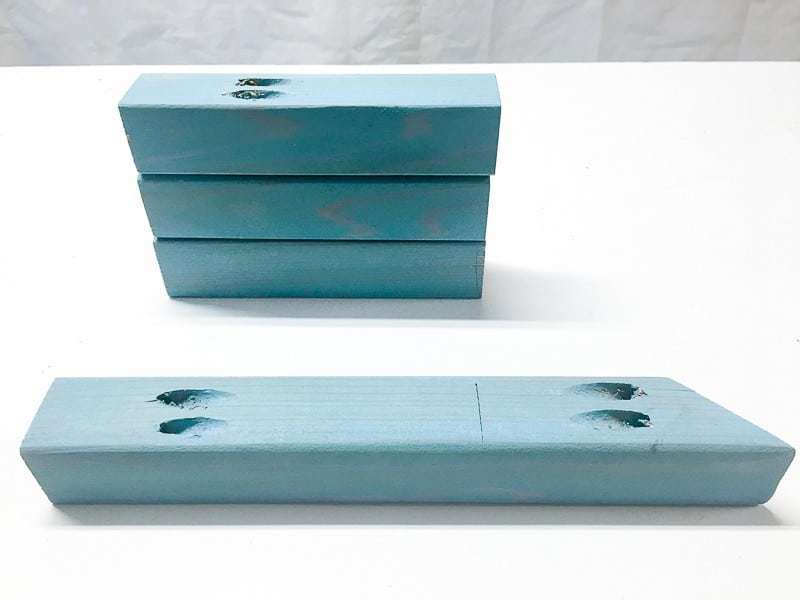 Drill pocket holes into both ends of all the 6 ¾" and 15" pieces. Mark the center of the 15" pieces, and the center of the ends of the 6 ¾" pieces.
Match up the marks to create two X's. Screw together with 2 ½" pocket hole screws, making sure that all the pieces stay flat.
With the pocket holes of one X facing up, attach each of the legs with 2 ½" pocket hole screws.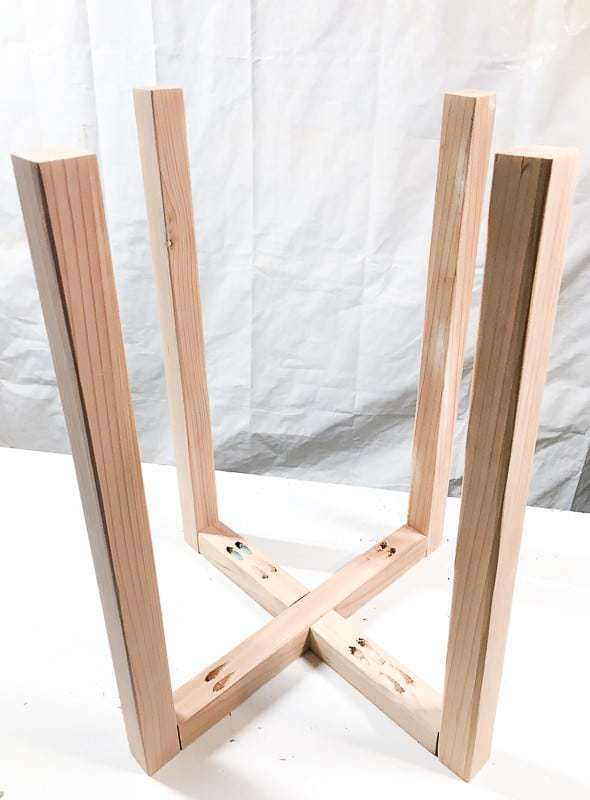 Then attach the other X to the top of the legs with the pocket holes facing up. Then flip the entire base over and paint or stain. If you're painting, you may want to fill the gaps with caulk for a more finished look. I gave my side table base three coats of Benjamin Moore's Simply White in semi-gloss.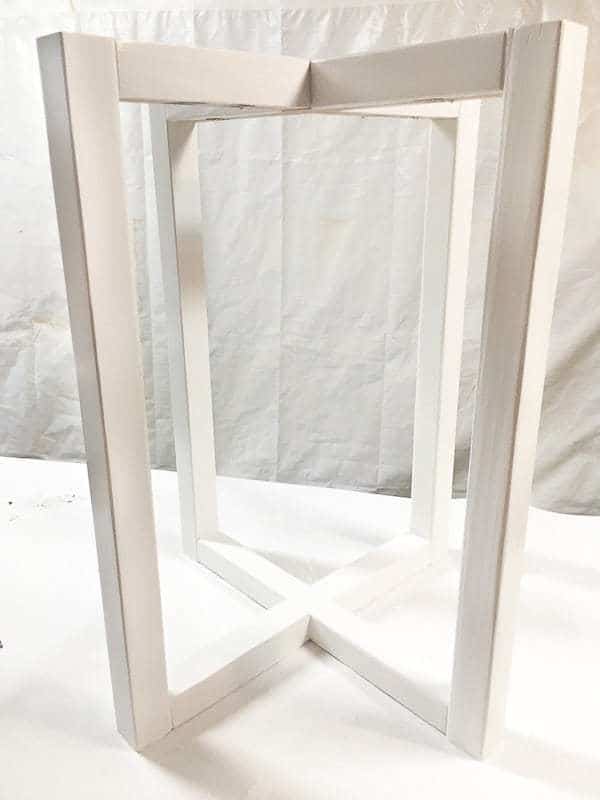 Place the top on the base, lining up the seam between the two hexagon halves with one of the cross pieces. Attach the L angle brackets on opposing legs with ½" wood screws.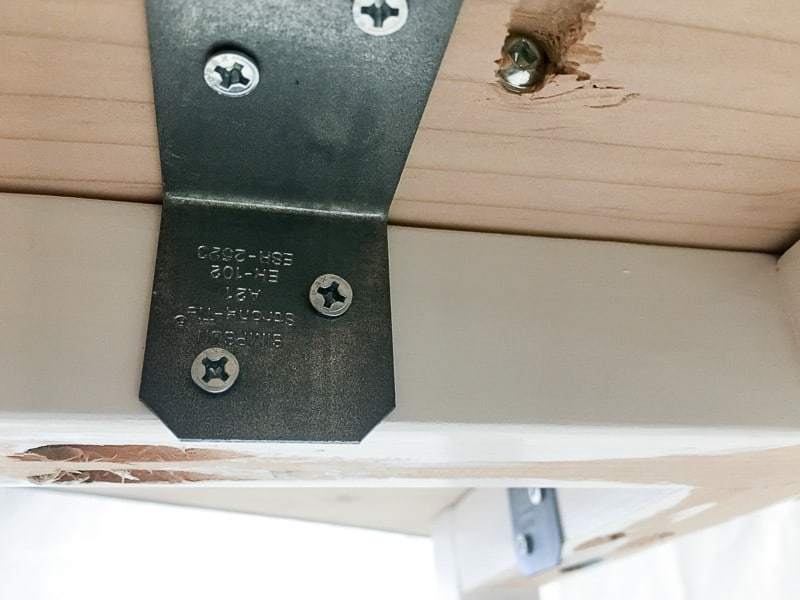 You're done!
Our living room is white and gray, with bright pops of color everywhere. This DIY side table fits in perfectly! I write this blog on our living room couch, and this will become the new resting spot for my planner and an endless supply of coffee. Not too shabby for a bunch of scrap wood!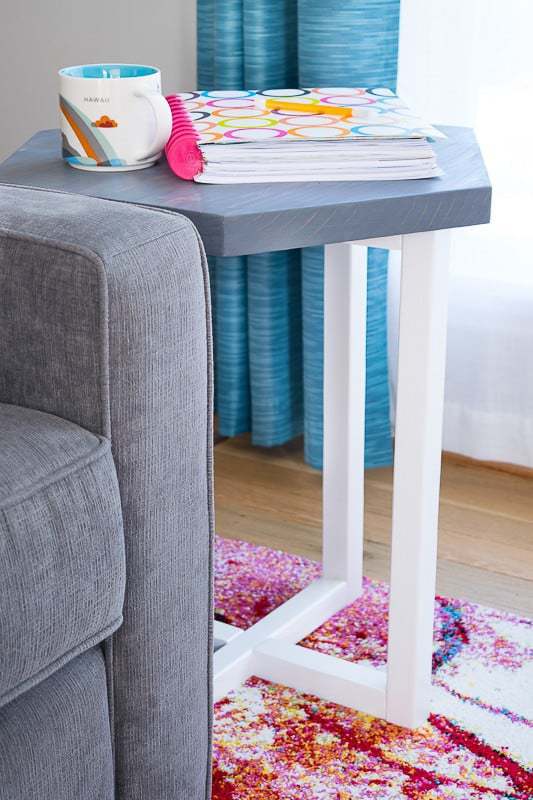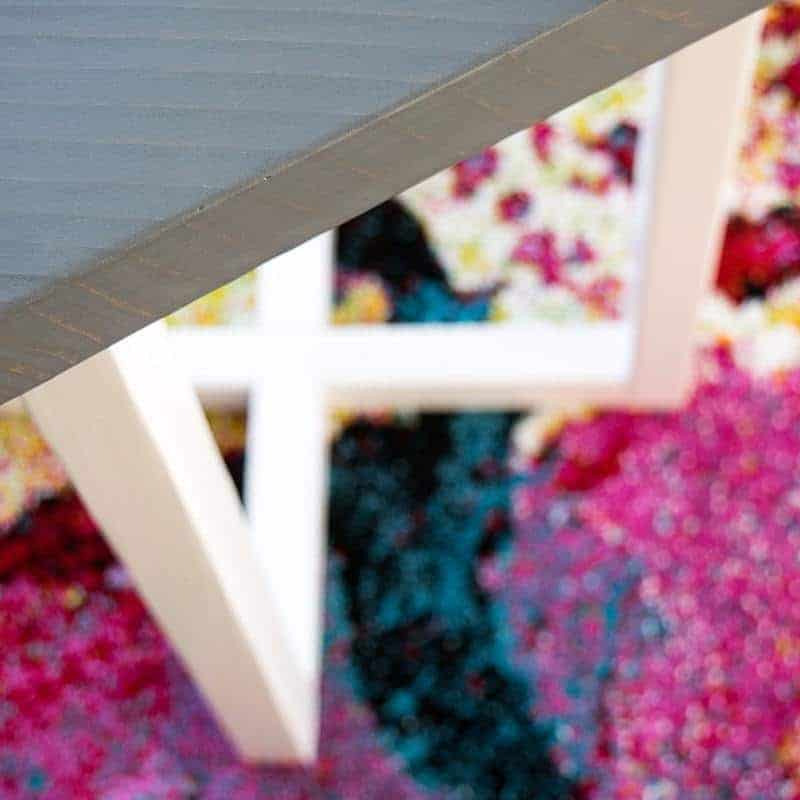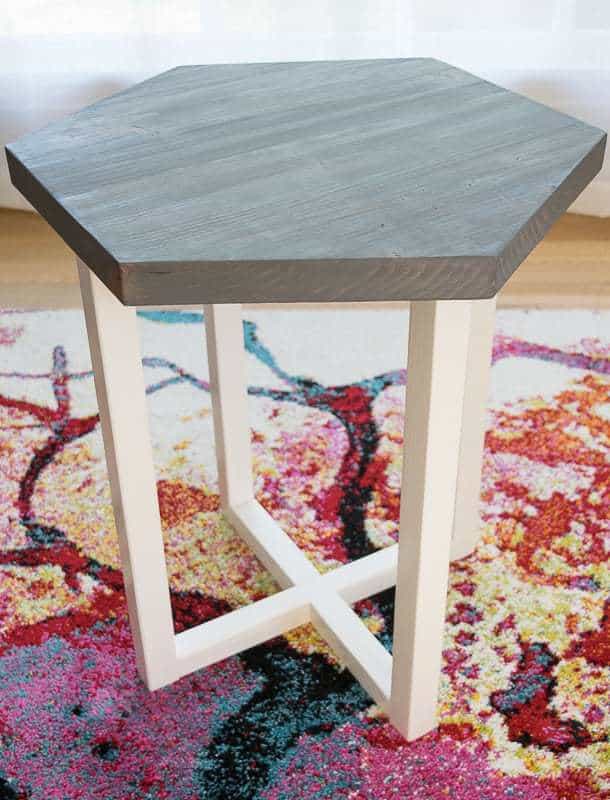 ---