Turn your bifold doors into a blanket storage chest or toy box! This tutorial shows you how to upcycle old doors and turn them into rolling storage bins!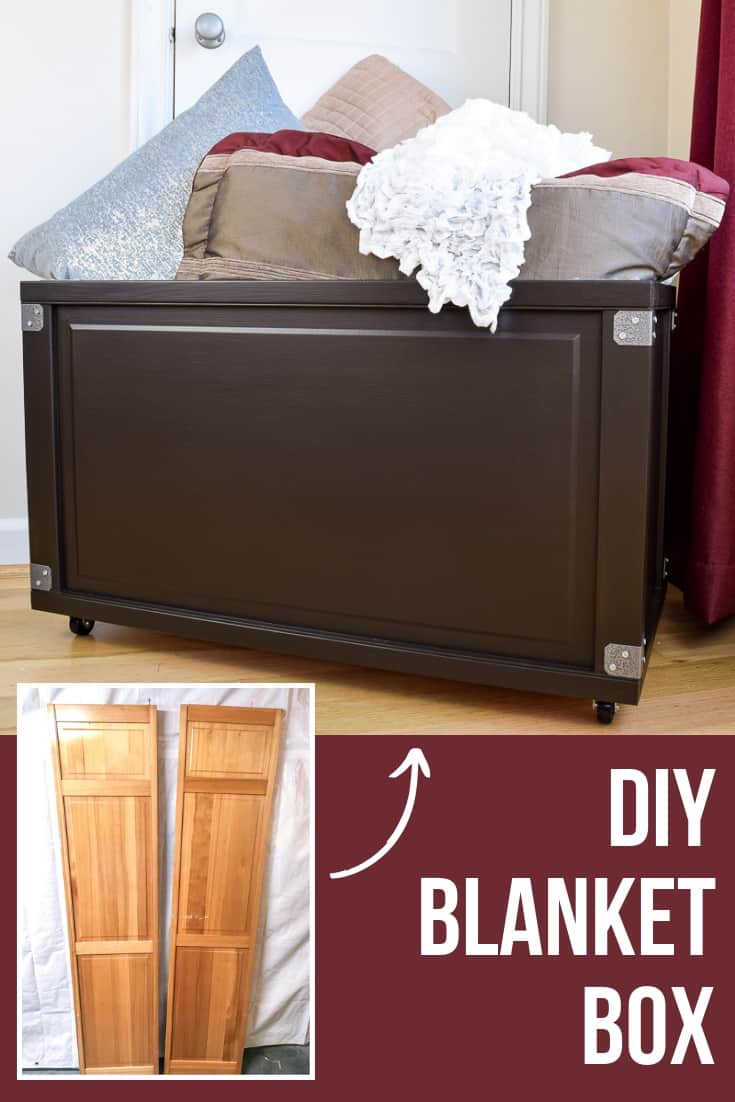 Are you looking for a way to store that mountain of blankets and pillows in your living room or bedroom? Or maybe you need a quick and easy way to put away toys at the end of the day? This rolling storage bin is the perfect solution!
Best of all, you can make this blanket box or toy box using old bifold doors that you might have laying around the garage or basement. The decorative panels are a great way to add detail to this storage box, and gives new life to those dated doors.
Most blanket storage chests are big, bulky pieces of furniture that take up too much floor space in our small bedroom. These door panels are much lighter than solid wood, and the resulting bin is easy to roll around on small casters.
Want to store your blankets vertically? This DIY blanket ladder might be just what you need! Check out this list of blanket storage ideas for more inspiration.
This post contains affiliate links for your convenience. Purchases made through these links may earn me a small commission at no additional cost to you. Please visit my disclosures page for more information.
Materials Needed for Rolling Blanket Storage Bin
Don't forget your safety gear when woodworking! Here are my recommendations for safety glasses and ear protection. No excuses!
How to Make a Rolling Blanket Storage Box
Find some old bifold doors
I didn't have any bifold doors hidden away, so I took a trip to my favorite architectural salvage store and started wandering around their door section. I skipped over all their louvered and flat doors, focusing on the ones with raised panels. I finally found the perfect set of wooden, three-panel bifold doors for only $10!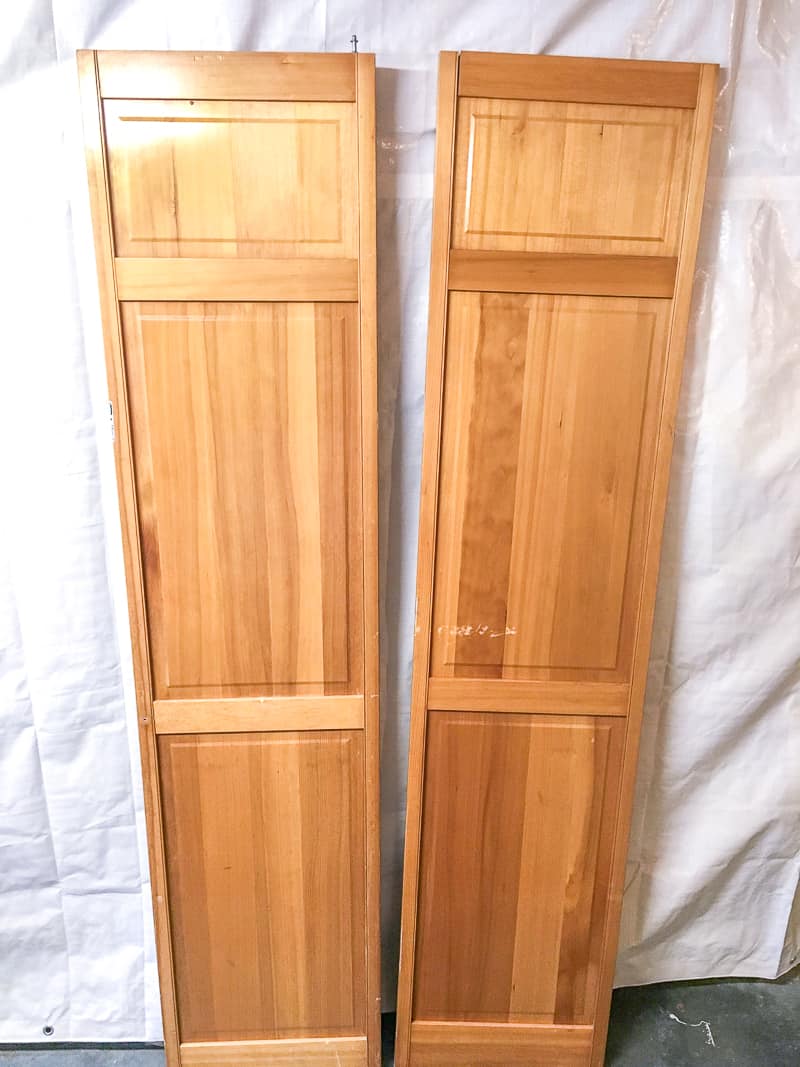 While you're looking, pick out a set of flat front bifold doors to make this easy DIY room divider too!
Cut the bifold doors into separate panels
The smaller upper panels and lowest larger ones were the perfect size for the sides of the blanket storage box. I measured out two inches from the edge of each panel, and used a circular saw to cut them down to size. Use a circular saw jig to get straight cuts across each section.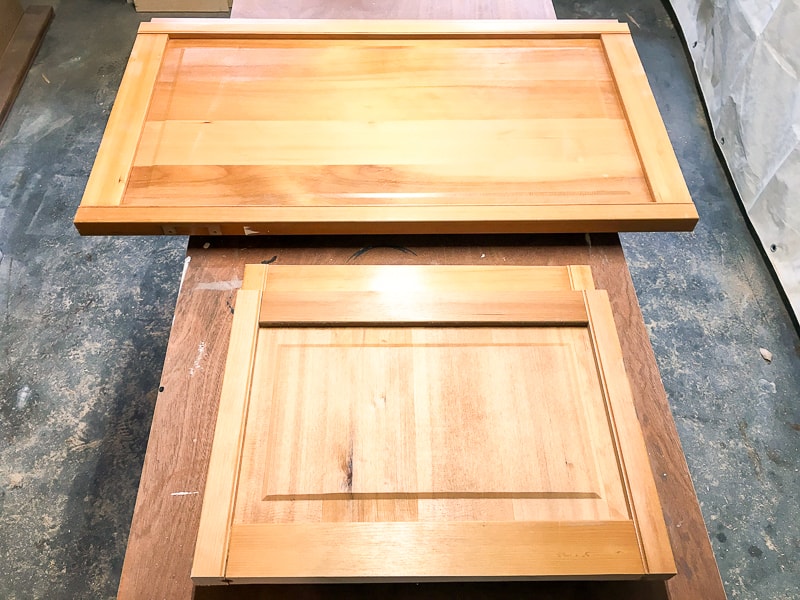 Clamp panels together and measure the interior
Dry fit the panel pieces together, using 24" clamps to keep everything in place. Measure the interior dimensions to determine the size of the bottom piece.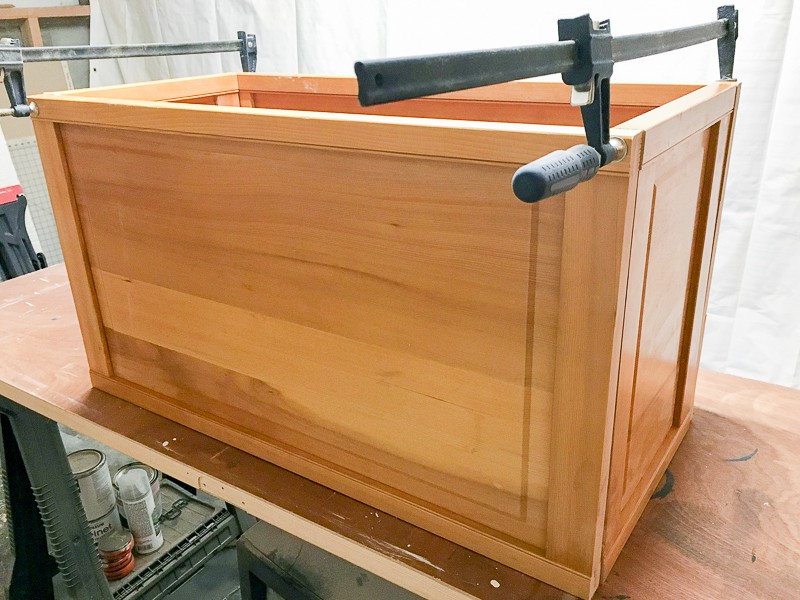 My bi-fold doors had holes from their former hinges. I made sure those edges were all facing the same direction and would be hidden at the bottom.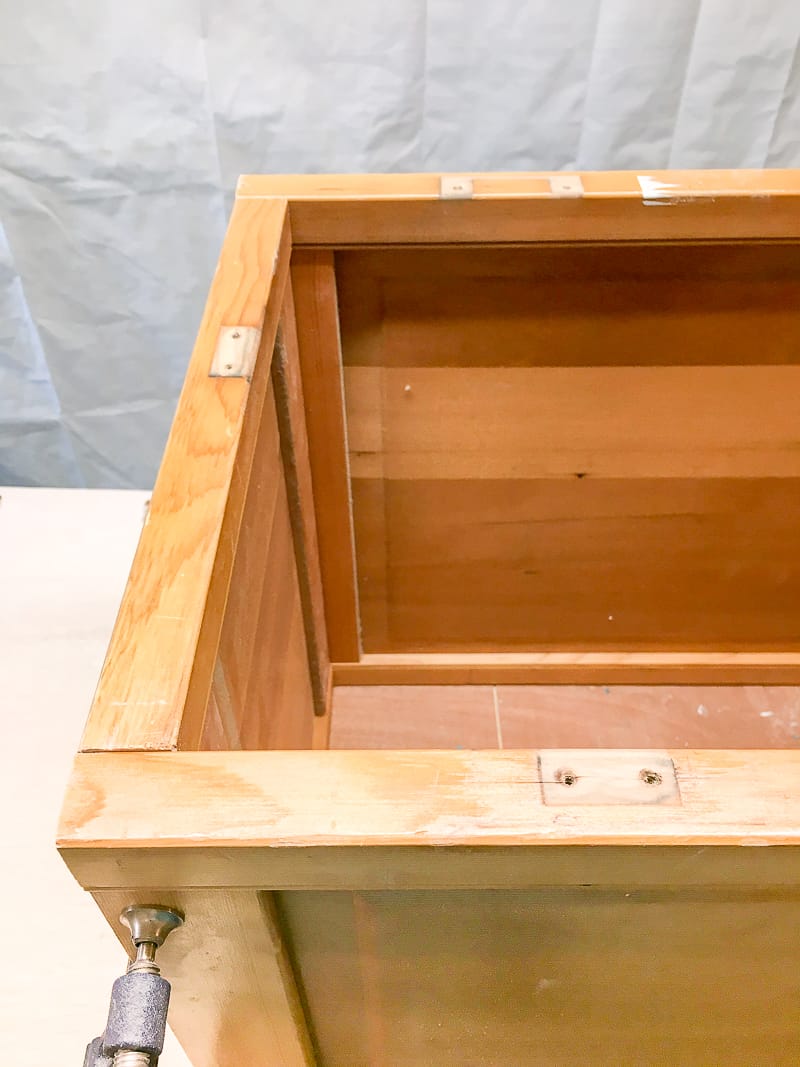 Cut and install the blanket storage box bottom
Cut a piece of ¾" plywood to the same size as the interior of your blanket storage box. Then drill pocket holes around the perimeter. Click the following links to learn more about how to use a Kreg Jig and how to use pocket holes if you haven't used this tool before.
Apply wood glue to all four plywood edges, then screw the bottom to the clamped sides with 1 ¼" pocket hole screws.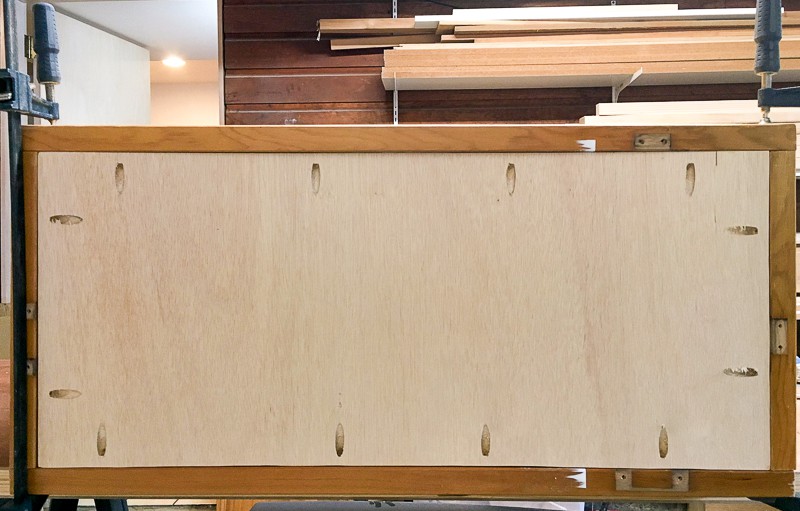 Spray paint the metal brackets (optional)
I used two different types of brackets to hold the sides in place. These corner brackets attach to the top edge and inside corners to keep the sides from caving in. I had some angle brackets left over from my IKEA desk hack, so I decided to use those on the outside corners for extra stability.
To give the brackets an aged look, I gave them a coat of Rustoleum's Forged Hammered Antique Pewter spray paint. The trick for working with this stuff is to do everything you're NOT supposed to do with spray paint! I sprayed it on fairly thick, just a few inches away from the brackets. It looked flat at first, then magically beaded up to create that hammered texture. So cool!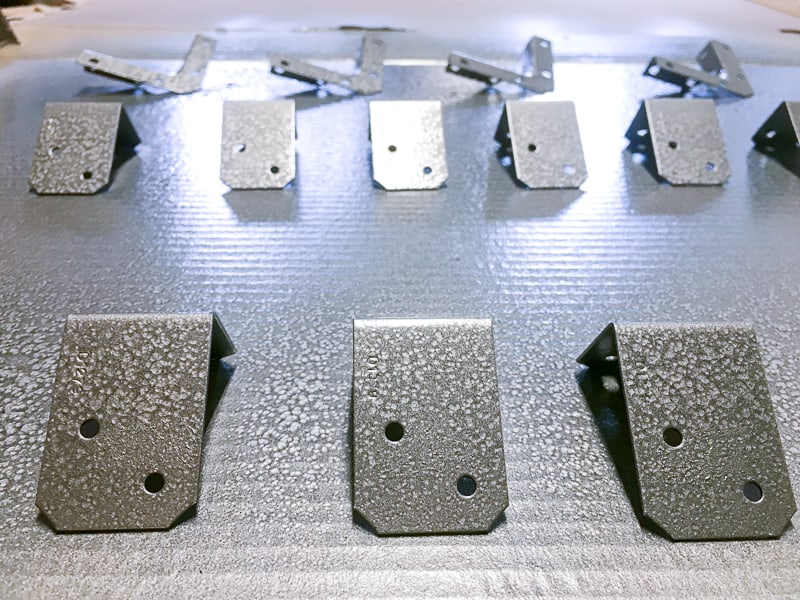 Learn how to spray paint like a pro in this article!
Paint the blanket storage box
While the brackets were drying, I started staining the box. That's when everything started to go sideways and I almost gave up on the project entirely!
I was being lazy and didn't want to sand everything down to bare wood, so I decided to try Minwax's Polyshades stain. It says it can be used on previously stained and sealed surfaces, and a light sanding is all the prep you need.
Wrong! This stuff goes on like wood colored paint, and just sits on the surface. The stain smeared like finger paint every time the brush went near it, which was pretty much all the time because it dripped like crazy. It looked like I was trying to paint faux wood grain, badly!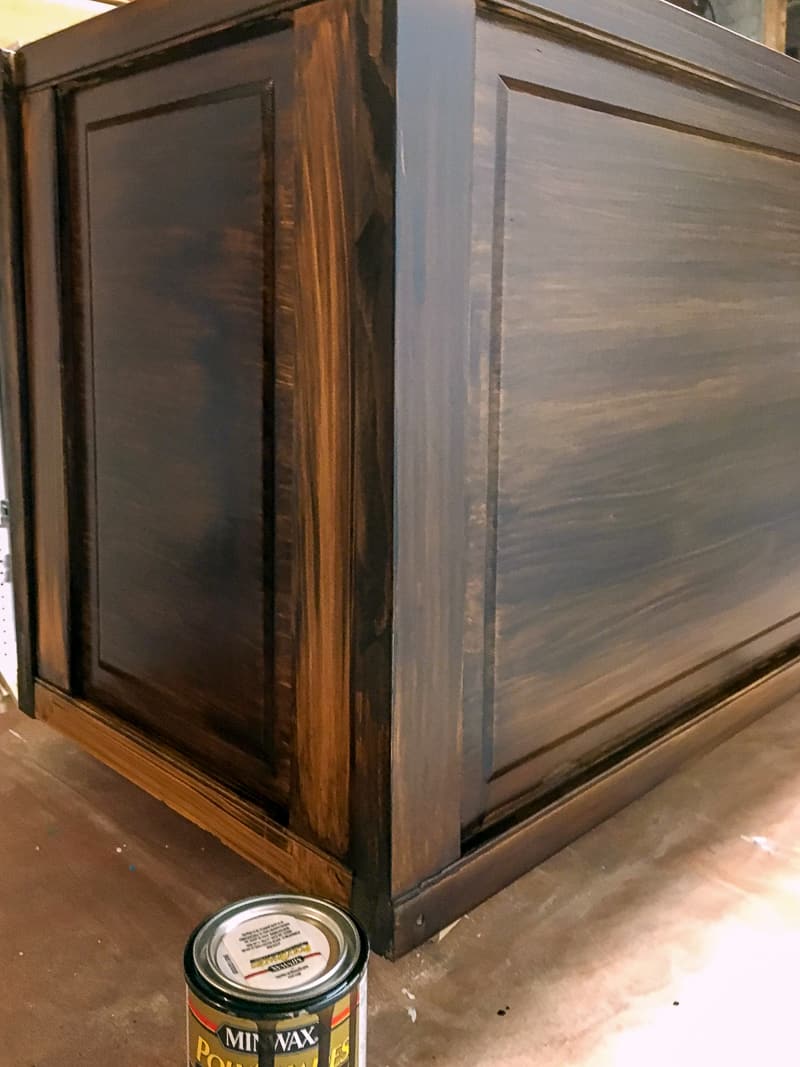 I gave up staining halfway through, and let it dry while I contemplated a solution. I decided to paint over the entire mess with a dark espresso brown color. Check out my tips for painting over polyurethane for a flawless finish. Much better!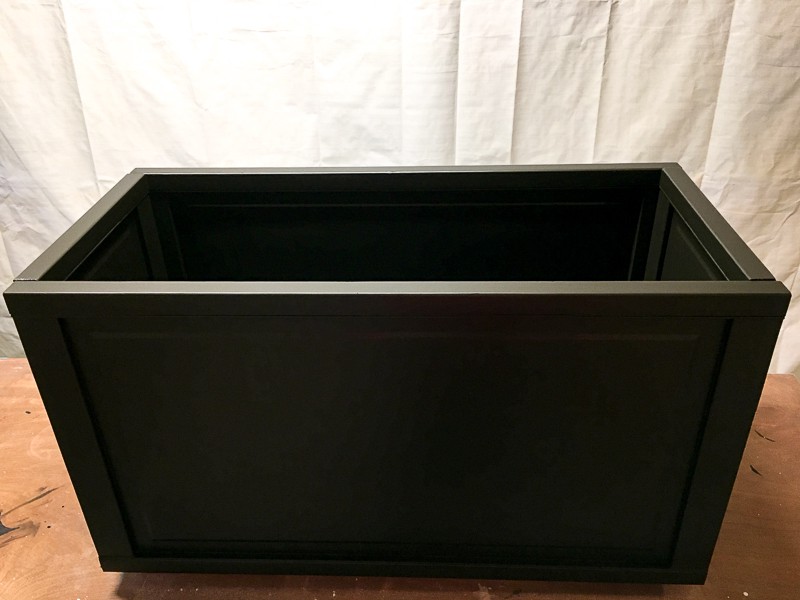 Attach the brackets and casters
Use short wood screws to attach the brackets to the inside and outside corners of the storage box. It helps to mark the holes and predrill first, so the screws go in smoothly. Then flip the blanket box over and screw small casters to the plywood bottom.
Load up your new blanket storage box!
I was pretty impressed by how much fluffy stuff I was able to fit into this blanket storage box! Not having a lid gives you more room for pillows, and makes them easier to access.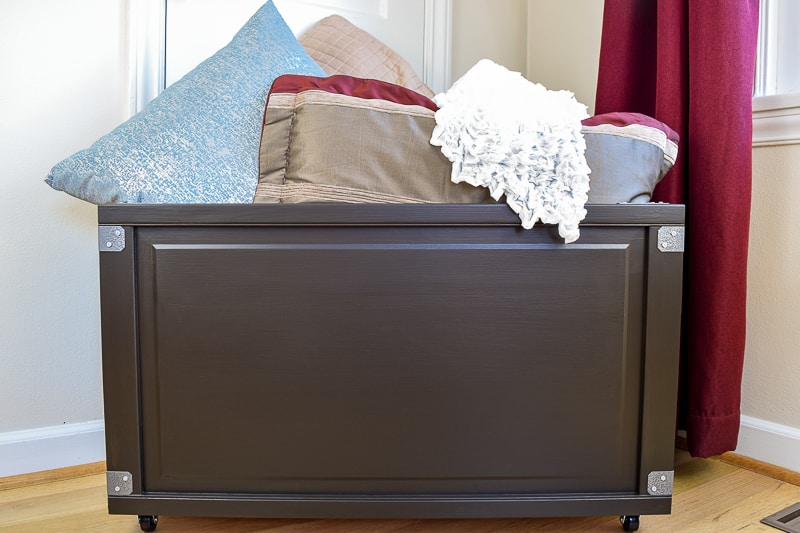 Now everything is off the floor, and I can roll the blanket box out of the way when I'm finished making the bed! Extra pillows are easy to grab as needed thanks to the open top.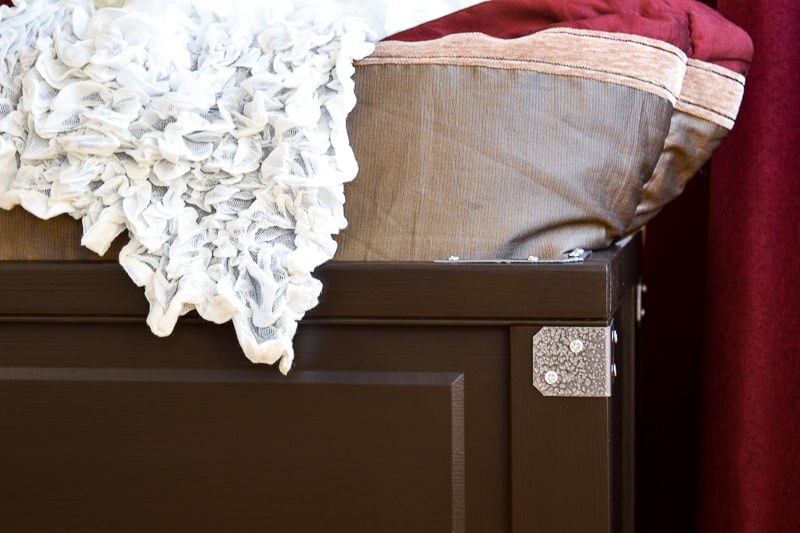 This project would also be perfect for a rolling toy box! We try to keep most of my son's fuzzy friends in the DIY stuffed animal zoo I built for him, but they seem to multiply weekly! Clean up is easy when you toss everything into the bin, and there's no lid to slam down on little fingers.