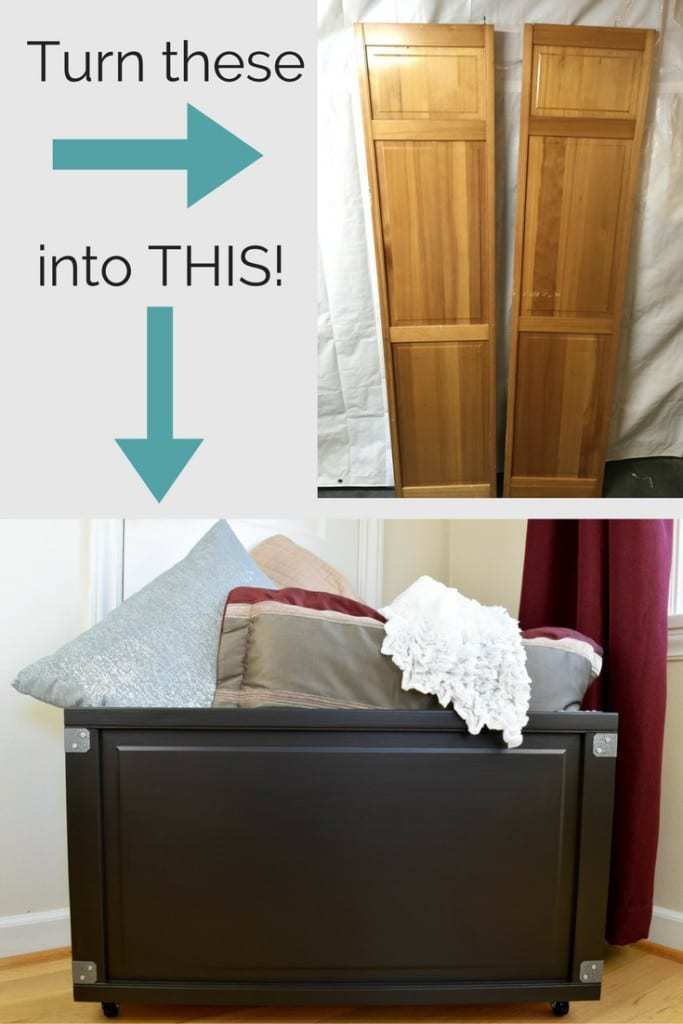 When you're ready to crawl into bed at the end of the day, what's the first thing you do? If you made the bed that morning, you dismantle that mountain of decorative pillows and remove any extra blankets. They all get dumped in a big pile on the floor or a nearby chair until you remember to make the bed again. I got tired of tripping over throw pillows in our master bedroom, so I decided to make my own blanket box to get them off the floor!
This post contains affiliate links for your convenience. Please see my disclosures page for more information.
Most of the blanket boxes and chests I found online were big, heavy pieces that would take up too much floor space in our small bedroom. Almost all of them had lids, and weren't tall enough to fit our giant euro pillows.
What I was really looking for was a tall, narrow, open-top box, preferably with casters. The only way to get everything on my wish list was to make it myself!
I took a trip to my favorite architectural salvage store and started wandering around their door section. A standard door would be far too big for this project, but bi-fold doors are half the size! I skipped over all their louvered and flat doors, focusing on the ones with raised panels. I wanted to stain my blanket box to match the rest of the furniture in the room, so the white doors were also out. I found the perfect set of wooden, three-panel bi-fold doors, and they were a steal!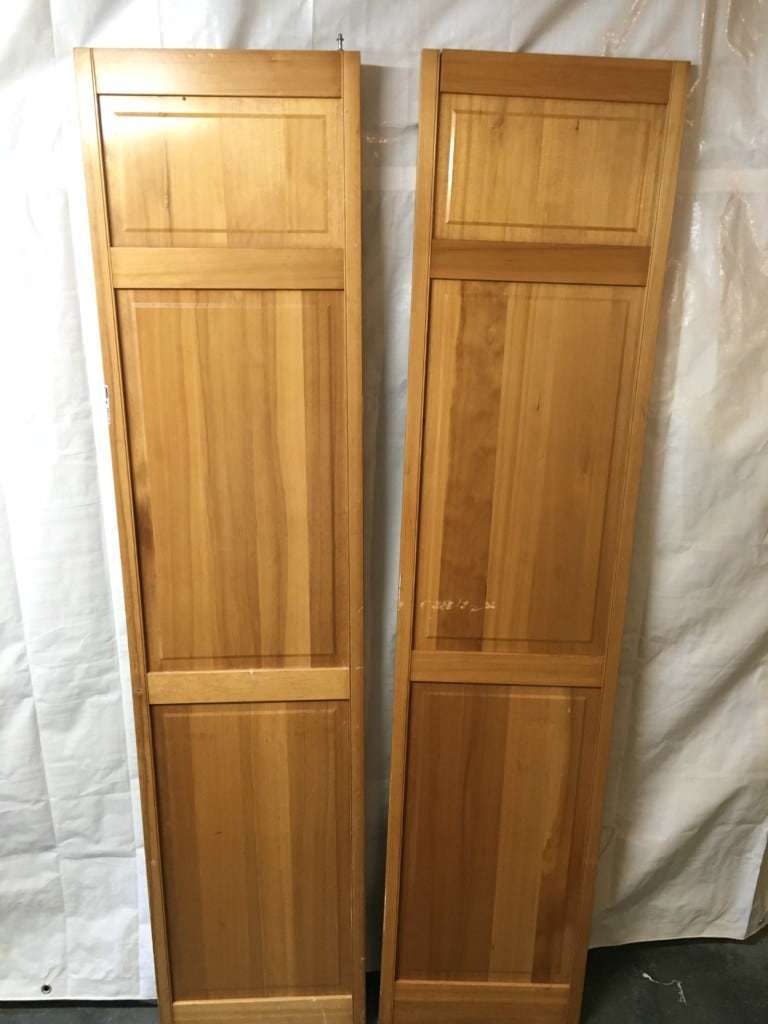 The smaller upper panels and lowest larger ones were the perfect size for the sides of the blanket box. I measured out two inches from the edge of each panel, and used a circular saw to cut them down to size.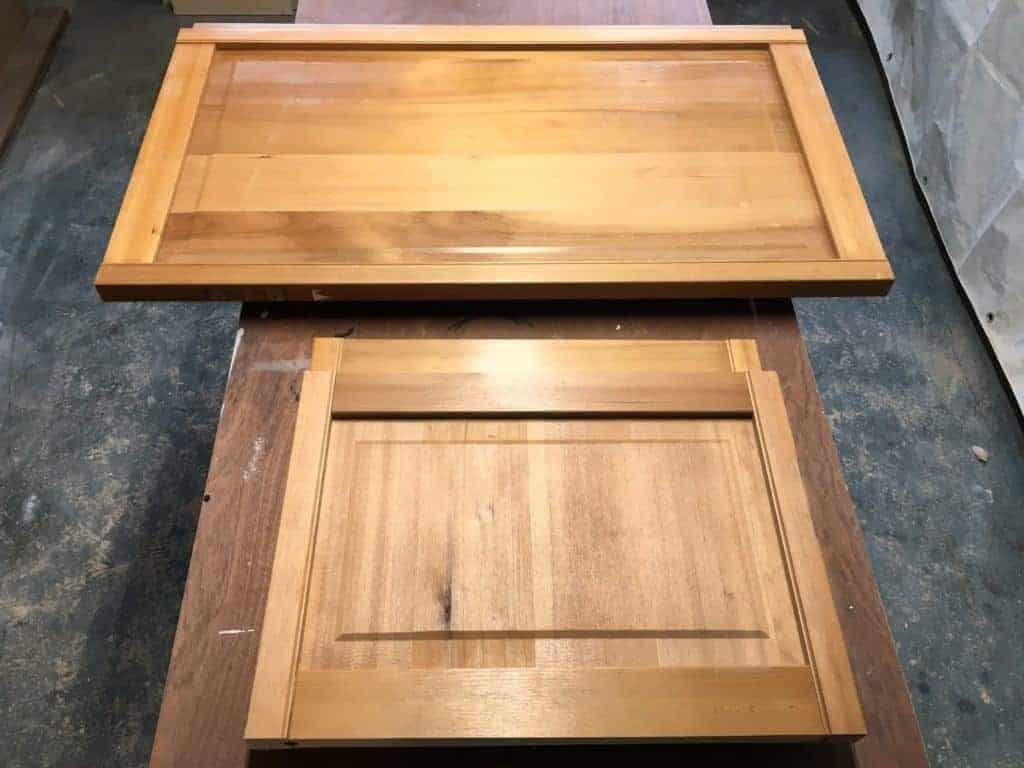 I clamped the pieces together to form the box, then measured the interior dimensions. A scrap piece of 1/2″ plywood left over from my leather headboard was used to form the bottom of the blanket box.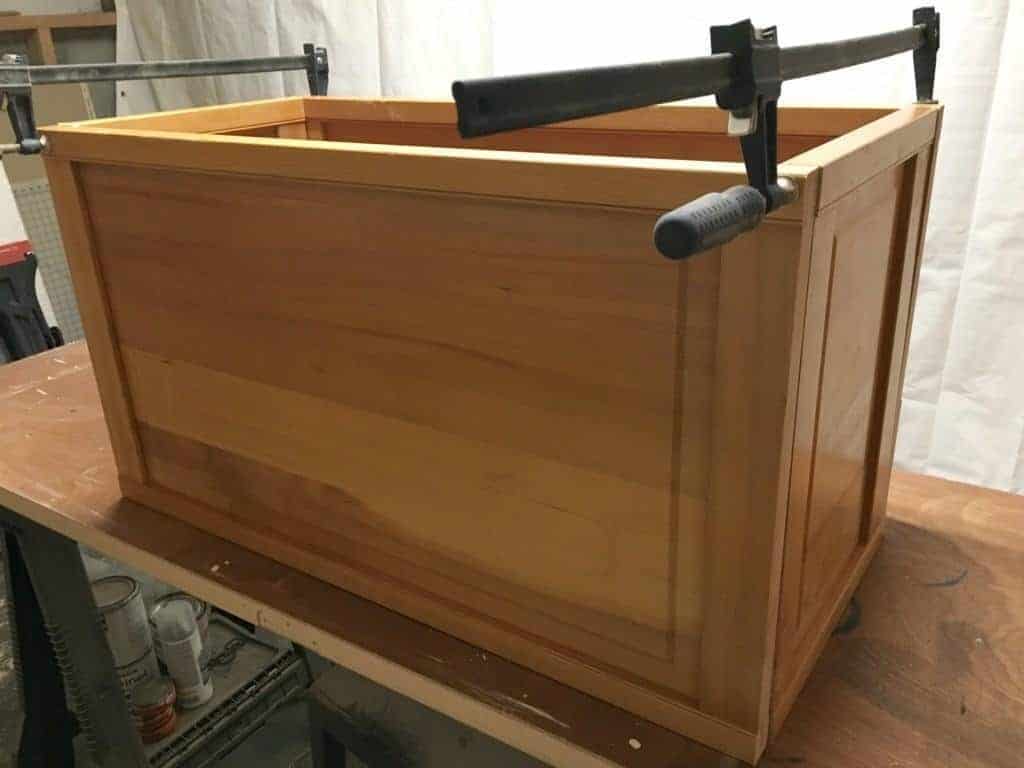 My bi-fold doors had holes from their former hinges. I made sure those ends were all facing the same direction and would be hidden at the bottom.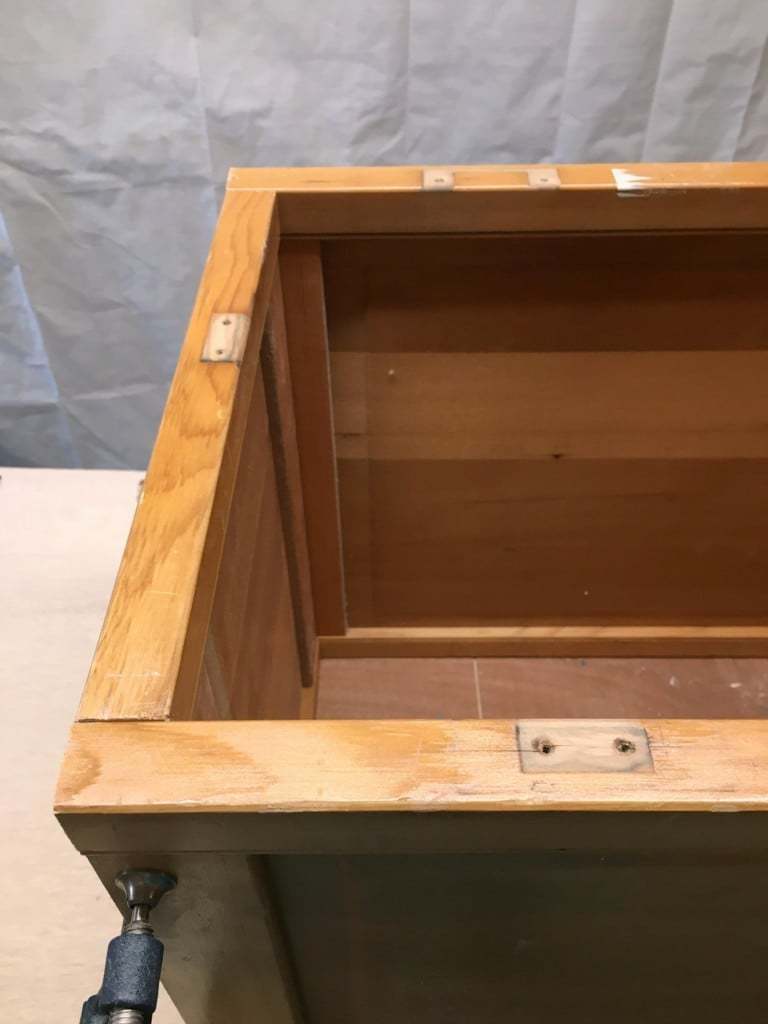 Pocket holes were drilled around the perimeter of the plywood, then screwed into the bottom of the clamped box with 1″ pocket hole screws. You can see where I completely messed up the depth of the first few pocket holes at the bottom there. Whoops!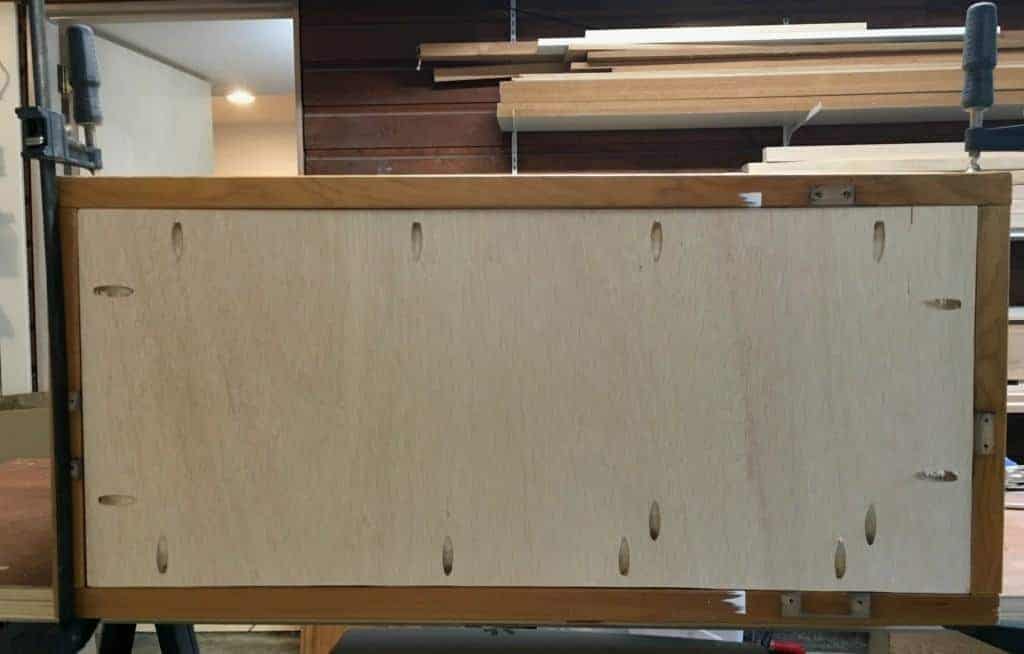 To hold the sides together, I planned to use two different metal brackets. These corner brackets will attach to the inside corners to keep the sides from caving in. I had some angle brackets left over from my IKEA desk hack, so I decided to use those along the outside corners.
To give the brackets an aged look, I gave them a coat of Rustoleum's Forged Hammered Antique Pewter spray paint. The trick for working with this stuff is to do everything you're NOT supposed to do with spray paint! I sprayed it on fairly thick, just a few inches away from the brackets. It looked flat at first, then magically beaded up to create that hammered texture. So cool!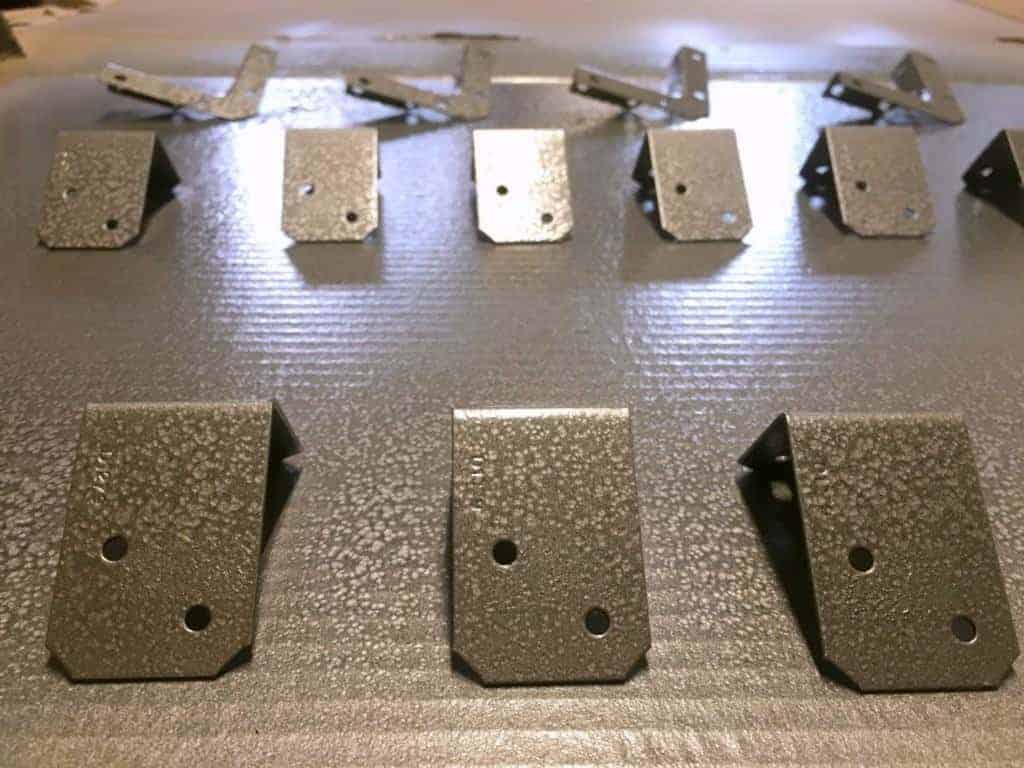 While the brackets were drying, I started staining the box. That's when everything started to go sideways and I almost gave up on the project entirely!
I was being lazy and didn't want to sand everything down to bare wood, so I decided to try Minwax's Polyshades stain. It's supposed to be used on previously stained and sealed surfaces, and a light sanding is all the prep you need.
Wrong! This stuff goes on like wood colored paint, and just sits on the surface. The stain smeared like finger paint every time the brush went near it, which was pretty much all the time because it dripped like crazy. It looked like I was trying to paint faux wood grain, badly!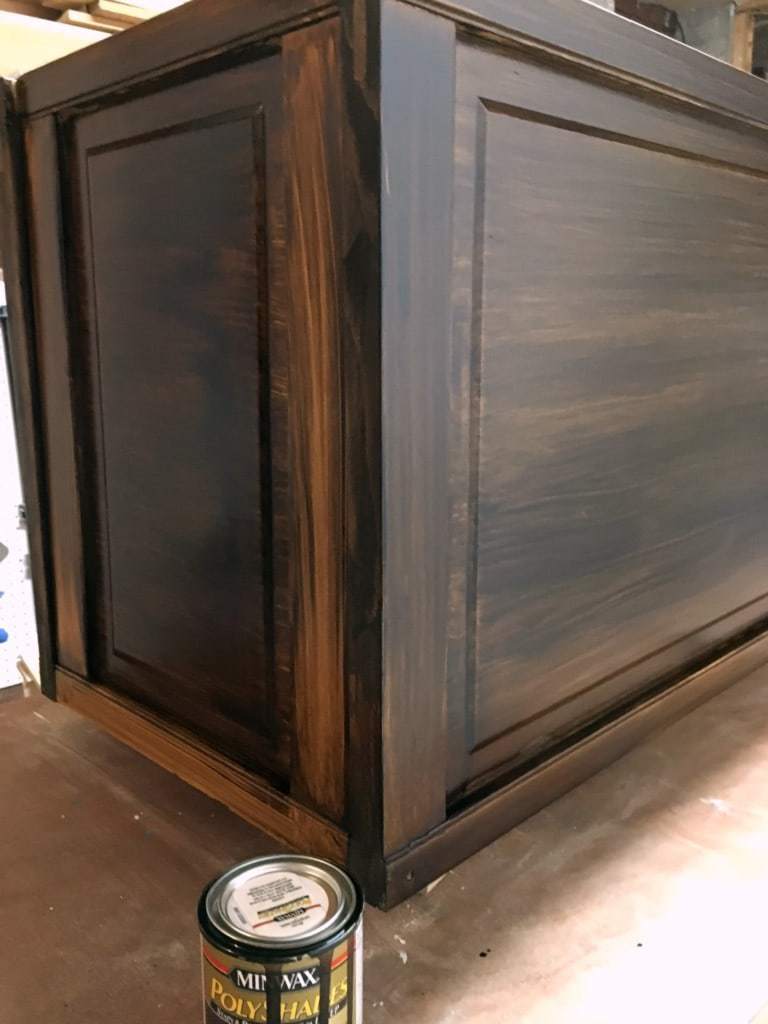 I gave up after two panels, and let it dry while I contemplated a solution. I decided to paint over the entire mess with a dark espresso brown color. I chose the aptly named "Espresso Beans" by Behr, although I would call it more of a dark chocolate color (both things I was desperately needing at this point!)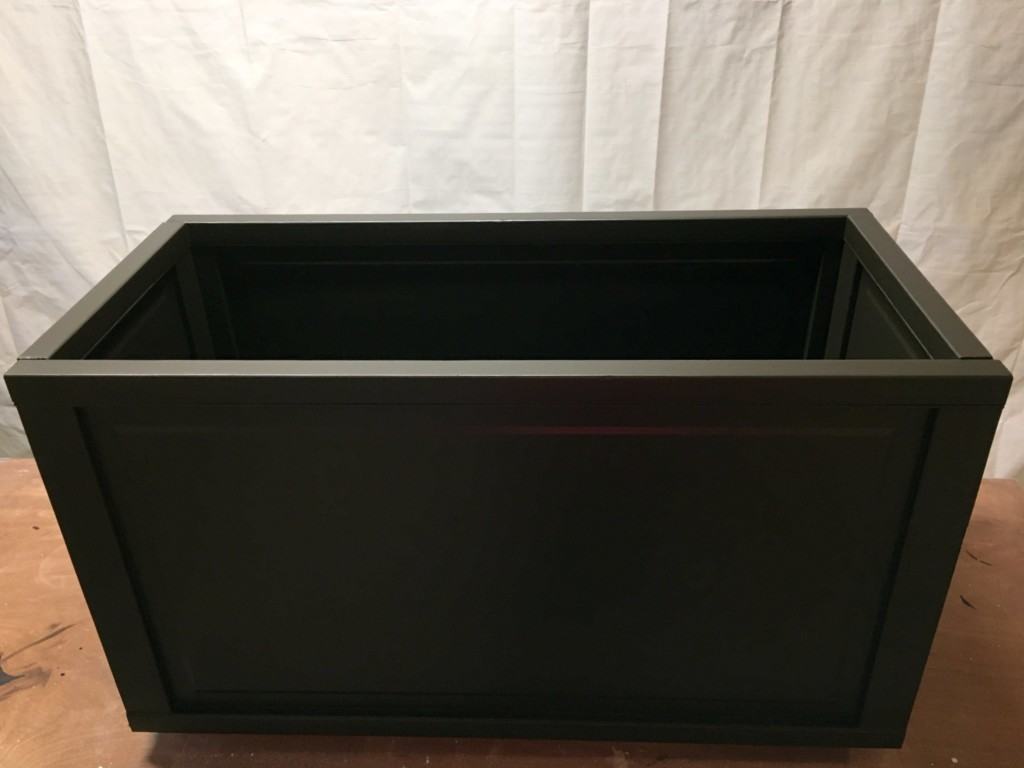 I added some black paint to the espresso color for the second coat. I wanted that ambiguous brown-black color you see listed in furniture catalogs, and a little black did the trick (although it's impossible to tell the difference in pictures!)
After attaching the brackets and small casters to the bottom of the box, it was ready to load up with pillows and blankets!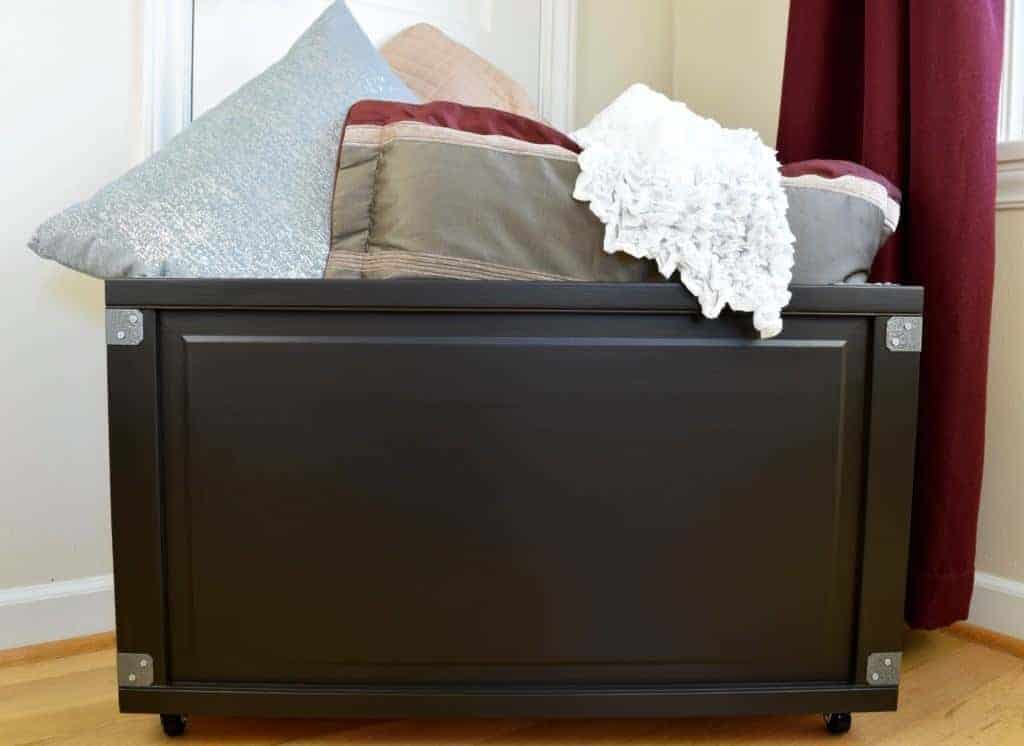 Now everything is off the floor, and I can wheel the blanket box out of the way when I'm finished making the bed! This project would also be perfect for a toy box. Imagine how many things you could toss in there!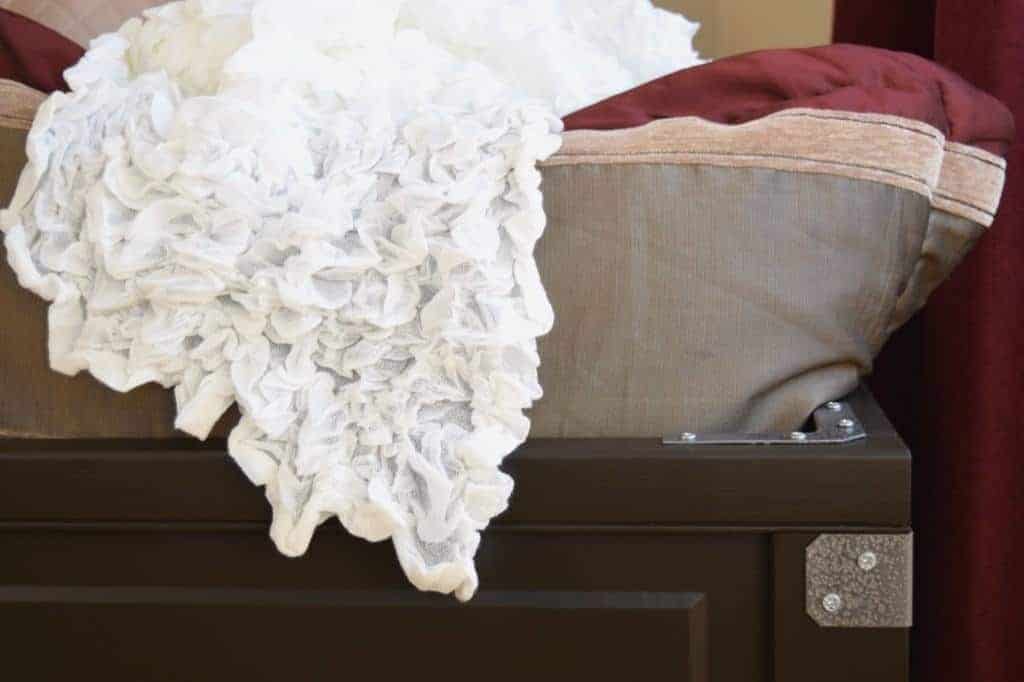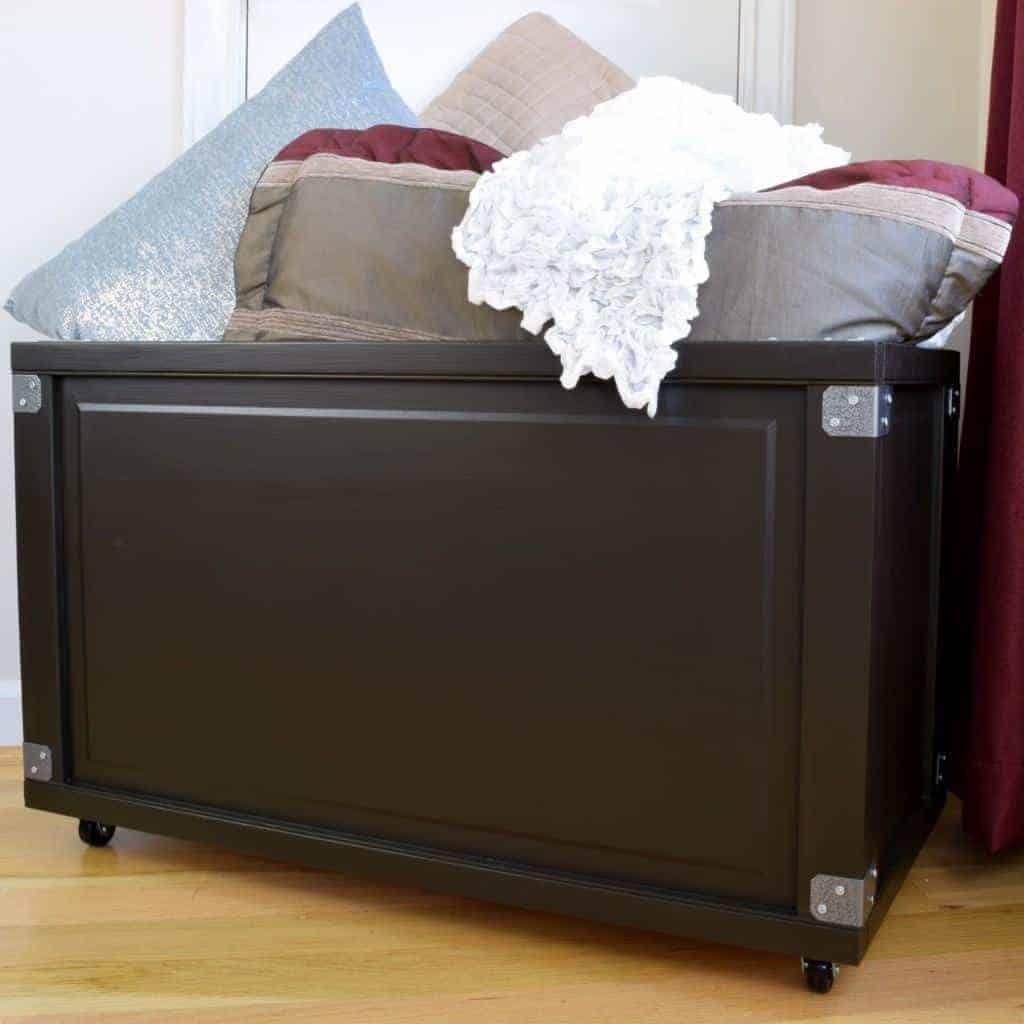 If you would like to keep up to date with my latest posts about woodworking, home improvement, home decor and more, you can follow me on Facebook, Pinterest, or sign up for my weekly newsletter below.
Want more DIY projects?
Subscribe to get project ideas, home improvement tips, woodworking plans and more delivered straight to your inbox!