Is shoe molding the same thing as quarter round trim? Not quite! Here's the difference between shoe molding vs quarter round…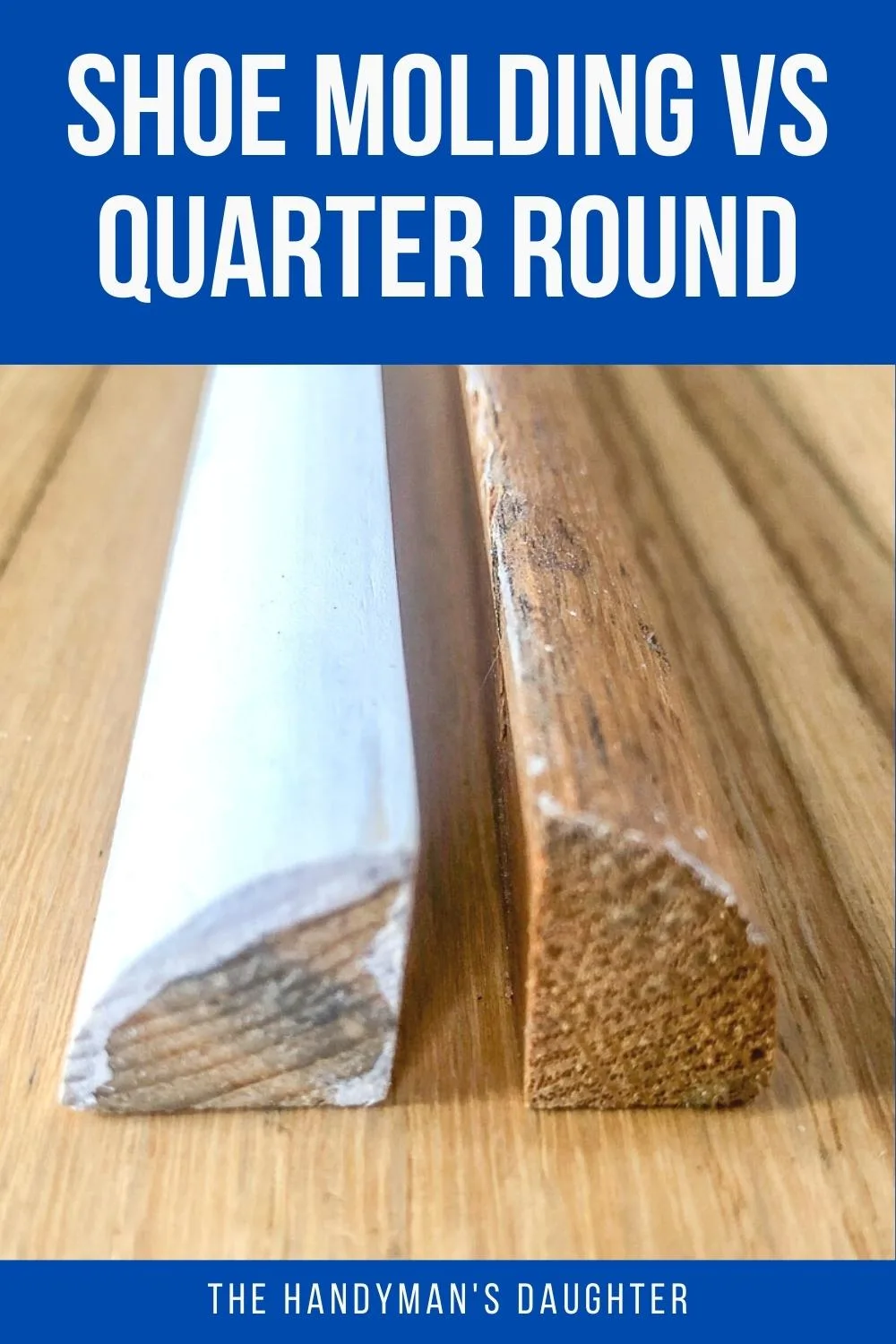 Replacing your baseboards is an easy way to update any room. But there are so many choices and styles! Not only that, but sometimes you need a separate trim piece at the bottom to cover up the gaps! Which one should you pick?
No worries! Though both shoe molding and quarter round are sometimes used interchangeably, there are several differences to keep in mind.
Quarter round molding features a quarter-circle shape, while shoe molding has a narrower profile. The primary differences are their thickness and size, and can be used interchangeably depending on the look of your current baseboard trim and floors.
By the end of this guide, you'll know all the ins and outs of both quarter round and shoe molding and when to use each type of trim.
Let's figure this out!
This post contains affiliate links for your convenience. Purchases made through these links may earn me a small commission at no additional cost to you. Please visit my disclosures page for more information.
What's the difference between shoe molding vs quarter round?
Shoe molding, also spelled "moulding," is smaller and thinner than quarter round, and can have a decorative profile. Quarter round is, literally, a quarter circle. The thin profile of shoe molding allows it to bend into place easily, where the stout quarter round does a better job covering large gaps.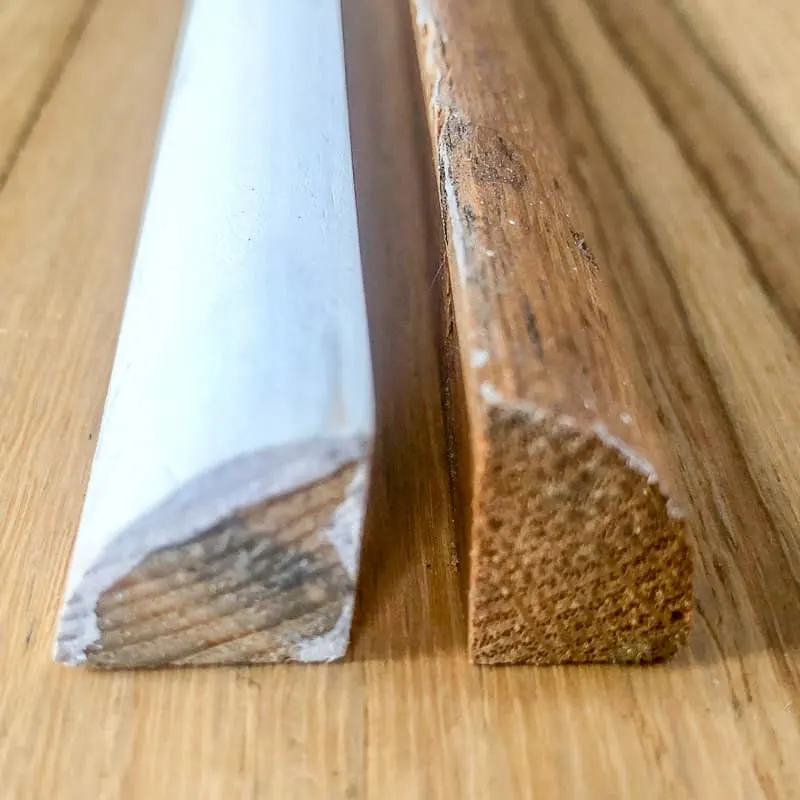 Common differences:
Both shoe molding and quarter round cover the gap between the baseboard (a larger piece of trim) and the floor.
Some people love this little bit of trim because it hides mistakes and makes the baseboards look finished. Some people hate it, as they believe the baseboard should be sufficient and that it makes the room look smaller. There is no "right way." You need to do what's best for your home!
Quarter round is larger, so it takes up more space than shoe molding.
Shoe molding and quarter round come in many different materials, such as solid wood, MDF, and PVC.
Alright, now that we know the basics, let's explore some of the specifics.
What is shoe molding?
Shoe molding is a slim trim used to fill the gap between the baseboard and the floor. It creates a clean transition between the wall and the floor.
There's two types of shoe molding:
Decorative shoe molding. Some shoe molding has decorative patterns, giving your baseboard extra style.
Standard shoe molding. This typically looks like a narrower quarter round with a flatter front edge, or a more square profile.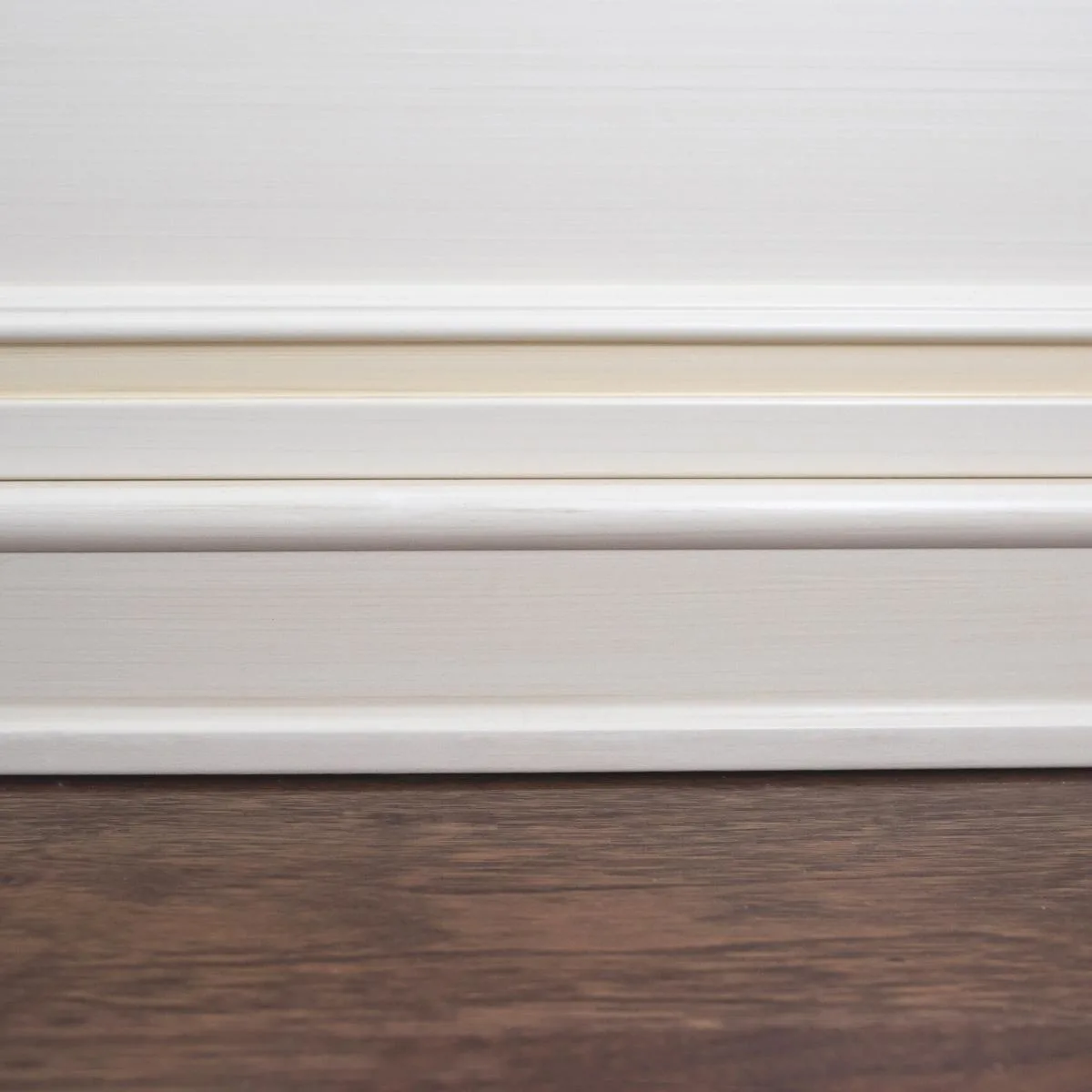 When should I use shoe molding?
Some people might think, "Why would I install shoe molding when I already have a nice baseboard?"
Several reasons:
You like the look. Some people feel shoe molding gives their trim a clean, elegant look. Also, if you have a simple baseboard in place, decorative shoe molding can spice things up!
Hiding imperfections. For some projects, especially a remodel, it can be difficult to create perfect tolerances. Sometimes, there will be gaps between the wood floor and the trim. Shoe molding cleans this up stylishly.
Here are several times to avoid shoe molding:
Over carpet. The main reason shoe molding isn't used over carpet is that the carpet will hide any gaps. Also, shoe molding would also create a big issue if you ever needed to change the carpet.
In bathrooms. It's uncommon to place shoe molding in bathrooms. The smaller space of a bathroom isn't conducive to more trim, which further reduces the size.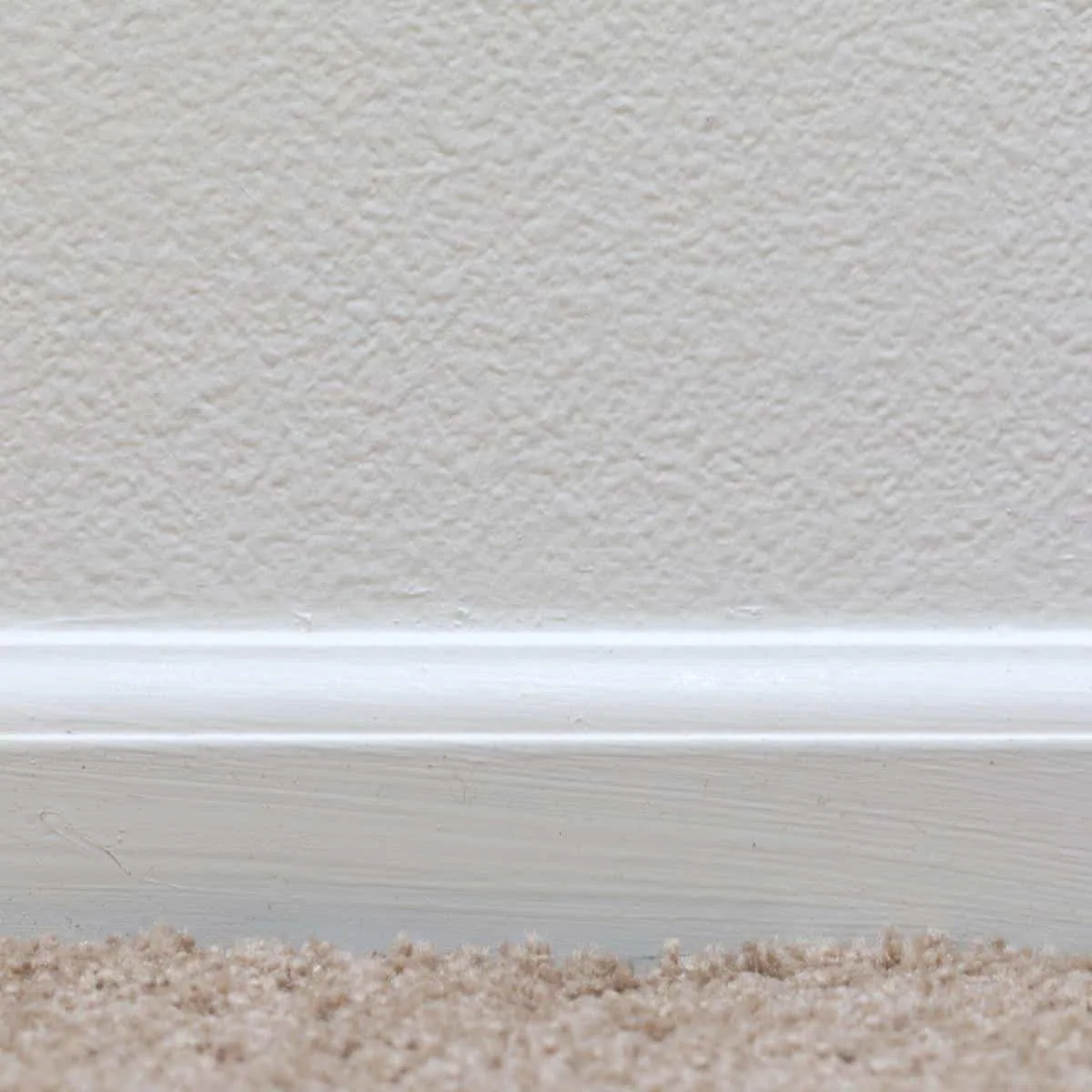 How do I use shoe molding?
Installing shoe molding isn't too hard for the average homeowner to tackle themselves, but there are several things to know.
Safety. Even with something small like trim - you need to be careful! Wear safety glasses and ear protection when cutting and nailing.
Trim choice. It's best to keep your shoe molding uniform throughout the house. You don't want to switch to quarter round in one area and then join it with shoe molding in another area.
Mark the "wall" side. It can be tricky to remember to keep the "wall" side of shoe molding the same on all the cuts, especially when there's only a slight difference between the flat sides. The longer flat edge goes up against the wall, so write "WALL" along that side to help you remember!
Mark the cut. Depending on the size of the cut, you could hold the trim to the wall (with the "wall" side facing the wall) or use a tape measure. Don't rush this step! And remember, you can always cut off a little more, but you can't easily put material back.
Cutting the trim. A good miter saw is ideal for this job, but if you don't have a miter saw or aren't comfortable with power tools, a handheld miter box will work just as well!
Joining corners. To create the illusion that the trim wraps around corners, you'll need to cut your shoe molding at opposing 45-degree angles. When the trim ends without a turn, you may choose to use a 30-degree angle to taper off the sharp edge.
Nail gun. Once you've cut the shoe molding to size, it's time to nail them into place. I recommend using a brad nailer or finish nailer with 2 inch nails. Place nails about 18 inches apart, and angle them so they pull the shoe molding tight to the wall.
Caulk or wood filler. After you've nailed everything into place, it's time to fill the small gaps. For white trim, you can use white caulk to fill gaps and to fill the nail heads. However, if you're applying wood or stained shoe molding, you can use wood filler or putty to cover the nails.
Paint. Finally, you may need to paint the shoe molding so it matches the baseboards. Check out my tutorial on how to paint baseboards with helpful tips to create a perfect finish!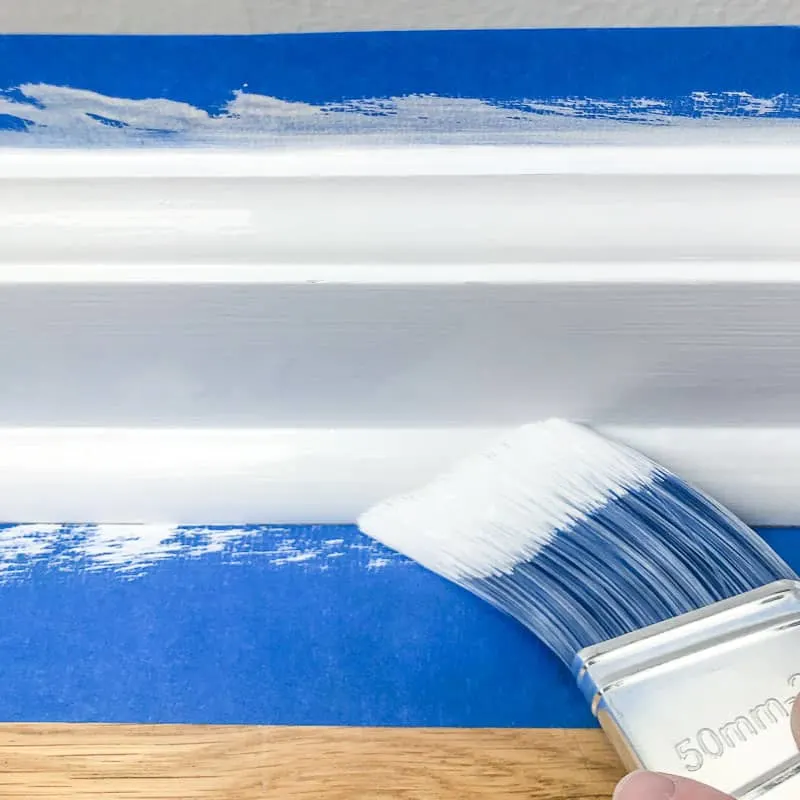 Frequently Asked Questions about shoe molding?
Do baseboards need shoe molding?
Baseboards don't need shoe molding. However, shoe molding can help clean up gaps between baseboards and the floor. If you're happy with your baseboards, then you don't need to stress about adding shoe molding or quarter round.
What color should shoe molding be?
Shoe molding should either match the baseboard or the wood floor. In our house, the original shoe molding matched the oak floors, but I wasn't a fan of the look. It was also in pretty rough shape from years of wear and tear, so I recently switched it out for new white quarter round trim to match the baseboards.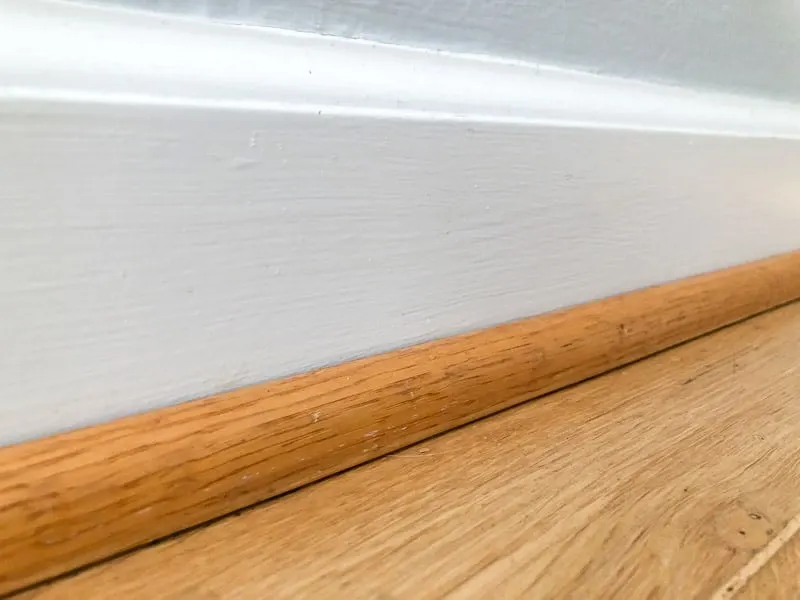 Remember, always try to get some sample pieces before purchasing. Then, you can set them in place with your baseboard and determine if you like the look.
Is it easy to install shoe molding?
Shoe molding isn't hard to install. However, if this is your first time installing it, I recommend checking out the video below for a complete overview of the process.
What is quarter round?
Quarter round is a small strip of trim used to cover the gap between the baseboard and the floor. This trim is called quarter round because it's exactly one-quarter of a circle.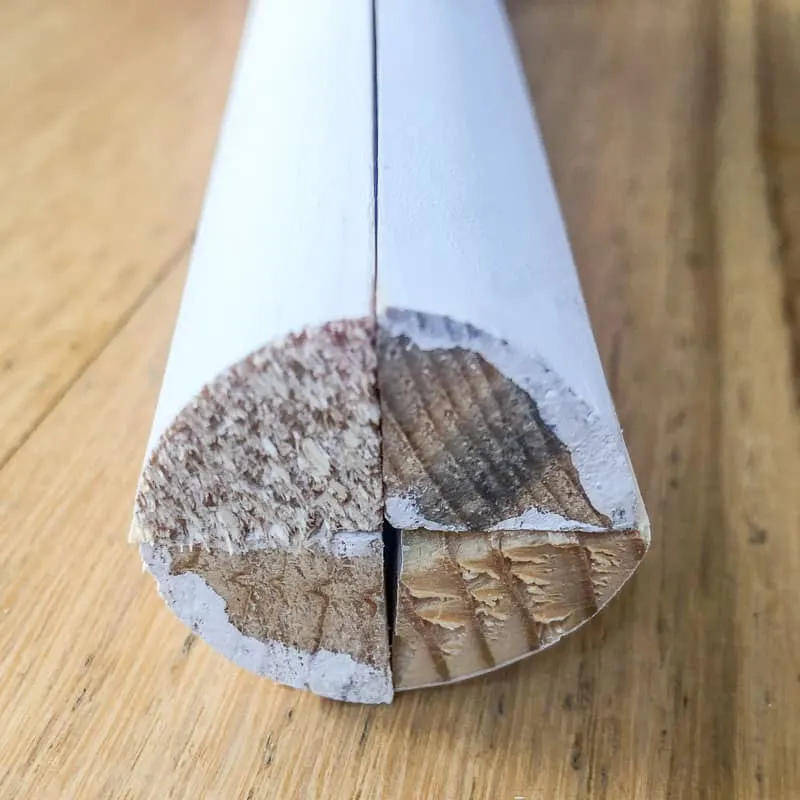 Quarter round comes in several types:
Wood. If you're going for the real wood look, you can find matching quarter round. Solid wood is more expensive than other types of quarter round.
MDF. If you just need white or painted quarter round, MDF is a solid choice. You can also find MDF quarter round with a wood-patterned surface.
PVC. When water, mold, and mildew resistance are your goals, PVC quarter round should do the trick. Plus, PVC is cheaper than real wood.
When should I use quarter round?
Quarter round is similar to shoe molding. The main difference is that quarter round is slightly larger.
Here are several reasons why you should opt for quarter round:
Large gaps. If you have especially large gaps between your baseboard and the floor, quarter round will do a good job cleaning things up. If you're not sure which one you need, get a sample of both types and locate the largest gaps. If you can still see them with the shoe molding on top, stick with quarter round!
High walls and large baseboards. If there's a room with extra high walls in your home, then larger baseboards may also be installed. In these cases, quarter round may look more proportional.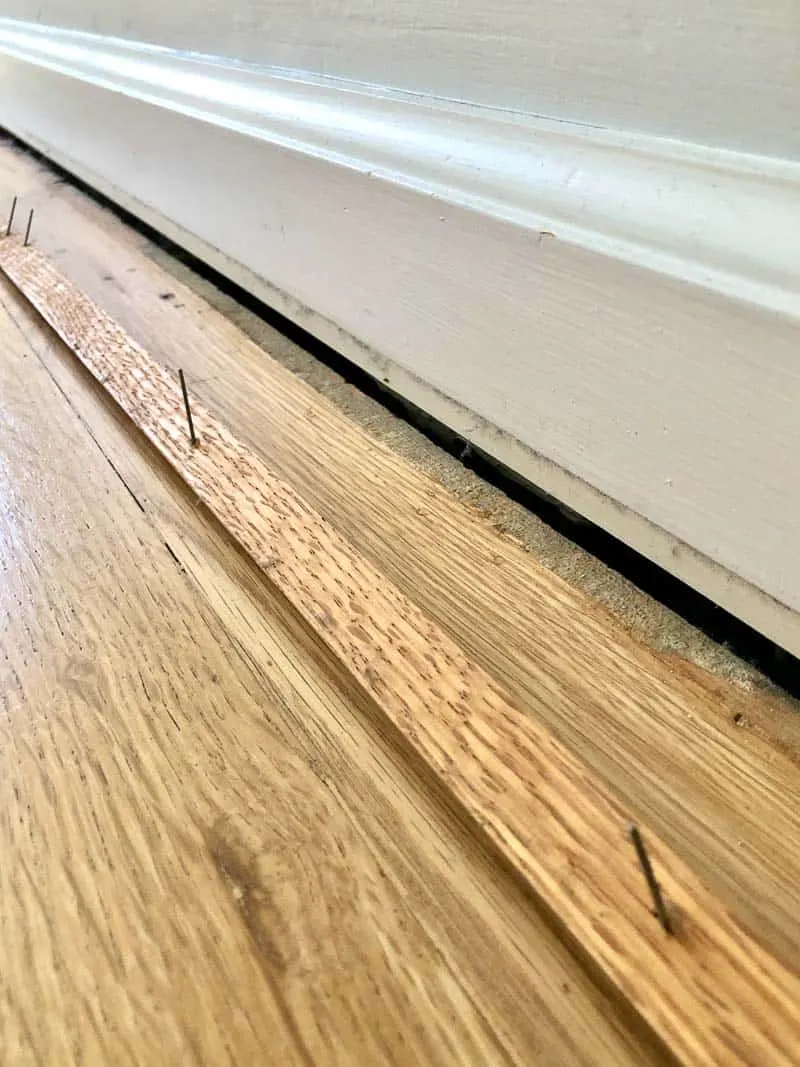 How do I use quarter round?
The steps for installing quarter round are basically the same as the process outlined above for shoe molding. The only difference is that you don't have to mark the "wall" side of the trim because both sides are the same length.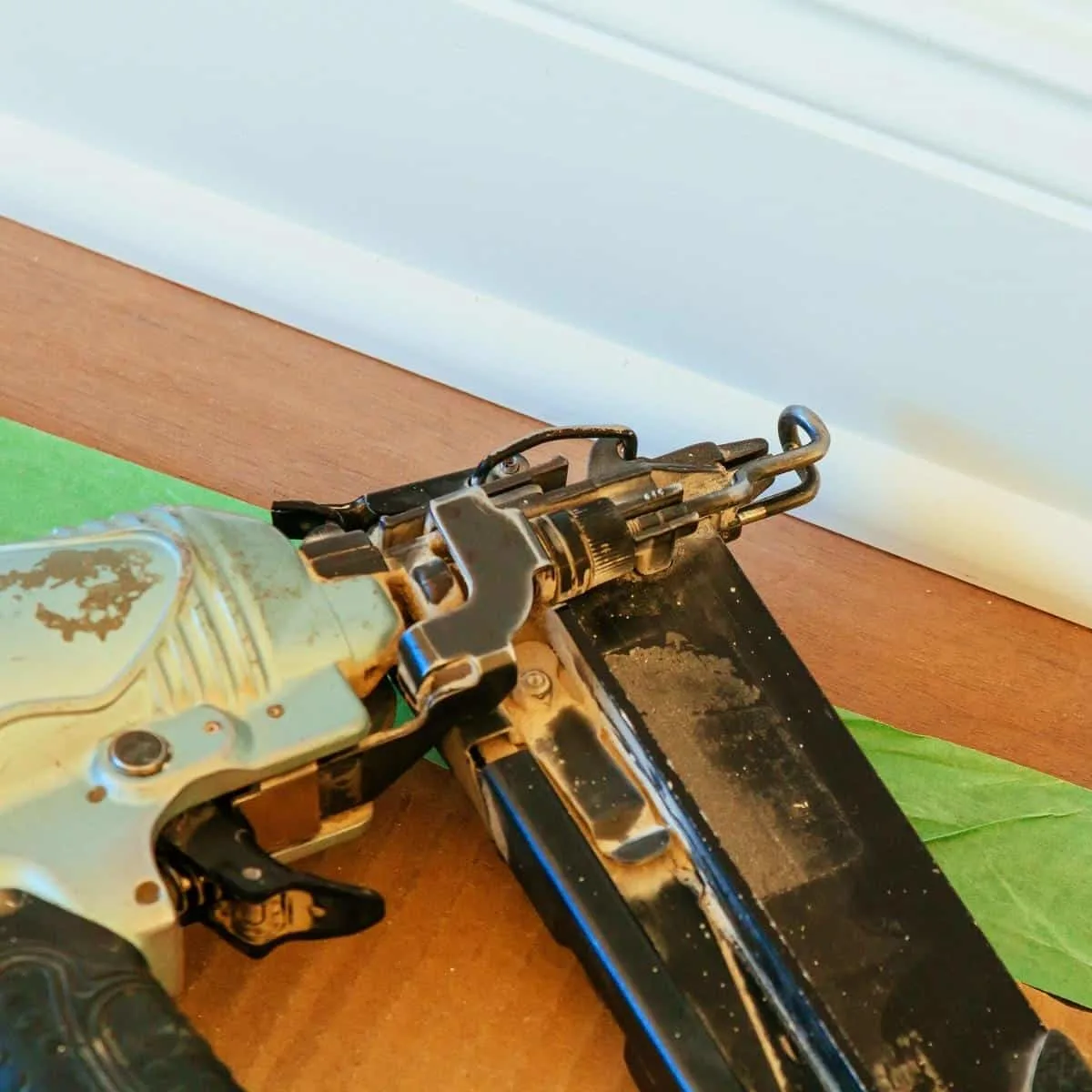 Frequently Asked Questions about quarter round
Can I glue quarter round?
Typically, nails are more appropriate. The glue will make it difficult to remove the quarter round without damaging the baseboard. Also, using glue would take longer than nails because you need to wait for it to dry.
What type of nails should I use for quarter round?
Two inch nails should be long enough to go through the quarter round and into the baseboards to hold it securely in place. Brad nails or finish nails are a good option for trim. Be sure to test any nails before use. This way, you know how much wood filler or caulk you'll need to cover the nail heads.
Should you paint quarter round before installing it?
If you paint your quarter round before installation, you reduce the risk of smudges and stains on your wall and floor. However, you'll still need to go over the nail head with putty or wood filler and touch up those areas. I opted for pre-primed quarter round trim so it wouldn't take as many coats of paint to cover up the wood.
---
Now that you know the difference between shoe molding vs quarter round, you can feel confident when making a decision about trim styles. Which one are you installing in your home?