We've been playing a bit of musical chairs in our kitchen lately. Doors have been relocated. Appliances have been moved. A new cabinet was added. We're hoping that by making these changes now, our kitchen will be a bit more tolerable for another year or so while we save up for a big remodel.
We started with the back door last year. It was previously in the middle of the kitchen and led out to our totally unsafe deck. Not long after we moved in, we had our deck torn down and rebuilt to be twice the size. This allowed us to install a sliding glass door in the dining room, and the old door was closed off. It gave us some extra room to house trash cans, the microwave and a small bar, but it wasn't exactly pretty to look at. It stayed this way for almost a year.
This post contains affiliate links. You can read more about how you can support this blog at no cost to you on my disclosures page here.
Fast forward to November, when our refrigerator decided it wanted to be a freezer and turned everything in the crisper drawers into a block of ice. Mmmm, frozen cucumbers… We scored a great deal on a new fridge on Black Friday, and had it delivered before the holidays. In the plans for the new kitchen, the fridge will be going into the old door space. We decided to front load some of the remodel costs and pay to have an outlet and water installed there so we could move the fridge into its final destination early.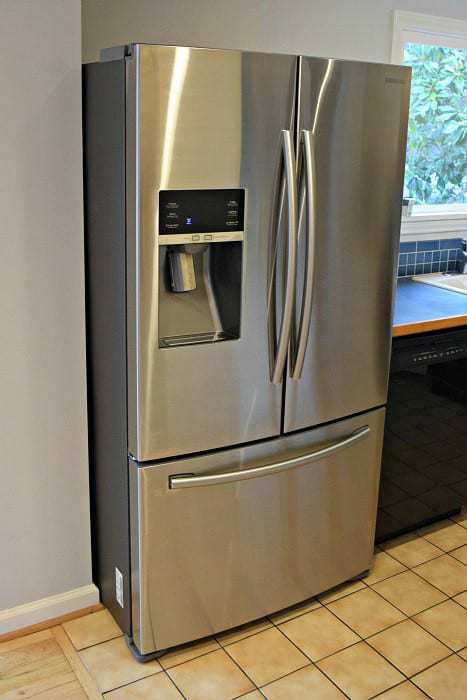 We desperately need more counter space in our small kitchen, and the former refrigerator space would be the perfect spot for another lower cabinet. But I needed something that was cheap enough to demo without guilt when we finally renovate.
Architectural salvage to the rescue! I picked up this cabinet with countertop at one of our local building material salvage yards for a steal. It looked like a total piece of junk, with chipped pink Formica, drawers that barely moved, and stained contact paper lining. But the size was perfect for the space, and it still had the countertop attached. It even had a finished panel on the left side, which is exactly what we needed.
I was excited to turn this sad, damaged piece into a concealed garbage and recycling center. We could hide those ugly plastic cans, add an additional work surface and get two bonus drawers all in one piece!
I started by removing the doors and drawers, and giving them a good sanding. Someone had painted this cabinet before, and not very well. I had to take it down to almost bare wood in some places in order to get rid blobs of paint and thick brush strokes. I was converting the cabinet doors into pull outs, so I filled the hinge and knob holes with wood filler, then sanded it smooth.
There was a shelf in the back of the cabinet that needed to be removed. A few whacks with a mallet took care of that. I left the small shelf supports in place since they wouldn't be in the way and I didn't want to damage the thin plywood sides. Then I tackled the nasty stained contact paper on the bottom of the cabinet. Most of it peeled up pretty easily, and left the wood underneath nice and clean.
On the finished side of the cabinet, there was a bit of damage from when they removed the cabinet from the wall. I found some flat trim that mimicked the look of the front frame edge and nailed it into place. Then the entire cabinet got a few coats of Benjamin Moore's Decorators White paint, which I had leftover from my basement staircase project. New hardware was added to the top of the cabinet doors to make it easy to pull out the garbage cans.
I purchased new drawer glides to replace the old, stuck ones. I went with these center mount drawer glides, and they were pretty easy to install. Instead of a track on either side of the drawer, the center mount system has just one wheel on the back of the drawer, and a track and two more wheels inside the cabinet. The drawer is super simple to remove for cleaning when it inevitably it gets gunked up from the trash can overflowing below it.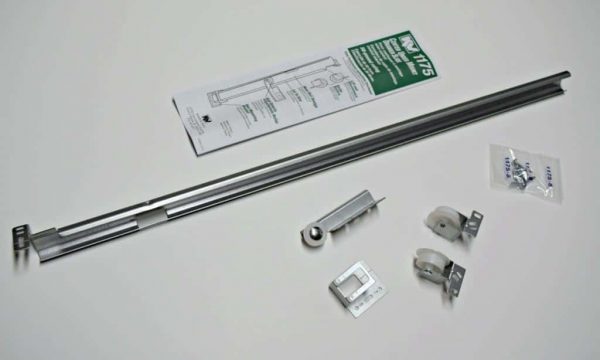 I used the same drawer glide system for the garbage and recycling drawers. Have you seen the price of those store-bought pull out trash systems? It's ridiculous! I made my own for a fraction of the price. You can find the full tutorial for mine here.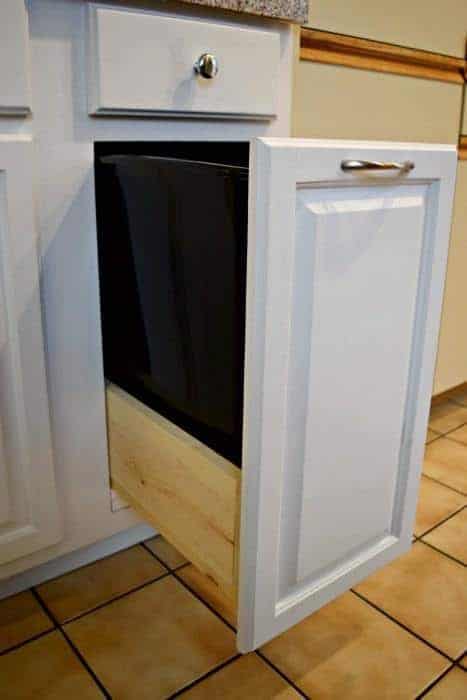 Once the bottom of the cabinet was complete, it was time to tackle the countertop. It was in pretty rough shape, with chunks of Formica missing from the front and back edges. I applied some spackle to smooth those areas out.
I thought about tiling the countertop, but that seemed like far too much effort and cost for a temporary cabinet. Renters sometimes use contact paper to cover up ugly countertops, so I figured it was worth a shot. I liked this granite contact paper because it goes well with the existing floor tile in the kitchen. The brand I used, DC-Fix makes plenty of other options so you can customize your piece to your own tastes (I swear I'm not sponsored by DC-Fix or anything, just impressed with their product).


I was really impressed with how easy the DC-Fix adhesive film was to work with. It's thicker than regular contact paper, so I didn't have any problems re-positioning it or getting air bubbles underneath. And because it's waterproof, you can wipe up your counters like you would with any other countertop!
The contact paper isn't wide enough to cover the entire cabinet in one piece, so I overlapped the two pieces by about 1/2 an inch to prevent water from seeping underneath and messing with the adhesive. I typically wipe my countertops down from back to front, so I applied the front piece of contact paper first, wrapping it around the front edge tightly. Then I applied a second length of contact paper in the back, overlapping slightly. With the granite pattern, it's difficult to see the seam at all! If having a seam bothers you, you can also buy these rolls that are 36″ wide, which is more than enough for your standard depth cabinets.
I allowed for a bit of overhang when I wrapped the edges of the countertop, and used an X-acto knife to trim along the bottom. At the corners, I stuck the contact paper to itself to form a triangle like when you're wrapping a present, then cut it straight down along the corner of the countertop. A small piece of leftover contact paper can be used to seal up the corner if necessary.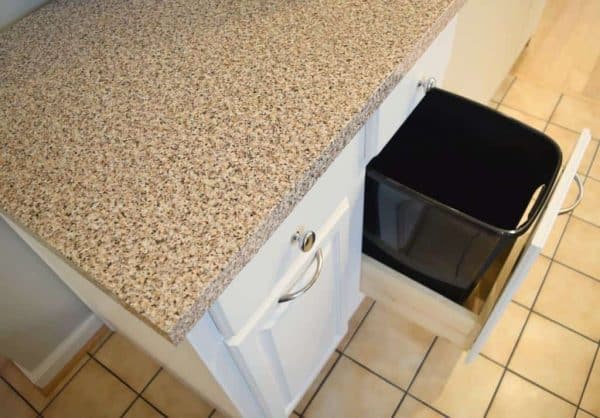 I was so excited to finally put the cabinet in place. Our kitchen instantly feels more functional! As you can see, the rest of the kitchen is hideous 80's melamine cabinets with wooden grab bars and blue laminate countertops. I painted those ugly cabinets white, and applied more granite contact paper to cover up the blue. It completely transformed the entire space, and makes the wait before the kitchen renovation begins much more tolerable!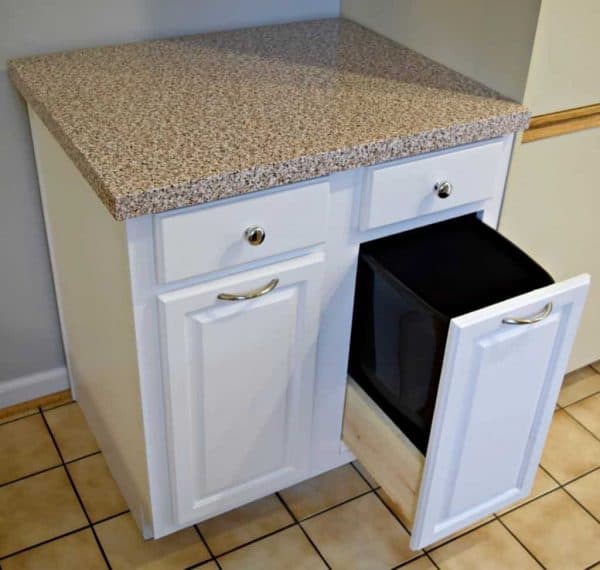 If you would like to keep up to date with my latest posts about woodworking, home improvement, and more, you can follow me on Facebook, Pinterest, or sign up for my free weekly newsletter below.