Welcome back to another Workshop Wednesday! If you're joining me for the first time, you can see all my posts in the series here. This week, I'm building a new home for one of my most used tools: the miter saw. This miter saw stand can also be used as a workbench, and is easy to customize to fit your space. Plus, I added even more storage for less frequently used tools!
This post contains affiliate links for your convenience. Purchases made through these links may earn me a small commission at no additional cost to you. Please visit my disclosures page for more information.
UPDATE: I built a new miter saw station that's even better than this one! It will fit four major tools into one space while keeping the work surface clear for assembly or finishing projects. But keep reading to see how I built the old miter saw stand!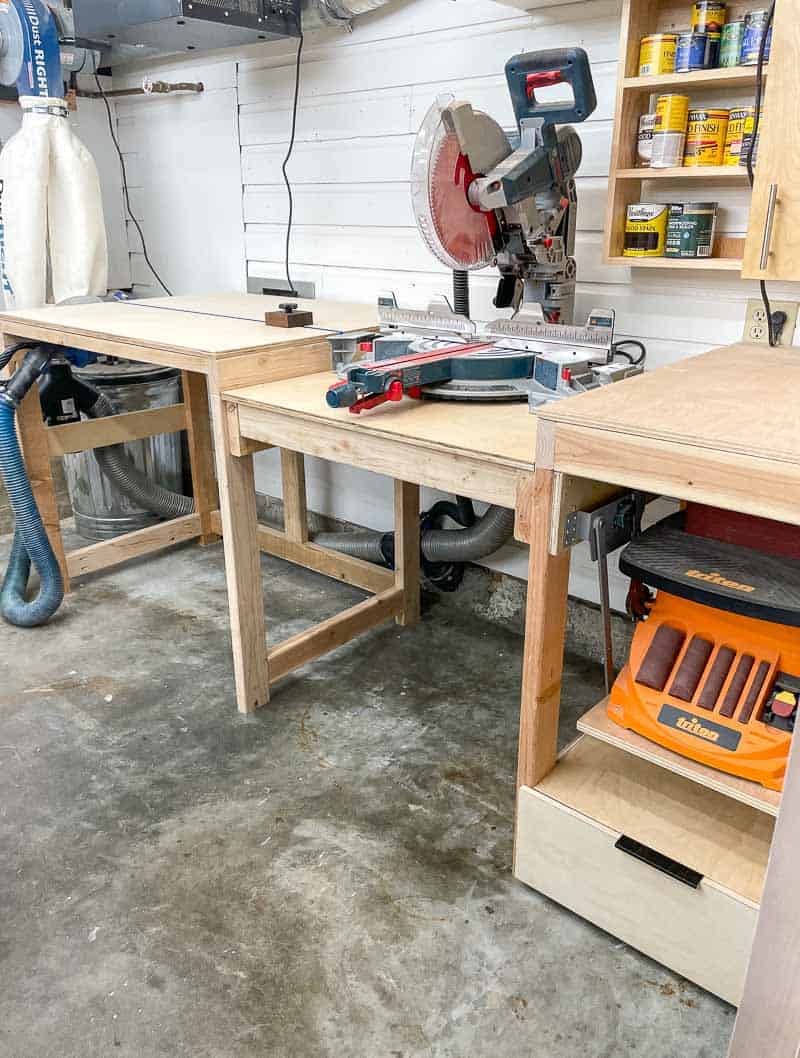 My old miter saw stand just wasn't cutting it anymore. I couldn't mount the saw to it, so it slid around on the plastic surface. It was hard to support longer boards, which came crashing down when I finished a cut. In general, it wasn't the safest set up, and it wasn't very functional either.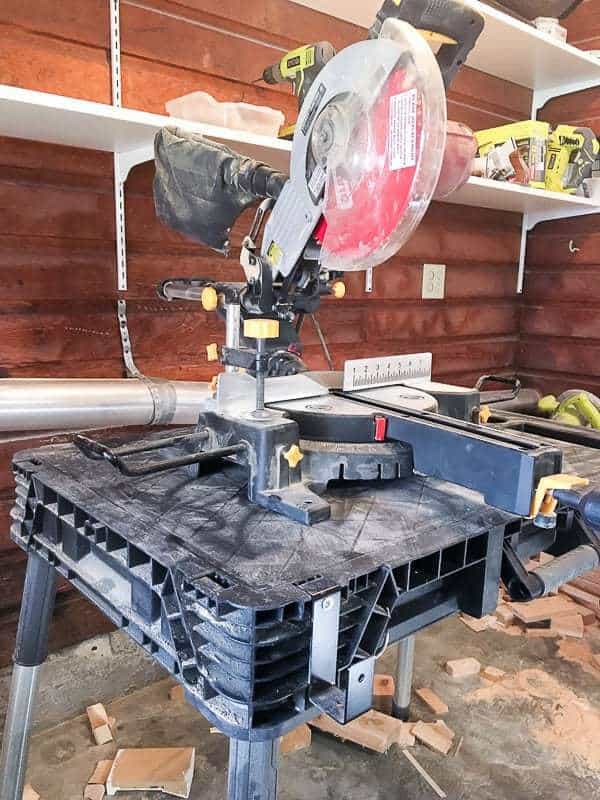 I thought about replacing it with a store-bought miter saw stand. All the bells and whistles like infeed and outfeed supports, pneumatic height adjustment and heavy-duty wheels are tempting. But I knew I could build my own for a fraction of the price, and add some storage to my small workshop too!
I started with the base, which was inspired by this one created by Shanty 2 Chic for Home Depot.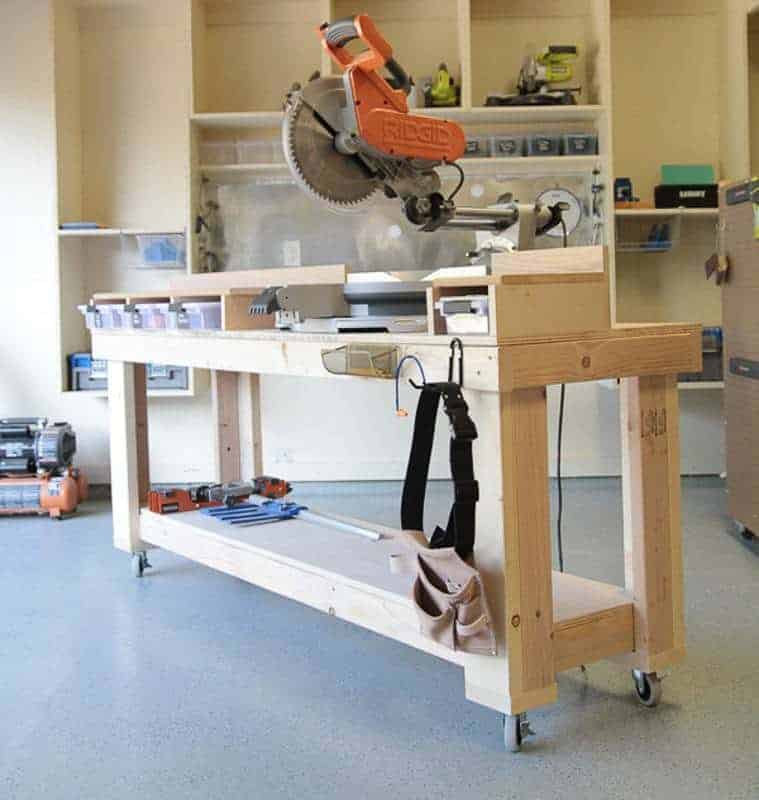 Other than shortening the length to 6 feet, I didn't make any changes to the base. You can see the excellent tutorial I used here. But if you want to get even more storage out of your miter saw stand, read on!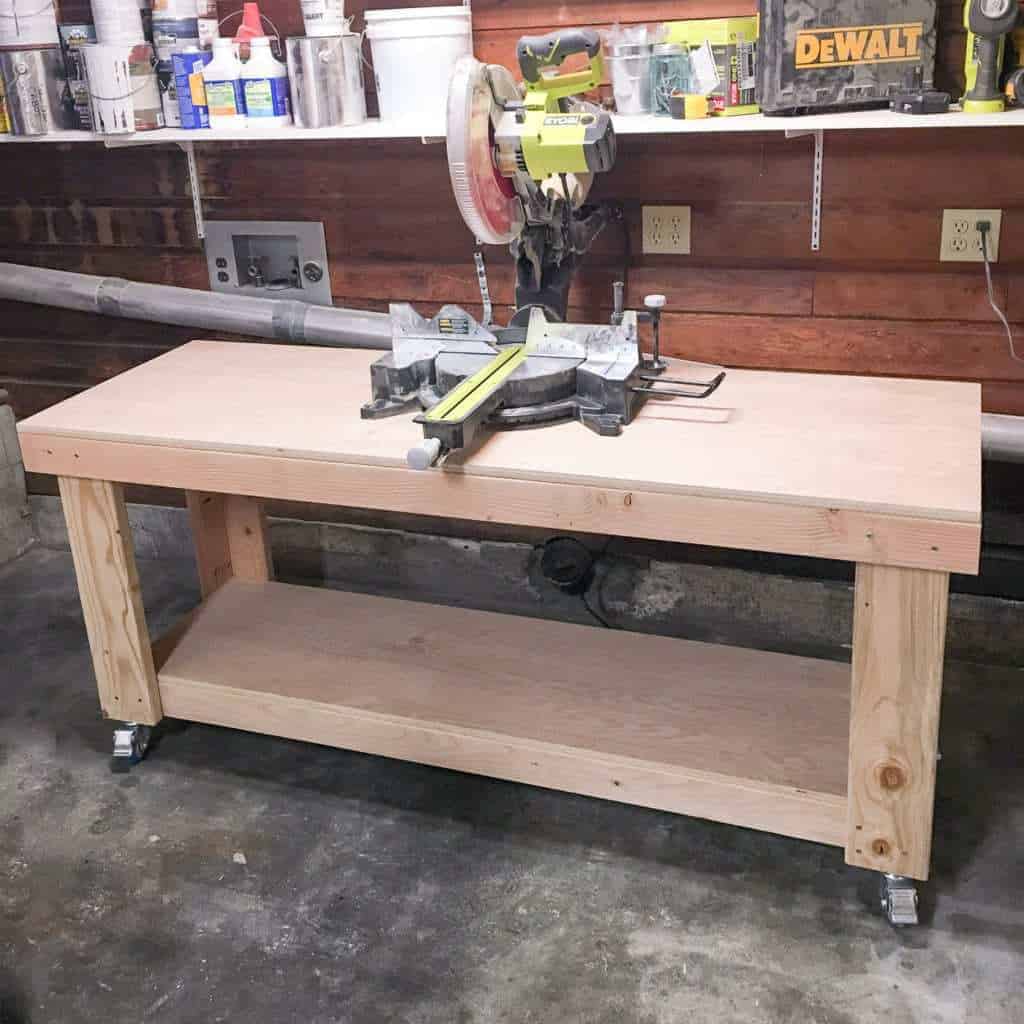 I couldn't wait to load up the bottom shelf! These power tools have been underfoot for a while, and I was excited to finally give them a home. The shop vacuum fits perfectly in between to provide dust collection for the miter saw.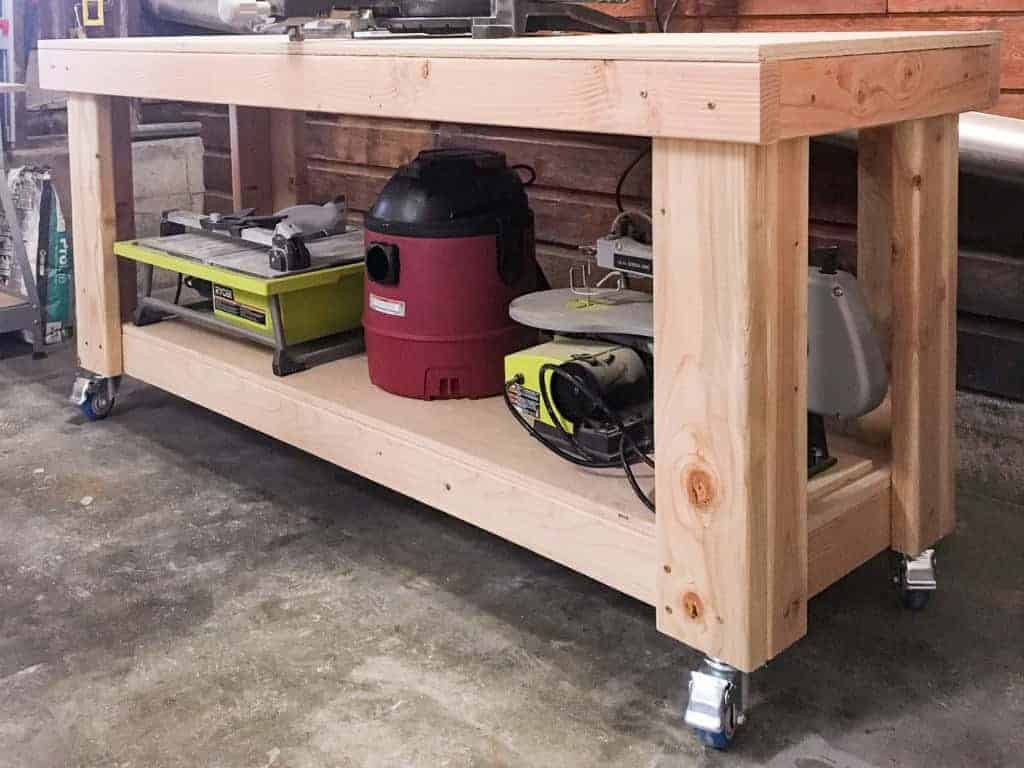 But I wasn't happy with all that wasted space above the tile saw and scroll saw. I need all the storage I can get in my small workshop!
So I started digging around in my scrap wood pile to see what I could cobble together. Here's what I came up with.
Cut List for Miter Saw Stand Storage
4 - 2x2 cut to 27 ½"
2 - 1x2 cut to 20 ½"
2 - 1x2 cut to 17 ½"
¾" plywood cut to 17 ½" x 22 ¼" and 17 ½" x 27"
Instructions for Building Miter Saw Stand Storage
Don't forget your safety gear when woodworking! Here are my recommendations for safety glasses and ear protection. No excuses!
Everything was cut to fit around my tile saw and scroll saw. I gave each one about ½" of wiggle room so there's enough space to remove them easily.
I started with the 2x2 pieces left over from my stacked wood headboard and the stuffed animal zoo I built for my son. There was just enough to create the uprights for the middle of the miter saw stand. Love it when that happens! I installed the 2x2's with 3" screws, making sure they were square.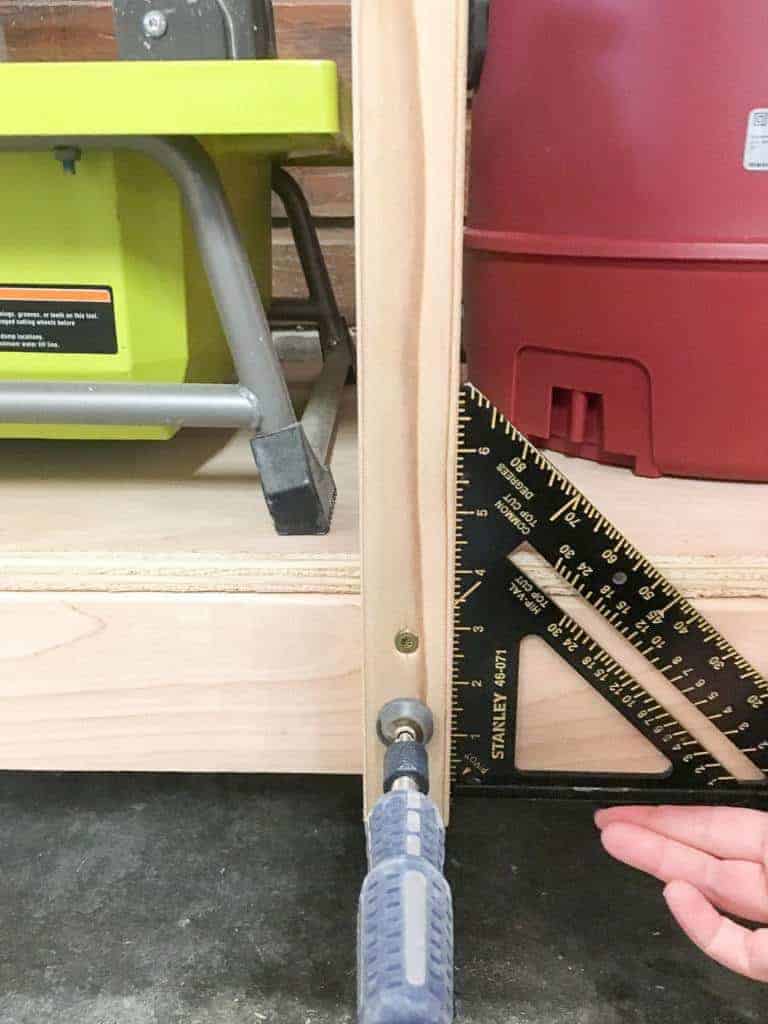 Next, I cut down a 1x2 that I messed up when building my first woodworking project, the floating shelves in our family room. You can see where I predrilled all the holes in the wrong places! 🙂 I don't know why I kept this holey 1x2, but it came in handy today!
These pieces create the supports for the plywood shelves, and are installed just above the height of the tools. The 20 ½" long ones attach to the 2x2 uprights, and the 17 ½" ones go on the miter saw stand legs. I used 1 ¾" long screws for these.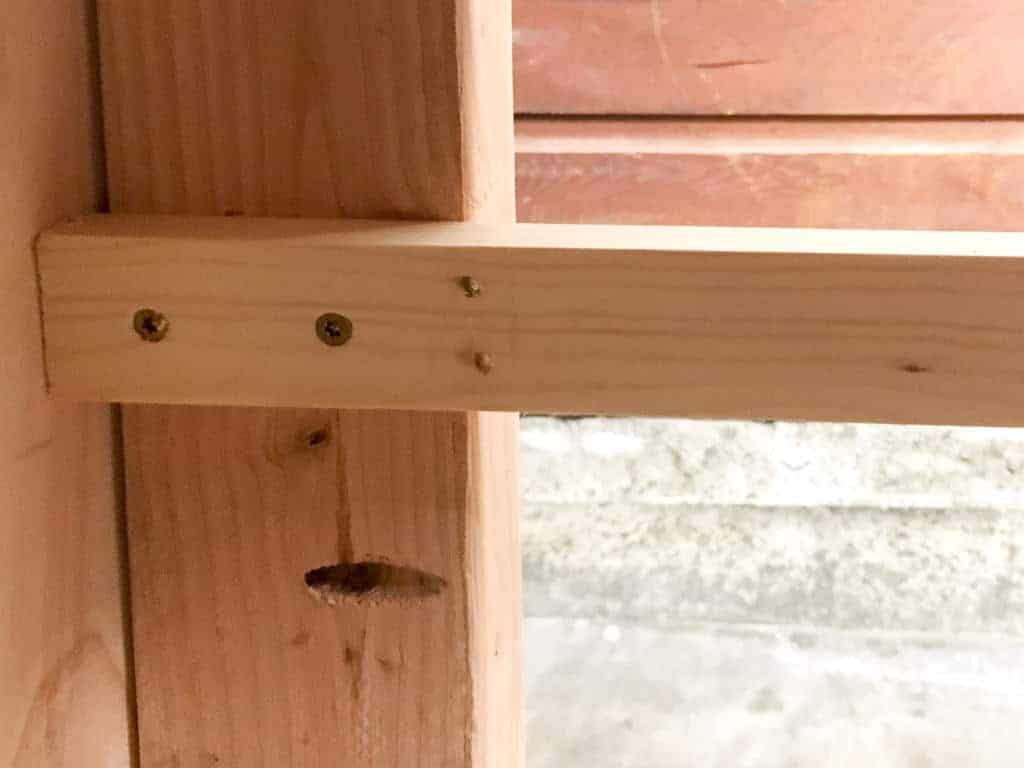 Finally, I cut down a piece of ¾" plywood to fit on top of the supports. I left them loose rather than nail them down, so the shelves will be easier to change if necessary.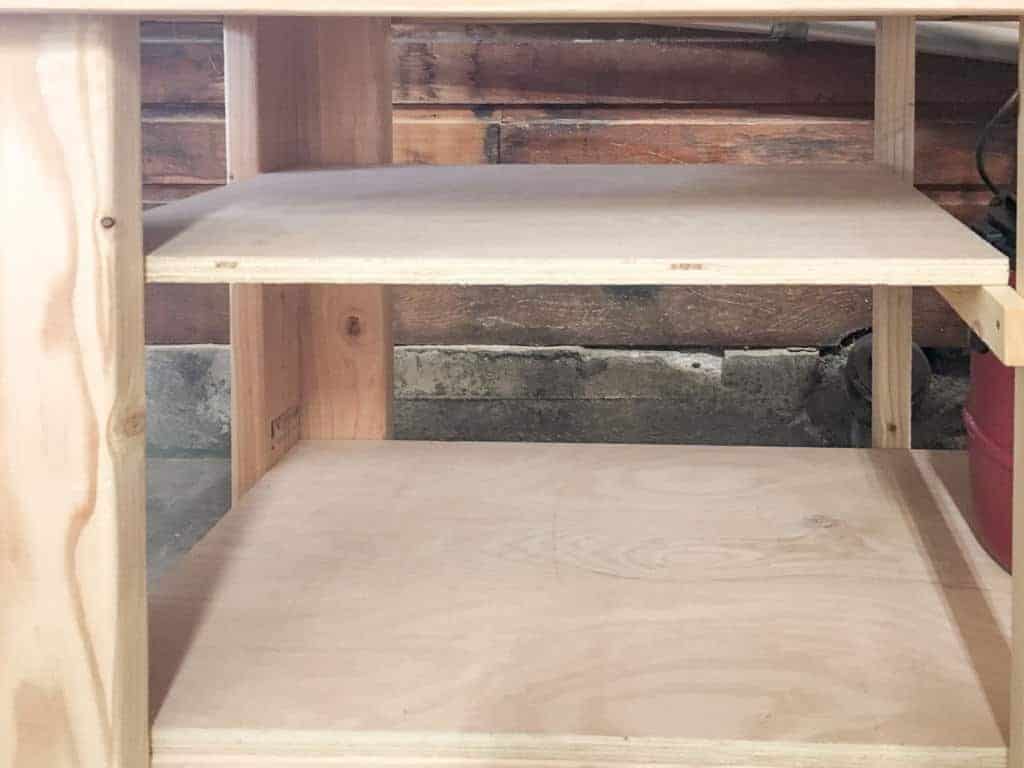 These plastic bins fit perfectly on the shelves! I can't wait to load them up with all the random stuff I find around the workshop.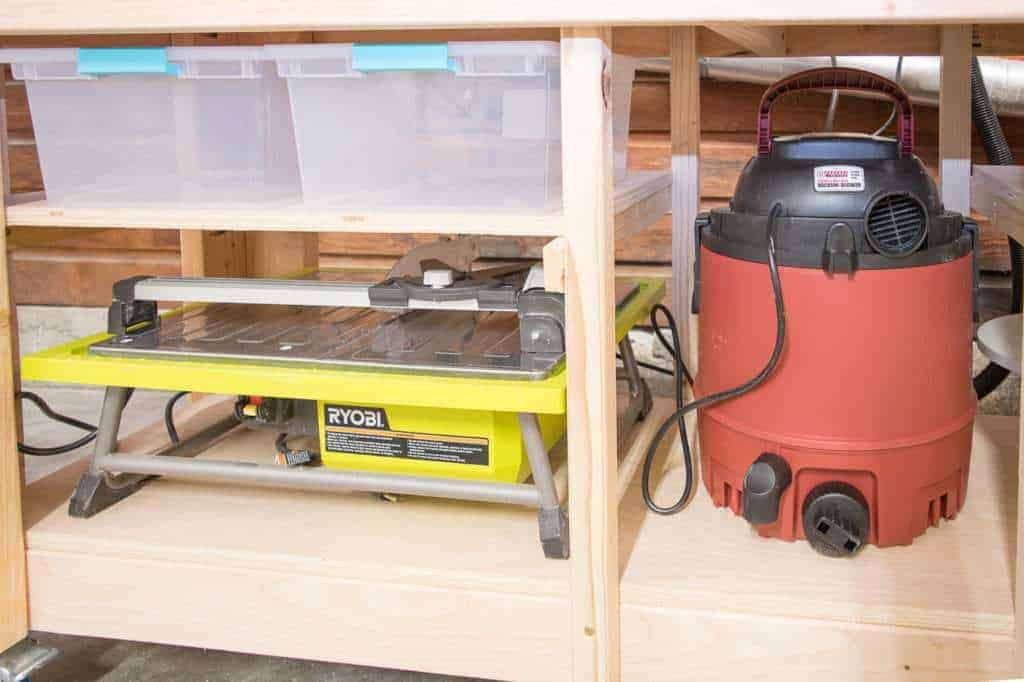 I feel so much better now that my miter saw, tile saw and scroll saw all have homes in one compact spot! Even though this miter saw stand is bigger than my old one, the additional storage frees up a lot of floor space.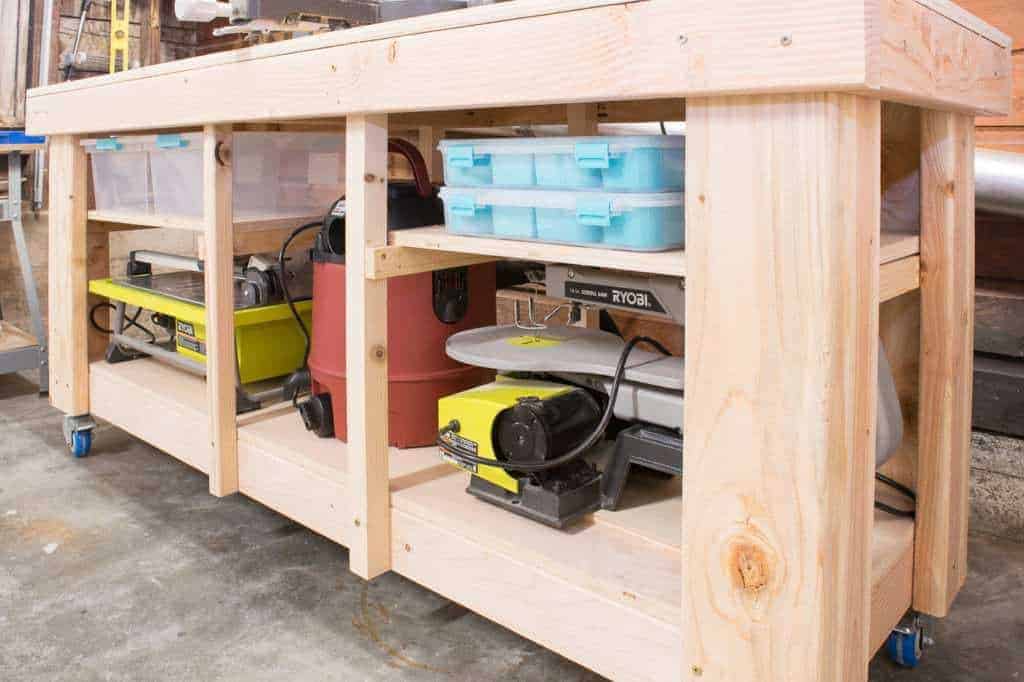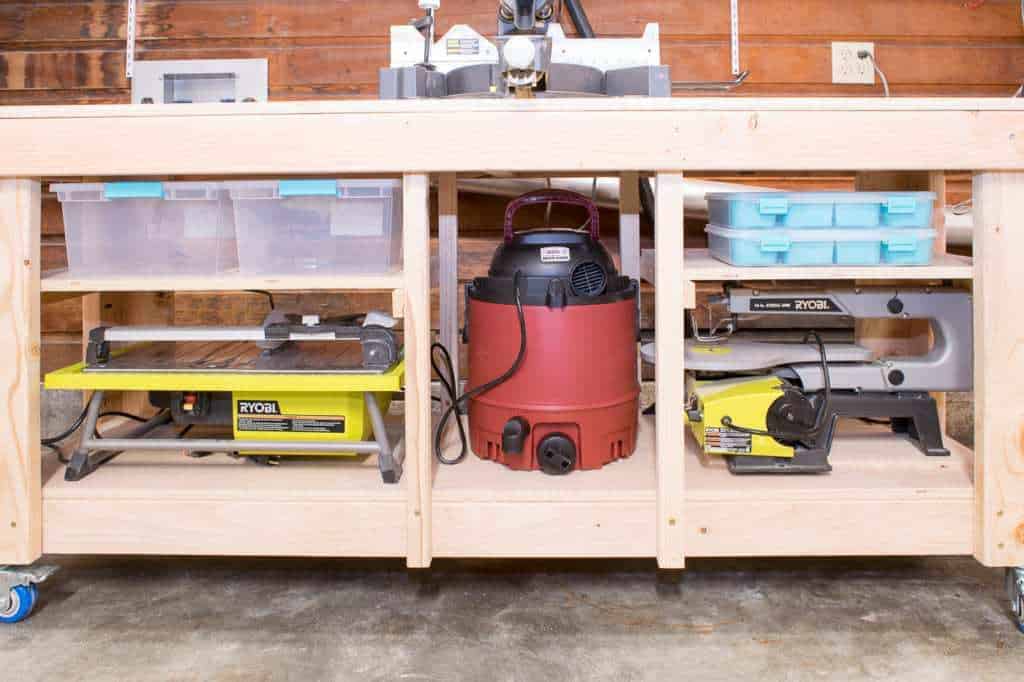 Next time on Workshop Wednesday, I'll be building supports on either side of my miter saw for longer pieces of lumber. I'm also adding the Kreg Stop Track to help with all those repetitive cuts. Soon I'll have the perfect miter saw stand!